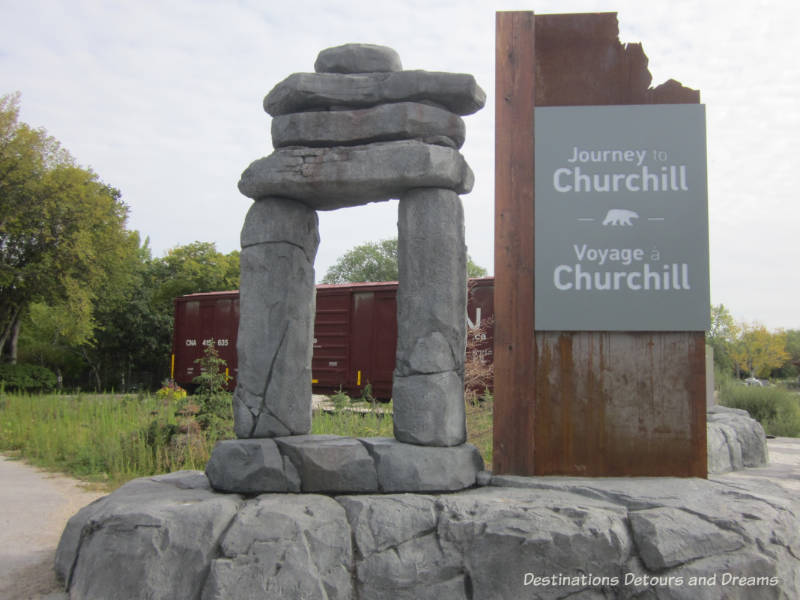 Journey to Churchill exhibit at Winnipeg's Assiniboine Park Zoo provides glimpse into northern landscapes and wildlife
(Updated August 2017)
The Journey to Churchill at Assiniboine Park Zoo in Winnipeg, Manitoba highlights the magic of the north. Along a ten-acre route, visitors view species in three distinct zones and experience a variety of landscapes. The exhibit includes signage, interactive displays, and audio-visual components reinforcing concepts of biodiversity, climate change, and conservation. The exhibit provides opportunities for research into animal behaviour as well as showcasing the North to the general public.

The town of Churchill, Manitoba is located along the western shore of Hudson's Bay. Archaeological digs have uncovered evidence of human existence in the area dating back 4,000 years. Europeans built a fur-trading fort here in the late seventeenth century. Today Churchill is Canada's only Arctic seaport. Tourism is a growing business as visitors come to see polar bears, beluga whales, and the northern lights. Spring and fall draw birders to the area to see the more than 250 species passing through on annual migrations.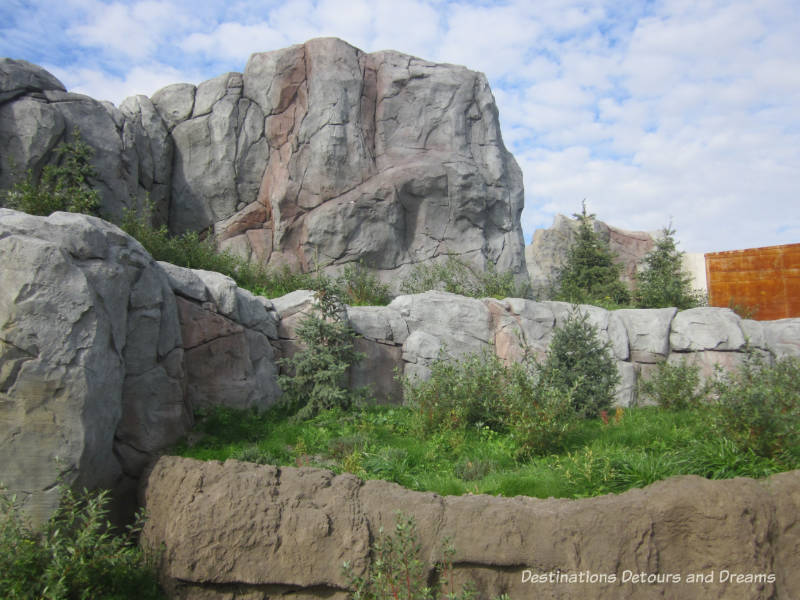 Churchill is located at the transition zone between the Boreal Forest and the tundra. The Journey to Churchill exhibit recreates the landscape through the planting of shrubs, wildflowers and native grasses, changes in elevation, natural water barriers, and artificial rock formations.


Polar bears are a main attraction of the Journey to Churchill Exhibit. There are three polar bear viewing areas – a glass window looking into the polar bear open field area, a glass window inside the Gateway to the Arctic building looking onto their water play area, and a 10-foot-wide underwater acrylic tunnel.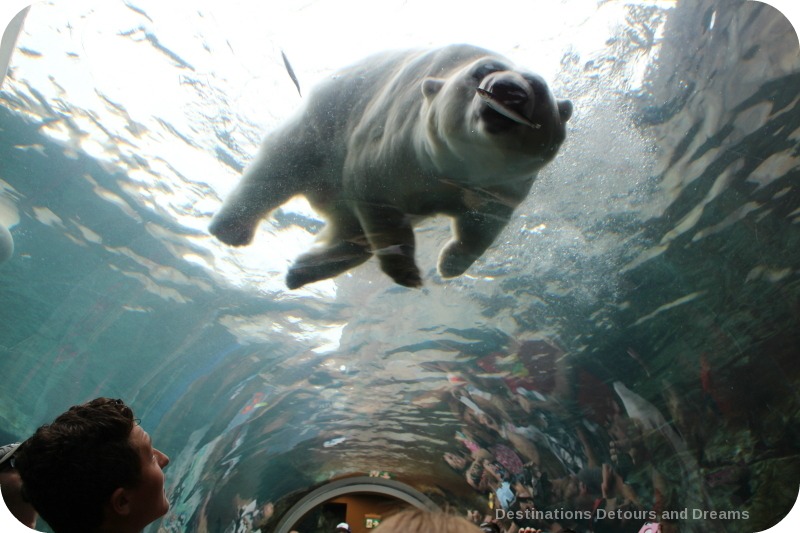 There are currently 8 polar bears, orphans rescued from the north. Orphans Nanuq, which means polar bear in Inuit, and Siku, which is Inuit for ice, are the most recent additions.
Two of the most popular bears were returned to Toronto Zoo in the fall of 2016. Hudson, known as "Hudson the ham", was a star attraction and the face of Journey of Churchill for many. He was born in 2011 to one of Toronto Zoo's polar bears. She rejected her three cubs. Zoo staff intervened and rescued the two remaining cubs. One did not survive injuries. Hudson, born with a healthy appetite and strong will, survived. He became known as a ham because of his gallivanting around his enclosure and antics for guests. He was moved to Assiniboine Park Zoo in January 2013 when the Toronto Zoo needed to find a new home for him. Humphrey, Hudson's little brother, came to the Assiniboine Park Zoo in the fall of 2015 and went to Toronto Zoo with his brother in 2016. 

Find more information on each of the bears here.
There are information signs posted throughout the exhibit and interactive displays providing information on the animals, the landscape, and the people of the North. You can find out what the animals prey on, who their predators are, what they eat in the wild, what they are fed in the zoo, and a variety of other facts. A 360-degree Aurora Borealis Theatre screens a short film about the Churchill area, its wildlife, and the four seasons through the eyes of an indigenous family, ending with a fabulous Northern Lights display. I recommend taking a few minutes to watch it.
Here are a few tidbits of information I picked up on my visit:
Muskox communicate by using scent from a gland near their eyes.
In the 1800s, muskox declined severely due to commercial overhunting. In 1917, Canada introduced laws to protect them. Although they are no longer found in Manitoba, the population has rebounded in other parts of their range.
Polar bears have a strong sense of smell and can detect a seal's breathing hole from 1 kilometer away.
Beluga whales lack a dorsal fin. This enables them to swim freely beneath sea ice.
Abundance of caribou once meant life or death to the Dene people. Today hunting remains significant to the Dene culture.
Windows along one wall of the Tundra restaurant overlook the polar bear enclosure. Polar Playground is an indoor play area designed as an Arctic wonderland. Children may want to spend time in this area as part of their visits. Birthday party packages can also be arranged.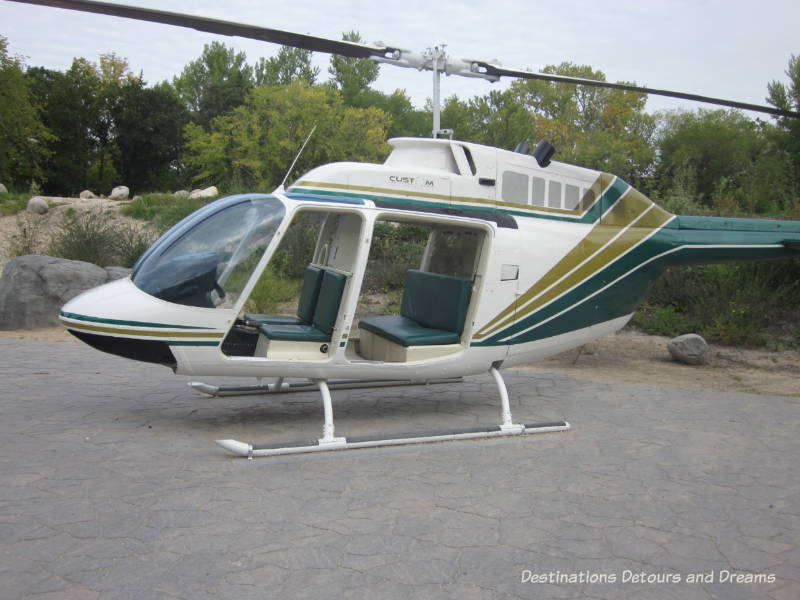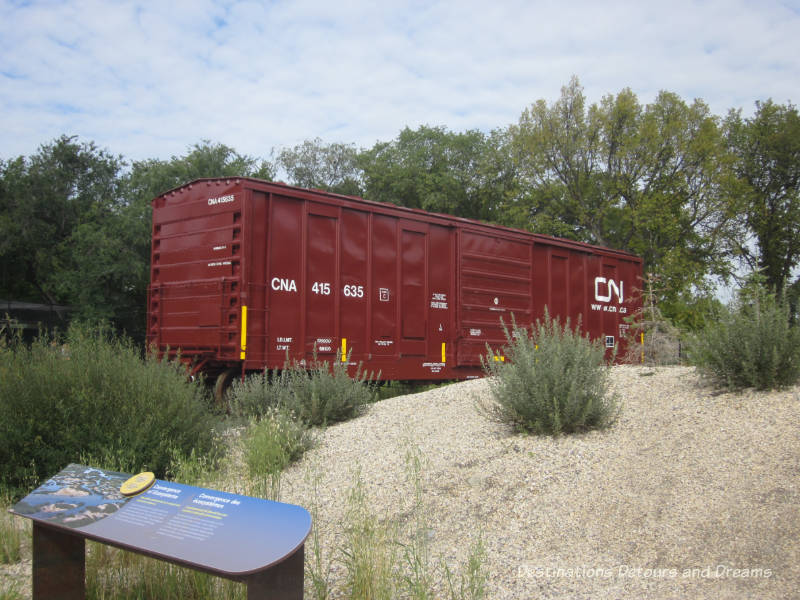 There are no roads into Churchill. Primary transportation is by air or rail. Unfortunately, at the moment the rail line isn't functioning. Tracks were damaged by spring flooding. Government bodies and the owners of the rail line are disputing who should pay for expensive repairs.
The Journey to Churchill exhibit offers people who may never have the chance to visit Churchill an opportunity to gain appreciation for its landscape and life. However, the portrayal is so intriguing you may want more and may be inspired to plan your own trip to Churchill.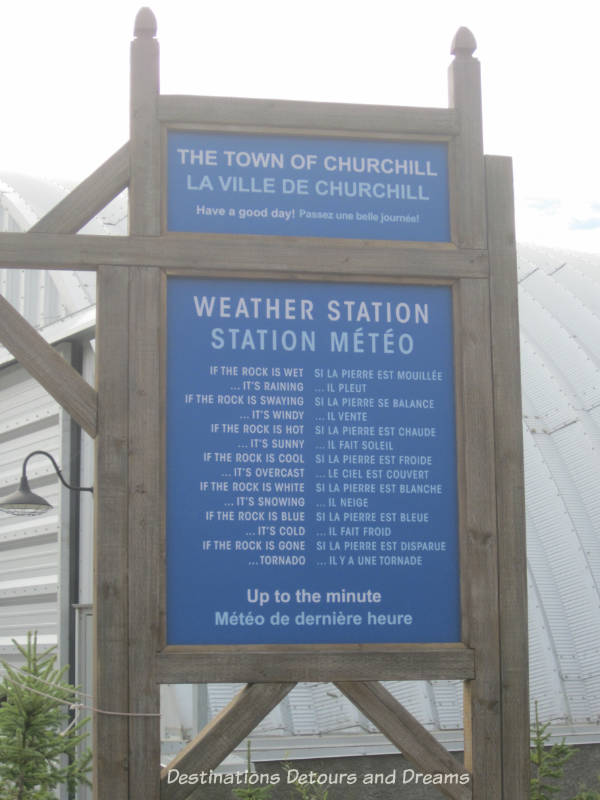 Destinations Detours and Dreams monthly e-newsletter contains behind the scenes information, sneak peeks ahead, travel story recaps and more.  SIGN UP HERE
PIN IT