The Quaint Seaside Village of Cowichan Bay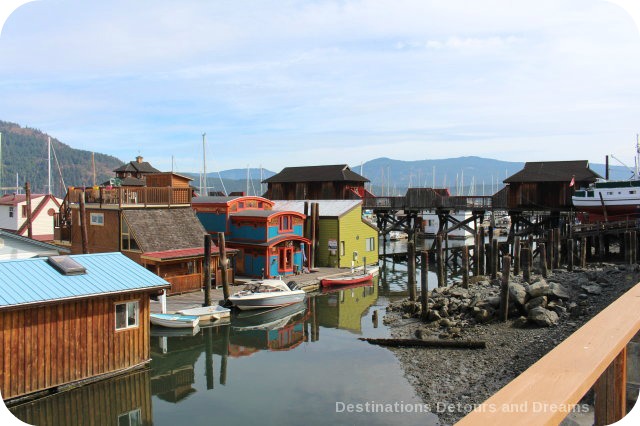 Cowichan Bay village on British Columbia's Vancouver Island: a picturesque place to visit
The seaside village of Cowichan Bay on British Columbia's Vancouver Island is one hour north from Victoria or one hour south from Nanaimo, but it feels like a whole other world. Its fishing village atmosphere invites you to slow down, breathe in the sea air and linger.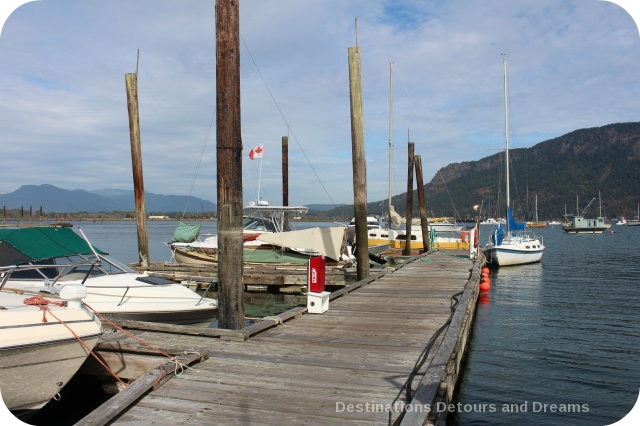 The picturesque village has a history of fishing, shipping and lumber. It has attracted sports fishermen from all over the world, particularly for salmon fishing. Bob Hope, Bing Crosby and John Wayne were among the notables who visited in the 1950s. The village remains a working harbour today, shipping lumber. There is an active fishing fleet, catching salmon, tuna, prawns and crab.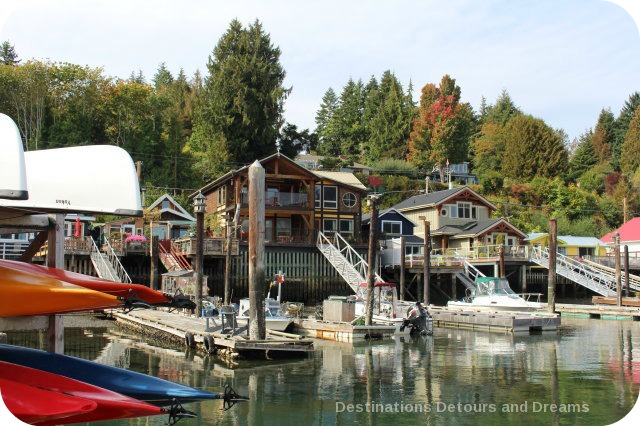 The village is built along the waterfront. Here you'll find float homes built on pilings over the water. Many started as boat houses in the early 1900s and evolved into summer cottages. Today many are being renovated into full-time residences.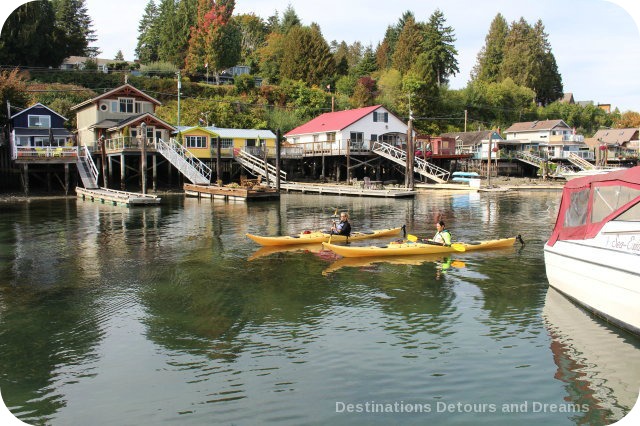 If you wish to get onto the water, kayak rentals and whale watching tours are available.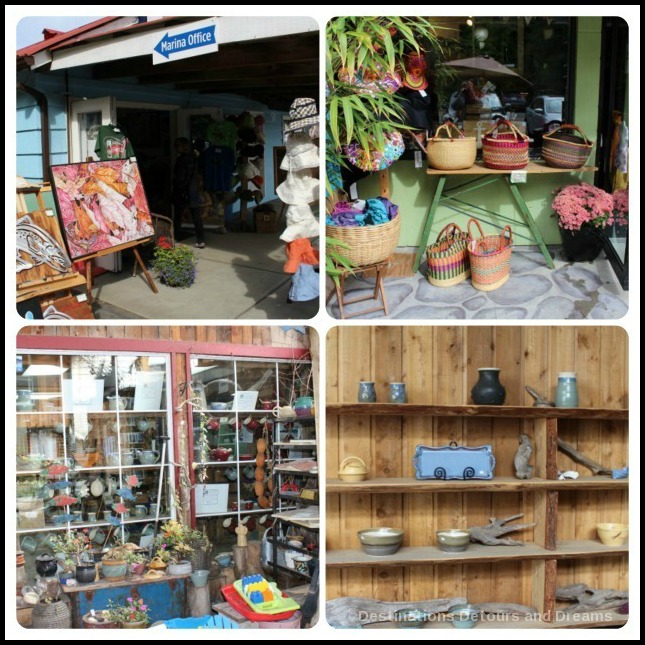 The village does not have a large number of stores (under a dozen), but they are worth taking the time to browse through. I found art work, interesting crafts, pottery, well-made clothing, antiques, coastal-inspired home decor, books, curiosities and a Cowichan sweater or two. Cowichan sweaters are heavy-knit sweaters with a distinctive design. Cowichan knitting developed as a combination of European textile techniques and Salish (Indigenous peoples of the Pacific Northwest) spinning and weaving techniques.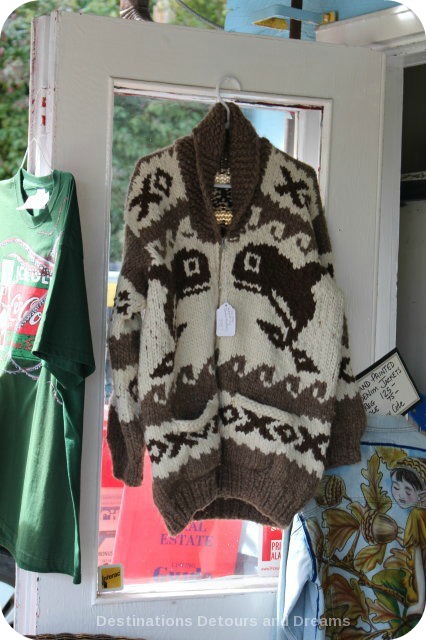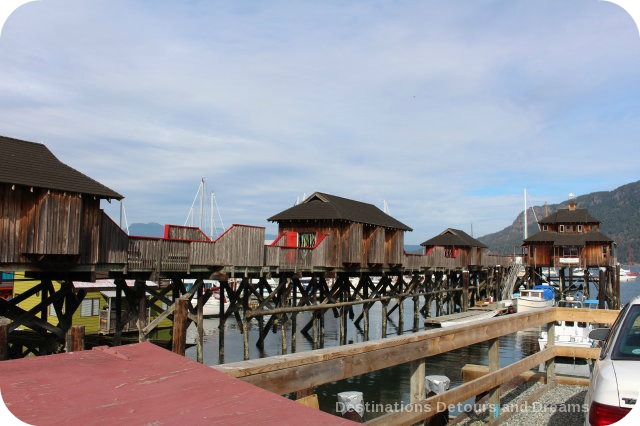 It is worth taking time while strolling through the village to visit the Cowichan Bay Maritime Centre. It is a community-based museum operated by the Cowichan Wooden Boat Society. Displays highlight the history of shipbuilding and fishing in the area.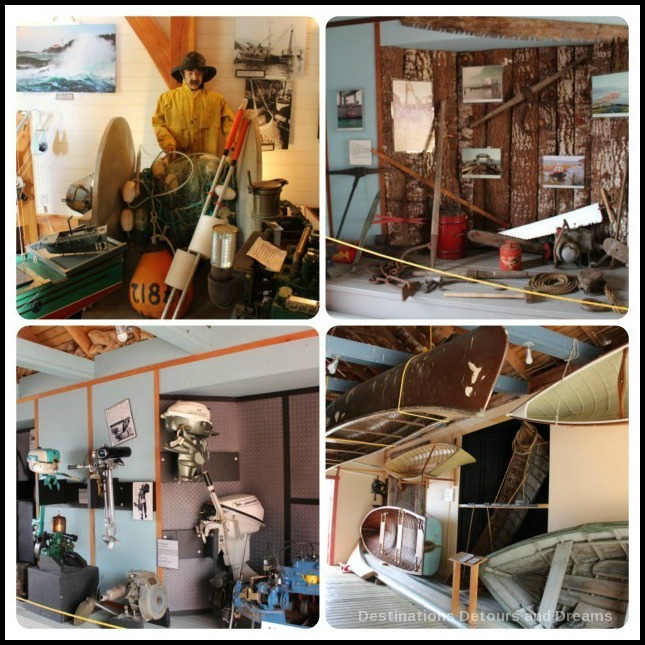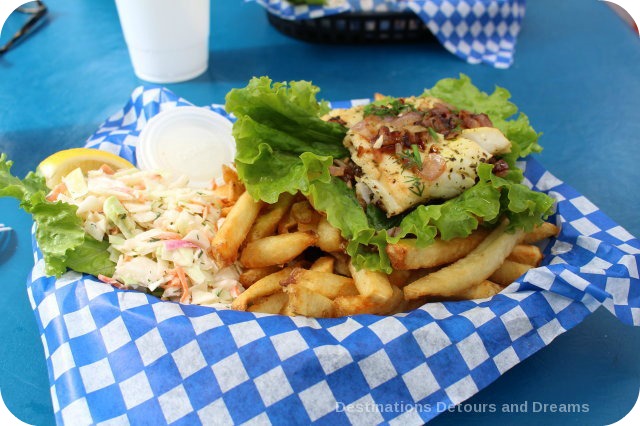 And there is no need to go hungry or thirsty in the village. The village has several restaurants. Farm house fare, casual meals and fine dining are available. This prairie girl was impressed and a little overwhelmed at the fresh seafood choices on the various menus, but there was also plenty to satisfy a non-fish eater. When I talked to people in Victoria about visiting Cowichan Bay, each one immediately mentioned a favourite restaurant. They didn't have the same favourite, but I got the impression each felt the dining was well worth the drive. My sister and I decided on a traditional fish and chip meal for lunch. I hope to get back and try some of the other restaurants and menu options.
You can also purchase treats to take home. True Grain Bakery is an Old World inspired European bakery specializing in fresh, local, organic, handcrafted bread. All baked goods are made with organic grain grown and milled in British Columbia. We bought bread and cookies, both delicious. Hilary's Cheese Co. has a selection of regional artisan cheeses as well as cheeses from around the world. They also have restaurant facilities, serving snacks and light lunches. You can pick up a tub of fresh-made old-fashioned ice cream at Udder Guy's Ice Cream or have a cone on site. Beaver House Fudge makes fudge with organic cream and butter.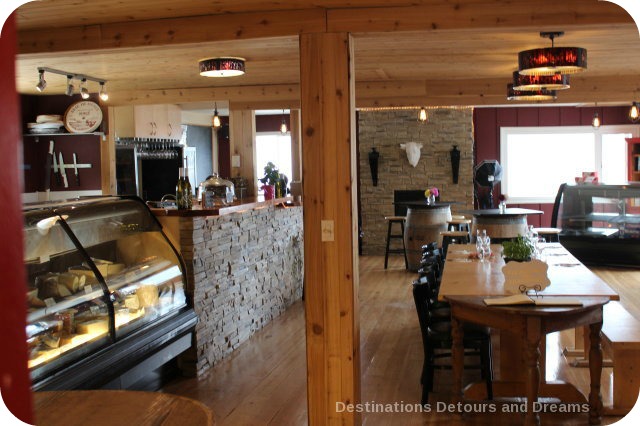 Cowichan Bay made for a great day trip during my visit to Victoria. Guesthouse, bed-and-breakfast, inn and suite accommodations are available for those who want to slow down and enjoy Cowichan Bay for more than a day.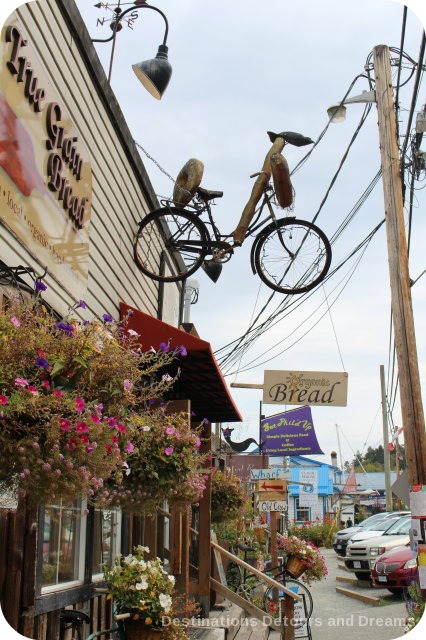 The scenic rolling hills and valleys surrounding Cowichan Bay contain vineyards, organic farms, artist studios and historic villages. You might consider a stop at Merridale Cidery and Distillery, Cherry Point Wine or Drumroaster Coffee on the way to or from Cowichan Bay.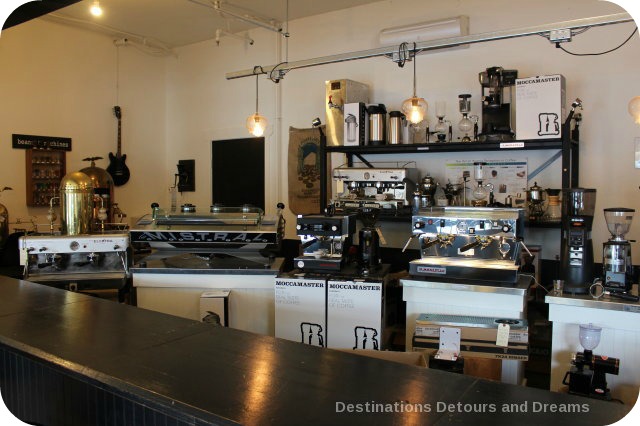 Destinations Detours and Dreams monthly e-newsletter contains behind the scenes information, sneak peeks ahead, travel story recaps and more. SIGN UP HERE
PIN IT