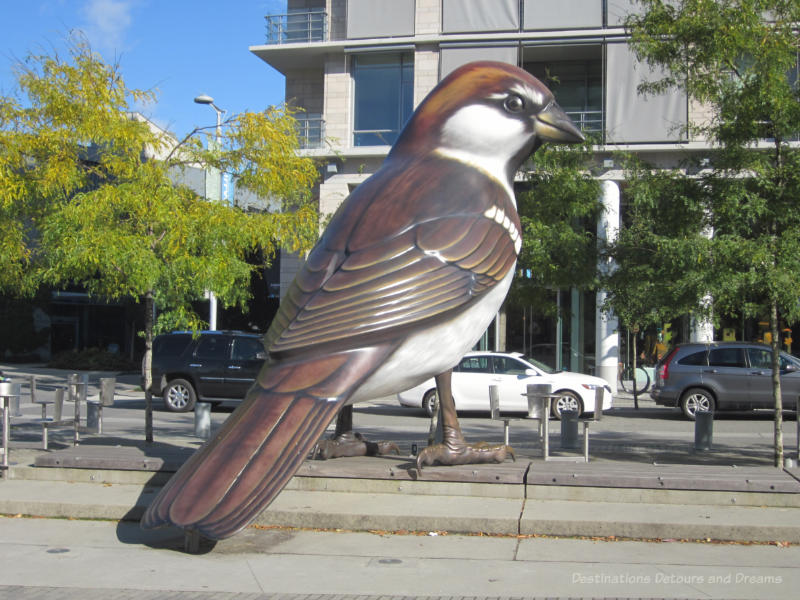 A sample of public art installations in Vancouver, British Columbia, Canada
Last updated: October 2019
You can find public art throughout the city of Vancouver, British Columbia – at civic buildings, in parks and public spaces, on street corners, in transit shelters, on walls and fences, in community gardens, and places of business. The city has a strong Public Art Program that views public art as a integral component of anything the city builds. It works with artists, communities, and private developers. The program supports permanent and temporary installations, providing an ever-changing landscape of public art.
During my visits to Vancouver over the last few years, I've seen a small but fascinating sample of Vancouver's public art, a combination of Public Art Program installations and other initiatives. I share some of that now to give you a little taste of Vancouver's public art.
The bird in the photograph at the front of this post sits in Southeast False Creek Olympic Plaza. It is one of a pair of sparrows created by Vancouver artist Myfanwy MacLeod. At 18 feet tall, the sculptures invert the normal relationship between humans and these typically small birds. According to the City of Vancouver artwork information, "the work attempts to highlight both the lighter and graver sides of what can happen when a non-native species is introduced to an environment, how the beauty of the birds can sometimes mask their threat to biodiversity."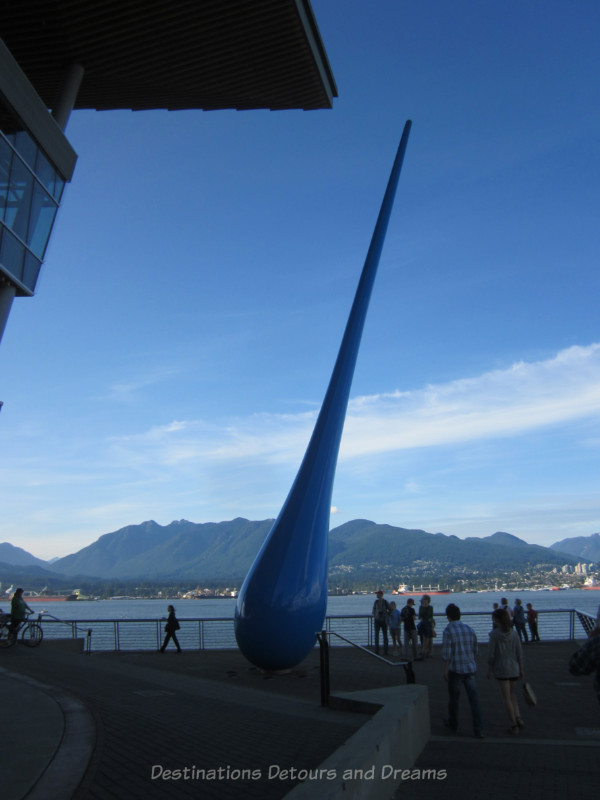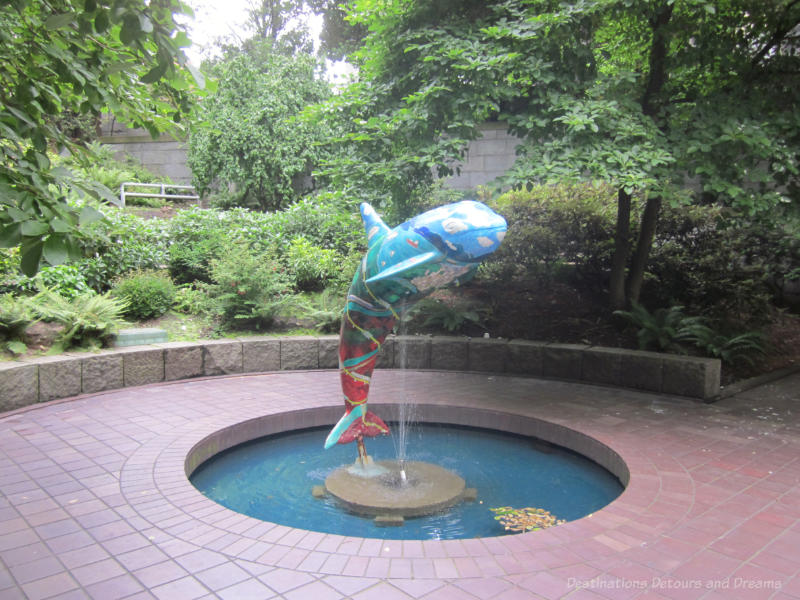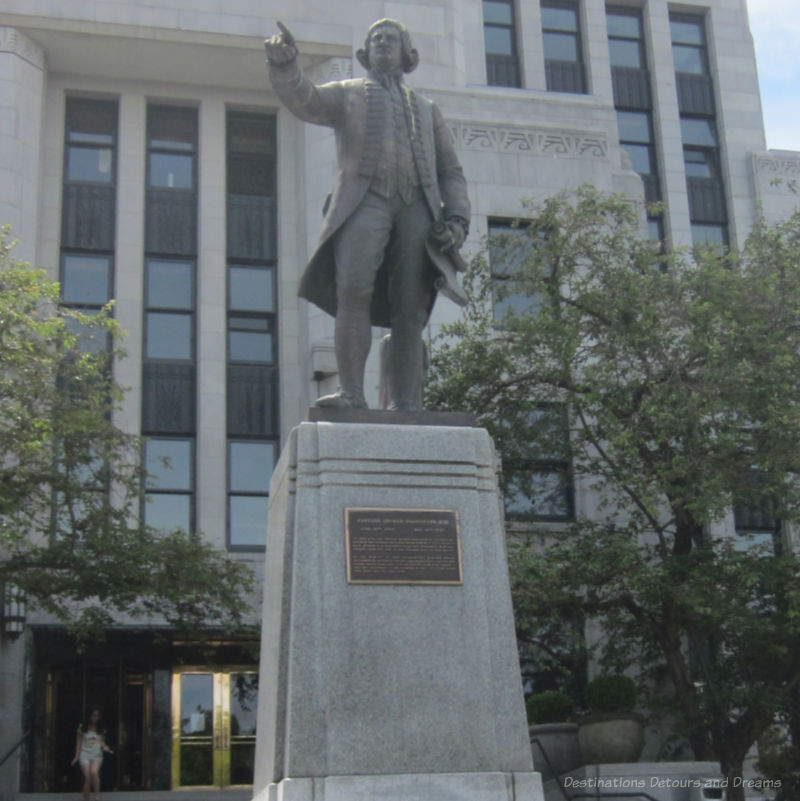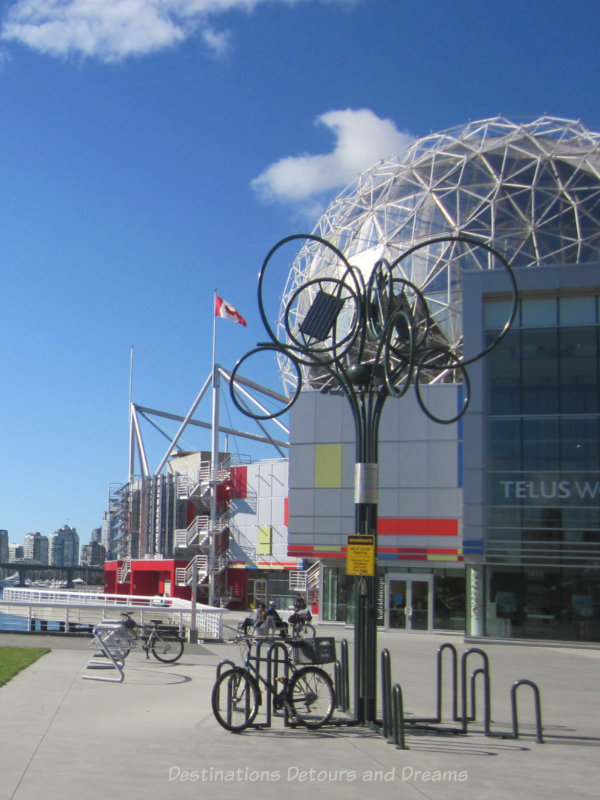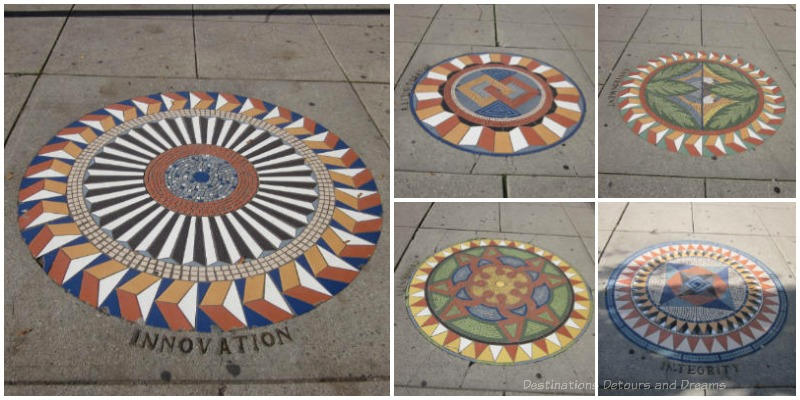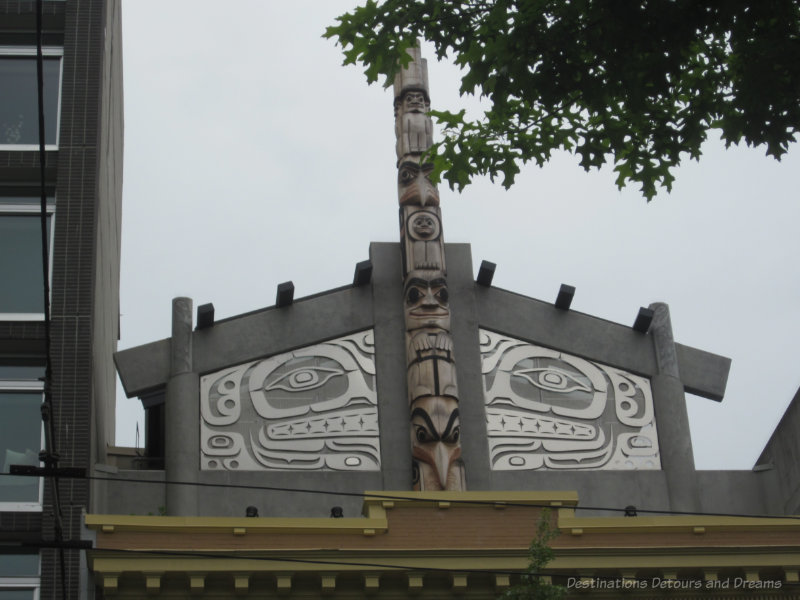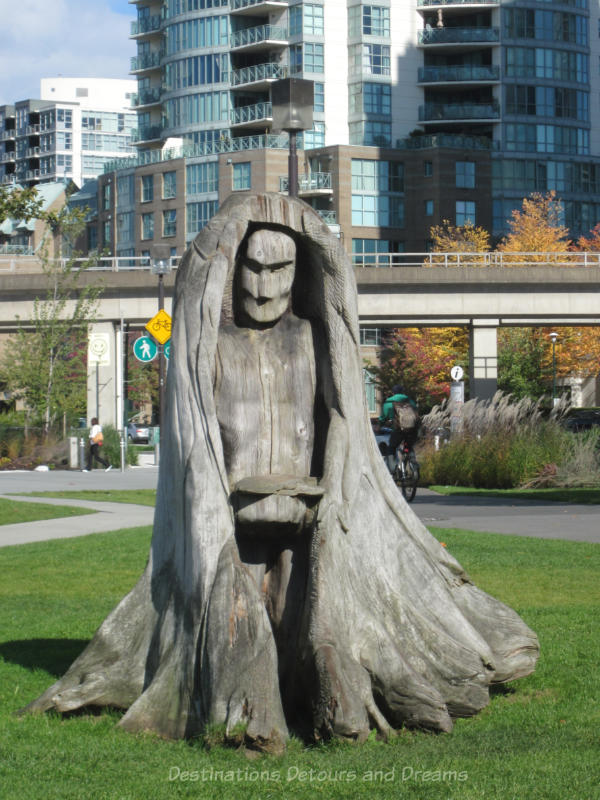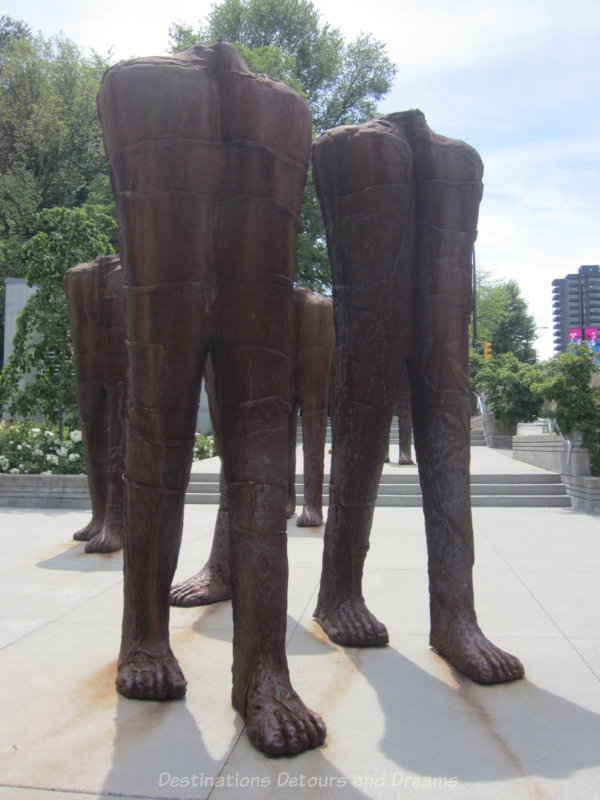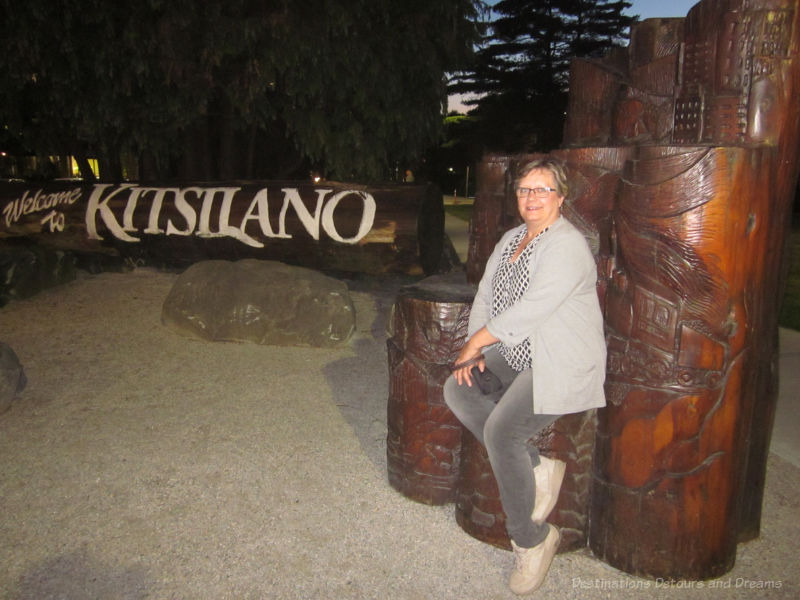 At the corner of Cornwall and Burrard, a 16-foot-long horizontal cedar log, a 7-foot high carved cedar log sculpture, and 16 granite and sanstone boulders welcome you to the neighbourhood of Kitsilano. The log was cut from a tree blown down by strong winds in Stanley Park. The cedar log sculpture depicts scenes of the community past and present. The sign was designed by Kitsilano resident Jim Kostyniuk and carved by BC artist Pete Ryan.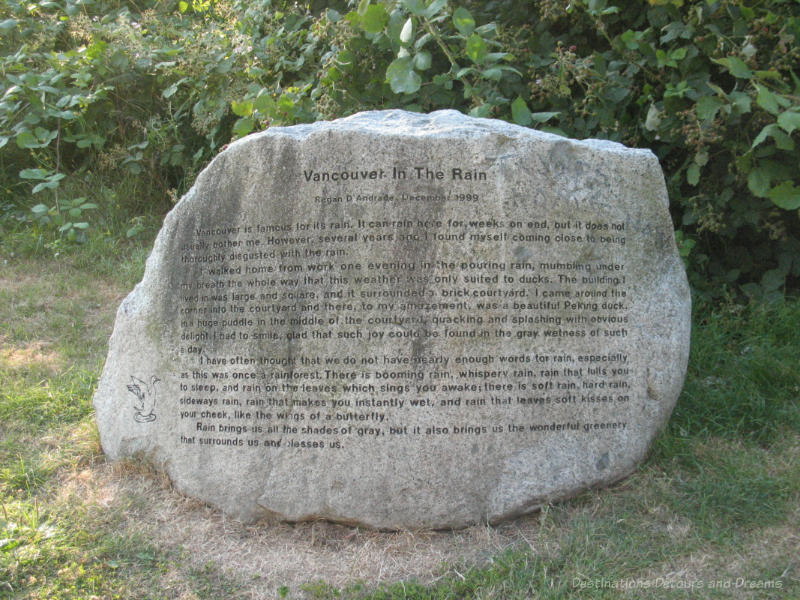 You can find art throughout the city beyond that sponsored by the city's Public Art Program.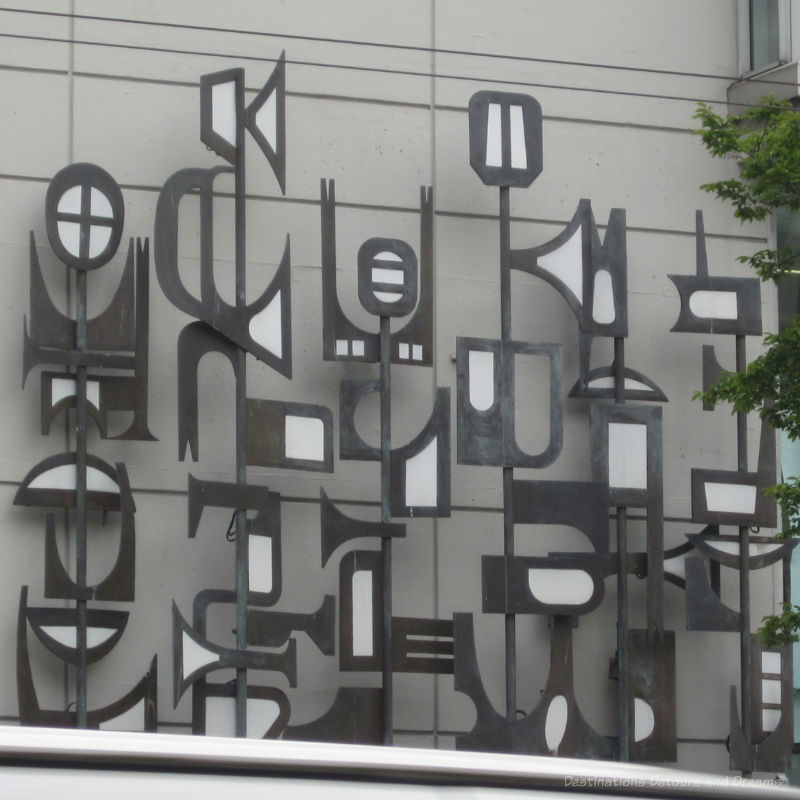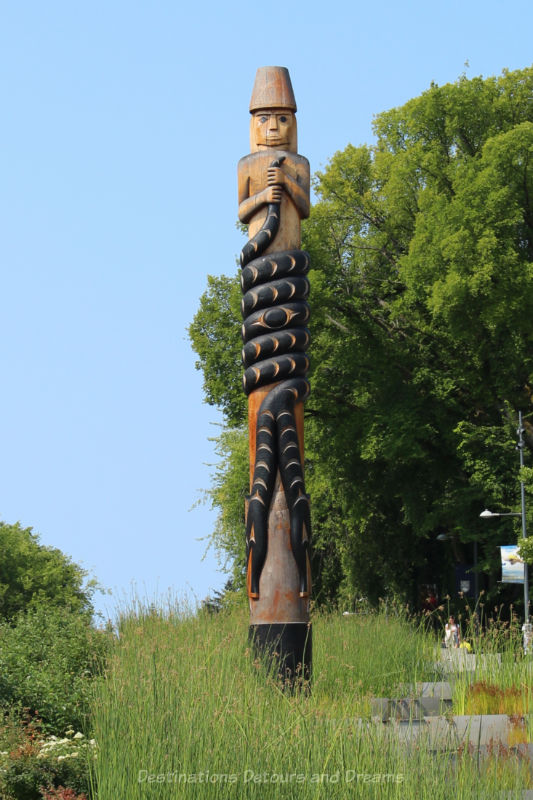 Visit the Vancouver City Public Art site to find out about public art installations in Vancouver and download self-guided walking tours. If you're interested in murals, head to the Mount Pleasant neighbourhood, which is home to a collection of large-scale murals thanks to the Vancouver Mural Festival, which runs for a week in August. Each year new murals are created. The murals stay up for at least two years. The Vancouver Mural Festival has begun to work on projects in other areas of the city, such as Strathtcona and the Downtown Eastside.
I look forward to discovering more of Vancouver's public art on future visits to the city.
If you enjoyed this post, sign up for Destinations Detours and Dreams monthly e-newsletter. Get behind the scenes information and sneak peeks ahead in addition to a recap of the month's posts.