Birds of a Feather Flock Together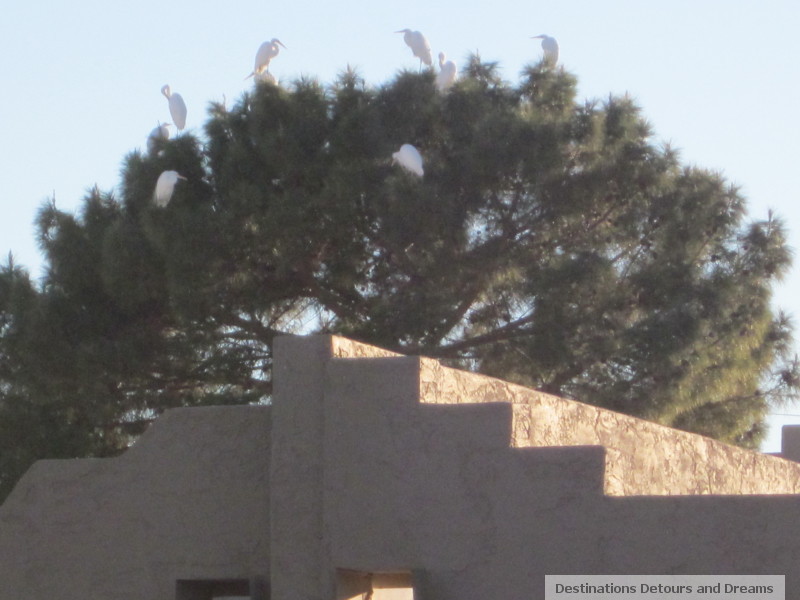 Snowbirds in the greater Phoenix area
My husband and I are spending our first winter as snowbirds, living four months in Mesa, Arizona, away from the Canadian cold. Although this experience is unique for us, we are certainly not unique. The Greater Phoenix area is rife with snowbirds. In a 6 square mile area outside my doorstep, I've counted at least 11 retirement communities and RV parks. This amounts to a minimum of 11,000 homes and RV spots. Although some of the residents are year round Arizonans, a large percentage are snowbirds.
Add to this number those snowbirds living in homes outside of retirement communities. In the small non-age restricted community where we're renting a house, 75 – 80% of the residents are snowbirds, either owners or renters.
Checking licence plates on the freeway or in parking lots has become a habit. Depending on where we are and the time of day, anywhere from one in six to one in three plates may be from out of state. Common locations are Wisconsin, Iowa, Illinois, Alberta, British Columbia, Saskatchewan, and Manitoba. But an Arizonan plate doesn't necessarily equate to a non-snowbird. Many snowbirds purchase vehicles that stay in Arizona while their owners fly back and forth.
This Tuesday and Wednesday, the place to find the most Canadian licence plates was the parking lot of the Mesa Convention Center, the site of the Canadian Snowbird Extravaganza sponsored by the Canadian Snowbird Association and MEDIPAC Travel Insurance. My husband and I attended. It wasn't quite the extravaganza we'd expected, with only about 15 booths providing information on a variety of things, such as tourist spots in Arizona and neighbouring states, RV parks and home communities, restaurants, Canadian customs and immigration, and travel insurance. But there were hundreds of snowbirds in attendance, listening to the free entertainment, which included Tom Leadbeater, Sean Emery, Pavlo, Jimmy Flynn, Michele Wright, and Bowser and Blue.
According to statistics from The Great Canadian Picnic, over 500,000 Canadian visitors descend on the greater Phoenix area each winter, spending $441 million. This number includes all Canadian tourists, not just snowbirds, but doesn't include the many snowbirds from the northern states.
Snowbirds have a huge impact on the economy in the greater Phoenix area. From what I've seen, most residents and businesses welcome the snowbirds, in spite of the increased traffic and restaurant line-ups. I wonder what the area around our rented winter home is like in summer when all the snowbirds have returned north. Does it feel eerie and deserted? Or is it too hot for anyone to go outside and notice?