Great Canadian Picnic: a Phoenix, Arizona tradition for over 60 years

Where in Phoenix, Arizona can you find snow, a toboggan slide, a curling game, and poutine? The Great Canadian Picnic.
The first Great Canadian Picnic occurred in 1953 and has been an annual event since then. It was started by Vic Wallace. Vic Wallace and his family moved from Ontario, Canada to Phoenix to alleviate his acute asthma. To counteract homesickness, Vic and his wife Reta connected with other expatriate Canadians and formed the Canadian Social Club of Greater Phoenix. One of the club's first projects was the inaugural Canadian picnic. Club members went through parking lots looking for cars with Canadian license plates and left invitations to the picnic tucked under windshields. Five hundred people attended the first picnic.
Attendance numbers are now around 3,000. The Greater Phoenix area attracts many Canadian snowbirds, who leave winter behind to spend several months in a warmer climate. By early February, when the picnic is usually scheduled, many welcome a taste of home even if they aren't yet ready to return to the cold. Add in other shorter-term Canadian visitors and it is not surprising attendance numbers are in the thousands. I attended a picnic during my first winter in Arizona as a snowbird to see what it was all about.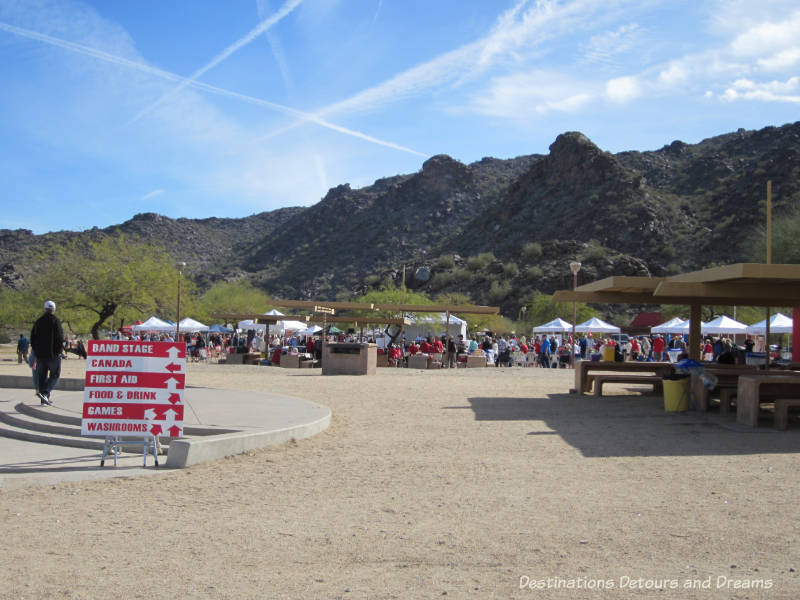 When we arrived, we signed in at the entrance table. We were given name tags with our home province printed on top. On a stage in the centre of the area, in front of a cement pad used for dancing, a band played, mostly country music. Guests spread their lawn chairs in a semi-circle around the stage. Beyond the lawn chairs were the park's cement picnic tables and benches under wooden pergolas. The band occasionally offered prizes for those dancing to the next song. A chance to win a Canadian chocolate bar enticed many to the dance floor.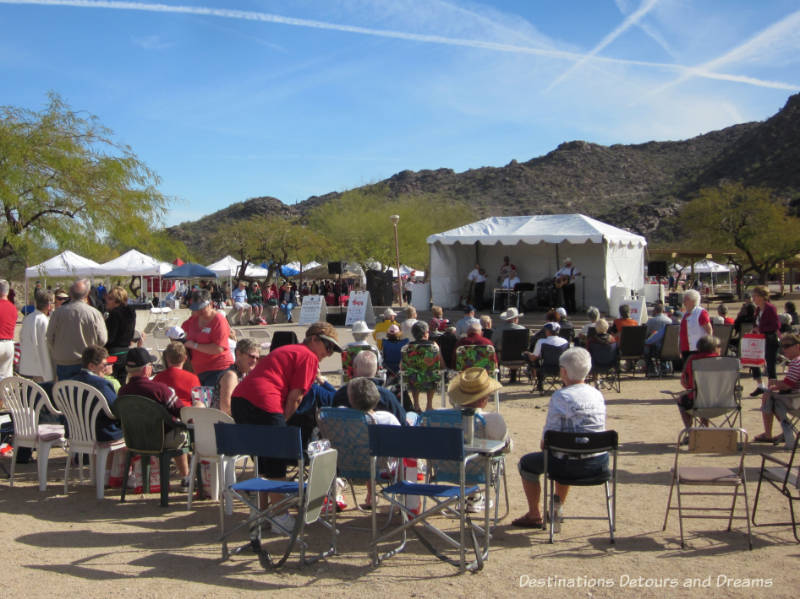 At the outside edges of the area were the game and sponsor booths. Businesses providing services to Canadian visitors had booths with information and small giveaways. Most also offered free raffle entries to something they were giving away. Examples of the businesses included a bank, house builders, insurance brokers, currency exchange services, and house monitoring companies. The favourite booths seemed to be the ones giving away Canadian chocolate or candy.
In addition to the curling game, there was a bean bag toss, Canadian golf (on a small patch of snow), and calf roping. You could ride a flying carpet sled, which is a thin plastic sled, down a toboggan slide. There were opportunities to get your face painted with a Canada flag or a provincial symbol or flag. Tickets could be purchased for chances to win a number of prize packages of goods and services.
Food could be purchased from a couple of food trucks. In addition to more standard food truck fare, poutine was available. However, it was mediocre at best. Many people brought their own food with them. It was a picnic after all.
Many wore something recognizably Canadian, such as Canadian sports team jerseys. One couple's dog sported a bandana covered with little maple leaves. People scan name tags and may stop to chat with someone from their home province. A man in full Mountie dress gear wandered through the crowd, stopping and posing for pictures when people asked.
The Great Canadian Picnic is held at South Mountain Park/Preserve in southern Phoenix. Although the picnic is just inside the park entrance, it is well worth taking some time before or after attending the picnic to drive through the park. The park has 51 miles of trails for hiking, horseback riding, and mountain biking, at all ability levels. A windy road to the summit leads you to panoramic views of the metropolis below.
Many aspects of the picnic were corny, but there was also a festive atmosphere. People were friendly and enjoyed the music and visiting with others. If you take it in all in a spirit of fun, it can be a pleasant few hours.
PIN IT