Ten Things to Do in Barcelona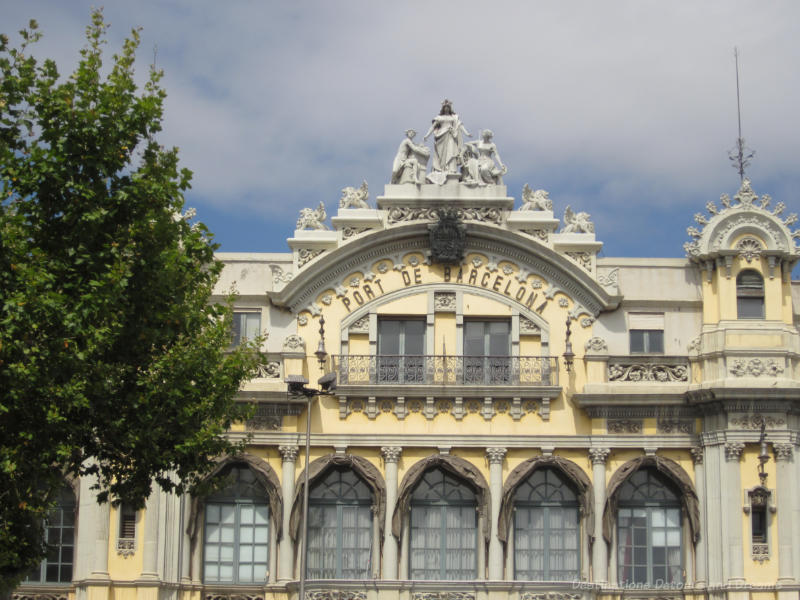 Architecture, museums, food, festivals, and more in Barcelona, Spain
(Last updated October 2020)
Barcelona, Spain is one of the top tourist destination cities in the world. Located on the Mediterranean coast, it is the capital of the autonomous community of Catalonia and the second largest city in Spain. Founded as a Roman city, it has a rich cultural heritage. Good public transportation, along with walking and cycling paths, make exploration easy. There is much to see and do in the city.
1. Tour La Sagrada Familia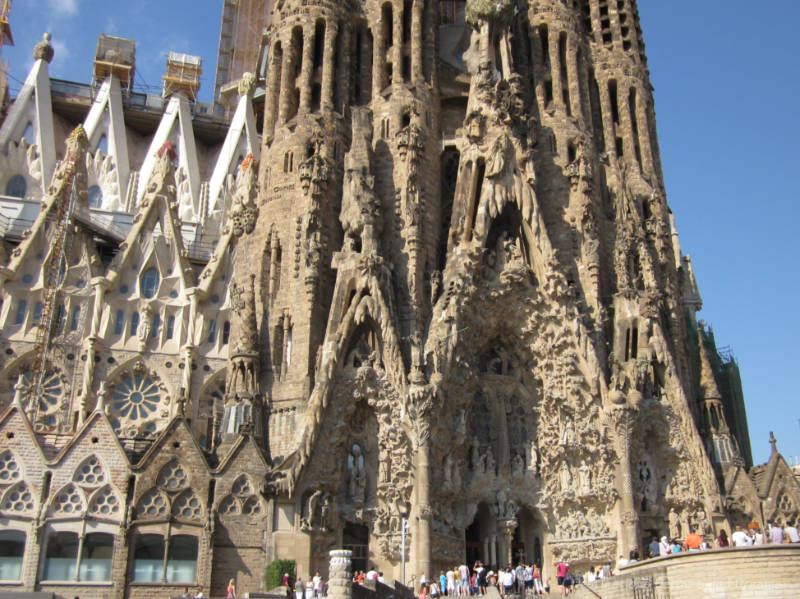 La Sagrada Familia is one of the top tourist attractions in Barcelona, Spain. Building of this church, designed by architect Antoni Gaudí , began in 1882 and continues today. Buy tickets online in advance to avoid line-ups. A guided tour or purchase of audio headsets is recommended to gain a fuller appreciation of this masterpiece.
2. Check Out Gaudí Architecture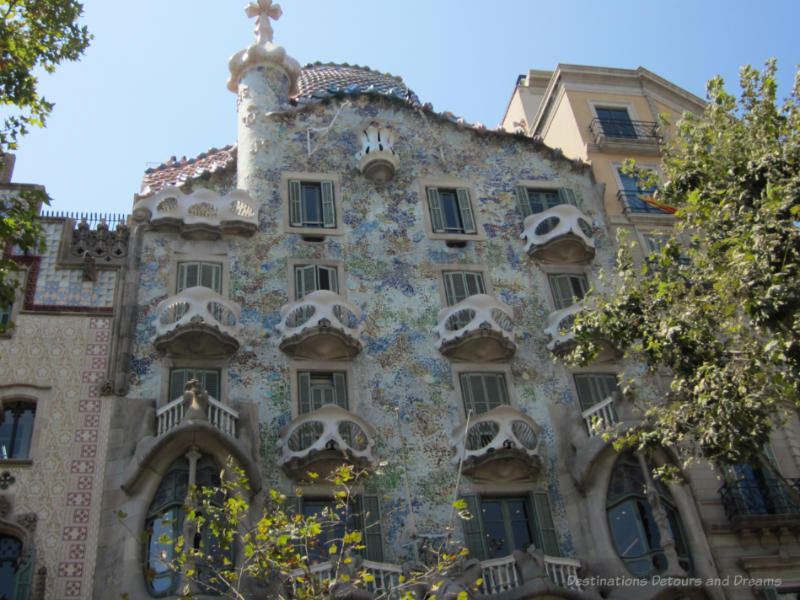 La Sagrada Familia is not the only Antoni Gaudí work to see in Barcelona. The architect most associated with Barcelona, left a legacy of interesting and unusual buildings. There are public works of art and building facades to be seen throughout the city. Casa Batlló (shown in the photograph), Casa Mila, Palau Güell, and Casa Vicens are open to the public to tour.  offer tours. A visit to Park Güell is well worth it.
3. Explore Barcelona Architecture Beyond Gaudí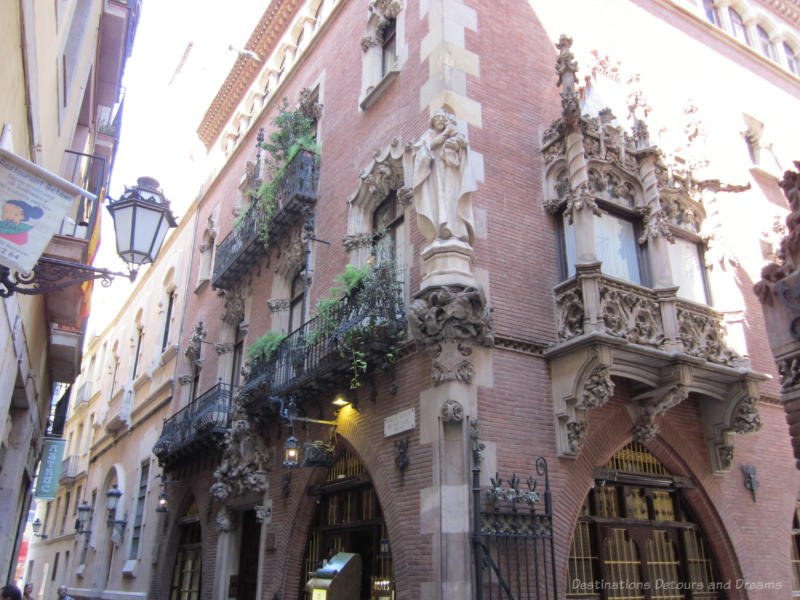 Barcelona contains architectural gems beyond the works of Antoni Gaudí. In 1999, the city received the Royal Gold Medal for architecture. Although best known for the colourful, free-flowing Modernisme style, many architectural styles can be found in Barcelona.
4. Visit Museums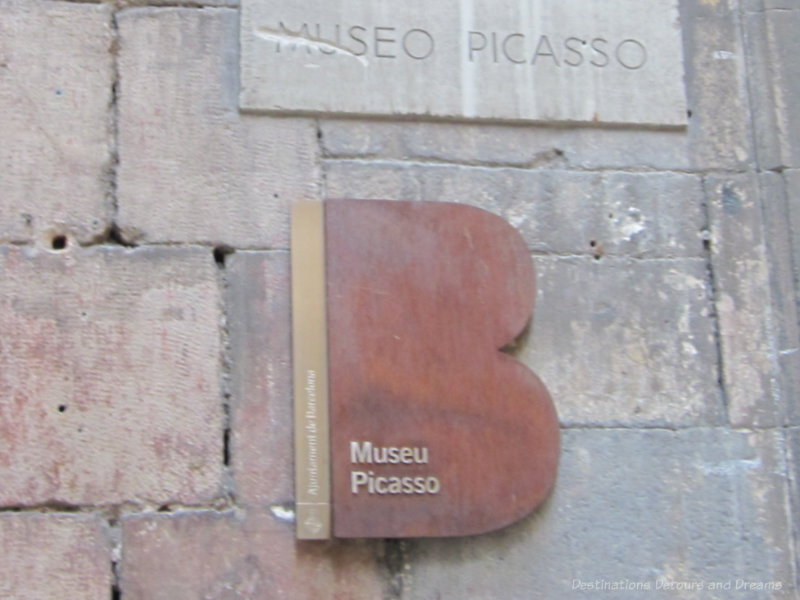 Barcelona has many museums to choose from. Pablo Picasso spent his formative years in Barcelona. The Pablo Picasso Museum houses one of the most extensive collections of his artwork. I spent a couple of very enjoyable hours there. Joan Miró was a Surrealist painter, sculptor, and ceramicist born in Barcelona in 1893. The Fundació Joan Miró is dedicated to his work. The Bullfighting Museum of Barcelona is housed in the Monumental Building, where bullfighting events took place prior to Catalonia's 2012 ban on bullfighting. The Barcelona City History Museum narrates the history of the city and contains underground Roman ruins. For something a little different, the Chocolate Museum provides a journey through the origins of chocolates, its spread in the world, and its medicinal and nutritional value.
5. Eat, Drink, and Be Merry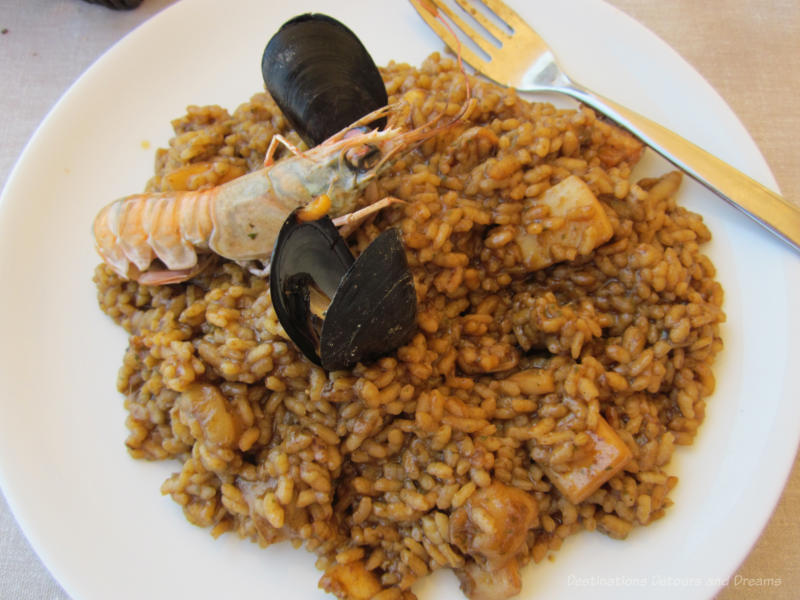 One of the great joys of travel is tasting an area's cuisine. Tapas are Spanish appetizers or snacks. Tapa bars are found throughout Barcelona, some of the best offering food at crowded, stand-up bars. In some, you will order from a menu. In others, the selection will be on display at a front counter and/or passed out on trays by waiters. In this case, each selection will contain a toothpick. At the end of the evening, you pay according to how many toothpicks are on your plate.
Seafood is popular, as is cured ham, which is often served on its own as an appetizer. There are shops selling nothing but varieties of ham. Many restaurants offer paella, a saffron-flavored Spanish dish made with varying combinations of rice, vegetables, meat, chicken, and seafood, each restaurant creating a slightly different version. Arroz negro is a traditional Catalonian dish of squid and rice, prepared in a similar manner as paella.
Wash it all down with a glass of Cava, the Spanish sparkling wine produced mostly in the Catalonia region. Or, perhaps, some sangria.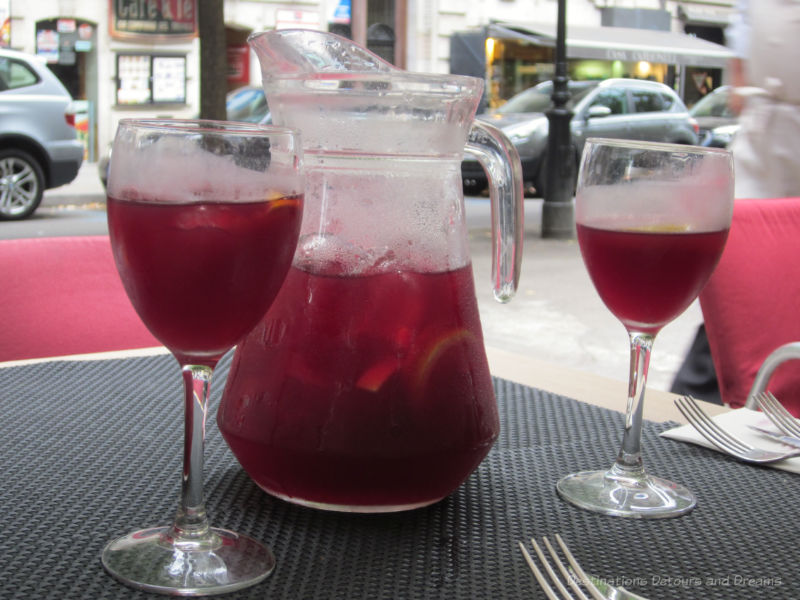 6. Take in a Festival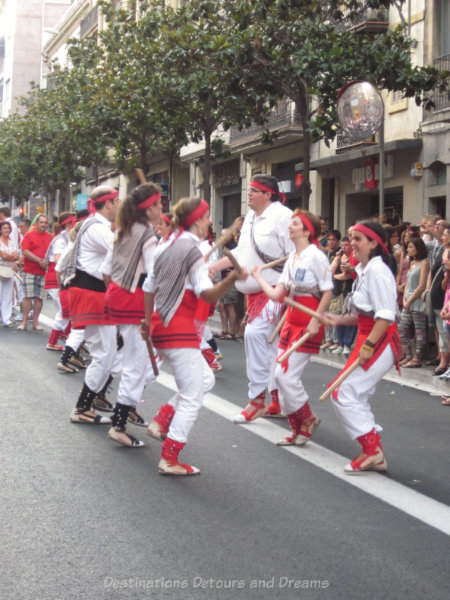 Festivals take place throughout the year in Barcelona and surrounding area. Check out what's on during the time frame of your visit and join the party.
I was there in August and took in the Gracia Street Festival. Streets in the Gracia district compete to win the prize of being the best decorated street. There are also concerts and shows.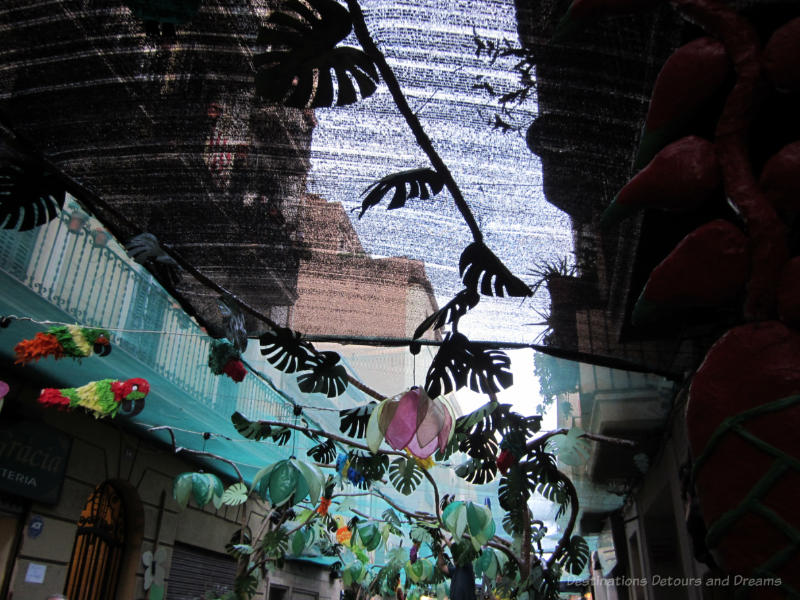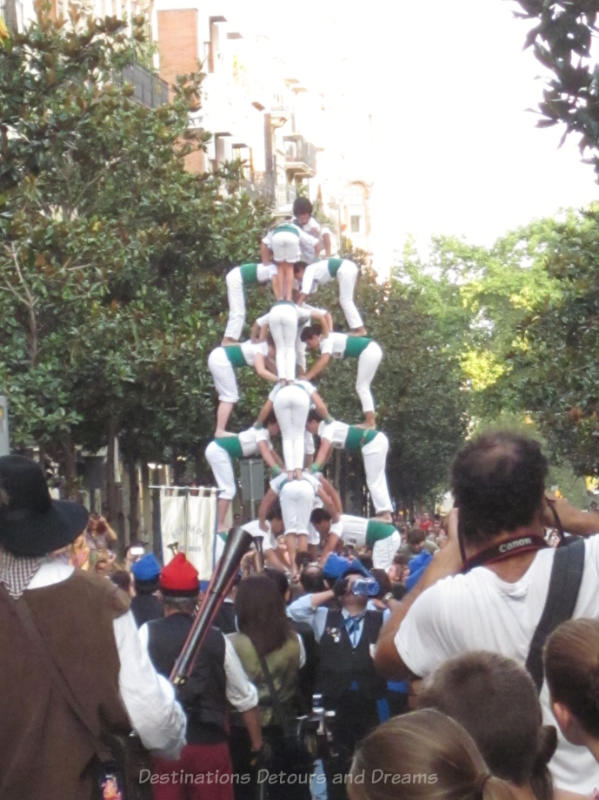 The opening evening parade included human acrobats, folk dancers, giant wooden figures (Geganters), marchers in old-time military dress firing arquebus muskets loaded with blanks, and a correfoc. A correfoc is a fire run and has been described as a frenzy of pyromania. Groups of horned devils dance through the streets, brandishing tridents that spout fireworks, followed by fire-breathing dragons. I don't believe safety regulations would allow this anywhere in Canada or the U.S., but it was fun to see. The atmosphere was definitely festive.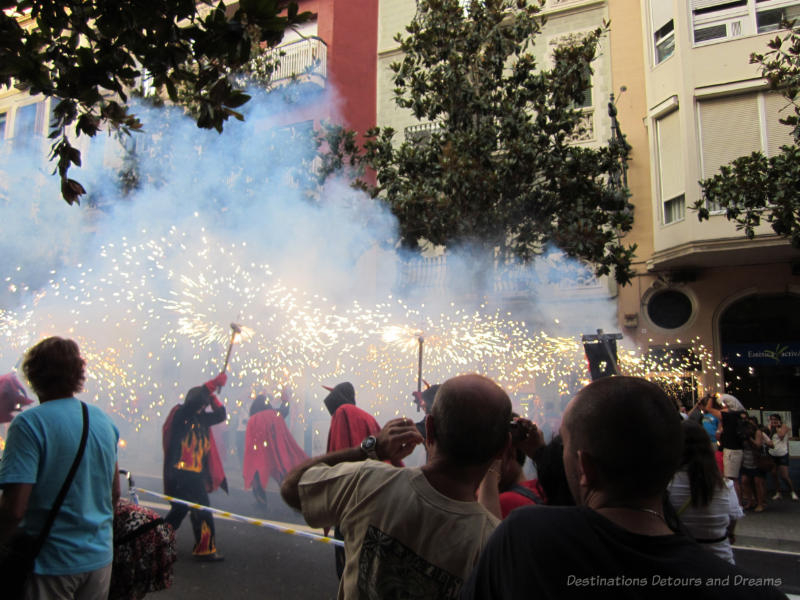 7. Discover Street Art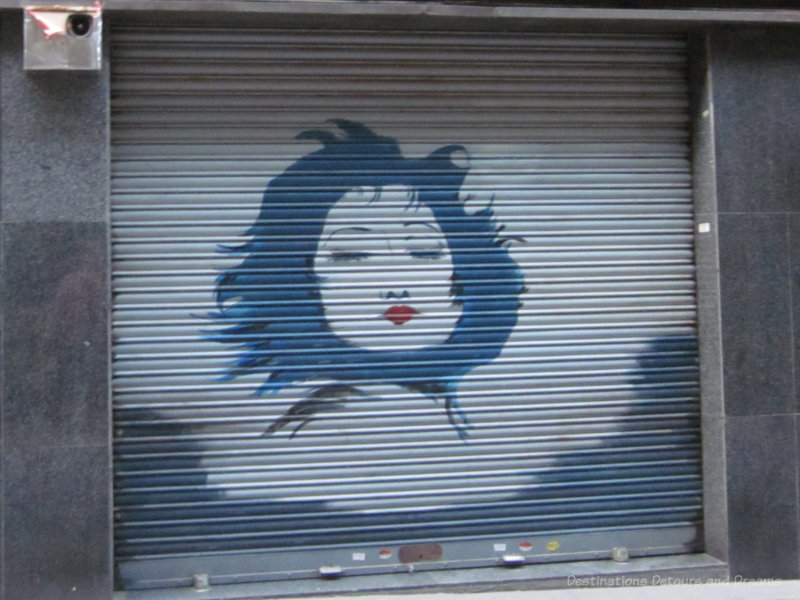 The city of Barcelona is a contemporary art gallery. Walls, streets, doors, and even power boxes are covered with expressions of urban art. Walk around and discover the works on your own, or take one of the organized street art tours.
8. Wander Through the Gothic Area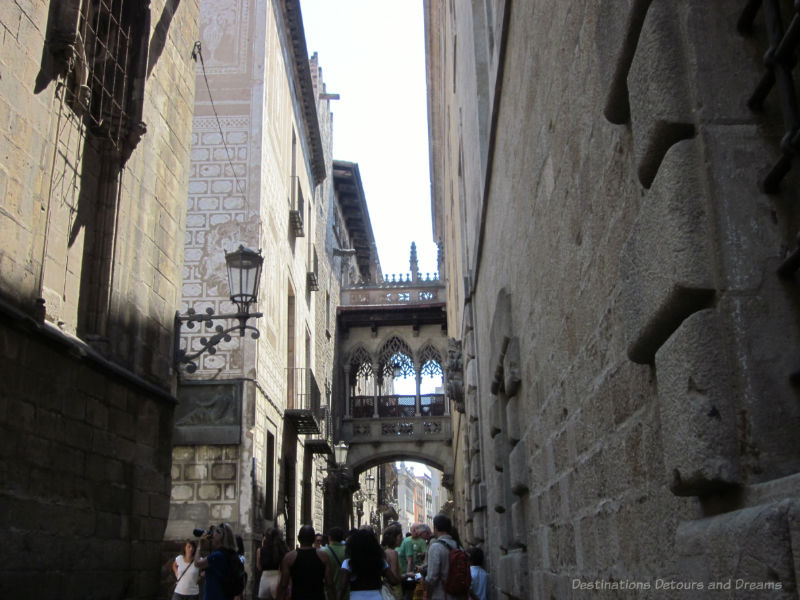 The Gothic area is the birthplace of the city, where the ancient Romans first built the city. It is easily explored on foot. It's an area of grand squares and narrow streets. You'll find Roman ruins, twelfth century buildings, and lots of atmosphere. Here you'll also find Barcelona Cathedral, a centre of Christian worship since the fourth century, the current building dating from the fourteenth century.
9. Walk Las Ramblas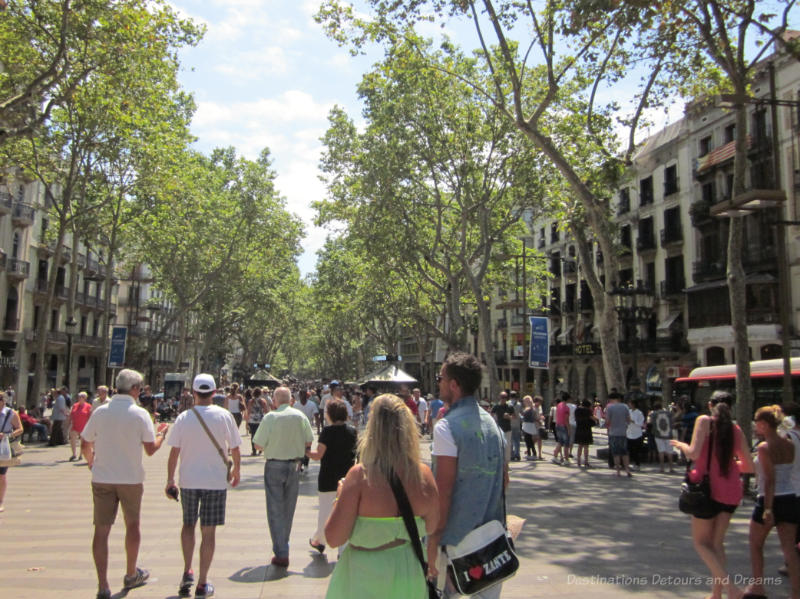 For more than a century, the walk down the tree-lined pedestrian boulevard of Las Ramblas has attracted tourists and locals. You'll find cafes, stalls selling everything from flowers to candy, street performers, and interesting architecture and side streets.
10. Relax at the Beach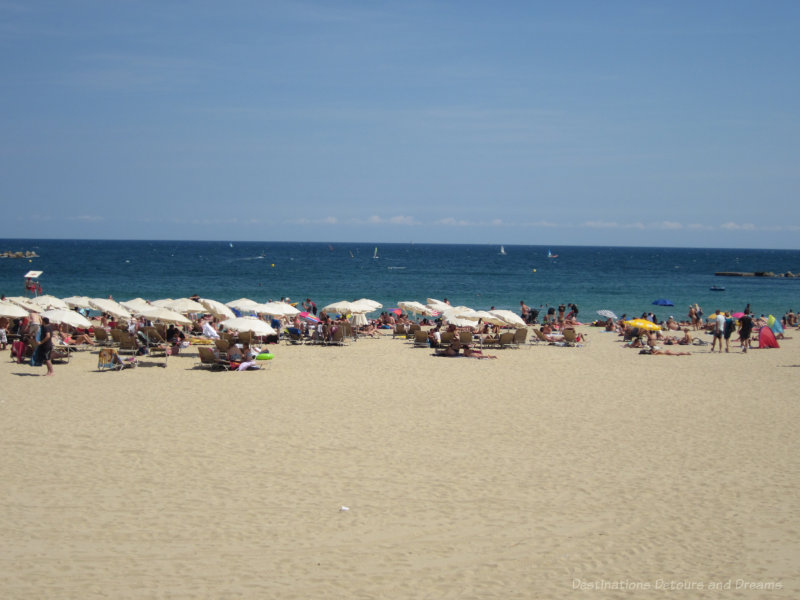 Barcelona has over 4 kilometres of beach, seven individual beaches, on the Mediterranean Sea. Barceloneta Beach is the busiest beach, closest to the centre of the city. Mar Bella Beach is the nudist beach.
Get all the info! Destinations Detours and Dreams monthly e-newsletter contains behind the scenes information, sneak peeks ahead, travel story recaps and more. SIGN UP HERE
PIN IT