Explore Gaudí Architecture In Barcelona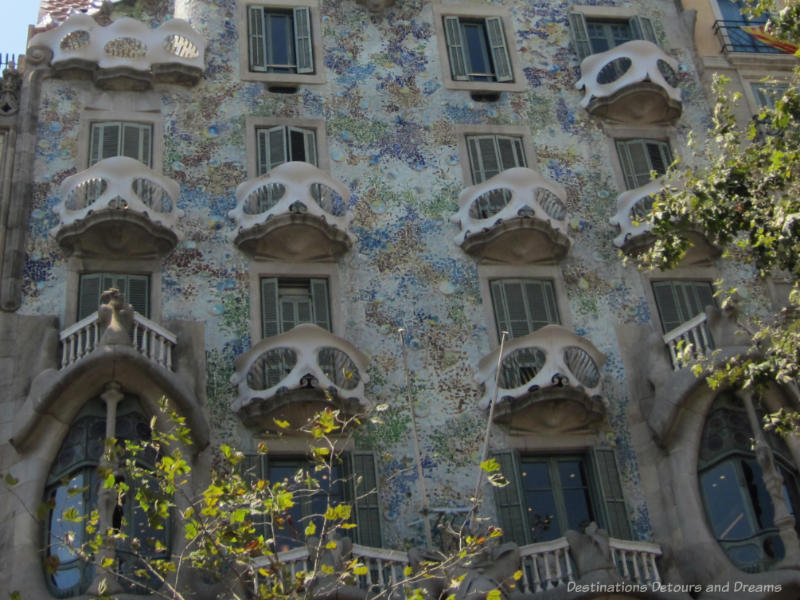 The architecture of Barcelona, Spain is dominated by the works of Antoni Gaudí, many of which are top tourist attractions and UNESCO World Heritage Sites
Catalan architect and proponent of Moderism Antoni Gaudí i Cornet became internationally recognized for his creative contribution to the development of architecture and building technology in the late 19th and early 20th centuries. If you have not heard of him or are unfamiliar with his style, that is likely to change after a visit to Barcelona, Spain. Gaudí lived most of his life in Barcelona. His unique style has left a mark on the city. In a city with numerous attractions for a tourist, several of the most visited attractions are Gaudí buildings. The city boasts the largest concentration of his works in the world. Seven of his works in Barcelona are designated as UNESCO World Heritage Sites.
Gaudí buildings were certainly highlights of my own visit to Barcelona a few years back. I visited many of the sites listed in the post. Perhaps I will have a chance to see the others in a future visit (and maybe also revisit the others).
About Gaudí
Lamp Posts
Gaudí Residential Buildings
Casa Vicens
Palau Güell
Casa Calvet
Casa Batlló
Casa Milà
Park Güell
La Sagrada Família
Other Gaudí Works
College of St. Theresa
Pavilions of Finca Güell
Gaudí's Fountain in Parc Cituadella
The Crypt at La Colònial Güell
Antoni Gaudí was born in Reus in 1852. He received a traditional religious and humanist education, excelling in geometry and arithmetic. In 1878, he graduated from the Barcelona School of Architecture.
Gaudí began work in Barcelona at a time of prosperity for the city, at the beginning of a cultural avant-garde movement that saw artistic and technological innovations. In 1869, expansion of the overcrowded city, which had been contained within medieval walls until 1854, began. The Eixample (the Enlargement) district was designed in the area beyond the old city walls, between Barcelona and Gracia. It became the most sought-after real estate in Barcelona. Barcelona had a large and growing number of wealthy upper-class people. The new bourgeoisie built lavish buildings. There was plenty of opportunity for the new architect.
Gaudí's distinctive works are bold and free flowing, full of curves and vibrant colour. The organic forms are influenced by nature. Gaudí observed and borrowed many constructs from nature. "Everything comes from the great book of nature," he said. Gaudí was a religious man, a devout Catholic. Religious symbolism appears in many of his works.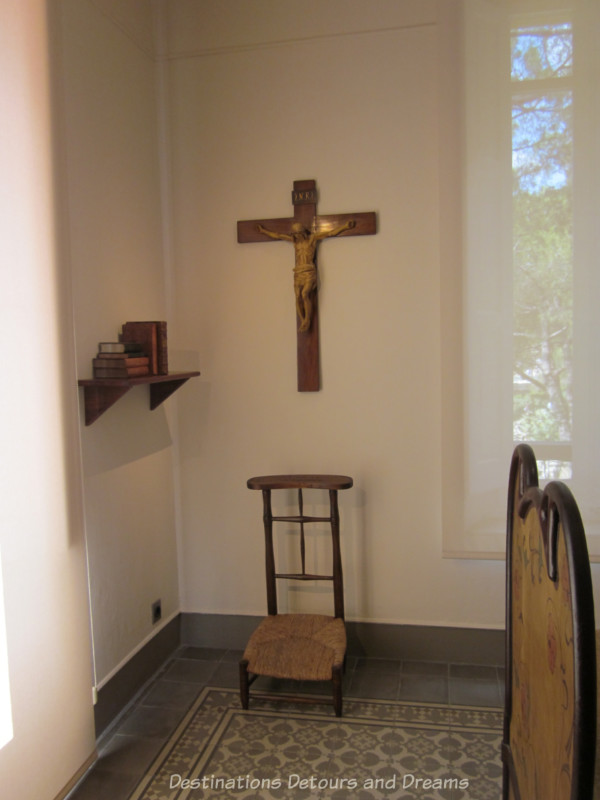 Gaudí paid attention to detail and integrated a variety of materials like ceramics, stained glass, wrought iron, and carpentry. He introduced new techniques using waste ceramic pieces to create mosaics.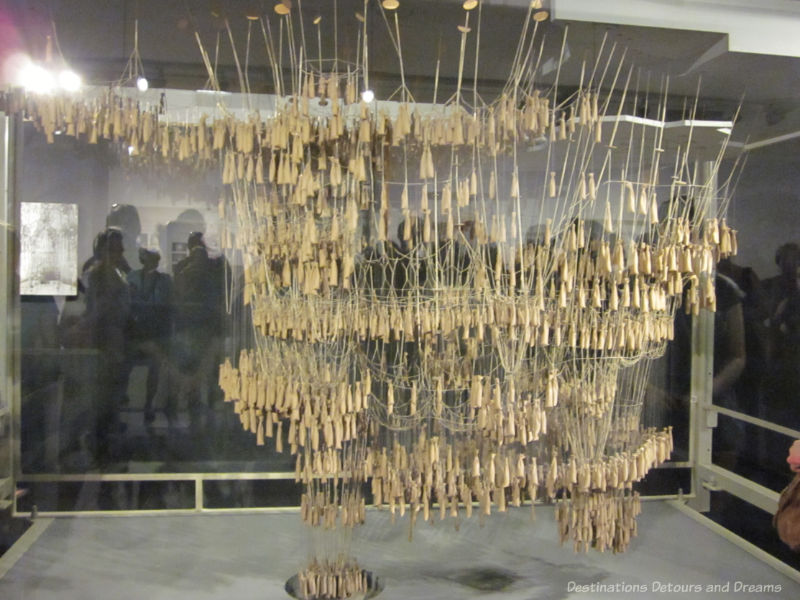 Gaudí's techniques for optimizing weight-bearing in his structures were simple and clever. Using ropes to create inverted arches, he experimented with varying weight levels and adjusted calculations for larger proportions. Modern computer simulations have validated his calculations.
The younger Gaudí dressed splendidly. In older years, he cared less about appearances and wore old, worn-out suits. In 1926, on his daily walk to Sant Felip Neri Church for prayer and confession, he was run over by a trolley. Carrying no identity papers and being shabbily dressed, he was assumed to be a beggar and did not receive immediate aid. Later, a policeman transported him to a charity hospital, where he received rudimentary care. He died three days later.
Madman or Genius?
When Gaudí graduated from the Barcelona School of Architecture, the Dean said, "I am not sure to whom I presented a diploma today, to a madman or to a genius." Before visiting Barcelona I'd seen only a few photos of his unusual works and might have tended toward the madman categorization. After seeing several of his works in person and learning more about the structures, I am inclined to say genius. Quite possibly, he was a little of both.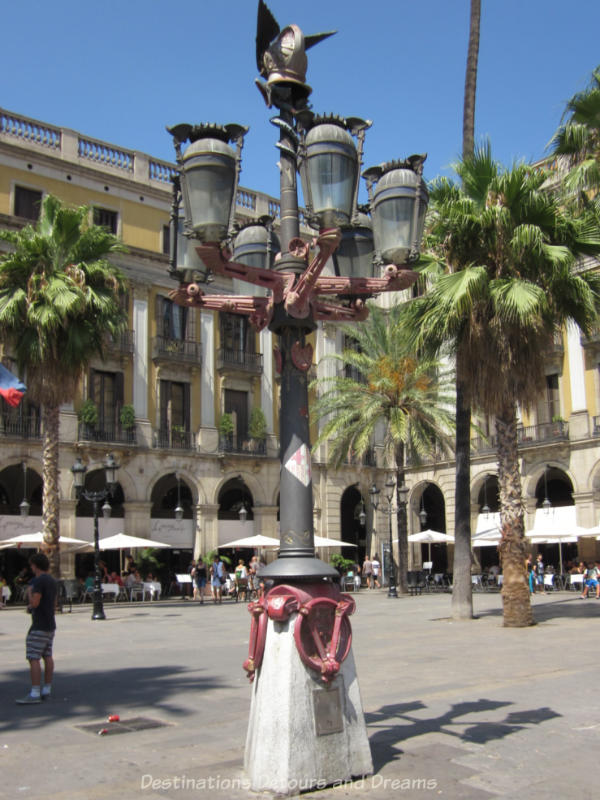 Gaudí's first commission was to construct street lamps for the city in 1878. The lamps had a cast iron column and six arms with gas lights on each arm. The posts were crowned by a winged helmet. The Barcelona coat of arms was placed in the centre of each column. Most of the lamps no longer exist. Two remain on either side of the fountain in Placa Reial, located off Las Ramblas.
A decade later he was commissioned to design the lamppost on Pla de Palau. The lampposts in front of the government building are similar to the ones in Placa Reial except that they have three arms instead of six and are not as elaborately decorated.
Casa Vicens was built between 1883 and 1885 as a summer home in the former village of Gràcia. With a façade clad in green and white tiles, the house looks different than the recognizable style of Gaudí's later works. The house is considered to be an example of Gaudí's orientalist period (1883 to 1888). It reflects Asian and Islamic influences.
Casa Vicens was designed with four levels: the basement for storage, the ground floor for living space, the first floor for bedrooms, and the top floor for servants. The rooftop is accessible and features a walkway around all four sides of the pitched roof, with curved terracotta roof tiles to collect water.
Casa Vicens in a UNESCO World Heritage Site. The home has been restored and now operates as a museum.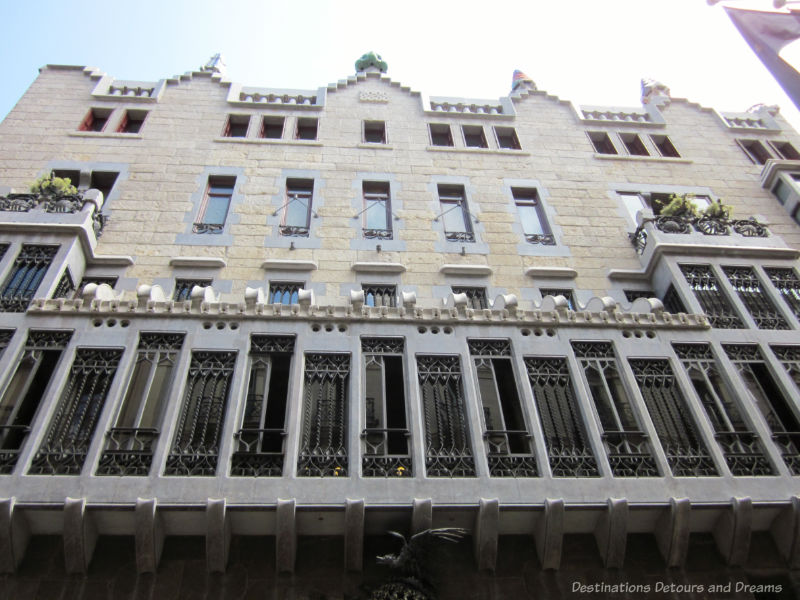 Wealthy industrialist Eusebi Güell became Gaudí's main patron. In 1885, when Gaudí was still relatively unknown, Güell commissioned him to design his private residence. Palau Güell was built between 1886 and 1888. With innovative use of traditional building methods and a wide variety of materials, Gaudí created a bold and unique building.
The house is centered around the main room for entertaining. Guests entered the home in horse-drawn carriages through the front iron gates, which featured a parabolic arch and intricate ironwork. Animals could be taken down a ramp and kept in the livery stable in the basement where the servants resided. Guests went up the stairs to the receiving room where ornate walls and ceilings disguised small viewing windows high on the walls where the owners could get a sneak peek at their guests.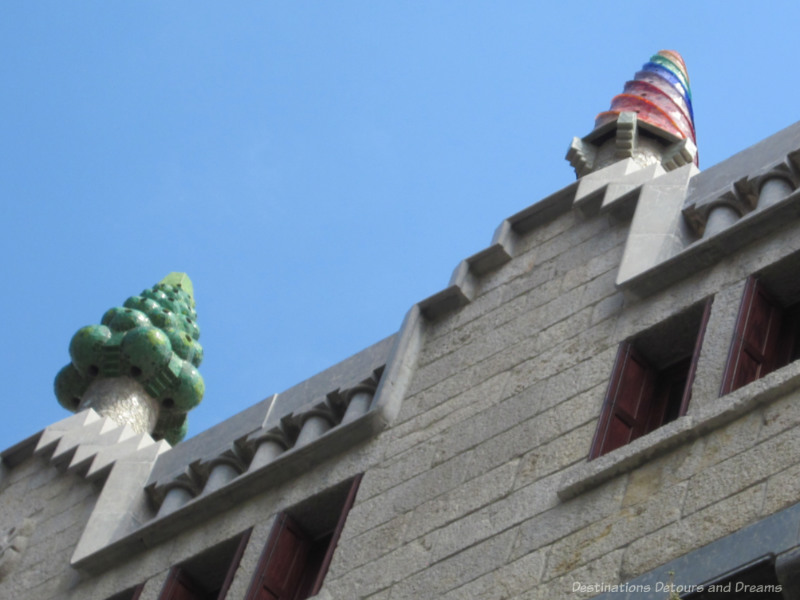 Twenty sculptural chimneys, covered in broken pieces of ceramic tile, marble, and stained glass, have become the iconic symbols of Palau Güell.
Palau Güell is a UNESCO World Heritage Site. It is situated on the Carrer Nou de la Rambla in the El Raval neighbourhood and is open for tours.
Casa Calvet was built in 1898 for textile manufacturer Màrtir Calvet, who used the ground floor and basement for his business, and the upper floors for his residence. The building is considered to be Gaudí's most conventional work. The stone façade reflects the baroque Catalan style of architecture. The balconies that jut out feature intricate ironwork. The top of the façade curves to form three inverted lobes with busts of Saint Peter the Martyr, Saint Genesius of Arles, and Saint Genesius of Rome sitting beneath the lobes.
Casa Calvet, located at Carrer Sant Marc, 57, is a private property and you cannot tour or visit. However, you'd be able to see part of the building interior by visiting the chocolate shop or restaurant now operating on the ground floor.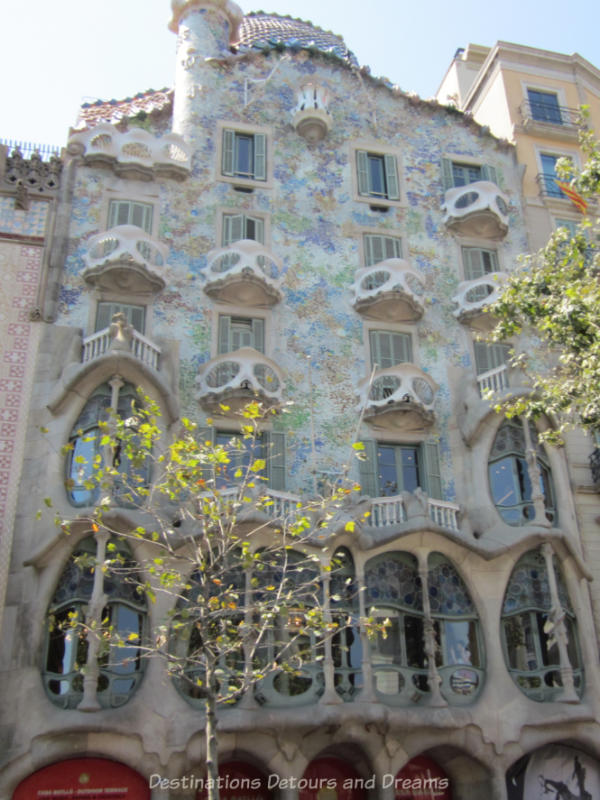 Between 1904 and 1906, Gaudí renovated a building for Josep Batlló. The house had been built in 1877. Gaudí replaced the original facade with a new one of stone and glass, redesigned the exterior walls in a wavy shape, plastered them with lime mortar and covered them with mosaics of coloured glass and ceramic discs. The interior of the house was also completely renovated.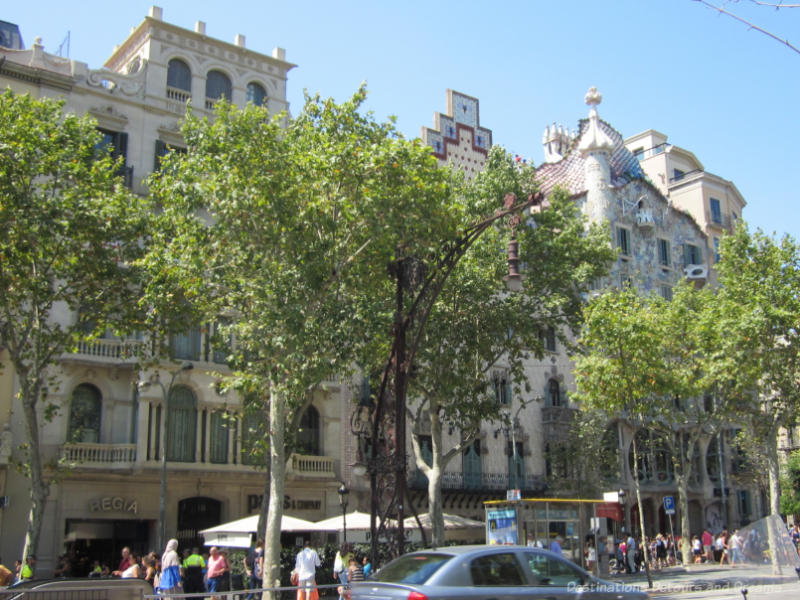 Casa Batlló is located at number 43 of Paseo de Gracia. It is part of the so-called Manzana de la Discordia (Block of Discord or Apple of Discord in English), the most famous collection of modernist buildings sharing the same façade in Barcelona. The buildings reflect different architectural trends of the day. The other two buildings are Casa Lleò Morera by Domènech i Montaner and Casa Amatller by Puig i Cadaflach.
Casa Batlló is a UNESCO World Heritage Site and operates as a museum. You can tour the interior.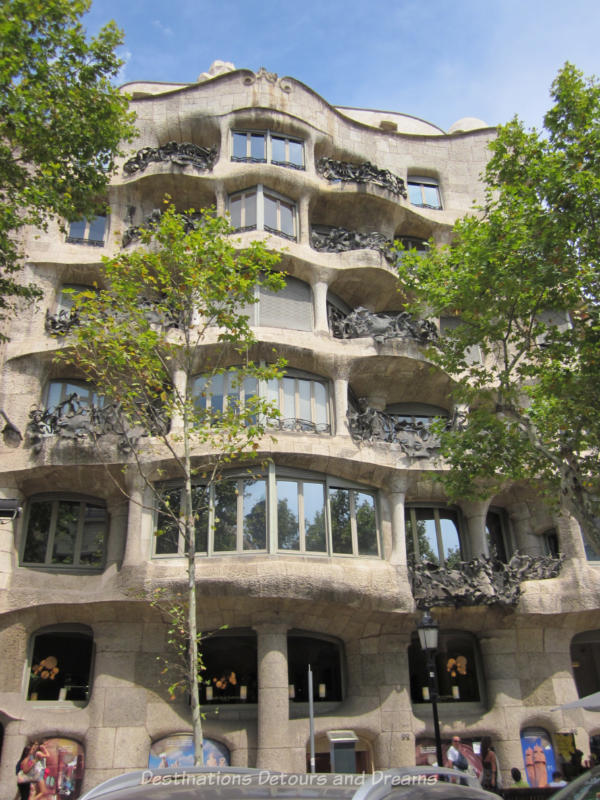 Casa Milà, popularly known as La Pedrera ("the stone quarry") because of its rough-hewn appearance, was built between 1906 and 1912 as two apartment blocks with independent entrances linked by two large inner courtyards and a common façade. There were 16 apartments. Casa Milà was built for Pere Milà and his wife Roser Segimon, who made their home on the main floor and rented out the remaining apartments.
You can tour the inside of the building, where you'll see, among other things, a typical bourgeoise apartment of the early 20th century, a Gaudí Exhibition, and the iconic and unusual Warrior Rooftop.
Casa Milà is a UNESCO World Heritage Site. Read more about the building and my own tour of it in the post A Tour Of Gaudí's Casa Mila In Barcelona.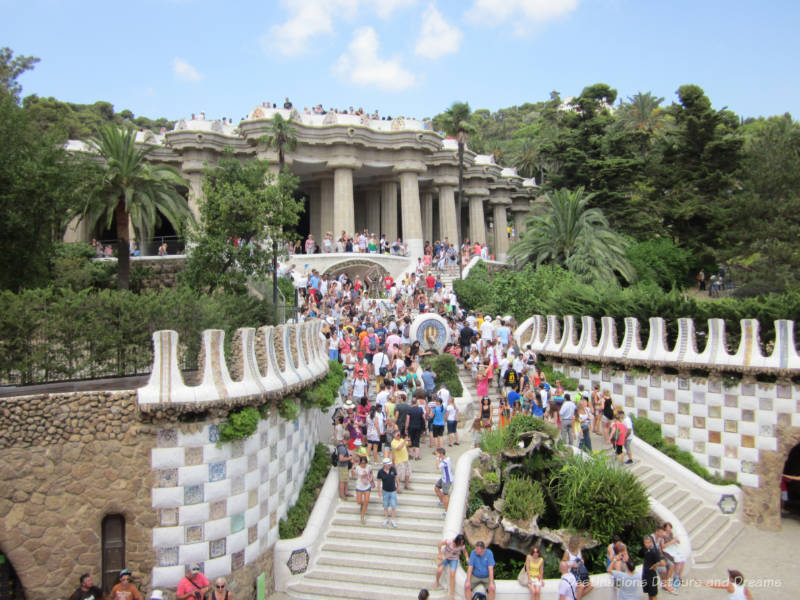 Parc Güell is a 45-acre garden complex designed and built between 1900 to 1914 for developer Eusebi Güell. It was originally meant to be a 60-residence gated community for Barcelona's noveaus riches.
Park Güell failed as a real estate venture because of complex conditions for the sales of plots, lack of a suitable transport system, and the exclusive nature of the development. Only two homes were built. The venture was abandoned in 1914 and became a large private garden. The city purchased the park in 1922.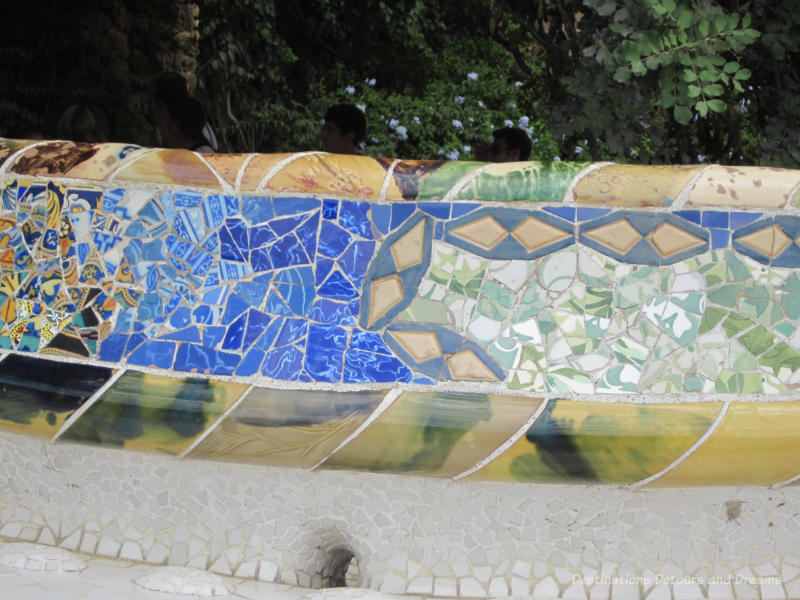 Gaudí incorporated a variety of architectural elements into the green space of the complex, including a terrace, which was to be the community meeting place, surrounded by a curved bench decorated with ceramic tiles. Many decorative features also served practical purposes.
As a student, Gaudí lived in residences in the Gothic Quarter. When he started his career, he lived in several rental flats in the Eixample area. In 1906, her bought the show house in Park Güell. He lived there until 1925, when he moved into his workshop at La Sagrada Familia.
Today this UNESCO World Heritage Site is a municipal garden. Gaudi's house in Park Güell is now a museum containing pieces of furniture he designed. You can read more about the park and my visit in the post Park Güell: Failed Real Estate Venture, Popular Tourist Attraction.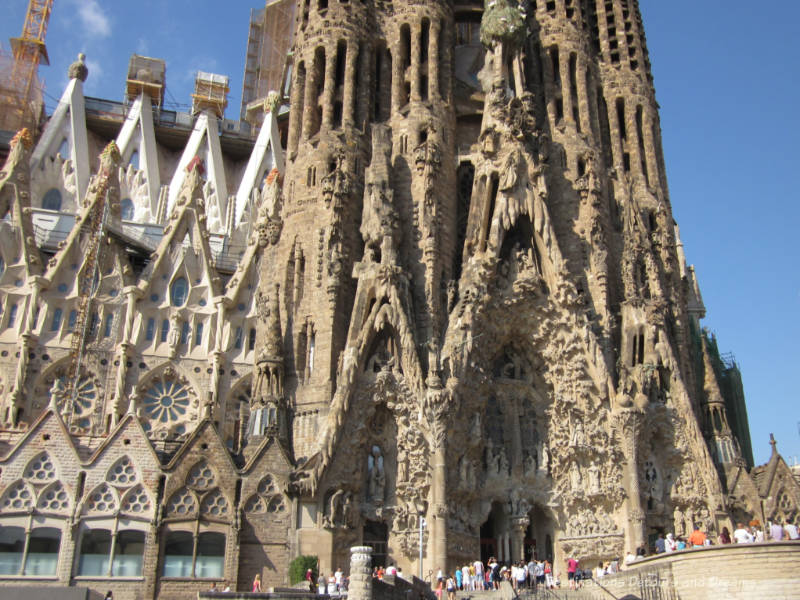 La Sagrada Família is Gaudí's most well-known and most-visited work in Barcelona. Building of this church began in 1882. Gaudí was commissioned in 1883 after the original architect resigned. Gaudí worked on the church until his death in 1926. From 1914 to 1926, he worked exclusively on the church. At the time of his death, it was 20% complete. After his death, work continued following his design. Work continues today. A targeted completion date of 2026, 100 years after Gaudí's death, has been delayed due to the construction interruption caused by the COVID-19 pandemic.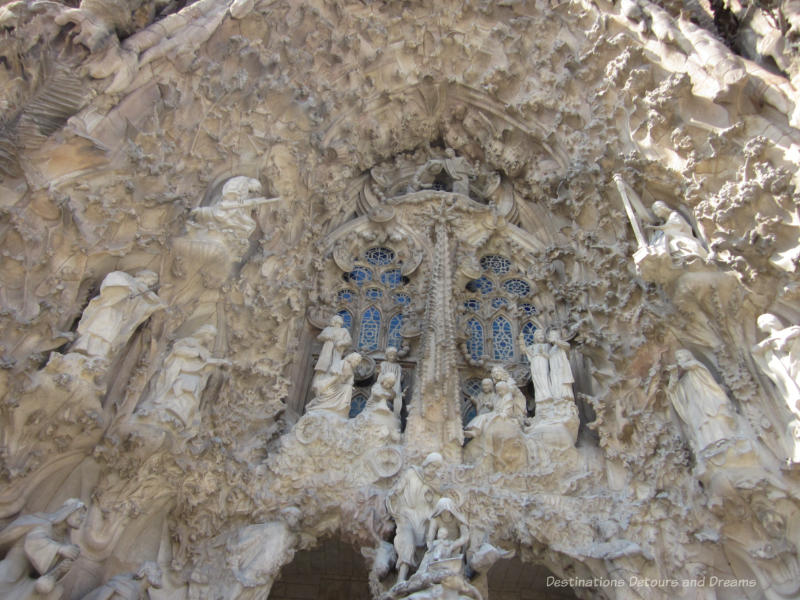 Gaudi's work on the Nativity façade and Crypt of La Sagrada Família have been designated as a UNESCO World Heritage Site. Tours of La Sagrada Família are available. You can read more about the building in my post La Sagrada Familia.
There a few other Gaudí works in or near Barcelona worthy of mention. I should note that I have not yet had the opportunity to visit these particular sites.
Santa Theresa School is located at Carrer de Granmduxer, 85 – 105 Barcelona. Because the building still functions as a school, interior visits are restricted with limited visits on Saturdays and Sundays.
Industrialist Eusebi Güell owned an estate in the Les Corts district. He commissioned Gaudí to remodel the garden and build two gatehouses intended to be the caretaker's house and the stables. The project was completed between 1884 and 1887. It was Gaudí's first commission for Güell, who would become his main patron.
The gatehouses have a stone base and brick parabolic arches with bright ceramic decorations in geometric shapes. A prime attraction of this site is the extraordinary wrought iron dragon in the main gate. It represents the mythical dragon from the Garden of Hesperides. The Pavilions are located on Av. de Pedrables and are part of the Universitat Politècnica de Barcelona.
Gaudí designed the monumental fountain in Parc Ciutadella when he was still a university student. During that time, he worked as a draftsman for architect Josep Fontserè who developed the park.
Eusebi Güell began the development of Colònial Guell in 1890 on his estate in what is now the Baix Llobregat region 20 minutes from Barcelona. It was to be an industrial colony with workers' houses located next to the factory and their social and economic life supervised by the company.
In 1898, Güell commissioned Gaudí to build a church for the estate. Over the following years, Gaudí carried out preliminary studies culminating in a model of the church. Construction of the ambitious project, which envisioned a church with two naves topped by different side towers and a central dome, ended in 1914 when Güell informed Gaudí he would no longer finance the works in progress. Only the lower nave had been built and it came to be known as the crypt.
Gaudí tested various architectural solutions in this building that he later applied to La Sagrada Família. The Crypt at Colònial Güell is a UNESCO World Heritage Site.
Never miss a story. Sign up for Destinations Detours and Dreams free monthly e-newsletter and receive behind-the-scenes information and sneak peeks ahead.
PIN IT