Working replicas of famous lighthouses on Lake Havasu, Arizona
Arizona is a land-locked state and not often associated with lighthouses, but Lake Havasu City in Arizona is home to more lighthouses than any other city in the United States. The fully functional lighthouses are one-third scale replicas of famous East Coast, West Coast, and Great Lakes lighthouses.
A group of Lake Havasu City boaters formed the Lake Havasu Lighthouse Club in 2000 to address the need for navigation aids on Lake Havasu's twists and bends.
The first lighthouse replica was of West Quoddy Lighthouse in Lubec, Maine. The replica replaced an existing navigational aid and was dedicated in June, 2002. Today 22 lighthouse replicas exist, with plans for an additional 5 to be built.

All of the lighthouses on the west side of Lake Havasu are replicas of West Coast lighthouses while those on the east side are replicas of East Coast lighthouses. The lighthouses around the island are replicas of Great Lakes lighthouses. As per coast guard navigational regulations, lighthouses on the west coast use a green beacon and lighthouses on the east coast use a red beacon.

A map of lighthouse locations is available at Lake Havasu City Visitor Center at the foot of London Bridge. 11 lighthouses are accessible by land. The others may be seen from the lake.

Have you seen Lake Havasu City's lighthouses? Have you seen any of the originals? In addition to the ones I've highlighted in my pictures, replicas include West Quoddy, Cape Hatteras, Robert H. Manning, Main Buffalo, Sandy Hook, Table Bluff, East Quoddy, Alpena, Mount Desert Rock, Barnegat, Berwick, White Shoals, Umpqua, Portland Head, Fire Island, Chicago Harbor Navy Pier, and Gray's Harbor Light.
PIN IT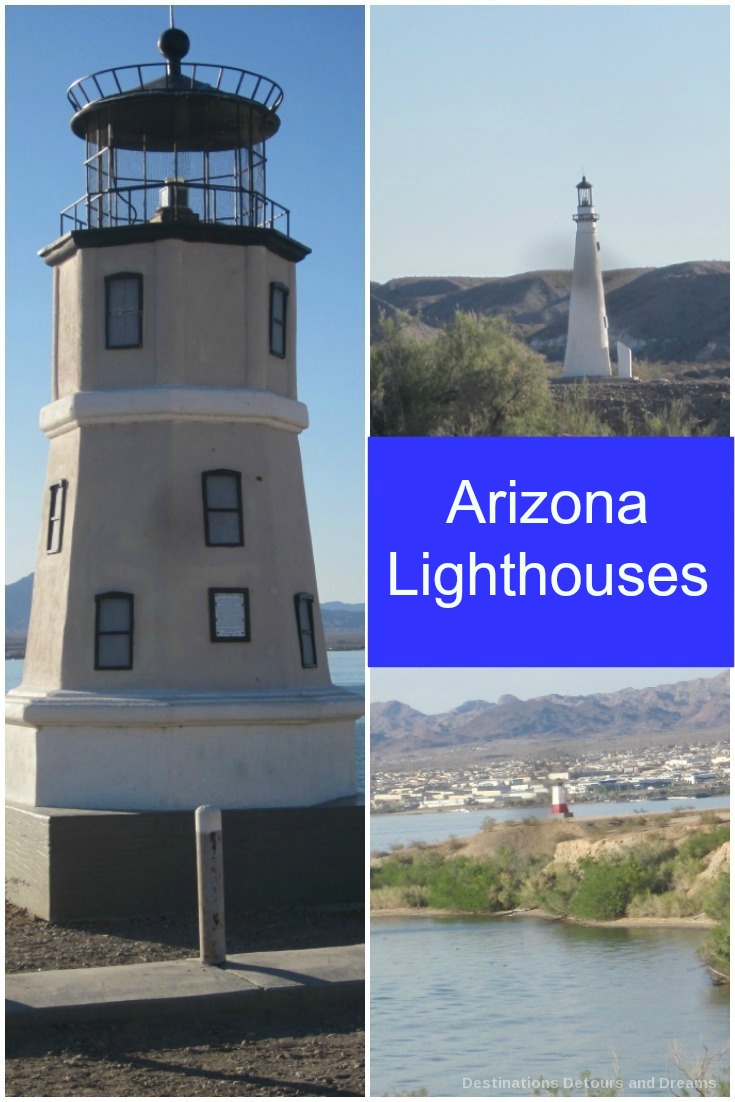 This post is part of Travel Photo Mondays on Travel Photo Discovery.