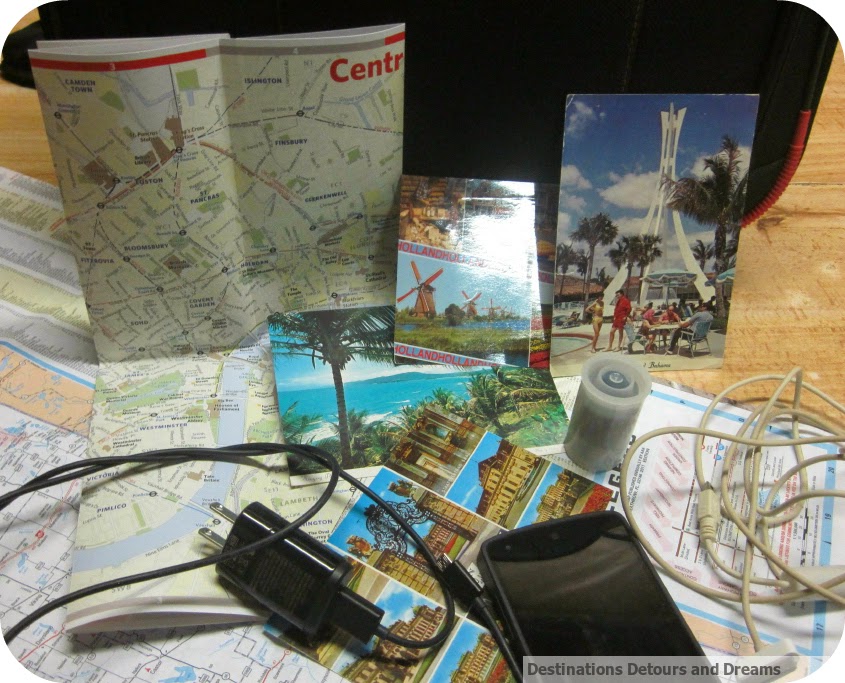 The many ways travel has changed in the last 30 to 40 years
While sorting through old boxes, I discovered postcards friends had sent me years ago. That find made me think about all the ways travel has changed in the last thirty to forty years.
Remember travellers cheques? They used to be the recommended method for currency on your travels. There are places in the world where that is still the case. They were my best option on my 2012 visit to Antigua. But in much of the world, credit cards, debit cards, and ATMs have made them almost obsolete. If you do take travellers cheques, you generally need to get to a bank to convert them into usable cash. I remember the days when you could pay for restaurant meals, hotel bills, and even souvenir buys with travellers cheques.

Planning your trip has changed. Travel brochures, travel guide books, and recommendations from friends or your travel agent were the source of information for sites to visit and places to stay. Although these options still exist, the Internet is likely your primary research tool now. The amount of information available at your fingertips is astounding. Official tourism web sites, hotel and attraction web sites, advice from locals, and travel magazine articles and blogs. Not to mention the sites where travellers post reviews. Sometimes it may seem like too much information. I admit to being tempted to stay home after reading through rafts of hotel reviews. Someone is always dissatisfied.

The way the Internet has changed planning a trip extends into the booking process. Chances are you book online or use online information to contact directly and book via telephone. Travel agents are turned to less frequently, often in unique circumstances.

Remember heading into souvenir stores to buy more film for your camera? The way we capture and record memories has changed. You used to take a shot and hope it turned out. You didn't have a digital display to let you know immediately you made a mess of it. Because of the cost of both film and development, you may have been reluctant to take a number of shots to increase your odds of a good one. I remember returning from a trip where I'd taken a record number of photos (record for me, not a world record). I had them developed in batches to spread the cost across a couple of pay periods.

Sharing out photographs has also changed. We no longer wait to ask friends over to share our trip memories and photos, after the development is complete and pictures are organized. Often there is no need to plan an evening to share our memories. We've often posted to Facebook and Instagram while on our travels. Friends and family know about our trip before we return home.

I still like to have paper maps with me. They orient me. But GPS. online maps, and smart phone directions make them less and less necessary.

Remember playing road games with your children or as children on long car drives? Versions of I Spy, Twenty Questions, or licence plate spotting. Now, children are likely to be playing video games or watching movies on their tablets.

I'm reluctant to bring up the ordeal of airport security, but that has certainly changed. Increased restrictions on what can be brought on board, stripping off clothing, body searches, and long lines. Gone are the days of taking a bottle of wine in your carry-on for a weekend visit with a friend.

I remember the first wheeled luggage I had. Tiny wheels on a clumsy suitcase I pulled with a leash. I think I spent more time setting it back upright than pulling it.

Speaking of luggage, what is in it has changed. How much electronic equipment, cords, and chargers do you now pack?

And then there are the postcards I mentioned at the beginning. In days past, I hunted out souvenir shops on the first days of a trip. I browsed through their collection of postcards, carefully selecting the most appropriate card for each person on my mailing list. Today, status updates on social media sites have overshadowed postcards.

Lastly, I must mention travel blogging. Thirty years ago, I wouldn't have been able to post this for you to read on your computer, tablet, or smart phone.

Because we weren't digitally connected years ago, there was a greater sense of being far away and in another world when we travelled. I admit to a bit of nostalgia about that, but overall embrace the changes. I can't imagine going back. What changes in travel have you most noticed?