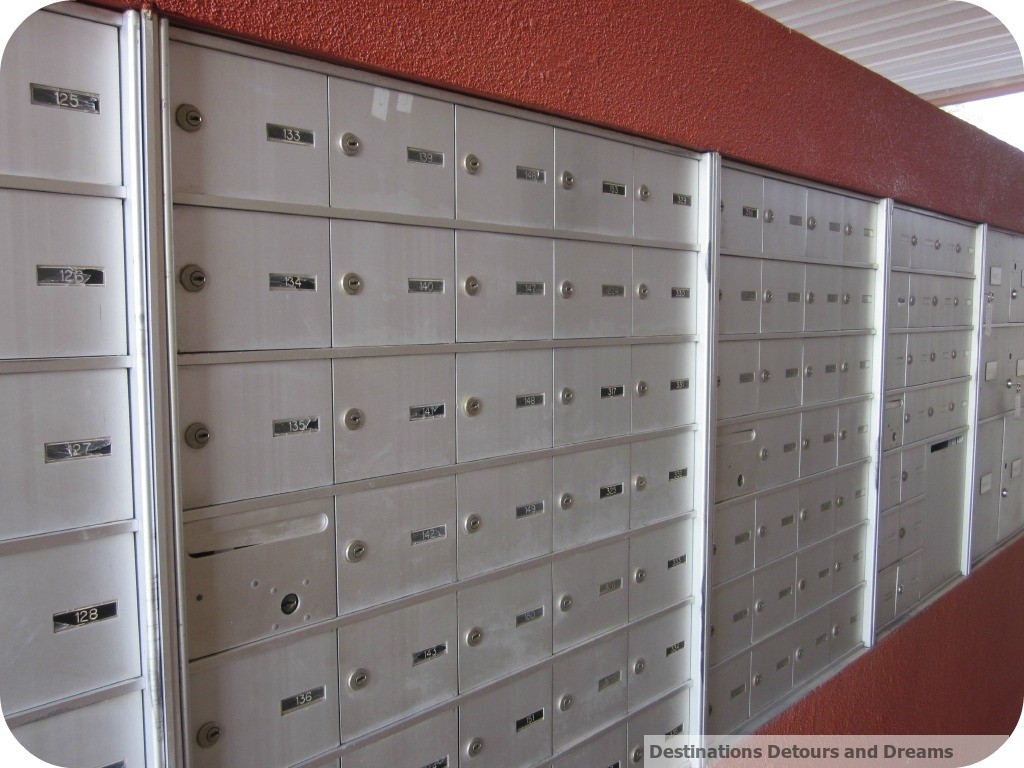 Forwarding mail to a winter address has issues
I recently read an article listing ten things that would no longer exist ten years from now. One item on the list was postal service. I suppose it is possible postal service will disappear within ten years, but at the moment, even though I have transferred most of my bills and statements to email, I still rely on the postal service.
For snowbirds like myself, who spend several months of the winter in warmer climates, decisions need to be made about how to handle mail during those months. To date, I have chosen to have my mail forwarded to my winter address.
Despite a couple of issues, mail forwarding worked reasonably well during our first two snowbird winters. One or two items did not get forwarded for no identifiable reason. During our first winter my husband's U.S. funds credit card became compromised and was cancelled. We never did receive its replacement. Because it was near the end of our winter and we had my U.S. funds credit card and other cards, it was an issue we were able to live with. Overall, I was pleased with mail forwarding. Not so this year.
The friend monitoring our home mailbox reported a number of pieces of non-forwarded mail near the end of December. I called Canada Post and reported the issue. After reviewing the details and agreeing the mail should have been forwarded, the customer service representative told me the local station responsible for sorting and forwarding my mail would be alerted. A few days later I received an email saying "the necessary actions to resolve your Mail Forwarding or Mail Holding issue have been resolved." It did not say what those actions were. Whatever they might have been, they turned out to be insufficient. The following week more items of mail showed up in my home mail box, not forwarded as they should have been.
Some pieces of mail are exempt from Canada Post mail forwarding. For example, many government mailings are stamped "do not forward". The mail in my mail box did not fall into that category. I called Canada Post again. Another service ticket was opened and the representative I talked to assured me my issue would be fixed. It has now been four weeks since that conversation and it does indeed appear that my issue has been fixed. Which is a good thing, as tax receipts have started to appear in the mail.
Will I forward mail again? I am undecided at the moment.
Not all snowbirds forward mail. Some rely on a trusted friend or family member to check their mail and notify them of anything which might need to be dealt with, scanning and emailing contents as required. I may consider that option in the future. I hadn't wanted to put that responsibility on anyone. But the friend with whom I left a key to our community mailbox so she could check it from time to time "just in case" wound up dealing with more than either she or I expected anyway, even with the mail forwarding.
Forwarding mail is not inexpensive. It costs more for a "temporary" mail forwarding of just over four months than a redirection of mail for an entire year after a permanent change of address.
Unsolicited flyers make up a large part of what comes in regular mail these days. In order to avoid my home mailbox filling up with this type of material, I placed a "No Flyers Please" sign in my mailbox. So far, that wish has been respected. A few flyers made it through one week during the Christmas period, but other than that the mailbox has been flyer-free.
Forwarding mail makes sense only if you are going to be in one location for an extended period of time. Next winter's plans are not yet formed. Even if we spend most of it in one location, I am not sure if I will arrange for mail forwarding. In the meantime, I intend to transfer as much as possible of my remaining paper mail to email.
Other snowbirds or full-time travellers: How do you handle mail?