Riding Buses in the Azuero Peninsula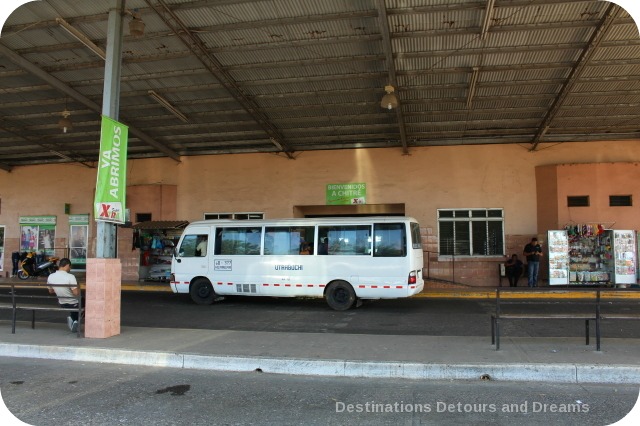 Local buses prove an interesting, effective and inexpensive way to travel in rural Panama
Car rentals are readily available in Panama and many tourists chose to travel the country in rented vehicles. For our month-long stay in rural Panama my husband and I opted not to drive and instead relied on local transportation. We didn't need a car on a daily basis because we could easily walk anywhere within the small town of Pedasi, where we stayed. That was part of the reason for choosing that location. Cabs were available for short rides to beaches. When we explored other areas of the peninsula we relied on public buses. Beyond being a means of getting to a destination, the buses were an experience in themselves.
Our first bus experience was getting to Pedasi. It was a four and a half hour bus ride from Panama City to Las Tablas. That bus was fairly large, modern and air-conditioned. Brightly coloured curtains covered the windows to provide shade from the sun. I opened mine to watch the scenery. Shortly after we left Albrook Station in Panama City, the conductor put a USB stick into the flat screen at the front of the bus and began selecting music videos, which played throughout our journey. I'd read the music on these buses can be quite loud, but the volume in this case was comfortable. We enjoyed the Latin music. The bus made a few brief stops along the way, sometimes in what seemed like the middle of nowhere, to pick someone up or let someone off. At one stop, a young man with a roller suitcase entered. As the bus continued on, he stood in the middle of aisle and pitched the wares in his case, mostly jewelry and wallets. After twenty minutes or so and a few sales, he disembarked. Approximately mid-way between Panama City and Las Tablas, the bus made a rest stop at a station with restroom and cafeteria facilities. (There was no toilet on the bus.) Once in Las Tablas, we could have walked a few blocks to another location and caught a different bus to take us the forty kilometres to Pedasi. Instead we opted to take a taxi. We would have other opportunities to bus between Las Tablas and Pedasi. (The bus from Panama City to Las Tablas cost just under $10 USD each. The cab ride to Pedasi was $21.)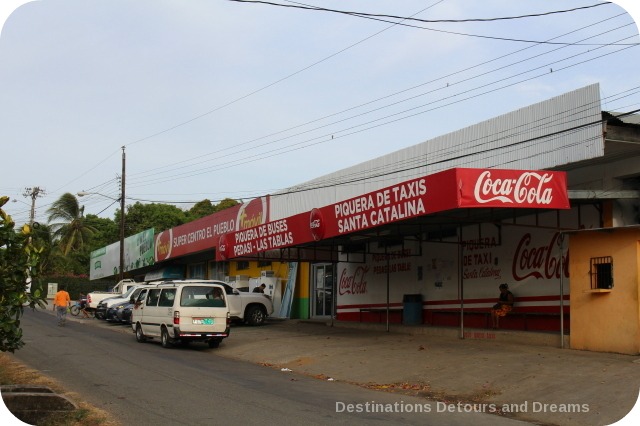 Starting at 6:00 am in the morning, buses ran from Pedasi to Las Tablas every forty-five minutes. However, it seemed to me the schedule was less dependent on exact times than on when the bus filled up. The buses were extended vans seating up to sixteen people. Three or four rows of seating behind the driver, with fold-up seats at one end of all but the back row to allow access to all the rows. Two seats available beside the driver in the front. Air-conditioning provided by open windows. You paid the driver when you get off, fare dependent on how far you travelled. The fare between Pedasi and Las Tablas (approximately forty kilometres) was $2.40 each.
Our first trip to Las Tablas was the morning of the Parade of a Thousand Polleras. There were four Swiss tourists on the bus, but everyone else was local. The bus made a few stops along the way, picking people up or letting them off. People greeted everyone else on the bus as they embarked. It took about forty-five minutes to reach Las Tablas. The return trip later in the day took a little over an hour. We veered off into more villages to let people off. By the time we reached Pedasi, it was dark and we became disoriented as the bus took unexpected turns through the town. We didn't recognize where we were. We were wiser in subsequent trips.
Our next bus adventure took us to Playa Venao, a lovely beach with a couple of boutique hotels and restaurants. Playa Venao is a stop on the bus route to Cañas. There were two buses running each day between Pedasi and Cañas. A third option was the bus between Las Tablas and Cañas, which ran through Pedasi. We opted to take the first bus from Pedasi to Cañas, which left at 7:00 am. We were told to wait on the main street beside the bank. We arrived at that corner ten minutes early and waited. Men with backpacks waited at the same spot. They confirmed we were in the right spot. The men were all eventually picked up by farm trucks heading to the fields. We continued to wait. At 7:35, I figured we'd somehow missed the passing bus or had misunderstood where to catch it. We decided to walk to a more local beach. We returned to our rental house where I changed into better walking shoes (and picked up the camera I'd forgotten). As we returned to the main street enroute to the beach, we noticed the bus to Cañas parked and picking up a passenger. We yelled at it, ran and managed to get on.
That bus was also an extended van, but it was more beat-up than the bus we'd taken to Las Tablas. The condition of the shocks combined with road conditions made for a rougher ride. And there were more stops along the way as people made their way to and from their daily business. We were the only non-locals. At one point, a man embarked with a fishing rod. Everyone on the bus helped him maneuver it to find space for it. At another stop a young woman handed her baby to another woman who'd gotten on the bus at the prior stop (I think she was the baby's grandmother), but the woman didn't board the bus herself. At some stops, people picked up or dropped off parcels. Surprisingly, there always seemed to be room for people, although at one point a young boy wound up sitting on an older man's lap. There was nothing to indicate the man and boy knew each other. The bus took about 55 minutes and cost a little over $2 each. The bus back to Pedasi later in the afternoon was pretty much on schedule, around 3:30 pm.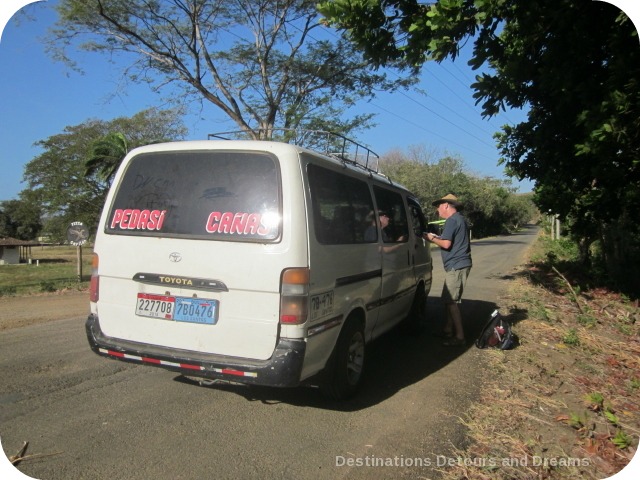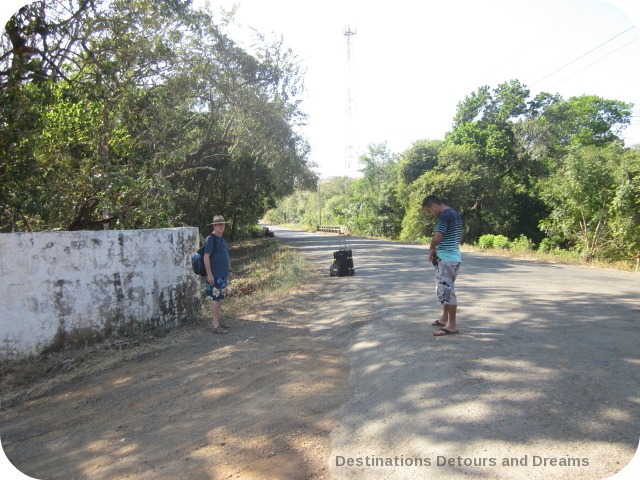 We also bused from Las Tablas to Chitré. That bus was larger and air-conditioned. And we bused from Chitré to Parita and to La Arena. In general, buses were an inexpensive and colourful way to get around. People greeted each as they boarded. We had a couple of short conversations with people, limited by our lack of Spanish. I think I would have found the conversations on the bus interesting if I'd understood them. I would have known what the woman ahead of us on the bus from Las Tablas to Pedasi was upset about. The conversation between her and the two women behind us was anything but private. Although we didn't have a large amount of space, the rides were mostly comfortable. Except when we wound up in the back row. That row had no leg and knee room. The thought crossed my mind that this experience would make the narrow leg space on the flight back to Canada from Panama City seem spacious. And it did. Another reminder that everything is relative. In our last couple of bus rides we began to recognize people. Two of the Swiss tourists got on the bus at one of the stops back from Playa Venao. On our ride back from La Playita, we recognized the worker who'd been on our bus to and from Playa Venao a couple of weeks prior.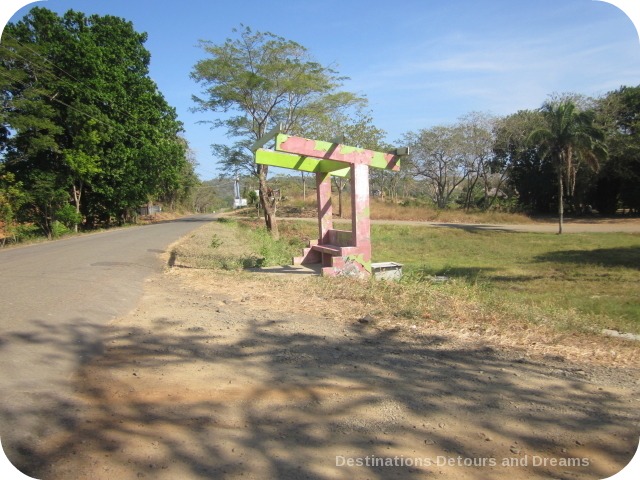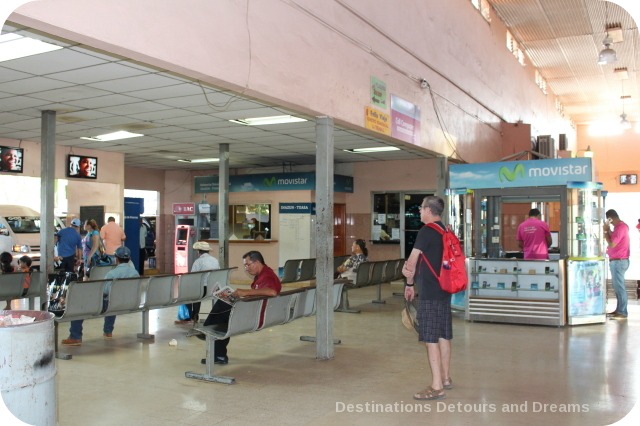 Our last bus ride was on another large modern bus from Chitré to Panama City. This was the day after Carnaval and we waited about an hour in a long line to catch one of the many buses heading to Panama City that day. There was no music on this bus and no stops on this four and a quarter hour journey other than the mid-way rest stop.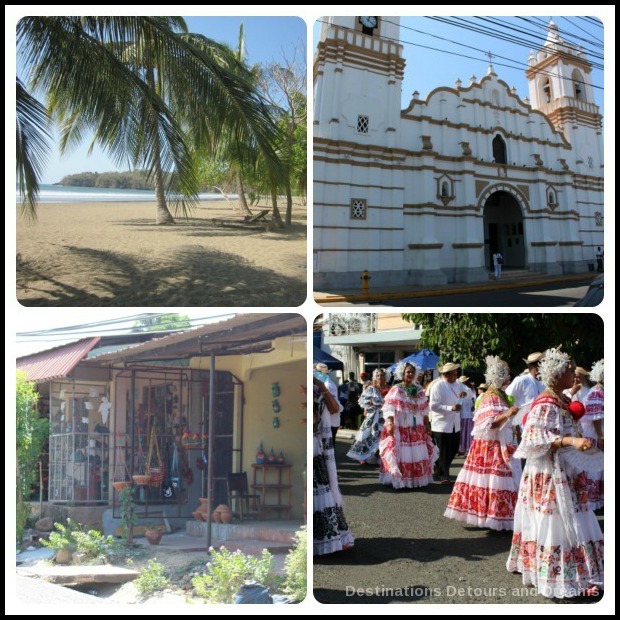 PIN IT