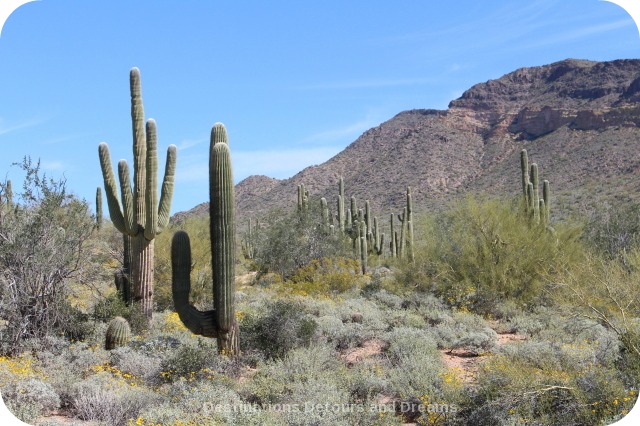 The saguaro cactus of the Sonoran desert: a symbol of the American west and a familiar feeling when returning to Arizona
I've been visiting the greater Phoenix area in Arizona on a regular basis for over a decade and have spent my last three winters there. Whether I drive or fly to Arizona, it is when I see the saguaros that I realize I have arrived.
The saguaro (pronounced suh-wah-oh) is a defining plant of the Sonoran desert, its only natural habitat. The Sonoran desert covers about 12,000 square miles in southwestern Arizona, southeastern California, most of Baja California and the western half of the Sonoran state in Mexico. The saguaro cactus evokes images of America's old west and is a beautiful and fascinating plant. (All cacti are pretty amazing when you think about how they store water and manage to survive and thrive in the desert.)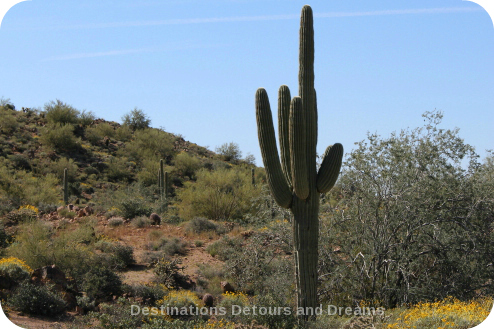 A saguaro is very slow-growing. Although saguaros can grow to 40 or 60 feet, a ten-year-old saguaro may be only 1.5 inches tall. The tallest saguaro ever recorded reached a height of 78 feet. The pleats of the saguaro expand and contract like an accordion as it stores and consumes water. In times of plentiful rainfall when saguaros are fully hydrated, they can weigh between 3200 and 4800 pounds. Most of their roots are only four to six inches deep, with the tap root extending two feet. Although the roots aren't very deep they radiate out as wide as the plant is tall. Saguaros typically live 100 to 200 years.
Saguaros grow at elevations from sea level to 4,000 feet. When I drive through the mountains around Phoenix, I can tell when I've reached a certain elevation because the saguaros thin out and disappear.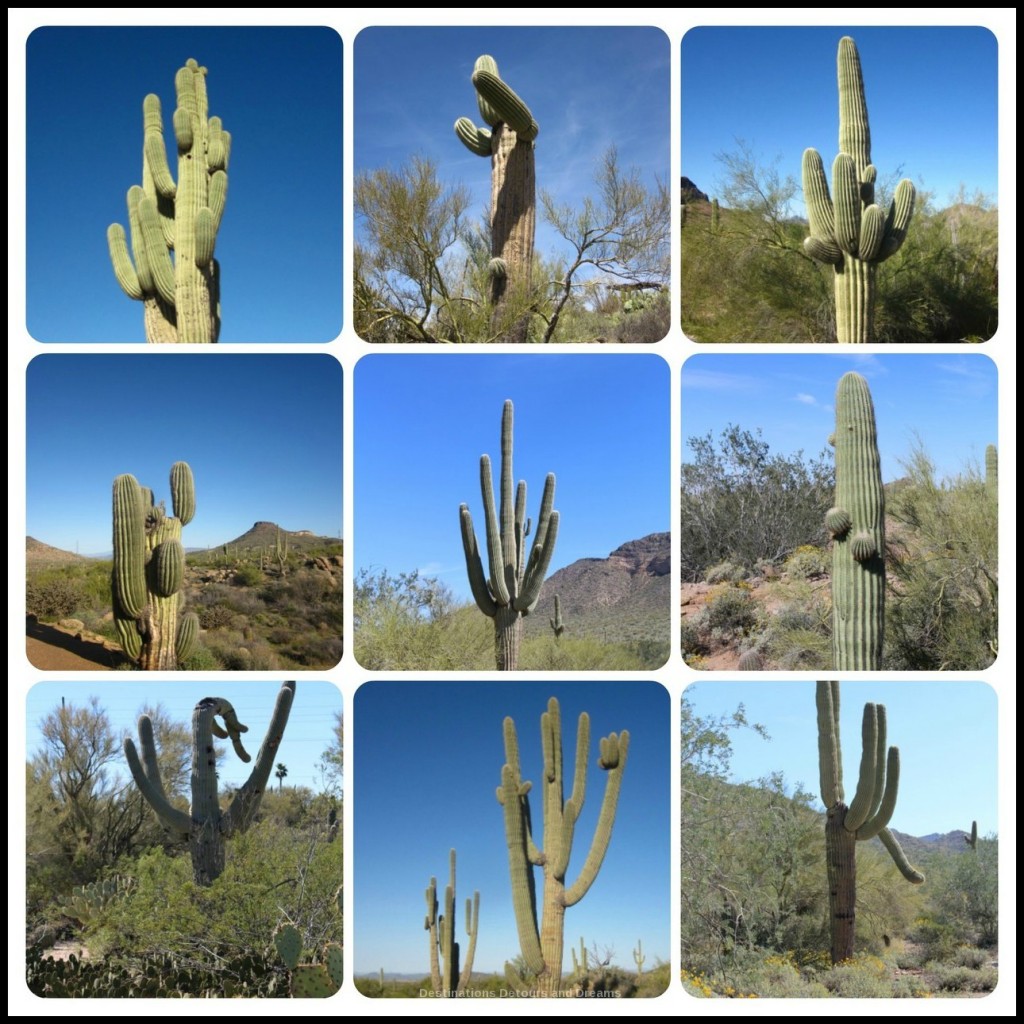 Saguaros grow their first side arm at 75 to 100 years of age. Some may grow more than twenty-five arms, others just one and some grow no arms at all. It is interesting to observe the various shapes the arms twist themselves into. Some seem to be pointing out directions. Scientists do not know why saguaros vary so much. Another mystery of the desert.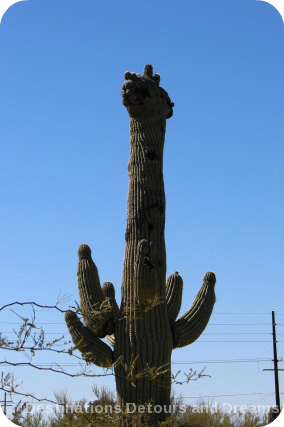 Another mystery and anomaly is the crested saguaro. A crested saguaro is a mature saguaro whose top grows in a broad, fan shape. It is a relatively rare occurrence. Although there has been speculation as to what causes the cresting, including the possibility of frost damage or lightning strikes, scientists do not know why some saguaros crest.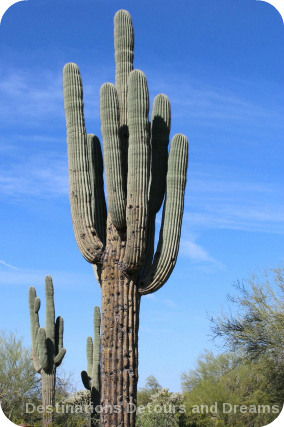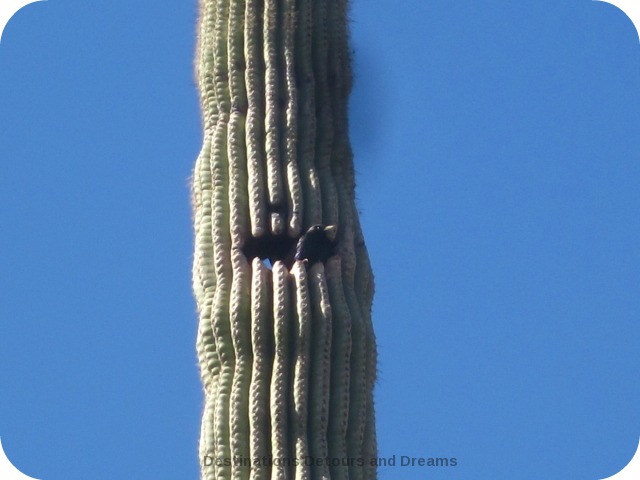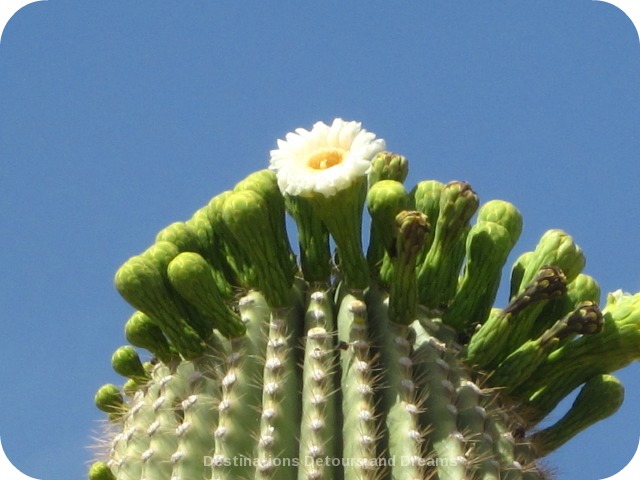 The saguaro blooms in May or June, sometimes as early as April. White flowers appear atop the cactus and its arms. The blooms open up at night and last through midday. The saguaro flower is the state flower of Arizona.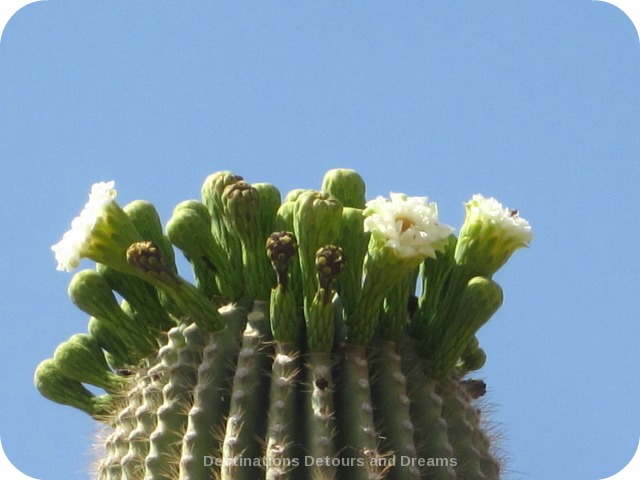 After the flowers have been pollinated, they mature into bright red fruit with thousands of black seeds. The fruit is a source of food for animals, birds and humans. Indigenous tribes have been using the saguaro for food, shelter and implements as long as they've lived in the desert. They harvest the fruit for making wines, jams and jellies.The seeds can be ground into flour. Harvest typically starts in late June.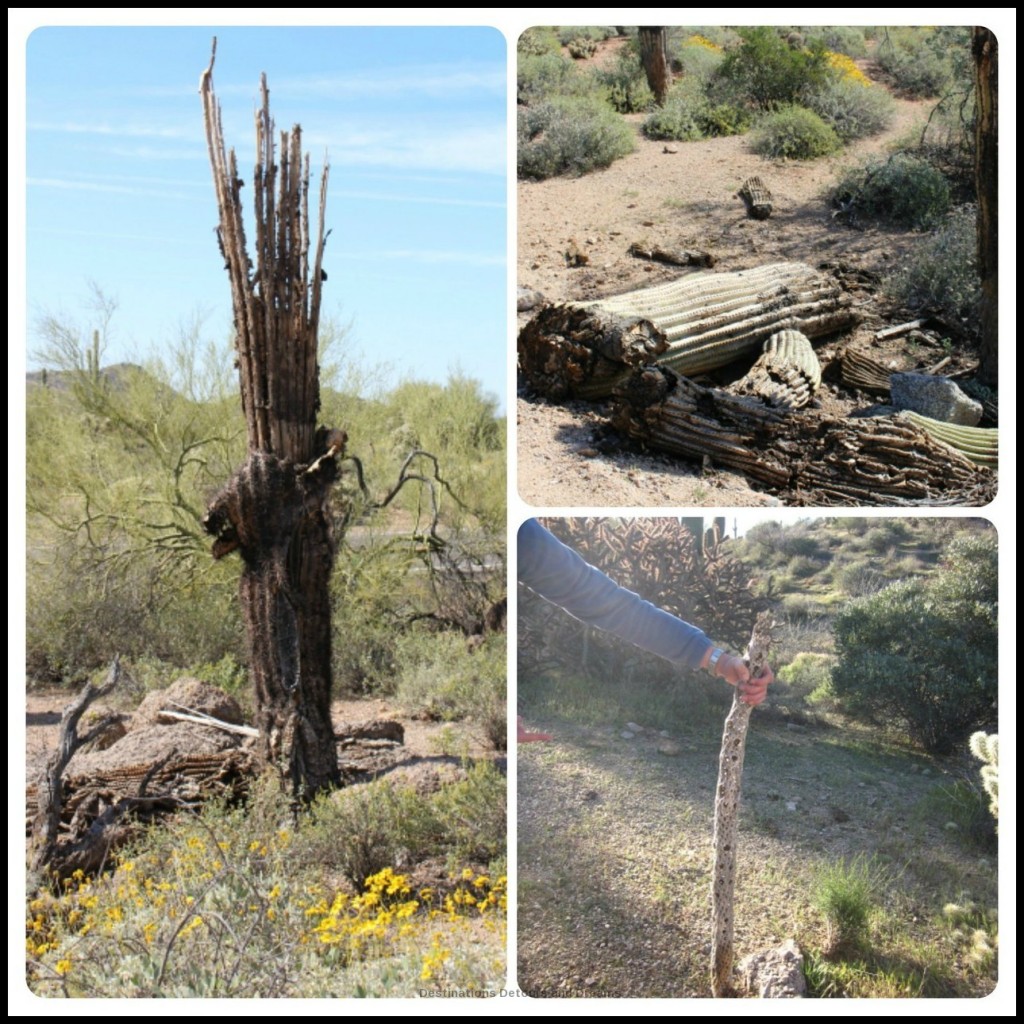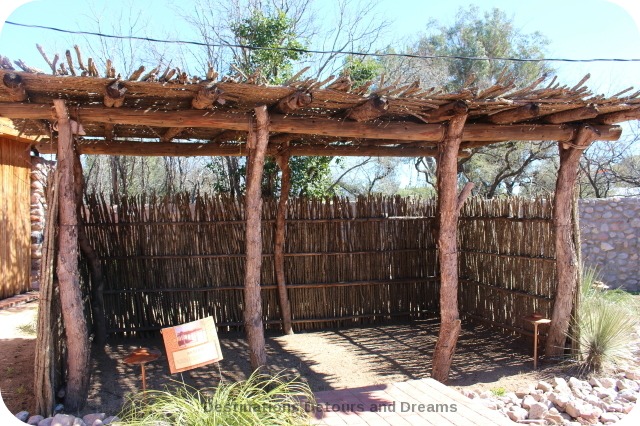 Saguaros are not listed as threatened or engendered but Arizona has strict regulations about their harvesting, collection or destruction.
Saguaros are readily visible anywhere one travels through the Sonoran Desert, particularly in parks and preserve areas. A few of the places one can learn more about saguaros include the Desert Botanical Garden in Phoenix, the Boyce Thompson Arboretum in Superior, the Arizona-Sonoran Desert Museum in Tucson and the Tohono-Chul Garden in Tucson. Bike, auto and walking trails through Saguaro National Park, to the east and west of Tucson, provide opportunities to view saguaros and other desert plant life.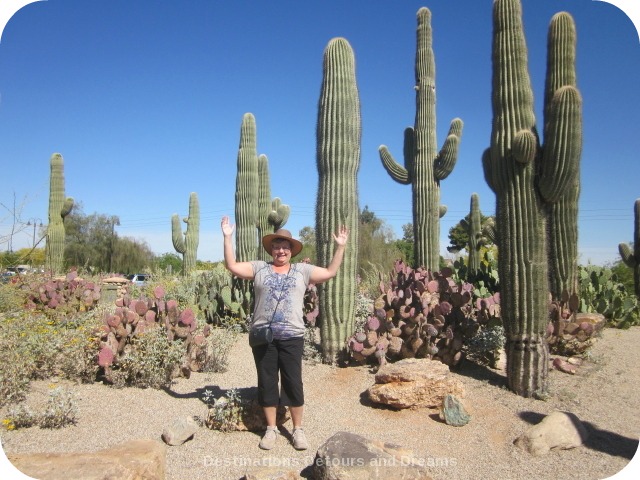 What images does the saguaro evoke for you? Is there a plant that defines a place or symbolizes home for you?
PIN IT