Rectory of oldest church in continuous use in Western Canada: a glimpse into Red River history
St. Andrew's Anglican (Episcopalian) Church, built in 1844 – 1849, is the oldest church in continuous use in western Canada. Across the road from its location in the R.M. of St. Andrews north of Winnipeg, Manitoba is St. Andrew's Rectory, built in 1851 – 1854. Both the church and the rectory are designated Historic Sites of Canada.
The church, built along the banks of the Red River, was originally known as Grand Rapids Church. The rapids for which the area was named no longer exist. They disappeared in 1910 when St. Andrew's Dam was built a few miles down the river.

The Rectory received its national historic designation because it is a good example of mid 19th-century Red River architecture. Hudson's Bay architecture is an adaption of Scottish building techniques to the Canadian prairies. Walls were constructed in the manner of Scottish stone masons using local limestone. The wooden verandah was a typical French-Canadian adaptation found throughout the Red River area.

The Rectory belongs to Parks Canada and had been closed for a number of years because of budget constraints. It opened its doors to the public again in the summer of 2014 due to a deal reached with St. Andrews Heritage Centre, which pays operating expenses. The rooms display assorted artifacts and panels of information about the history of the area and the clergy and missionaries who lived in the house. A guide told me it was difficult to identify exactly how each room had been used because the house had many uses and occupants over the years. An upstairs room displays tartans of Scottish clans.

The stone rectory replaced previous wooden structures, which had been destroyed by hail and tornado-force winds. The current stone structure was rebuilt by Parks Canada in the 1980s because the foundation was crumbling, It was taken apart brick by brick. Each block was numbered, the foundation was rebuilt, and the blocks re-assembled in order.

St. Andrew's Church and Rectory are one of 8 historical stops along scenic 11-kilometre River Road. Other stops include the ruins of Scott House (example of Red River architecture), Captain Kennedy House (an 1866 house and English gardens now home to a restaurant), a quarry marsh site, and St. Andrew's Dam.

St. Andrew's Rectory is open to the public during summer months. Admission is free. Donations are welcomed.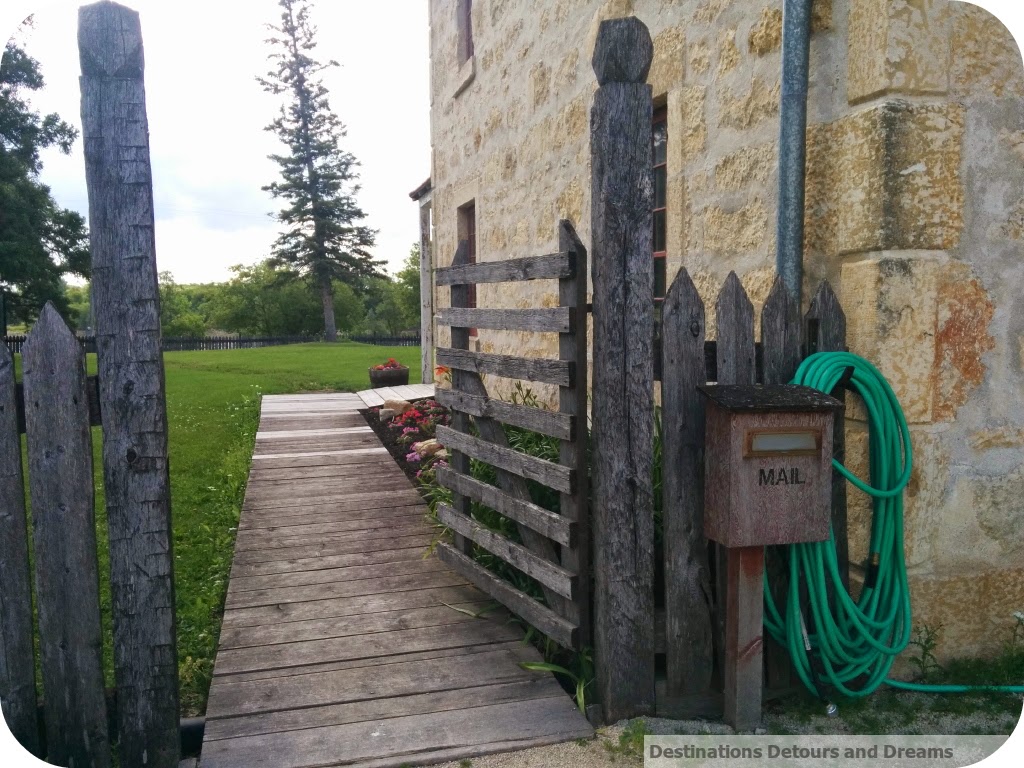 PIN IT

If you enjoyed this post, sign up for Destinations Detours and Dreams monthly e-newsletter. Get behind the scenes information and sneak peeks ahead in addition to a recap of the month's posts.