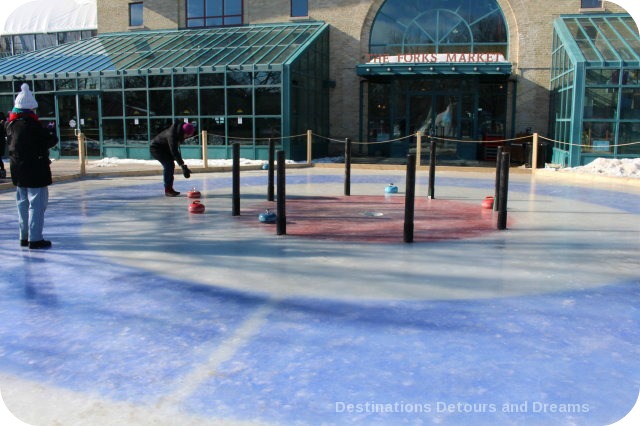 Ice climbing, Crokicurl, and ice skating on the world's longest naturally frozen trail with warming huts of award-winning design
Below freezing temperatures and snow-covered terrain don't mean you need to stay indoors. There are many ways people enjoy the outdoors in winter – ice skating, skiing, sledding, ice fishing, and snowshoeing, to name a few. Winnipeg, Manitoba, located in the centre of Canada 112 kilometres north of the United States border, is no stranger to winter. In fact, it is sometimes nicknamed Winterpeg. While Winnipeggers do the typical winter activities, they have a few unique ones to add to the list.
Ice Climbing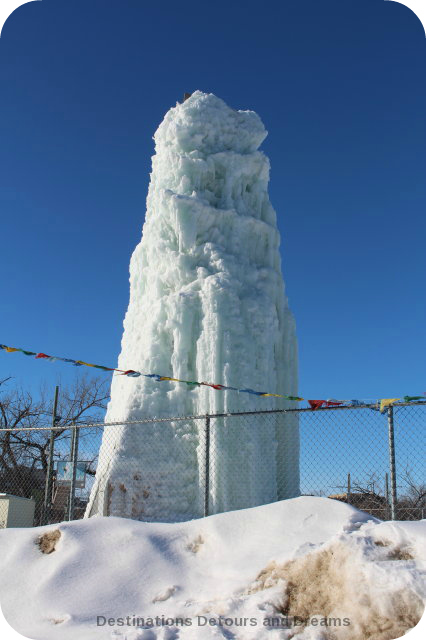 Winnipeg is surrounded by prairie. There are no cliffs or frozen waterfalls. But a man-made ice tower offers ice climbing with varying degrees of difficulty. The 20-metre ice wall on Messager Street was built by the St. Boniface branch of the Alpine Club of Canada using a metal frame and a water sprinkler system. The three-sided tower is open on weekends from 9:30 am to 4:00 pm, weather permitting. The climbing season usually opens at the end of December and runs until the end of March. For those who don't have their own equipment, the Club has a limited amount of equipment to share. The Club also hosts Festiglace, an annual competition with difficulty and speed events. There are also Learn to Climb workshops.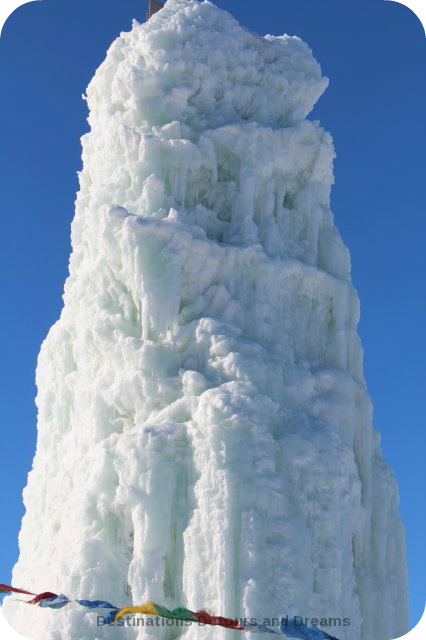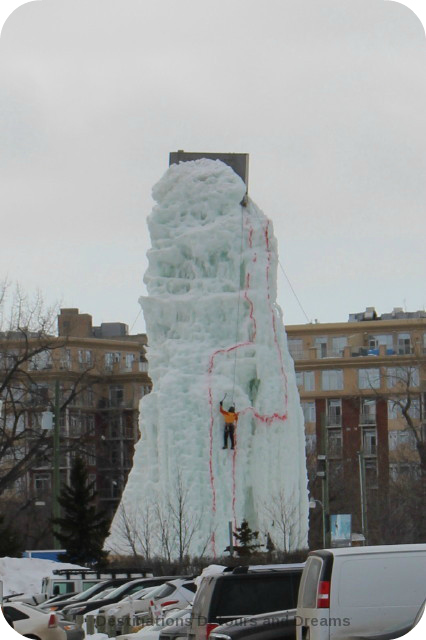 While ice climbing sounds like an interesting challenge, I think it will remain a spectator activity for me.
Crokicurl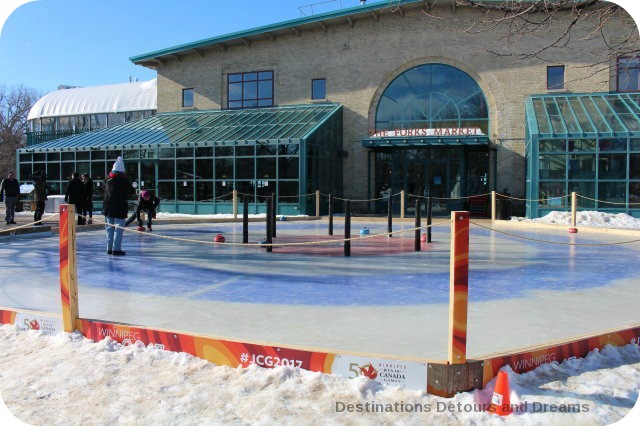 The newly-created Crokicurl game is more my speed. The game is described as a mash-up of curling and Crokinole.
Crokinole is played on an oval or octagonal board approximately 26 inches in diameter. Three concentric rings are marked on the board. A shallow hole in the centre is just large enough to hold one of the round playing discs. Players use their fingers to flick the discs into that hole or as close as possible to score the most points, and to knock opponent's discs off the board. The game was created in Canada in the 1860s.
Curling is a sport played on a sheet of ice. Players slide stones ("rocks") toward the other end of the sheet, which is segmented into concentric circles. Two teams of four players each try to get their rocks closest to the centre circle ("the button"). The rocks are made of polished granite and weigh between 38 and 44 pounds. Curling, which originated in Scotland, has a rich history in Canada. The sport came over with Scottish settlers and is now played across Canada. It is particularly popular on the prairies.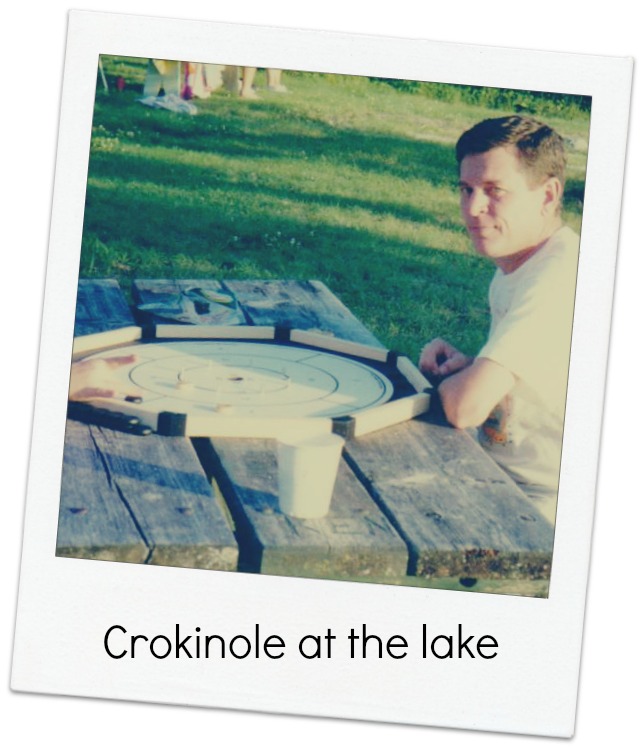 I played crokinole as a child, with my siblings and cousins. I've played as an adult as well. When my daughter and step-daughters were young and we rented a cottage at the lake for a couple of weeks in summer, the crokinole board went with us. We played many a game around a picnic table at the beach. Curling is also part of my personal history. For many years when I was growing up, my father was ice-maker and caretaker at the town's curling rink. I spent a lot of time there. I was once a curler myself. As was most of my extended family. I remember stories about curling in my grandfather's day, when each player had their own set of two curling stones and carried them to the rink for games. Today the stones, uniform in size and weight, belong to and stay at the curling club.
I was, therefore, fascinated to learn about the new Crokicurl game. It is the brainchild of two architects, Liz Wreford and Leanne Muir of Public City Architecture. An octagonal ice rink is designed to look like a giant crokinole board. Players slide rocks to the centre. The rocks used are junior curling rocks, made of a dense plastic instead of granite and half the weight of a normal curling rock.
The Crokicurl rink opened on January 27, 2017 in the Market Plaza at The Forks. The Forks, where the Red and Assiniboine Rivers meet in the centre of Winnipeg, has been a meeting place for thousands of years. It remains a meeting place today with restaurants, shops, entertainment venues, museums. outdoor park areas, and a hotel. Crokicurl is free for anyone to play on a first-come, first-served basis. Rules are posted beside the rink.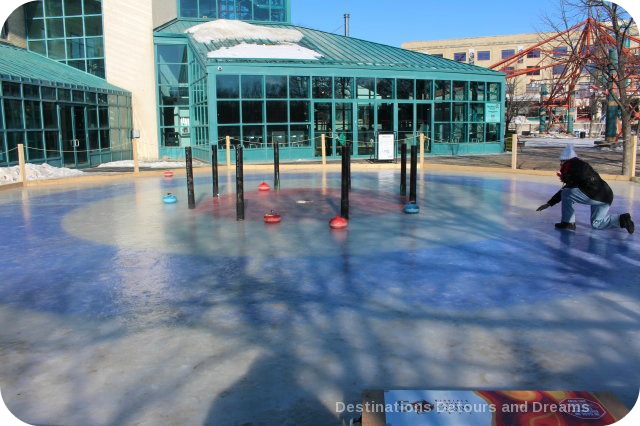 Ice Skate on the World's Longest Naturally Frozen Trail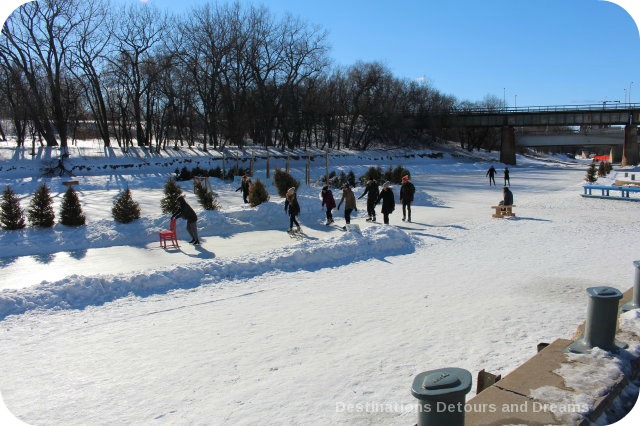 Ice skating is a typical winter activity. What makes skating on the Red River Mutual Trail unique is its Guinness World Record and its warming huts. The trail holds the Guinness World Record for the longest naturally frozen skating trail. Warming huts along the trail are the result of an annual architecture and art competition, which accepts entries from around the world. Winners travel to Winnipeg to construct the huts for placement along the trail. Read more about the trail and the warming huts at Ice Skating and Architecture: Warming Huts on the River.
What unique winter activities have you seen or participated in?
PIN IT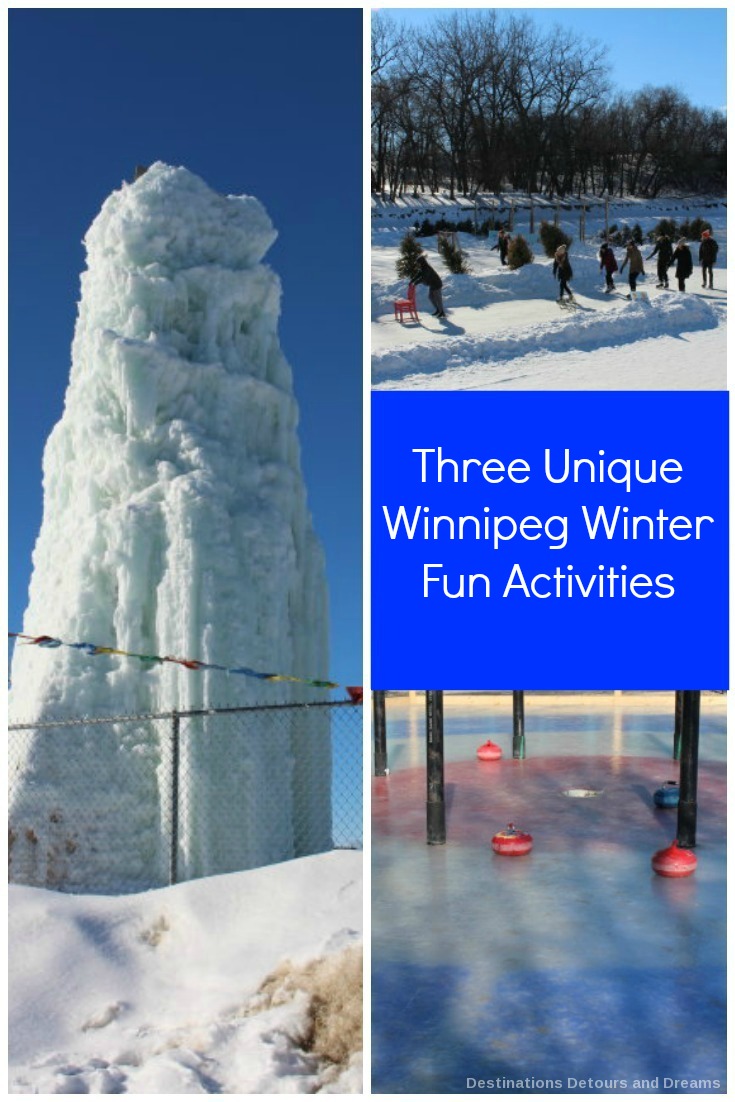 Get all the info! Destinations Detours and Dreams monthly e-newsletter contains behind the scenes information, sneak peeks ahead, travel story recaps and more. SIGN UP HERE