Cherry Blossom Time in The Garden City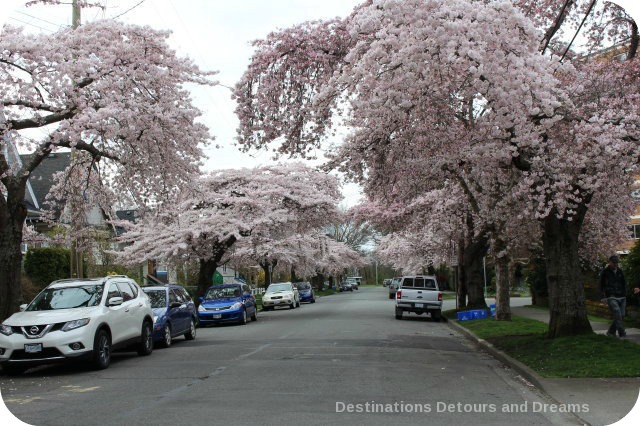 Cherry blossom viewing in Victoria, British Columbia
Victoria, British Columbia has one of the mildest climates in Canada and is one of the first in the country to see signs of spring. Its climate is perfect for a wide variety of gardening, leading to its reputation as the "Garden City of Canada." Come spring, cherry and plum blossom trees line Victoria streets with white and pink blooms.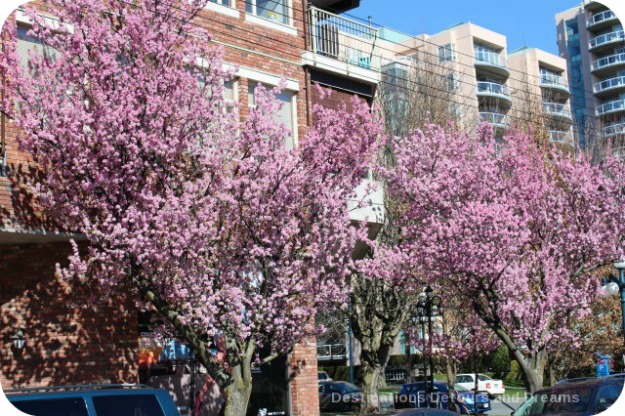 There are several varieties of cherry and plum blossoms in a range of hues throughout the city. Some bloom early spring, some late spring. The plum trees on View Street are often the first to bloom. Blossoms can be found downtown and throughout the city. The neighbourhoods of Fairfield and James Bay have the highest concentration of trees. James Bay also has a large collection of heritage homes and is within walking distance of downtown.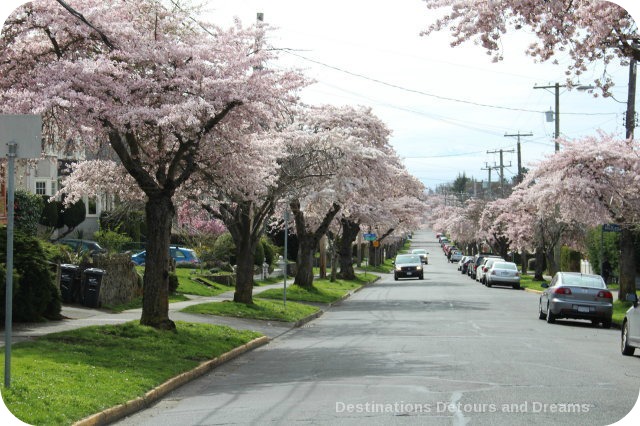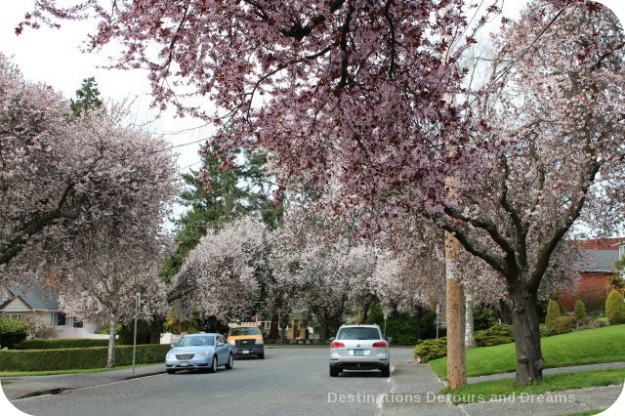 Trees date to the 1930s when the Japanese community donated two thousand dollars to the City of Victoria after winning two top prizes with Victoria Day Parade floats. Cherry and plum trees were imported from Japan. City of Victoria gardeners propagated hardy root stock, resulting in twenty-seven varieties of trees.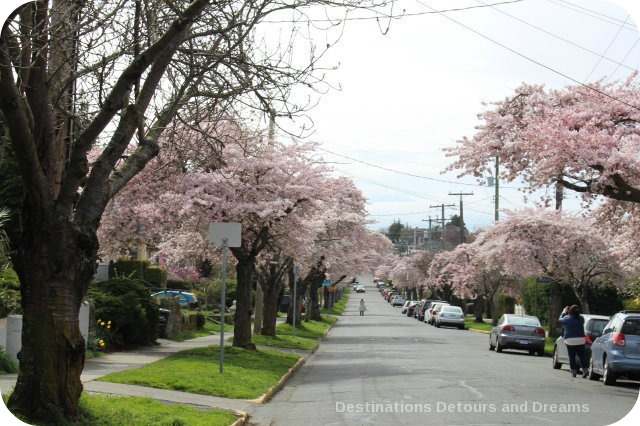 Hanami means "flower viewing" in Japanese, but commonly refers only to cherry blossom viewing. Traditionally it means a picnic party under the blooming trees. My hanami was a drive around Victoria streets with my sister to view the blossoms. Often, when we stopped we came across other viewers and their cameras.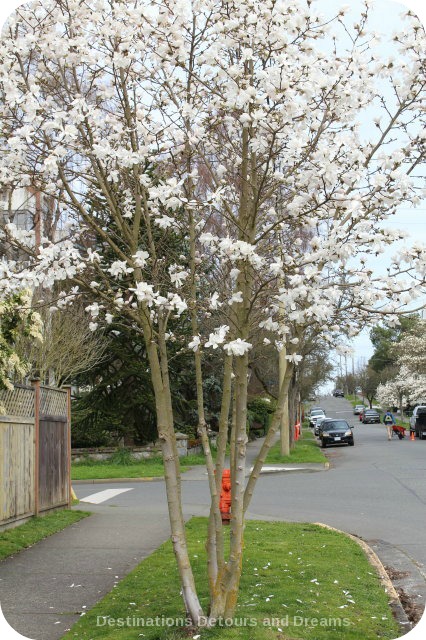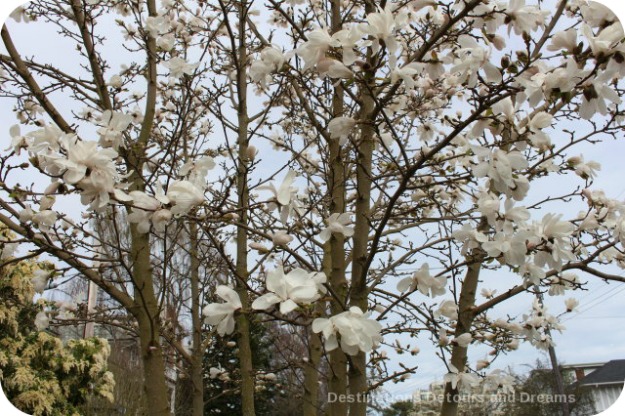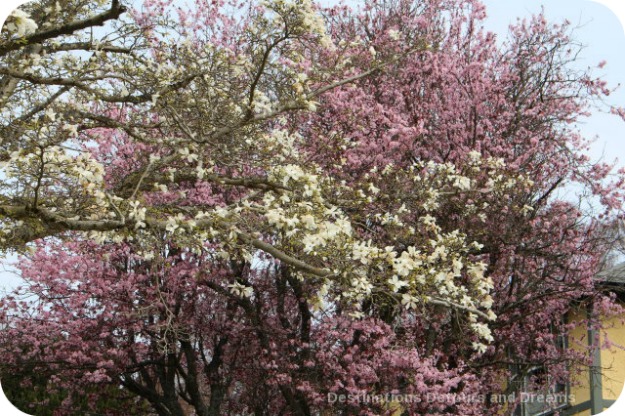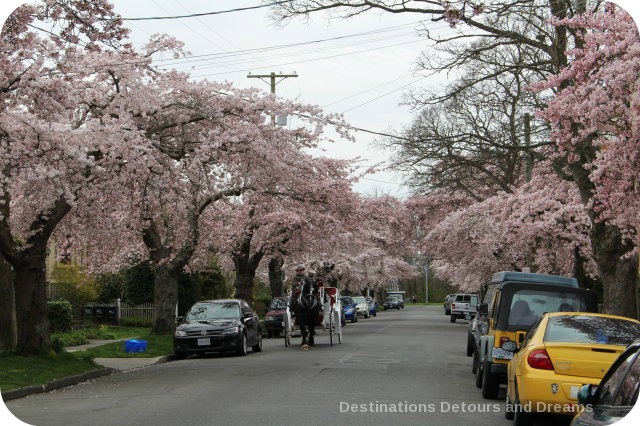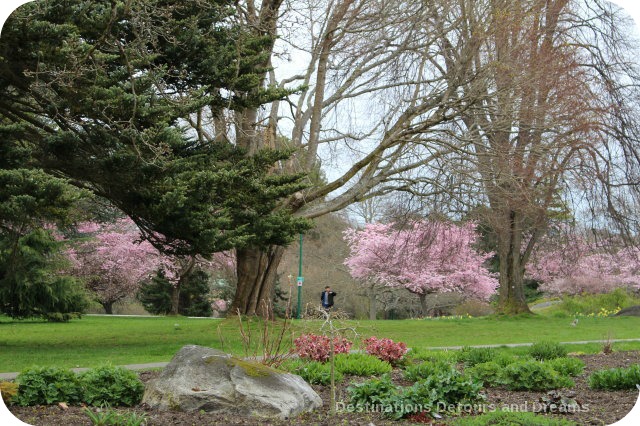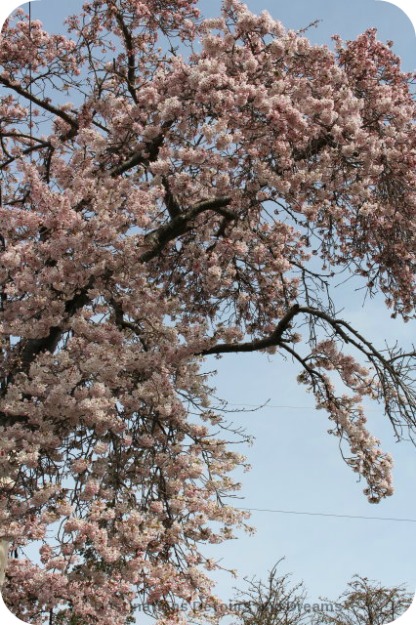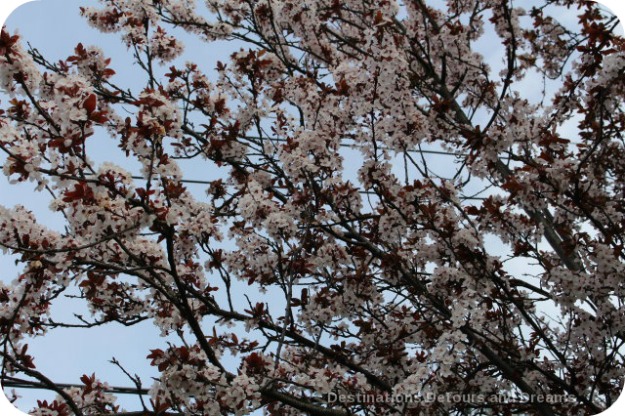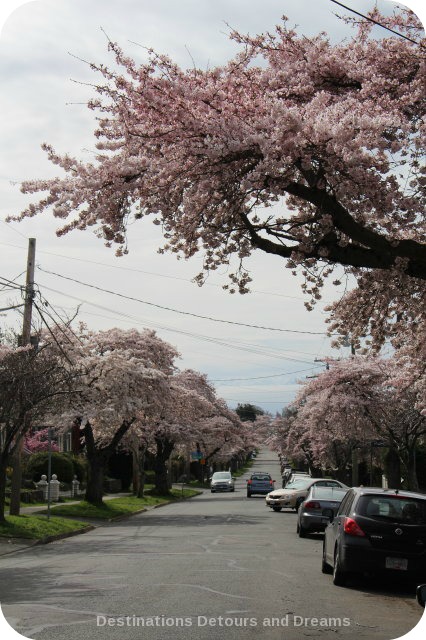 Blossoms can start as early as mid-February and run through March, depending on the particular winter and spring. Victoria experienced a harsh winter this year and blossoms were later than normal. Most of these photos were taken on the last day of March. Many trees were in full blossom, a few were already dropping petals, and others were still in bud.
The Victoria Nikkei Cultural Society, an organization celebrating Japanese-Canadian culture, has a Hanami (Cherry Blossom Viewing) page, which describes the varieties of plum and cherry trees to be found in Victoria and identifies best viewing locations. And you may want to visit the famous Butchart Gardens, which will be full of pink hues in cherry blossom time.
If you enjoyed this post, sign up for Destinations Detours and Dreams monthly e-newsletter. Get behind the scenes information and sneak peeks ahead in addition to a recap of the month's posts.
PIN IT