London Street Art in Brick Lane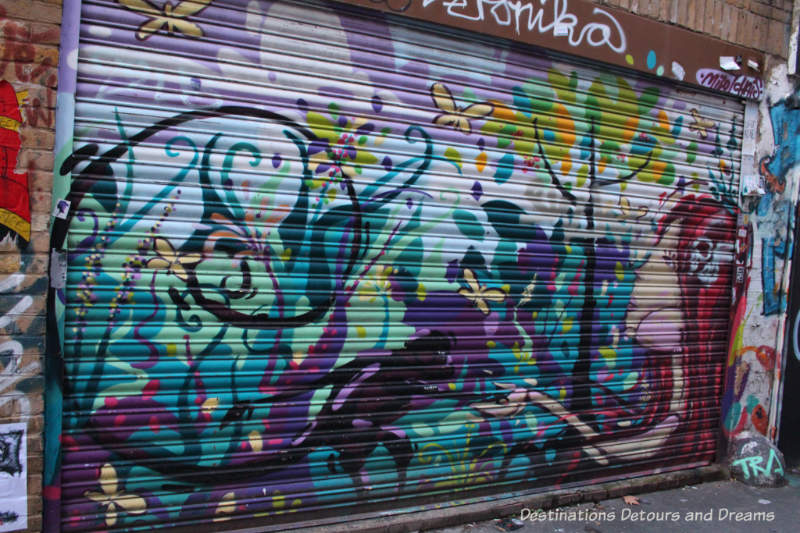 Exploring the amazing street art in London's Brick Lane neighbourhood
Brick Lane runs through Spitalfields in London's East End. From Whitechapel High Street in the south to Quaker Street in the north, Brick Lane and the streets running off it are one of the best spots in London for street art.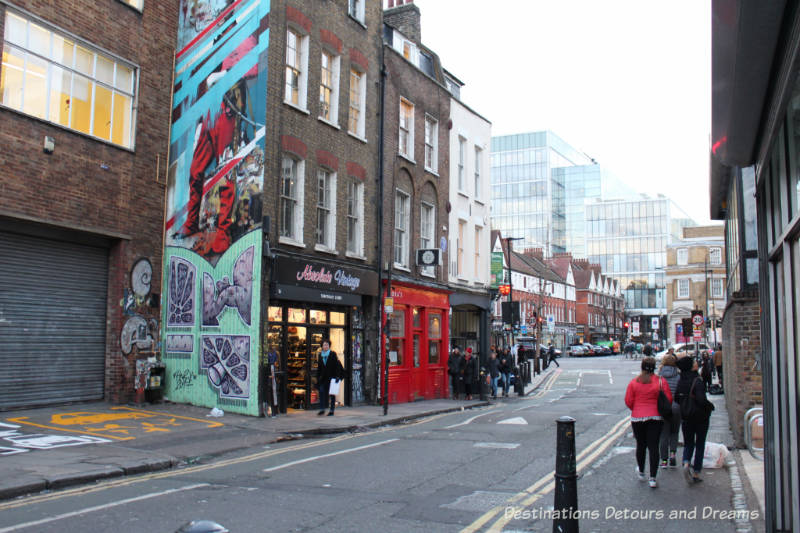 Brick Lane may have gotten its name because local earth was used by brick and tile manufacturers in the 15th century. By the 17th century, the lane was a popular location for breweries. Huguenots came to the area in the 1700s and established textile industries. It was a haven for immigrants and was known for its Irish and Jewish population in the 19th and 20th centuries. In the late twentieth century, immigrants from Bangladesh settled in this part of east London. Brick Lane is the place to go for some of the best curries in London.
The multi-cultural history of the area is epitomized in the Brick Lane Mosque at 59 Brick Lane. When it was built in 1743, it was used as a Huguenot chapel. Later it was a Methodist church and a Jewish synagogue. It has been a mosque since 1976. I may need to return to the area to explore its history further at some point, but this post is about street art.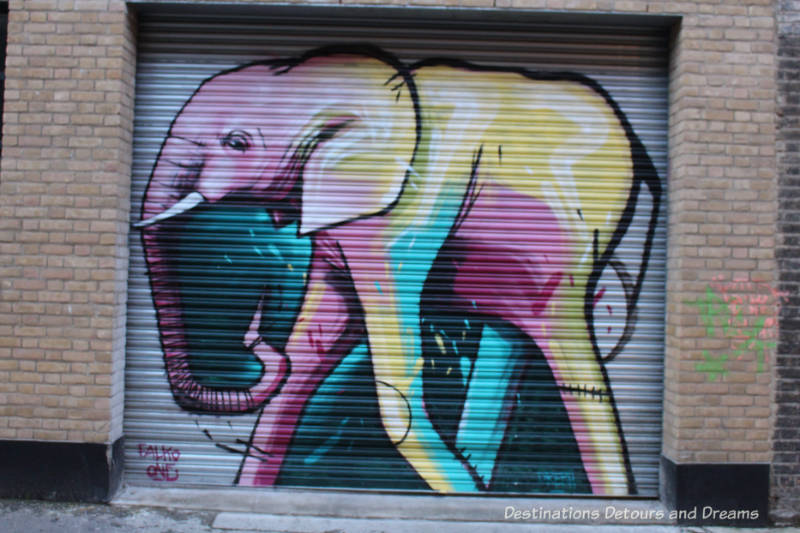 As you walk down Brick Lane and its side streets, street art surrounds you. It is on the walls of buildings, fences, and shop front shutters. Styles range from silly to serious, playful to thought-provoking, abstract to almost photographic.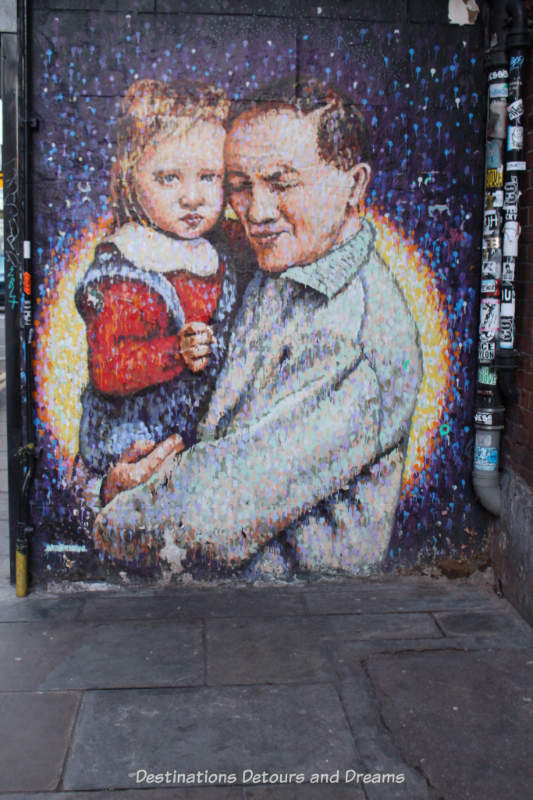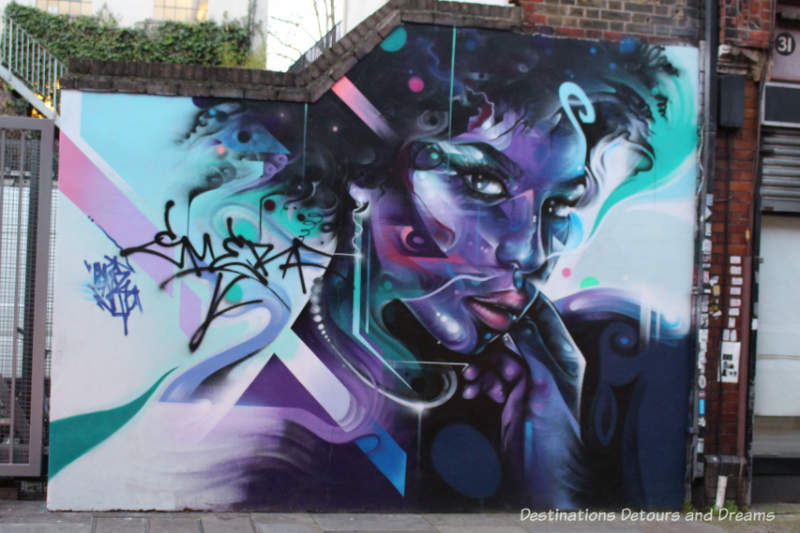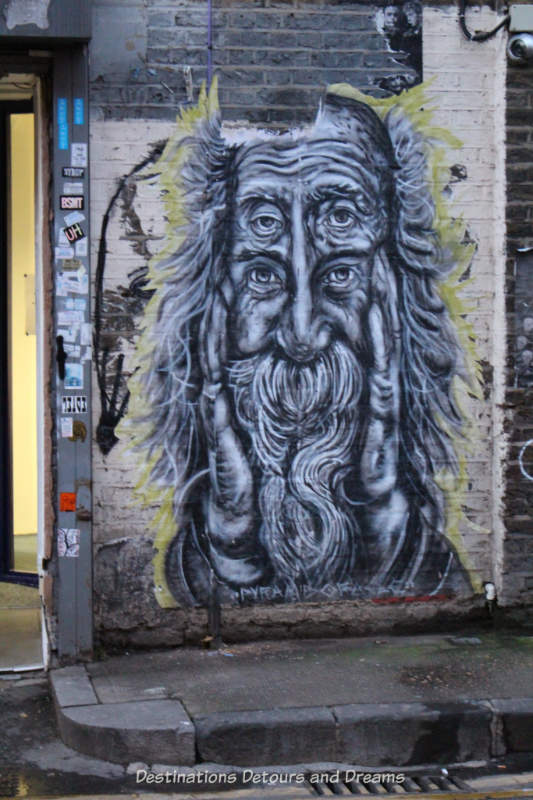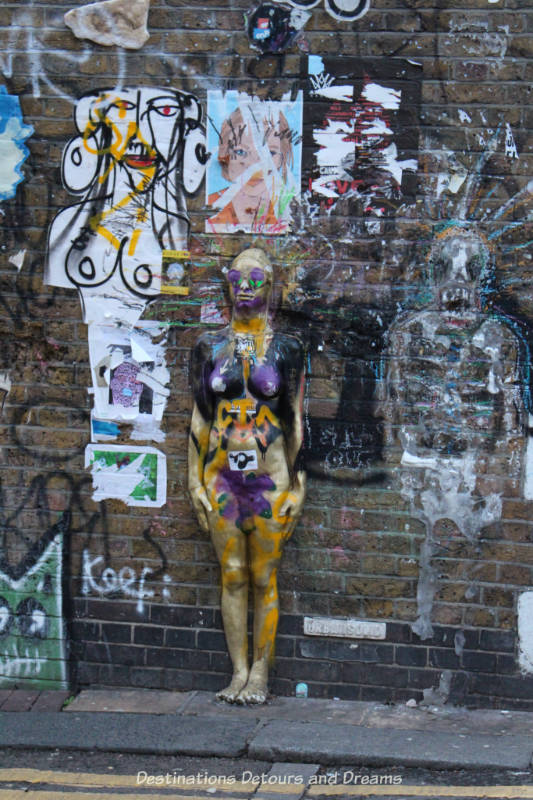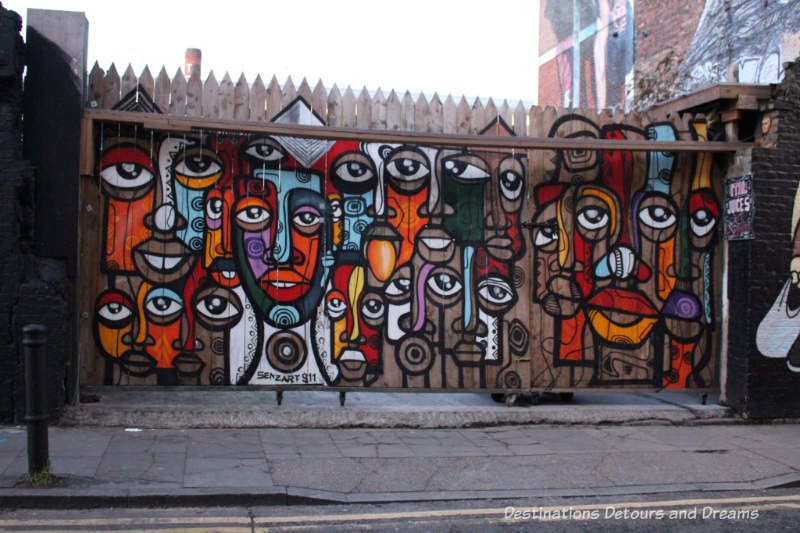 The Brick Lane neighbourhood merges with Shoreditch to the north. Shoreditch is also known for its street art. In a post I wrote about London street art in Shoreditch, I talked about the difference between graffiti and street art. The distinctions sometimes blur, but generally street art is more drawing and figures than stylized characters, is painted with permission, and is intended for a wide audience, not just other graffiti artists.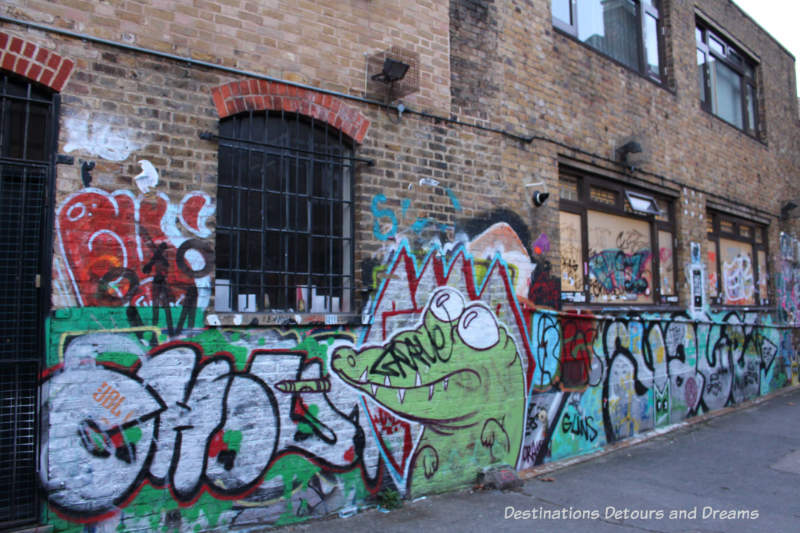 The Seven Stars Car Park is often featured and visited for its street art. It is reached via a short alley beside the former Seven Stars pub at 49 Brick Lane. Seven Stars was an alehouse dating to the 1700s. It was rebuilt in 1937. It closed in 2002 and now sits derelict.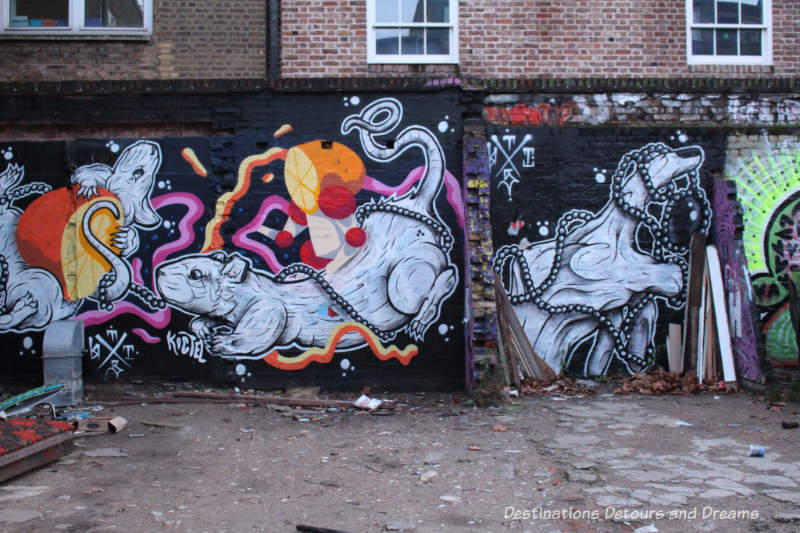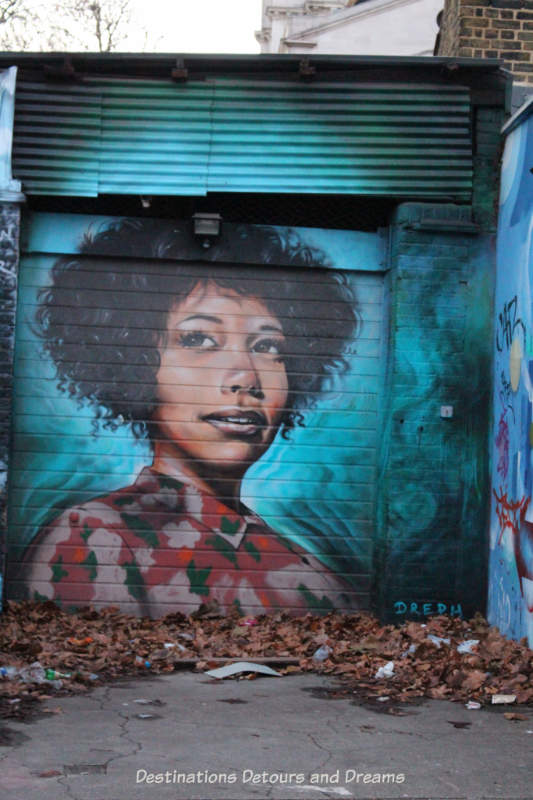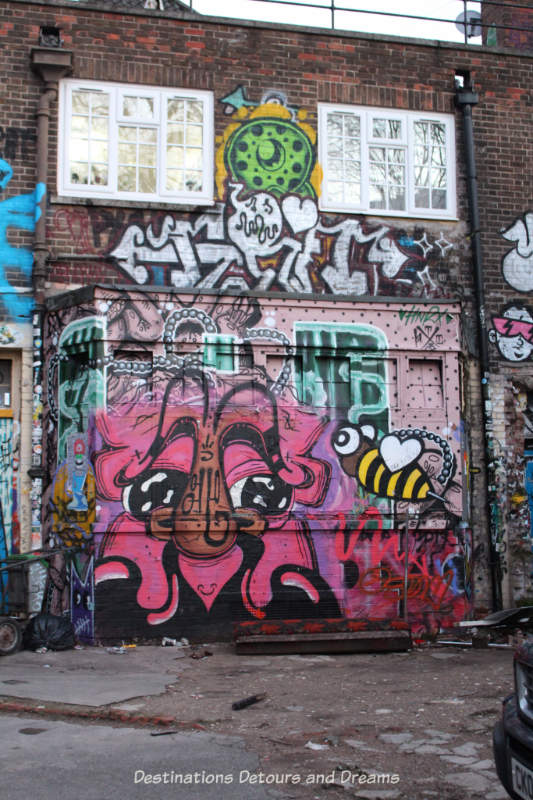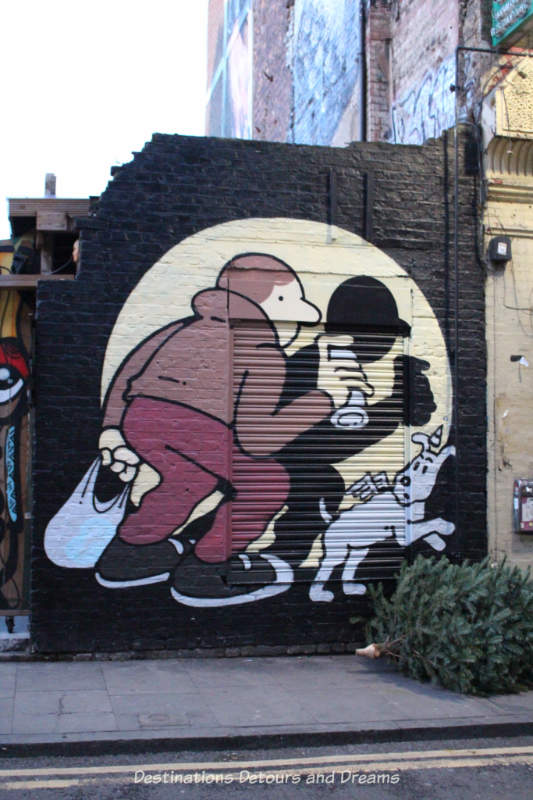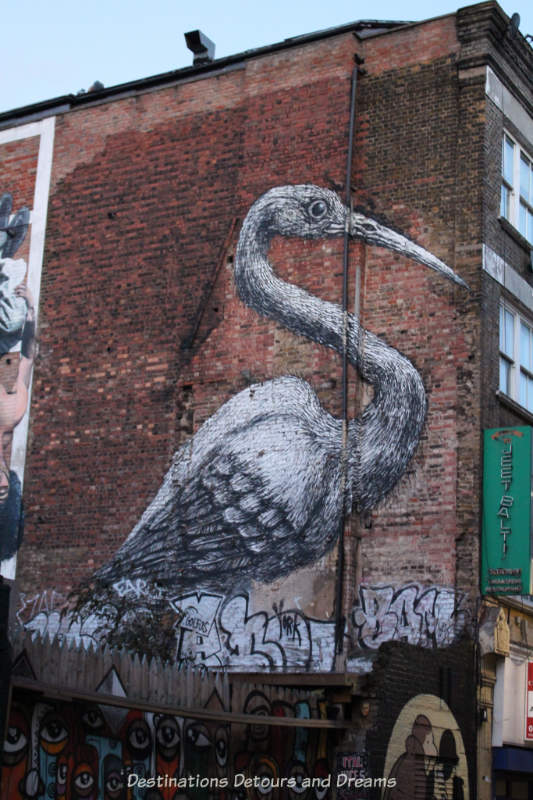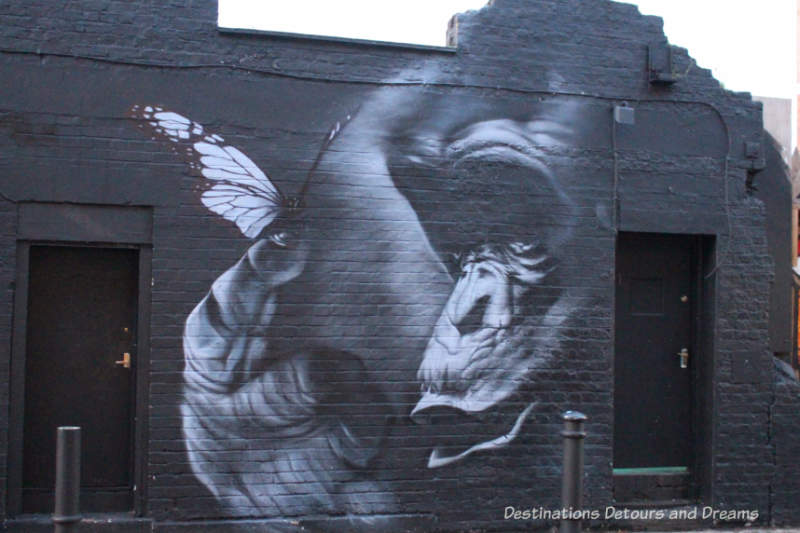 Several companies offer guided tours of the street art, but you can easily explore on your own. Brick Lane and Shoreditch can be covered in one day, but you may want to consider splitting them into two trips. That is not because of the distance between them. They are easily walked. There is just so much to take art to take in, you may wish to take your time in each area.
Never miss a story. Sign up for Destinations Detours and Dreams monthly e-newsletter and receive behind-the-scenes information and sneak peaks ahead.