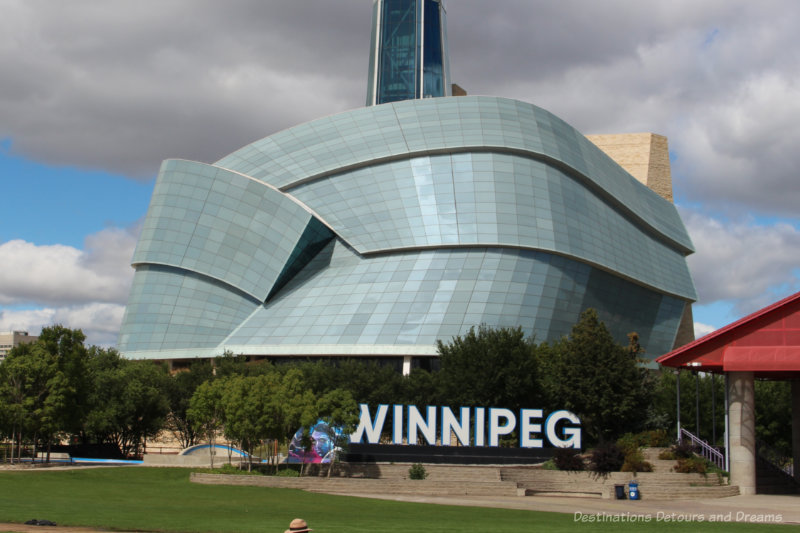 Beyond the top ten attractions: things to do and see in Winnipeg, Manitoba, Canada
Winnipeg, Manitoba, Canada is a multicultural city with historic neighbourhoods, world-class museums, interesting architecture, a vibrant arts and culture scene, top-notch restaurants, and a friendly, welcoming spirit. I've lived in the city for over four decades. I wrote an overview of the city and listed my take on the top things to do in the post Top Ten Things To Do Winnipeg, Manitoba. There are, however, many more attractions beyond those ten. If you have extra time in the city or are looking for things to suit a specific interest, here are my suggestions for even more things to do in Winnipeg.
Table of Contents
Winnipeg For History Buffs
Winnipeg For Architecture Lovers
Winnipeg For Nature Enthusiasts
Winnipeg For Music And Performing Arts Enthusiasts
Winnipeg For Sports Fans
Winnipeg For Families
Winnipeg For Foodies
Winnipeg For The Budget Conscious
Local Traditions

Winnipeg For History Buffs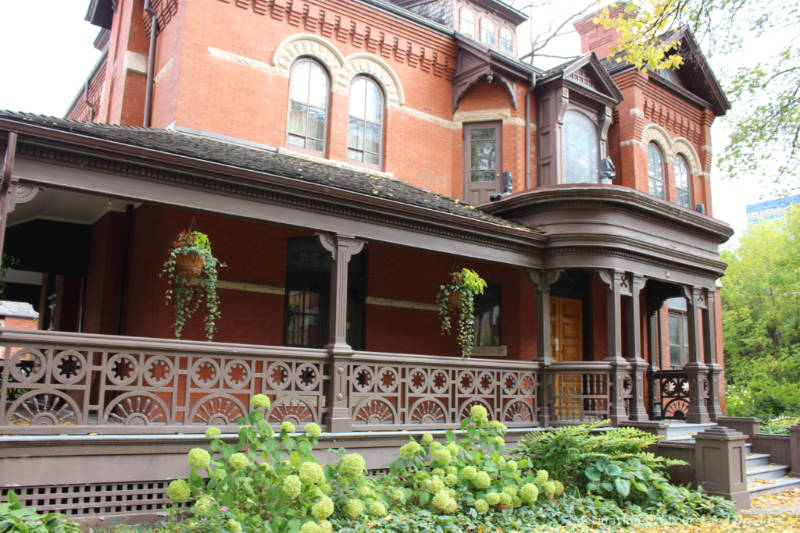 Dalnavert Museum in downtown Winnipeg is one of my favourites. The house museum has been restored and decorated to what it would have been like in the late 1800s when it was the home of Hugh Macdonald, a magistrate, Premier of Manitoba, and son of Sir John A Macdonald, Canada's first Prime Minister. The museum provides an excellent glimpse into upper class life in Victorian-era Winnipeg. For more information, visit the museum's website or read my post Dalnavert Museum: Small Mansion, Big History.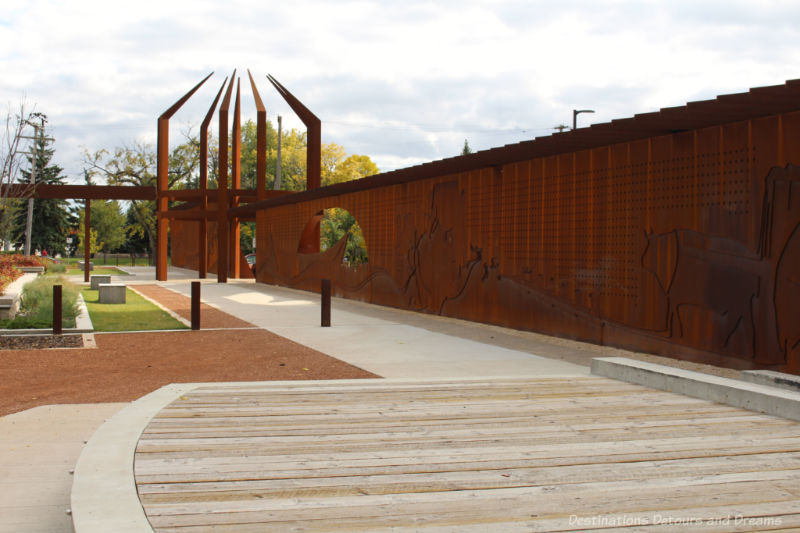 The fur trading outpost Upper Fort Garry was built in 1835 to replace Fort Garry which was damaged in an 1826 flood. Today all that remains of the fort is a stone gate dating to the 1850s, but you can get a sense of what the fort would have been like and learn about its history at the provincial park located on the site. Upper Fort Garry Provincial Park is located across the street from Union Station at the edge of The Forks. The fort's building locations are demarcated by limestone walls and raised garden beds. The most spectacular feature of the entrance-free park is a Heritage Wall running along the west end of the park. Manitoba's history is etched into the weathering steel structure. LED lights inside the wall provide the screen for a light and sound show with highlights of Manitoba's history. The show plays every fifteen minutes from 10 am to 8 pm on weekdays and 11 am to 8 pm on weekends. Read my post about Upper Fort Garry here.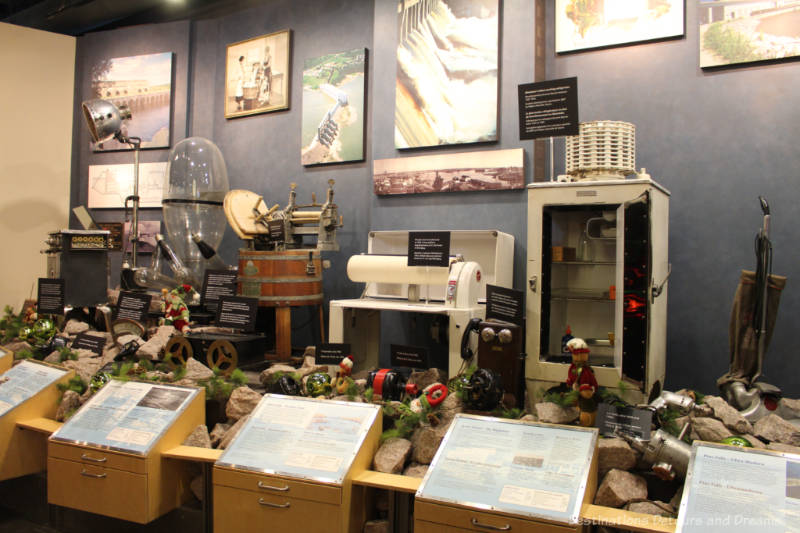 Learn about the history of electricity in Manitoba and the building of the hydroelectric dams that provide more than 95% of Manitoba's electricity at the Manitoba Electrical Museum. This small volunteer-run museum contains interesting and well-curated displays to appeal to all ages. Read my post about the museum here.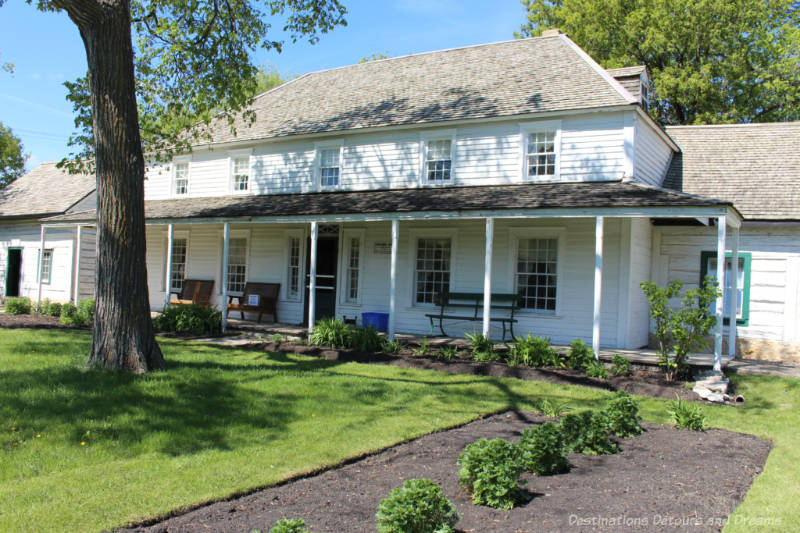 During the summer months, the Seven Oaks House Museum gives a glimpse into nineteenth century life in the Red River Colony, a settlement founded on the Red and Assiniboine Rivers by the fifth Earl of Selkirk in 1812. Located in the midst of a residential area, the two-story log building was constructed between 1851 and 1853 for a prominent merchant and farmer. The museum contains many of the family's furnishings as well as other period pieces. For more information, visit the Seven Oaks Museum website or read my post 19th Century Life at Seven Oaks House Museum.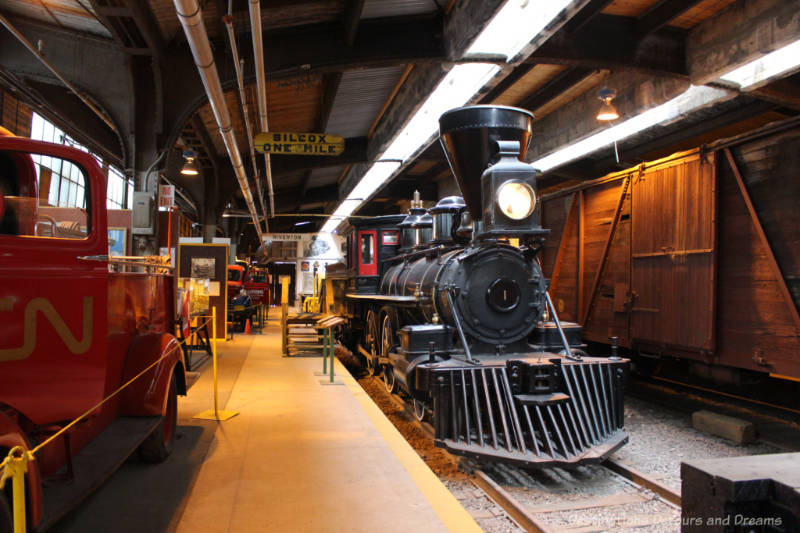 The railway played a pivotal role in the history of Canada and in the history of Winnipeg. The arrival of the railway in Winnipeg in 1885 led to Winnipeg becoming a transportation hub and "Gateway to the West." The Winnipeg Railway Museum chronicles the history of the railway. Located in the Union Station, the museum contains a variety of train cars and engines, including the Countess of Dufferin, the first locomotive in western Canada. It also contains a variety of railway vehicles, memorabilia, and articles. Check the museum website for hours. Read more in my Winnipeg Railway Museum post.
Winnipeg For Architecture Lovers
My top ten list of things to do included several items of interest to architecture lovers: The Exchange District and its collection of heritage and modernist buildings; the Canadian Museum for Human Right's symbolic architecture; the impressive Qaumajuq Inuit art centre.
Visit the Winnipeg Architecture Foundation to find more architectural items of interest beyond these well-known structures. You'll find two interactive tours on the Foundations tour page. One is a free bilingual app that works as a self-guided tour sharing information on significant buildings in three neighbourhoods: Wolseley, Downtown, and St. Boniface. The app synchronizes with Winnipeg Transit Route #10. The other is a map of QR Code participant sites. A number of QR (Quick Response) Codes have been placed on a selection of significant architecture projects. Scanning the code with your mobile device brings up immediate information about the site.
The look of a city's buildings is often influenced by the type of building materials locally available. In Winnipeg, that material is Tyndall Stone. It is a form of mottled, cream-coloured dolomitic limestone quarried about 40 kilometres northeast of Winnipeg. A feature of this stone is the presence of visible fossils. Millions of years ago, southern Manitoba was part of a warm, shallow sea. Fossils from the many sea creatures who lived there are what gives the stone its mottled look. If you look closely at a Tyndall stone wall you see as you explore the city, you'll spot the fossils. You can read more in my post Winnipeg and Tyndall Stone: Fossils and Architecture.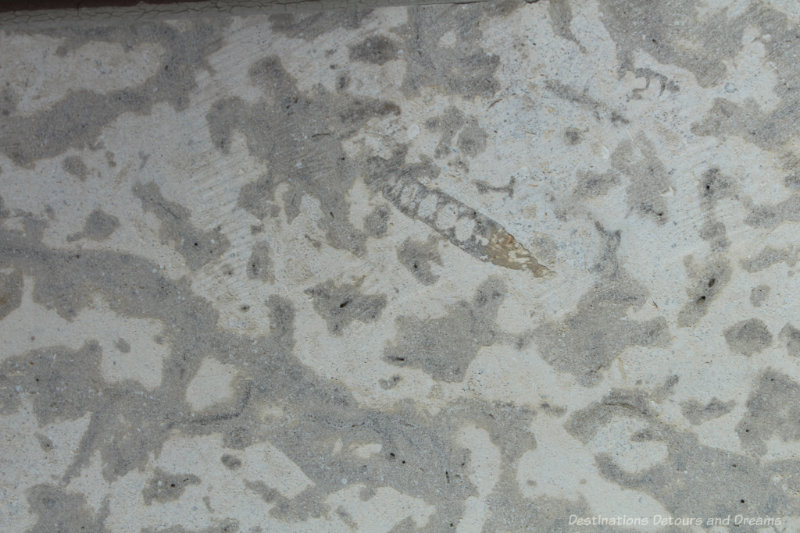 Winnipeg For Nature Enthusiasts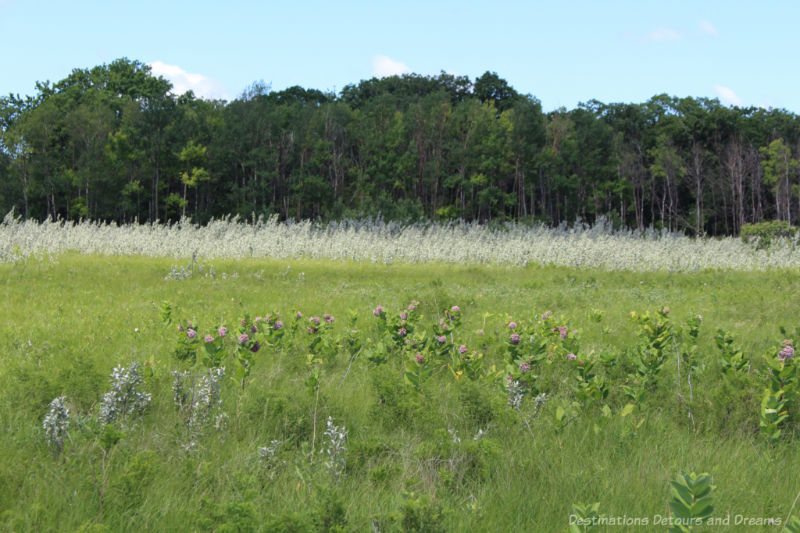 Prior to European settlement, tall grass prairie covered much of central North America including southern Manitoba. Today, very little tall grass prairie remains. The 13-hectare Living Prairie Museum, located within Winnipeg city limits, is one of only a few tall grass prairie preserves on the Canadian prairies and is home to over 150 species of wildflowers, grasses, and shrubs. With the aid of an interpretative booklet you can learn about the grasses and wildflowers around you as you walk the trail through the preserve. For more information visit the Living Prairie Museum website and my post about the Living Prairie Museum.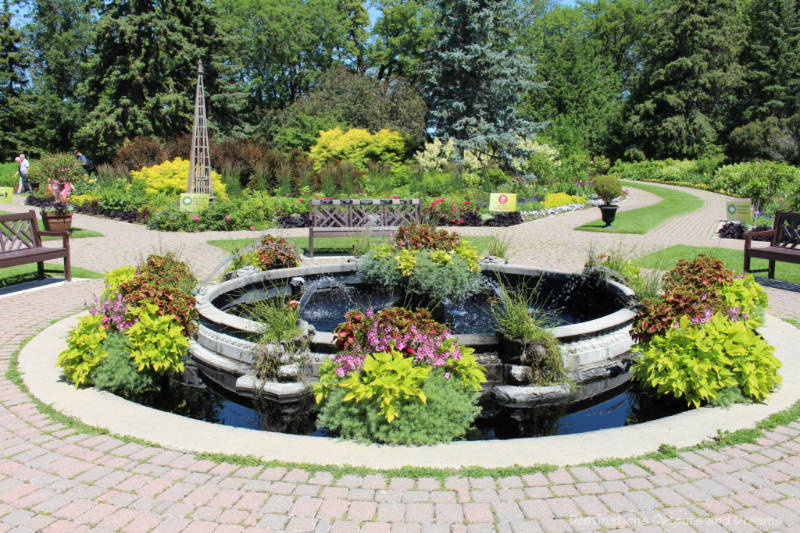 For a more cultivated view of nature, visit the English Garden in Assiniboine Park. Winding paths take you through flowers, shrubs, and trees planted in the English Landscape style, a free-flowing style featuring irregular shapes, curved lines, and an openness to the surrounding landscape. There are a number of sculptures incorporated in the garden design. Park benches offer opportunities to sit and enjoy the garden. Be sure to also visit the adjacent Leo Mol Sculpture Garden. I've written about both the English Garden and the Leo Mol Sculpture Garden.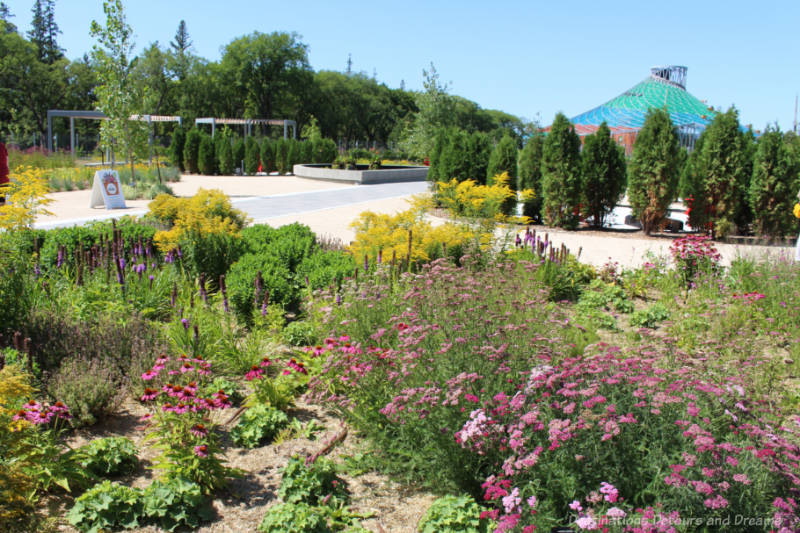 Nature and culture unite in the The Gardens at the Leaf, gardens. This newest addition to Assiniboine Park is well worth visiting. Read my post about the Gardens at the Leaf. Visit the Assiniboine Park website for more details on all the gardens in the park.
It may be unusual to find a forest within a city, but Winnipeg has one. Assiniboine Forest has an all-weather nature trail, a pond in the middle where you can watch for shorebirds and waterfowl, and a herd of white-tailed deer. For more information visit the Assiniboine Forest parks page.
If you are interested in other walking or hiking trails within the city, check out the Winnipeg Trails Association. One trail of note, Bois-des-Esprit, which winds through oak forest on the edge of the Seine River in south Winnipeg, features numerous tree carvings scattered throughout the trail.
The Winnipeg Art Gallery and Qaumajuq, its Inuit art centre, made it on my list of Top Ten Things to Do in Winnipeg, Manitoba, but there is a lot more art to be found in galleries throughout the city. The historic Exchange district, which also made it to my top ten list, is home to a several of these galleries as well as private studios. On First Fridays, which take place evenings on the first Friday of each month, a number of studios open their doors to the public. You have opportunities to talk with the artists and/or witness them at work. The studios on the list vary from month to month. Check the Exchange District Biz site for information.
Winnipeg Arts Council has a public art program. Their Public Art app allows you to find the pieces and learn more about works, their significance, and the artists. I provide information about that app and showcase some of the public art pieces in the post Exploring Winnipeg Public Art Via An App.
Galleries in the Pavilion at Assiniboine Park contain works from the Assiniboine Park Conservancy collection, which features several renowned Manitoba artists, and works from the Winnipeg Art Gallery's collection. Entrance is free.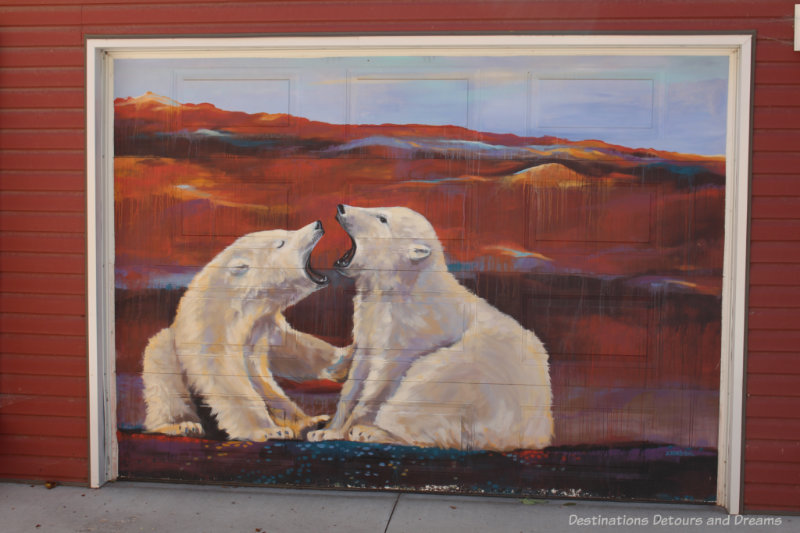 The murals of the West End made it to my top ten list, but there are murals to explore all over the city. Find out about other murals on the Murals of Winnipeg website. Of special note in a back lane in the Wolseley neighbourhood known as Back Alley Arctic because of the many murals of Arctic wildlife painted on garage doors and fences by artist Kal Barteski. Read more in my post about Back Alley Arctic.
With the oldest theatre company in Canada (French-speaking Théâtre Cercle Molière), Canada's oldest English-language regional theatre (Royal Manitoba Theatre Centre), Canada's largest and longest-running outdoor theatre (Rainbow Stage), and the oldest ballet company in North America (Royal Winnipeg Ballet), Winnipeg has long been a major cultural centre of the Prairie Provinces. Prairie Theatre Exchange offers intimate and dynamic theatre experiences. Rainbow Stage productions occur over the summer, but winter is the prime season for most other performing art companies. Visit the Tourism Winnipeg website for information on the many performing arts options available in the city.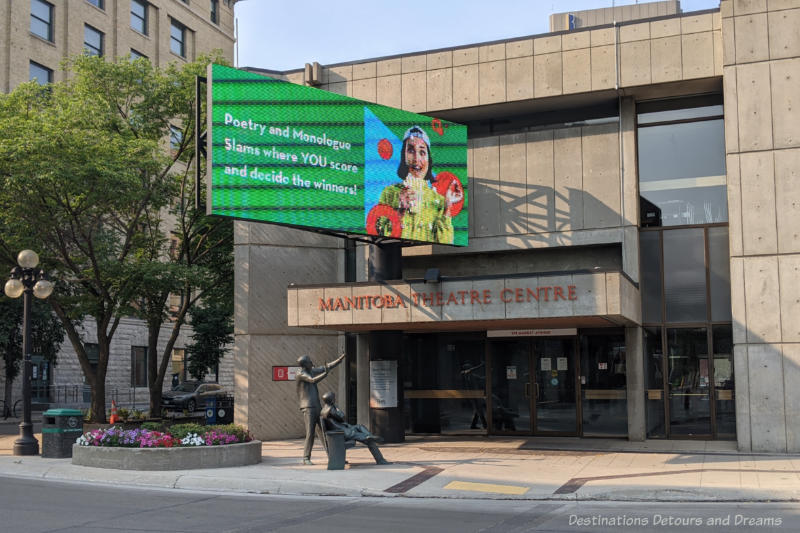 Winnipeg loves its festivals. The Winnipeg Fringe Festival is an alternative theatre festival held over twelve days in July. It is North America's second-largest fringe festival. Festivals for the music lovers include Jazz Winnipeg Festival usually held in June, the July Winnipeg Folk Festival held at Birds Hill Provincial Park just outside the city, and the Winnipeg Soca Reggae Music Festival.
The Manitoba Music Museum is a fun (and free) spot to visit. Display cases along two walls in the entrance area of the Salisbury House on Pembina Highway at Stafford Street dedicated to Manitoba music contain a collection of instruments that belonged to well-known musicians, gold records, clippings, photographs, and posters. (Note: Salisbury House is a local diner chain.)
I am not much of a sports fan, but I can highlight some options in Winnipeg for those who are.
Winnipeggers are big hockey fans and strong supporters of their National Hockey League (NHL) team Winnipeg Jets. Home games are played at the Bell MTS Place in downtown Winnipeg. The Jets are a parent club to another professional hockey team based in the Winnipeg, the Manitoba Moose of the American Hockey League. The Manitoba Hockey Hall of Fame and Museum is located on the second level of the Bell/MTS Iceplex just west of Winnipeg's Perimeter Highway.
Winnipeg Blue Bombers of the Canadian Football League (CFL) play their home games at IG Field located on the University of Manitoba Campus. The Valour Football Club, a professional soccer club competing in the Canadian Premier League, also plays home matches at Investors Group Field. The Winnipeg Goldeyes of the American Association of Professional Baseball play their home games at Shaw Park in central Winnipeg. Their games are a fun family experience. Thoroughbred horse racing takes place at Assiniboine Downs from May through late September. Both the University of Winnipeg and University of Manitoba have active sports programs particularly in volleyball and basketball. Manitoba's Basketball Hall of Fame and Museum is located in the Duckworth Centre at the University of Winnipeg.
Curling is a popular participation sport in Manitoba. Amateur leagues are based in rinks throughout the city and every January the city runs the largest curling bonspiel in the world. There aren't big professional league events as in the sports mentioned about, but if you visit in winter there is a quirky variation of the sport you can try. Head to The Forks to try your hand at Crokicurl. Crokicurl combines the sport of curling with crokinole, a much-loved Canadian board game. An octagonal outdoor rink becomes a giant Crokinole board painted with red and blue rings of curling. Curling stones replace the wooden pieces used in Crokinole.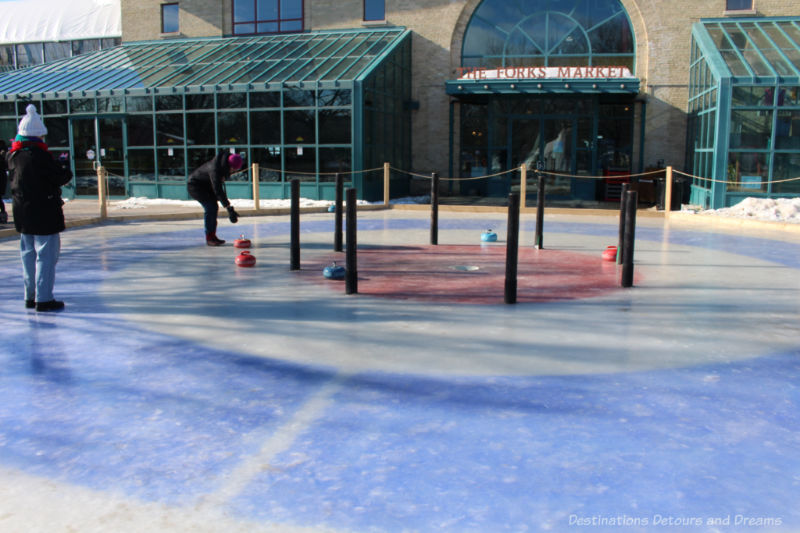 Some items highlighted in my top ten post are excellent family attractions, particularly the zoo with its Journey to Churchill Exhibit and Sally's Farm, but you can find additional things of interest for families. At Assiniboine Park, where the zoo is located, you'll find the Nature Playground. This Children's Garden features a variety of structures for imaginative play in a beautifully landscaped park setting. Don't miss the statue of Lieutenant Harry Colebourn and his bear "Winnie" who was the inspiration for Winnie the Pooh. In the Pavilion building beside Nature Playground, you'll find a gallery dedicated to Winnie the Pooh. See my Nature Playground post.
The Children's Museum, located at The Forks, is housed in the oldest surviving train repair facility in Western Canada and contains twelve permanent galleries to spark kids' creative learning with hands-on exhibits. See the museum website for details. Other sites of interest at The Forks are Fort Parka, a lovely playground and splash park, and The Plaza at The Forks, Canada's largest urban skate plaza and bowl complex.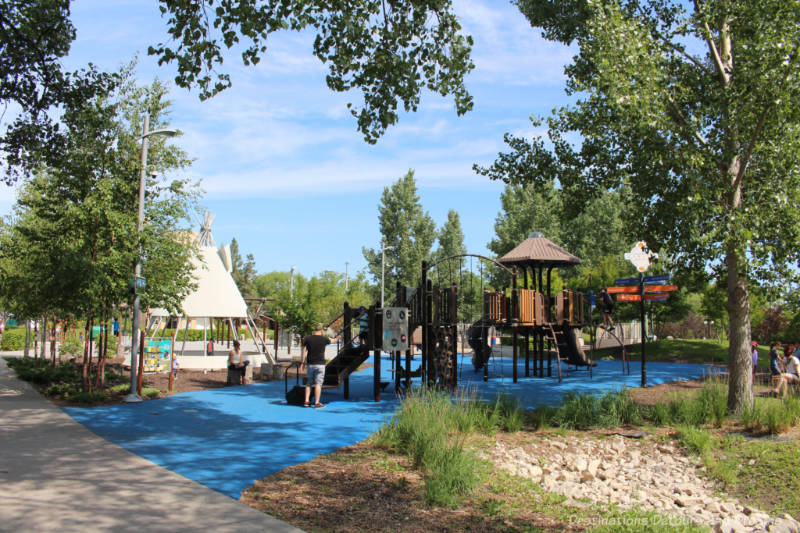 A Maze in Corn, located approximately 14 kilometres (9 miles) south of the Perimeter Highway that forms a beltway around the city, contains a corn maze in late summer/fall and the world's largest snow maze in winter. There is also petting zoo and a zip line.
All of Canada's circulation coins and coins for many other countries are made the Royal Canadian Mint in southeast Winnipeg. The Mint offers guided tours. Its boutique carries Mint memorabilia.
At Across the Board Game Café in the Exchange District in downtown Winnipeg you can play one of their multitude of board games while enjoying a meal or snack.
The city has a variety of amusement parks and gaming facilities and aquatic centres. Check the Family Fun section at the Tourism Winnipeg site.
Winnipeg's dining options are as diverse as the city itself. There are many top-notch restaurants. Choices are so numerous I am not going to make any specific recommendations here, but I will point out some options for food and drink tours. The tours take you to three or four different establishments.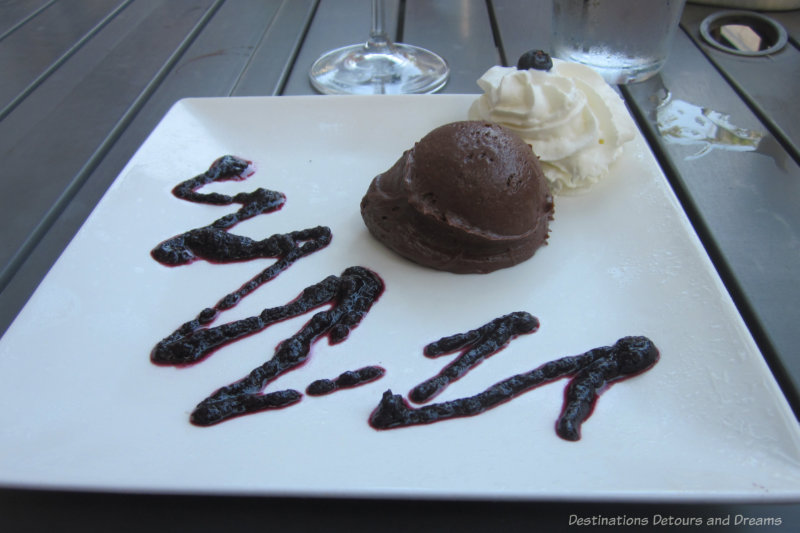 Downtown Winnipeg Biz offers food and drink tours in the city's downtown. The specific tours vary from year to year. Types of tours that have been available in the past include things like a breakfast club tour, a patio crawl, and a wine and small plate pairing tour. During the summer months, both the Exchange District Biz and the West End Biz offer food tours. The 20-block Exchange District is a National Historic Site featuring North America's largest and best-preserved collection of heritage buildings. It is also home to some of Winnipeg's most popular restaurants. The West End is the most ethnically diverse neighbourhood in the city. That diversity is reflected in the variety of restaurant options.
Over the past several years, Winnipeg has developed a craft beer scene. There are also a couple of craft distilleries. You can explore these on your own (see the list of what's available at Winnipeg Tourism) or sign up for one of Winnipeg Trolley Company's brewery tours. You can read about my brewery tour experience here.
Winnipeggers have a reputation for loving a good deal and shopping with coupons. Winnipeg is a relatively inexpensive city and the cost of admission to most attractions is reasonable. For those looking for an even better deal, there are a number of free options. You can spend time in a park, walk one of the trails, discover landmarks with a self-guided tour, or explore the city's murals and public art.
Here is a list of free museums in the city. My post on self-guided tours within Winnipeg includes a number of free tours as well as some paid ones.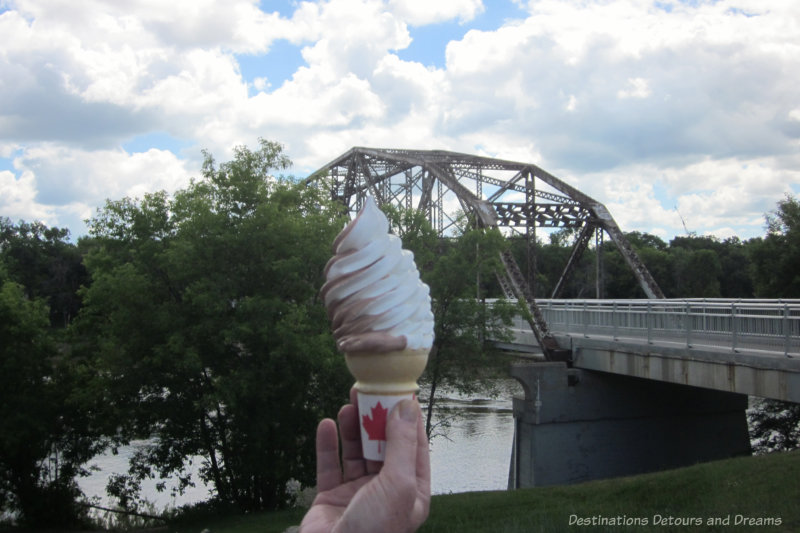 The unofficial first day of spring in Winnipeg is the day the Bridge Drive-In on Jubilee Street opens. The BDI as it is known to Winnipeggers has been serving soft serve, sundaes, sodas, shakes, and a number of their own ice cream concoctions for over 60 years. Its signature concoction is the Goog, a blueberry upside-down thick shake, topped with sliced bananas, layered with hot fudge sundae, and topped with whipped cream and a cherry. Peanuts are optional. Although it is called a drive-in, the BDI is more of a walk-up. There is no inside dining. This place is popular. Expect line-ups. To enjoy your ice cream in true Winnipeg fashion, eat it while walking across the river on the historic Elm Park Bridge (BDI is located at the foot of the bridge) and wandering through the residential neighbourhood on the other side. The steel-truss Elm Park Bridge was constructed between 1912 and 1913. The narrow bridge was used for two-way vehicular traffic into and out of St. Vital, once its own city and now part of Winnipeg, until 1974. It is now used by pedestrians and cyclists.
Head to Mitzi's Chicken Finger Restaurant in downtown Winnipeg for chicken fingers and honey dill dipping sauce. The sauce made with mayonnaise, honey, and dill was created by the late Peter Eng of the restaurant when he attempted to duplicate a different sauce he'd tasted at another restaurant. Honey dill dipping sauce has became a Manitoba thing with other restaurants offering their own versions of the sauce, but it isn't readily found outside of the province.
Pick up a Jeanne's cake at Jeanne's Bakery or one of the grocery stores that carries them. The cakes, which come in flavours of chocolate, marble, or banana, have a shortbread cookie crust and white icing with dark chocolate shavings. Winnipeggers either love or hate Jeanne's cakes. I personally am not a big fan, but I have family members for whom a birthday isn't a birthday without a Jeanne cake.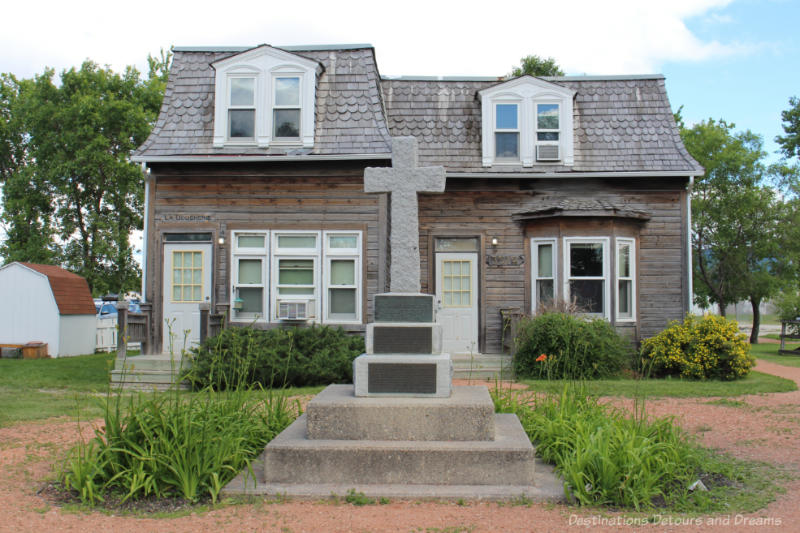 If you are in the city on a Saturday in summer, you may enjoy a visit to St. Norbert Farmers Market. Located in St. Norbert, just south of the Perimeter Highway, the market features over 50 vendors selling fresh produce, flowers, meats, baked goods, home-style jams and preserves, and artisan crafts. Take a break from browsing and sit at one of the picnic tables while you sample food available from food trucks and listen to entertainers and buskers. At the south end of the market space, stroll through Place St. Norbert and be transported tack in time to 1869. Here you'll find a former butcher shop, a log house, a Red River cart and the La Barrière monument which commemorates the 1869 barring of the road by the Métis to prevent access to government surveyors coming to stake out land.
Never miss a story. Sign up for Destinations Detours and Dreams free monthly e-newsletter and receive behind-the-scenes information and sneak peaks ahead.
PIN IT