Cruising Through Alaska History and Culture Aboard a Sternwheeler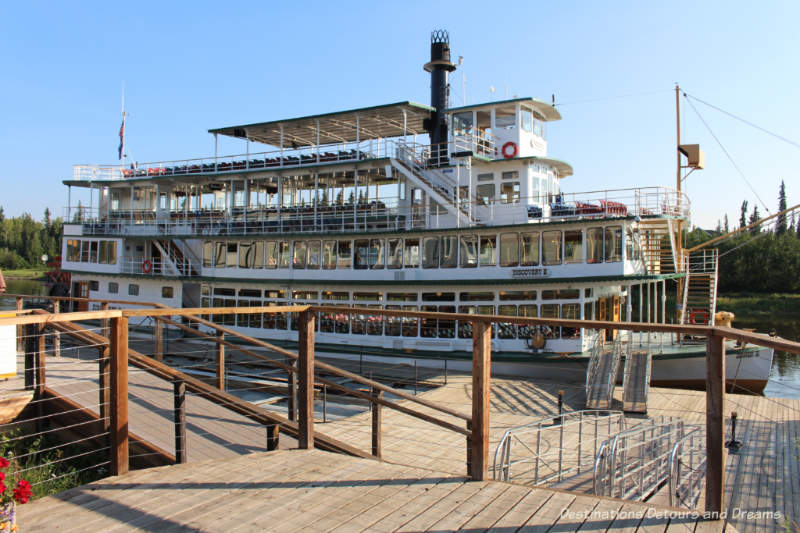 Riverboat Discovery excursion along the Chena River in Fairbanks, Alaska
(Disclosure: Thanks to Explore Fairbanks for hosting my stay in Fairbanks. Observations and opinions, as always, are my own.)
Staff stand on the dock at Steamboat Landing in Fairbanks, Alaska and wave at us as we sail away on the sternwheeler Riverboat Discovery for a 3-hour narrated cruise along the Chena River.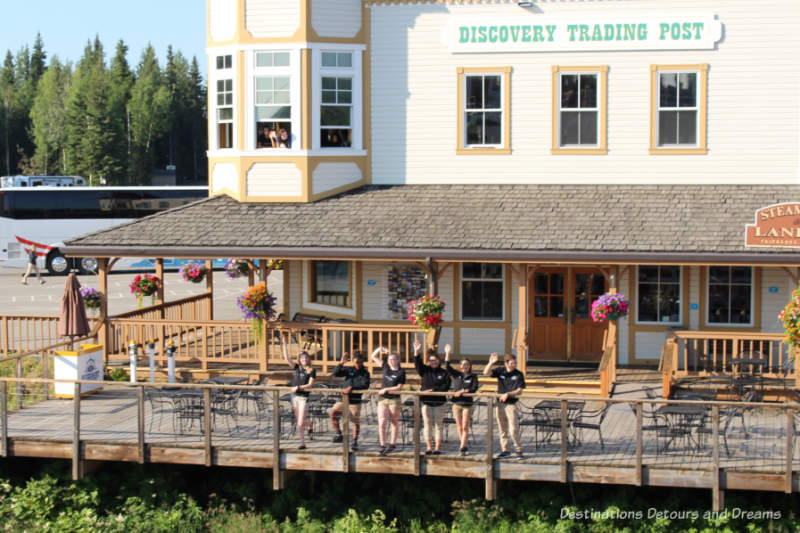 A sternwheeler is a ship propelled by a paddle wheel positioned at the stern. Sternwheelers played a major transportation and freight role in Alaska in the late 1800s and first part of the 1900s. At one time there were 250 sternwheelers on Alaska rivers, 91 on the Chena. Powered by wood furnaces, they would use one cord of wood an hour. The current Riverboat Discovery is a tourist excursion boat powered by diesel, but it has a strong connection with the past.
The boat is owned and operated by descendants of Charles M. Binkley, who started building and piloting boats in the North in 1898. In the 1950s, with railroads and airplanes beginning to carry most of the freight, his son Captain Jim Binkley Sr. and his wife Mary started a river excursion business. It was their granddaughter piloting the Riverboat Discovery the day of my cruise.
Float Plane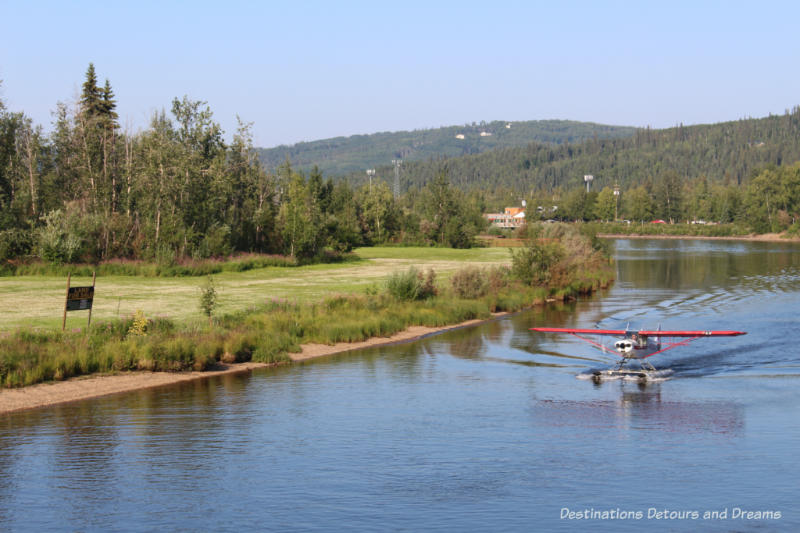 Bush planes, landing with floats on the water in summer and with skis on snow in winter, were and still are another important transportation vehicle in the North. Shortly after leaving the dock, we were treated to a demonstration of a float plane taking off and landing.
Trail Breaker Kennel
Before the use of snow mobiles, called "snow machines" in Alaska, dogsledding was a common method of winter travel used by indigenous peoples and early European settlers and trappers. Although dog teams are no longer used much for travel or moving goods, dogsledding has become a popular winter sport. The Iditarod dogsled race, which was created in the 1970s partly to save dog sled culture, has contributed to its popularity. The race runs between Anchorage and Nome. The more grueling Yukon Quest, which runs between Whitehouse in Canada's Yukon and Fairbanks, started in 1984.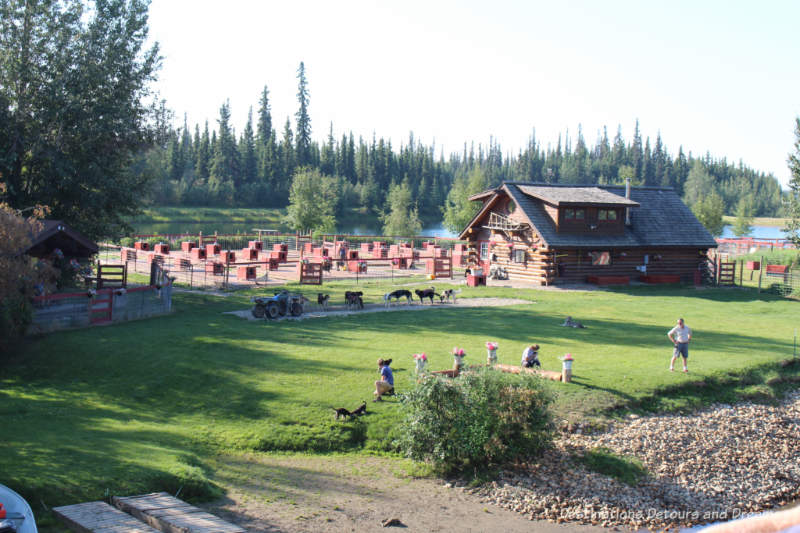 Susan Butcher was a four-time Iditarod race winner, winning her first race in 1986 and winning again in 1987, 1988, and 1990. She passed away in 2006, but her family still operates Trail Breaker Kennel, one of the longest operating kennels in Fairbanks where visitors experience the Alaskan mushing lifestyle. We paused at the banks of the kennel to see some of the dogs and learn about dog sledding from Susan's husband.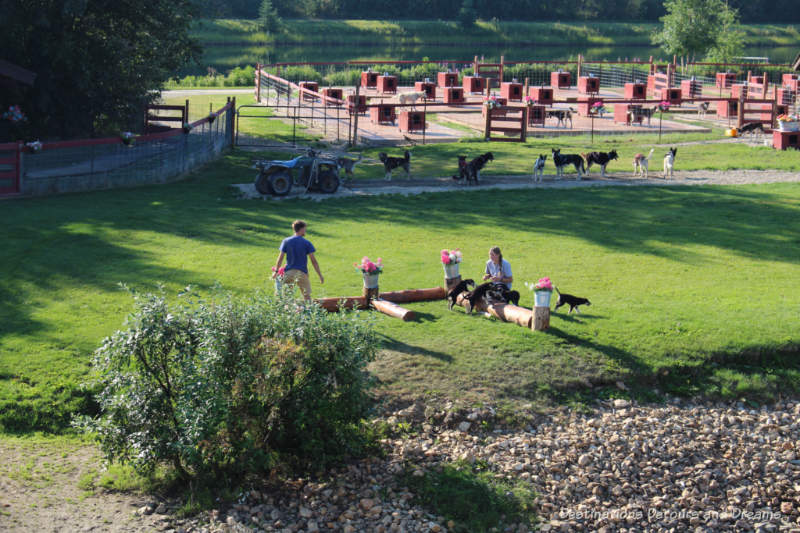 Chena Village
The only place where we stopped and disembarked on the cruise was at a recreated Chena Athabascan Indian Village from the early 1900s. Captain Jim Binkley Sr. supplied villages like this by sternwheeler from the late 1930s through the 1950s. Guides at Chena Village explained how various animals were used for food and protection (clothing and shelter), how Athabascans survived nomadic life and how they adjusted to village life. Dogs from Susan Butcher's kennels were also on site for those who wanted to get closer to the animals and learn more about them.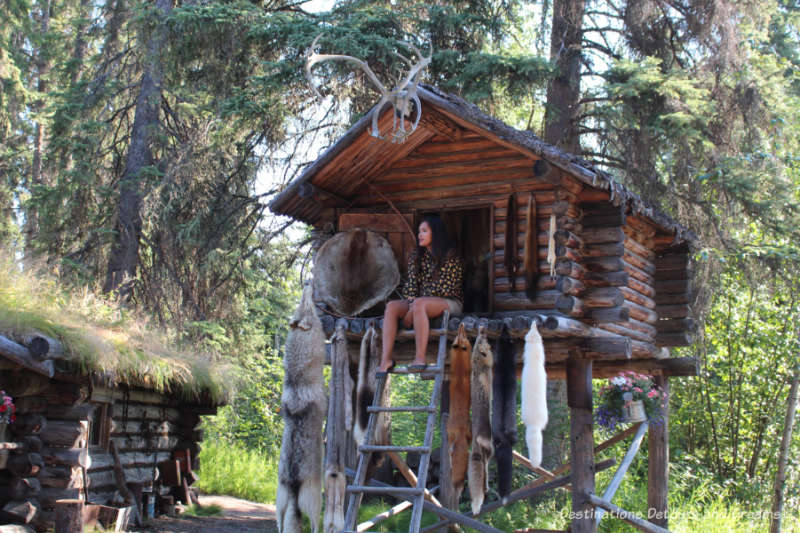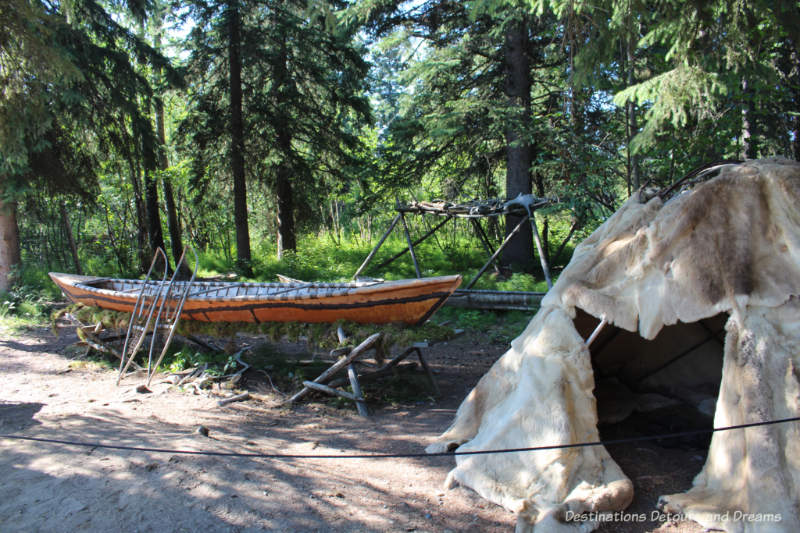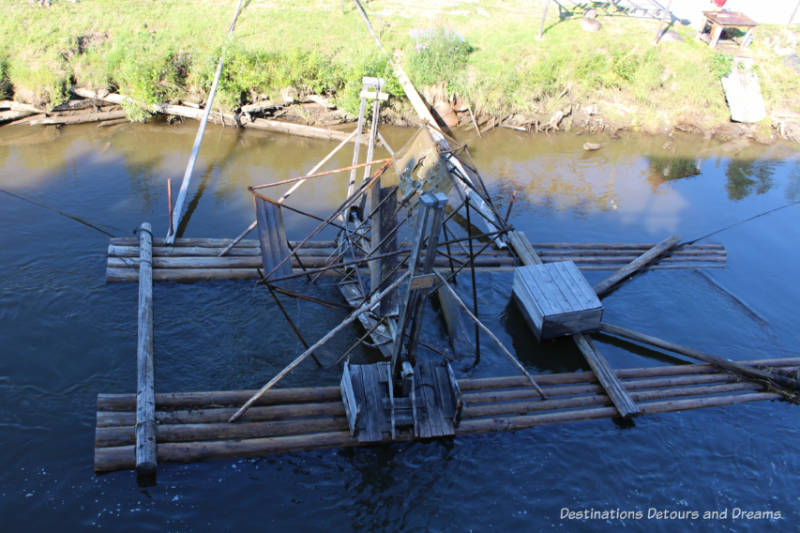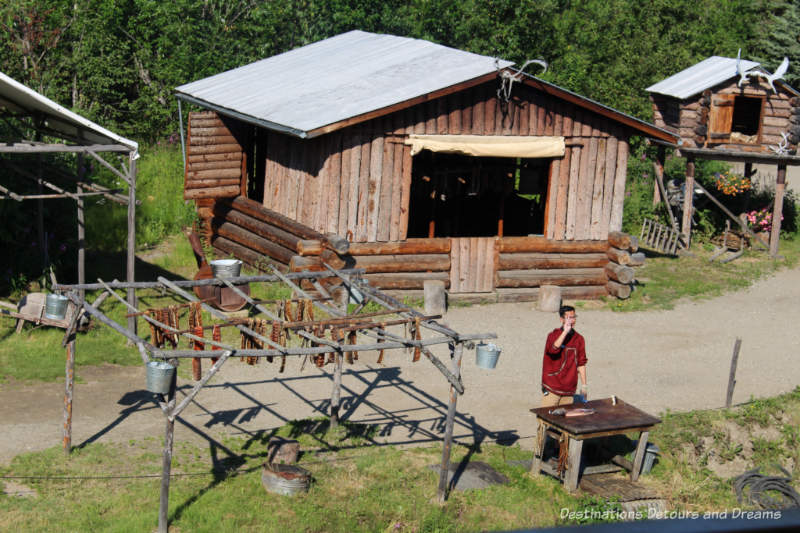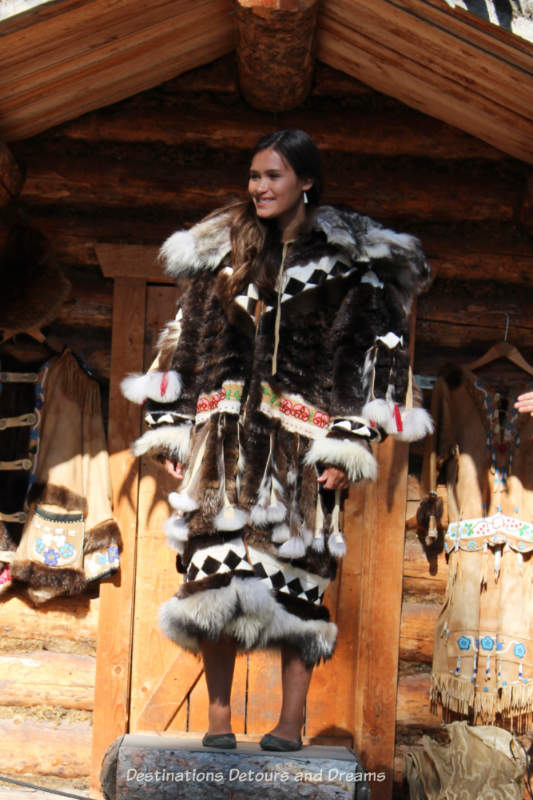 On The River
As we cruised the river, we passed a variety of log cabins, old and new, large and small, on properties along the shore. We saw a herd of caribou (a planned sighting as this is a domestic herd) and a bald eagle along the shore (unplanned sighting).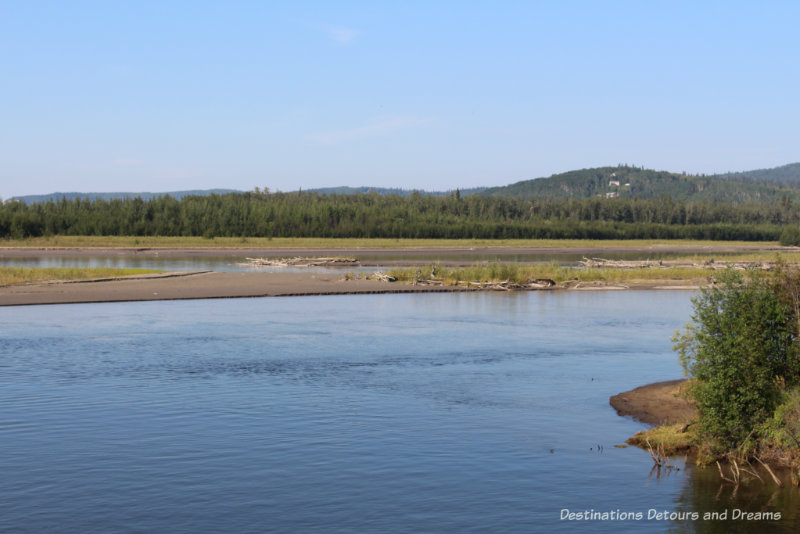 We turned around at the point where the Chena River joins the Tanana River. The Tanana River is a 584-mile tributary of the Yukon River. The Tanana River is a braided river, something I'd not heard of until I visited Alaska. A braided river consists of a network of river channels that continually split and join and are separated by small and often temporary islands. Braided rivers are typically wide and shallow and carry a lot of sediment.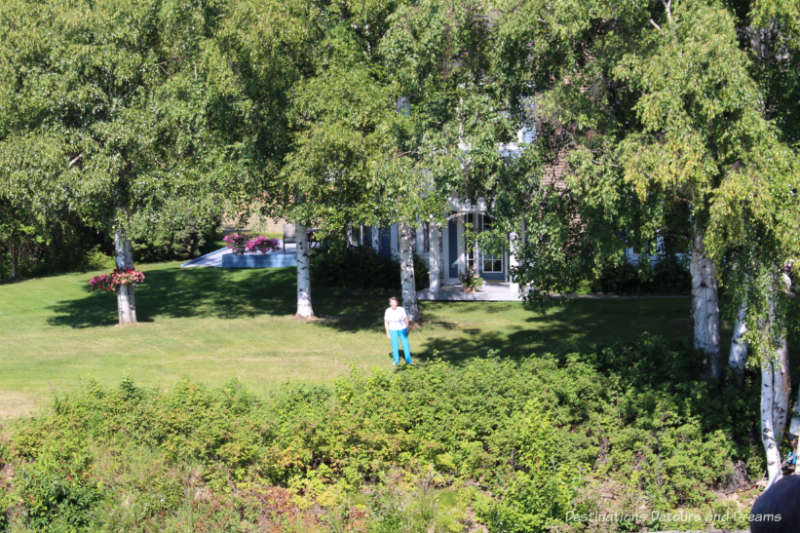 Steamboat Landing
At Steamboat Landing, where the Riverboat Discovery docks and sets sail from, you'll find a gift shop and Discovery Dining Hall, where a hearty lunch of miner's stew, rustic roasted vegetables, apple pecan salad, sourdough rolls and a brownie is served family style at long tables.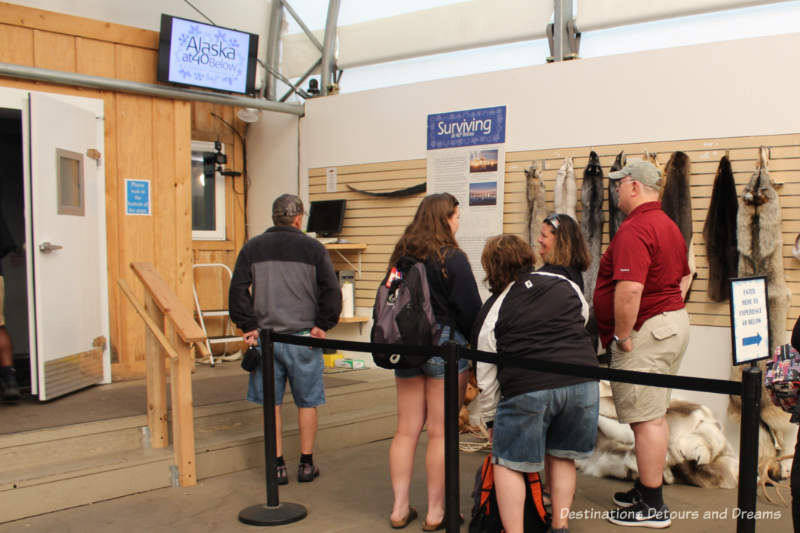 Here you'll also find the Alaska @ 40 Below Experience, where you have a chance to enter a specially designed chamber to experience what -40 degree temperatures feel like. I did not join the line-up for what looked like the entrance to the locker plant at the butcher shop in my childhood hometown, where my family rented a locker to store frozen vegetables and sides of meat before we had our own freezer. (The inside of that locker was actually many degrees warmer than -40.) Coming from a place with cold winters, I've lived through -40 degree temperatures in real life and preferred to remain in the hot summer temperatures, so I passed on the Alaska @ 40 Below Experience. However, even the idea of temperatures that cold must seem unfathomable to people who've lived their lives in warm climates or have not experienced temperatures much below freezing. I can understand wanting to know what it feels like.
The Riverboat Discovery sails twice a day from early May through mid-September. It is an excursion well worth taking should you visit Fairbanks in the summer.
Never miss a story. Sign up for Destinations Detours and Dreams free monthly e-newsletter and receive behind-the-scenes information and sneak peaks ahead.
PIN IT