Ten Things To Do In Scottsdale, Arizona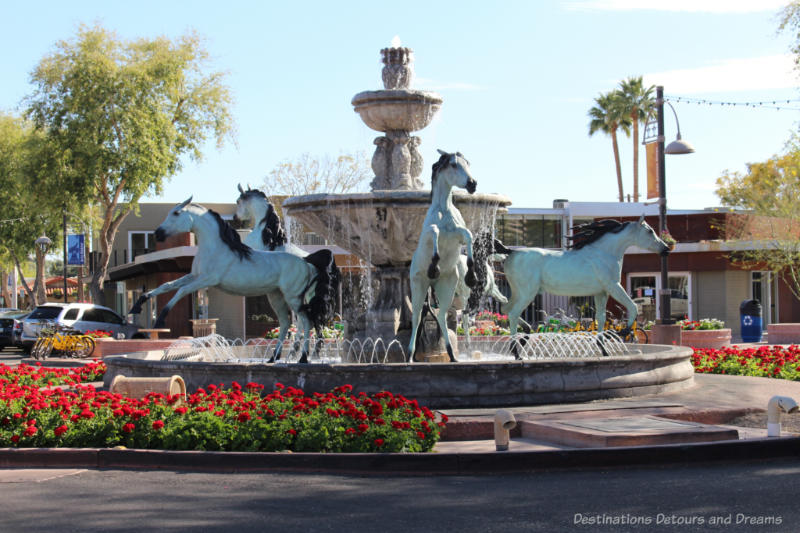 Scottsdale Attractions: Best things to see and do in Scottsdale, Arizona
Scottsdale, Arizona, part of the Greater Phoenix area, is located in the beautiful Sonoran Desert at the foot of McDowell Mountain. Known for luxury spas and resorts, great golfing, upscale restaurants, trendy galleries, and healthy outdoor pursuits, it is a popular vacation destination.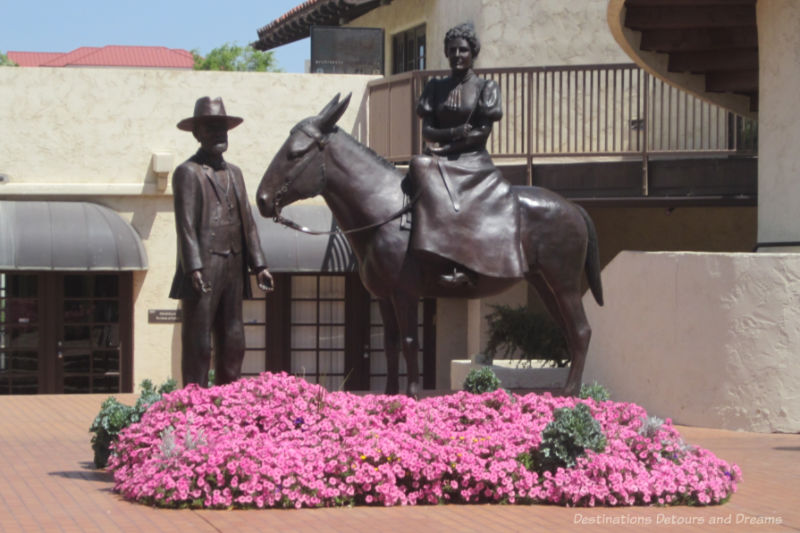 Scottsdale is named after its founder Winfield Scotts, a retired U.S. Army chaplain who was so impressed when he visited the Salt River Valley in 1888 he bought 640 acres to start a farming operation. In the early 1900s Scottsdale grew slowly but steadily as a small market town providing services for the agricultural industry. The area also saw the development of ranching operations. The Depression Era saw an influx of artists and architects.
When the town incorporated in 1951, it had a population of about 2,000 people living within an area of less than a square mile. It grew both in population and land area over the next decades. It had a population of 258,000 in 2019 and now covers an area of 184.5 square miles, stretching 31 miles from north to south.
Scottsdale encompasses sophisticated urban areas as well as natural, wilderness-like landscapes in its northern reaches. It has a lively walkable downtown area that retains a small-town feel.
Elevation ranges from 1,150 to 4,877 feet above sea level. Scottsdale averages 314 sunny days a year. It has an arid climate with mild warm winters and very hot summers. Prime tourist season runs October to mid-May.
Although downtown Scottsdale is walkable with a free trolley service, a car is the best way to get around the rest of Scottsdale and the Greater Phoenix area. An extensive freeway system provides a more efficient means for getting around, although parts of it can get congested during rush hours.
Here are my recommendations for the top things to see and do in Scottsdale. Note that there are numerous other things to see and do within the entire metropolitan region. This post focuses on attractions within the boundaries of the city of Scottsdale. For information on things to do in other parts of the metropolitan area, see my post on Ten Things to do in Phoenix, Arizona and Ten Things To Do In Mesa, Arizona. For things to do in other communities within the Greater Phoenix East Valley, see Greater Phoenix East Valley Guide.
1. Old Town Scottsdale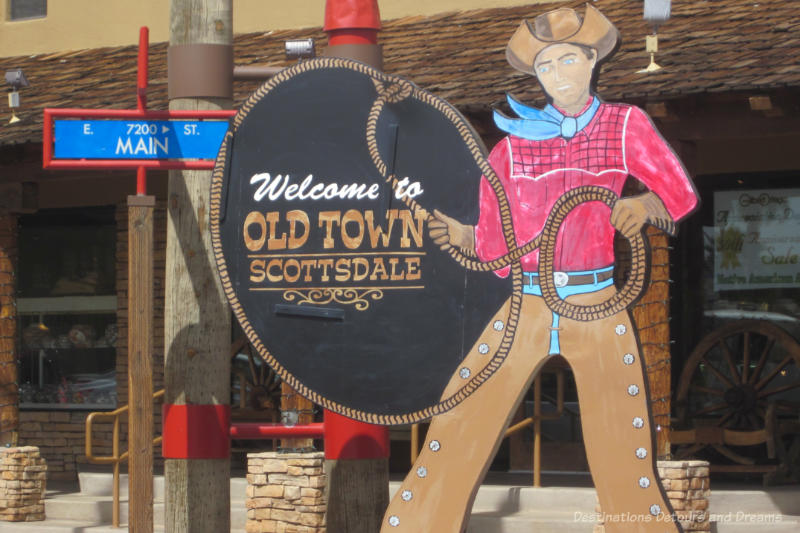 Old Town refers to a large chunk of Scottsdale's historic downtown area filled with pedestrian-friendly streets lined with restaurants, unique shops, and world-class art galleries. It is a fun area to wander through and spend time in. There are what feel like several different areas all within an easy walking distance.
Scottsdale Civic Center Park in the southeast corner of Old Town contains 21 acres of green space. Here you'll find the Scottsdale Museum of Contemporary Art and the Scottsdale Performing Center.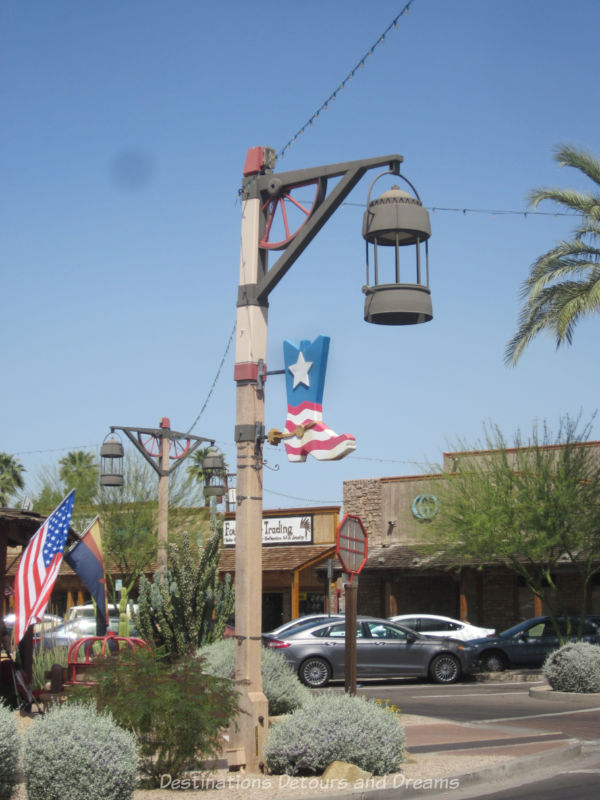 A collection of deliberately rustic buildings in the heart of Old Town recreate an Old West feel. Shops carry a variety of goods and giftware, including Native American art and western apparel. Dozens of galleries showcase creativity of all kinds in the Arts District. The 5th Avenue shopping district is known for designer boutiques and vintage wear. In the heart of Old Town, you'll find The Little Red Schoolhouse, a former school building built in 1909 that now houses the Scottsdale Historical Museum. Entrance to the small museum is free.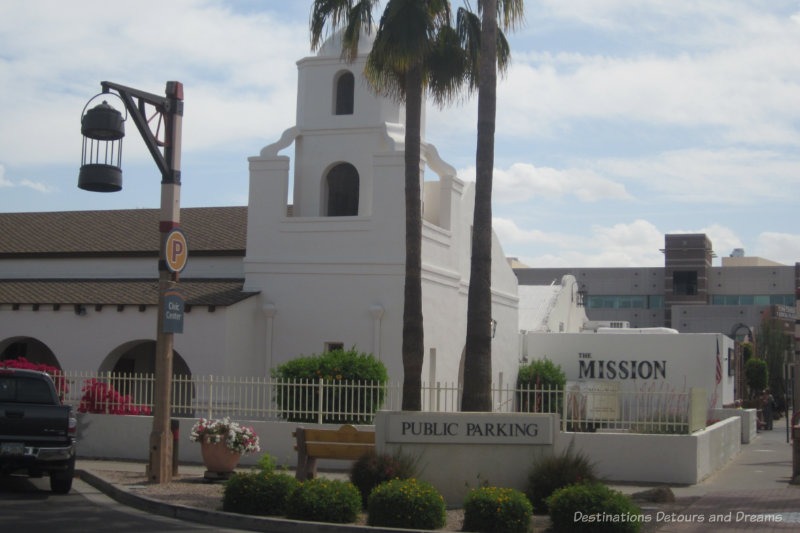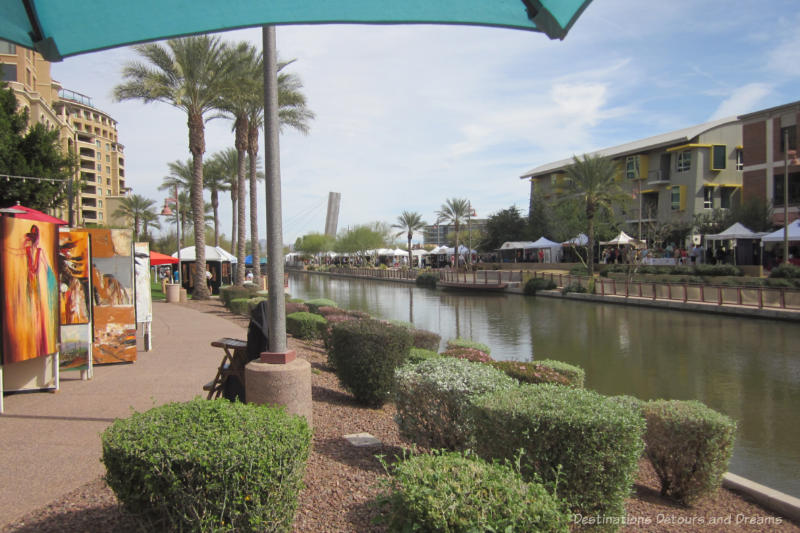 Scottsdale Waterfront is located alongside an updated section of the Arizona Canal, part of a rich irrigation system built in the Greater Phoenix Valley by the Hokoham over a thousand years ago. It contains a walking path, upscale shops, and popular restaurants. The Waterfront hosts a variety of events throughout the year, such as the Waterfront Fine Art and Wine Festival and Canal Convergence.
Just north of Scottsdale Waterfront, you'll find Scottsdale Fashion Square, the largest shopping destination in the Southwest.
There is plenty of free parking available in downtown Scottsdale. The area is easily explored on foot. There is also a free Downtown Trolley operating during the daytime.
2. Downtown Public Art
The Bronze Horse Fountain by Bob Parks shown in the picture at the top of this post is one of the most photographed pieces of Scottsdale public art. It is located at the corner of E 5th Avenue and N Marshall Way. You'll find a number of other sculptures throughout the downtown area. Several, including the iconic Love sculpture, are found amid the green space and fountains in Civic Center Park. In the Waterfront area you'll find the Soleri pedestrian bridge, designed by Paolo Soleri, and the Soleri Plaza containing totemic panels, also designed by Soleri.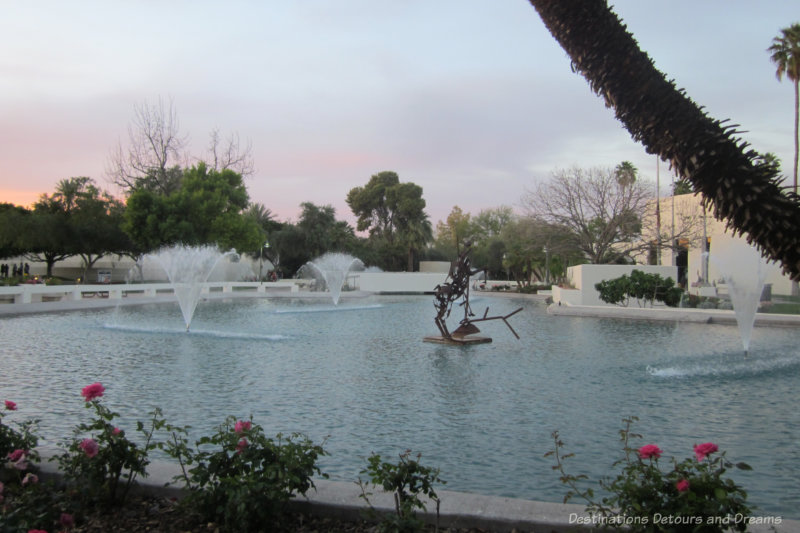 This walking tour map contains information on the 10 most celebrated works of art in Scottsdale downtown.
3. Scottsdale ArtWalk
On Thursday evenings, galleries in Scottsdale's downtown Arts District open their doors for art lovers. The free event offers the opportunity to meander through the galleries, see featured artists, have refreshments, enjoy street performances, and soak in the festive atmosphere as you stroll from gallery to gallery.
In addition to the weekly ArtWalk, the Gold Palette Series presents special themes throughout the year. Find out more about ArtWalk here.
4. Scottsdale Wine Trail
Although wine may not be the first thing that comes to mind when you think of Arizona, several areas within the state are known for wineries producing high-desert wines. Five of those wineries have tasting rooms within walking distance of each other in downtown Scottsdale. They have joined forces to create the Scottsdale Wine Trail.
5. Western Spirit: Scottsdale's Museum of the West
The Smithsonian-affiliated Western Spirit: Scottsdale's Museum of the West celebrates the art, culture, and history of the American West. Exhibits in the certified LEED®Gold building include ceramics, sculptures, paintings, works by Native American artists, cowboy memorabilia, and iconic Western objects. The 43,000-square-foot two-story building is located in downtown Scottsdale.
I have not yet had the chance to first this world-class museum myself, but a blogging friend and colleague has. You can read about her visit here.
6. Taliesin West
Nestled in the desert foothills of the McDowell Mountains you'll find Frank Lloyd Wright's Taliesin West. The renowned American architect began creating Taliesin West in 1937 as his winter home and a test laboratory for desert designs. It served as one of the campuses for the Frank Lloyd Wright School of Architecture. This UNESCO World Heritage Site and a National Historic Landmark offers a range of tours that provide insight into the eccentric architect and showcase his innovative designs.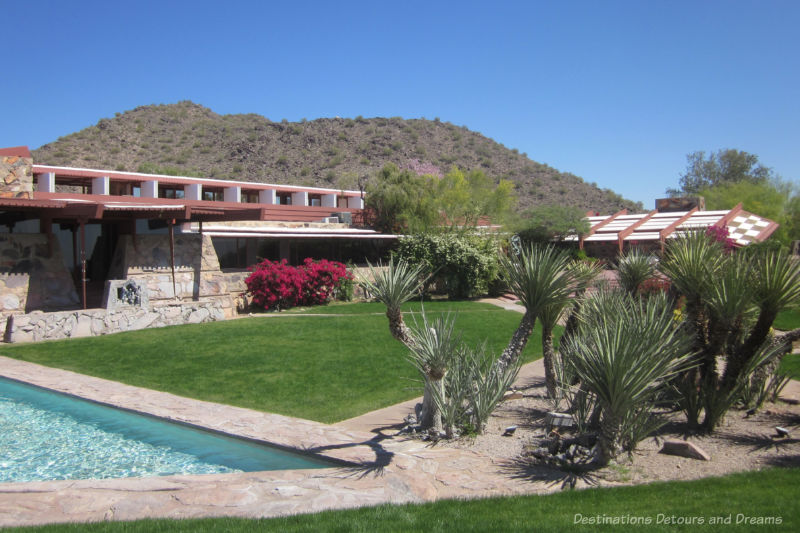 Wright called his architecture "organic" and believed buildings and the space they inhabit should integrate into one coherent whole. He was a pioneer in indirect lighting. The tour guide on the tour I took said it was all about angles, lighting, and shadows. You can read about my tour here.
7. McDowell Sonoran Preserve
The more than 30,500 acres of protected Sonoran desert habitat in north Scottsdale's McDowell Sonoran Preserve offer an array of desert trails for hiking, horseback riding, mountain biking, rock-climbing, and trail running. The Preserve is home to geologically unique and stunning geography.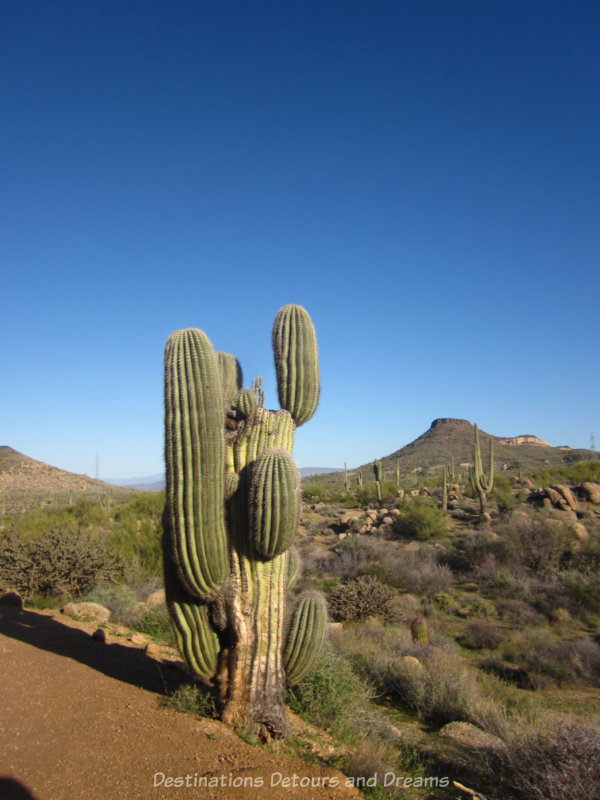 Eleven trailheads connect to over 225 miles of trails. The Brown's Ranch Trailhead features interpretive exhibits about the human history of the Preserve. There are three accessible trails. McDowell Sonoran Conservancy volunteer stewards may be around for information and assistance.
8. Butterfly Wonderland
Butterfly Wonderland is the largest butterfly conservatory in the United States. The indoor conservatory brings a tropical rainforest environment where thousands of butterflies fly freely. Note that the temperature hovers about 80 degrees Fahrenheit and humidity is roughly 80%.
Butterfly Wonderland is located at the Arizona Boardwalk entertainment centre. Other attractions at the Arizona Boardwalk include an aquarium, a Ripley's Believe It or Not museum, a laser and mirror maze, a 3D art gallery, a dinosaur exhibit, virtual reality gaming, and an indoor playground.
Fine Art Expo
From mid-January through to the end of March, the corner of North Scottsdale Road and East Jomax becomes home to an art exhibition. The Arizona Fine Art Expo combines the aspects of a juried fine art festival, the elements of a gallery, and the inner-workings of an artist's studio.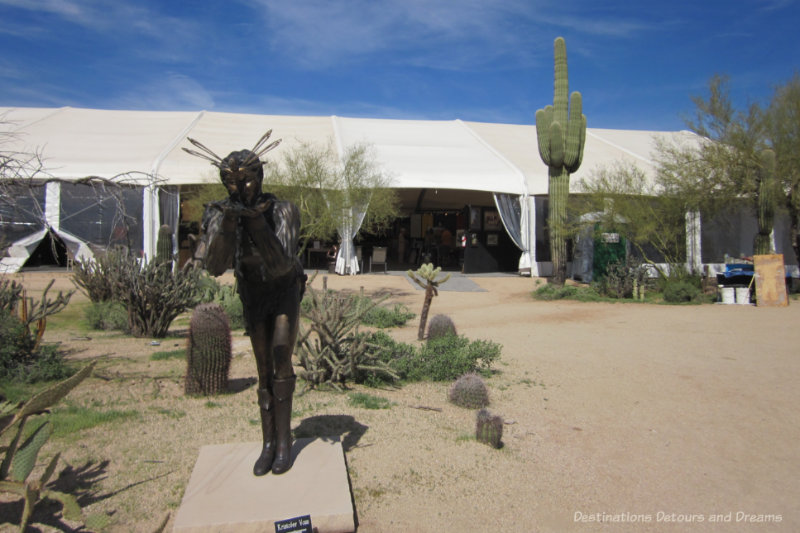 In tenting arranged around a courtyard featuring a sculpture garden, artists display works in a wide variety of mediums. You can watch the artists at work and talk with them about their craft. There is a café onsite. Read about my 2013 visit here.
Note: Thunderbird Artists, the organizers behind the expo, are also the organizers of the mid-February weekend Fine Art & Wine Festival along the Scottsdale Waterfront.
10. Southwest Wildlife Conservation Center
Established in 1994, the Southwest Wildlife Conservation Center (SWCC) rescues and rehabilitates wildlife that has been injured, displaced, and orphaned. Where possible, animals are returned to the wild once rehabilitated. Sanctuary is provided to those who cannot be released back to the wild.
They participate as a member of the Mexican Wolf Species Survival Plan (SSP) and have contributed to the recovery of the endangered Mexican gray wolf by offering sanctuary to care for part of the captive population of this rare wolf.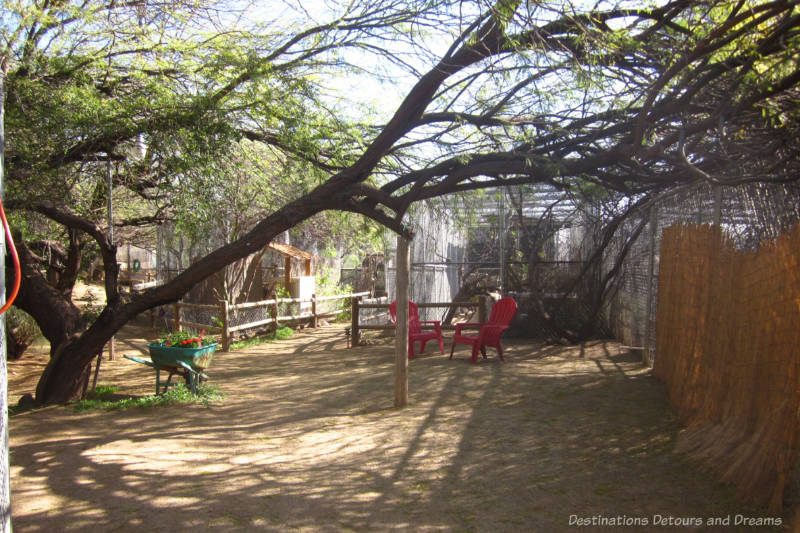 I visited the Center on a Pink Jeep Tour that included a visit to McDowell Sonoran Preserve as well as the Southwest Wildlife Conservation Center. That tour appears to no longer be available, but the Southwest Wildlife Conservation Center is open to the public by appointment for guided tours.
Bonus Things To Do In Scottsdale
Scottsdale Xeriscape Garden At Chapparal Park
Nestled behind a dog park and baseball fields on North Hayden Road, the five-acre Scottsdale Xeriscape Garden At Chapparal Park showcases over 7,000 plants. Through signage and an interactive plant guide, visitors learn about low-water use plants and tips for caring for the desert landscape.
Cowboy Adventures
MacDonald's Ranch offers horseback riding and stagecoach rides. Cowboy cookouts are available November through April. There are pony rides and a petting zoo for the little ones.
If you want to get a little more serious about learning horsemanship skills and ranching techniques, Arizona Cowboy College offer one-day, three-day, and one-week sessions where you learn riding techniques, roping, penning, and all kinds of cowboy stuff.
Parada del Sol and Trail's End Festival
On a Saturday in February, the streets of Old Town fill with spectators for the annual Parada del Sol parade. The family event celebrates the western roots of the city with horses, horse-drawn carriages, old cars, parade floats, marching bands, and local organizations parading down Scottsdale Road. Many parade participants and spectators don western attire and a festive atmosphere fills the street.
The Trail's End Festival begins immediately after the parade. It is a huge block party for all ages with live concerts, food trucks, games, pony rides, and merchandise vendors.
When I wintered in Arizona, I participated in two of the parades marching as a member of the Scottsdale branch of the Taoist Tai Chi Society. There were around100 entries (floats, bands, marching groups) in those parades and a lively, festive atmosphere. Cosmopolitan Scottsdale felt like a small town on fair day.
Barrett-Jackson Auction
Car enthusiasts may be interested in the week-long classic car auction and car lifestyle event held in Scottsdale in January by American collector car auction company Barrett-Jackson. You don't have to be in the market for a collector car to attend. General admission tickets for spectators offer the opportunity to see some of the world's most expensive and rarest cars, view an exquisite array of automobile memorabilia, and watch the fast-paced bidding action. The Marketplace features 200 exhibitors and over 70 food vendors are on-site.
Scottsdale Spire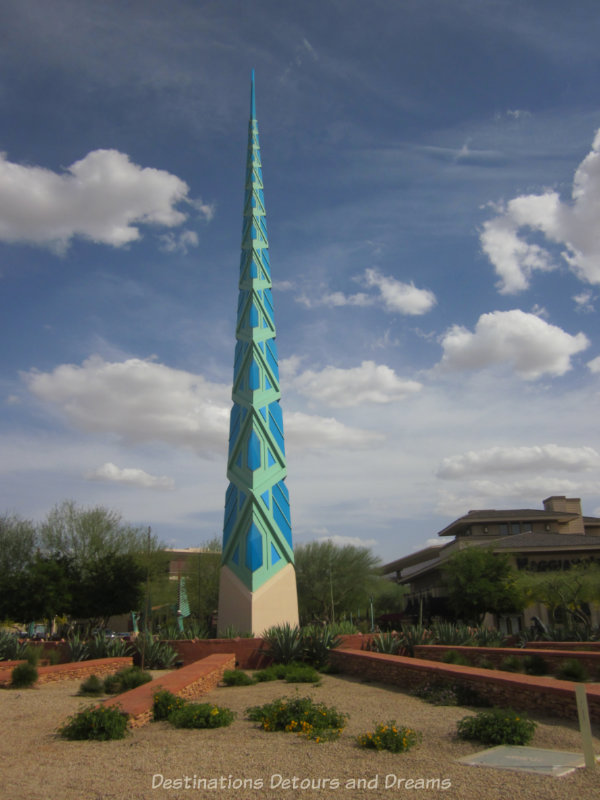 A tall blue spire, which is illuminated at night, sits on the southeast corner of Frank Lloyd Wright Boulevard and Scottsdale Road on a corner of the Promenade retail and dining complex. The spire is based on a Frank Lloyd Wright design. A small park at the foot of the Spire features a covered seating area, fountains, and sculptures by Taliesin Fellow Heloise Crista. Read more about the Spire here.
Never miss a story. Sign up for Destinations Detours and Dreams free monthly e-newsletter and receive behind-the-scenes information and sneak peeks ahead.
PIN IT