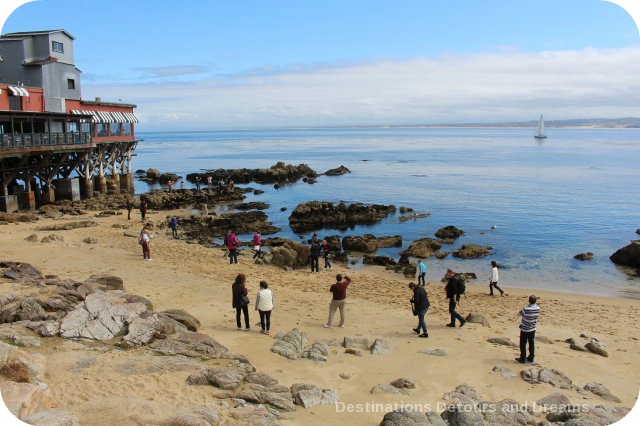 Monterey California: San Carlos Beach, Cannery Row,
Ocean Boulevard and Old Fisherman's Wharf
The City of Monterey is at the southern end of Monterey Bay along the northern end of California's Central Coast. It is 120 miles south of San Francisco. It is a historic city.
Native Rumsien people lived on the shores of Monterey Bay thousands of years before the first Euro-American, Juan Rodriquez Cabrillo, sighted the bay in 1542 and Sebastián Vizcaino became the first Euro-American to set foot on shore in 1602. A Presido was established in 1770. Monterey was the capital of Alta California under Spanish and Mexican rule. After the Mexican-American War ended in 1848, when Alta California became American territory, Monterey hosted California's first constitutional convention in 1849 in Colton Hall (now a museum). In 1850, California became the thirty-first U.S. state with its capital at San Jose. The capital was moved a couple of times until Sacramento, the current capital, was chosen in 1854.
Monterey was famous for its fishing until the industry collapsed in the 1950s due to overfishing. The city also has a history as a centre for California artists, and many well-known authors have lived in the area. Today, there is enough for a visitor to see and do to keep one occupied for days. We, however, only had one day to experience some of the highlights of this relaxed, maritime city.
San Carlos Beach Park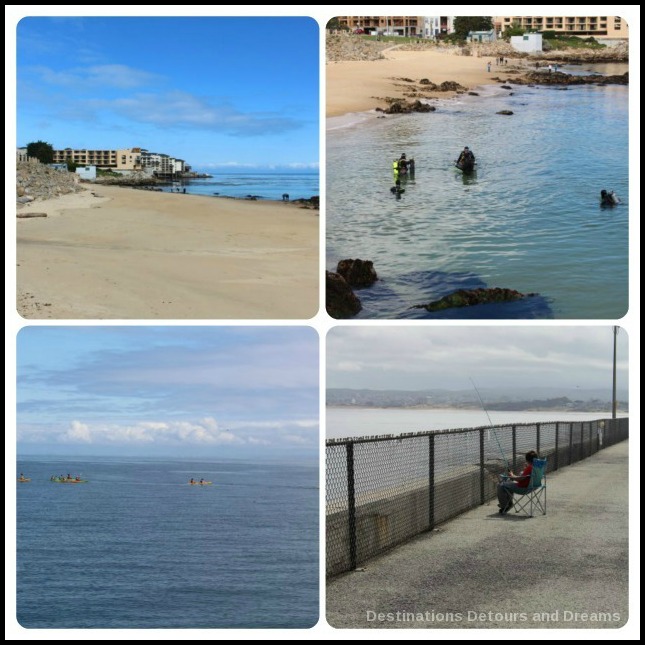 San Carlos Beach is located at the west end of Cannery Row next to Coast Guard Pier. It is known for scuba diving. The walk along the pier provided a great opportunity to take in views of the bay and see marine life. We passed a few fishermen along the pier. I asked one what he caught and he said mostly rock cod and perch.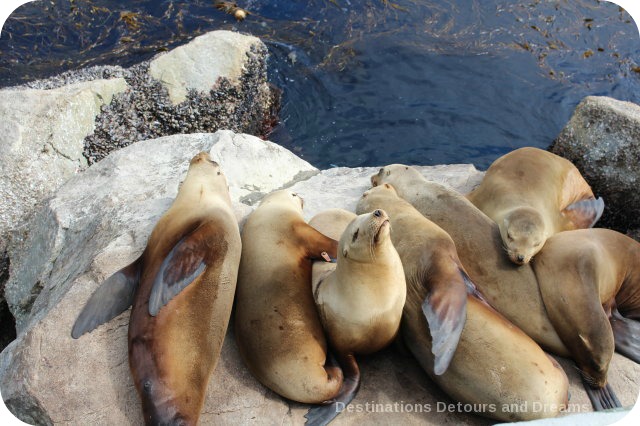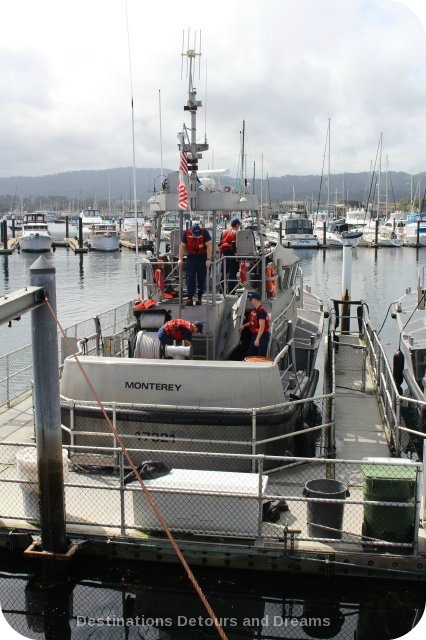 Cannery Row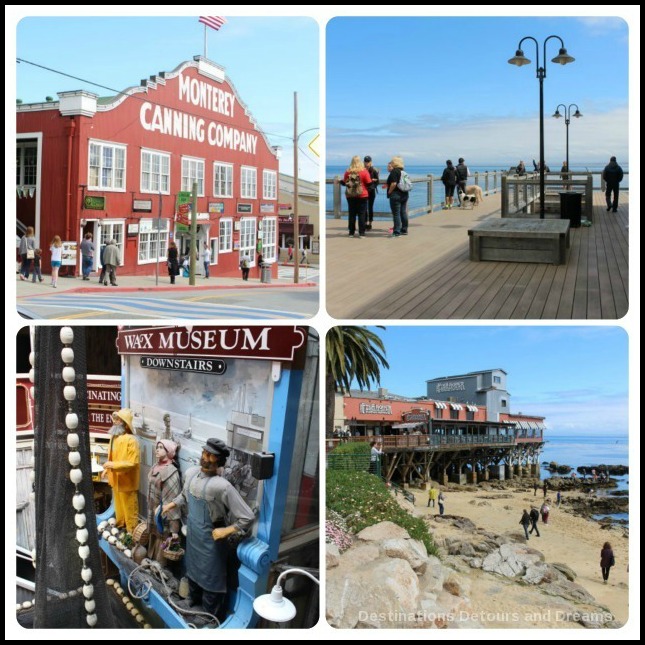 Cannery Row is a waterfront street in Monterey which was once home to sardine-canning factories. Today, it attracts tourists to its hotels, restaurants, bars, boutiques, wine tasting, and a few quirkier attractions. A boardwalk offers views of Monterey Bay, home to a large marine sanctuary. Giant kelp beyond the waves creates a lush environment for marine life. Sign boards posted along the walkway provided us with information about the sanctuary and the bay's marine life.
There is a lot of history along Cannery Row. The first fish cannery was built in 1908. World War I brought a spike in demand for canned sardines and the canneries expanded rapidly. The sardines disappeared from Monterey Bay after World War II. The industry collapsed and the area went into decline. It experienced a rebirth starting in the late 1960s.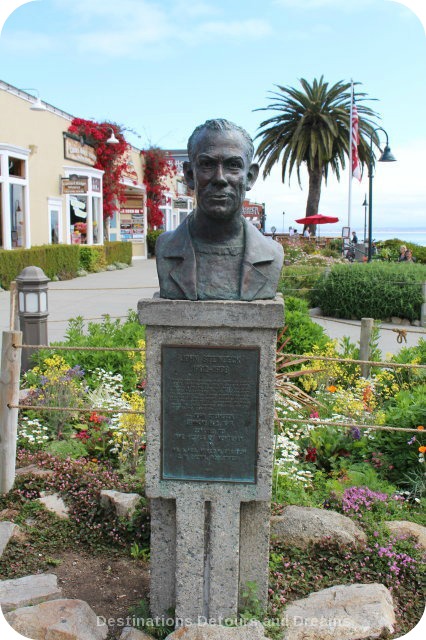 Author John Steinbeck lived in Pacific Grove next to Cannery Row in the 1930s. The area became inspiration for his writing, including the novel Cannery Row, published in 1945. As we walked through the area, we came across self-guided audio tour signs identifying a phone number to call for a recorded information message about the spot or building. One such sign was on a fence post in front of Pacific Biological Laboratories.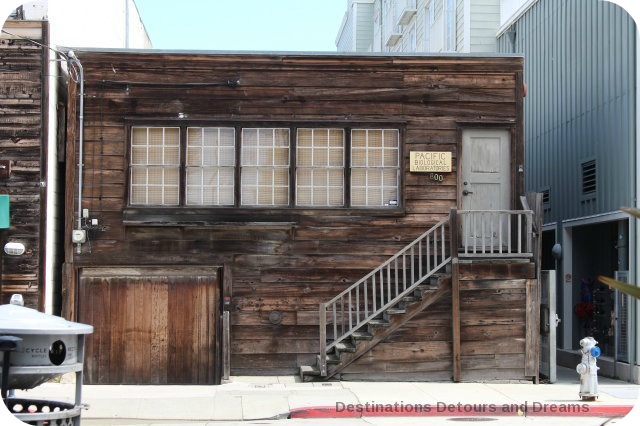 PBL was a biological supply house which sold preserved animals and prepared specimen microscope slides. Its founder was Ed Ricketts, a friend of John Steinbeck and the model for the character Doc in Cannery Row. PBL was fictionalized in the book as Western Biological Laboratory.
Monterey Aquarium, perhaps the most popular attraction in Monterey, is at the end of Cannery Row. We opted to bypass the world-class aquarium on this visit, knowing we'd want to spend several hours there and that would shorten the time left to get a sense of the rest of the city. It remains on the list for future visits.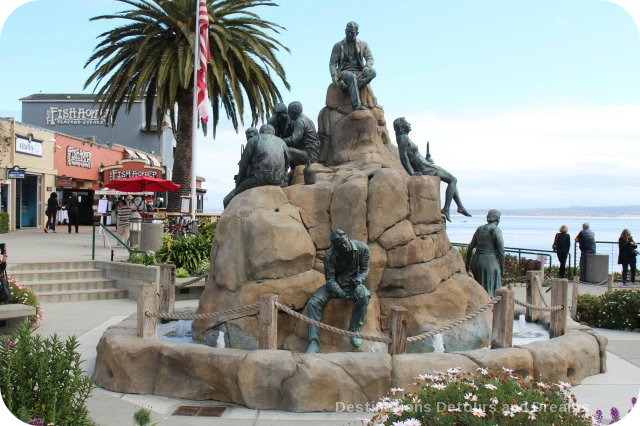 Ocean Boulevard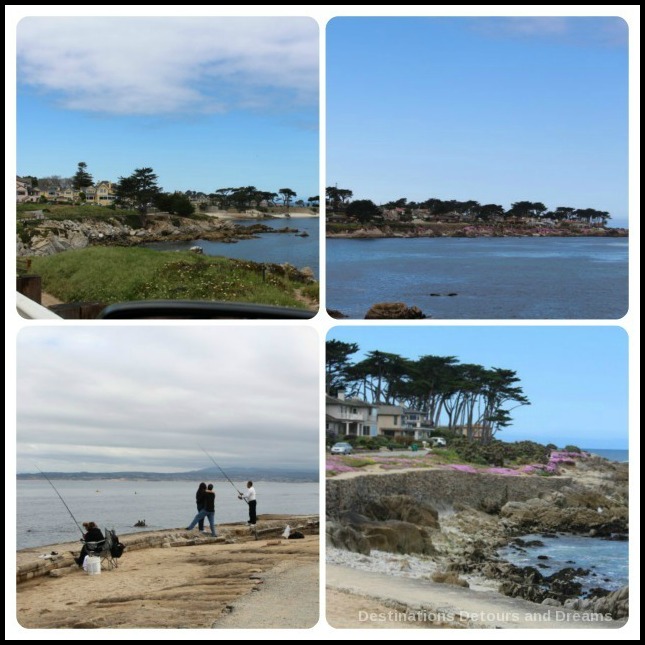 Another popular Monterey attraction which we bypassed this visit is 17 Mile Drive. 17 Mile Drive is a private roadway (fee required to drive it) which winds through rugged coastline, forest, posh estates and the Pebble Beach Golf Course. There are a number of spots along the way worth stopping at. I'd read we should allow at least two hours to properly see and experience the drive. Since we had limited time and were most interested in seeing the coastline, we opted instead to drive northeast from Cannery Row into Pacific Grove on Ocean Boulevard and Sunset Drive.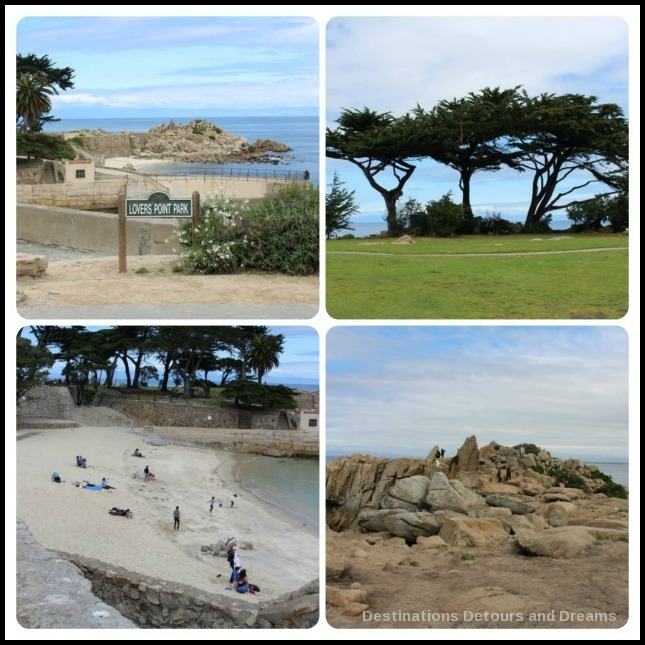 Lovers Point Park beach has been popular with swimmers and boaters since the 1800s. Todays, it also attracts surfers because of its reliable waves. The park is a great place to picnic and take in spectacular scenery.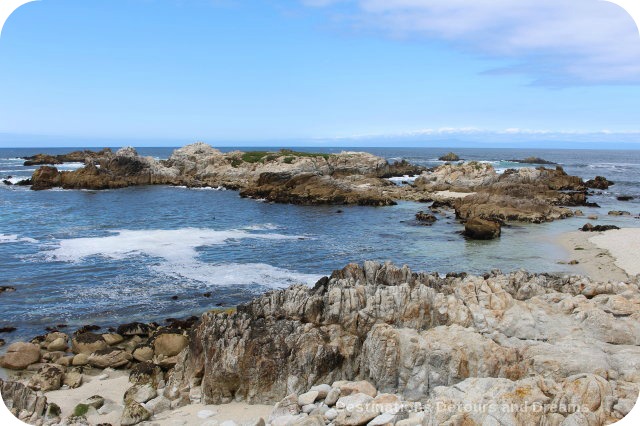 Asilomar State Beach is a popular spot for nature walks, surfing, kayaking and kite flying. The quarter-mile boardwalk was originally designed in 1913 by famed architect Julia Morgan, the architect who designed Hearst Castle.
Old Fisherman's Wharf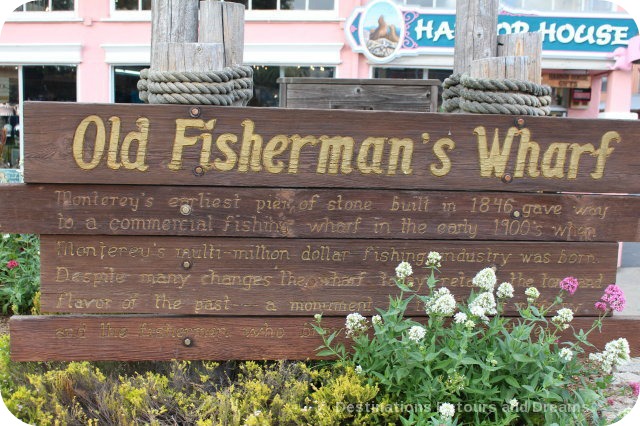 We ended our day with a stroll and dinner at Old Fisherman's Wharf. Monterey Harbor has been used as a port for trade since the late 1700s. In 1845, Thomas Larkin constructed a wharf for regular passenger and freight service. In 1916, the City purchased the Wharf and began to expand it. Today, you'll find restaurants, shops, galleries, tackle and bait shops, fishing and cruise boats, and a theatre. We admired the view as the sun set, browsed the shops, and smelled the sea air. Many restaurants had sample tables out front, offering small cups of clam chowder, each claiming to be the best. We could easily have filled up on the clam chowder samples, but passed on a few to save room for dinner in one of the Wharf's restaurants.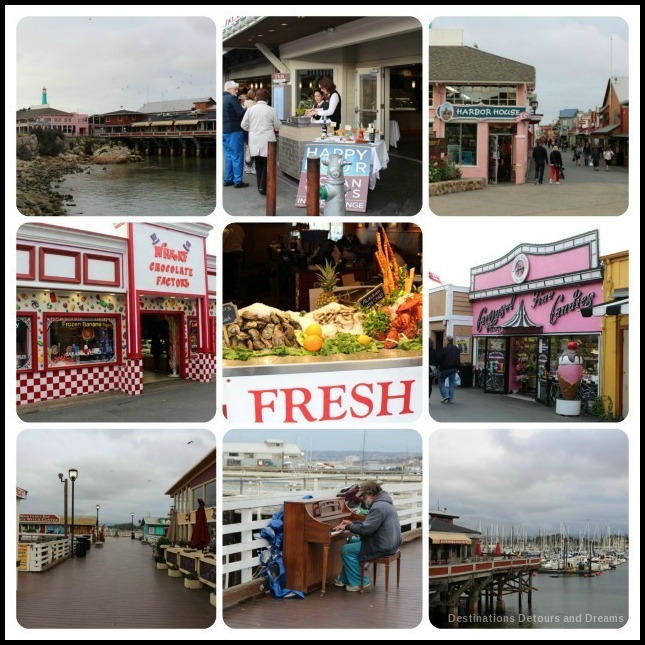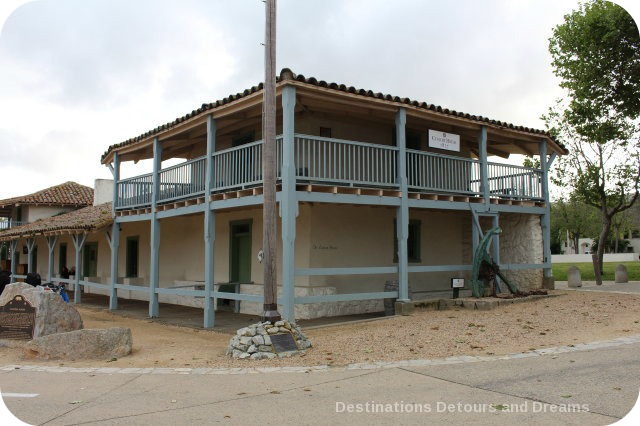 Across the street from the Wharf is Custom House, the oldest government building in California. From 1822 through 1846, when Monterey was the primary point of entry for goods into Alta California, cargo was brought ashore and assessed here. Beyond Custom House is Monterey State Historic Park, a collection of 55 historic houses and buildings interspersed through old Monterey.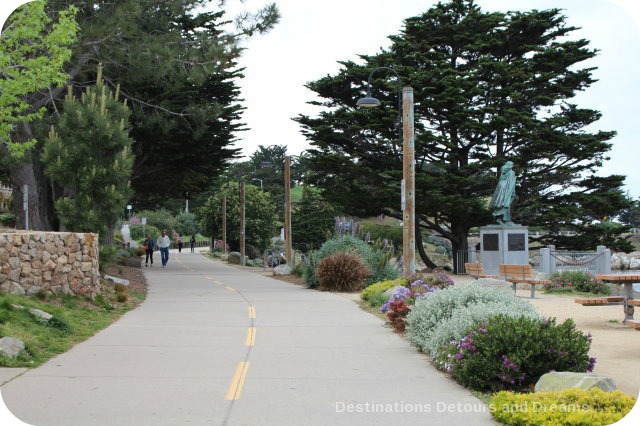 Monterey is compact and laid-back, inviting one to explore at a leisurely pace. There is much I did not see on my one day tour and would add to a future itinerary (including a number of museums), but I think I would also return to the spots I did visit.
PIN IT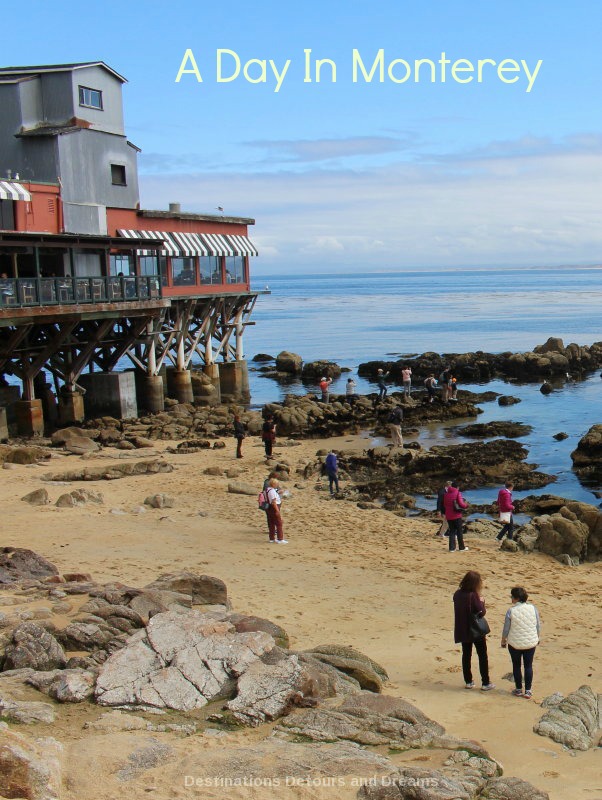 Destinations Detours and Dreams monthly e-newsletter contains behind the scenes information, sneak peeks ahead, travel story recaps and more. SIGN UP HERE
PIN IT