Impressions of Fairbanks, Alaska
About Fairbanks, Alaska: birch trees, midnight sun, freshness, history, native culture and more
(Disclosure: Thanks to Explore Fairbanks for hosting my trip. Opinions and observations, as always, are my own.)
This July, my husband Rick and I spent a week in Fairbanks in the interior of Alaska. At a latitude of 64.8 degrees north, this is the farthest north I have been. Except for a brief couple of hours in Skagway in the early 1980s on a day trip from Whitehorse in Canada's Yukon Territory, this was also my first visit to Alaska.
We thoroughly enjoyed our time in Fairbanks. It is a friendly, relaxed city with a lot to see and do. With a city population of around 32,000 and about 100,000 people in the Fairbanks North Star Borough, Fairbanks retains a small town feel. The city has a thriving arts community, excellent restaurants, and all the amenities of city life, yet you are just minutes from pristine wilderness. There is a rich Alaska Native heritage. Pioneer history feels part of present day. There is a sense of humour born of the pioneer spirit and the attitude necessary to survive in a land of extremes. I will be writing in detail about many Fairbanks attractions in future posts, but first I want to share some general impressions of the city.
Note: The photo at the top of this post is the Interior Alaska Antler Arch. The arch is made up of more than 100 moose and caribou antlers collected from all over interior Alaska. The arch leads to a series of walkways in downtown Fairbanks. Artist Sandy Jamieson says, "This arch of antlers might also be called an arch of stories. Hunting stories come to mind first . . . Knitted and knotted together here are memories of campfires, packboards, meat cutting tables, and warm kitchens shared with family and friends."
A Sense of the Familiar
There were a number of times throughout our visit when I encountered things that felt familiar. A few similar landscape features (birch and spruce trees, a river running through town) contributed to that feeling, but the familiarities centered mostly around what it is like to live in a place with extreme temperature differences between winter and summer. The same things that felt familiar to me would likely strike someone without that experience as odd.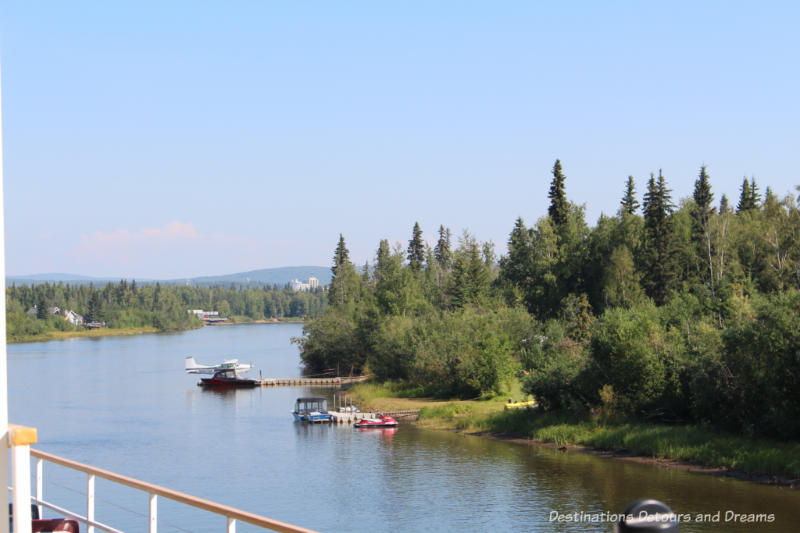 When we picked up our rental car from the outdoor parking lot at Fairbanks Airport, Jerry from Explore Fairbanks started to tell us about the electrical outlets on the posts in front of the cars. He stopped almost as soon as he started, realizing we likely knew what they were for. Our home in Winnipeg, Manitoba, Canada experiences cold winters and we were indeed familiar with engine block heaters. They are plugged into electrical outlets on cold days to keep the engine block and oil pan warm so the car will start easier (or just plain start). Fortunately, we did not need to use the block heaters in July. Temperatures were in the high twenties and thirties Celsius (80s Fahrenheit) during our visit.
Navigating in and around Fairbanks was generally straightforward. However, construction on some major routes meant detouring from the route provided by my phone GPS. The same thing happens in Winnipeg in the summer, when it is next to impossible to pick a route that avoids road construction. The change in temperatures is hard on roads and summer is the only time repairs can be done.
The Golden Heart Revue at the Palace Theatre is an old-school musical-comedy revue that provides a humourous look at Fairbanks' history and frontier life past and present. They described Fairbanks as having five seasons: winter, spring break-up, construction, freeze-up, and winter. Another section of the show which resonated with me was their fashion show, which saw so many heavy layers added in winter the model could barely move. I recommend seeing the entire show for a bit of fun and many laughs.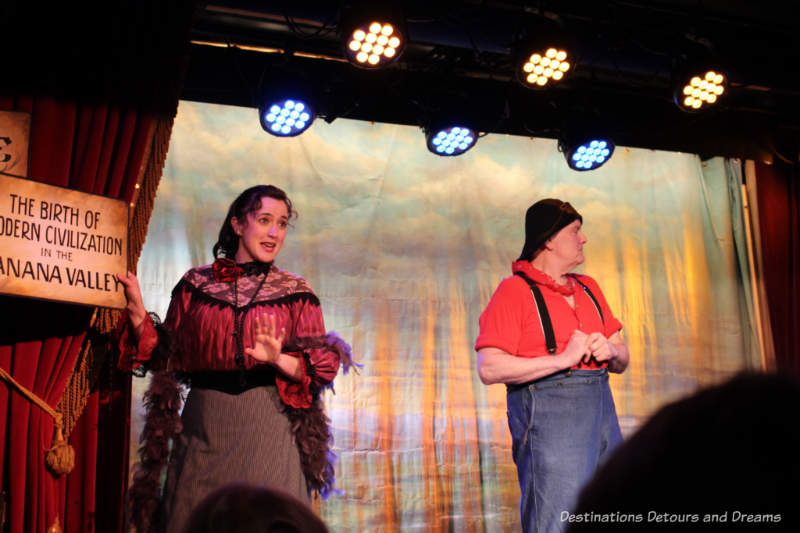 Alaskans do not live in igloos. I knew this, but apparently not everyone does. It is something Alaskans frequently need to explain to outsiders and was reinforced adamantly by native young people at a cultural performance I attended at the Morris Thompson Cultural and Visitors Center. Canadians deal with the same misconception about life in Canada. The misconception seems to annoy Alaskans as much as it annoys Canadians.
Alaska's state bird is the willow ptarmigan, but you might hear jokes that it is the mosquito. The mosquito is also jokingly referred to as the provincial bird of Manitoba and Winnipeg is sometimes called the "Mosquito Capital of Canada." I saw almost no mosquitoes during our Fairbanks visit. Similarly, the last two Winnipeg summers have been virtually mosquito-free.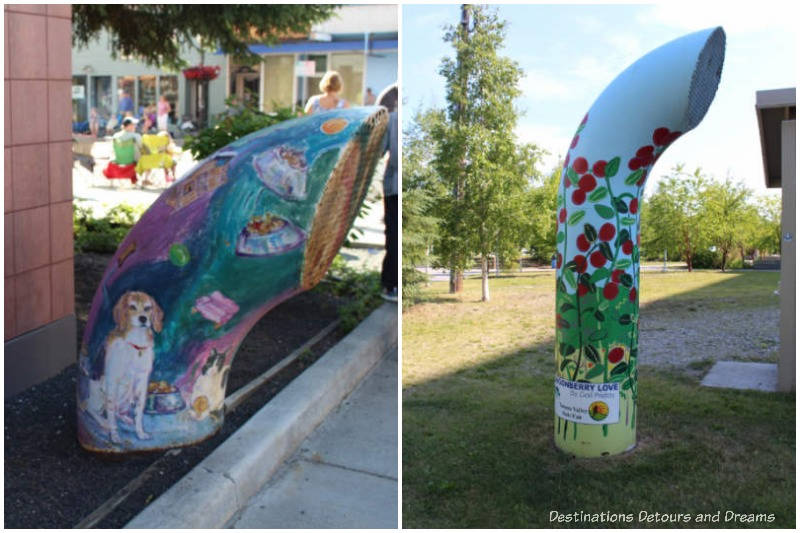 Midnight Sun
I love the extended hours of daylight in Winnipeg's summer, but those are nothing compared to what is experienced in Fairbanks. The Midnight Sun Season runs from late April to late August, with a period of 70 days between mid-May to mid-July experiencing no darkness. The sun does technically set but the short period of time between sunset and sunrise is filled with civil twilight, when the sun below the horizon provides enough light to still conduct outdoor activities without artificial light.
It takes a mindset shift to get used to all those hours of sunlight. I'd remind myself I didn't need to stop right away to get a photo of something because there would still be enough light for the picture upon our return. It was nice to know we didn't need to worry about navigating back from somewhere in the dark. Fortunately, black-out curtains in the hotel room allowed us to sleep at night.
Birch Trees and Aurora Borealis
As we left the Fairbanks airport, we passed a series of tall whitish-clear posts with black markings at the entrance to the airport. This "Birch Forest" sculpture was the first of many artistic birch tree interpretations we would see. The glass doors leading into the Morris Thompson Cultural and Visitors Center are etched with birch trees. Both the birch tree and the aurora borealis (aka "northern lights") are frequent motifs in Fairbanks design elements.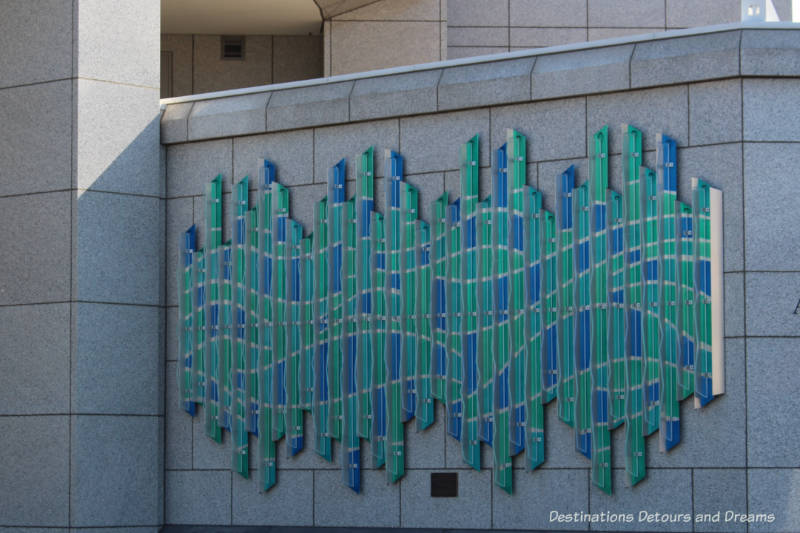 With all that daylight, I, of course, did not see the northern lights when I was in Fairbanks. Aurora Season runs from August 21 to April 21. Fairbanks is located under the "Aurora Oval", a ring-shaped region hovering over the far north. With that location and mostly clear nights, it is one of the best places to see the northern lights.
Fresh and Clean
On our first evening, as we sat on the patio at Pike's Landing overlooking the Chena River, I was struck by how fresh and clean the air smelled. It was a scent that reminded me of being at the lake back home. I noticed that fresh scent throughout the week, whether we were near the water or not. Rick, whose nose isn't very strong, noted that his sense of smell was heightened during our time in Fairbanks.
Geography and Agriculture
The Chena River winds through Fairbanks and drains into the Tanana River south of town. It is surrounded by miles of forests and rolling hills. You can sometimes get views of the Alaska Range to the south and the White Mountains to the north. Wildflowers, especially tall fireweed, bloom alongside the roads.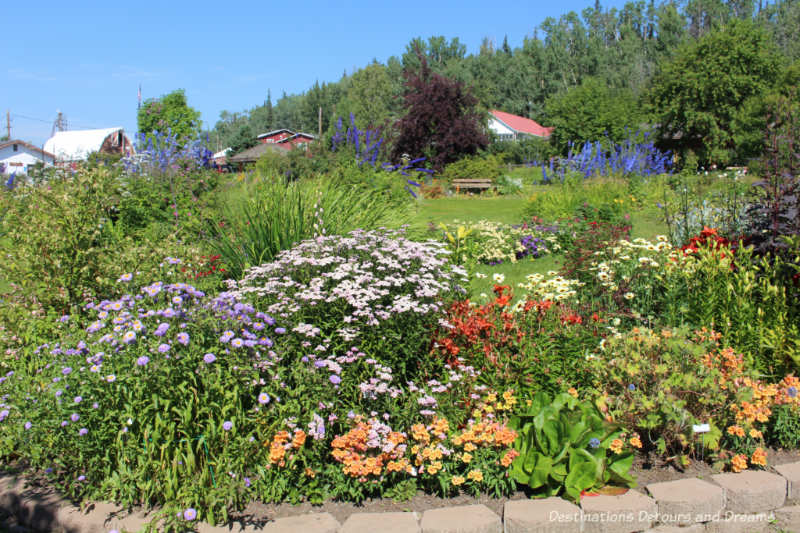 Fairbanks has a short but intense growing season. This often results in extra-large produce, such as zucchinis or cucumbers. The begonia blooms in pots on the patio of the Wedgewood Resort, one of the places we stayed, were the largest I've ever seen.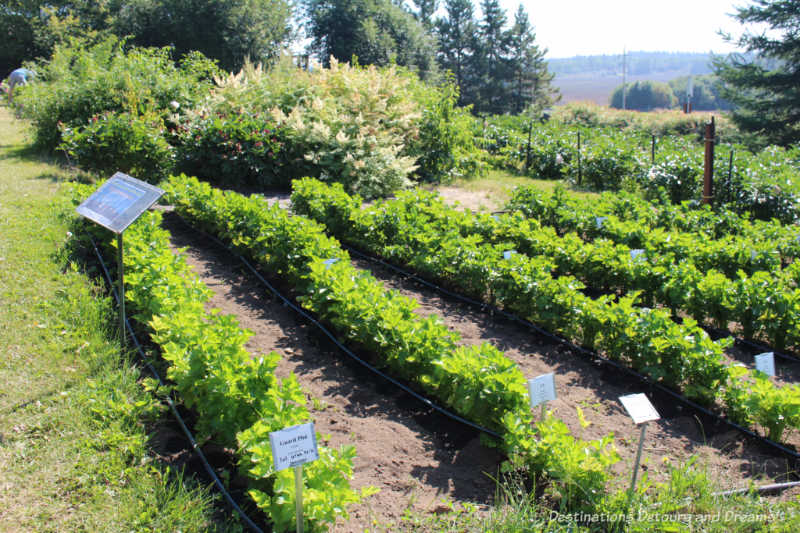 One of the advantages of visiting in mid to late-July is that there is plenty of fresh produce to eat. I sat beside a Princess Cruises tour group when I had lunch at the Discovery Dining Hall at Steamboat Landing following a delightful morning cruise aboard the Riverboat Discovery. Some people in the group questioned where the salad ingredients and vegetables came from. The taste was so fresh they knew they couldn't have been shipped in.
Log Cabins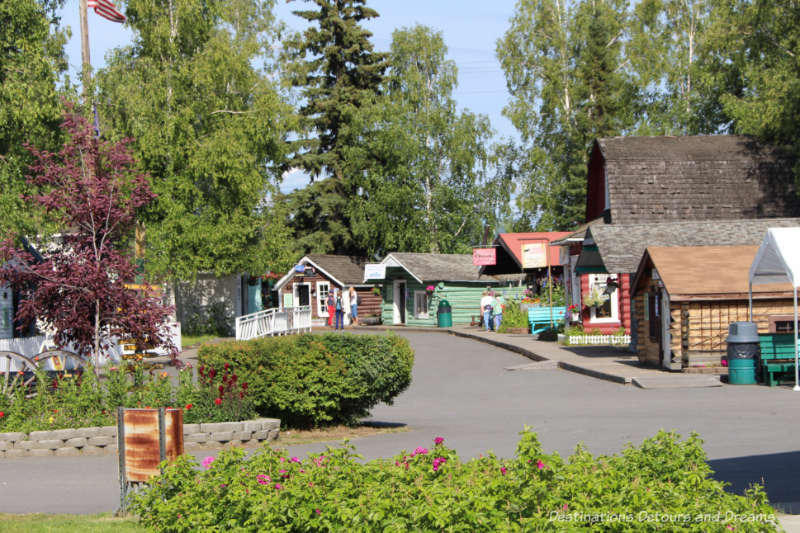 I saw a lot of log cabins in Fairbanks. Some were at Pioneer Park, where a variety of old buildings including many log cabins were moved to re-create a Gold Rush Era town. It was interesting to see these cabins dating from the early 1900s, but they weren't the only ones I saw. Old or new, simple or elaborate, log cabins seemed to be everywhere. We even stayed in one at Pike's Waterfront Lodge.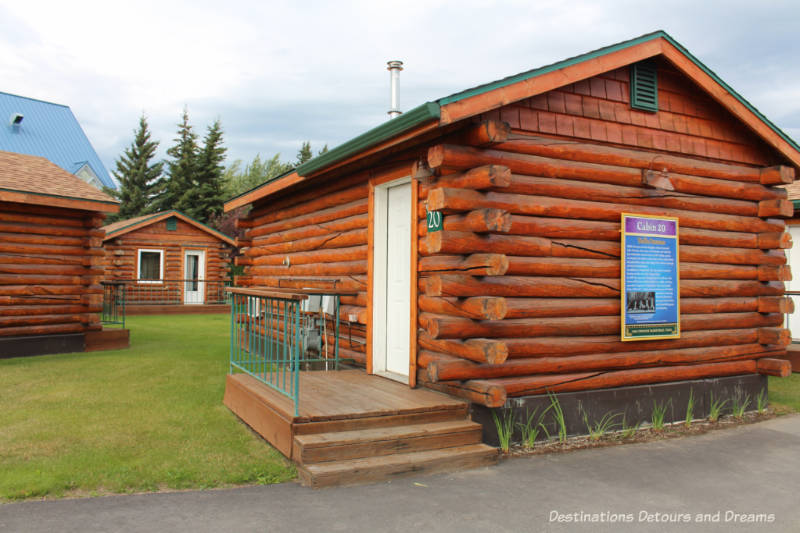 The 49th State
Russia controlled most of the area that is now Alaska from the late 1700s until 1867, when it was purchased by the U.S. It became a state in 1959. Today, Fairbanks is very much American and proudly patriotic. But I also sometimes detected a sense of being separate from the rest of the country, which the state geographically is. A couple of times guides on tours referred to someone as being from the "States" meaning the continental U.S. (the lower 48 states). I heard a few jokes (spoken with just a hint of bitterness) about offers "not valid in Alaska or Hawaii."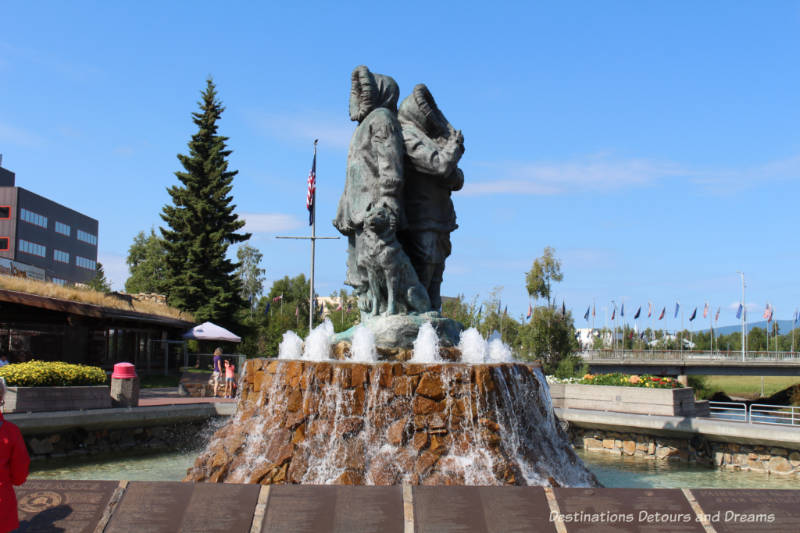 History Amid the Present
In downtown Fairbanks, historical buildings sit next to new buildings. Each place is shaped by its history, but I felt a stronger sense of history being part of the present in Fairbanks than I have felt in many other places.
Both oil and gold played an important role in the development of Fairbanks. In 1902 Captain E.T. Barnette built a trading post on the banks of the Chena River around the same time as Italian immigrant Felix Pedro discovered gold. The building of the Trans-Alaskan Pipeline to transport oil from Prudhoe Bay on the Arctic Ocean to Valdez created a boom in Fairbanks in the 1970s. The pipeline remains important to both the Fairbanks economy and the economy of all of Alaska. The pipeline transformed Alaska from the most heavily taxed state to the most tax-free. A tour of Gold Dredge 8 provided information on both the pipeline (it starts at a section of the pipeline that is above-ground) and the mining history, and gave me a chance to pan for gold myself.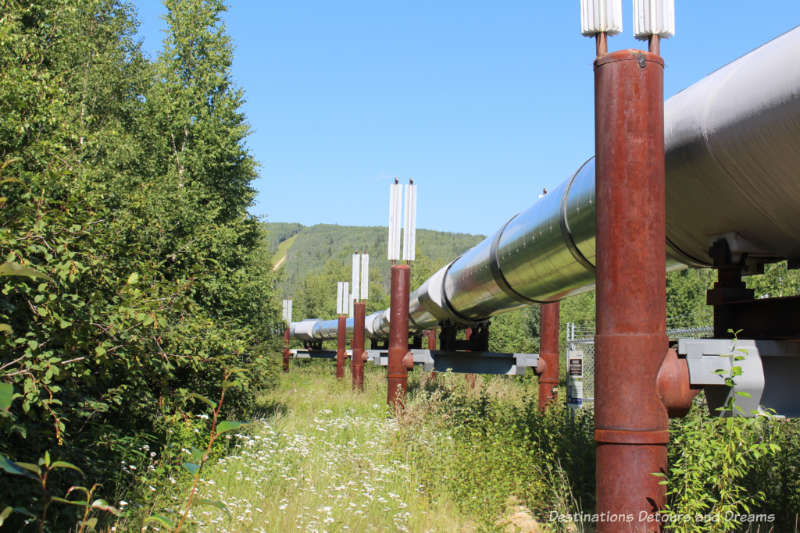 The well-designed exhibits at University of Alaska's Museum of the North gave me a good overview of the history of all of Alaska as they told the stories of its people, places, and wildlife.
Native Culture
Nearly 20% of the Alaskan population is indigenous. Native heritage and culture is very present in Fairbanks. Both the Museum of the North and exhibits at the Morris Thompson Cultural and Visitors Center provide information about indigenous culture and history. I highly recommend taking in one of the cultural performances native young people stage at the Visitors Center during summer months.
These youth are learning traditional song and dance. They started off the performance by identifying which indigenous group is their heritage and what their favourite native foods are. They performed a variety of traditional songs and dances. They touched briefly on the impact being taken away to residential schools had on their parents and grandparents, then saying "we are resilient" went on to describe how they are trying to do their best in the western world while remembering and honouring old traditions. In addition to traditional drumming, the performance contained fiddling and jigging. When the Hudson's Bay Company (who monopolized the fur trade in much of Canada) set up fur trading posts in Alaska, Scots and French-Canadians arrived. Indigenous groups loved the fiddles and dances.
Take a look at the two short videos below to see a bit of the cultural performance. The first is a traditional song and dance. The second is a Yúpik (one of the two Eskimo groups in Alaska) dance that tells the story of the walrus hunt.
Our visit to Fairbanks coincided with the World Eskimo-Indian Olympic Games and we spent one evening watching the unusual events in these games, events based on traditional games displaying skills necessary for survival. Things like blanket toss, one-foot high kick, ear weight and knuckle hop.
The indigenous people in the interior of Alaska near Fairbanks are Athabascans. On the Riverboat Discovery cruise, we stopped at a recreated Athabascan village where we learned a bit about the change from nomadic life to village life. I noticed a number of similarities with the Cree in southern Manitoba. The Athabascans make baskets and other items out of birch bark. They are renowned for their bead work. Like the Cree in Manitoba, they used porcupine quills for decoration before trading with Europeans for beads.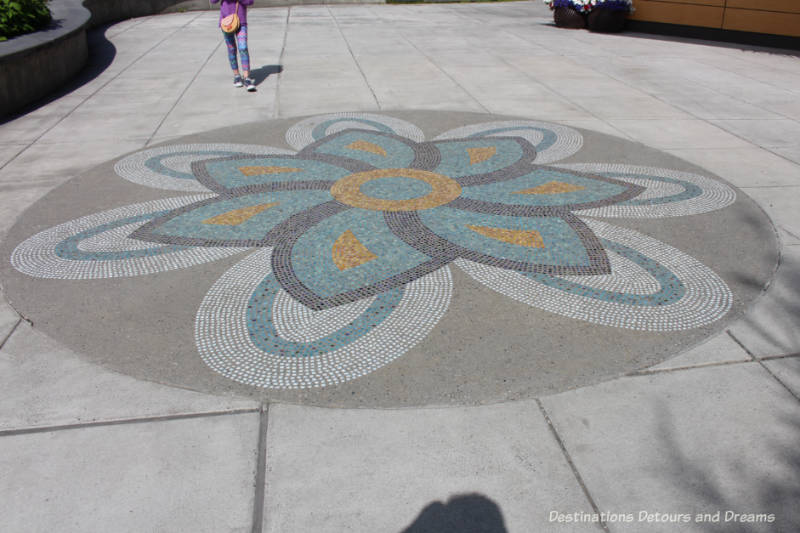 Wrap-Up
There are several flights a day from the continental U.S. into Fairbanks. Fairbanks is the unofficial end of the Alaska Highway. The official end is 95 miles southeast at Delta Junction. Fairbanks is a destination for people keen to drive the Alaska Highway. This includes many RVers. Most of the other tourists we met in Fairbanks were there as a part of a land tour tacked on to the beginning or end of an Alaskan cruise. I'd encourage people planning to fly in or out of Fairbanks for that land tour to add a few days in Fairbanks to their itineraries to see more of the city and the area.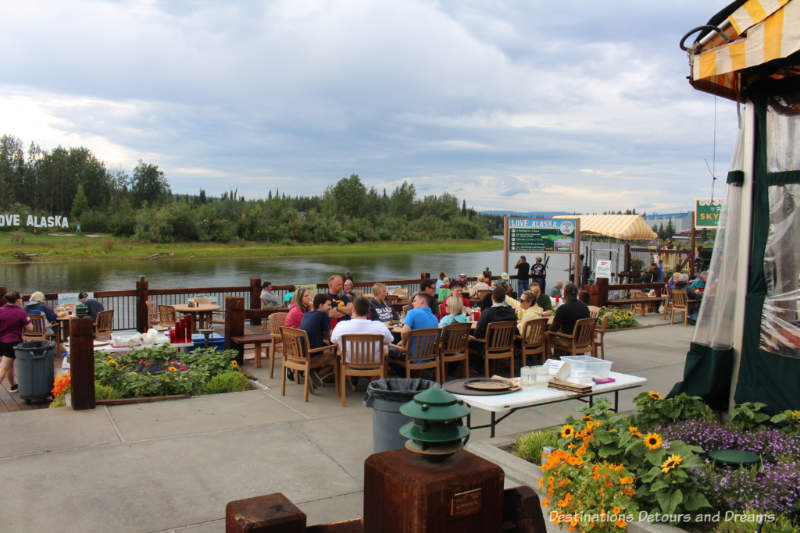 I chose to visit Fairbanks in the summer. Living in a place with cold winters, I prefer winter travel to be to warmer destinations. After having visited Fairbanks, I can better understand the appeal of a winter visit. Still, I am happy I had the chance to experience summer in Fairbanks.
For an overview of things to do in Fairbanks in summer, read the article I wrote for Travel Awaits: 10 Reasons to Visit Fairbanks in Summer. Look for more about Fairbanks attractions in future posts.
Never miss a story. Sign up for Destinations Detours and Dreams free monthly e-newsletter and receive behind-the-scenes information and sneak peaks ahead.
PIN IT