High Tea In A Manitoba Mennonite Community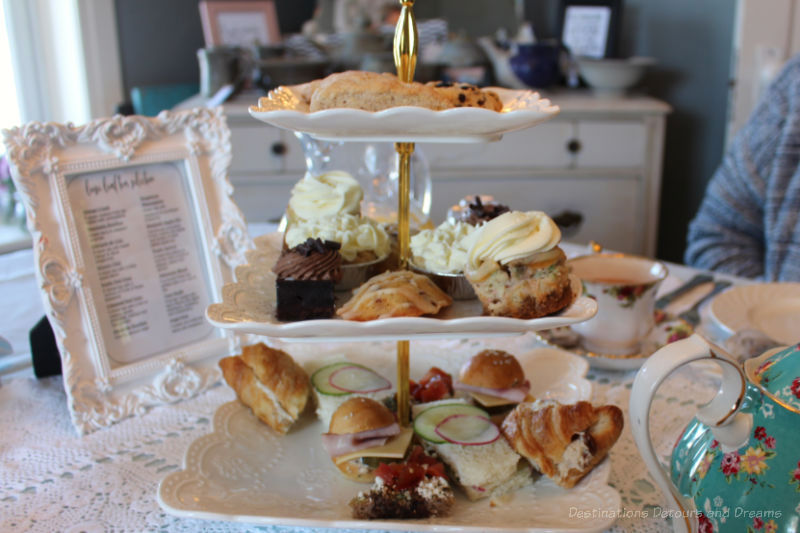 An elegant afternoon tea in Rosenort, Manitoba
(Last updated July 2022)
There are few places in Manitoba offering high tea, the uniquely British tradition of finger sandwiches, scones with clotted cream and jam, and sweet pastries, a tradition that is more correctly called afternoon tea. You may not expect to find afternoon tea served in a rural Mennonite community, but the Lily Stone Café in Rosenort, Manitoba, Canada offers an elegant and delicious afternoon tea. When I visited, it was called the The Ol' Farmhouse Café. Although it now operates under a new name, high tea is still served.
Rosenort is an unincorporated community located about 47 kilometres south of Winnipeg within the Municipality of Morris. It was settled in the 1870s by Mennonite pioneers from Russia. It is in the heart of agricultural country. With a population of less than 1,000 it is home to several industries and six churches.
The Café, housed in a quaint family home, serves breakfast and lunch Monday through Saturday. Its menu features traditional breakfast items, sandwiches, burgers, wraps, pizza, soup, and salad. It has its own on-site bakery. High tea takes place in the private upper level of the café and must be reserved in advance.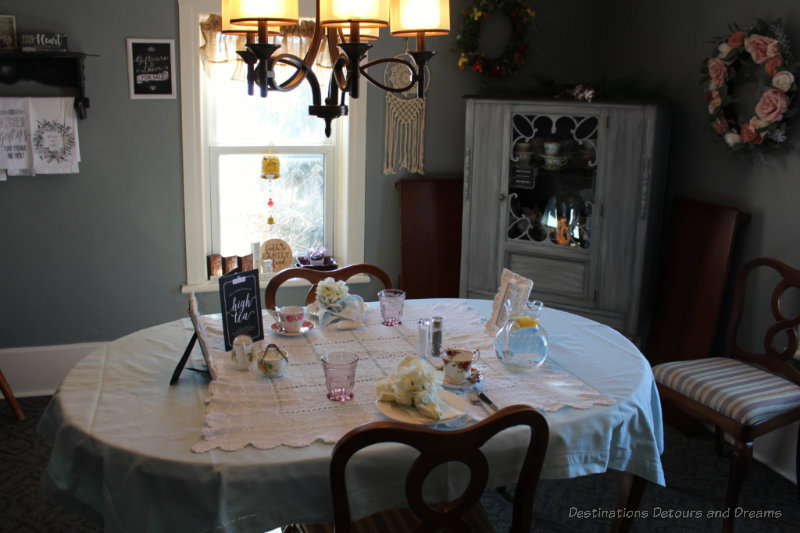 When my friend and I arrived for our reservation, we were led upstairs and into a private room where a dining table was set with a white tablecloth and fine china teacups.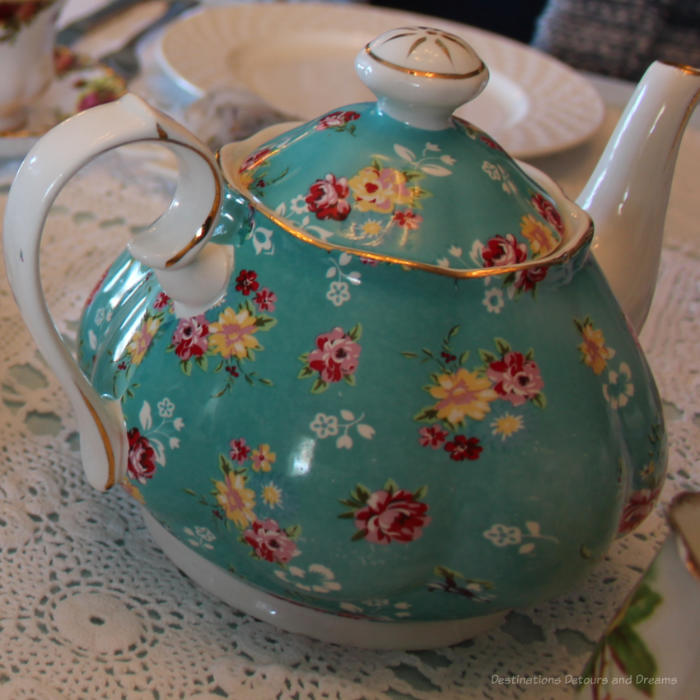 We chose from a selection of Cornelia Bean teas. Cornelia Bean is a coffee and tea retailer in Winnipeg that makes custom blends. I chose Manitoba Rooibus, which is a blend of South African rooibos, sweet berries and lavender with Labrador leaves, linden flowers, and buckwheat grown in northern Manitoba. Cornelia Bean says it is their number one seller. I've had it before and it is also a favourite of mine. My friend chose Exotic Earl Grey, a herbal tea with a rainbow of fruits and flower blossoms.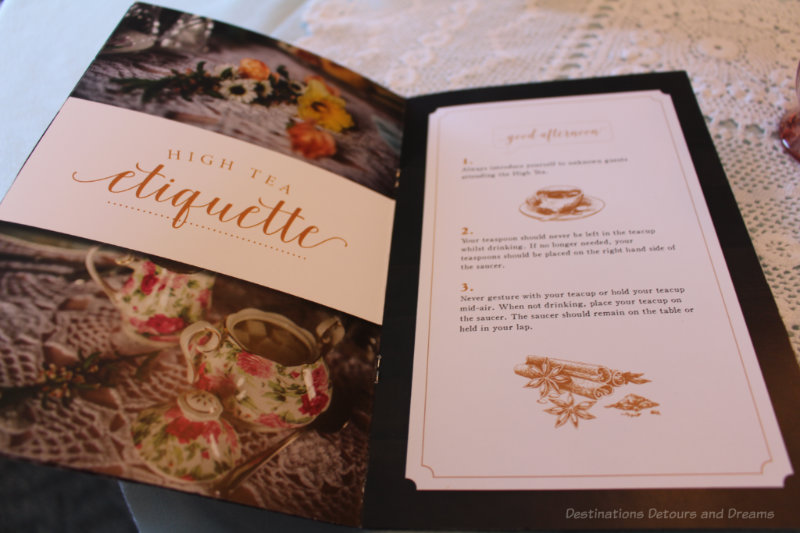 While we waited for our tray of treats to arrive, we looked through a booklet on the table about the rules of high tea etiquette. Apparently, you are not to look over your tea cup at your companion when you sip the tea. Instead you look at the tea.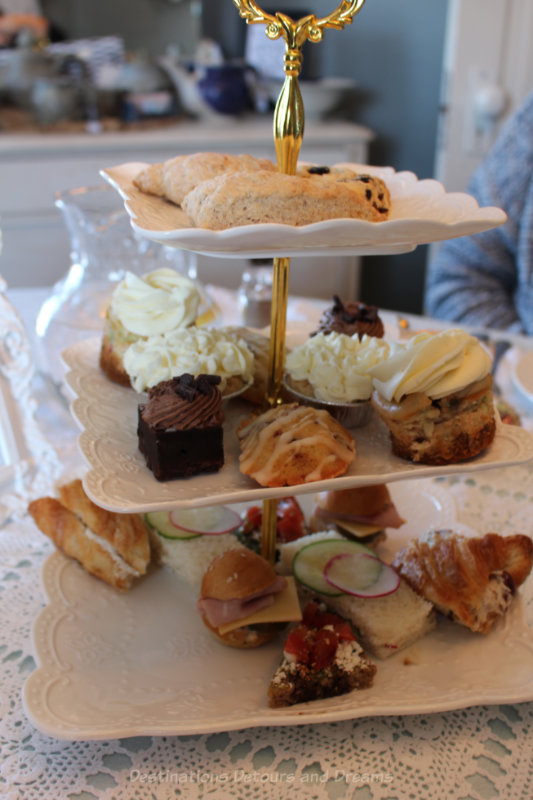 The menu consisted of sausage, spinach and feta quiche, cranberry pecan chicken salad on a mini croissant, ham and cheddar with spicy mustard on a mini white bun, cucumber and radish sandwiches on white bread, and basil pesto, tomato and feta with a balsamic glaze on a sourdough toaster. There were currant scones, bananas foster scones, Devonshire cream, and homemade strawberry jam. Sweets included peppermint cheesecakes, orange cranberry madeleines, chocolate silk truffle bar, and lemon tart. It was all delicious. We were unable to finish all the sweets, although I did make sure to taste every one.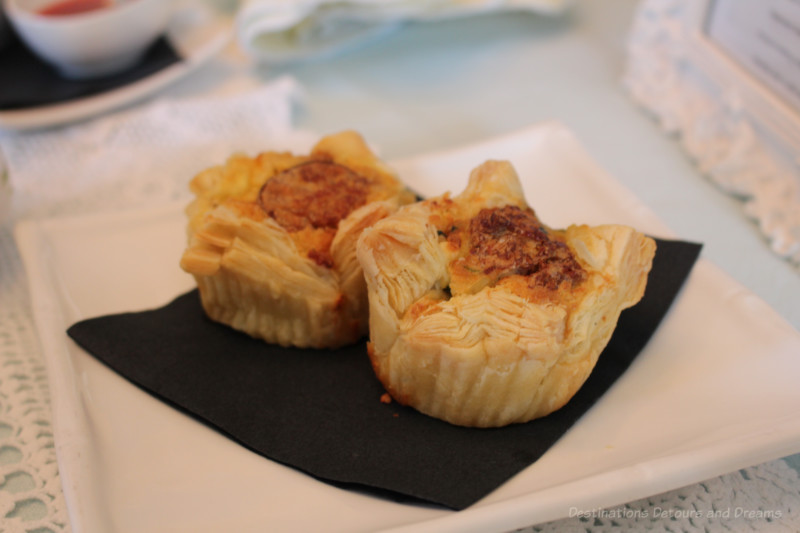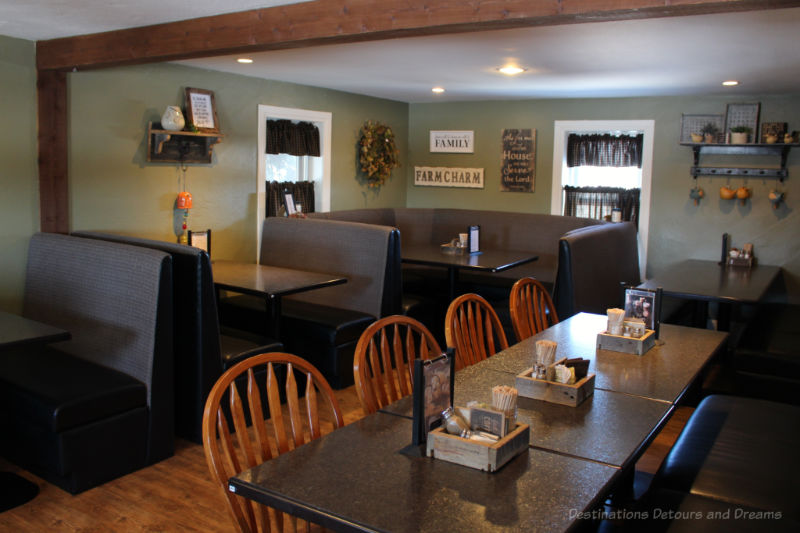 The room we were in makes a lovely semi-private setting for a small group. Mid-week and mid-winter, we were the only group for tea that day. The restaurant can handle more than one group and will set other groups at their other tables. Typically high tea is served upstairs, but if you have issues climbing stairs, let them know when you reserve and they will arrange tea for you at one of their main floor tables.
The Café also had a number of craft and home décor items for sale on display throughout the café. Our relaxed but elegant afternoon tea was reasonably priced and certainly worth the forty-five minute drive from the city.
Never miss a story. Sign up for Destinations Detours and Dreams free monthly e-newsletter and receive behind-the-scenes information and sneak peeks ahead.
PIN IT