Where To Eat In Moose Jaw, Saskatchewan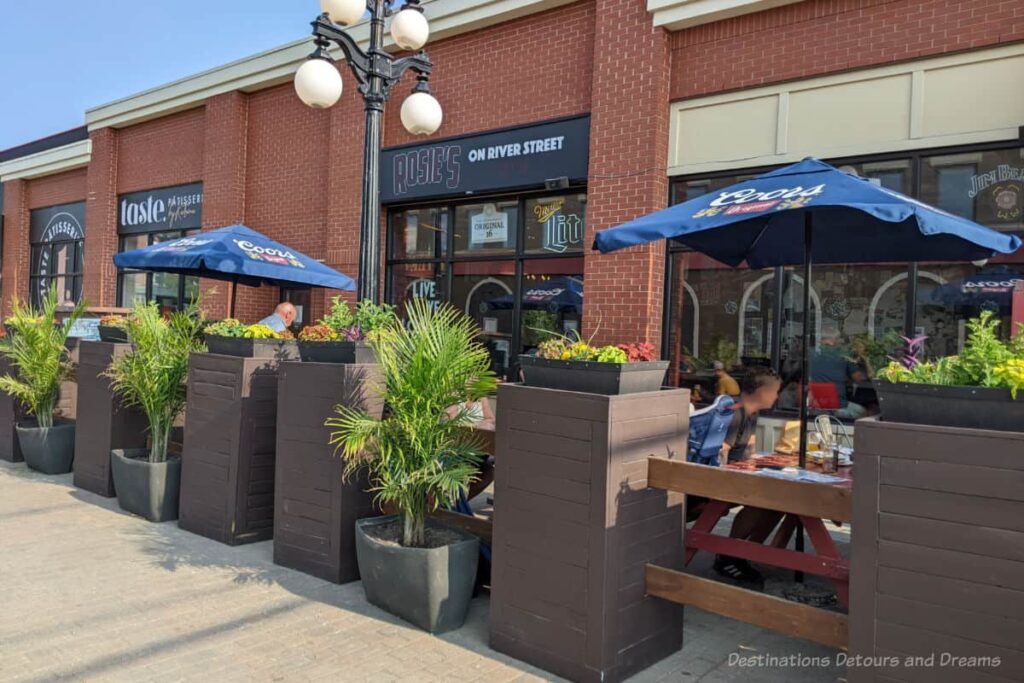 Recommended restaurants in Moose Jaw, Saskatchewan, Canada
My husband and I have stayed a few days in Moose Jaw, Saskatchewan, Canada a couple of times now. I've written about things to do in the city, located along the Trans-Canada Highway. See Ten Things To Do In Moose Jaw, Saskatchewan. What I haven't written about until now are places to eat in the city. Here is a list of a few places I can recommend based on our experience. These are all places we would return to (and in some cases have already visited more than once). They are listed in alphabetical order.
Bobby's Place Olde World Tavern
Bobby's Place Olde World Tavern is a popular pub/restaurant with a cool, casual atmosphere. Opened by the daughter of Scottish immigrants in honour of her father who'd dreamed of having a Scottish pub, Bobby's Place features British pub décor, draft beer from around the world including from local craft breweries, over 70 different varieties of whiskey, and a hearty food menu. Items on the menu include burgers, soups and salads, appetizers and shareable plates, and a good selection of pub favourites such as Fish and Chips, Shepherd's Pie, and Bangers and Mash.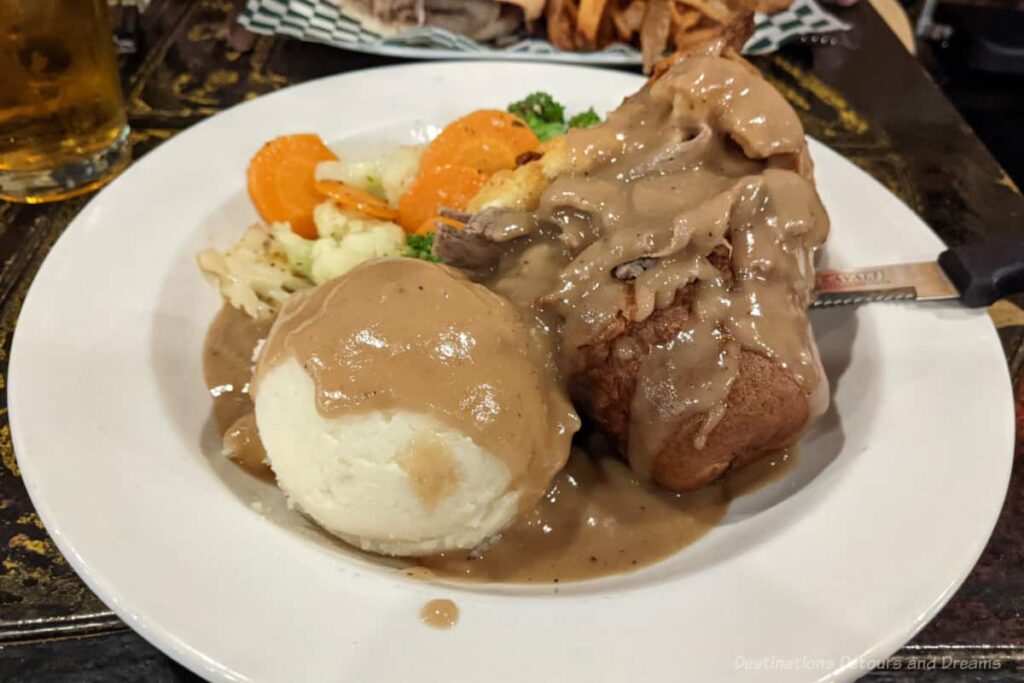 In our two visits here, I had the Fish and Chips and the Yorkshire Pudding, which was stuffed with slow-roasted beef, topped with gravy, and accompanied with mashed potatoes and vegetables. Both were tasty. Large portions were filling.
The walls are covered with items to capture your attention from brewery and distillery signs to funny posters/signs to old beer taps. The friendly vibe means that you could easily strike up a conversation with someone at a neighbouring table. There is a covered patio open in summer months. They host trivia nights on Thursday, Kitchen Ceilidh's on Saturday afternoons, and live music on Saturday evenings.
Accessibility comments: There are a set of two doors at the entrance with a small vestibule area between them and a bit of a lip into the building. My husband was able to navigate through this with his walker. It might be a bit trickier in a wheel chair.
Harwood's Restaurant
Harwood's Restaurant, open for breakfast and dinner, is located inside the Temple Gardens Hotel & Spa. That makes it very convenient for hotel guests, but the classic atmosphere and food make it worth visiting even if you aren't staying in the hotel. Items on the menu include burgers, chicken tenders, Cornish hen, pan-fried pickerel, ravioli, steak, and Beef Wellington. There may be daily specials in addition to their regular menu. Sunday dinners features roasts, which might be prime rib, striploin roast, or port roast. The appetizer menu has nice choices for starters or for a lighter meal.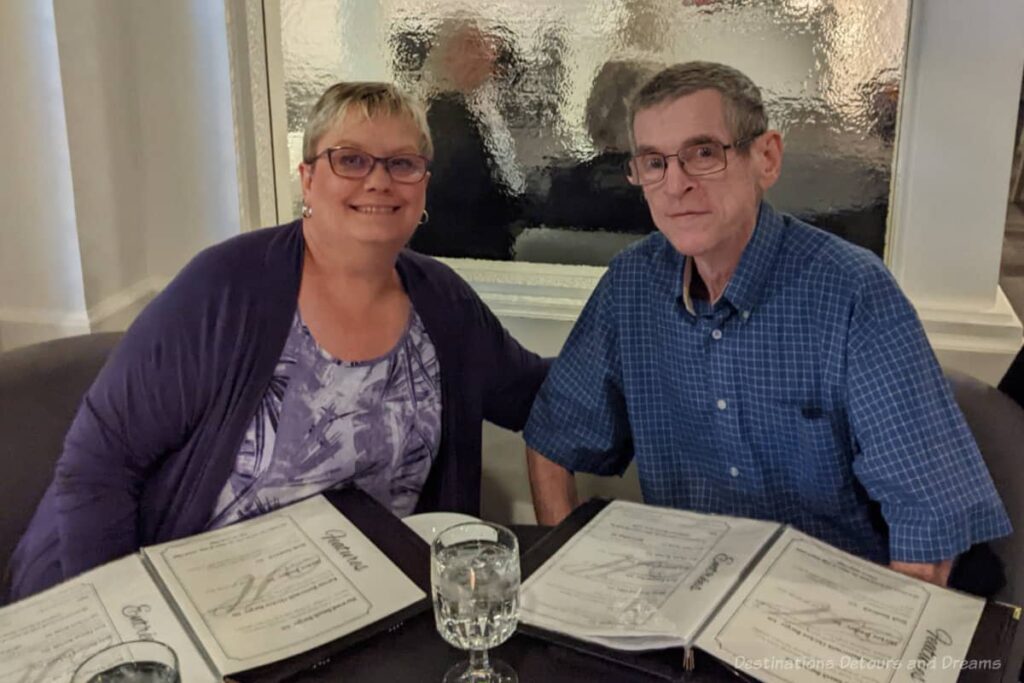 My husband and I have eaten here twice so far. The first time we had the steak and the Beef Wellington. The second time we opted for a lighter meal. Both times, the food was excellent and service good.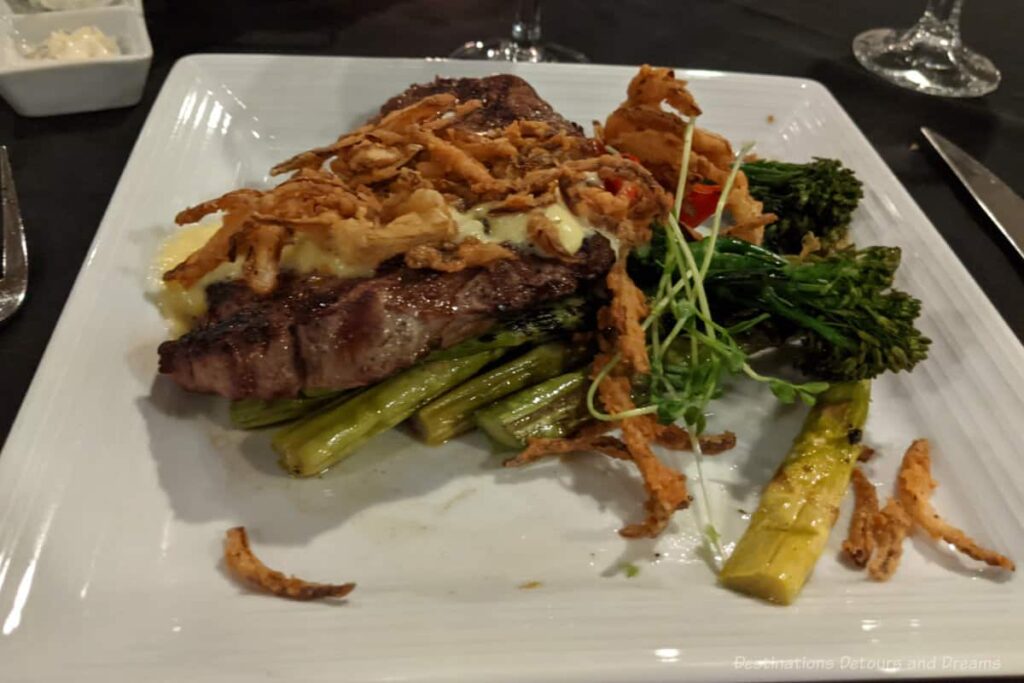 The breakfast menu is fairly typical. I particularly enjoyed the oatmeal brulee.
Accessibility comments: Restaurant is on one level on the main floor of the hotel with good accessibility into the hotel. Restrooms, located in the hotel just outside the restaurant, are accessible.
Rosie's On River Street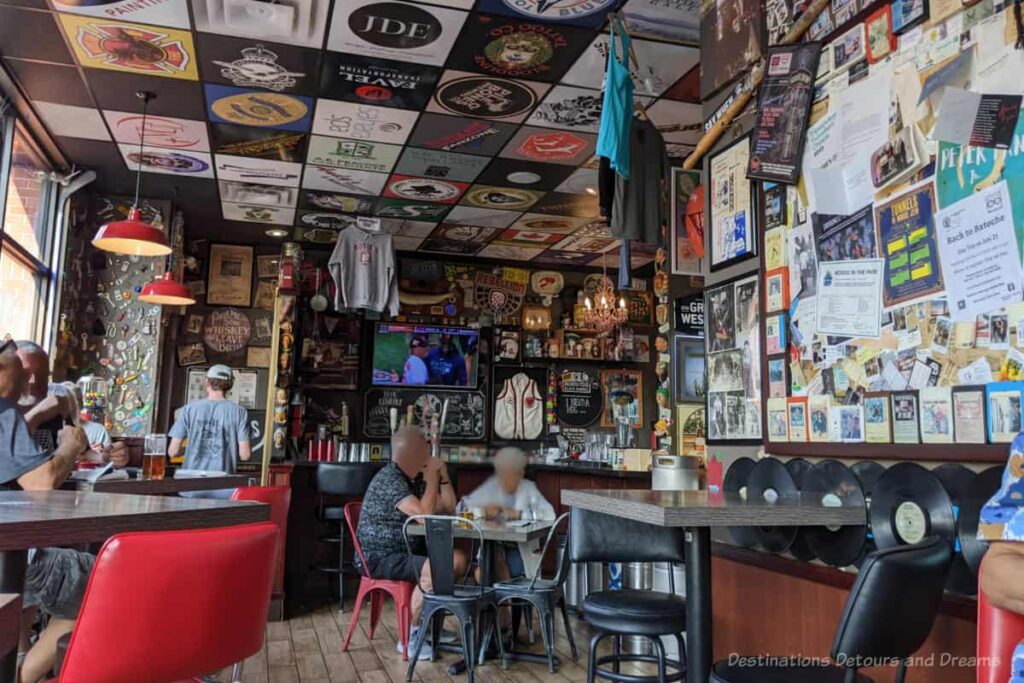 Rosie's on River Street is small and popular. I felt that the atmosphere was not unlike that of a friend's rec room with eclectic décor and a friendly vibe where people easily chatted with other patrons. Every bit of the walls and ceiling is decorated with items that include sports team logos, business logos, vinyl records, posters, old photographs, pennants, and trading cards. The music was a bit on the loud side when I was there, but I enjoyed the selection that was playing. Minors are allowed until 8 pm. There is a dog-friendly patio open in summer (see photo at top of post).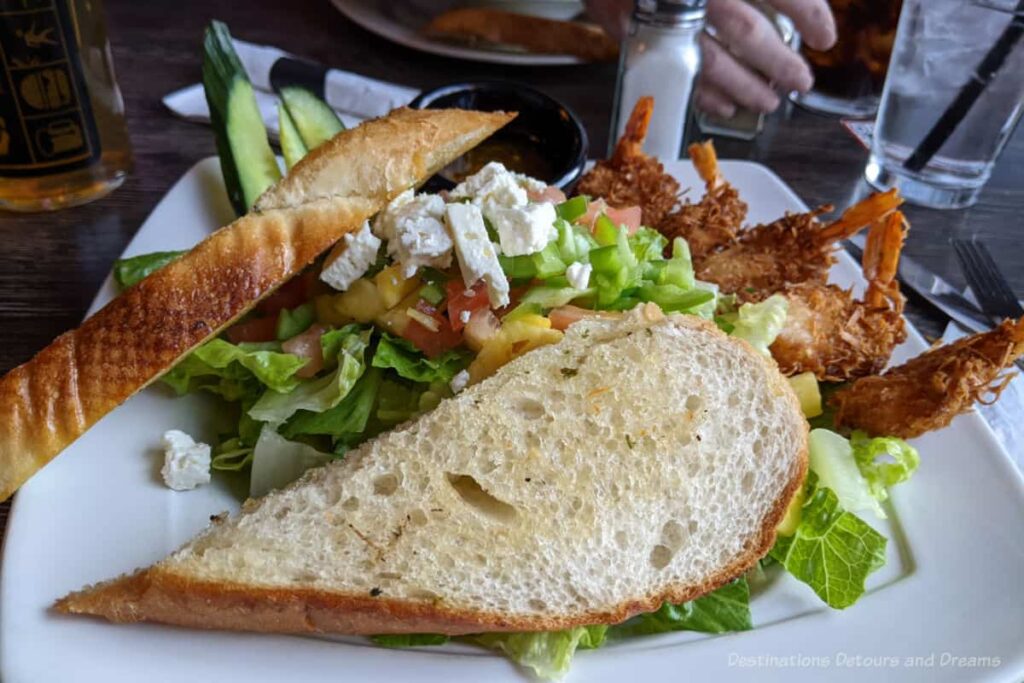 The menu includes flat top burgers, salads, sandwiches, and standard pub fare. The drink menu includes a number of Saskatchewan craft beers among other beers, wines, spirits, and cocktails. We'd wanted a lighter meal when we visited and chose items from the appetizer menu. The food was good and we enjoyed the atmosphere.
About the name: River Street was infamous in the early 1900s as the Red Light District. Rosie's is named after Rosie Dale, a madam of River Street, who ran afoul of the police chief when she wouldn't pay her protection fees. She set up shop several blocks outside of town and out of the chief's jurisdiction. She trained horses to find their way to and from the location by themselves so clients could just hop into the buggy and find her.
Accessibility notes: Rosie's is wheelchair accessible and has an accessible bathroom. However, the place is small with limited space between tables and may be a bit tricky to navigate.
The Mad Greek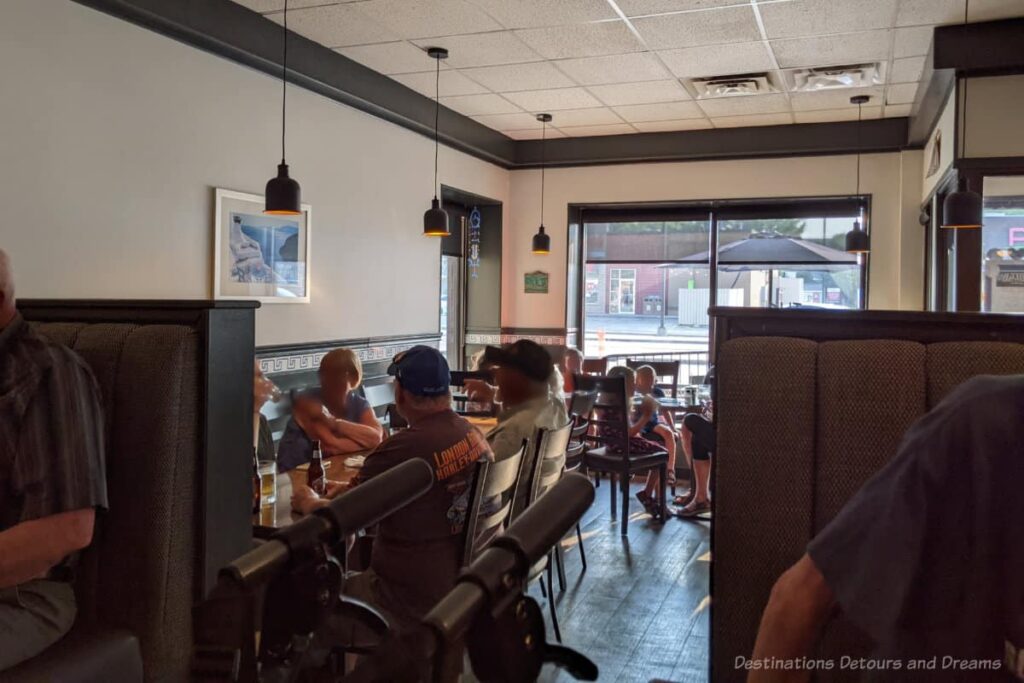 The menu of The Mad Greek features a variety of Greek dishes, burgers, pasta, and pizza. There is a kid's menu, a gluten-free menu, a selection of family-size meals, and a drive-in window for take-out. Restaurant décor is comfortable but basic.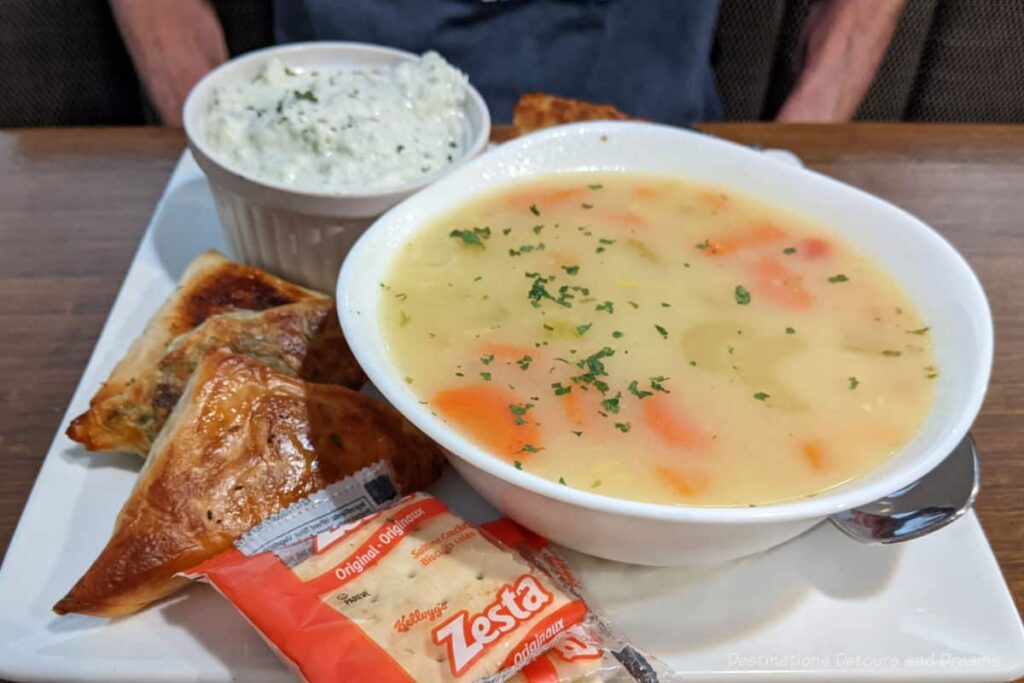 We ordered soup, salad, and an appetizer. Our selections were tasty. I'd have no hesitation going back for a full meal. Serving sizes of the meals we saw delivered to nearby tables were substantial.
Accessibility notes: The entrance is at ground level and there are a few tables at that level. However, there are also a number of booths located up two steps. My husband, who needs a walker, managed to get up those two steps with some assistance from me, but it would be a barrier to someone in a wheelchair.
Veroba's Family Restaurant
Veroba's is a bustling family restaurant serving home-cooked meals. It offers sandwiches, burgers, wraps, salads, typical diner entrees, and a large selection of hearty breakfast fare. Portions are good-sized and service is friendly. This is one place we wound up visiting twice within a few days.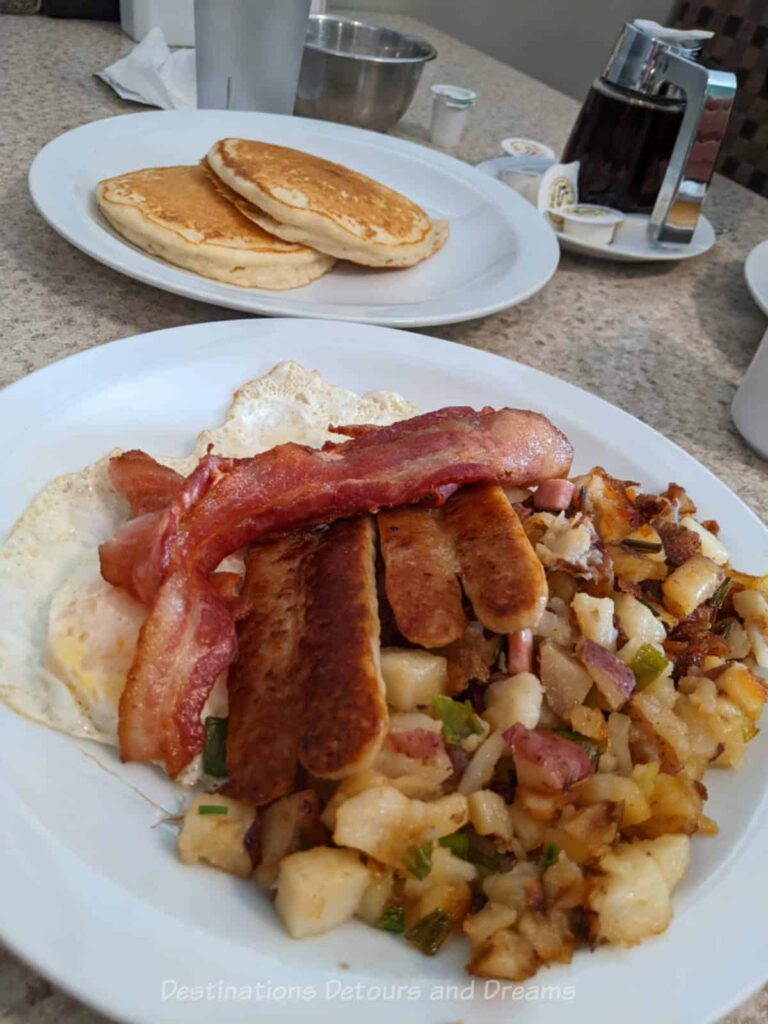 Accessibility Notes: The restaurant has a street level entrance and is all on one floor. Washroom is accessible. One side of the restaurant has a row of booths. This seating would not work for someone in a wheelchair because there would not be enough space in the aisle for a wheelchair to sit. There are tables in other parts of the restaurant that would be more suitable.
And A Few More
There are a few other restaurants I've heard good things about and are on my list to try in future visits. I don't have personal experience with these yet, but I mention them here as possibilities for anyone visiting Moose Jaw to consider.
Déja Vu Café is a classic diner style restaurant known for their chicken wings, homemade chicken strips, 100+ sauces, and countless flavours of milkshakes made with soft serve ice cream.
Grant Hall Steakhouse and Lounge is an upscale steak house located in the historic Grant Hall Hotel.
Located in a historic home built for Edward Nicholas Hopkins, one of the first residents of Moose Jaw, in 1905, Hopkins Dining Parlour features Victorian décor and antique furnishings, and a varied menu that includes prime rib, seafood, steaks, and wings. They describe themselves as "the most unique restaurant in Saskatchewan" and have the tag line "good times you can taste."
Never miss a story. Sign up for Destinations Detours and Dreams free monthly e-newsletter and receive behind-the-scenes information and sneak peeks ahead.
PIN IT