Book Review: Don't Try This At Home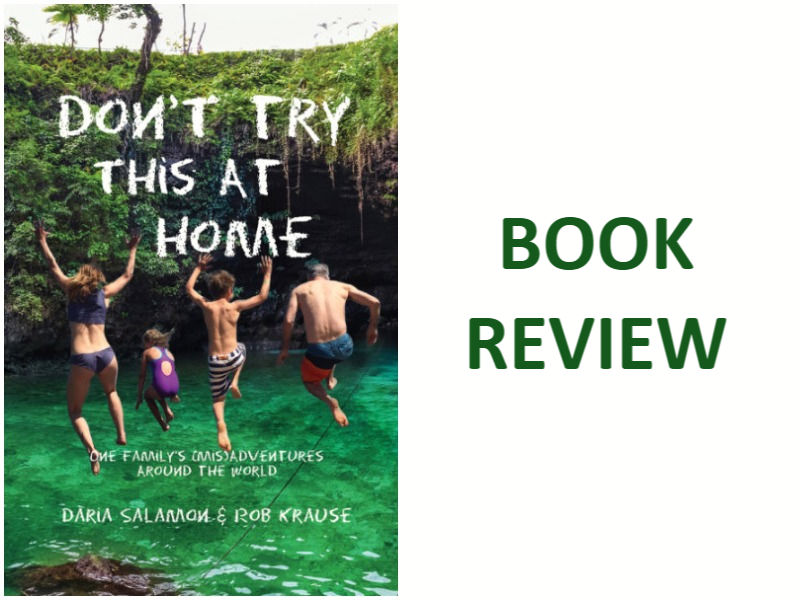 About the book Don't Try This At Home: One Family's (Mis) Adventures Around The World by Daria Salamon and Rob Krause
Can you imagine taking a year off work and traveling with two young children in tow? Manitoba writers Rob Krause and Daria Salamon did more than imagine. They traveled through New Zealand, Australia, South America, and Asia with their five-year-old daughter and eight-year-old son. They wrote about their experiences in Don't Try This At Home. Sub-titled One Family's (Mis) Adventures Around The World, the book takes a humourous look at their adventures and misadventures.
The book contains two halves, one written by Daria and the other by Rob. You can read either one first and then turn the book over and upside down to read the other half. The middle contains a few pages with excerpts from their children's journals. This fall I attended a workshop given by Krause and Salamon about tips for long-term travel. At that workshop, Daria said their publisher didn't quite know what to do after they'd submitted their manuscripts. It was as if they hadn't been on the same trip. She said the upside-down chaos and meeting in the middle format of the book suited their trip. (Note: I thought the two accounts, although they covered different things from different perspectives, felt very much like the same trip. The personalities of Daria, Rob, and their children united them.)
As you may guess from the sub-title, the book covers a lot of what went wrong. I read Daria's side of the story first. After reading about camping in New Zealand in a tent in the rain, contracting lice in Australia, being denied boarding on a flight to Bali because they hadn't booked onward tickets to leave Bali at a future date, losing their daughter in Thailand for a couple of hours (she claims she wasn't lost, she knew exactly where she was), and a bus breakdown between Singapore and Kuala Lumpur, I began to wonder if the entire trip was a disaster.
Rob says, "A lot of this book had been devoted to talking about when things went wrong because, quite frankly, that's how it felt a lot of the time. We stumbled onto unique and unforgettable experiences – experiences that make all the challenges and debacles worthwhile." Alongside stories of seasickness, a grueling 52-hour bus ride through South America, and torn mosquito netting, there are stories of exploring museums and temples in Ubud on motorcycle, attending a traditional Fijian feast, watching baby turtles hatch on an island in the South Pacific, swimming with sea lions and penguins in the Galápagos, fishing for piranhas in the Amazon, cuddling together in a hammock on a Fijian island reading Harry Potter, and seeing a galaxy visible to the naked eye only in parts of New Zealand.
One of the things I liked about the book is that it also talks about everyday life on the road, including things like managing on a strict budget and how that impacted decision making, living together in close quarters, finding time for intimacy, searching for bug spray in Samoa, feeding children, and schooling. It made their experience feel real and relatable. I think there is much in the book that parents, even non-travelling parents, can relate to. Some may cringe at the thought of taking young children into remote places. In the book, Rob say one of the outcomes of the trip was to "debunk our preconceived notions of the world and the dangers that lurk within it. The deepest jungles and the craziest cities were just places and environments no different from our own home, each with its own unique and varying challenges."
Rob also says, "The truth is that travelling with your kids is rewarding, but it never goes the way anyone tells you it is going to go. So plan all you want and get them involved as much as you can, but in the end, they run the show, like it or not. Just sit back and enjoy your Nutella sandwich and fourth Slurpee of the day."
Both Daria and Rob talk about the long-term impacts of the trip, something I began to question as I got further into the book. Soon after I'd formed the question in my mind, I came across the first of many observations about life after the trip. There were some difficulties re-adjusting to life back home. Perspectives had changed. Daria says, "I realized how little we really need. Carrying your life around on your back for ten months is a humbling experience." The children were more aware of their own privilege in life and no longer took basic things for granted. When the family booked a trip to Disneyland, their daughter asked if they needed to get shots. When they checked into their Disney resort room, their son asked if the tap water was safe to drink.
I am not planning a full year of travel and my travels no longer include children, but I still thoroughly enjoyed this book. The book is an entertaining read. For people thinking about long-term travel, with or without children, the experiences of the Salamon-Krause family provide plenty of things to consider in planning your own travels. Underlying all the adventures and misadventures is an inspiring spirit of getting outside your comfort zone and following a dream, whether that involves travel or not. Maybe you will want to try this at home. As Rob says, "Our travels brought the realization that heading into the unknown for a year can actually be done without any loss of life."
Never miss a story. Sign up for Destinations Detours and Dreams free monthly e-newsletter and receive behind-the-scenes information and sneak peeks ahead.
PIN FOR LATER