The History Of Lighting The Christmas Tree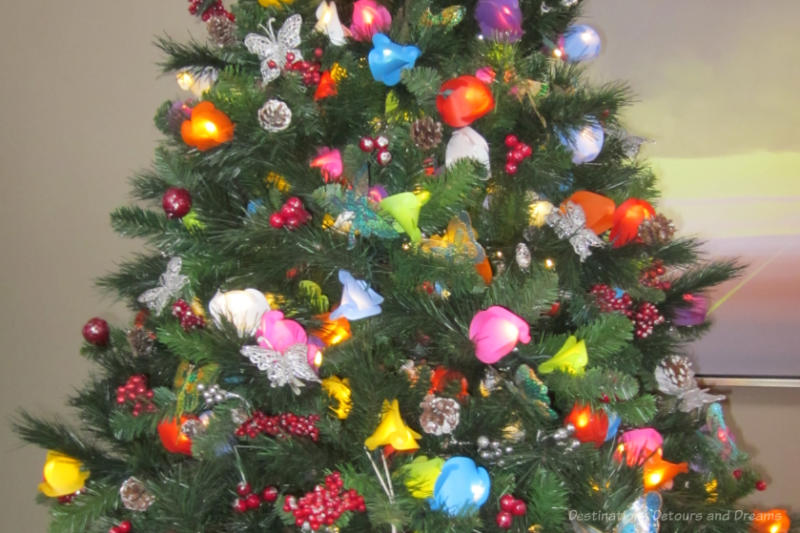 A Christmas Glow exhibit at the Manitoba Electrical Museum in Winnipeg, Manitoba highlights the history of Christmas tree lights and decorating
Driving in my home city on December evenings is a colourful experience. Many homes and businesses are decorated with Christmas lights, some with simple one-colour strands hung on the eaves, others containing elaborate multi-coloured decorations across entire yards. The stringing of outdoor electric lights grew from the tradition of lighting the Christmas tree indoors. And, of course, none of this would be possible without the invention of the electric light bulb in the late 1800s.
The Manitoba Electrical Museum in Winnipeg, Manitoba, Canada highlights Manitoba's electrical history. Its Christmas season All That Glows Then and Now exhibit highlights holiday lighting from the 1880s to now and got me thinking more about the history of Christmas trees and their decorating.
Germany is credited with starting the Christmas tree tradition as we know it in the 16th century. The trees were traditionally lit with small candles that were glued with melted wax to the branches or attached with pins. In 1841, Prince Albert, Queen Victoria's husband, introduced the Christmas tree to Britain. It became popular in Britain and around the world.
During the 1880s Christmas season, Thomas Edison introduced the first outdoor electric Christmas light display outside of his laboratory. In 1882, Edward H. Johnson, Vice President of the Edison Electric Company, decided to hang Edison's lights on a Christmas tree and earned the title of "Father of the Electric Christmas Tree."
In the Manitoba Electrical Museum All That Glows Then and Now display, Christmas trees from various time periods along with information about decorating trends of the day are located throughout the museum amid regular displays.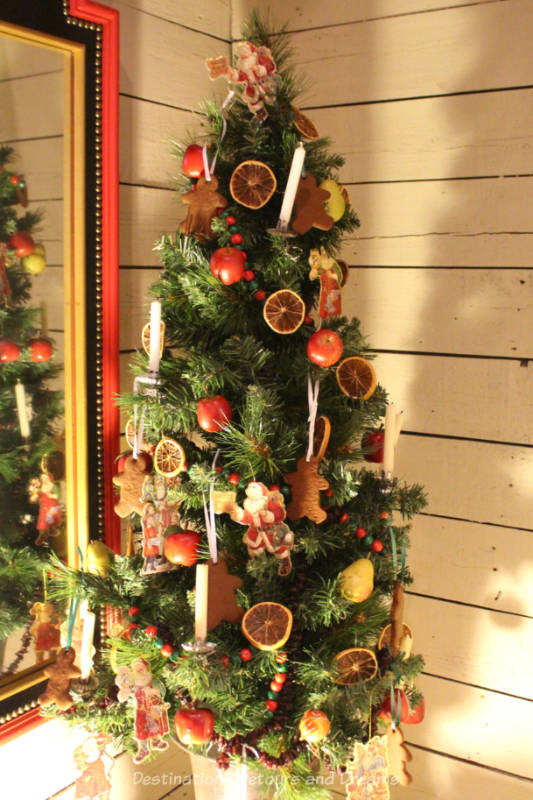 From the 1880s to 1910. candles, natural fruits, and homemade crafts decorated Christmas trees. Tree "skirts" caught wax drippings. Tree lights were invented during this period, but most homes were still without electricity. You could rent a generator and hire a "wireman" to light up your tree, but that was expensive. Electrically lit trees were seen mostly at high society parties. By 1900, businesses had starting stringing Christmas lights behind their windows.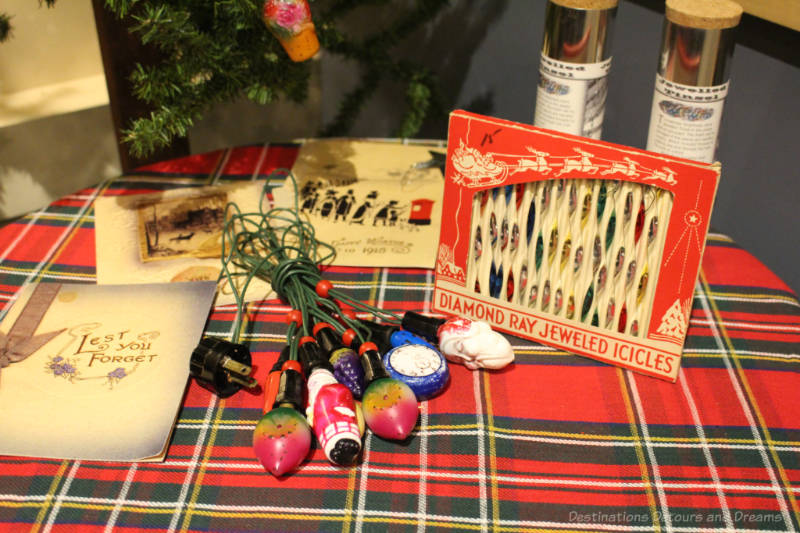 In the 1920s and the 1930s. more homes became wired and cone-shaped bulbs were popular. as were cardboard and beeswax ornaments.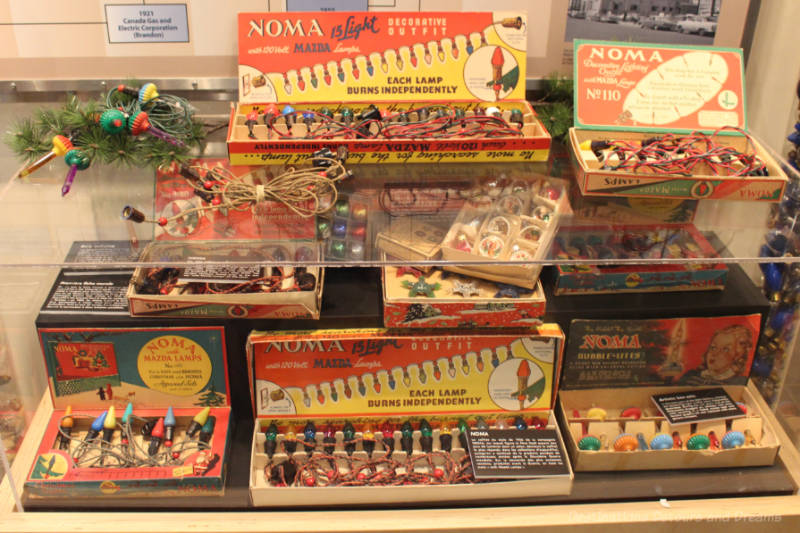 NOMA, a company started by the Sadacca brothers in 1925 from the union of 15 companies in the Christmas light business, was the largest Christmas light manufacturer in the world. It closed its doors in 1968.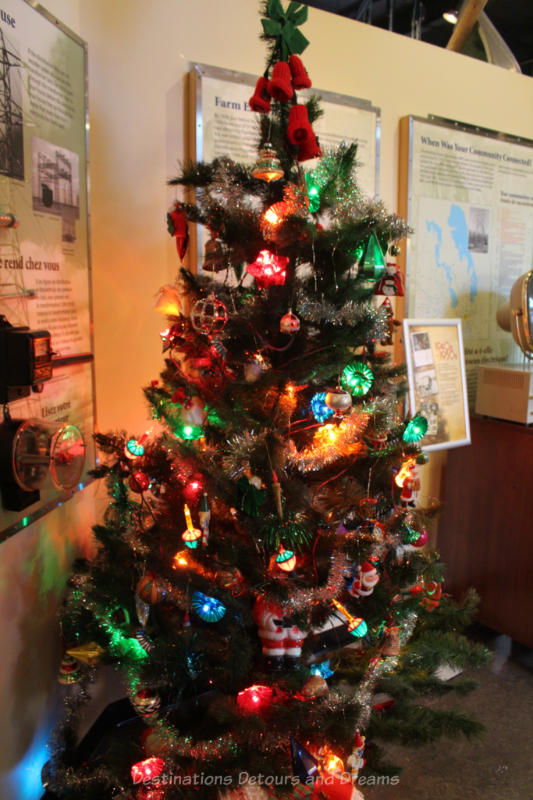 Tinsel and tin reflections showed up in the 1940s to 1950s. Blown glass ornaments from overseas were popular. NOMA novelty "Bubble Lites" were a craze.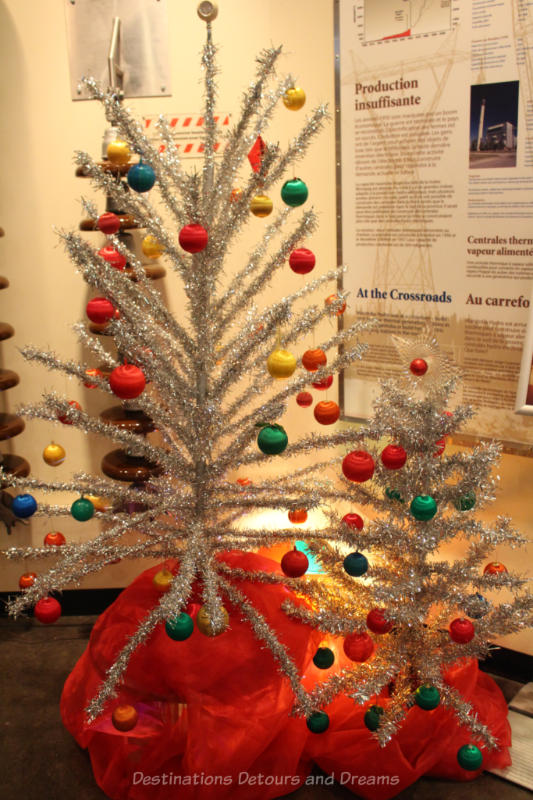 The 1960s and 1970s saw aluminum coloured, particularly silver, trees. There were foil garlands and plastic ornaments. Miniature fairy lights were popular. Exterior home illumination décor increased.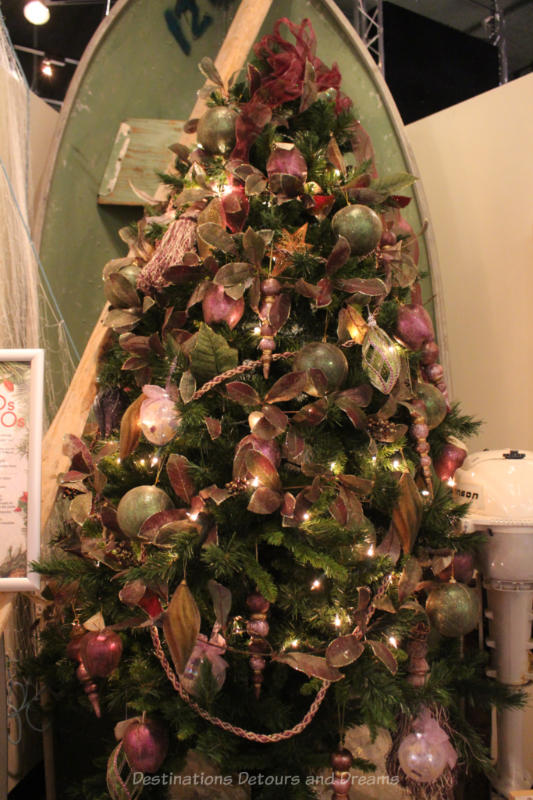 In the 1980s and 1990s, artificial trees became more natural looking, but there was also a return to environmentally friendly real trees. Themed decorated trees were popular as were novelty lights (e.g. bubble lights, candle flames).
As more and more lights have been used outdoors as well as indoors, displays have become more elaborate. Below are some photos I've taken of displays I've seen over the last few years.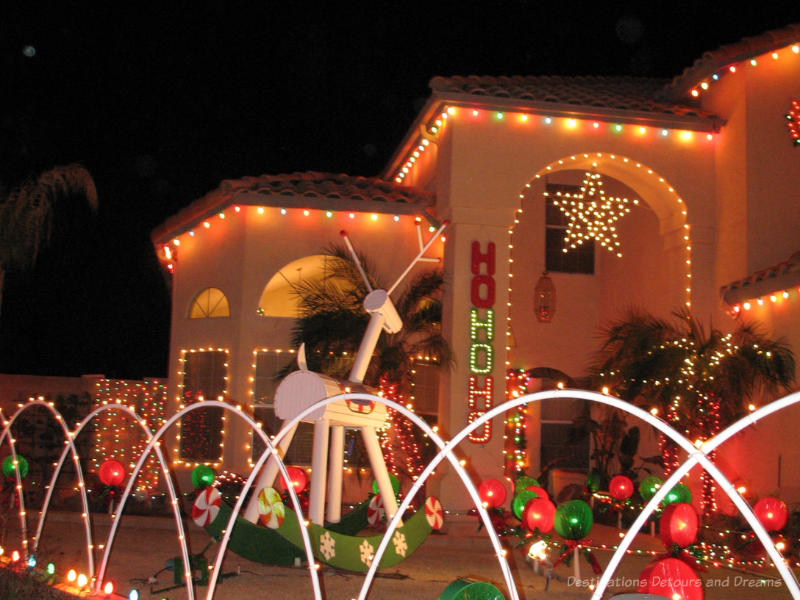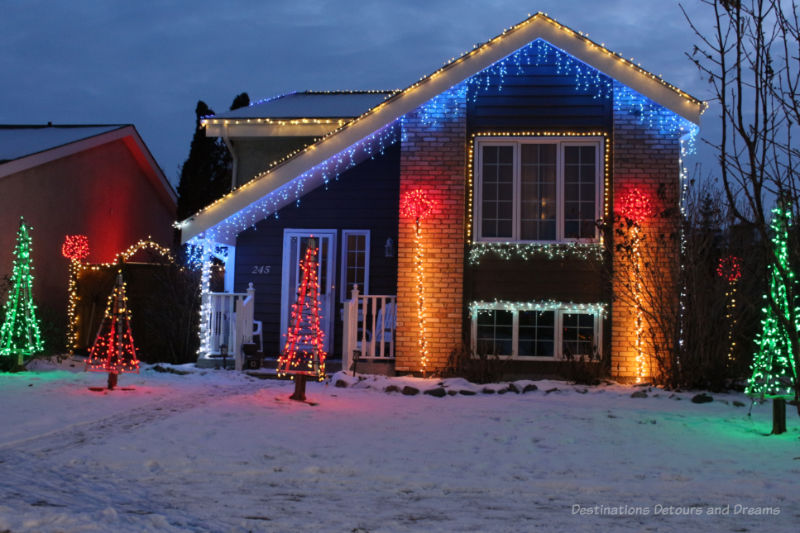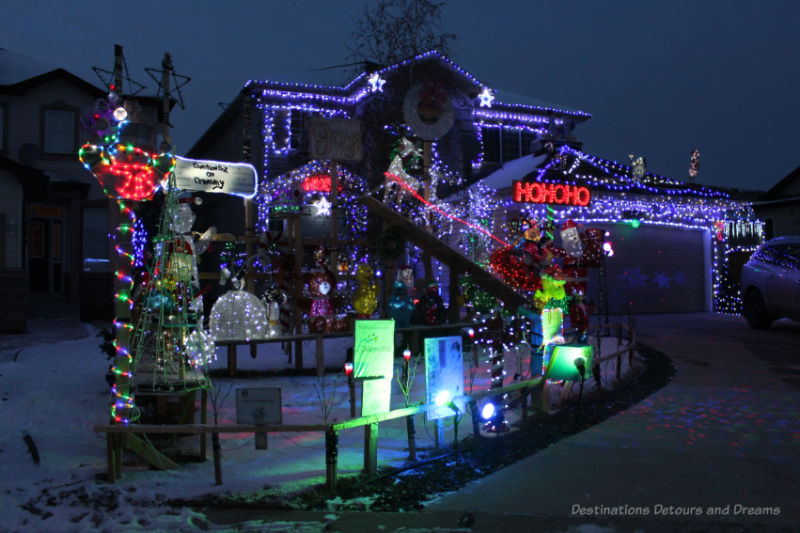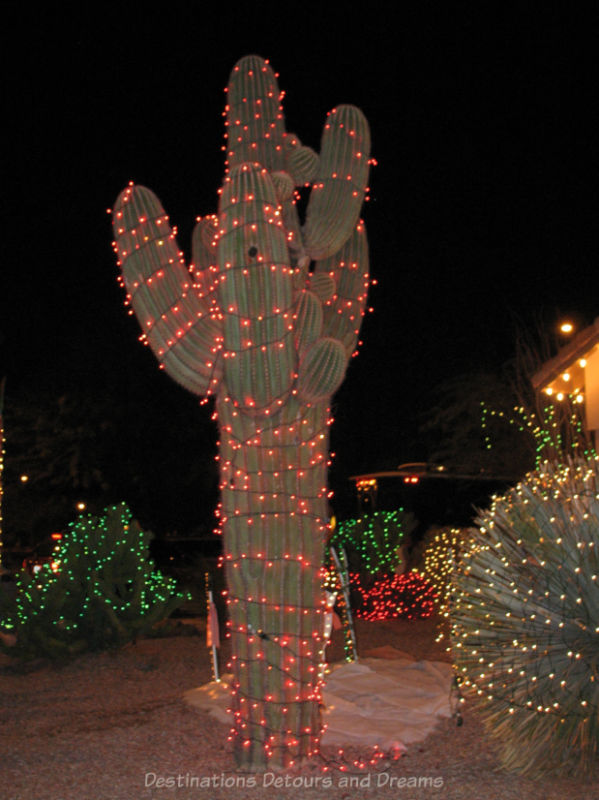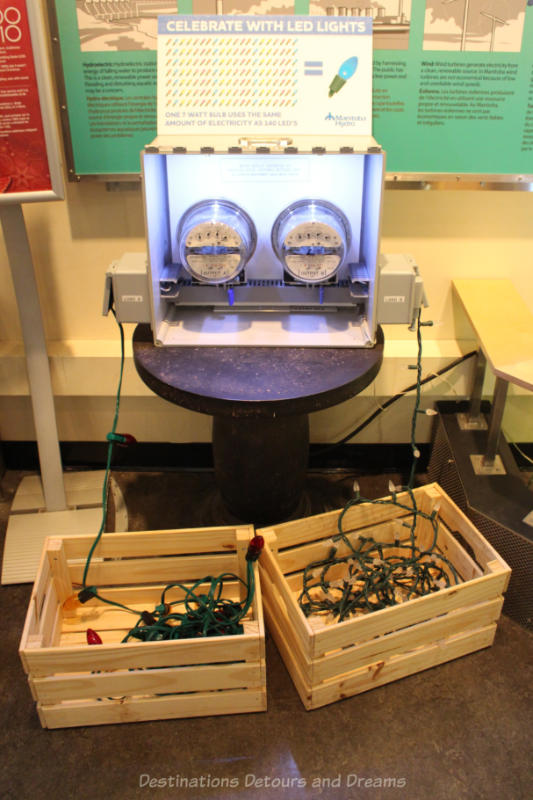 The most recent innovation in Christmas tree lighting is the move from incandescent bulbs to LED lights. LED lights operate approximately 90% more efficiently than incandescent lights. This is illustrated by one of the museum displays where a meter moves to show how much electricity is used when a string of lights is plugged in. The meter was very active when the incandescent string was plugged in. I had to look closely to see it move at all when the LED string was plugged in.
Below are samples of a few Christmas trees from my travels.
Check the Manitoba Electrical Museum website for their hours. The All That Glows exhibit is a seasonal exhibit, but the museum's regular exhibits are also very interesting. They really showcase how electricity has changed our lives in a short period of time and what a feat it was to bring that electricity into our homes.
Never miss a story. Sign up for Destinations Detours and Dreams free monthly e-newsletter and receive behind-the-scenes information and sneak peeks ahead.
PIN IT