Book Review: A Daytripper's Guide to Manitoba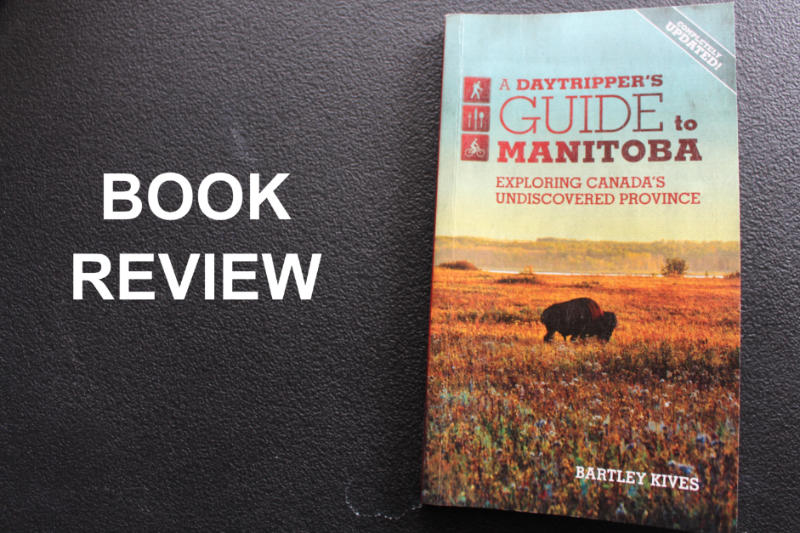 A review of the book A Daytripper's Guide to Manitoba: Exploring Canada's Undiscovered Province by Bartley Kives
A Daytripper's Guide to Manitoba by Bartley Kives is a guide to exploring Manitoba, the province located in the east-west centre of Canada and the province I call home.
The publisher describes the book as "a comprehensive travel handbook to the province." It is comprehensive. Its 261 pages are jam-packed with useful information.
The first chapter contains a brief history of the province, a Manitoba at a Glance list of key statistics, and an Indigenous terminology guide titled "Indian vs. Indigenous (or how to avoid insulting strangers in Manitoba)."
The second chapter is all about getting your bearings. There is an overview of the province's geography. As Kives says, "less than a third of the province conforms to the pancake-flat stereotype." Within the various regions of Manitoba, you'll find Canadian Shield, wetlands, boreal forest, prairie, aspen forests, open meadow, and tundra. The chapter also contains information about Manitoba's climate, a list of the oversized statues to be found in small towns, and a glossary of Manitoban English. For example:
'Peg City' (or The 'Peg'): a nickname for Winnipeg
honey dill sauce: a dipping sauce for chicken fingers, unique to Winnipeg, made out of mayonnaise, liquid honey, and dill, invented by accident by Mitzi's Chicken Fingers in the 1980s
giv'er: enthusiastic form of encouragement to try something, as in "Giv'er some juice and see if she starts"
The third chapter "Stuff To See And Do" provides an overview of the province's attractions. It covers cultural attractions, food, shopping, and outdoor activities by season. There is a holiday and festival calendar and Kives' list of top ten Manitoba attractions. (.e.g.  Best Big-City Neighbourhood: Winnipeg's Exchange District, Best Easy Day Hike: Spirit Sands, Spruce Woods Provincial Park)
Chapter 4 "Stuff To Know" contains assorted bit of information to guide your explorations: getting around, sleeping, driving distances, where to find more information, and a potpourri of information on avoiding headaches.
Subsequent chapters provide more details by the various regions within the province: Winnipeg (Manitoba's capital city), Red River Valley, The Canadian Shield, Beaches & the Interlake, Southwestern Manitoba, Parkland, and The North. Within each chapter, attractions are grouped by geographical areas within the region, allowing independent travellers to plan their explorations by locale and to seek out nearby points of interest.
Both visitors to the province and Manitobans who want to know more about their own backyard will find the book helpful.
The book was first published by Great Plains Publications in 2005 and updated in 2015. One of the things added in the 2015 update was a chapter on the Lake Of The Woods region in northwestern Ontario. Kives begins that chapter by saying, "For all intents and purposes, Northwestern Ontario can be considered part of Manitoba. Kenora, the biggest community in the region, is only 205 kilometres from Winnipeg and an excruciating 1,900 from Toronto, the Ontario provincial capital." He goes on to say that thousands of Winnipeggers own cottages in the area and many more treat it as weekend getaway destination.
I've had the first edition of the book for many years and have turned to it numerous times to help in exploring my home province. I now have the updated edition and intend to use it to guide future explorations.
Author Bartley Kives is journalist who has been writing about politics, pop culture, politics, food, and travel in Winnipeg since the 1990s. He worked as a reporter for The Winnipeg Free Press for 18 years and now works for CBC Manitoba.
Never miss a story. Sign up for Destinations Detours and Dreams free monthly e-newsletter and receive behind-the-scenes information and sneak peeks ahead.
PIN IT