Book Review: The Great Canadian Prairies Bucket List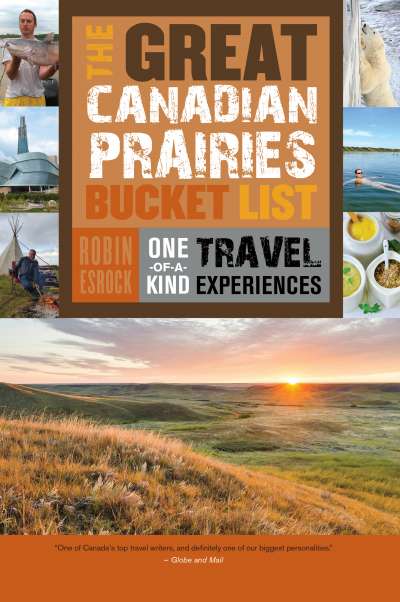 Review of one-of-a-kind travel experiences
in Canadian provinces Manitoba and Saskatchewan
While browsing a table of new books at a favourite bookstore, a particular book caught my attention. It was The Great Canadian Prairies Bucket List by Robin Esrock. It had a beautiful glossy cover. A thumb through its pages revealed lovely photos. The cover said "One-of-a-Kind Travel Experiences." I live on the Canadian prairies. I love exploring my home turf as much as I love exploring far-away places. And who doesn't want one-of-a-kind travel experiences? I bought the book.
The book covers the provinces of Manitoba and Saskatchewan, places often overlooked by tourists and travel writers amid the vastness of what Canada has to offer. Alberta is usually also considered a prairie province, but Robin did not include it in this book. It was included in a book on Western Canada.
This is not a typical guide book. There is no information on prices, places to stay, where to visit or where to eat. Robin focuses on "why you should visit these destinations in the first place." He writes about specific experiences from a personal perspective.
I was familiar with all the experiences written about in the Manitoba section of the book. There were some I've not yet experienced, but the majority I have. I've written about a few as well: The Forks, the secrets of the Hermetic Code at the Manitoba Legislature, the Canadian Museum for Human Rights, and watching polar bears from the underwater tunnel at the Journey to Churchill exhibit at the Assiniboine Zoo. Other Manitoba experiences include a popular folk festival, a Nordic spa, ballet in the park, snake dens, polar bear viewing on the tundra, and a powdery sand beach.
I enjoyed reading Robin's accounts. He brings the experience to life in an easy-to-read and inspiring way. I wanted to experience almost every item myself. (I am not an underwater person and have no desire to snorkel with belugas.) I wanted to revisit those places I've already been to as soon as possible. He did a good job in choosing which experiences to include. I can think of other great Manitoba experiences, but nothing I would add at the expense of dropping something in the book.
The section on Saskatchewan was a surprise. I am embarrassed I did not know more about the experiences in my neighbouring province. Saskatchewan has its own version of the Dead Sea. Tunnels under Moose Jaw, built as access corridors for steam engineers, once were safe havens for Chinese migrants and were also used by bootleggers and gangsters. Mystery surrounds a grove of deformed aspen trees. Saskatchewan is home to Canada's darkest Dark Sky Preserve and North America's largest sand dunes. After reading about these and other Saskatchewan experiences, travel next-door is on my bucket list.
Robin Esrock is a South African born-and-raised writer who now resides in Vancouver, British Columbia. He chases down one-of-a-kind experiences across the world. In the book he identifies four criteria for these one-of-a-kind experiences. The experience must be unique. It must be grounded in reality so everyone can do it. It must be something which creates a life-long memory. And it must be something which makes a good dinner story. He has written several other Great Canadian Bucket List books covering other parts of Canada and The Great Global Bucket List.
The Great Canadian Prairies Bucket List is the first book by Robin Esrock I've read. it won't be the last.
Destinations Detours and Dreams monthly e-newsletter contains behind the scenes information, sneak peeks ahead, travel story recaps and more. SIGN UP HERE