Explore Your Hometown: Ways To Be A Tourist At Home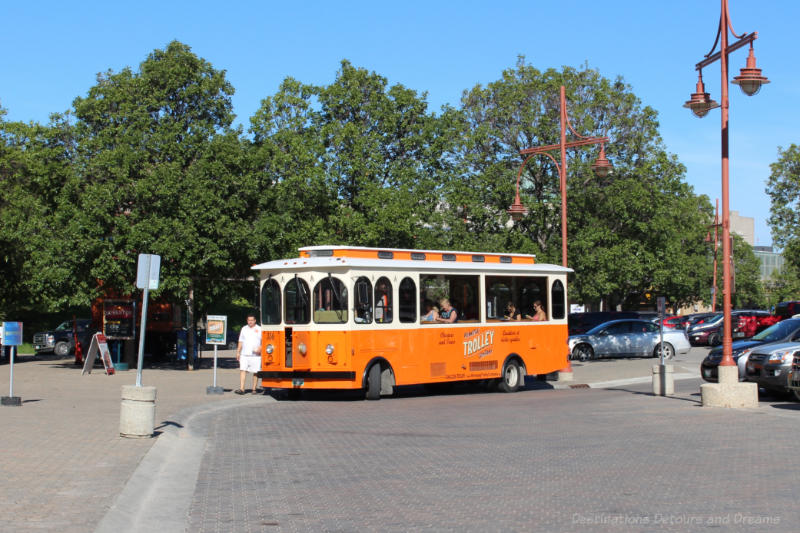 How to explore your home city like a tourist in a staycation and throughout the rest of the year
If a tourist asked you what to do or see when they visit the city or town you live in, what would you recommend? Would you be able to come up with a long list or would you struggle to identify items? How many of the attractions on your list have you visited yourself?
Many of us may not be as familiar with the attractions in our own back yard as those in locations we've travelled to farther afield. Work responsibilities, looking after a home, caring for family, and other activities we're involved in may leave little time or energy to explore our city in the same way as we might explore new destinations when we travel. We may have a large circle of family and friends around us and want to spend any free time we do have with them. We may think about visiting the better-known attractions someday, but there isn't the same sense of urgency to get there now as there is when one is only in a city for a few days.
In the 1990s, friends visited us from England. They stayed with us for a week. We were one of several stops on their big Canadian adventure. It was wonderful to explore my home city with them and to see it through their eyes. In the last few years, I've had the opportunity to do more travelling than in the past. I've become a travel writer and blogger. Some of the travelling mentality has returned home with me and I've made a conscious effort to explore my home city of Winnipeg, Manitoba, Canada. I've learned a lot about my city, had fun experiences, and developed a deeper sense of pride in my home.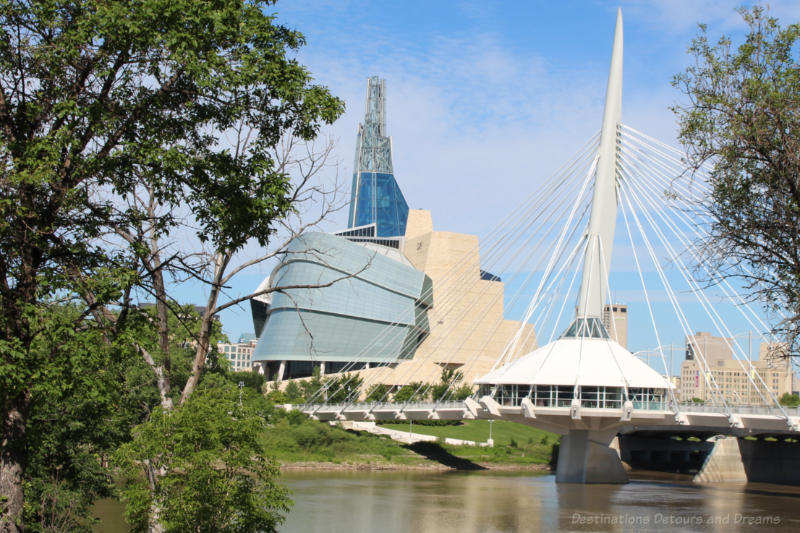 Exploring your city as a tourist will give you a better appreciation for it. It is a great way to experience something new, learn more about your city and yourself, and have a bit of adventure without leaving home. This can be done as a concentrated vacation-like effort by dedicating a solid block of vacation time, a weekend or a week or two, to being a tourist at home. Sometimes financial constraints, family commitments, or other circumstances prevent us from travelling when we would like. We can still get a sense of the travel experience by exploring our own cities.
I would encourage you to also think beyond the one-time tourist blitz experience and consider incorporating the "explore your own city" attitude into your regular life. Not every day and not even every week, but perhaps once every month or two make a point of seeing something you've not seen before or revisit a place you haven't been to in years. The treasures of your city will unfold slowly and delightfully.
I've felt strongly about exploring my own city for years. I've been blown away by all my home city of Winnipeg, Manitoba, Canada has to offer. It has been underrated for years, although in recent years its attractions are starting to be recognized internationally.
As I write this, much of the world has spent weeks in varying degrees of "lock-down" due to COVID-19. Some areas are in a phase of gradual lifting of restrictions while others remain essentially shut-down. After many things open locally, travel is likely to remain restricted for some time. Safety concerns and financial constraints caused by loss of income during this pandemic will keep many close to home even after travel restrictions ease. This might be a good time to look at exploring your home city. Although some typical tourist attractions and activities may remain closed longer than other businesses or have new restrictions, there will be other places still available for exploration at this time. Follow whatever distancing protocols are recommended. Have fun and stay safe.
Ways To Explore Your City
Take A City Sight-Seeing Bus Tour
Visit Museums And Art Galleries
Stroll Through Historic And Tourist Districts
Take A Tour
Try New Restaurants
Explore Street Art And Public Art
Walk Through Gardens and Nature Preserves
Spend Time In A Park
Visit A Zoo
Attend A Festival
Have A Spa Day
City sight-seeing bus tours, which typically range in length from one to three hours, are a great way to get an overview of a city. If taken at the beginning of a visit to a new city they provide a good introduction to the place and may pique interest in sites to visit in more detail. When on a short stopover or on a trip busy with business activities they allow you to get a snapshot tourist view in a short period of time.
But why would you take the tour in your home city to see and hear about familiar places? While you may be familiar with some of the places on the tour, there is a good likelihood you will pass something you know little about. You'll hear interesting stories on the background and history of sites and neighbourhoods. You may gain a different perspective on your city when you see the various sites and distinct neighbourhoods of your city connected and integrated in one tour. And, like many of the tourists on the bus, a particular site or two may pique your interest for further exploration.
Your city may have internationally recognized museums and galleries that top tourists' lists of things to see. Have you visited them? In my home city, the Canadian Museum for Human Rights has received accolades and awards from around the world.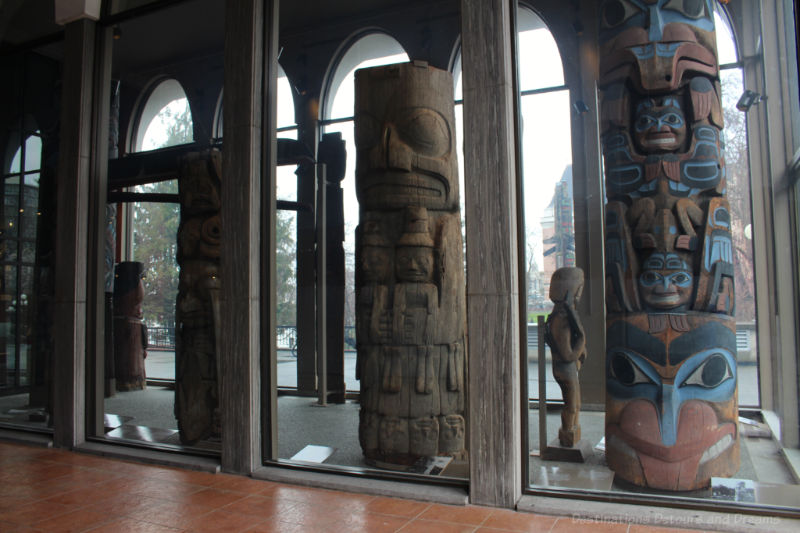 Museums such as the Manitoba Museum in Winnipeg, Manitoba and the Royal BC Museum in Victoria, British Columbia showcase human and natural history of the area. Museums such as the Museum of Anthropology in Vancouver, British Columbia provide a larger global view. And some museums, such as the RCMP Heritage Centre in Regina, Saskatchewan, the Winnipeg Police Museum in Winnipeg, Manitoba, the Bata Shoe Museum in Toronto, Ontario, or the Fountainhead Antique Auto Museum in Fairbanks, Alaska, have a more specialized focus. Places like Heritage Park Historical Village in Calgary, Alberta showcase history through recreated villages that often contain original buildings moved to the museum location.
You needn't live in a large city to find a local museum worth visiting. I've visited many small-town museums with a fascinating mix of artifacts and information. The Cowichan Bay Maritime Centre in Cowichan Bay Village on Vancouver Island, British Columbia highlights the history of shipbuilding and fishing in the area. The New Iceland Heritage Museum in Gimli, Manitoba does a wonderful job of presenting the area's Icelandic background. The collection of restored and furnished historical buildings moved to the Arborg and District Multicultural Heritage Village in Arborg, Manitoba tell the stories of the area's Icelandic and Ukrainian-Polish settlers.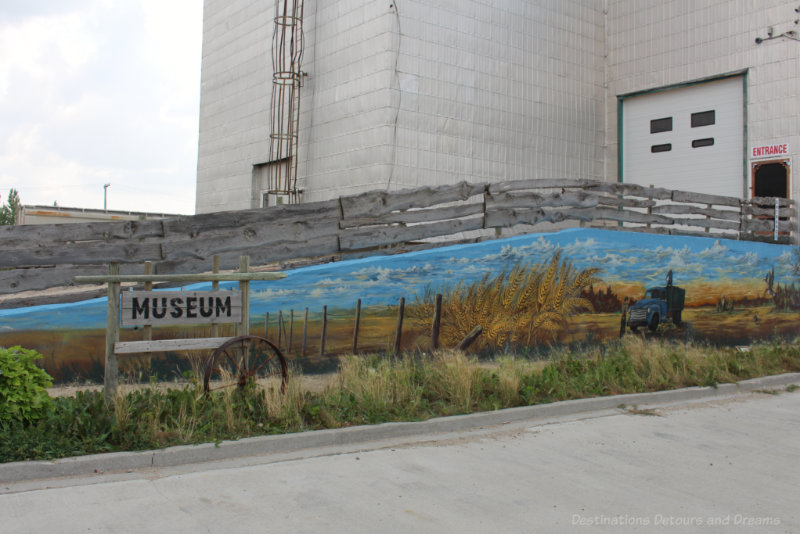 Art galleries may showcase local or international artists or both. A local gallery may be internationally recognized for a special type of art. For example, the Winnipeg Art Gallery in my home city holds the world's largest collection of contemporary Inuit art.
Consider revisiting museums and galleries you haven't been to in years. There are likely to be new and updated exhibits. Use of technologies, such as augmented reality, interactive displays, touch screens for focused and detailed information, and mobile apps, create a richer experience. Or consider visiting in a different way than you might have done in the past, perhaps by signing up for guided tours. Make return visits to take in special temporary exhibitions. Don't forget about the smaller, community-based or specialty museums. Living in a city full-time gives you the luxury to explore more deeply and get to some of those places tourists on strict time schedules cannot. To save money check the museum websites for dates and times when admission may be reduced or free.
Are there certain areas in your city that have special appeal for tourists? Areas with historical significance, interesting shopping, or a variety of entertainment and dining options? Spend time exploring these areas. Two areas within my home city, The Forks and the Exchange District, contain historical significance as well as offering entertainment, dining, and shopping. The Distillery District in Toronto, Ontario is an arts, culture, and entertainment area set in quaint 19th century buildings that once housed a large whiskey distiller. The historic downtown of Branson, Missouri feels like stepping into another era. Gastown and Granville Island are popular tourist areas in Vancouver, British Columbia. The downtown area of Victoria, British Columbia contains historic buildings, modern shops and restaurants, plus scenic harbour views.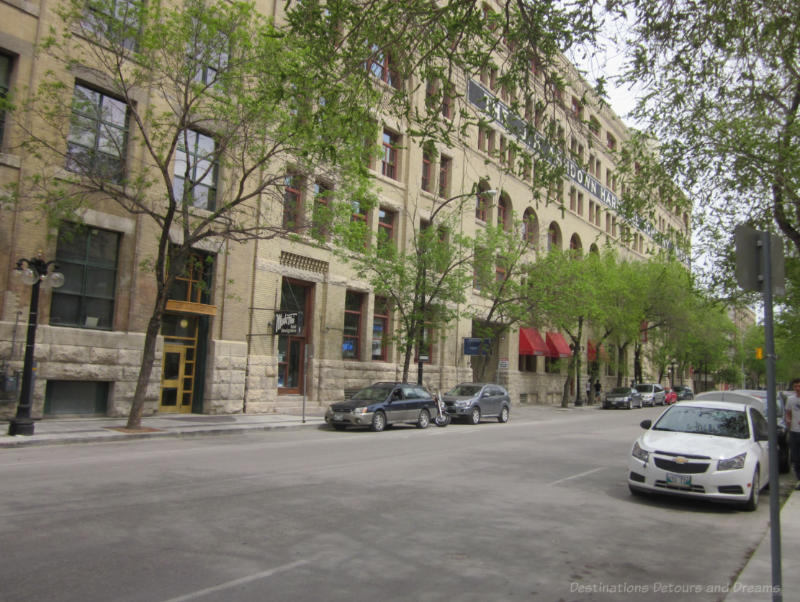 A variety of guided tours may be available in your city – walking tours, bus or trolley tours, and even cycling tours. Sign up for one (or several) of these tours to discover your city in a different way. Historic districts often offer walks through history. Food tours take you to several different restaurants to sample their cuisine. Visit craft breweries on an ale tour.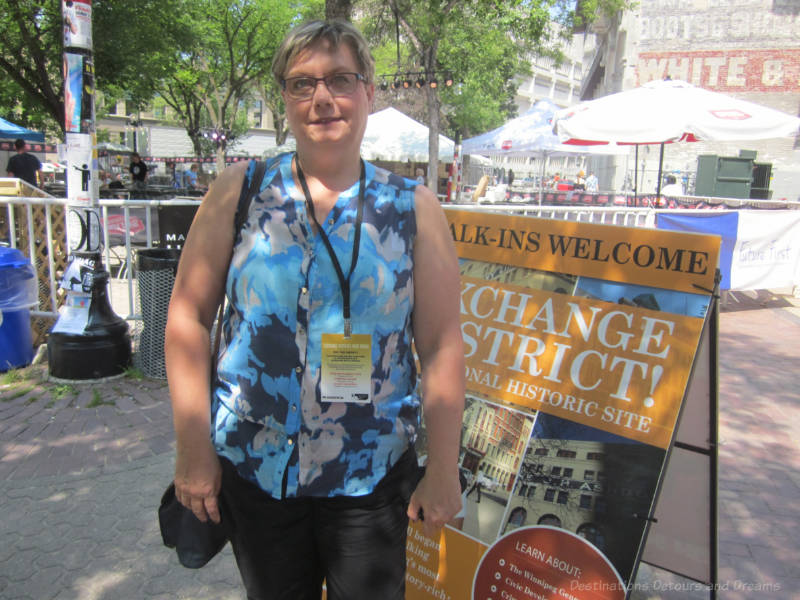 Other specialty tours may focus on architecture, ghost stories, musical history, or movie locations. If your city borders a lake or has a river running through it, boat cruise tours may also be an option.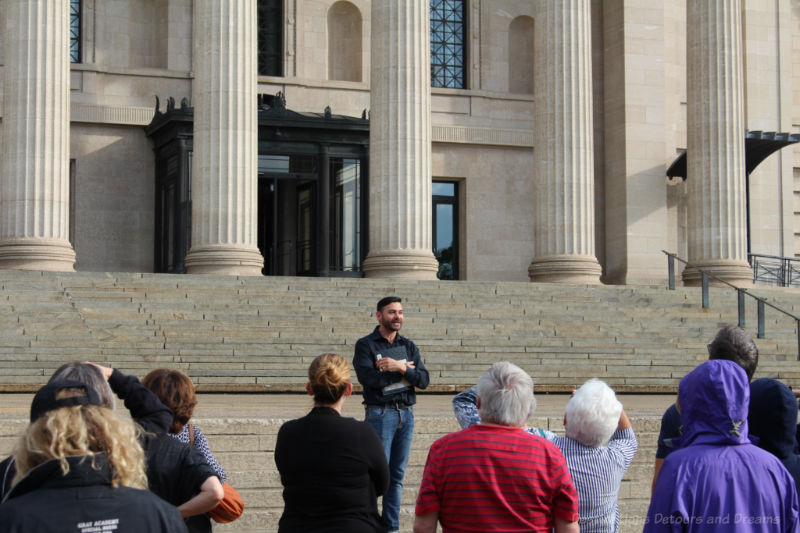 There may also be options for self-guide tours. I followed a self-guided map when I toured Canada's oldest Chinatown in Victoria, British Columbia. The GPSmyCity app contains a selection of self-guided walking tours for a variety of cities. Check to see if there are any for your hometown.
For many, one of the pleasures of travelling is eating out and trying new foods. Visit restaurants you haven't previously been to. Are there restaurants getting top billing with tourists and locals that you haven't eaten at yet? Try a cuisine you haven't tried before. For a more local experience, visit restaurants specializing in the food and dishes associated with your city and area. Try local delicacies at other restaurants.
Street art has become popular across the world. Some cities or districts within cities, such as London's Shoreditch and Brick Lane areas, have become famous for their collections of street art. But you can find street art in many other cities, concentrated in one well-known area, in a pedestrian tunnel, spread throughout the city, or in unexpected places such as a back alley in Winnipeg known as Back Alley Arctic because of the northern wildlife painted on garage doors by an artist who lives on the street.
Murals sometimes tell stories about the history and people of a neighbourhood such as the murals in Winnipeg's West End. Each year new murals are painted in Vancouver's Mount Pleasant and East End neighbourhoods as part of Vancouver Mural Fest. The small town of Chemainus on Canada's Vancouver Island is known as the Town of Murals because of its outdoor gallery of murals on buildings throughout the town.
Public art refers to any work of art designed for and sited in a space accessible to the general public. Much of it is located in outdoor spaces. Many cities have public art programs dedicated to creating and maintaining pieces of public art. Some public art pieces become well-known symbols of a place, but there are usually many other wonderful pieces to discover beyond those icons. Seek these out and learn their meaning.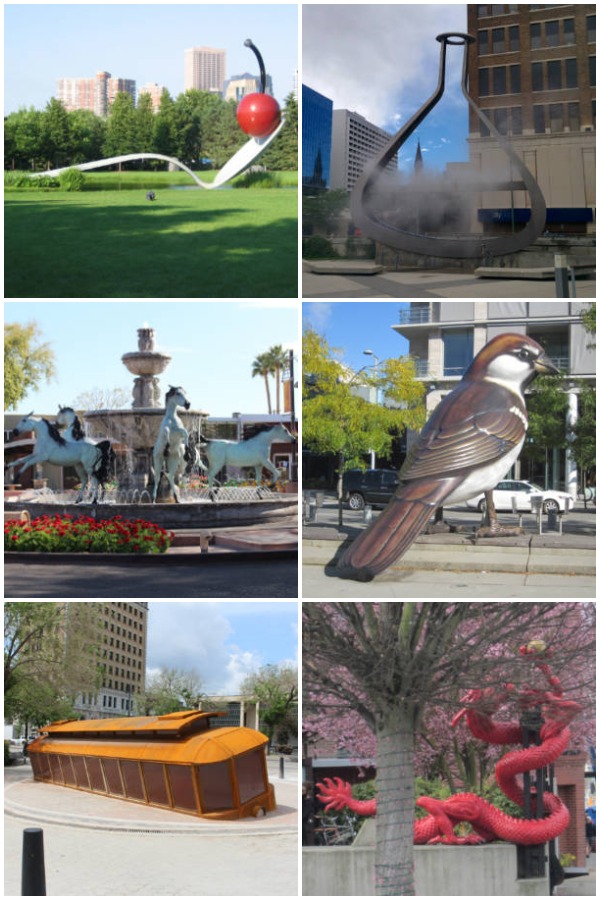 Spend a day or part of day wandering through a garden or nature preserve. Flowers blooming at different times throughout the year can make each visit to a garden unique. Some cities are home to world famous gardens such as Butchart Gardens in Victoria, British Columbia or Kew Gardens in London. Gardens in your city may not be as well known but can still be a delight to visit. Even cities with world-famous gardens have other gardens worth exploring. (Victoria, British Columbia, known as the Garden City of Canada, is an example of a place with numerous beautiful gardens.)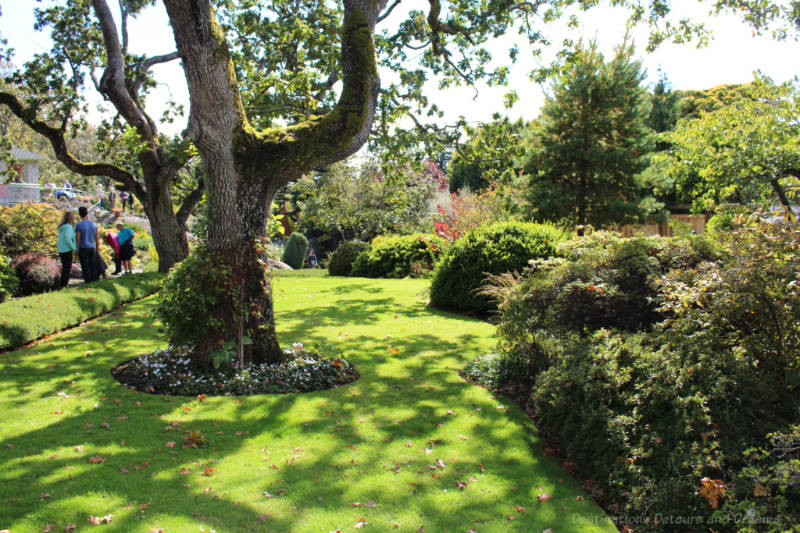 Nature preserves in and around your city may be peaceful refuges to spend time in while learning more about local vegetation and wildlife. In my home city of Winnipeg, Canada FortWhyte Alive, a 640-acre protected green space at the edge of the city, offers outdoor recreation and nature discovery in a beautiful setting. The Living Prairie Museum allows you to explore the endangered tall grass prairie ecosystem.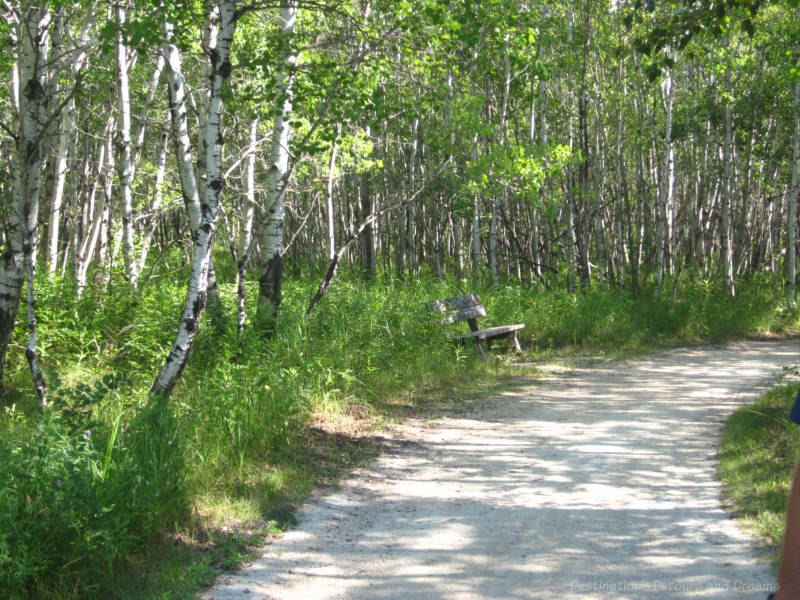 Picnic in or walk through city parks. Go beyond the parks in your neighbourhood to visit those in other areas of the city. You may discover more than peaceful green space. Some parks contain public art, either an individual piece in the park or a collection of works such as the Leo Mol Sculpture Garden in Winnipeg's Assiniboine Park. Other parks have well-cared-for garden space. Perhaps there is a duckpond or a special memorial such as the Carol Shields Memorial Labyrinth found in a south Winnipeg park.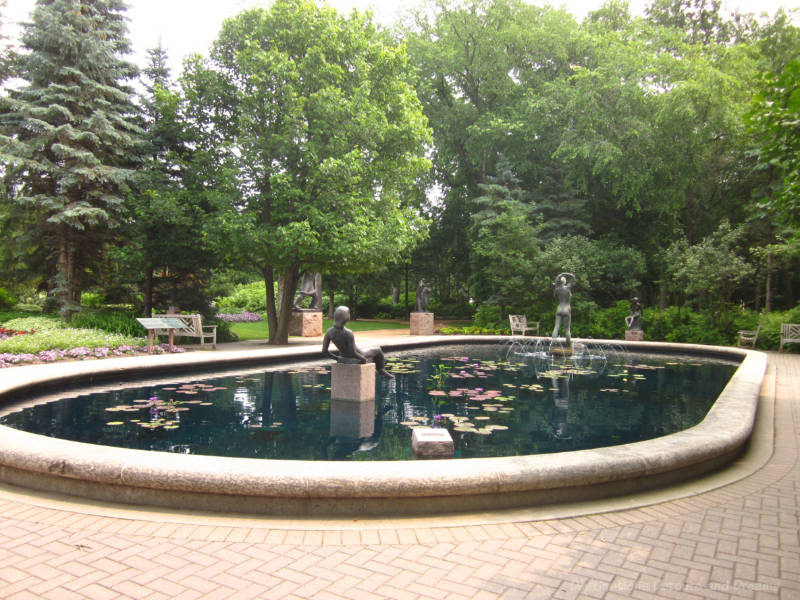 Spend a day at the zoo seeing new exhibitis or revisiting old favourites.
My home city of Winnipeg has a long winter. We celebrate summer with festival after festival. Music festivals, a fringe festival, food festivals, cultural festivals. Your city may also be home to a number of festivals. One or two may already be favourites you make a point of attending year after year. Consider taking in one of the others, one you haven't been to or one you may not have attended in years. (Winnipeg also has a well-known winter festival. Festival du Voyageur celebrates French-Canadian culture and the history of the voyageurs.)
Note: As the world deals with COVID-19, 2020 is not the year for festivals. Most are cancelled. Exploring your own city in 2020 will not include festival going. Plan to attend the festivals in future years.
A day at your favourite spa can feel like a mini-vacation. Have an adventure by visiting other spas in your city. Are there spas highly touted for tourists perhaps because of some specialty service? Are there spas offering different types of experiences? In my city you can find spas offering Nordic thermotherapy, hot stone massage, and Japanese Ganban-yoku. There are also studios providing floatation therapy.
Note: Spa services are also likely to be unavailable or limited for a period of time due to COVID-19.
As you can read, there are many ways you can explore your home town. In the post Explore Your Home Town: How To Discover What There Is To See And Do I offer suggestions as to how you can find out what's available in your city.
Never miss a story. Sign up for Destinations Detours and Dreams free monthly e-newsletter and receive behind-the-scenes information and sneak peeks ahead.
PIN IT