Travel Attitudes After The Great 2020 Detour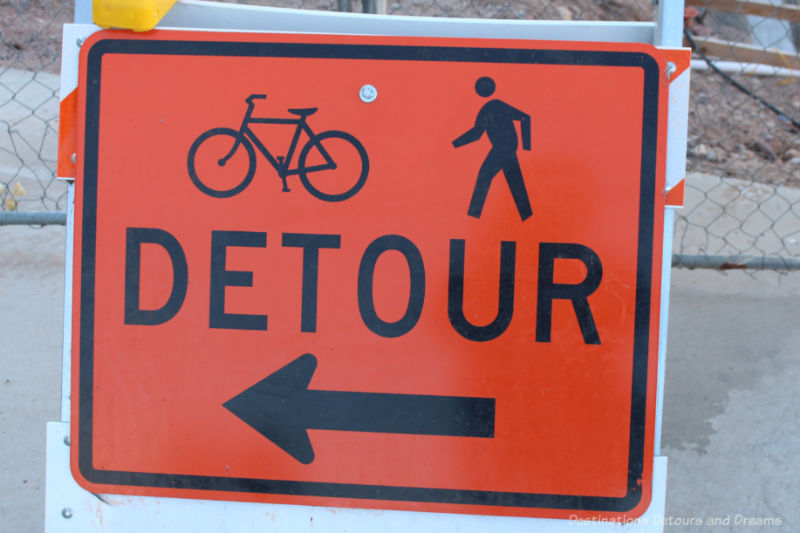 Staying home and not travelling in 2020 has impacted my thoughts and attitudes about travel
When I chose the word "detours" to be part of my blog name Destinations Detours and Dreams, I was thinking about those unexpected twists on a trip (or in life itself) that wind up as great experiences. I was thinking about being open to discovery and changes in plans. I was thinking about quotes like these:
Sometimes the most scenic roads in life are the detours you didn't mean to take.

Angela N. Blount
The really happy person is the one who can enjoy the scenery, even when they have to take a detour.

Sir James Jeans
I wasn't thinking about the type of massive detour 2020 has brought to both travel and life. Actually, more of dead end or derailment than a detour.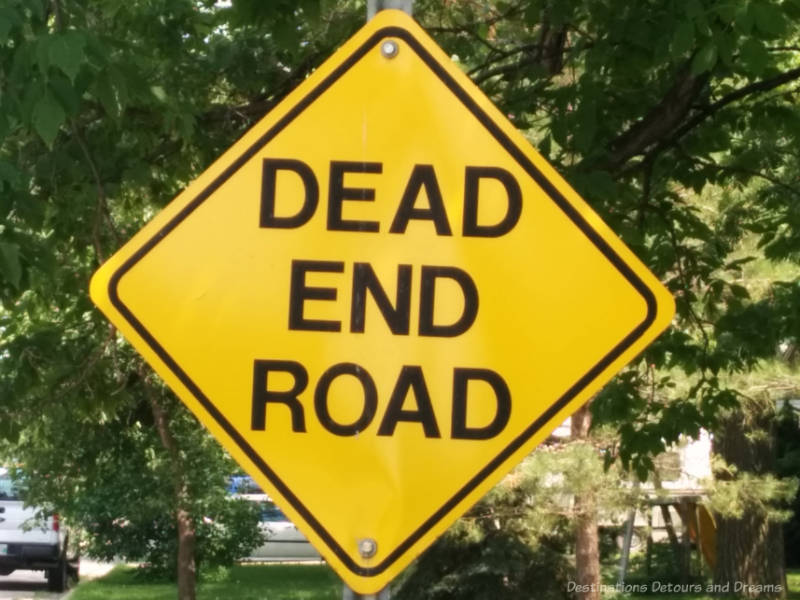 The only travel I did in 2020 was a cross-Canada road trip at the end of January to help my daughter and son-in-law move. While at home for the rest of the year and living with closures, restrictions, and pandemic safety concerns, I did very little of my usual home turf exploration. I missed travel and local exploration. Yet, I also felt glad and satisfied to be safely ensconced in my comfortable home. It will likely require a greater distance of time to look back and fully understand how 2020 has impacted our ideas and permanently changed our lives, but I've had several thoughts about travel percolate over the year.
Travel isn't essential
There are some who may argue this, but leisure travel isn't a necessity. I found I didn't miss traveling to far-off (and not-so-far-off) places as much as I thought I might. It felt right to be at home at this time. What I missed more was the everyday in-person connections with people, the ability to freely explore around me, going out without pre-planning and "an abundance of caution," the mingling, and the hugs.
I have at times in my life envied full-time travellers and digital nomads. People with no fixed address travelling the world. They live in their own RVs, housesit for others, or rent accommodations. However, even before the pandemic hit, I realized that, as appealing and exciting the nomadic lifestyle sometimes seems, I would probably not be comfortable with it. I need to balance away time with at-home time.
The first winter we spent at home after three snowbird winters in Arizona made me better appreciate the things we'd given up in exchange for the milder weather. The regular contact with friends and family, the continuity of conversations from one meeting to the next, the connection with the community. Of course, that has all been disrupted this year by the pandemic. And, of course, I may at some time once again trade it for a warmer winter, but with a better understanding of the trade-offs.
Even as I reluctantly admit travel isn't essential, I do look forward to travelling again. My first trips will be to see far-off family.
Pandemic or no pandemic, the rest of the world is nearer than it used to be
In spite of the anomaly of 2020's closed borders and grounded flights, it is much easier and quicker to travel to far-off places than it was for past generations. The Internet has brought the world into our own homes.
One of the hardest parts of 2020 for me was not getting to meet my new granddaughter in person. My daughter had her first child in early May of 2020. They live 2,300 kilometres away from me. Before the pandemic hit, my husband and I had planned to travel to see them shortly after the baby was born. There likely would have been at least one other trip during the year after that. But the pandemic and restrictions hit. I have not yet seen my granddaughter in person or held her in my arms. While I am slowly coming to terms with the fact I am unlikely to see her in person before her first birthday, I will not be a stranger when we finally do meet. We've connected with video chats. I've watched her grow and develop through the frequent photos and videos my daughter sends me.
Over the past couple of years, I have been slowly organizing assorted pieces of family history and family trees left to me by my mother. My grandparents were all born in Canada. It was their parents and a few older siblings who immigrated here. They were of German heritage, but living in areas ruled by Russia at the time of their emigration in the late 19th century. My pandemic experience made me wonder what it was like for my great-great-grandparents to say goodbye to their children and young grandchildren thinking they'd never seen them again and never meet their future grandchildren. As far as I know, they never did. There was no Internet chat or long-distance phone calls. Letters would have taken weeks to reach their destinations. The finality of that separation must have been heart-breaking. Did hope for a better life for their offspring make it bearable? Refugees struggling to escape dangerous situations are often still faced with this kind of separation today.
Travel is a privilege
It didn't take a pandemic for me to realize leisure travel is a privilege. Not everyone has the time, money, or health to travel. Even those who are fortunate enough to be able to travel may find themselves grounded for a while when one of those is temporarily in short supply.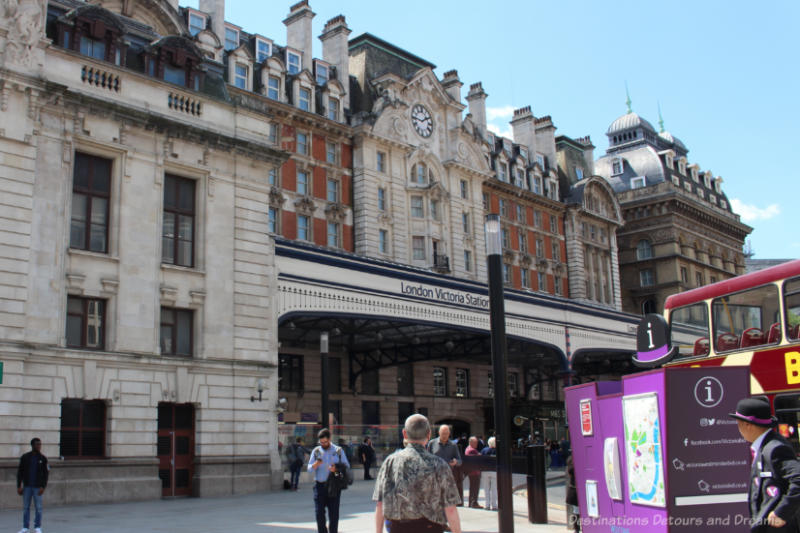 Some of us are fortunate to hold passports readily accepted by other countries and, as a result, have a greater freedom of movement than those with more restrictive passports. The closing of borders in 2020 has been a shock to those of us used to such freedom of movement. With few of us travelling because of the pandemic, the impact hasn't been felt as strongly as it might have been in other times. Imagine what it would be like to resume travel when the pandemic crisis is over (or mostly over) but with the current border restrictions and closures in place.
Travel is not everyone's dream and that's okay. Sometimes the greatest pleasures can be found close to home.
Those of us who like to travel and feel it adds to the quality of our lives sometimes have trouble comprehending there are people who don't care to travel, even when they have the means and ability to do so. I don't think this necessarily makes them narrow-minded, unreceptive to new ideas, or insular as some travel junkies might suggest. There are likely a variety of reason for their disinterest in travel. Perhaps one reason is that everything that really matters to them is close to home, which is a lovely situation to be in.
During the pandemic, I've envied those grandparents whose grandchildren lived in the same city as them. I know that lockdowns and safety concerns have meant many of those grandparents have also spent much of the year not seeing or hugging their grandchildren. But for many there have moments in between where there has been contact of some sort. Right now, a window visit or a distanced visit in a park sounds like a little bit of heaven.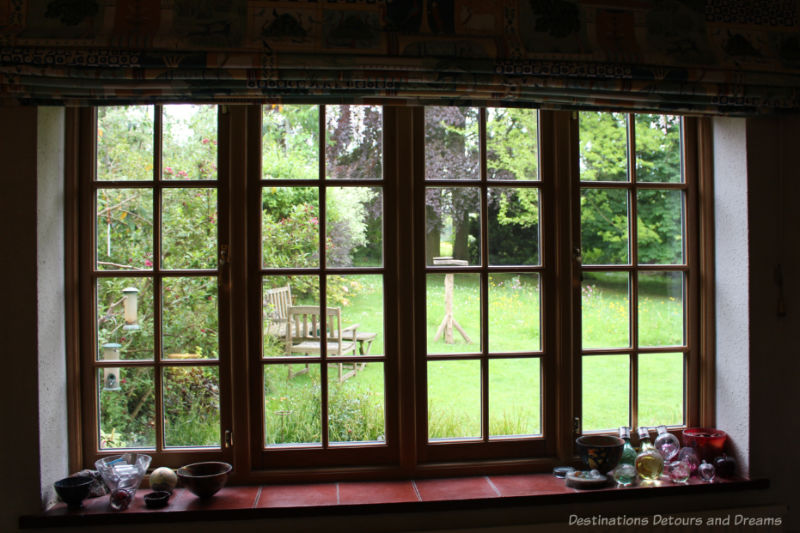 It will be so sweet to travel again
I keep reading that travel will be different in post-pandemic times. I've seen a variety of predictions about what we can expect, but they are just guesses, no matter how "expert" the person making the predictions. The travel industry has been hit hard by the pandemic. I wonder if the result of that and potential lower volumes for some time to come yet will make travel less accessible and more expensive.
The time we've spent "grounded" may have impacted priorities about travel. I've already said my first trip(s) will be to family, but I'm still figuring out how other priorities for travel may have changed. I think my choices will be a balance between going for it while I can and limiting myself to only that which matters most.
I remember the amazement of looking down at the clouds on my first airplane ride while still in my teens, the magic of my first whiff of Caribbean air, and the wonder of my first trip to England in my early twenties. One winter when my daughter and step-daughters were young, we spent a week in Jamaica. We took a bus from the airport to our resort. The bus was full of people going to various resorts in the area. As it pulled into our resort and we got ready to disembark, the excitement of the three girls amused the passengers staying on. "I didn't know we'd be staying someplace so nice," my stepdaughter said. We didn't make a habit of taking them to not-nice places, but this was their first time in the Caribbean and their first time in a resort like this. I suspect my first post-pandemic trips, be they far away or not-so-far away, will be full of that type of wonder and delight.
Never miss a story. Sign up for Destinations Detours and Dreams free monthly e-newsletter and receive behind-the-scenes information and sneak peeks ahead.
PIN IT