Vancouver Day Trip: Steveston, British Columbia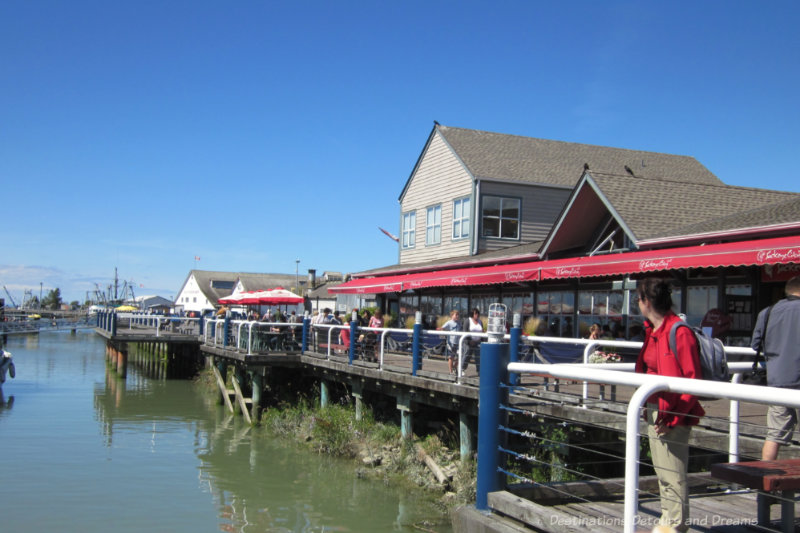 Historic sites, a lovely waterfront boardwalk, a bustling marina, unique shops, and fishing-village charm make Steveston a great day trip in Vancouver, British Columbia
Although Steveston Village is actually part of Richmond in Metropolitan Vancouver, British Columbia, Canada, the seaside community feels worlds away from the city.
Located on the southwestern shore of Richmond, Steveston has long been known for its commercial fishing. At the turn of the twentieth century, it was a bustling fishing centre and had fifteen canneries. Today it is a picturesque place with fishing-village charm, a boardwalk pier, historical sites, and inviting shops and restaurants. It makes for a great Vancouver area day trip.
The Waterfront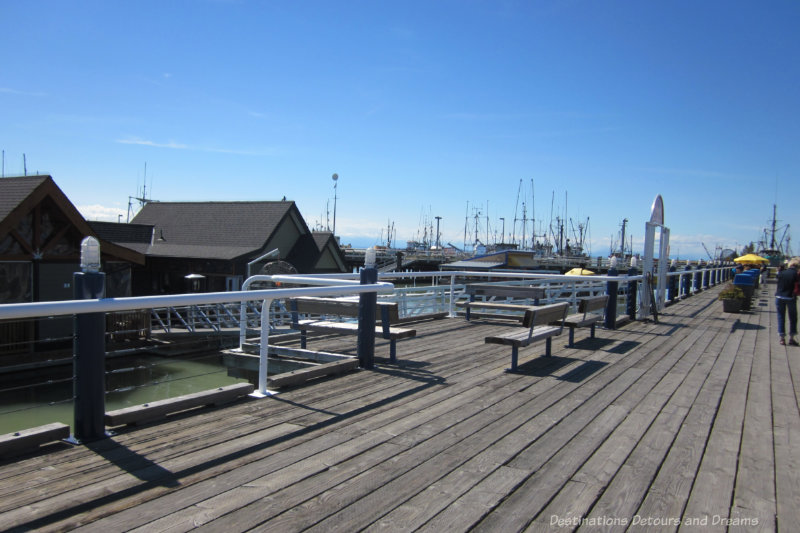 The waterfront boardwalk is a lovely place to stroll and watch the boats and the sea otters in the harbour. A number of restaurants border the waterfront. We had a leisurely lunch at one and soaked in the view.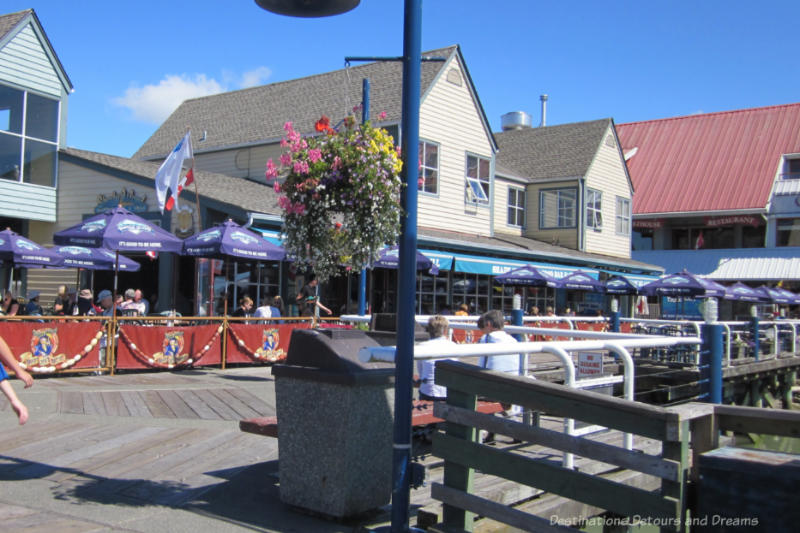 Fisherman's Wharf is located along the pier. Here you'll see the village's commercial fishing fleet, the largest in Canada. The catch of the day is unloaded here. Depending on the season, you can buy shrimp, Dungeness crab, sea urchin, spot prawns, and halibut.
Beyond Fisherman's Wharf at the southwestern tip of Steveston is Garry Point Park. The park offers spectacular vistas across the Salish Sea. It has a Japanese style memorial garden, beach access, and picnic areas.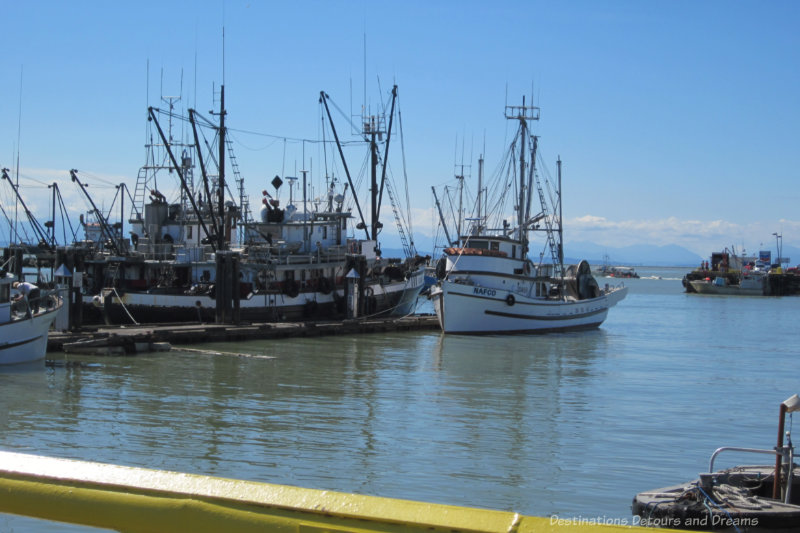 We chose to spend our day wandering through the village, but for those who might like to get out on the water, whale and sea lion watching tours are available.
Village Browsing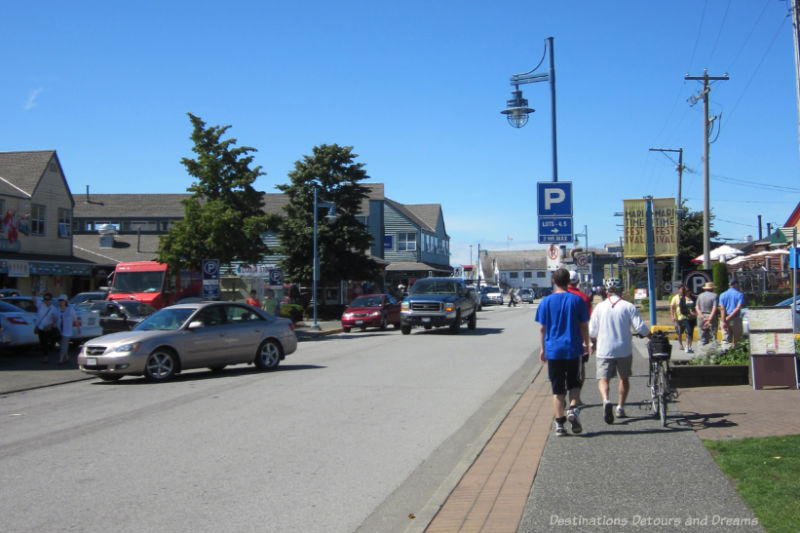 Shop-lined streets and an historic atmosphere make wandering and browsing through the village enjoyable. Shops offer a mix of handmade products for local artisans, fashion, and gifts.
Historic Sites
The history of Steveston centers around fishing. First Nations people set up camps here in summer to fish for salmon, sturgeon, and other fish. Fishing was also at the heart of European settlement here. Salmon canning began in the 1870s. Steveston was once the salmon capital of the world. There are several sites in the village where you can explore that history.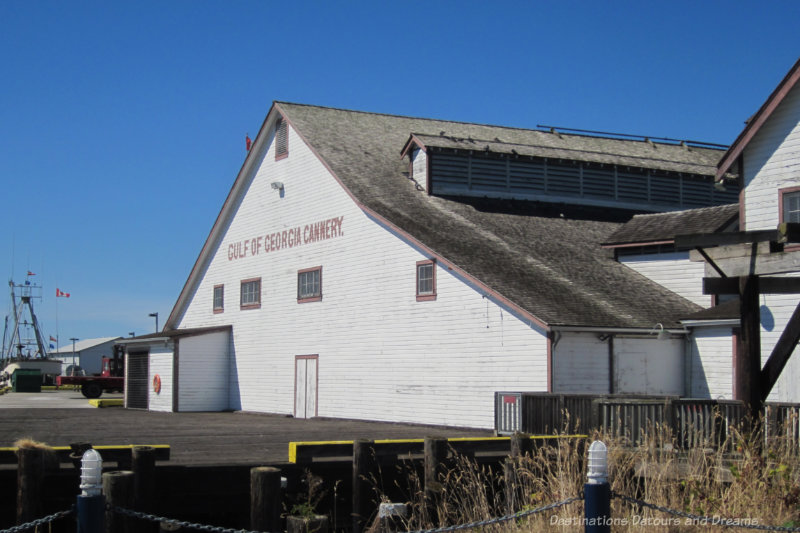 The Gulf of Georgia Cannery was once the largest of Steveston's 15 canneries and is now a museum and National Historic Site. Exhibits show the history of Canada's West Coast fishing industry.
The Britannia Shipyards National Historic Site, open to visitors during summer months, is an example of the type of village which once served the fishing industry. The buildings illustrate the industrial activities and living conditions of a typical Steveston cannery and shipyard in the early 1900s.
Housed in a building that had been the area's first bank in 1905 and surrounded by wooden boardwalks, Steveston Museum contains exhibits about life in Steveston Village.
This heritage self-guided walking tour explores the history of Steveston.
Movie Set
When my husband, daughter, and I first drove into Steveston in 2012, my then 24-year-old daughter thought the quaint town looked familiar.
"I bet a lot of movies and TV shows are shot here," she said.
She immediately looked that up on her phone and discovered that yes, indeed, many movies and TV shows had been filmed in Steveston. One of those shows was one of her current favourites: Once Upon A Time, in which Steveston became the fictional Storybrooke. As we strolled through town, we saw many sites used in the show. A sign in one shop window said it would be closed for a day the following week because of filming in the shop. Once Upon A Time's last season was in 2017, but you can still explore Steveston's Storybrooke locations with this information from Visit Richmond.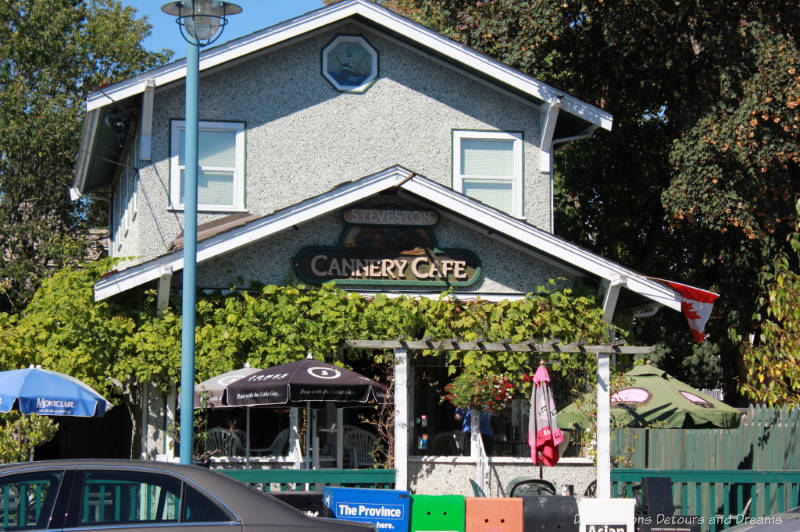 The Cannery Cafe, the setting for Granny's Cafe in Once Upon a Time, is one of the oldest buildings in Steveston. It was built before 1900 as a cookhouse for Lighthouse Cannery.
Before we left town on that 2012 visit, we purchased fresh halibut and red snapper which we cooked for dinner in our daughter's Vancouver apartment. We watched episodes of Once Upon A Time as we ate and looked for locations we recognized from the day's visit to Steveston.
Other television shows filmed in Steveston include The X-Files, Supernatural, The Arrow, DC's Legends of Tomorrow, Nancy Drew, and Home Before Dark. A few of the movies filmed here are Overboard, Power Rangers, and Deadpool.
Getting To Steveston
Turn south on No. 1 Road and proceed to the end. If you are travelling via public transport, take the SkyTrain's Canada Line from downtown Vancouver to Richmond-Brighouse Station and transfer to the #402 bus south to Steveston.
Never miss a story. Sign up for Destinations Detours and Dreams free monthly e-newsletter and receive behind-the-scenes information and sneak peeks ahead.
PIN IT