The Leaf Tropical Gardens In Winnipeg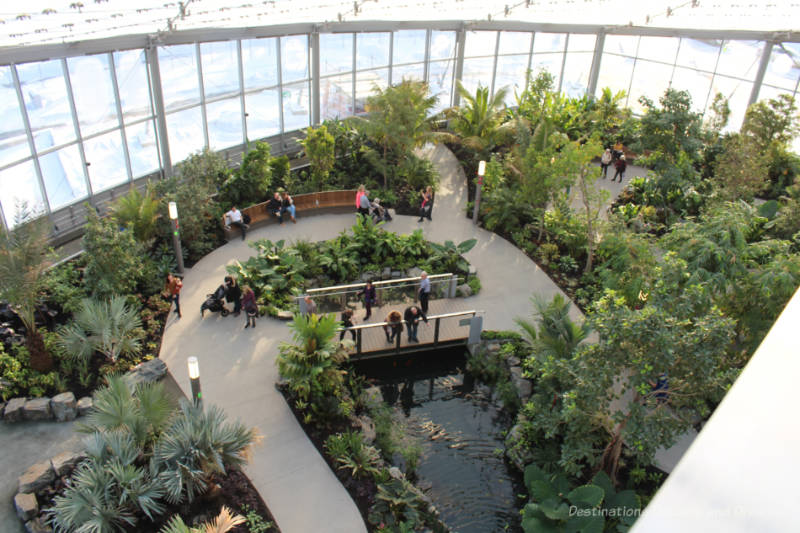 The Leaf in Winnipeg, Manitoba, Canada is a conservatory containing tropical and Mediterranean gardens as well as a butterfly garden
The stunning architecture of The Leaf, with its translucent roof unfurling around the conservatory like a blossoming flower, catches your eye. Inside the botanical sanctuary at Assiniboine Park in Winnipeg, Manitoba, Canada, you'll find four distinct biomes: the Hartley and Heather Richardson Tropical Biome, Mediterranean Biome, Babs Asper Display House, and the Shirley Richardson Butterfly Garden.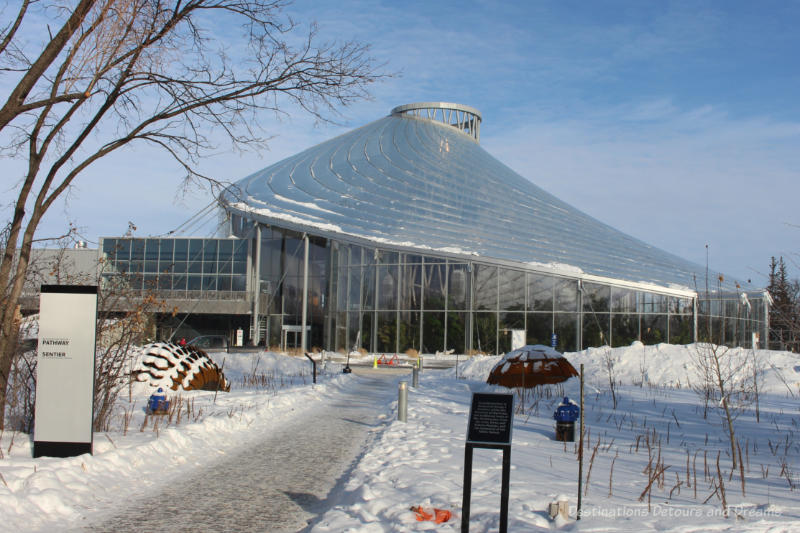 The much-awaited opening of the horticultural attraction occurred in December 2022. The opening, which people had been looking forward to for a while, would have generated a lot of interest regardless of when it happened, but an opening as winter began to set in made a visit to the tropical and Mediterranean biomes even more appealing. People flocked to see the new attraction.
Although I wasn't quite as wowed as I had expected to be given all the hype and publicity, I did find The Leaf impressive and worth visiting. I know I will make repeat visits.
Hartley and Heather Richardson Tropical Biome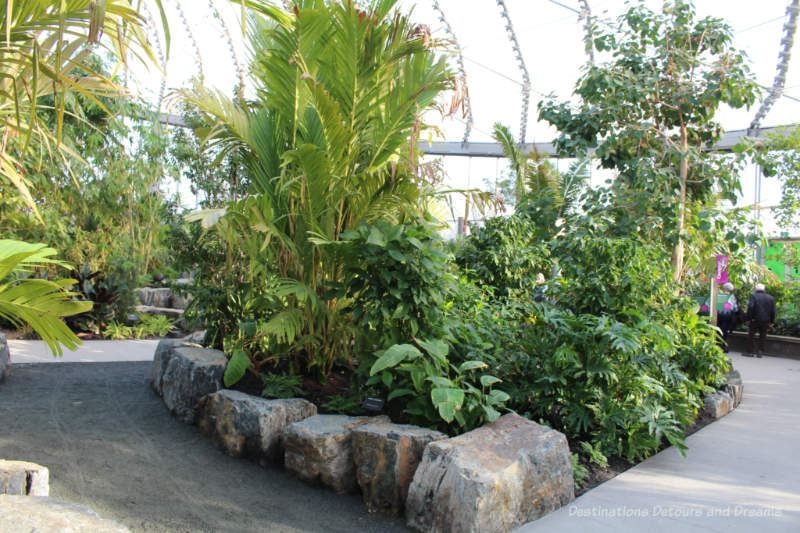 The first biome you encounter when you enter is the tropical biome. It is the largest part of The Leaf. The humidity hits you at once. Your glasses (and camera lens) may fog up. Plants and trees you'll find in the lush rainforest-like area include coffee, cacoa, coconut palm, ginger, bamboo, ferns, plants you may know as house plants, and plants you may never have heard of, never mind have seen, before.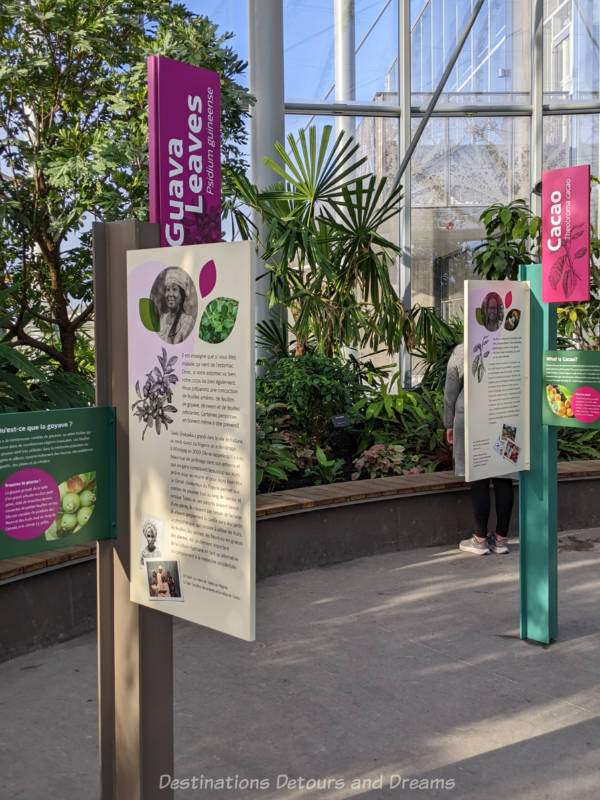 Small signs in the ground in front of the plants identify them. Larger poster-sized signage features information about selected plants. Information includes their native habitats, growing habits, how they are used, and challenges for visitors to spot the plants at The Leaf. Mamey, sugar cane, guave, and yucca were a few of the plants I saw highlighted.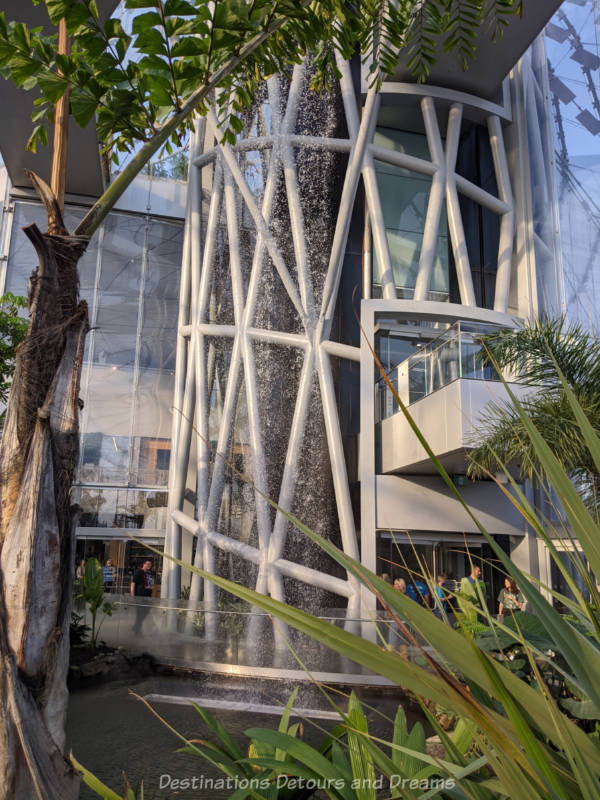 Paths meander through the biome and include spaces to sit. As I wandered through, I occasionally caught whiffs of subtle sweet scents. Unfortunately, I was never able to pinpoint exactly which plant they came from. Perhaps, it was more a combination of the grouping of plants.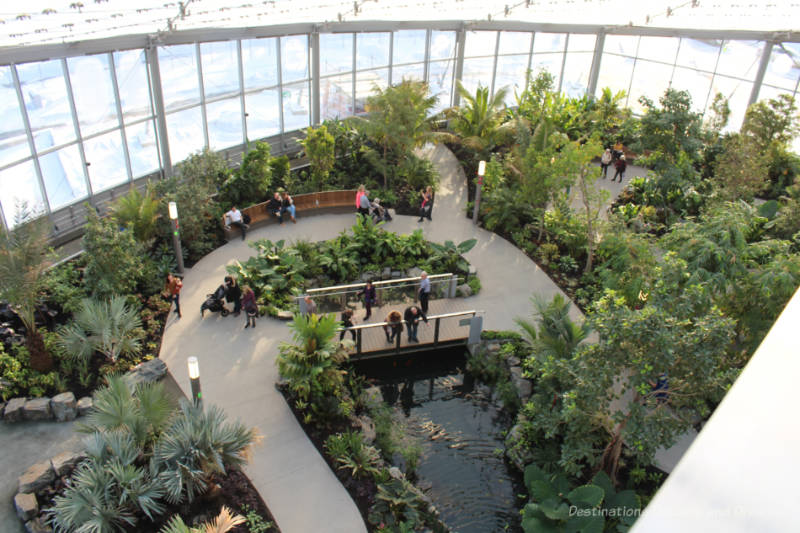 Mediterranean Biome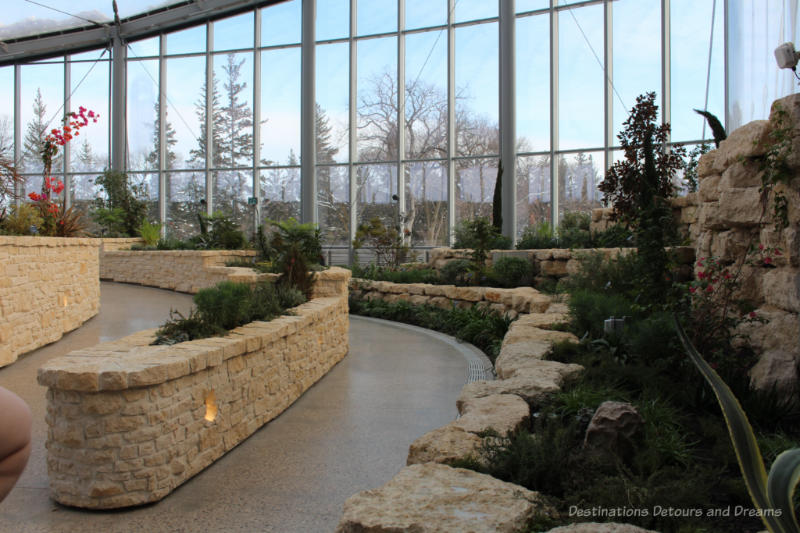 Stone-lined terraced planters in the Mediterranean Biome contain a variety of herbs, grasses, shrubs, and trees native to the Mediterranean climatic zone. A few of the plants you'll see include magnolia, yucca, cardamom, and jasmine.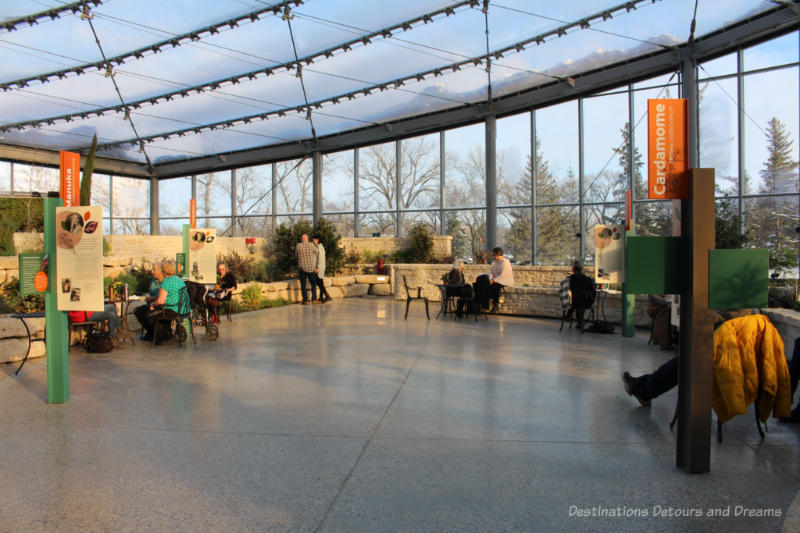 Barb Asper Display House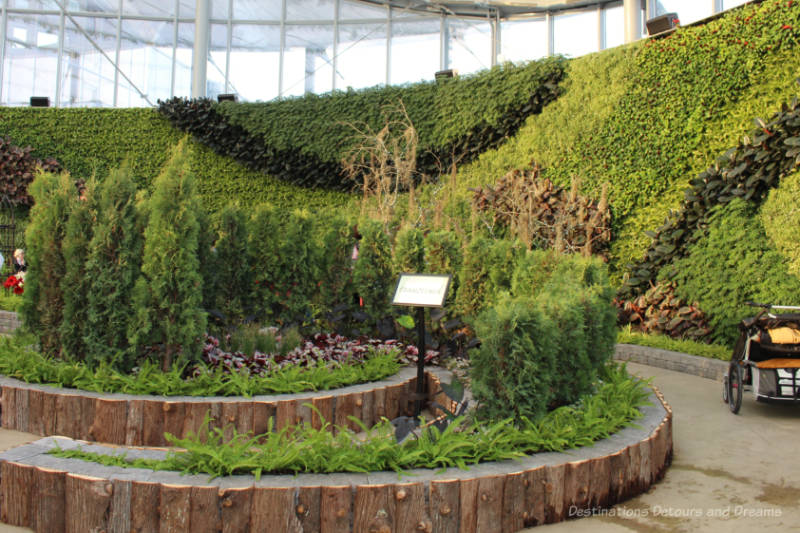 The Babs Asper Display House contains floral displays that will change four to five times per year, exploring seasonal and global themes.
It was here that I experienced my Wow moment. I loved the wall of plants.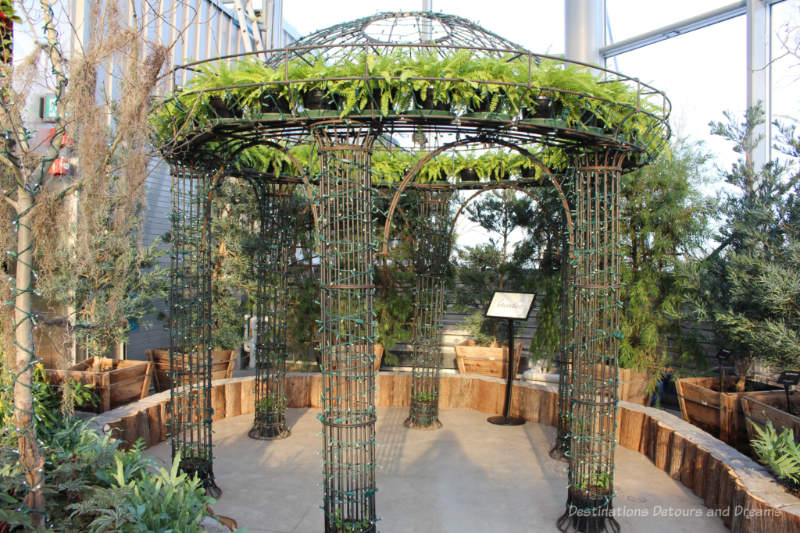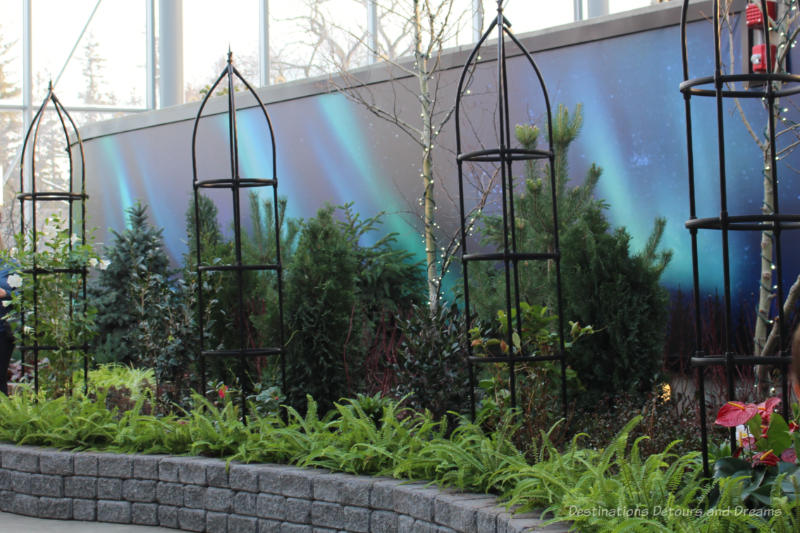 Shirley Richardson Butterfly Garden
You take an elevator six stories up to get to the Shirley Richardson Butterfly Garden. Here, butterflies flitting among tropical plants are likely to bring smiles to faces. In addition to the plants and butterflies, you'll find information on the butterfly life cycle and butterfly pupae behind a glass window.
The Shirley Richardson Butterfly Garden used to be a seasonal exhibit (late spring to early fall) in Quonsets in Assiniboine Park Zoo. Although the garden in The Leaf is a smaller space than the former seasonal exhibit, it will be open year-round.
I wasn't quick enough to catch any butterflies mid-air with my camera, but here are a few other photos I did get.
Tip: Butterflies are more active when it is sunny and in the mornings.
Gather Craft Kitchen & Bar
Gather Craft Kitchen & Bar is located inside The Leaf building but outside of the ticketed garden area. The restaurant, open daily from 11 a.m. to 11 p.m., features globally-inspired dishes made with locally-sourced ingredients and inventive, botanical cocktails. The restaurant is very popular. Reservations may be required. I have not yet had the opportunity to eat here myself.
Visiting The Leaf
Although tickets can be purchased at the gate, The Leaf encourages the purchase of tickets online in advance because of capacity limitations. Hang onto your ticket once you enter the biomes because it will be scanned again upon exit as part of capacity control. If you wish to exit temporarily to grab a coffee or visit the toilet, staff will stamp your hand so you can reenter. There are spots to sit and relax in the biomes (particularly the Mediterranean biome), but the coffee shop is located in the main lobby area outside of the ticketed area. You can purchase a coffee there and bring it into the ticketed area.
It is hot and humid. Dress appropriately. There is a coatroom adjacent to the lobby where you can store your jackets, but if you are wearing heavy winter pants and sweaters under that, you will be still feel too warm. I wished I had been in a sleeveless sundress and sandals.
There is a coffee bar in the lobby area, but very little seating area, and a small gift shop. There is a free parking lot. Pathways inside The Leaf are wheelchair accessible. A limited number of wheelchairs are available to rent.
Some of the plantings are still quite young. It will be interesting to visit over the years and see these grow. The space outside The Leaf contains beautiful outdoor gardens. Read my post about the Gardens At The Leaf.
Visit The Leaf website for more information and tickets.
Never miss a story. Sign up for Destinations Detours and Dreams free monthly e-newsletter and receive behind-the-scenes information and sneak peeks ahead.
PIN IT