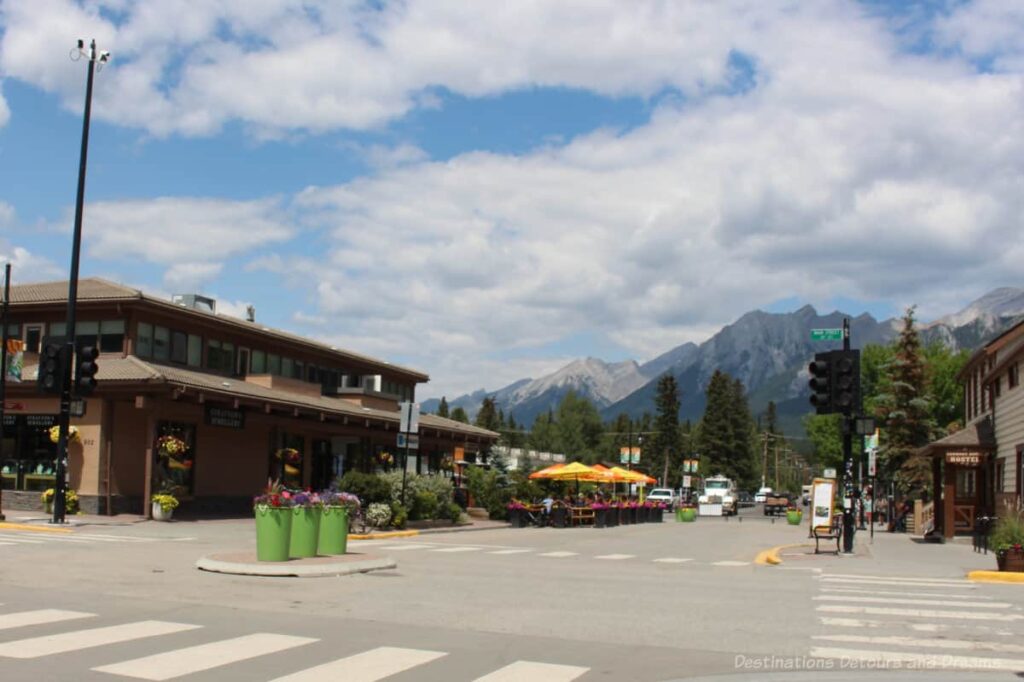 About Canmore, Alberta, Canada—a scenic, mountain resort town
Canmore, Alberta, Canada is a scenic, year-round resort town. Nestled in the Bow River Valley in the Canadian Rockies and surrounded by mountains, it sits off just off Highway Number 1 about 81 kilometres (50 miles) west of Calgary. Although popular with tourists, it is generally a little quieter and less busy than nearby Banff, which is about 22 kilometers (12 miles) away.
I'd visited the town once years ago on a day trip and had a pleasant time wandering through the downtown. In the summer of 2023, I had the opportunity to spend a few days in the town. When I told people I was going to Canmore, a typical reaction was "I love Canmore" or "That is one of my favourite places."
Because the main purpose of my trip was a family wedding and because a minor knee injury limited activity somewhat, I didn't explore Canmore as extensively as I might have in other circumstances, but I saw enough to understand the appeal.
(Note for those of you interested in statistics: Canmore has 13,077 permanent residents and 3,890 non-permanent residents according to Tourism Canmore Kananaskis 2023. In 2021, it received just over five million visitors.)
Scenery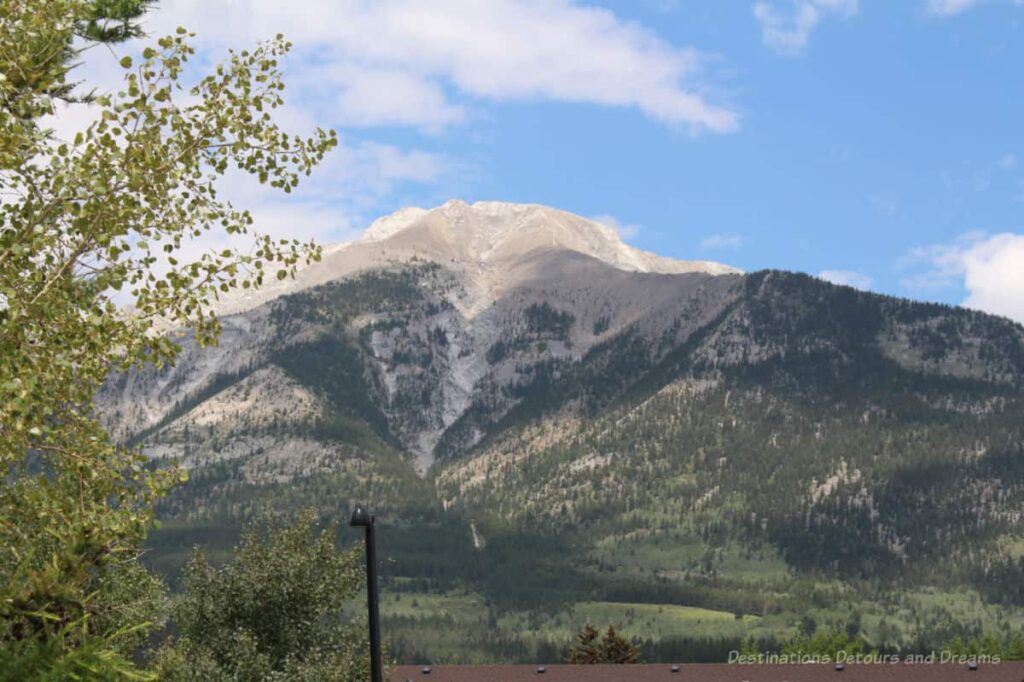 Canmore is a beautiful mountain town. You are surrounded by spectacular vistas everywhere you go. In my opinion, the scenery is Canmore's greatest asset.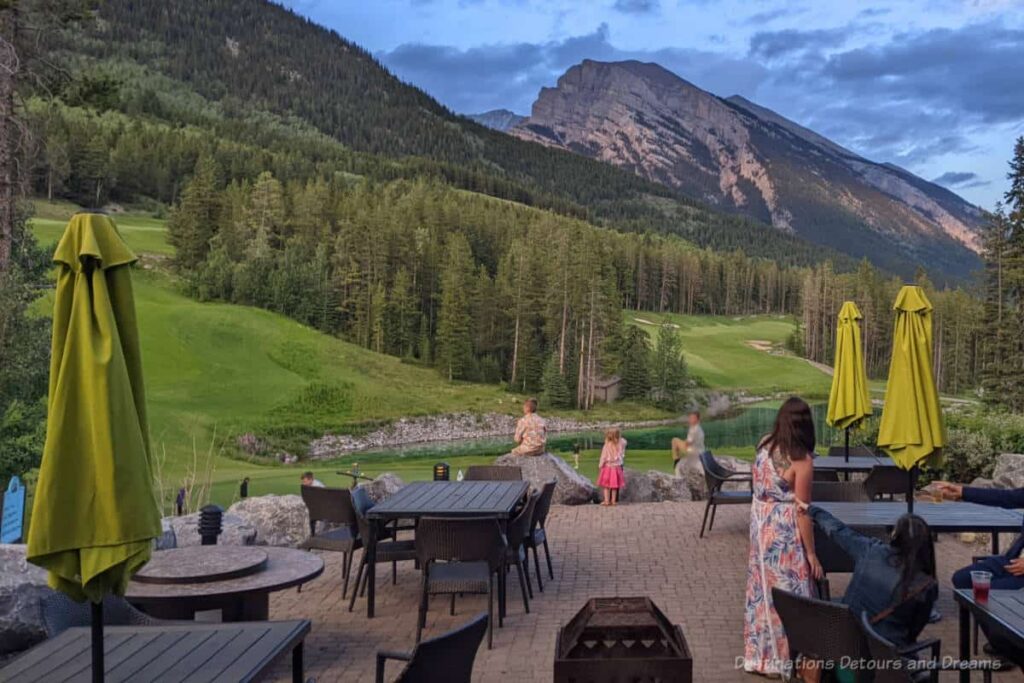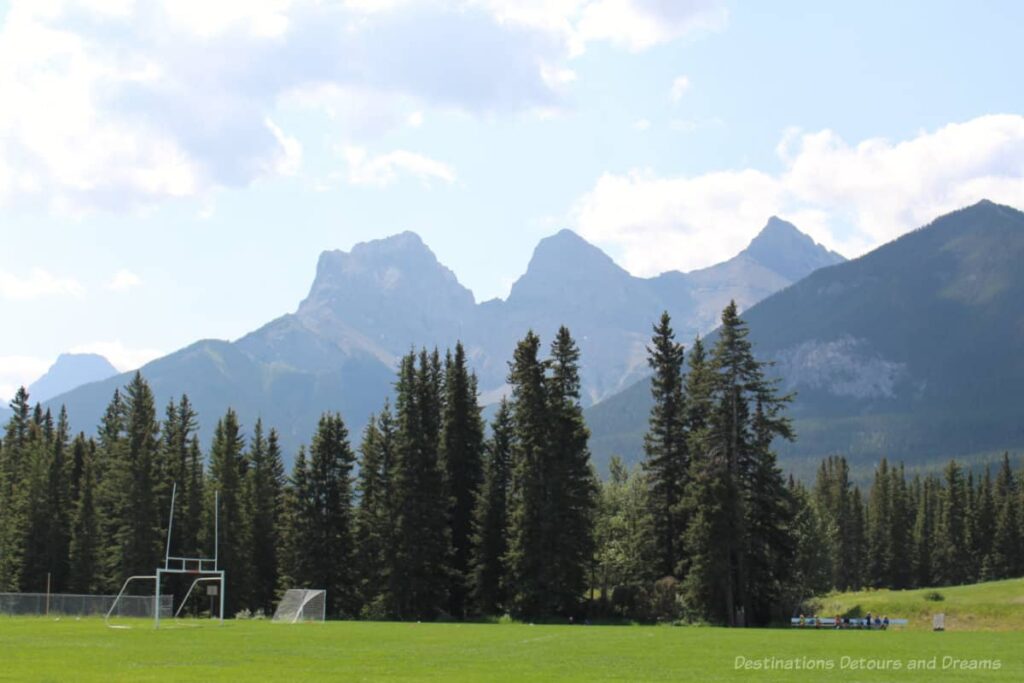 The Three Sisters may be the town's most recognizable peaks. Named the Three Nuns in 1883 by Albert Rogers after a storm left heavy snow on their northern faces, there were renamed to the Three Sisters in 1886 by geologist George Dawson. Individually they are known as Big Sister, Middle Sister, and Little Sister—or Faith, Hope, and Charity. The peaks are also referred to as the three sisters in the traditional language of the Îyârhe Nakoda (Stoney), but in that case the name refers to the story of Ĩ-ktomnĩ, the old man or trickster who would promise three sisters in marriage whenever he was in trouble.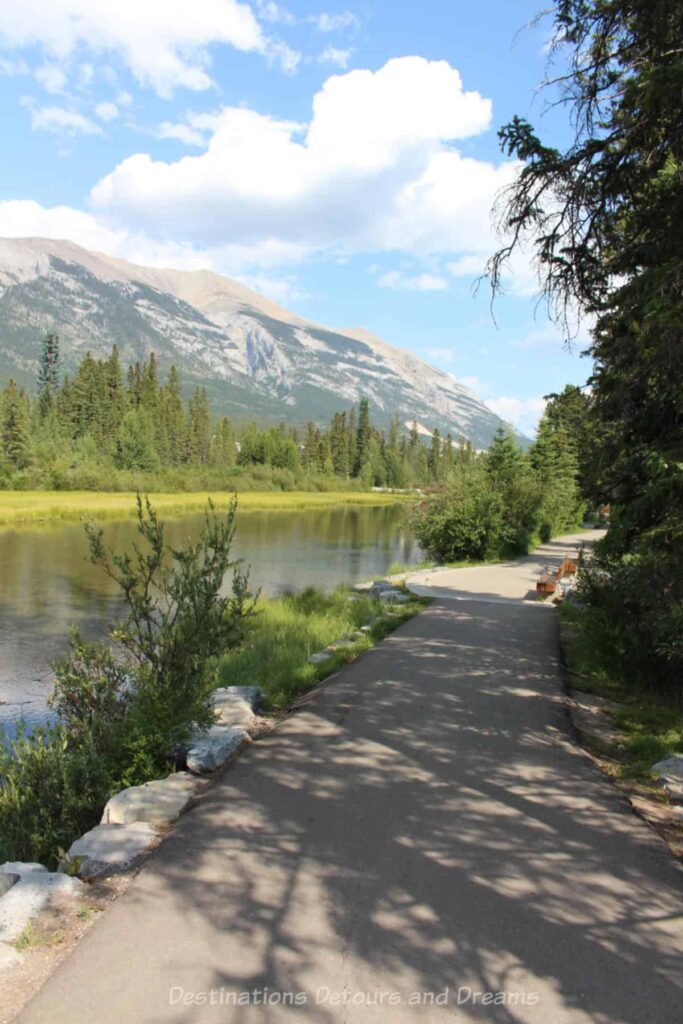 Outdoor Adventure
While I could be quite content just sitting somewhere and taking in the view, there are plenty of opportunities for outdoor adventure for those who wish to get more active in the mountains, lakes, and forests around Canmore. In the summer there is hiking, biking, fishing, rafting and canoeing. Quarry Lake, built around a reclaimed mining quarry, is a swimmable lake fed by an underground mountain spring popular with locals and visitors. There are lovely walking and biking trails through the town itself. In the winter there is downhill skilling, snowboarding, and cross-country skiing. See Tourism Canmore Kananaskis.
With my knee injury I didn't do as much walking as I might otherwise have done, which is a shame because there are lovely walking paths throughout town and many hiking trails around Canmore, although, even at the best of times, I would be unlikely to tackle anything but an easy hike. My nephews, who love to hike in the Canmore area, have agreed to let me share their favourite hikes.
Grassi Lakes Trail, located five minutes from town, is a very quick loop trail or out and back (choose your own adventure) with beautiful lake and waterfall views. Rating: Easy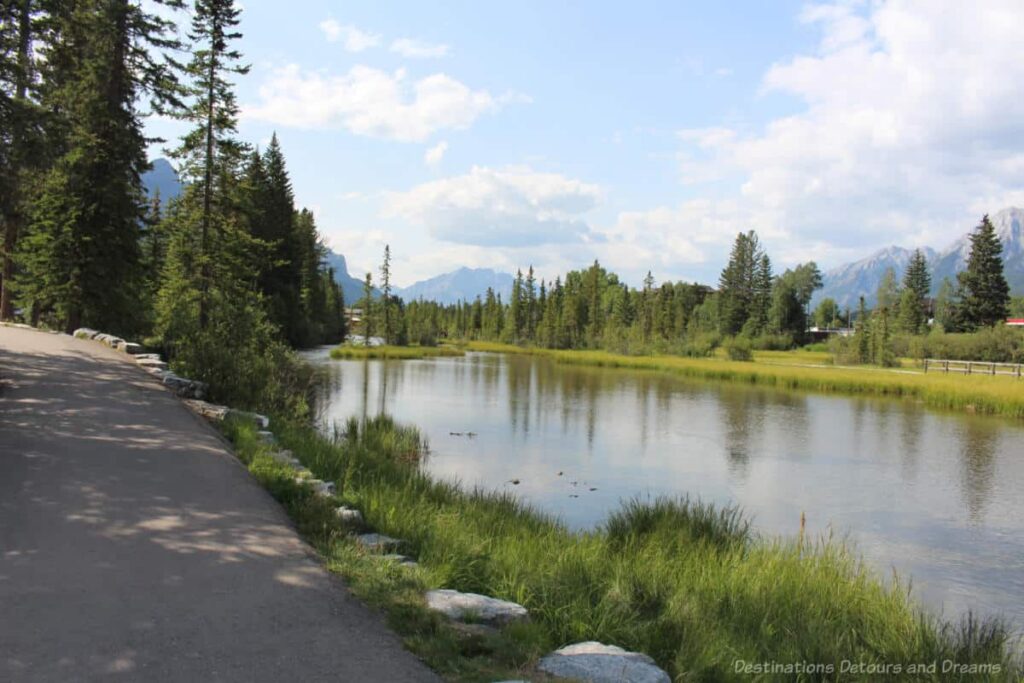 Policeman's Creek's Boardwalk is a flat boardwalk trail that allows you to loop to town, back to the main streets, and accommodations while enjoying the water and streams stemming from the Bow River. My nephews say it is best enjoyed with a nice coffee from town. Rating: Easy (This would have been my first choice if I hadn't been dealing with a sore knee.)
Ha Ling Peak is a Canmore classic hike that is well groomed and heavily trafficked. Switchbacks take you to the peak with a spectacular view of the entire town of Canmore. Rating: Moderate
Sentinel Pass offers views of Moraine Lake before moderately steep switchbacks take you up to the famous Sentinel Pass Larch Valley with surrounding ridgelines. Rating: Moderate
Tent Ridge, which offers panoramic views of the Kananaskis Range from a picturesque large ridge, is my nephews' favourite hike so far. Rating: Difficult
A little farther from Canmore, the trails at Lake Louise allow you to start easy and then go as difficult as you choose. The easy hike around the lake and glacier trail is great for a quick flat hike. The moderate switchbacks of Lake Agnes Trail take you up to the tea house and give you fantastic views of Lake Agnes. If you wish to go further you can head up to the big beehive for fabulous views of Lake Louise. If you still have energy, you can continue on to the scramble of Devil's Thumb (will require you to use hands and feet and climb a few steep rocks) to reach the highest point in Lake Louise for fantastic views. Ensure you leave enough time to make it back down!
Canmore Downtown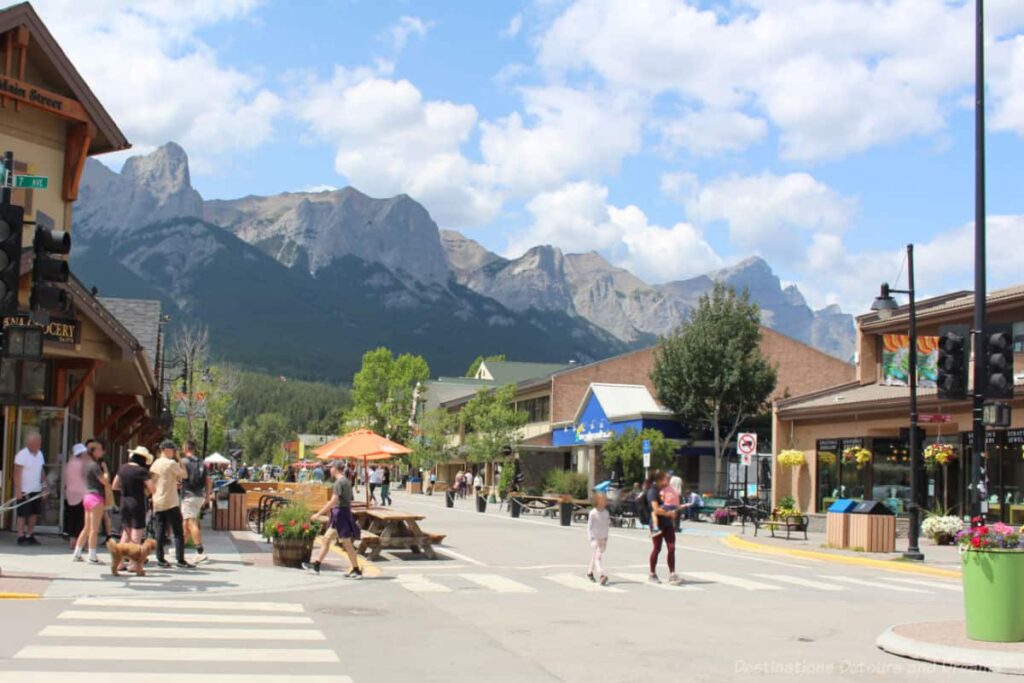 Canmore's compact downtown contains unique shops and eateries. In the summer, 8th Street (Main Street) is blocked to vehicular traffic (open for pedestrians and cyclists) between 6th and 8th Avenues. You'll find café patios spilling into the street. Check out the shops on 8th Street and the few blocks around it. (I did manage to walk and browse a bit here, even with my sore knee, and it was a delightful time.) Once again, you have views of the mountains.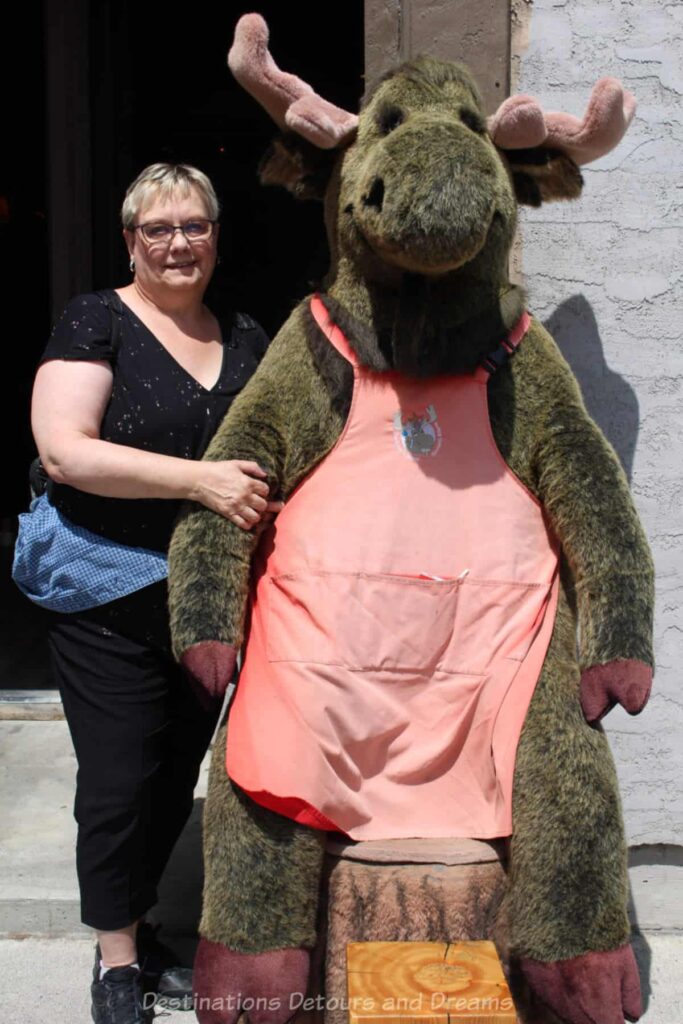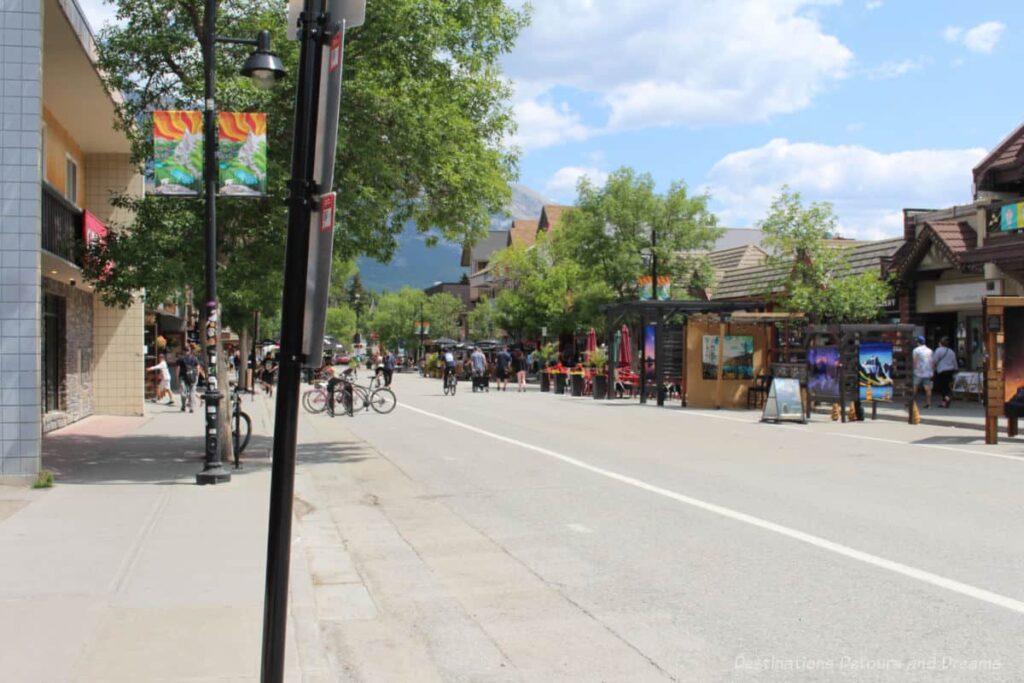 Paid parking is available on side streets and in public parking lots. You will find free handicapped parking for handicapped permit holders on the street right at the edge of pedestria- only zone and in those lots.
Art
You will find a variety of art galleries along Main Street and in nearby Spring Creek Mountain Village. You can also find a variety of public art pieces throughout town.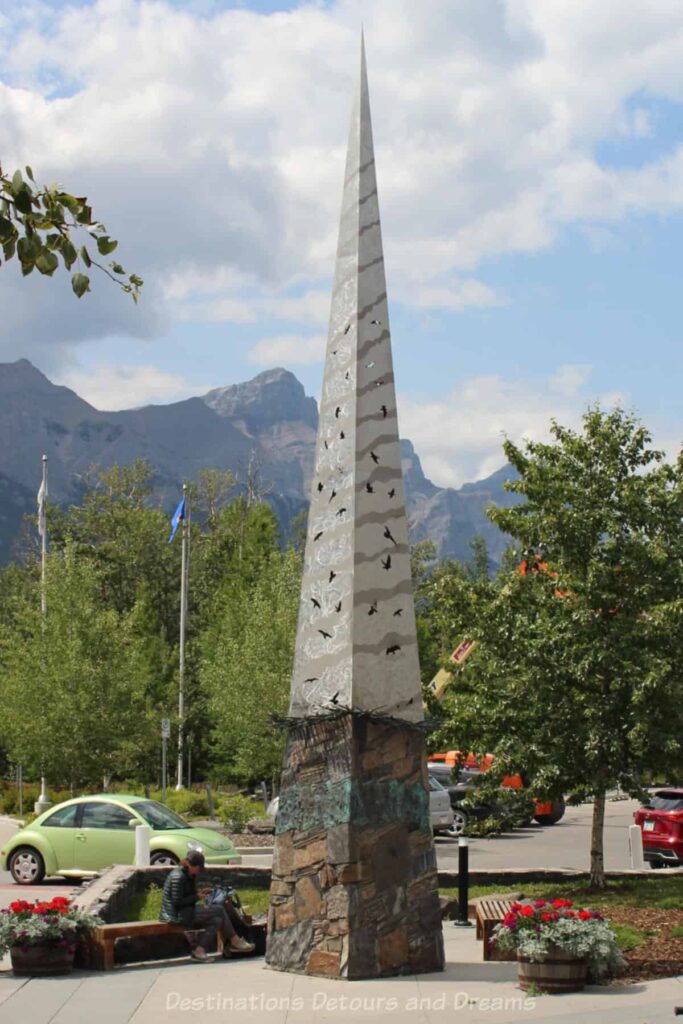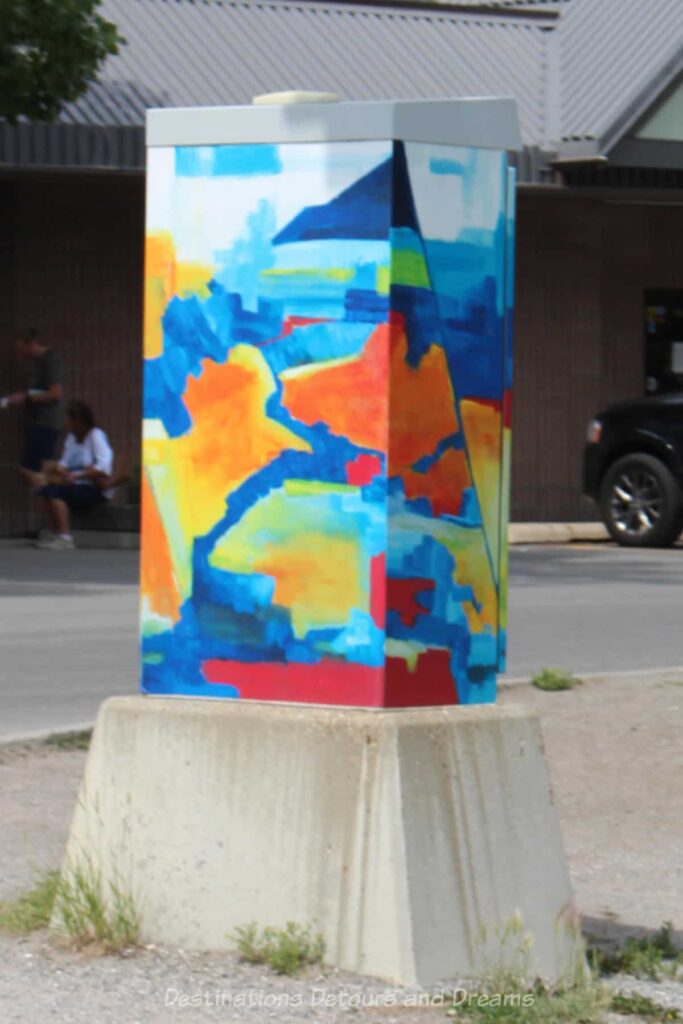 The Town of Canmore has created this interactive map tour of public art in Canmore. It includes information about utility box art.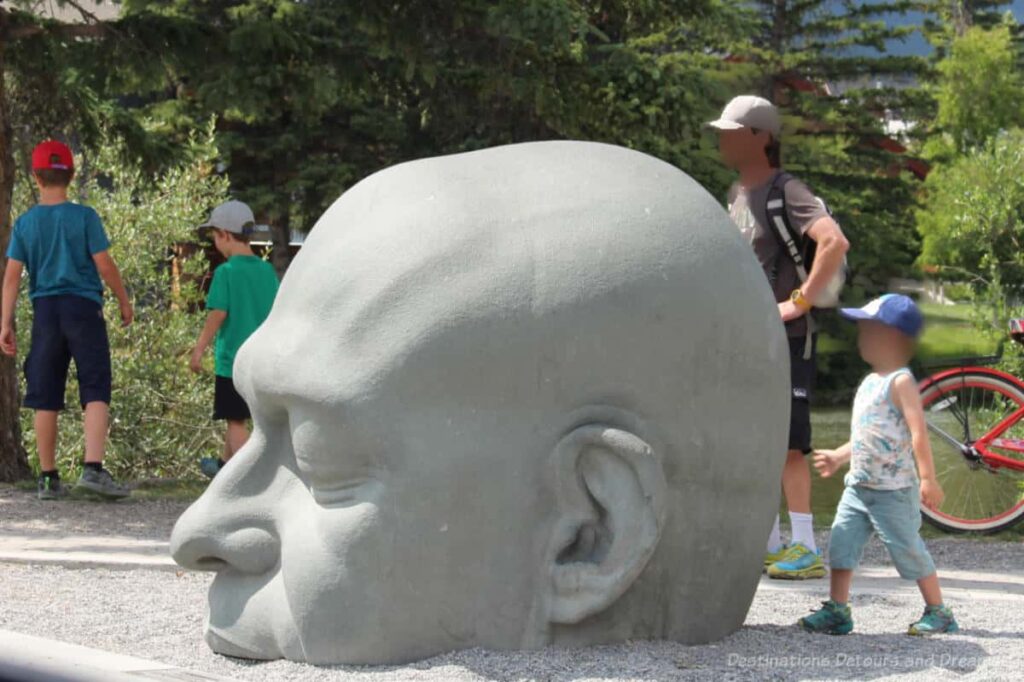 Ceannmõre (Big Head) by Alan Henderson may be the piece of public most associated with Canmore. It sits next to Policeman's Creek Bridge on Main Street. The town of Canmore was named after an early king of Scotland, Malcolm who became known as Malcolm Canmore, from the Gaelic ceanmor, meaning "Great Head" or "Chief."
History
Indigenous peoples hunted bison in the Bow Valley prior to the arrival of Europeans, as far back as 8,000 years ago per archaeological evidence. The town of Canmore was established in 1884 as a coal-mining town serving the Canadian Pacific Railway.
Canmore Museum in downtown Canmore has a permanent exhibit about coal mining in Canmore and features rotating temporary exhibits.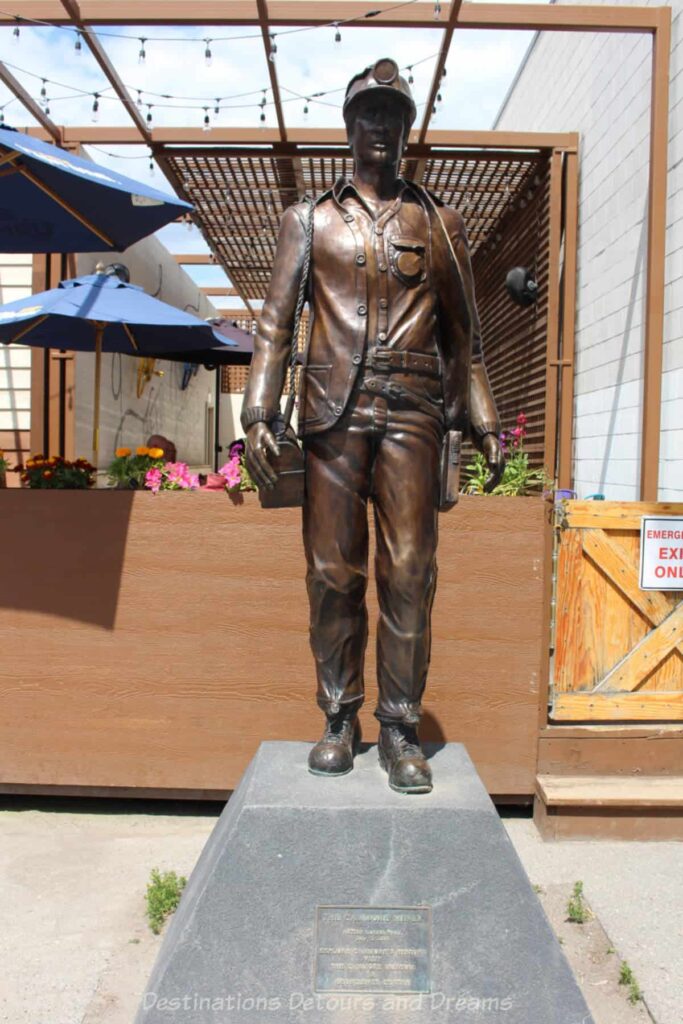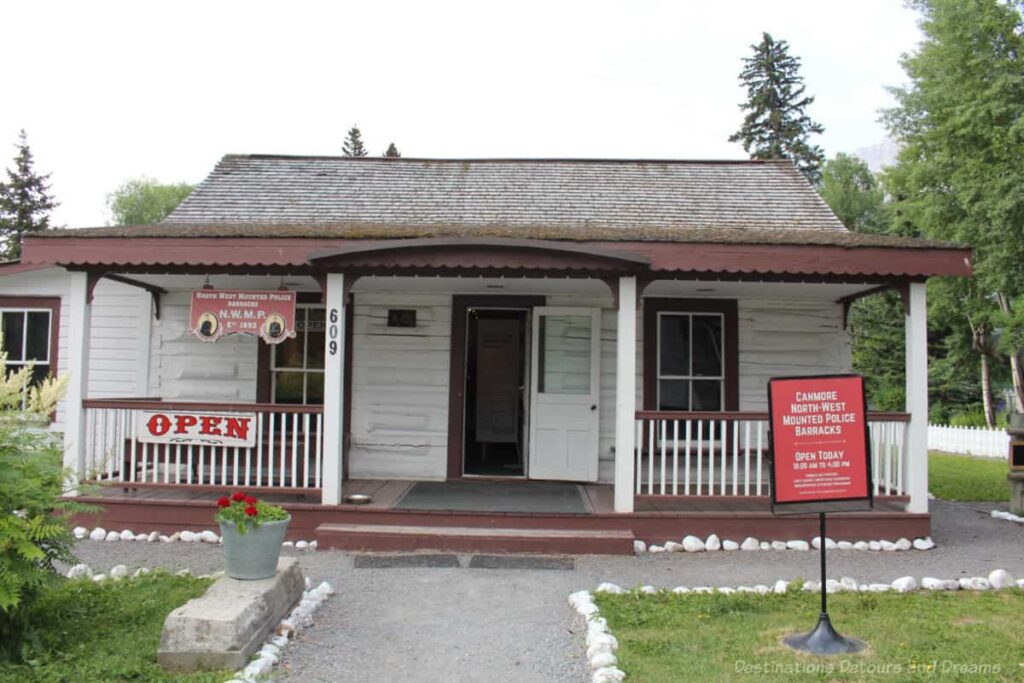 The Canmore NWMP Barracks Provincial Historic Site is operated seasonally. The Barracks was built in 1893 for a one-man or two-man detachment of the North-West Mounted Police. Their duties included patrols, checking trains for illegal liquor, and maintaining law and order. It was in operation until 1929. The Canmore NWMP Barracks is one of the oldest surviving North-West Mounted Police buildings in Alberta.
On the Canmore Museum site, you'll find this page with a map to historic sites in Canmore.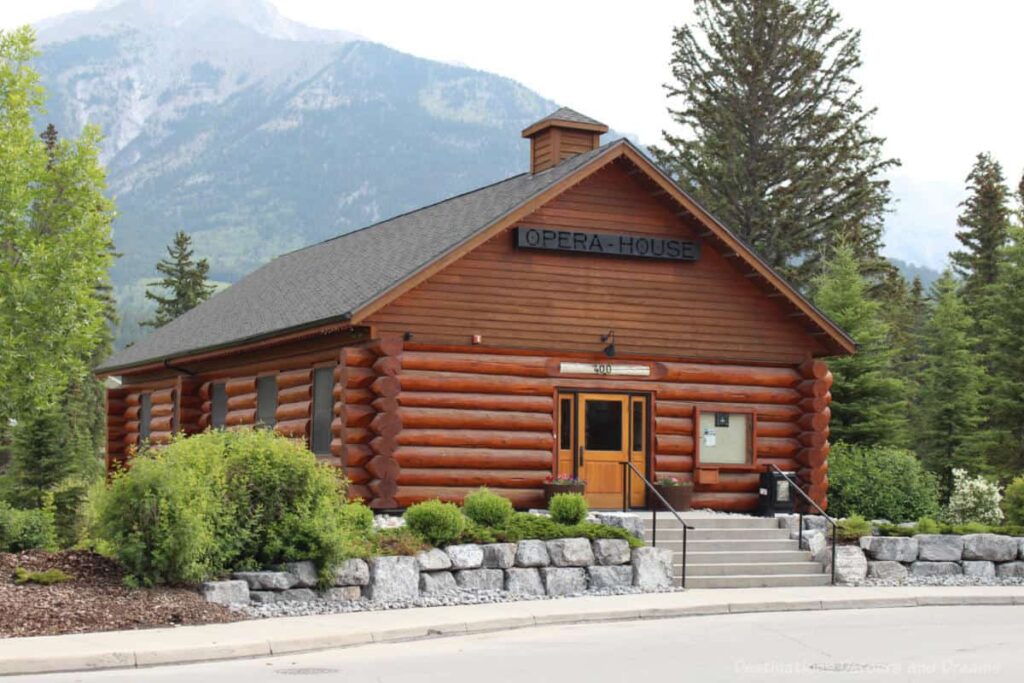 At Spring Creek, a replica version of the original Canmore Opera House is available for bookings and special events. During its heyday in the early 1900s, the Canmore Opera House was one of the town's most important gathering places. It was the world's only log opera house. Today that original log opera house, newly renovated, is in Calgary's Heritage Park. It can also be booked for special events.
When Calgary hosted the 1988 Winter Olympic Games, Canmore was selected to host the cross-country and biathlon events. Since then, Canmore has become a popular destination for outdoor enthusiasts.
Accommodation
There are a number of options for staying in Canmore, including hotels, lodges, B&Bs, and hostels, but be advised accommodations are generally expensive. There are several hotel condo resorts offering one, two, or three bedroom suites with full kitchens. There is usually a resort fee. Some suites are owned by private investors, who may rent out the suite through Airbnb, sometimes at a cheaper rate. Although Canmore has strict rules about what types of units in which locations can be offered as short-term rentals, you can often find other Airbnb options. There are also some RV parks and campgrounds.
We stayed at the luxury Malcolm Hotel, a lovely hotel in a great location. You can read my review here.
Dining
As is fitting for a resort town, there are many types of dining options. My time in Canmore was short. I don't have enough experience with its dining scene to offer any sort of comprehensive or "best of" list. What I can say is that we had a great, casual dinner at the Stirling Lounge in The Malcolm Hotel, a satisfying breakfast buffet in the Stirling Dining Room, a lovely leisurely German meal at Das Schnitzelhaus, and a delicious brunch with a bit of Mexican influence at the Summit Café.
This and That
Wedding Destination
We were not the only people in town for a wedding. Canmore is a wedding destination. The wedding we attended was at the Silvertip Resort, but there were also weddings at our hotel each of the three days we were there. And this was mid-week!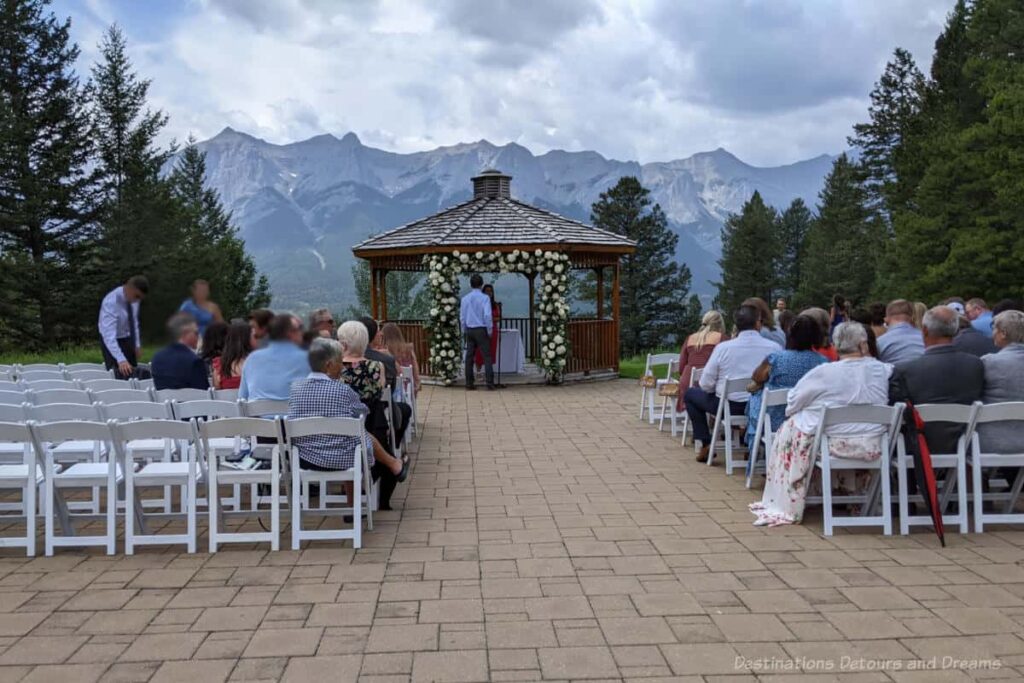 Elevation Place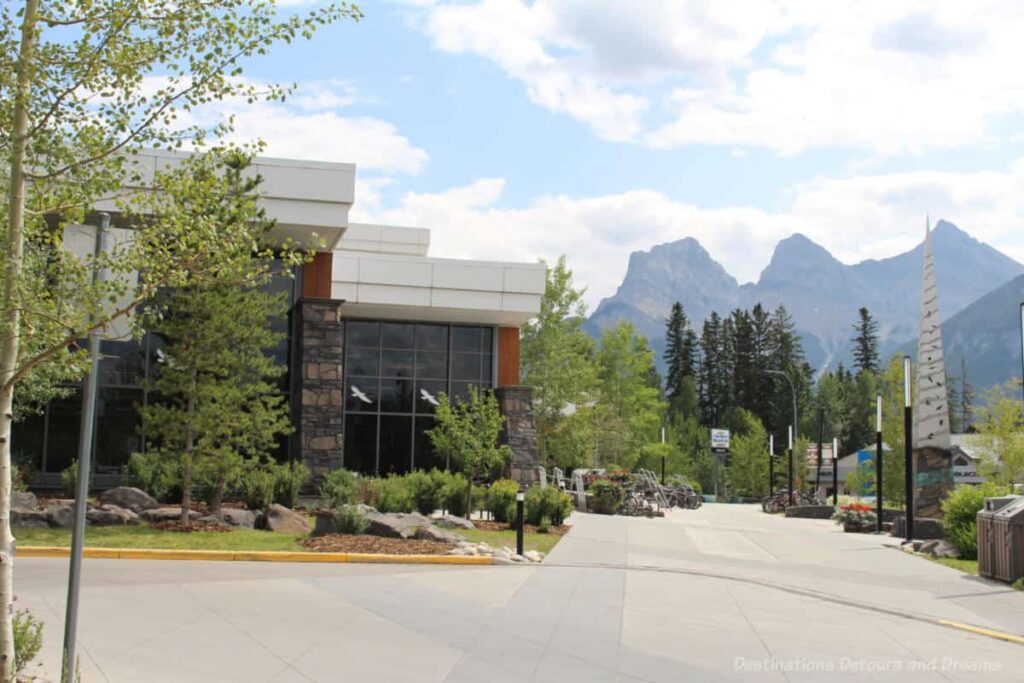 Elevation Place is Canmore's new recreation centre. Inside you'll find the library, an art gallery, a fitness, centre, a climbing area, and an aquatic centre. You can park here and walk to downtown.
Getting Around
The central area of Canmore is very walkable. Biking is a great way to get around the entire town. There are a number of bike rental companies. To go beyond the central part of town or into the mountains and hiking areas, you'll need a car. There is a local transit bus system with free fares. See the schedule.
Scenery
I am going to end the post the way I started it, with more about the scenery.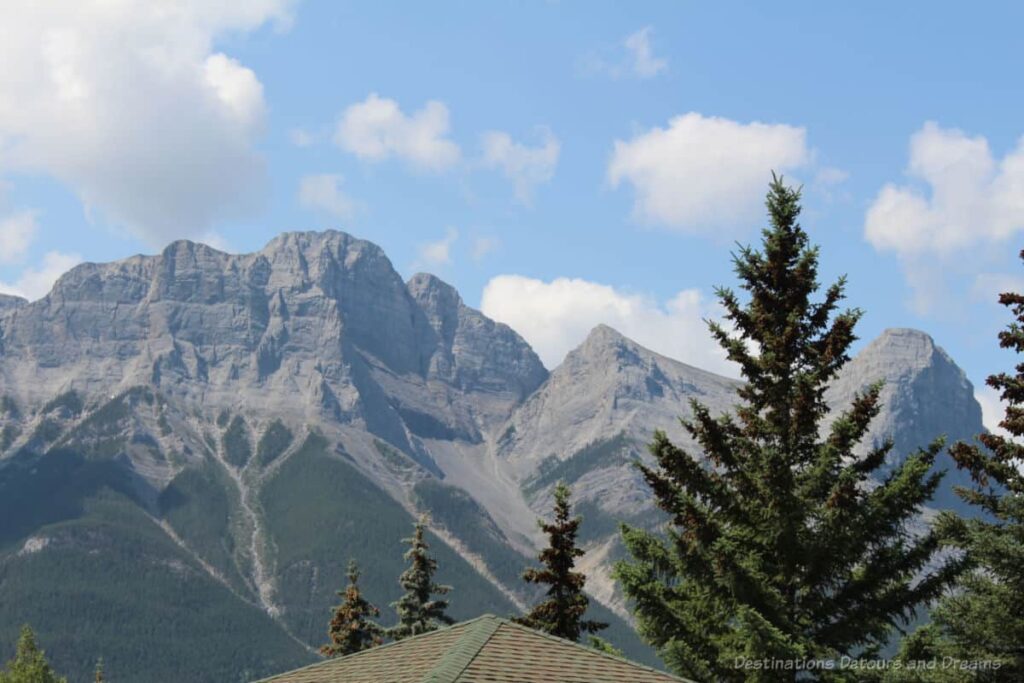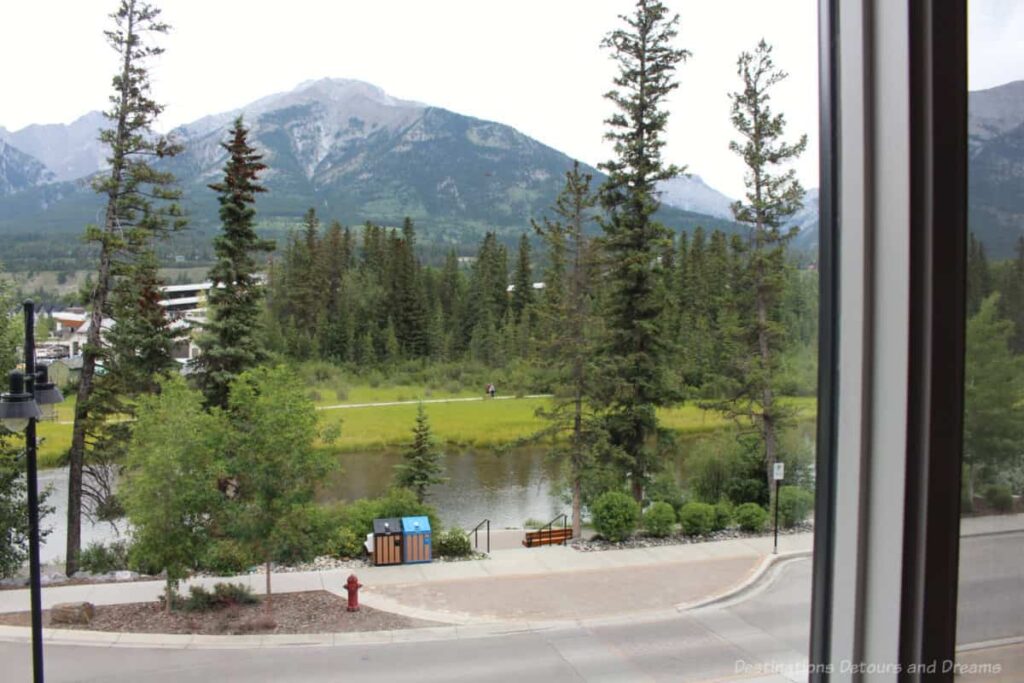 Never miss a story. Sign up for Destinations Detours and Dreams free monthly e-newsletter and receive behind-the-scenes information and sneak peeks ahead.
PIN IT