Ten Things To Do In Moose Jaw, Saskatchewan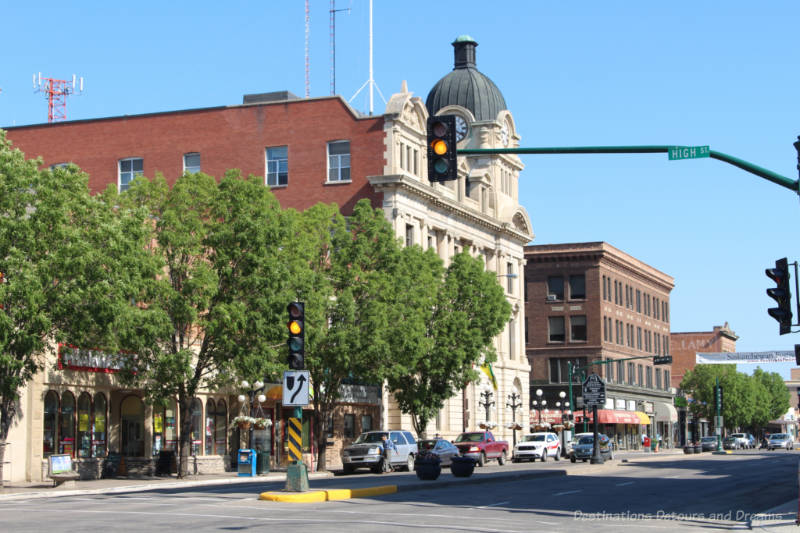 Attractions and things to do in Moose Jaw, Saskatchewan, Canada
Located in south-central Saskatchewan along the Trans-Canada Highway, the city of Moose Jaw is the fourth largest city in the province with a population of 33,665 according to the 2021 census. Historic buildings fill its walkable downtown core, which retains a small-town feel. The small city boasts a surprising number of tourist attractions.
The city was founded in 1882 when the Canadian Pacific Railway (CPR) chose the site for the town. For centuries prior to that, First Nations (namely Cree and Assinboine) had occupied seasonal encampments where the Moose Jaw River meets Thunder Creek. That junction lies just south of the current downtown core alongside River Drive east of Main Street South.
The city's name comes from a Cree name for the place. Moscâstani-sîpiy means "a warm place by the river." The first two syllables, moscâ-, sound like "moose jaw."
In 1883, CPR made Moose Jaw a divisional point and built freight yards and repair facilities there. In 1893, the Soo Line created a link between Moose Jaw and Chicago. The expansion of cereal agriculture in the area contributed to Moose Jaw's growth. It became an important retail, wholesale, and industrial centre.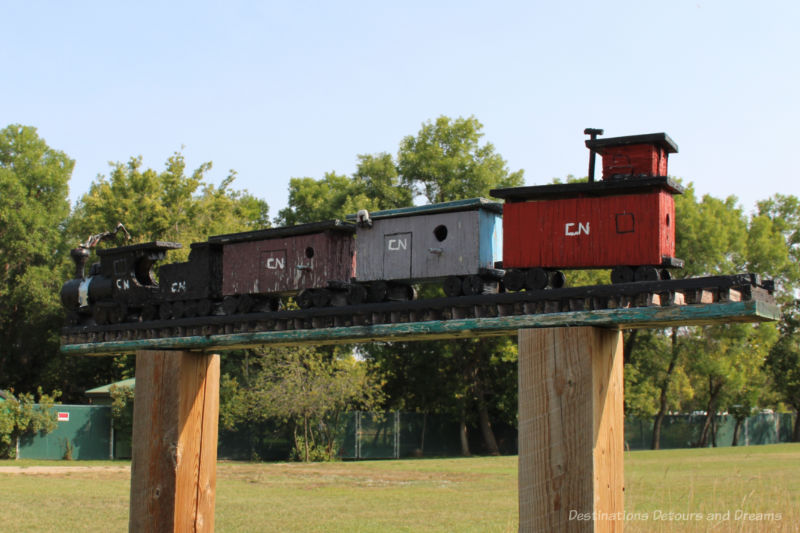 During Prohibition, Moose Jaw's rail connections to the United States made it a hub for bootleggers where bootlegging, gambling, and prostitution thrived. Rumours of Al Capone having visited the city abound. A handful of personal stories exist where people claimed to have met him, but there is no physical evidence to show he was ever in the city. There is, however, evidence that bootleggers and gamblers were common in the city known as "Little Chicago." That history led to the city's tourism board labelling their city as "Notorious Moose Jaw."
Today, Moose Jaw's key economic sectors are agriculture and agriculture-related processing, potash mining, transportation, tourism, and healthcare. 15 Wing just south of the city is the centre of Royal Canadian Air Force (RCAF) aircrew training and the principal site of the NATO Flying Training in Canada (NFTC) and Contracted Flight Training and Support (CFTS) programs. It is also home to the Snowbirds, officially Canadian Air Force 431 Air Demonstration Squadron, a military aerobatics flight demonstration team that performs aerobatic shows across the country.
Summers in Moose Jaw are warm. The winters are frigid, snowy, and windy. It is partly cloudy year-round. The summer months of June through September are the best time to visit for warm weather activities. July and August with highs of 26° C (79° F) are the warmest months. While some attractions are only open or best visited in the summer, there are other attractions worth visiting at any time of the year.
Mac the Moose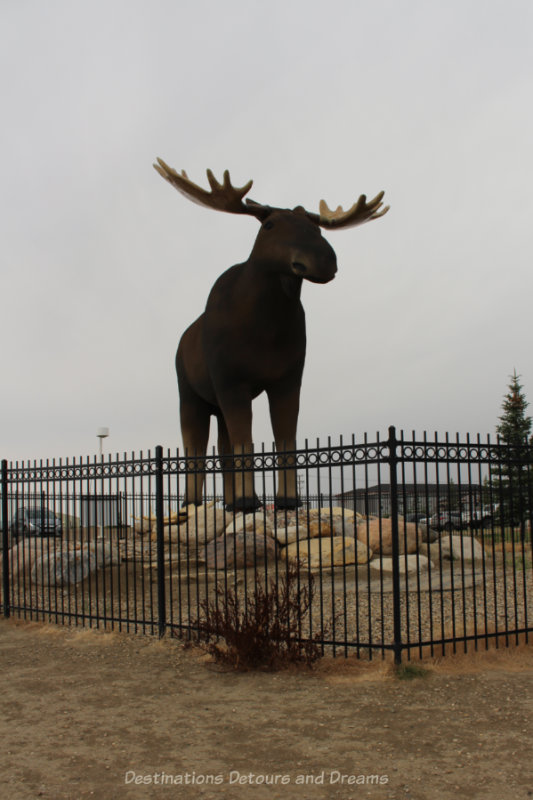 At some point during you visit, you may want to take a selfie with Mac the Moose, the World's Largest Moose. Located at 450 Diefenbaker Drive and visible to motorists driving along the nearby Trans-Canada Highway, you'll find a steel and concrete sculpture of a giant moose. The sculpture was built in 1984 by Saskatoon artist Don Foulds. Mac was the winning entry in a naming contest.
The sculpture lost the title of world's largest moose in 2015 when the municipality of Stor-Elvdal, Norway built a taller structure. The Big Elk stands ten metres tall (just over 32 feet). That was 30 centimetres (just under one foot) taller than Mac the Moose. (Moose are sometimes called elk in Europe, not to be confused with the North American elk or wapiti.)
The larger sculpture generated little controversy. Tourism Moose Jaw started referring to Mac as the "World's Second Largest Moose." In 2019, two Canadian comedians urged Moose Jaw residents to add to Mac's height to regain the title. In October 2019, Mac reclaimed the title of the world's largest moose when a new set of antlers was installed, raising its height to 10.36 metres (34 feet).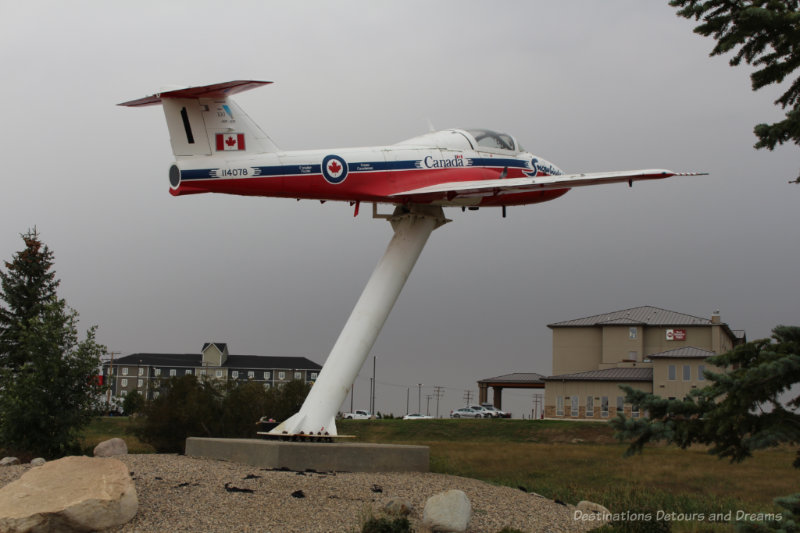 Another structure beside Mac the Moose speaks to the history of Moose Jaw as a base for the Canadian Snowbirds aerobatics flight demonstration team. A mounted Snowbird Jet points towards the sky.
Tourism Moose Jaw's office sits beside both structures. You may want to pop in there before or after your selfie photos to get more information about what to see and do in the area.
There are many things to do in Moose Jaw besides taking a selfie with Mac the Moose. Here are my suggestions for 10 things to do in Moose Jaw.
1. Discover History Underground at Tunnels of Moose Jaw
2. Relax and Rejuvenate in Mineral Waters at Temple Gardens Hotel
3. Spend Time in Wakamow Valley Park
4. Stroll Through Historic Downtown
5. Discover Murals
6. Take a Trolley Tour
7. Gamble at Casino Moose Jaw
8. Learn About Saskatchewan History at the Western Development Museum
9. Sample Mead, Take a Bee to Winery Tour, or Uncover Local Alcohol History
10. Visit the Moose Jaw Museum and Art Gallery in Crescent Park

Attractions Outside the City of Moose Jaw
1. Discover History Underground at Tunnels of Moose Jaw
The Tunnels of Moose Jaw, one of Moose Jaw's top attractions, combines live actors, multimedia, and bits of history to create fun tours inspired by tunnels underneath Moose Jaw's downtown.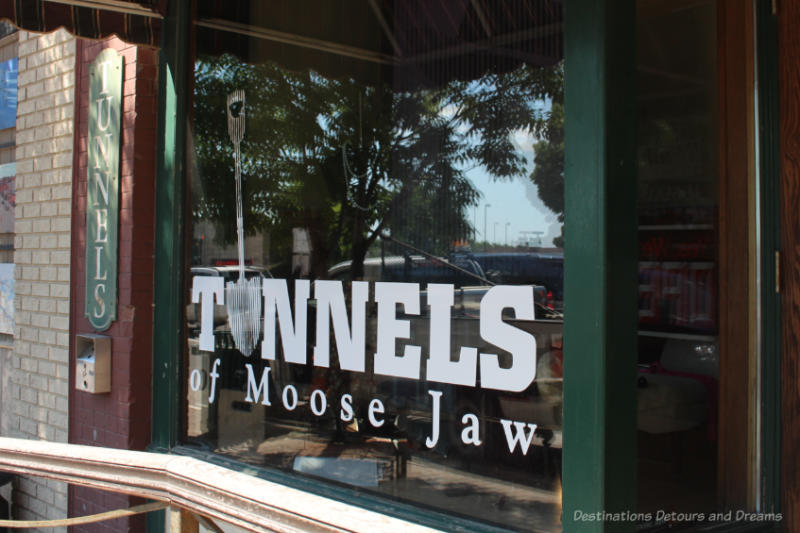 The tunnels were covered up for years before being rediscovered. Varying stories exist about their original purpose and use. Although the most likely explanation is that the tunnels were used by steam engineers to go from building to building when maintaining boiler heating systems, the other stories about their purpose, including bootlegging and refuge for Chinese immigrants, have inspired the year-round Tunnels of Moose Jaw tours.
The 50-minute tours take place underground in a combination of original tunnels and recently constructed spaces in basement areas. They sometimes venture aboveground. There are currently three different tours on offer. In the Chicago Connection tour, you're a bootlegger in 1929 come to buy booze from the Capone organization. The tour starts in a speakeasy. The Passage to Fortune tour tells the story of early Chinese immigrants to Canada and takes you through a Chinese laundry, tunnels under the street, and the kitchen of a Chinese café. The Bunker 24 tour takes you back to 1958 and into a 1950s Cold War bunker as you enter your first day of training as a new recruit in Canada's Cold War fight.
For more information read my post History Goes Underground in the Tunnels of Moose Jaw.
2. Relax and Rejuvenate in Warm Mineral Waters at Temple Gardens Hotel & Spa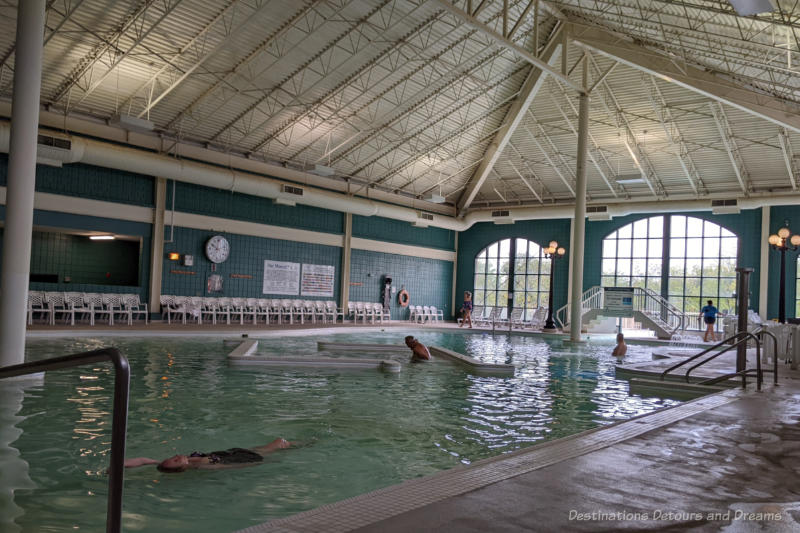 In 1910, drillers looking to locate natural gas accidently discovered underground geothermal waters, part of an ancient seabed. Today, that water fills Canada's largest therapeutic geo-thermal mineral water pool at Temple Gardens Hotel & Spa. The pool has an indoor and an outdoor component.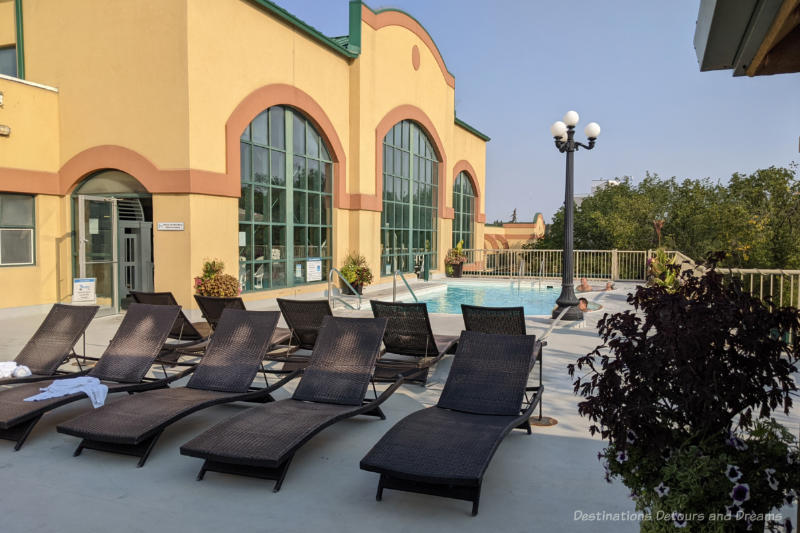 The chemistry of the mineral water is similar to that of the water at the famous mineral pools in Bath, England. With temperatures between 98° F (37°C) indoor and 102°F (39° C) outdoor, stepping into the water brings immediate relaxation.
In my opinion, despite all the attractions Moose Jaw has to offer, the mineral pool is reason enough on its own to visit the city. Use of the pool is free to hotel guests. The pool is open to the public at a fee.
To add to the relaxation and pampering, consider booking a treatment at the Sun Tree Spa, located in the hotel next to the pool. Spa treatments include facials, body treatments, reflexology, massage, and nail care.
Read more about the pool, spa, and hotel in my post Moose Jaw Temple Gardens Hotel & Spa Review.
3. Spend Time in Wakamow Valley Park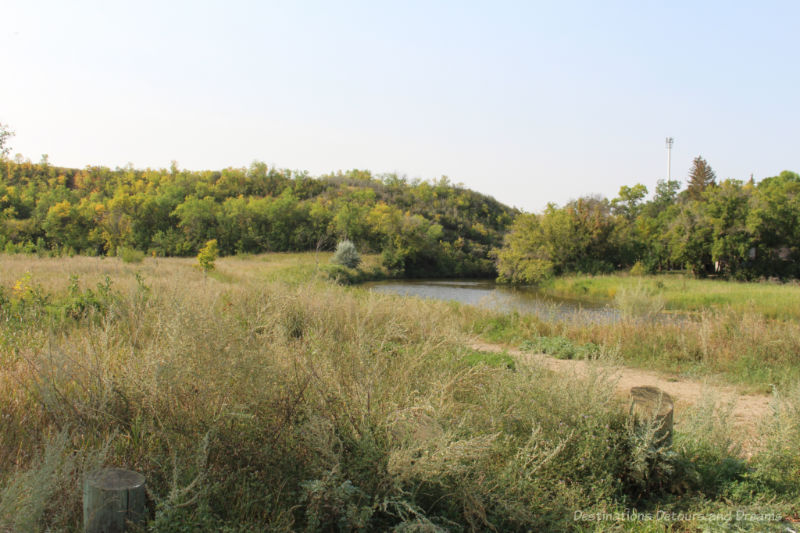 Wakomow Valley, an urban park just south of Moose Jaw's downtown core, boasts over 20 kilometres of trails for running, walking, or cycling pleasure and almost 500 acres of parkland. Trails are open year-round and can be used for cross-country skiing and snowshoeing in the winter. The Moose Jaw River winds through the park offering opportunity for canoeing and kayaking.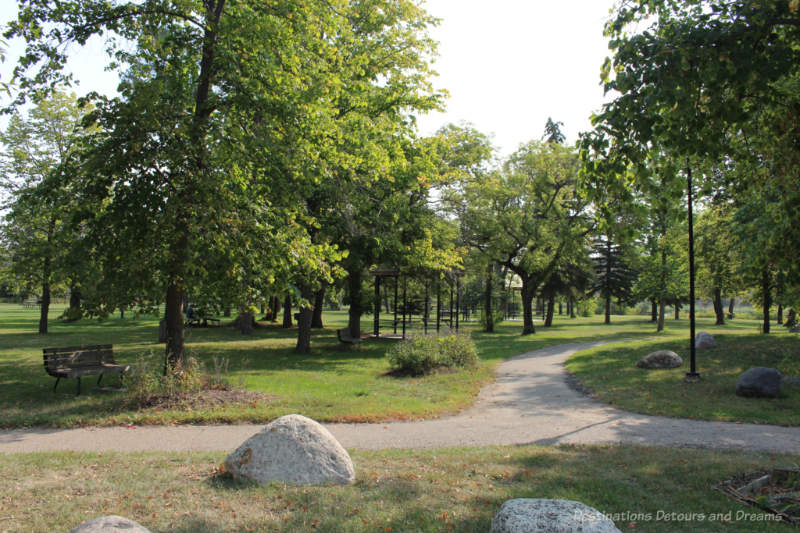 There are a number of day use areas, many equipped with barbecues, playgrounds, and washrooms. There are outdoor pavilions and gazebos as well as indoor facilities that can be booked. A seasonal campground contains 56 sites.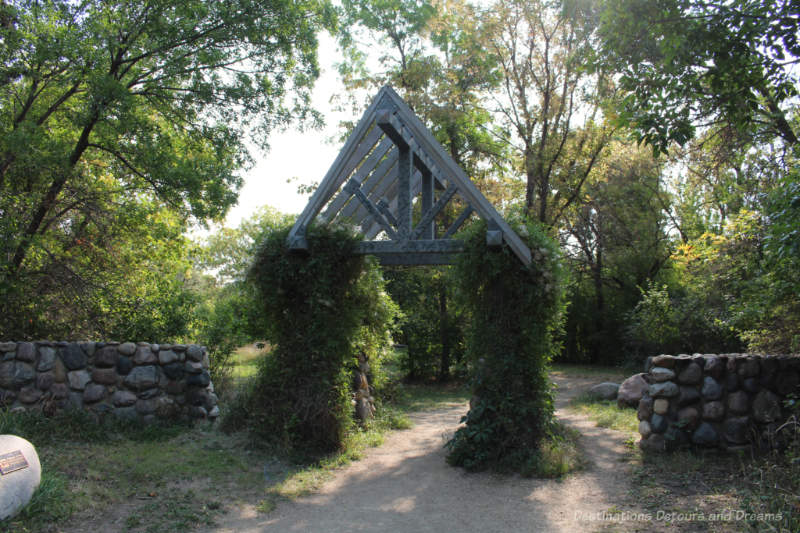 4. Stroll Through Historic Downtown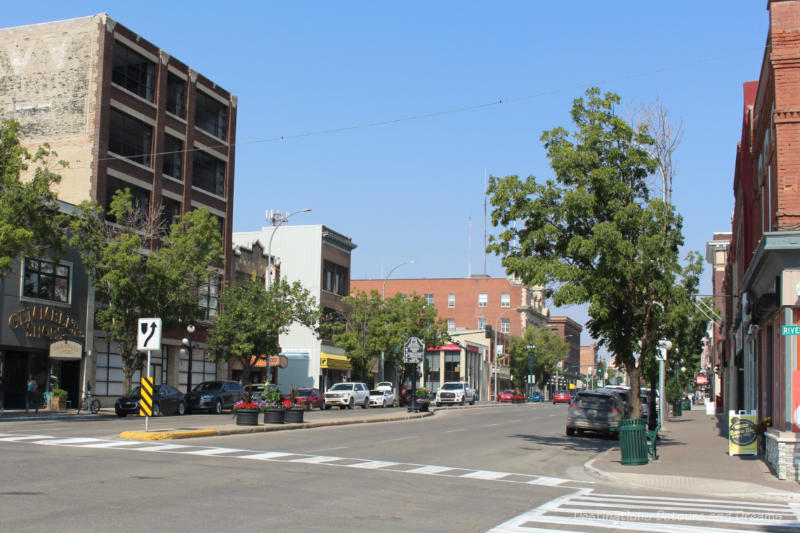 Moose Jaw's downtown, centered around either side of Main Street north of Manitoba Street, is very walkable. You'll find a variety of stores to browse through and eateries and cafés.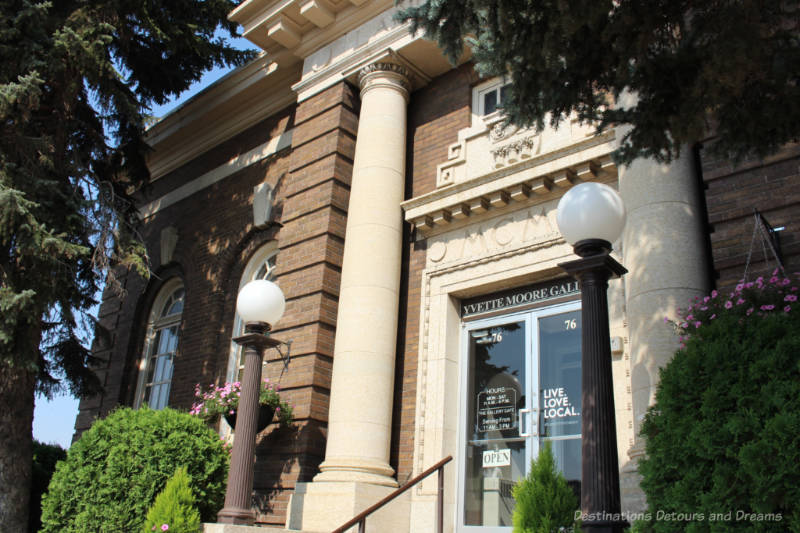 One store I feel is particularly worthy of mention is Yvette Moore Gallery at the corner of Fairford St. W and 1 Ave NW. It is housed in the Land Titles building, a Municipal Heritage Building. The gallery showcases the art of Yvette Moore along with extensive collections of handcrafted pottery, sculptures, glass works, and gifts created by artisans across western Canada. Browsing through the store felt like visiting an art gallery. It's the perfect spot to find something special for yourself or as a gift.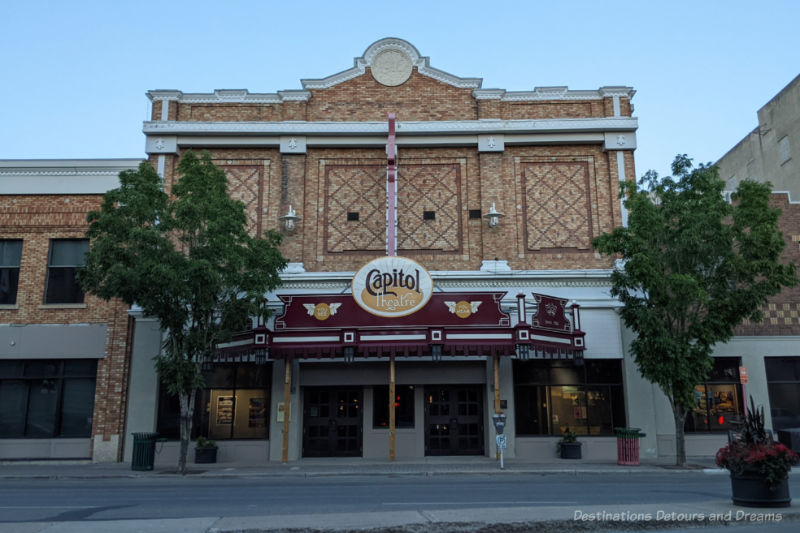 What delighted me most about strolling Moose Jaw's downtown were the many historic buildings. Sometimes you'll find signage telling you about the property, like the sign on the Capitol Theatre, the sole survivor of approximately 15 theatres which operated in Moose Jaw between 1910 and 1955. You can find information on the City of Moose Jaw Heritage Properties page about designated and non-designated heritage properties in the city.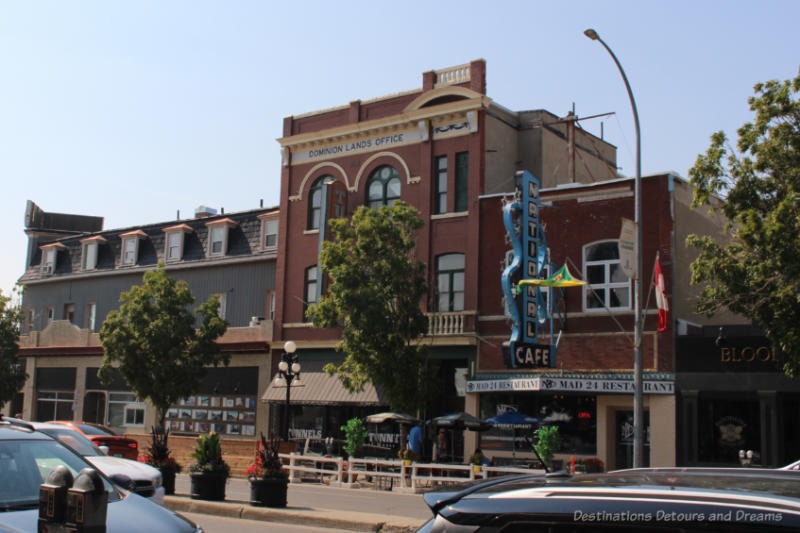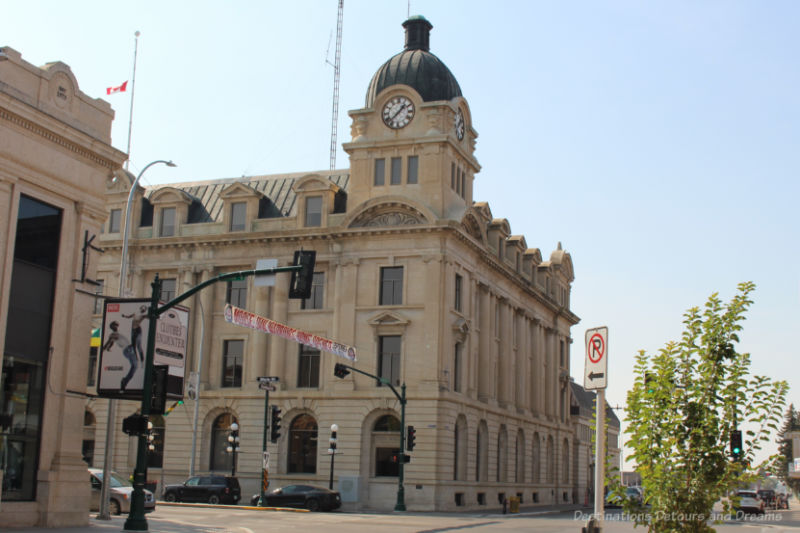 For those of you who may drive into downtown, metered parking is available on the streets. Meters are in effect from 9 am to 6 pm Monday to Friday. Parking is free outside of those hours and on weekends.
Note that some of the stores may be closed on Mondays. (I did mention the small-town feel.)


5. Discover Murals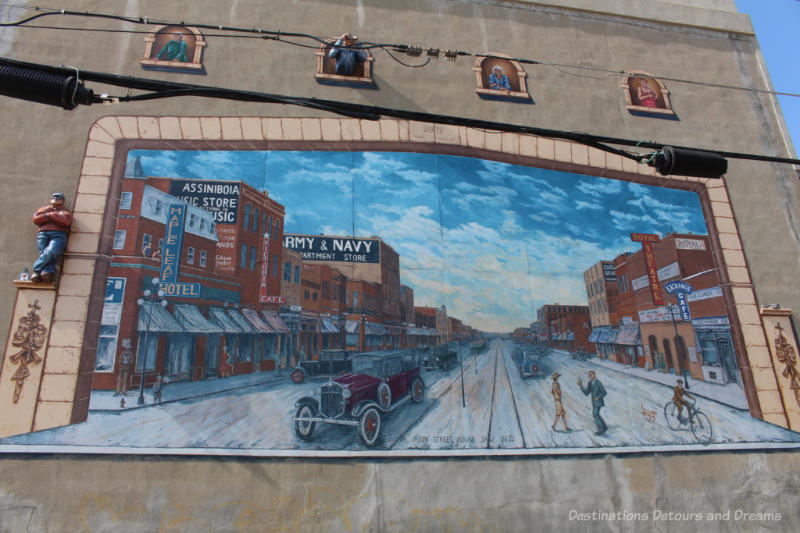 A collection of 47 giant outdoor murals depicts Moose Jaw's early history. Go on a mural hunting walk or look for them as you stroll through downtown. Note that many, especially those on Main St. buildings, may be located on the sides or backs of the buildings.
For a sampling of the murals see my post Murals of Moose Jaw, Saskatchewan.


6. Take a Trolley Tour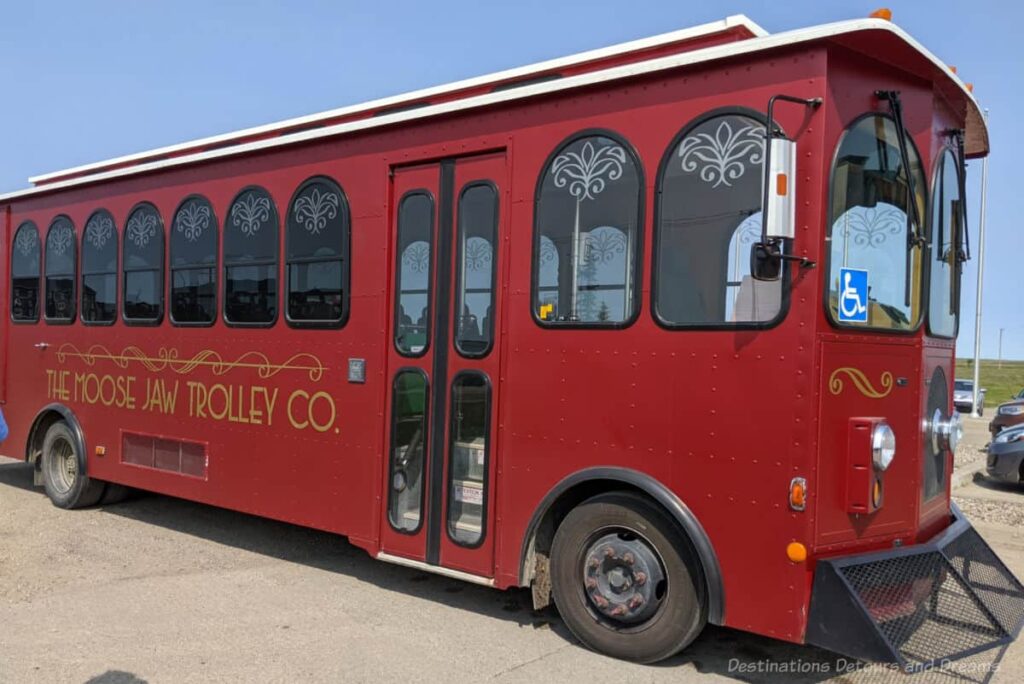 During summer months and into fall, one-hour open-air trolley tours. A daytime tour tells the stories of the people and places that make up the history of the city. You'll discover interesting things about Moose Jaw you may not otherwise learn. Other themed tours include a family-oriented spooky ghost tour and a true crime tour focusing on the darker side of Moose Jaw's history. I've taken the daytime city tour. It was fun and informative. You can read more about it here.


7. Gamble at Casino Moose Jaw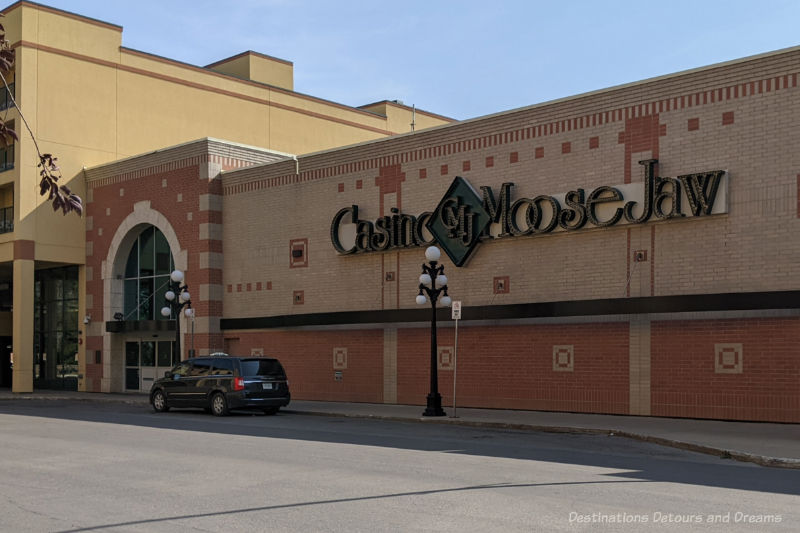 Located downtown, Casino Moose Jaw is open daily from 9 am to 2 am. It features a variety of slot machines and popular table games such as Blackjack, Single Zero Roulette, Chase the Flush, and Poker. All players must be age 19 or older.


8. Learn About Saskatchewan History at the Western Development Museum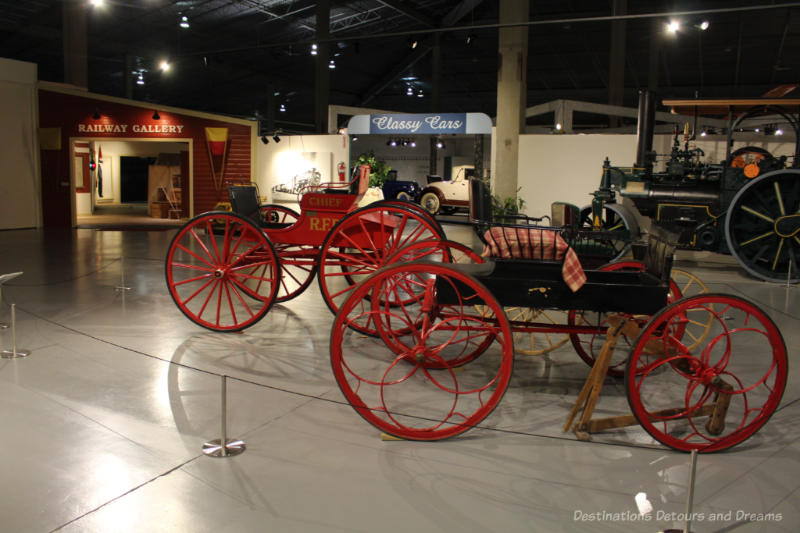 The Western Development Museum is the largest human history museum in Saskatchewan with four locations throughout the province. Each location focuses on different aspects of Saskatchewan history. The Moose Jaw location, located at 50 Diefenbaker Drive, focuses on transportation.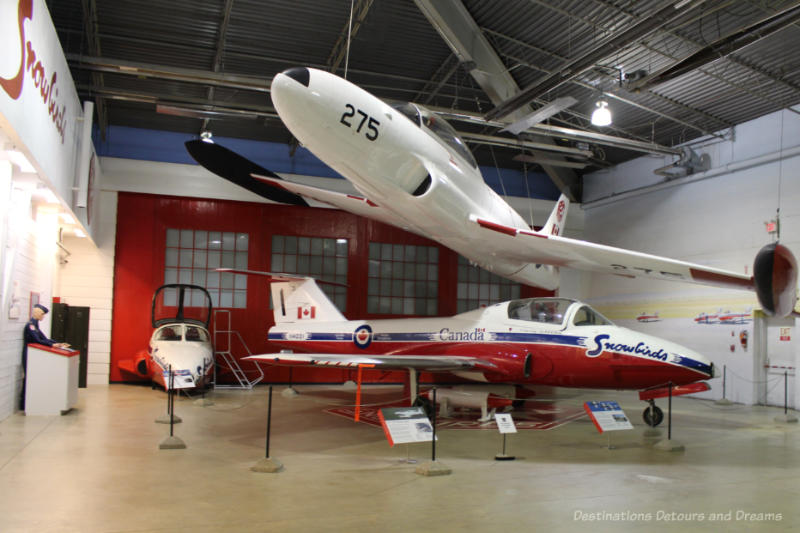 The Snowbird Gallery provides a look into the history and life of the Snowbirds aerobatics flight demonstration team and contains a Tutor Snowbird aircraft. The Aviation Gallery features a number of other aircraft of historical significance as well as an actual-size replica of a hangar. A look at the history of travel along Saskatchewan rivers and on its railroads is provided by the Water Gallery and the Railway Gallery.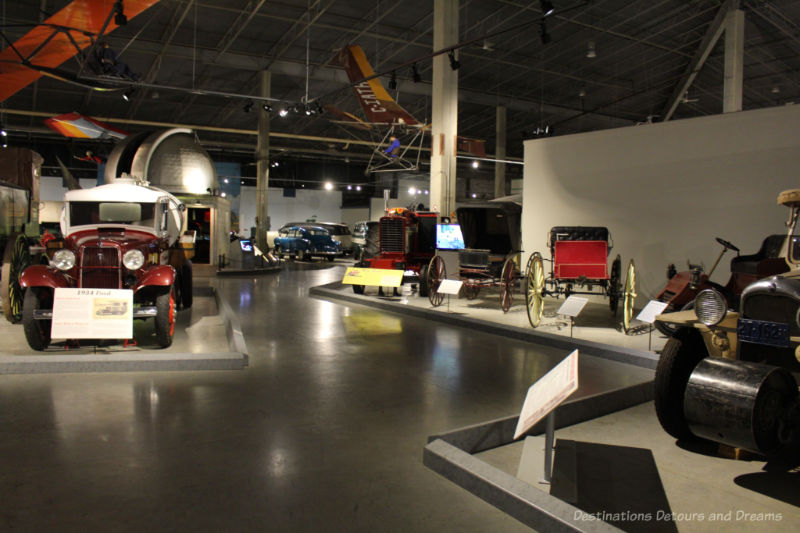 Over 40 cars and another 16 trucks in the Land Gallery capture the highs and lows of Saskatchewan land transportation history. Eleven "classy" vintage cars are featured in the Classy Car exhibit. A collection of winter vehicles highlights the development of vehicles able to drive across snow-covered fields. In the middle of the gallery you'll find an observatory originally built in 1913 by a group of Regina amateur astronomers on the roof of a school in Regina, Saskatchewan.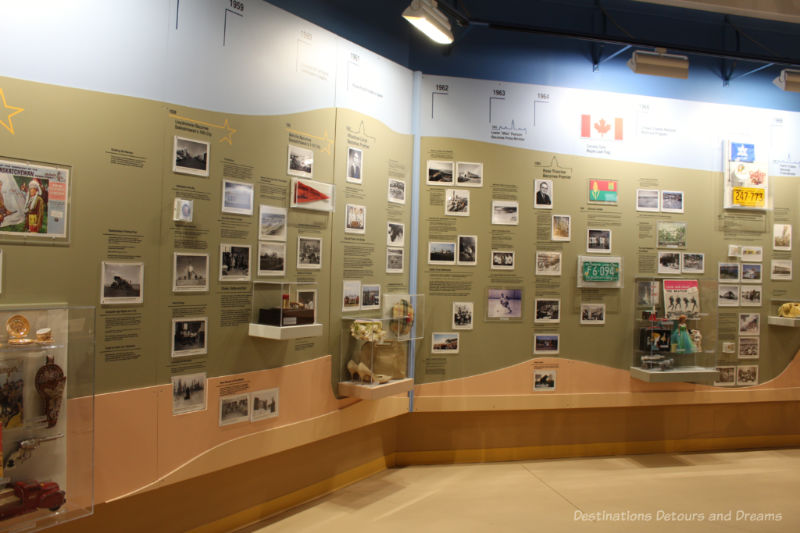 A timeline in the 100 Years of Saskatchewan Gallery maps out major historic and political events as well as social changes. Artifacts from various time periods dot the timeline.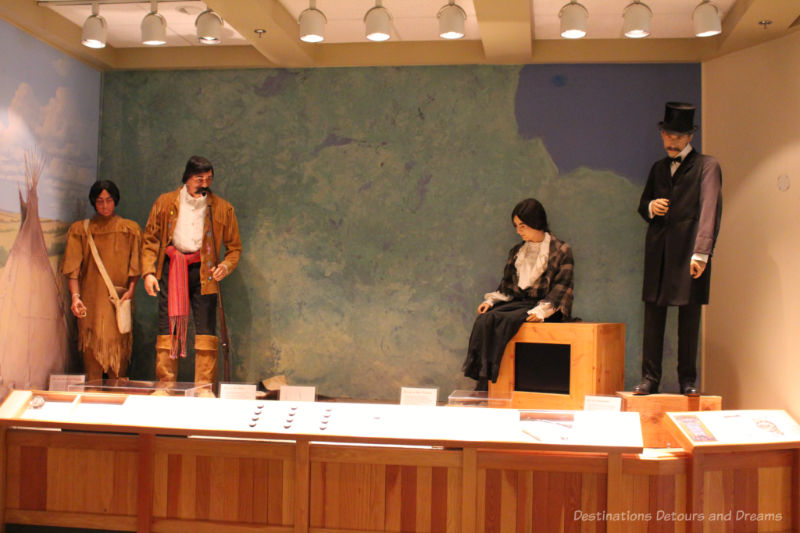 Read more in my post Moose Jaw Western Development Museum.


9. Sample Mead, Take a Bee To Winery Tour, or Uncover Local Alcohol History
The Grant Hall Hotel building at 401 Main Street North is a non-designated Heritage Property built in 1927 by Moose Jaw's most prolific architect, Richard Geoffrey Bunyard.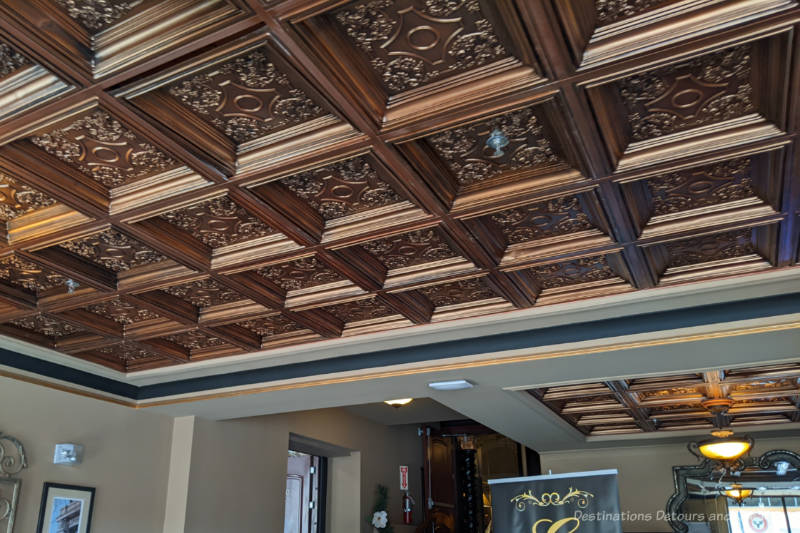 In the lower level of that building you'll find the Prairie Bee Meadery store, which offers complimentary tastings year-round. (They are closed on Mondays)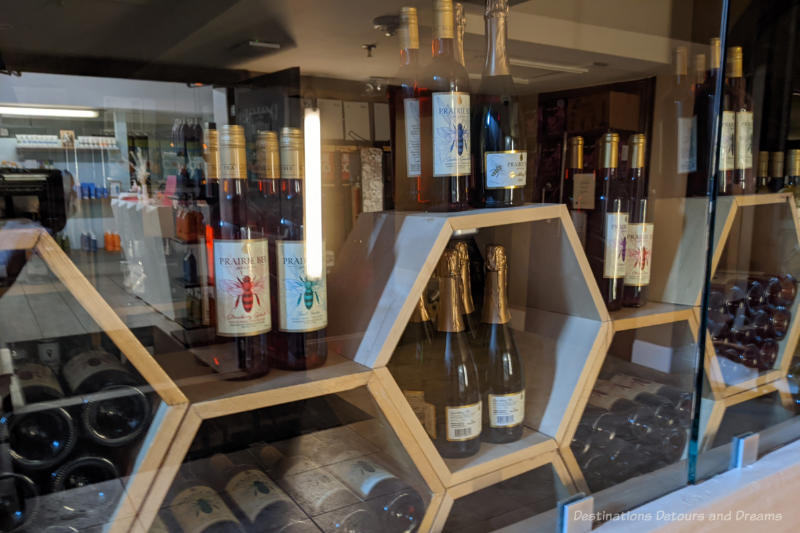 Mead is a beverage created through the fermentation of honey. Prairie Bee uses light, sweet honey primarily from clover, alfalfa, and wildflowers. They make a variety of meads ranging from sweet to dry and light to bold. There is a traditional off-dry mead. In other meads, Canadian fruits such as cherry, strawberry, blueberry, and raspberry, are incorporated prior to fermentation. They also make a fortified chocolate strawberry port-style mead. Their session meads are light and refreshing carbonated canned beverages crafted from honey, water, and natural flavourings, such as black cherry, raspberry lemon, and saskatoon.
The meadery itself is located approximately 20 kilometres west of Moose Jaw. Tours of the meadery with tastings are available Fridays, Saturdays, and Sundays from May through to the fall. Pre-booking is required.
Prairie Bee Meadery also offers a Wine & Dine @ The Grant Hall Hotel experience. The tour uncovers the history of the local alcohol industry from the 1870s with a sampling of cocktails made from local craft alcohol followed by reserved seating in the hotel's steakhouse restaurant.
I've not had the opportunity yet to take either tour, but I am keeping them in mind for future visits to Moose Jaw.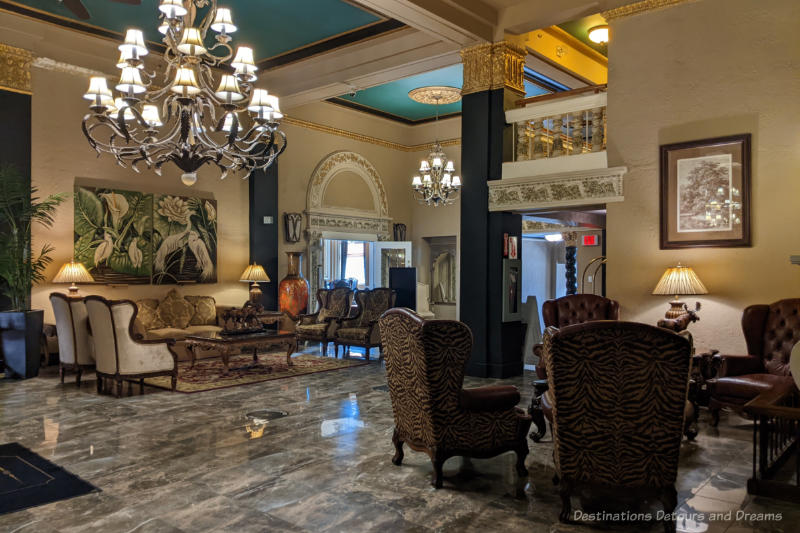 Note that the lounge at the elegant Grant Hall Hotel is a nice spot for a pre-dinner cocktail.


10. Visit the Moose Jaw Museum and Art Gallery in Crescent Park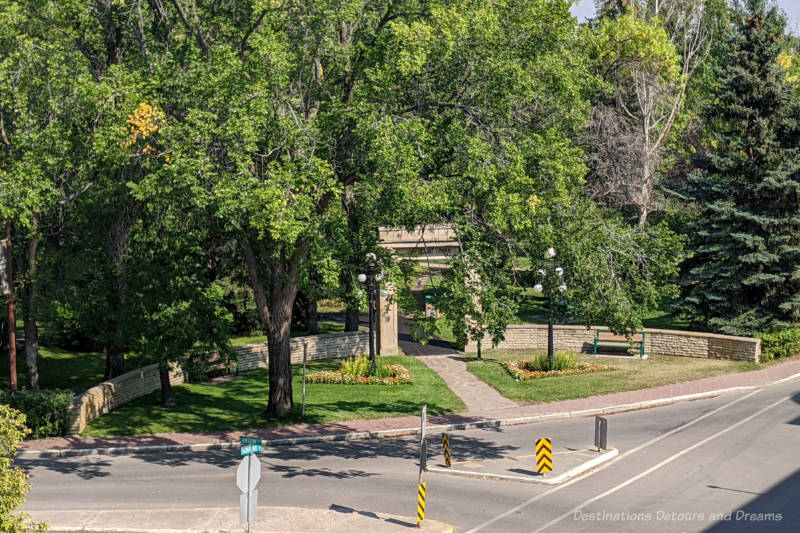 The 28-acre Crescent Park is located in downtown Moose Jaw one block east of Main Street North and across the street from Temple Gardens Hotel & Spa. The lovely green space features wide trails for walking or running, a spray park, playground, and places to simple sit and enjoy. An amphitheatre is used for a variety of outdoor events and concerts during warmer months.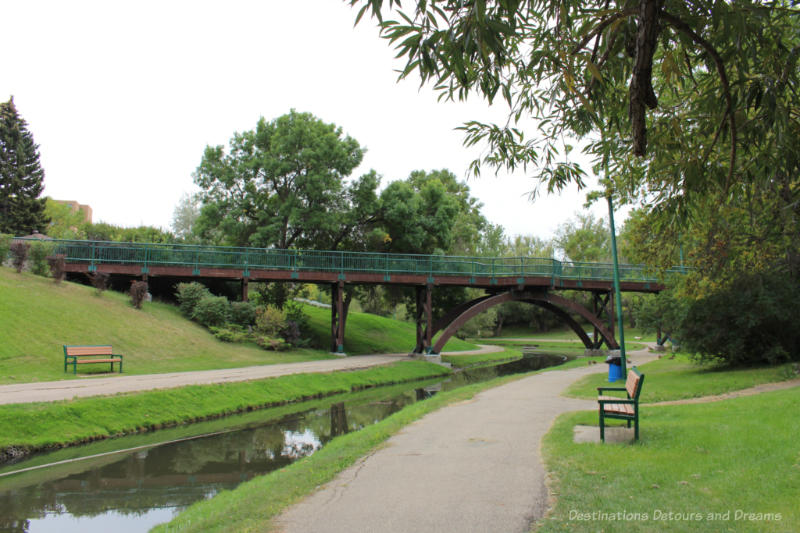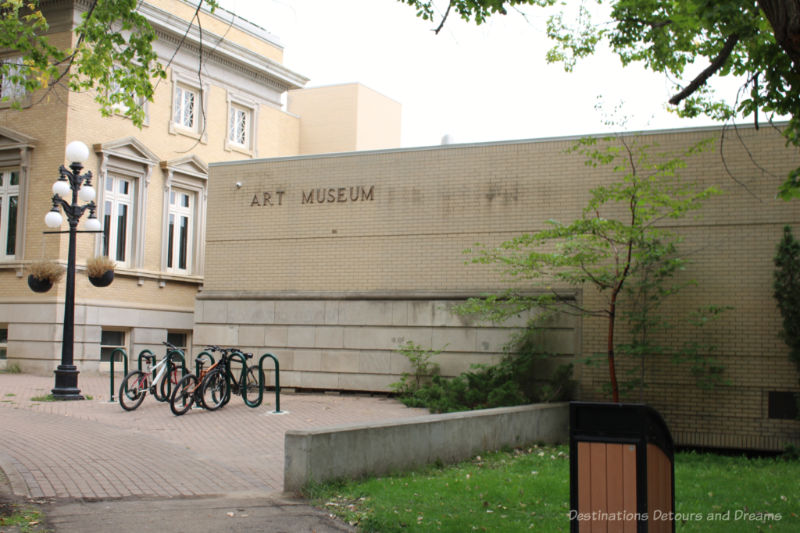 The Moose Jaw Museum and Art Gallery sits in the northwest corner of the park, just south of the intersection of Athabasca St E and 1st Ave NE. The Gallery collects and exhibits art and history of regional, national, and international origin. It promotes the visual arts and preserves history and heritage.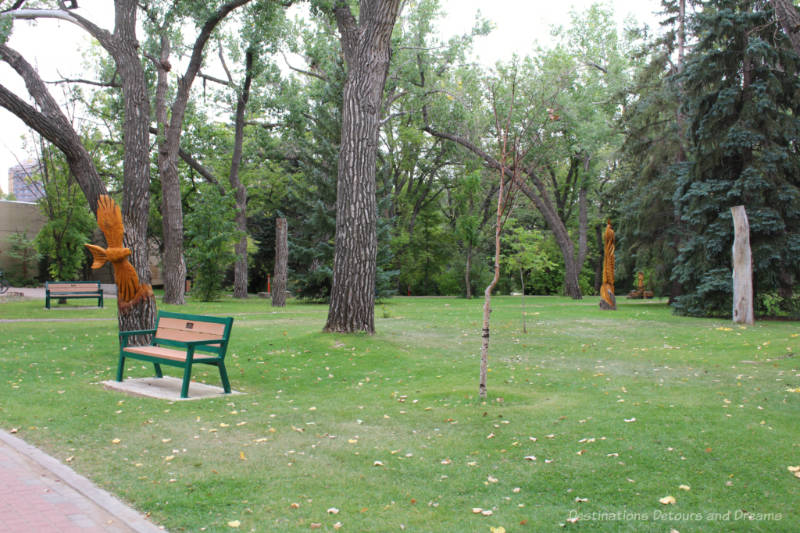 I was unable to visit the gallery when I was in Moose Jaw as it was closed for several weeks for installation of a new exhibition. I did, however, see the tree carvings in the park in front of the museum. In 2021, the City had to remove four trees from the park because their lifespans had come to an end. Instead of cutting them down to the roots, the City left stumps. The Crescent Park Foundation and the Moose Jaw Museum and Art Gallery commissioned artists to turn them into pieces of art.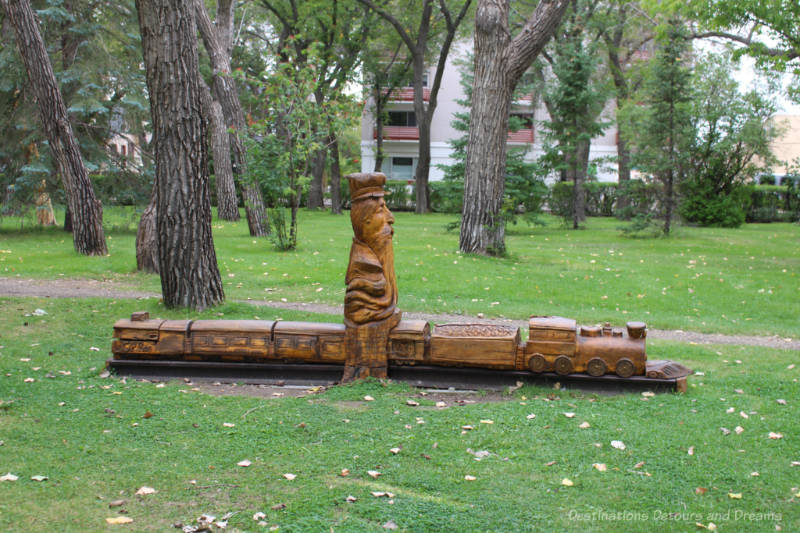 Normally, the gallery is open six days a week, closed on Mondays. Metered parking is available on the streets bordering the park. If you want to visit the gallery without walking through a lot of the park, the most direct entrance is the walkway path into the park off Langdon Crescent near the intersection with Cordova Street.


Attractions Outside the City of Moose Jaw
There are a couple of places outside of Moose Jaw, but nearby, that are worthy of mention. I have not yet been to either of them, but have them on my list for future visits.
Buffalo Pound Provincial Park
Located 20 minutes northeast of Moose Jaw and centered around Buffalo Pound Lake, Buffalo Pound Provincial Park offers hiking, mountain and fat biking trails, fishing, canoeing, and kayaking opportunities. There are two disc golf courses, two public beaches, a heated outdoor pool, camping facilities, and views of the Qu'Appelle Valley.
The Nicolle Flats Interpretive Area and Marsh Boardwalk is a spot for migrant waterfowl viewing. The park maintains a captive herd of bison in a paddock among the rolling hills. Follow signage at the entrance of the park to get to Nicolle Flats and the bison viewing area.
Sukanen Ship Pioneer Village & Museum
The Sukanen Ship Pioneer Village & Museum, dedicated to preserving and displaying the rich and varied history of Saskatchewan, is located 13 kilometres south of Moose Jaw along Highway 2. The village contains nearly 50 display buildings representing early settlers, the building of grain elevators, and the development of pioneer towns. Included in those buildings is the Diefenbaker Homestead, the boyhood home of Canada's 13th Prime Minister. Indoor displays include over 50 cars and trucks, more than 140 tractors, and 43 pieces of other machinery.
The Sukanen Ship is the focal point of the museum. Finnish homesteader Tom Sukanen built the ship in the middle of the Saskatchewan prairie in 1929 with the intent to sail it back to Europe after a rather tragic life in North America. This article in Canada's History magazine tells Sukanen's story.
Never miss a story. Sign up for Destinations Detours and Dreams free monthly e-newsletter and receive behind-the-scenes information and sneak peeks ahead.
PIN IT