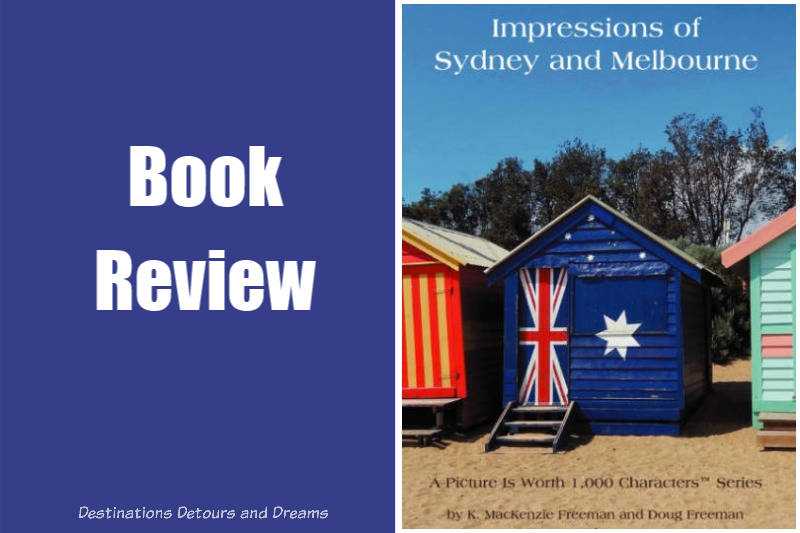 A book review of "Impressions of Sydney and Melbourne"
by K. MacKenzie Freeman and Doug Freeman
(Disclosure: I received a free copy of the e-book for purposes of review. Opinions are my own.)
Husband and wife team MacKenzie and Doug Freeman decided to revise the phrase "a picture is worth a thousand words" by challenging themselves to write stories of just 1,000 characters. The result is a series of travel books,  A Picture is Worth 1,000 Characters™, in which 1,000-character stories accompanied by an original photograph "give armchair and real-world travelers a sense of place and tell them what it's like."
I was particularly interested in one of the books in the series: Impressions of Sydney and Melbourne. Australia is on my husband's and my radar as a possible travel destination in the next couple of years. I visited Sydney over two decades ago. Although it was a business trip and workdays were sometimes long, I found time during my two-and-a-half weeks to explore some of the city. I wondered how my impressions stood the test of time and how they compared with those of the Freemans. I wondered how their impressions of Melbourne, a city I've not yet visited, would appeal to me.
My Review in 1,000 Characters
The book is not a travel guide or journal. The stories describe the Freemans' reactions to attractions, like the HMS Endeavor or the Sydney Fish Market, specific details, like the Sydney Opera House two-toned sails that look white from a distance, or experiences, such as watching a flock of cockatoos.
A stunning photo leads off each story. Amid historical and site tidbits, the Freemans find analogies and insights into Australia.
Mark Twain said," I didn't have time to write a short letter, so I wrote a long one instead." The Freemans do the difficult job of writing succinct, descriptive prose beautifully, taking the reader with them.
They took me back to the "chaotic, swirling hub of activity, color, and sound" of Sydney's Circular Quay. I saw ferries and the man with the didgeridoo. I had forgotten about Rocks Market until I read the story. I recalled the peaceful beauty of the Royal Botanic Garden. I walked Melbourne's revitalized laneways with them. I wanted to see the dismantled, moved and reassembled Yorkshire cottage in Melbourne and the bright Brighton beach bathing boxes in person.
The book makes you feel the essence of the cities, relive memories, and long to make new ones.
About the book, the authors, the series
The books in the series are available as e-books with colour photographs. Paperback versions have black-and-white photographs.
The other books in the series are Impressions of Hong Kong and Macau, Impressions of Sydney, and Impressions of the Pacific Northwest. Work is underway on the next two volumes highlighting New Zealand's South Island, Perth, and Western Australia. Their e-books are available through Amazon, iTunes, and Barnes and Noble. The paperbacks versions are sold through Amazon. MacKenzie and Doug Freeman can be found online at https://www.imaginexxus.com/.
Although Impressions of Sydney and Melbourne is not a guide book per se, I will use it to help me formulate my itinerary should my Australia trip become a reality.
PIN IT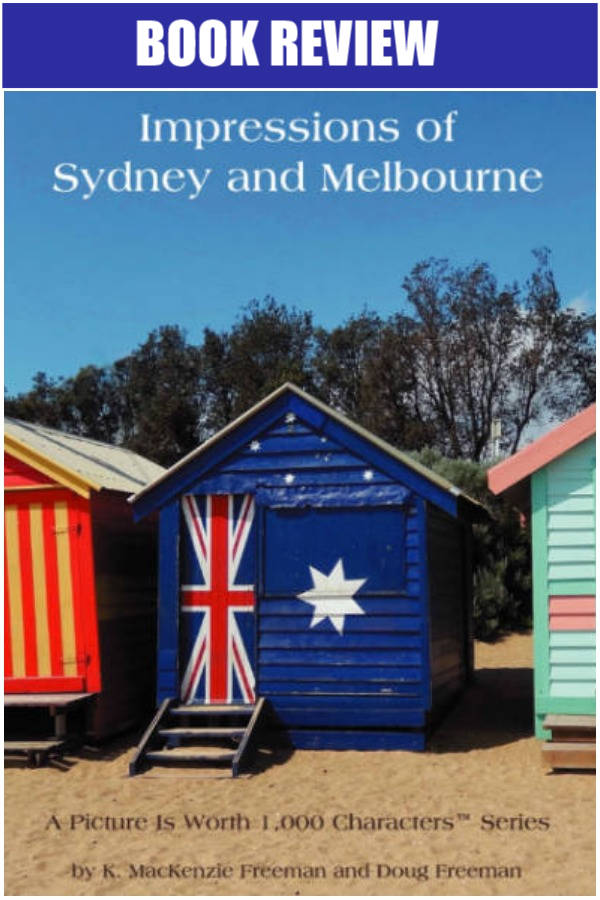 Never miss a story. Sign up for Destinations Detours and Dreams free monthly e-newsletter and receive behind-the-scenes information and sneak peaks ahead.