Book Review – Carolina: Cruising to an American Dream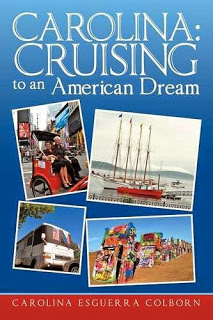 Review of a book about discovering America from an RV and the lessons along the way
Not quite four months before she became a "sexygenerian", Carolina Esguerra Colborn embarked on a new life by getting married aboard a cruise ship on Washington's Lake Union. She and her husband Bill continued to cruise after their wedding, this time in an RV. They rented out their homes and moved into a life of full-time travel.
Carolina: Cruising to an American Dream is Carol's story about their travels through the United States and parts of Canada and Mexico, their marriage and her journey to becoming an American. Carol grew up and lived most of her life in the Philippines, where she was a successful executive and raised three daughters. Dealing with health issues brought on by stress, she left the corporate world and moved to the United States, a place of fascination for her. She eventually settled in Seattle, where one of her daughters lived and where she met Bill.
Their first few months of RV life were as driven as their business careers had been. They travelled through five continental states, Alaska and three Canadian provinces in just two months. Carol says, "It was not the cruising lifestyle we envisioned. But it was exciting and I didn't mind." After eight months and 15,000 miles, they began to slow down. They bought a larger RV and stayed longer in one place, sometimes spending weeks at one RV resort. They explored the area around them in their car and took time to enjoy the facilities at the RV resorts.
Parts of Carolina: Cruising to an American Dream read like a travelogue as Carol recounts their itinerary and stops along the way. But it goes beyond a mere list of locations. Carol includes interesting tidbits and background on the places they visit and shares her own perceptions, from her panic at the thousand-foot drops on California's Highway 1 to her joy at seeing Indian petroglyphs and her delight in discovering unexpected Philippine connections. As I read about her travels, I discovered places I'd like to visit, knew that like her I wouldn't dare walk across the Mile High Swinging Bridge and enjoyed her perspective along with my memories of places I have visited.
Yet my favourite parts of the book are not the paragraphs about the places Carol and Bill travelled to. My favourite parts are the personal stories she shares. Stories about her life in the Philippines. Stories about a mature couple from different cultures building a life together. Stories about the logistics of life on the road. Stories about staying connected with family and friends as they travel. Stories about new friendships. Stories about becoming an American.
I met Carol on-line through a blogging group we both belong to. This past winter, I had the opportunity to meet her and Bill in person, when we found ourselves in Arizona at the same time. Carol's enthusiasm and energy come through in the book. She writes with humour and honesty, making this an enjoyable read. And, for those of you contemplating taking to the road in an RV, she includes several appendices of tips.
Carol blogs at Generation Z. Cruising in an RV. Carolina: Cruising to an American Dream is available at iUniverse Bookstore, Amazon and Barnes & Noble.