Sedona: Red Rock Serenity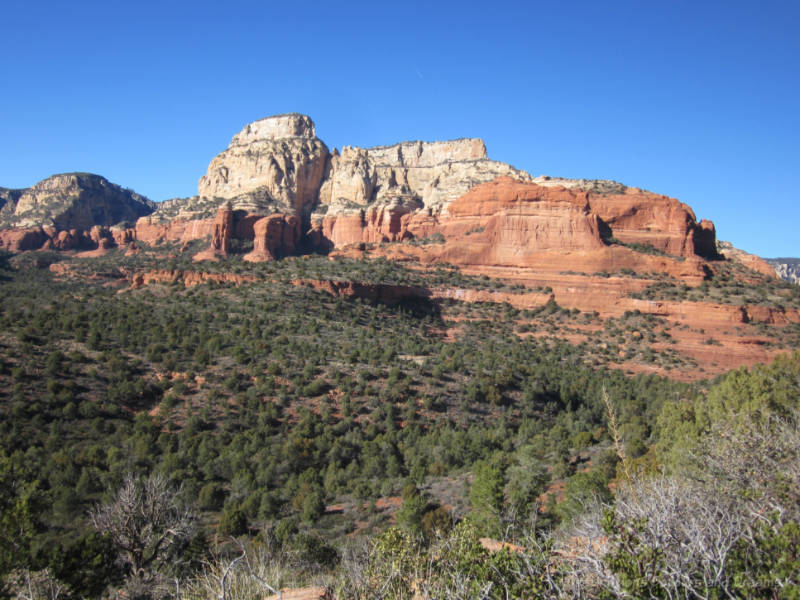 Highlights of visits to Sedona, Arizona
(Last updated January 2019)
Where can you find turquoise McDonald's arches, the mountain that inspired Disneyland's Big Thunder Mountain Railroad, and rattlesnake on menus? The answer is Sedona, Arizona. The "M" on the side of McDonald's is painted turquoise to fit in with the colours of the town. Walt Disney owned property here in the 1940's and 1950's and the rock formation Capital Butte helped inspire him to build Disneyland's Big Thunder Mountain Railroad. But what most people associate with Sedona is the stunning beauty of the red rock mountains surrounding the town. My few visits to Sedona have been short day trips, too short to take in all the town has to offer, but enough to feel its charm.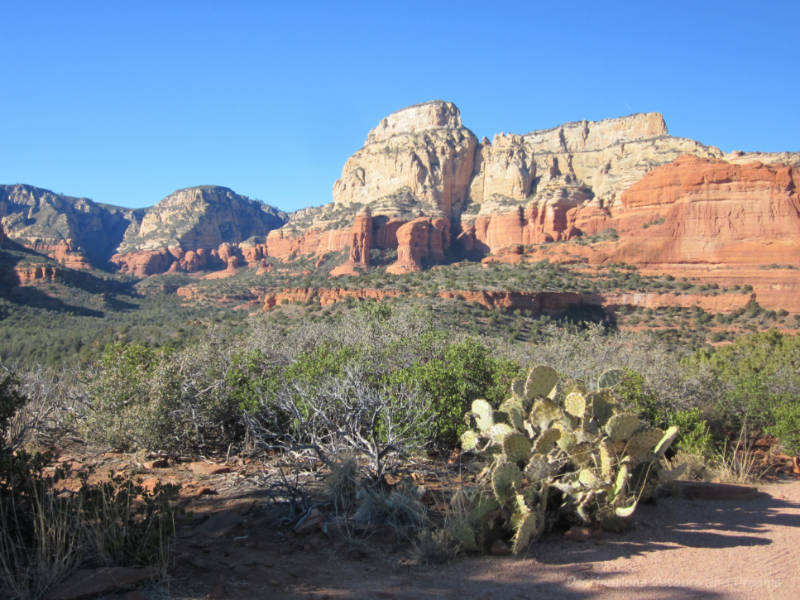 The scenery and outdoor areas around Sedona are worth exploration. You could visit many times and see something different each visit. The deep red colour of the sandstone mountains is due to the presence of hematite, otherwise known as iron oxide or rust, that stain the rock layers. Opportunities for hiking and off-roading abound. You can rent bicycles or ATVs or take a guided off-road tour. Friends recommend the Pink Adventure Tours. It was in Old Town Sedona that I saw my first-ever roadrunner. Up to that point, I thought they only existed in cartoons.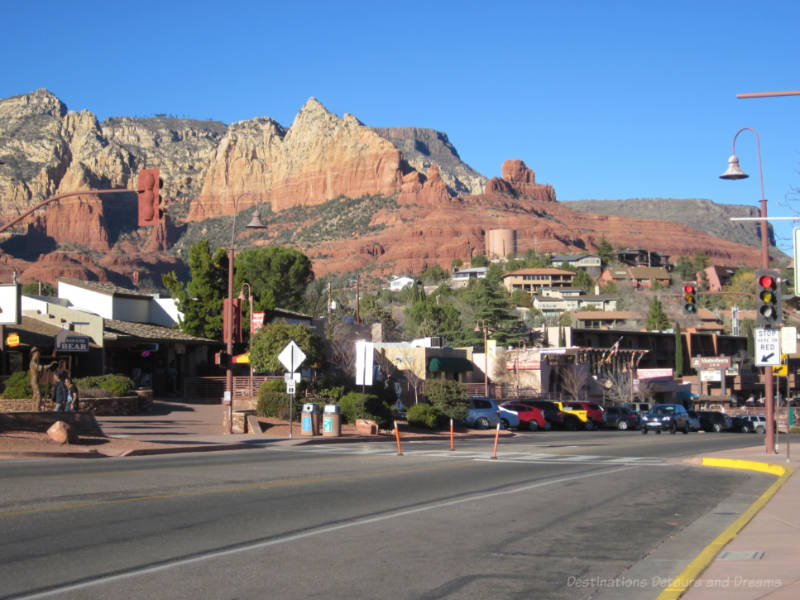 In Old Town Sedona, called the tourist part of town by the locals, you can have meal or a drink with a view of the mountains in the background or browse through shops containing souvenirs, art, novelty trinkets and metaphysical products. Sedona is known as metaphysical, new age and spiritual centre. You'll find crystals, psychic readers and alternative healers.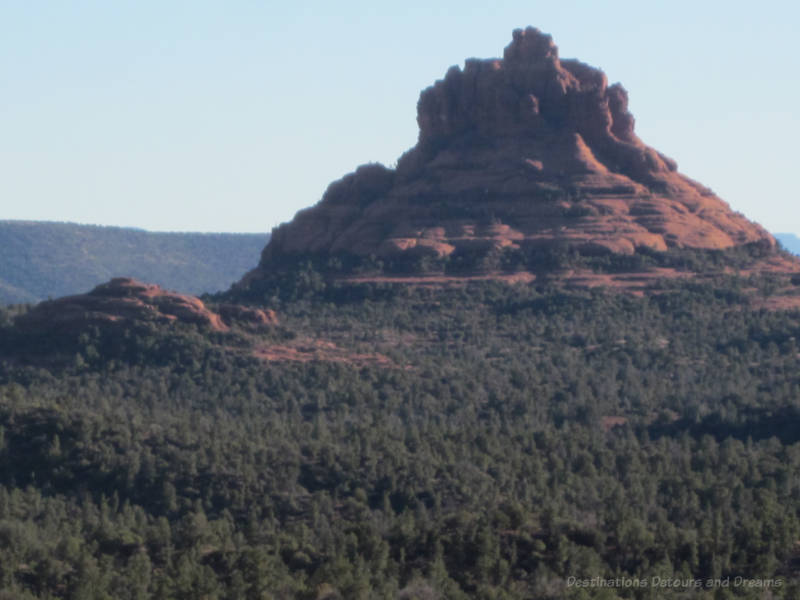 Bookstores and spiritual centres also offer lectures and guides to Sedona's vortex sites. Vortexes are areas of enhanced energy that facilitate prayer, healing, and connection with the divine. Each vortex radiates it own particular energy. Upflow vortex sites, such as Bell Rock, make you feel positive and rejuvenated. Inflow vortex sites are good for introspection and spiritual problem-solving. The four best known Sedona vortexes are found at Airport Mesa, Cathedral Rock, Bell Rock and Boynton Canyon.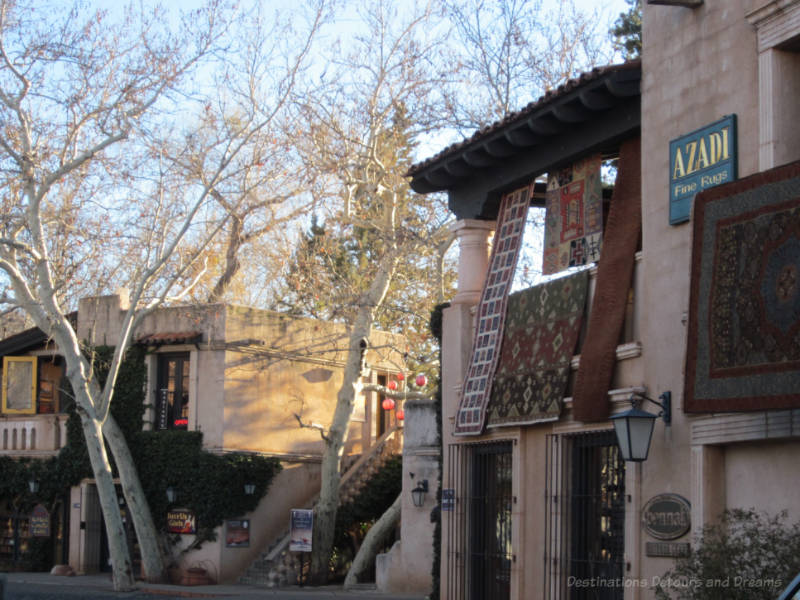 Given its natural beauty and spiritual essence, it is not surprising Sedona has developed a reputation as an artists' enclave. Galleries, studios, and gift shops can be found throughout the town. Tlaquepaque Arts & Crafts Village is  shopping centre modelled after a traditional Mexican village. The shops are filled with beautiful things, most of which I cannot afford but enjoyed looking through. The centre is a piece of art in itself with its cobble-stoned walkways, arched entryways, quiet courtyards, and sycamore trees. It evokes a sense of calm. In addition to the art, there are a variety of dining options.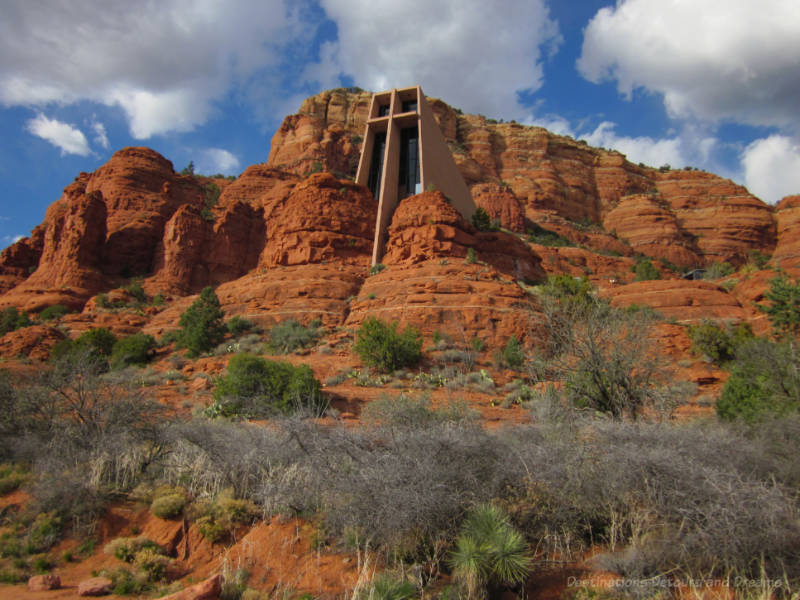 Chapel of the Holy Cross is another spot in Sedona well-worth visiting. Although not one of the four vortexes of Sedona, this Catholic chapel built on the edge of a hill is said to be a place to connect with Sedona's sacred energy.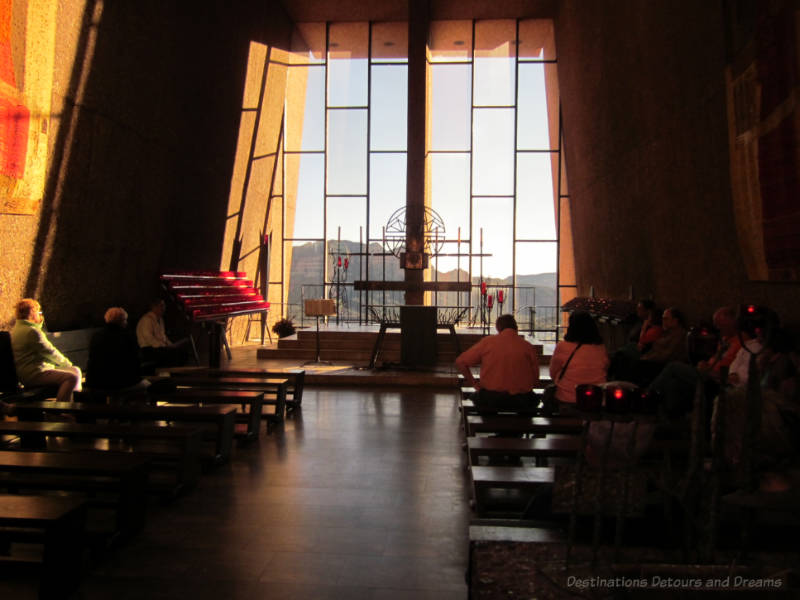 The front of the chapel is all glass. I don't know if it would be spectacular or distracting to attend a service with the view of the red mountains in front of you. The view from the grounds around the chapel are certainly worth the walk up the hill. Whether I connected with sacred energy or not, I felt a definite sense of calm and peace. In fact, all of Sedona felt serene.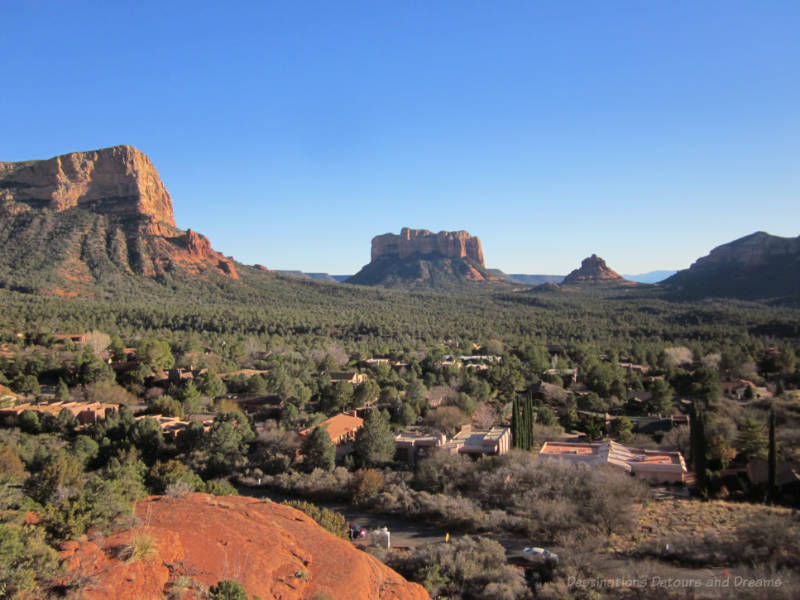 Sedona is located about 115 miles (185 km) from Phoenix and about 30 miles (48 km) from Flagstaff. The drive into Sedona can be as pretty as the town itself. Highway 89A between Flagstaff and Sedona is a snaky road running through colourful rock formation and tall pine trees in Oak Creek Canyon. If you are coming from Phoenix, you can turn off Interstate 17 at Highway 179 or take a slightly longer and scenic route by turning off the Interstate sooner at Highway 260 and then turning north onto Highway 89A at Cottonwood. This route provides an excellent view of the red sandstone mountains.