7 Things To Do In San Diego, California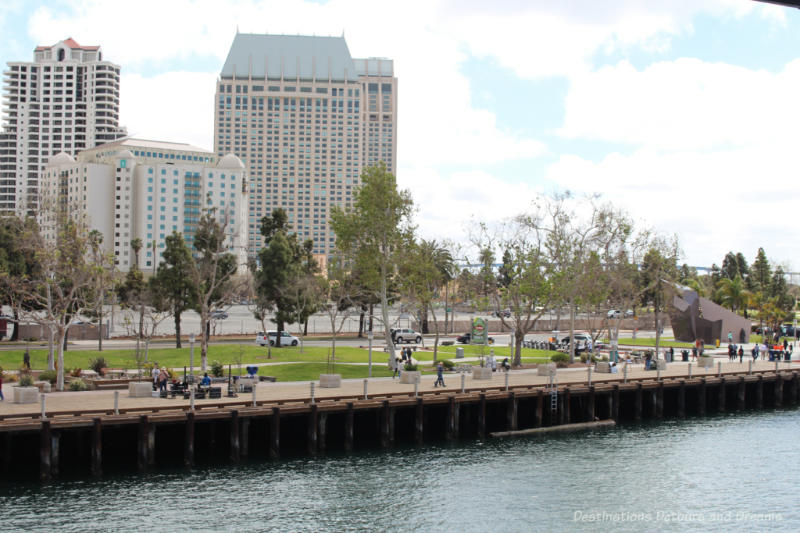 Things to do in San Diego, the birthplace of California – parks, history, the zoo, and the waterfront
San Diego is located along the Pacific coast of southern California next to the Mexican border. The second-largest city in the state, it has a mild year-round Mediterranean climate, beaches, parks, a natural deep-water harbour, and numerous things to see and do.
It is the traditional home of the Kumeyaay Indigenous peoples. San Diego was the first site visited and settled by Europeans on what is now the U.S. West Coast. Because of that, it is sometimes referred to as the Birthplace of California. Juan Rodríguez Cabrillo landed in San Diego Bay in 1542 and claimed the area for Spain. In 1821, San Diego became part of the newly declared Mexican Empire. California became part of the United States in 1848 following the Mexican-American War and became a state in 1850.
There is a lot to do and see in San Diego (and in the communities running up the coast from it). Certainly, there is more than the seven things I have listed, although, to be fair, a couple of those seven have enough attractions within them to keep you occupied for days. These are suggestions based on what I've already visited and what is on my list for future visits.

1. Old Town San Diego
2. The Gaslamp Quarter
3. Balboa Park
4. San Diego Zoo
5. USS Midway
6. Embarcadero and the Bay
7. Coronado Island
Beyond San Diego
1. Old Town San Diego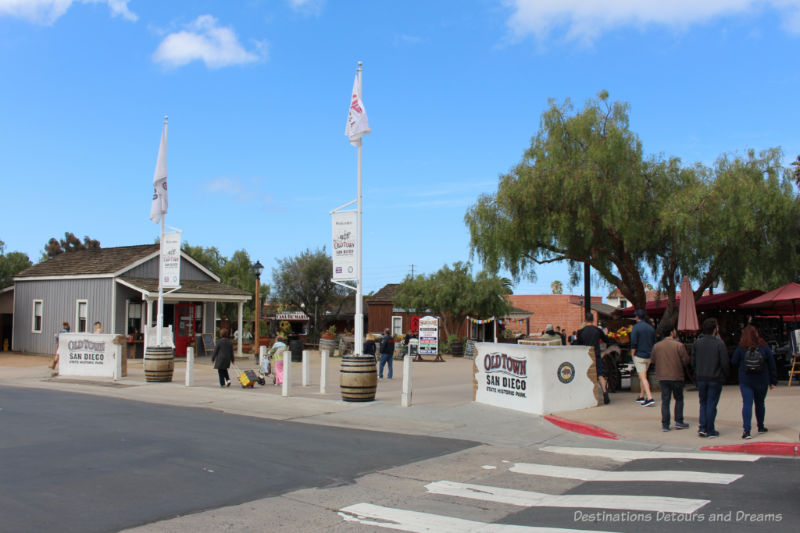 Old Town got its start in 1769 when Father Junipero Serra established the first of 21 missions. The area retains an "old town" feel with restored and reconstructed buildings from the period of 1821 to 1872. It is an easy area to stroll through and feels worlds apart from the nearby downtown high-rises.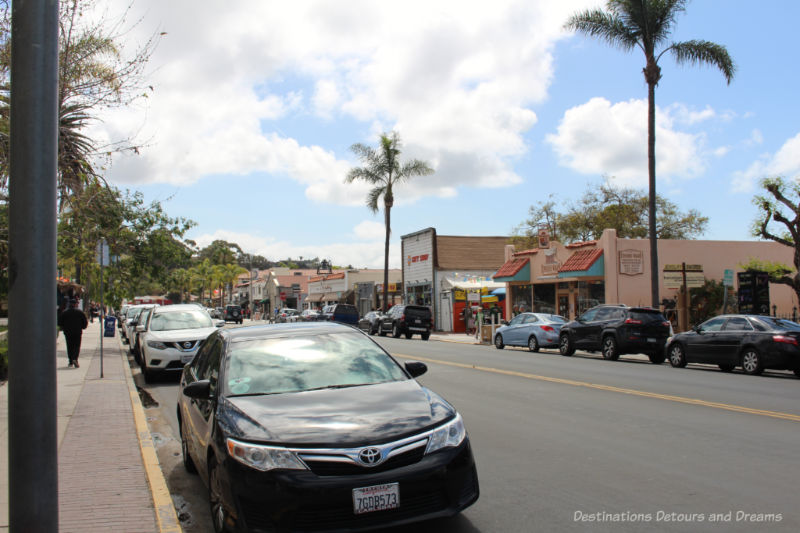 Two parts of Old Town blend into each other. The palm tree-lined streets of the Old Town neighbourhood contain restaurants, unique shops, and the historic Whaley House Museum. The historic buildings in Old Town San Diego State Historic Park house museums, shops, and restaurants. Costumed staff and period demonstrations create an early-1800s feeling. Inside shops, you find modern goods and artisans demonstrating crafts. Located in the heart of Old Town Historic Park, Fiesta de Reyes, "where history lives and the fiesta lives forever," contains shops, restaurants, and a central courtyard that evoke a feeling of Mexico.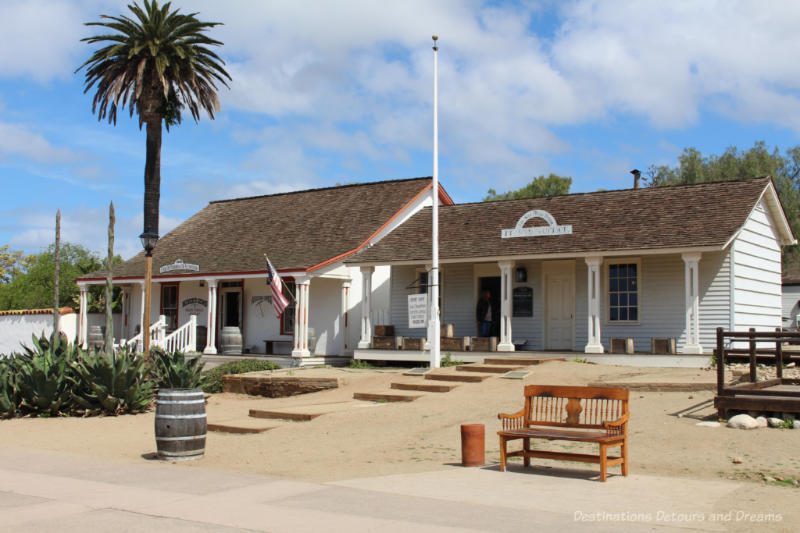 You can read more about all these aspects of Old Town, along with tips on neighbouring historic sites, in my post Walking Through California History In Old Town San Diego.
2. The Gaslamp Quarter
The Gaslamp Quarter is a lively downtown neighbourhood known for its nightlife. Its 16 blocks, illuminated by glowing ornate lamps, were a rough-and-tumble neighbourhood in frontier years with gambling houses and opium dens. Today it is a cultural district on the National Register of Historic Places. Restored Victorian buildings contain shops, restaurants, museums, theatres, and nightlife venues.
The Quarter is home to Horton Plaza Park, a new outdoor venue located in a park that dates to the early 1900s. It includes an amphitheater for live music acts, retail pavilions, and a restored 1910 fountain.
Read more at Visit California.
3. Balboa Park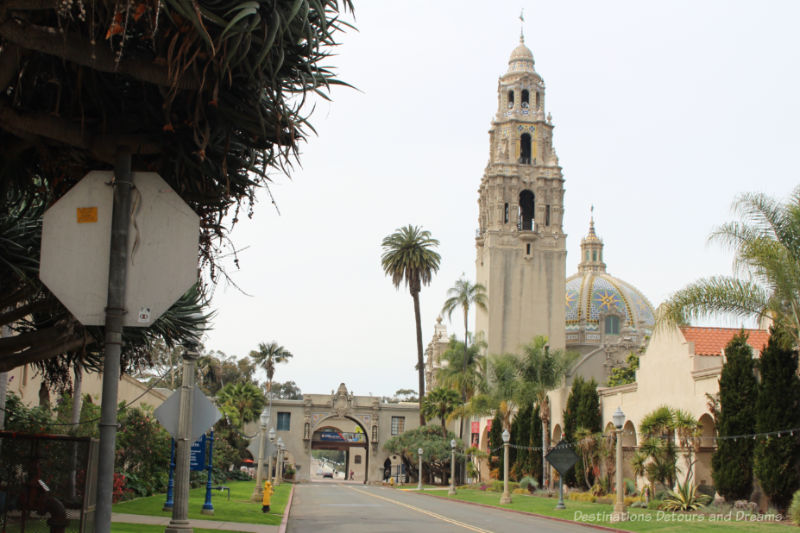 You could spend a week in San Diego and be kept busy visiting nothing but Balboa Park every day. On its 1,200 acres, you'll find interesting architecture, several art galleries, shops, theatres, public art, eateries, gardens, walking paths, and seventeen museums and cultural centres featuring topics as diverse as photographic arts, Comic-Con, automobiles, science, and history. The colourful Spanish Village Art Center, built to depict an old Spanish village, is a community of over 200 artisans and 35 working art studios.
The park, originally named City Park, was scrub-filled mesa when land was set aside for it in 1868. Kate Sessions, now called the "The Mother of Balboa Park", planted 100 trees a year. Many still stand. In the early 1900s, a master development plan was adopted. George Marston, who was very involved in that development, became known as the "Father of Balboa Park."
The name was changed to Balboa Park when further development occurred for the 1915-1916 Panama-California Exhibition. More buildings and gardens were added for the 1935-1936 California Pacific International Exposition. Development continued over the following years.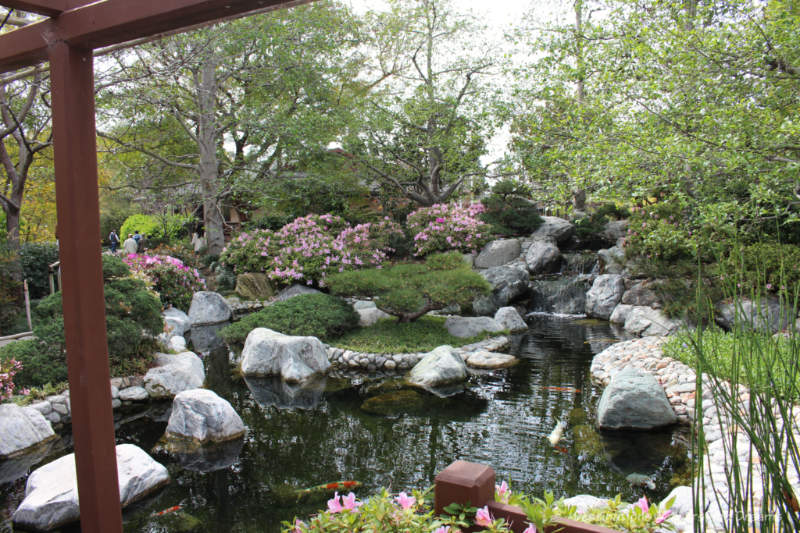 Read more in my posts Exploring San Diego's Balboa Park and The Gardens in San Diego's Balboa Park.
4. San Diego Zoo
Technically, the San Diego Zoo is also in Balboa Park, but I felt it was worthy of mention on its own. The 100-acre wildlife park is home to over 12,000 rare and endangered animals, representing more than 650 species and subspecies. The accredited zoo, which first opened its doors in 1917, has long been considered one of the best zoos in the world. It is run by the San Diego Zoo Wildlife Alliance, an international, nonprofit conservation organization. The zoo is also an accredited botanical garden with more than 700,000 individual plants.
The Sand Diego Zoo Wildlife Alliance also runs the San Diego Zoo Safari Park, which is 35 miles away in Escondido, California.
More more information visit the San Diego Zoo Wildlife Alliance website.
5. USS Midway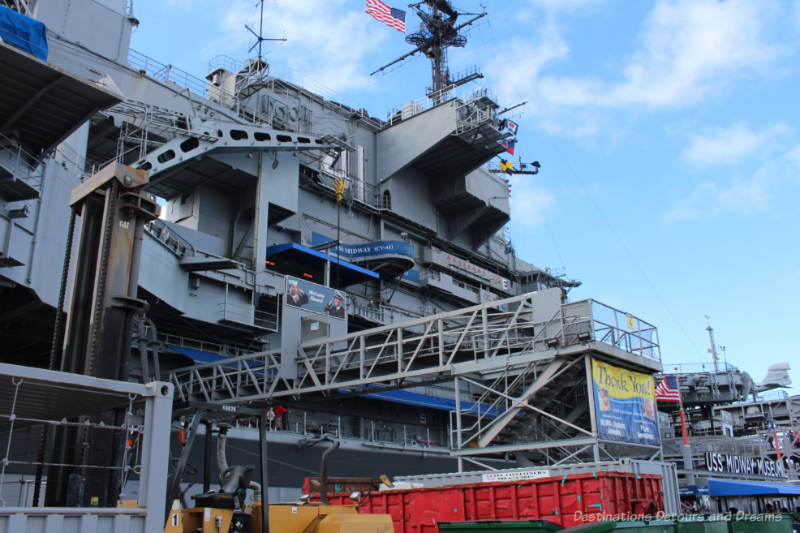 The USS Midway is a historic naval aircraft carrier permanently moored in San Diego Harbour and operating as a museum. It is the most-visited naval ship museum in the world. Visitors can explore the places where 200-300 aviators and 4,200-4,300 support staff lived and worked. More than 30 restored aircraft and helicopters are on display.
The USS Midway was the longest-serving aircraft carrier in the twentieth century. A fifteen-minute film on the ship's history, intertwined with significant events in American history, provides a good introduction to the ship.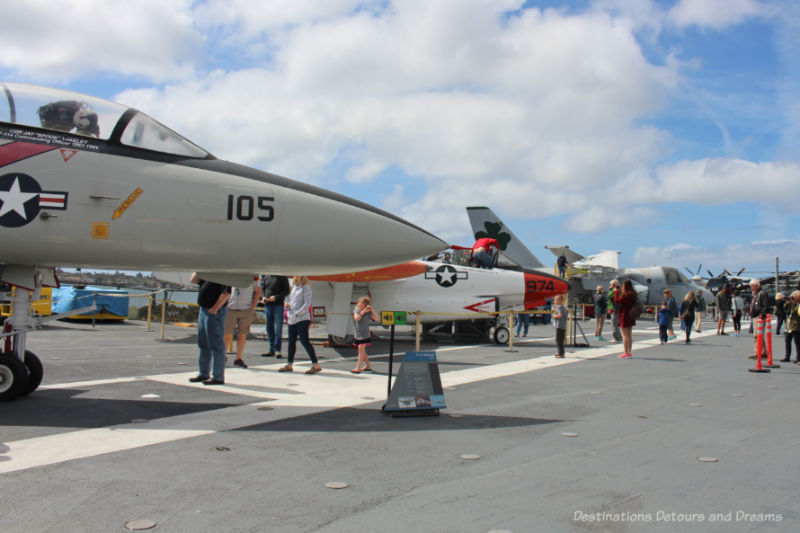 Read more in my post USS Midway Museum in San Diego or visit the USS Midway website.
6. Embarcadero and San Diego Bay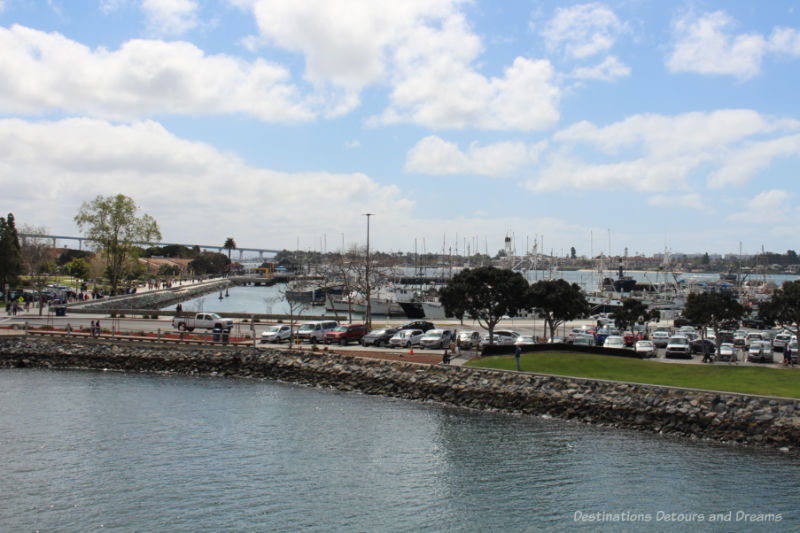 The scenic waterfront Embarcadero, where the USS Midway is moored, is a great place to stroll, look at public art, shop, or dine with waterfront views. The Maritime Museum of San Diego consists of several historic sailing vessels. The 12-acre Waterfront Park features playground, grassy lawns, an 830-foot-long fountain with water jets, and views of the bay. At Seaport Village, you'll find 50 themed shops plus a variety of eateries. Tuna Harbour Park is a good spot for viewing the diverse boating activity in the bay.
You may want to get on the water yourself. Sightseeing harbour tours, gourmet dinner cruises, whale watching tours, and speed boat adventures are available.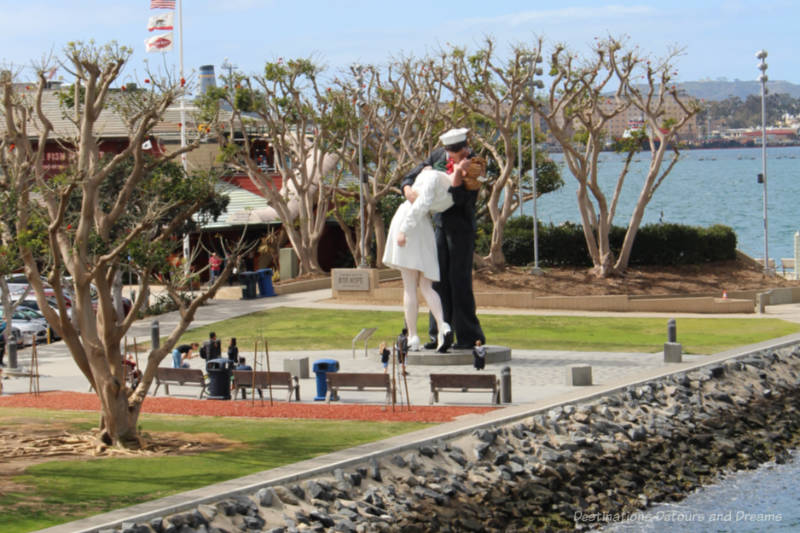 7. Coronado Island
Just across the bay from downtown Dan Diego, Coronado Island is known for its sandy beaches, clear waters, and beach town vibe. You'll also find elegant mansions, shops, restaurants, theatres, and art galleries. Explore the island by bike, stroll through shops and galleries, or simply spend time at the beach.
Technically, Coronado Island is a peninsula and not an island. It can be reached by crossing the Coronado Bridge or taking a ferry or water taxi across the bay.
Beyond San Diego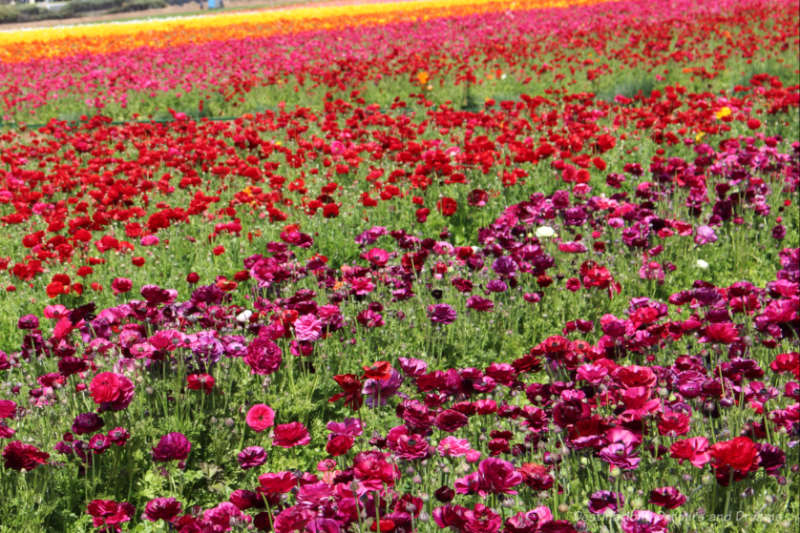 Visit the San Diego Tourism Authority website to find more things to do in San Diego. The list of activities to chose from grows even larger when you include towns and cities up the coast and nearby interior attractions. I haven't explored much of this area myself yet, but I do want to mention one place I feel merits visiting if you are in the area in springtime. The Flower Fields at Carlsbad Ranch are ablaze with the brilliant colours of ranunculus blooms. Read more in my post A Colourful Blaze of Spring Flowers at Carlsbad Ranch Flower Fields.
Never miss a story. Sign up for Destinations Detours and Dreams free monthly e-newsletter and receive behind-the-scenes information and sneak peeks ahead.
PIN IT