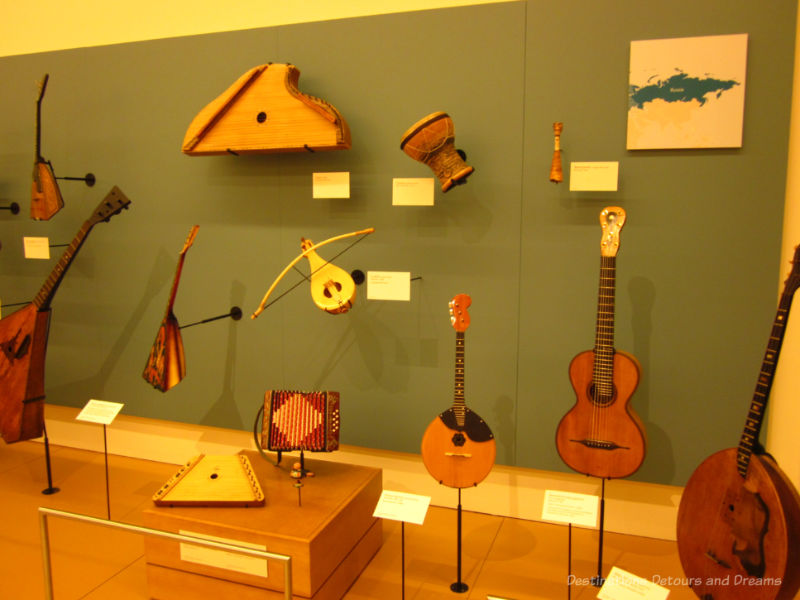 The Musical Instrument Museum in Phoenix, Arizona contains historical information, sound recordings and video for its vast array of instruments
What is a bandura? What Japanese musical instrument was a mark of accomplishment for woman, a way to show sophistication? What is a midwinterhoorn? What innovation did Henry Steinway Jr. introduce in December 1859?
Answers to these questions can be found at Phoenix Arizona's Musical Instrument Museum, along with a wealth of other information and displays of almost every instrument imaginable.
Geographic galleries contain displays of instruments by region and country accompanied by information about the instruments and video and audio recordings. Through a battery operated headset supplied upon admission you listen to music while you watch video on flat screens mounted throughout the displays.
The short music samples allow you to hear the instruments and get a taste of the styles of music across regions and ages. Many times I found myself smiling as I listened to the snippets. I heard Siberian indigenous Tuvan throat singing that reminded me of Canadian Inuit throat singing, polkas, classical symphony, Cape Breton fiddling, soothing gong music, Janis Joplin, and Elton John.
In addition to the displays by country, special displays focus on particular types of instruments. As I strolled through the museum, I was surprised by the number of instruments that resembled bagpipes, an instrument I had associated solely with Scotland. 
In the United States and Canada area, special displays highlight various types of music, including jazz, country, hip hop, rock and roll, bluegrass, and iconic American manufacturers. The Target Gallery hosts travelling exhibitions focused on specific artists.
Some instruments, such as musical glasses, were unusual and odd. Designed for at home use, the glasses were blown to pitch and played by rubbing the rims with moistened fingers. The glasses declined in popularity around 1860 amid rumours that the vibrations caused madness. It may be that the lead in the glasses and rims contributed to lead poisoning over time.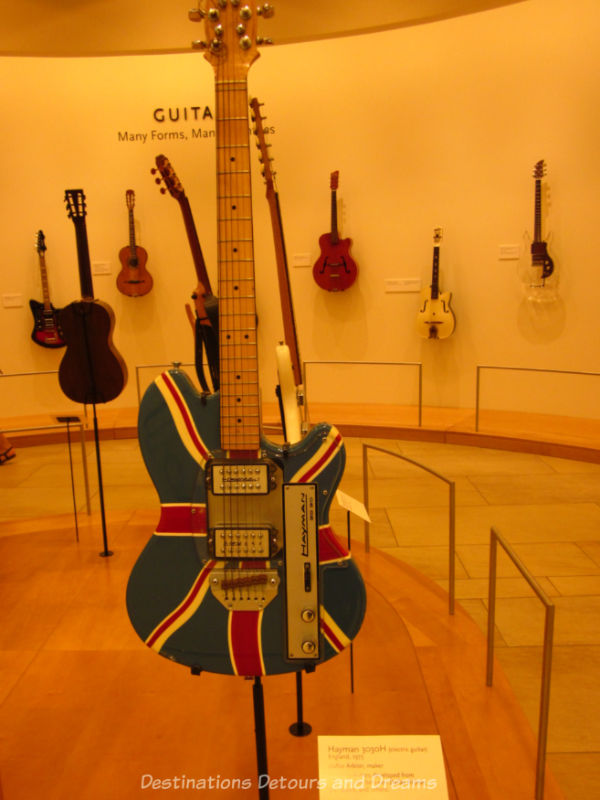 There is so much to see and hear at the museum it can be overwhelming. If one took the time to listen to every sample of music, I doubt one could get through the entire museum in a day. I spent three hours. Although I went through every gallery, I gave some displays only a cursory look as I was approaching overload. I enjoyed my visit and expect to visit again. I still have a lot to see and hear.
As to the answers to the questions at the front of this post:
The bandura is a lute now recognized as Ukraine's national instrument.
Though almost always played by women, the koto was often taught by blind male master teachers.
The midwinterhoorn is a traditional Dutch wooden trumpet. During the long dark days of winter, the early Dutch feared the sun would not return. They used horns to repel the mythical wolves who chased away the sun and the moon.
In December 1859 Henry Steinway Jr. introduced overstringing into piano making. Overstringing means that the longer bass strings cross over the shorter mid-range and treble strings resulting in a more balanced sound.