Moon Gate Guest House In Southeastern Manitoba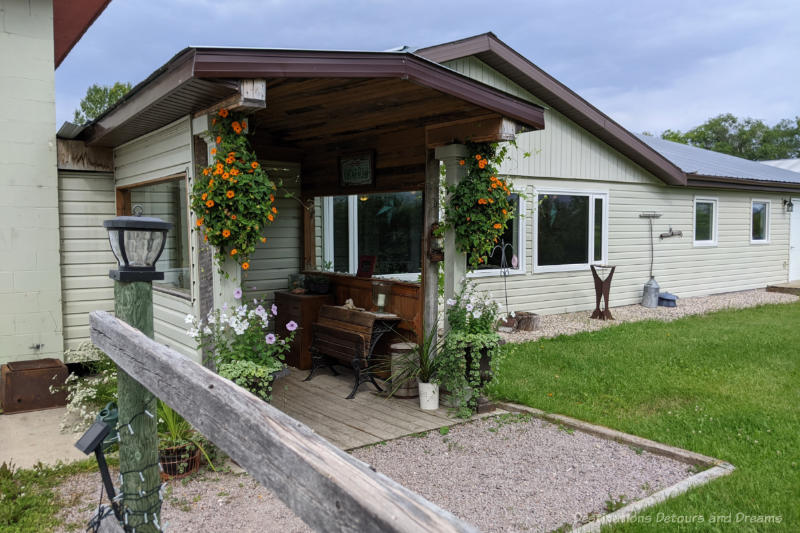 A comfortable, eco-friendly guest house in a peaceful location along the river at Whitemouth, Manitoba, Canada
Located on the banks of the Whitemouth River in southeastern Manitoba, Canada, Moon Gate Guest House is a year-round, eco-friendly guest house. I recently stayed at the guest house while my husband and I attended a wedding in the area.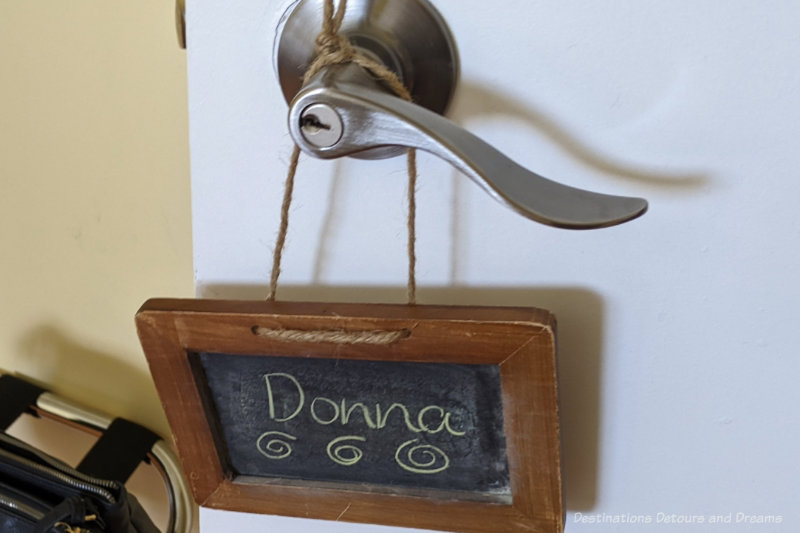 The comfort of the lodge and the quiet, peaceful setting creates a feeling of peace and calm that invites one to leisurely linger, take deep thankful breaths, and relax. The absence of Internet and television forces one to disconnect for a while. Note that cellular service may be available, but it is spotty.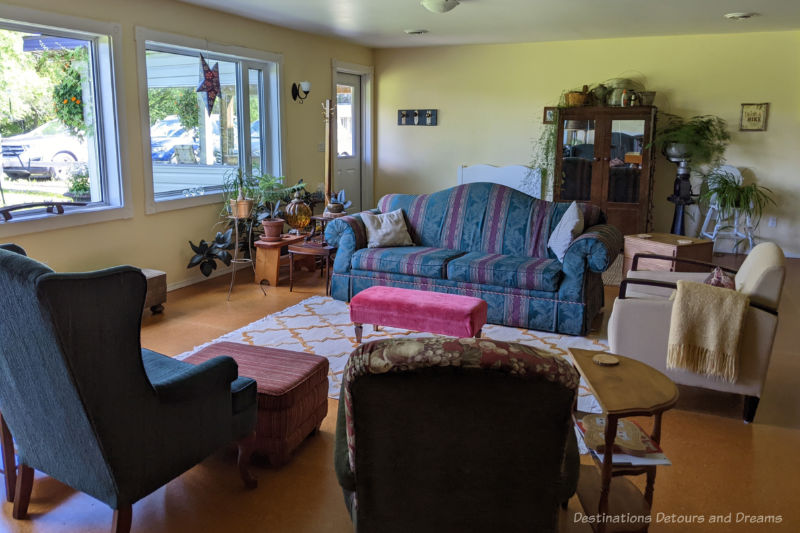 The guest house, which was immaculate when we stayed there, contains a large common space, five bedrooms, and two shared bathrooms. Three of the bedrooms feature queen beds. The others contain two twin beds. In addition, a couple of alcove areas in the hallway provide spots to read or just relax. The guest house is on one level and wheelchair accessible. My husband uses a walker and could easily manage throughout the house.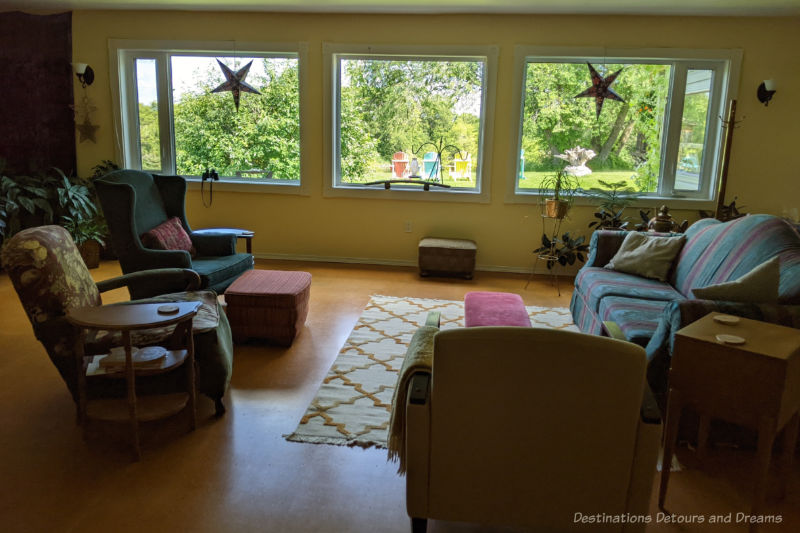 The common space features large windows letting in light and views to the river, one of the most well-stocked kitchens I've ever encountered in a rental (note, however, no microwave), and a dining table. Furnishings include comfortable seating, antiques, and novelty items. There are books and games.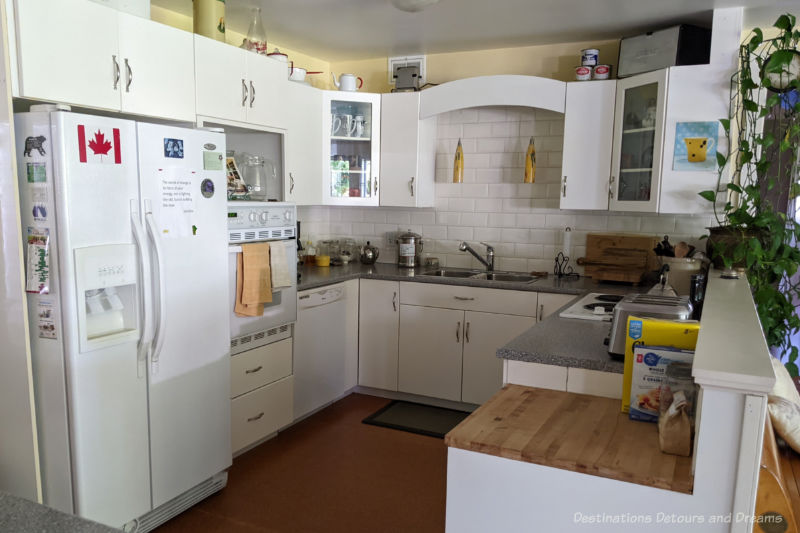 Breakfast is make-your-own with supplies provided. On our stay, the kitchen was stocked with cereal, bread and jams, eggs, yogurt, fruit, milk, cream, juice, and Trail's End Coffee beans. Kitchen amenities include an electric coffee grinder and drip coffee maker. Trail's End Coffee is an artisan roasted specialty coffee business located in Elma, Manitoba.
While individual rooms can be booked, as was done in our case, the guest house also accommodates group bookings for the entire house. The owner told me about a group of women quilters who do that every December.
Owners Jenny & Michel Dupas live in a house on the same property. I had a chance to talk with Michel the morning after our stay. He told me they'd owned the property for 13 years and had been running the guest house for 11 years. The guest house building had been an egg-grading facility at one time and a tongue depressor factory for a short while after that. He completely redid the building inside and out. In the years since, he has continued to develop the property.
One of the developments is his wood-fired pizza oven. Friday evenings during the summer are pizza nights. You can pre-order his hand-made pizzas to take home or eat at the picnic tables on the property. Occasionally, a band or entertainer may provide live music. Unfortunately, I wasn't there on a Friday and I didn't have a chance to try one of the pizzas.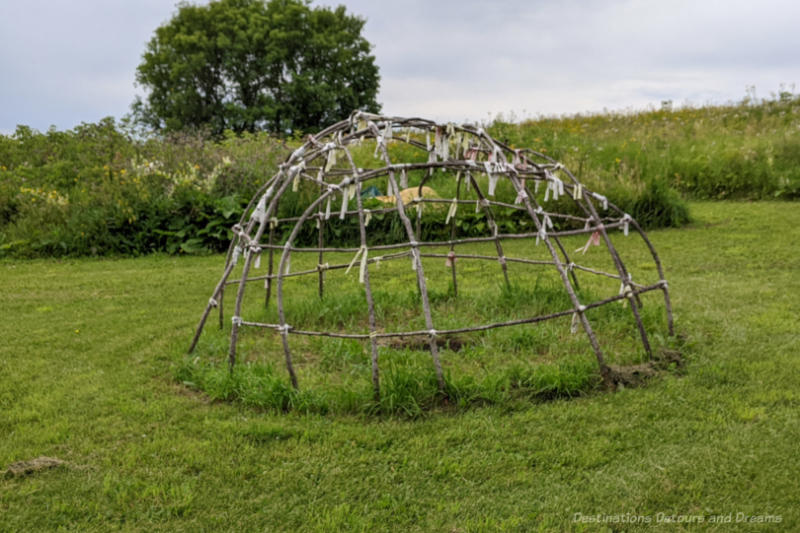 Michel and Jenny Dupas are of Métis ancestry and offer a number of Indigenous cultural experiences. These include plant walks, smudge ceremonies and sharing circles, voyageur snowshoeing, and moon ceremonies. You can find more information on the website. Contact Michel and Jenny for further details.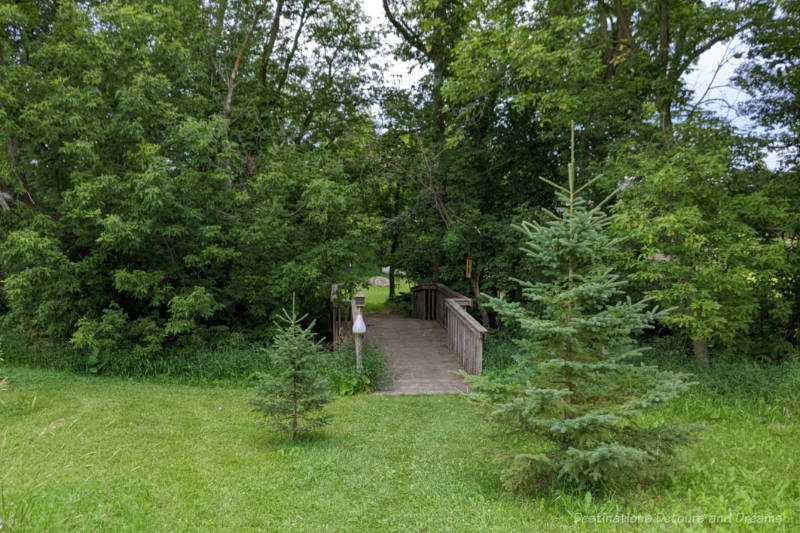 A bridge through a grove of trees at one end of the property takes you to a spot along the river where you'll find the Round House, built in a symbolic round shape. In Indigenous cultures, the round house was a community centre used for gatherings and ceremonies.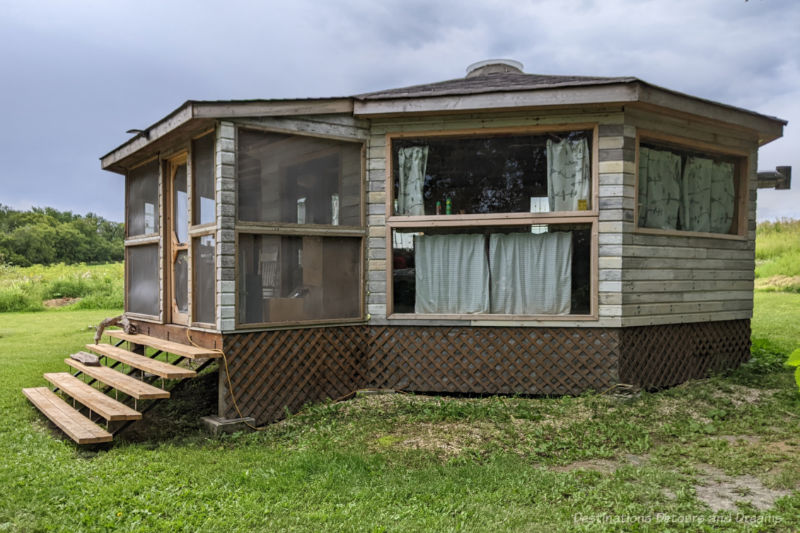 The Moon Gate Round House can be booked. On the website it is described as a place to "rest, heal, celebrate, seek guidance, or even to mourn." It is completely off-grid. While being completely off-grid is not something that appeals to me, I have to admit it is in a beautiful spot. With the river on one side and trees on the other, it feels very secluded.
My stay at Moon Gate was short. It would have been nice to have another day or two to completely unwind. The only issue I had with the place were the mosquitoes, which, unfortunately have been particularly bad this summer in Manitoba (not just at the guest house) because of our very wet summer, which is on track for the possibility of setting records. Insect repellent was needed to enjoy the outdoor space. In spite of that, I would definitely consider another stay at the guest house. The owners made me feel very welcome from the moment I contacted them to make a booking and throughout my stay.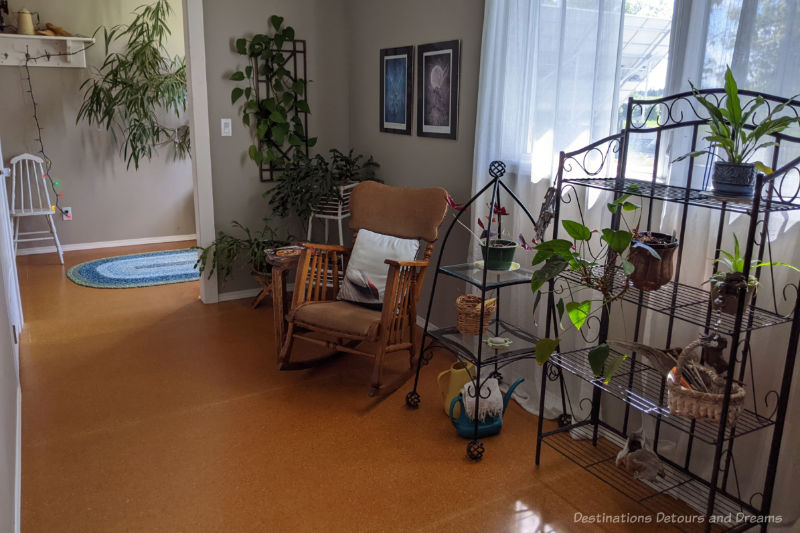 Moon Gate Guest House is located one hour east of Winnipeg about half way between the communities of Elma and Whitemouth. It is approximately 30 kilometers from Whiteshell Provincial Park, a park of over 2,700 square kilometers at the eastern end of Manitoba containing numerous lakes, rivers, forested areas, and Precambrian Shield.
PIN IT