Wine and Cheese on Salt Spring Island
A visit to a winery and a cheese maker on Salt Spring Island, one of the Gulf Islands in British Columbia, Canada
Located in the Salish Sea between the British Columbia mainland and Vancouver Island, Salt Spring Island is the largest (70 square miles or 180 square kilometres) and most populated (10,500) of Canada's southern Gulf Islands. With hills, old-growth forests, parks, beaches, coastal views, and lakes, the island offers spectacular scenery and many nature activities. It is known for its organic farms, markets, artists and artisans, healers, hippies of all ages, and laid-back atmosphere. It also has wineries and a cheese maker.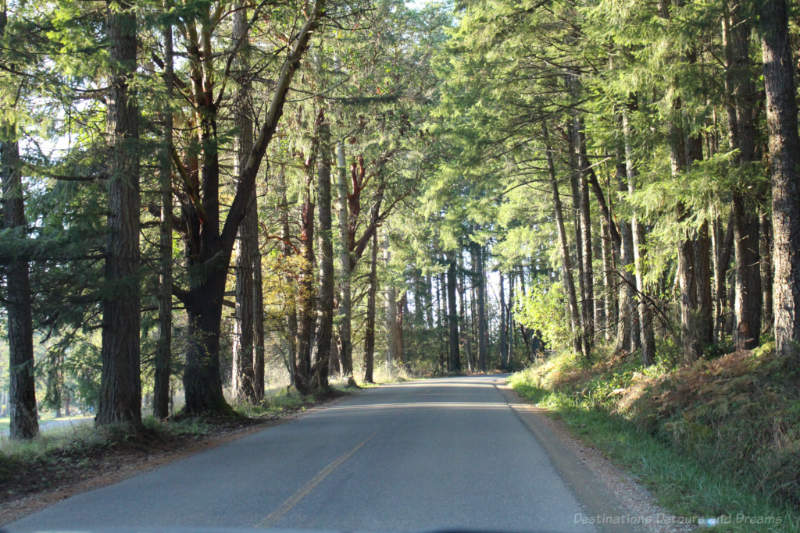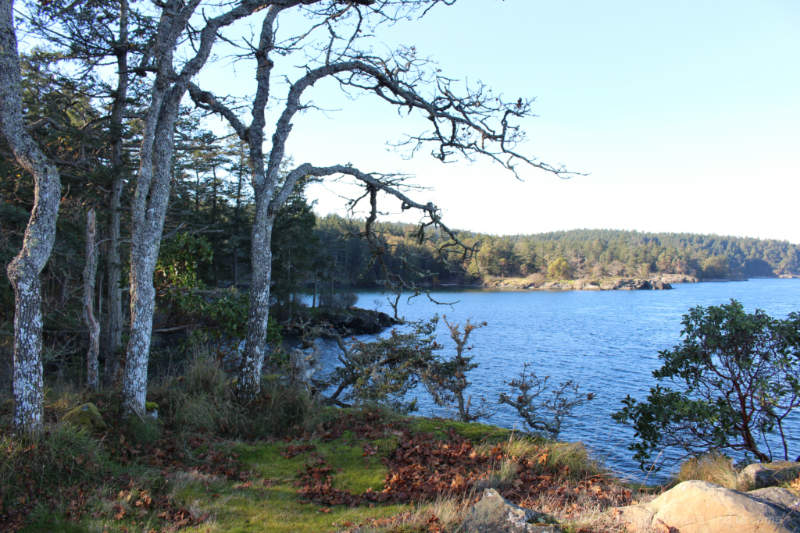 Salt Spring Vineyards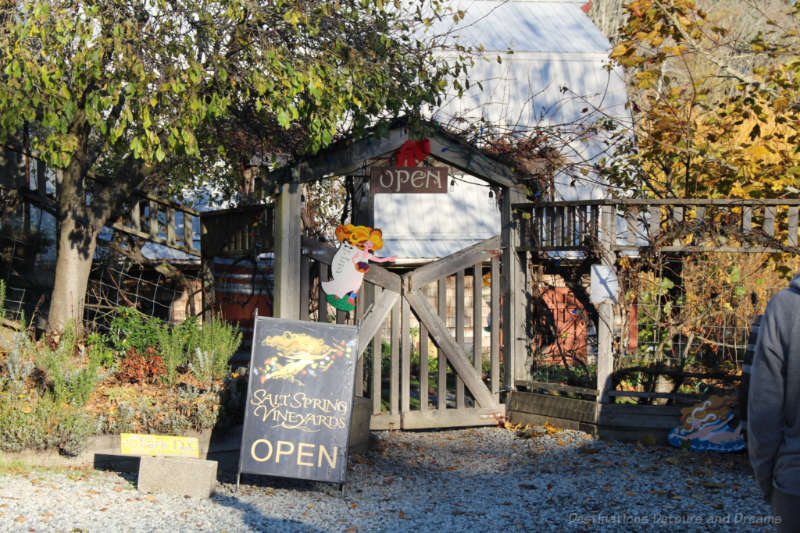 Salt Spring Vineyards wines are made from 100% Gulf Island grapes, sustainably grown. The grapes are hand harvested in October and crushed and bottled on the property. Their tasting room is set in a park-like setting with a deck, picnic tables and a gazebo. Tastings are free.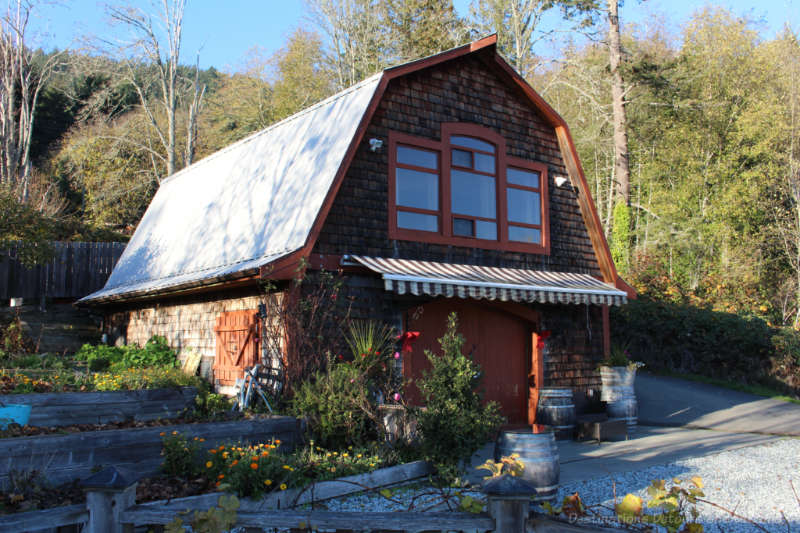 When I visited in November of 2018, three of their four wines were available for tasting. They did not offer tastings of their award-winning "method champenoise" sparkling Karma 2015. The white Evolution 2017 is a blend of varieties Epicure and Amiel. I'm not good at describing wines. I liked this wine, but the first word that came to mind was charcoal. That is because it is a very dry wine. Both the Pinot Noir 2015 and the Blackberry O.M.G were very good. The tasting notes sheet identified four other wines coming in spring of 2019.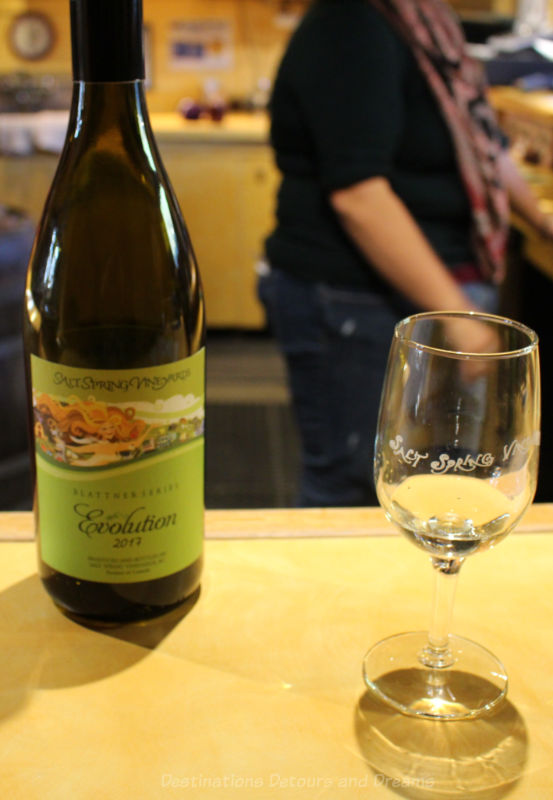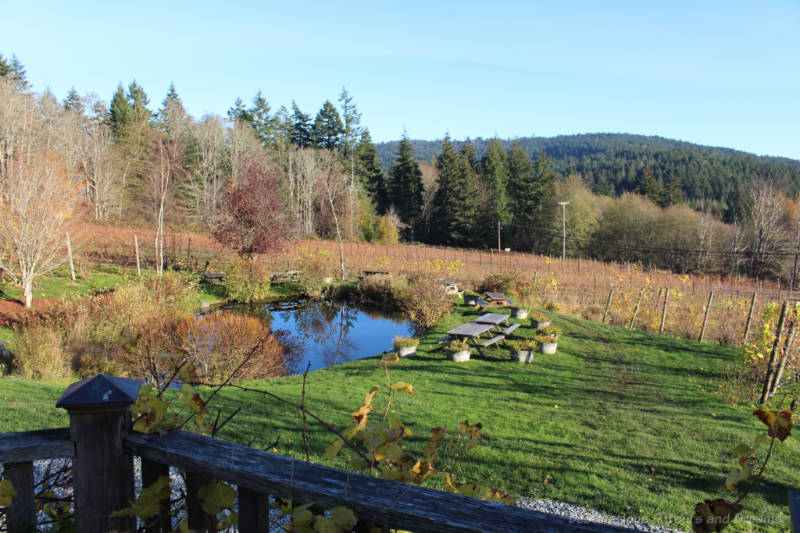 During the summer months, the winery holds events in its picnic area, with live acoustic music Friday afternoons and special event Sunday concerts.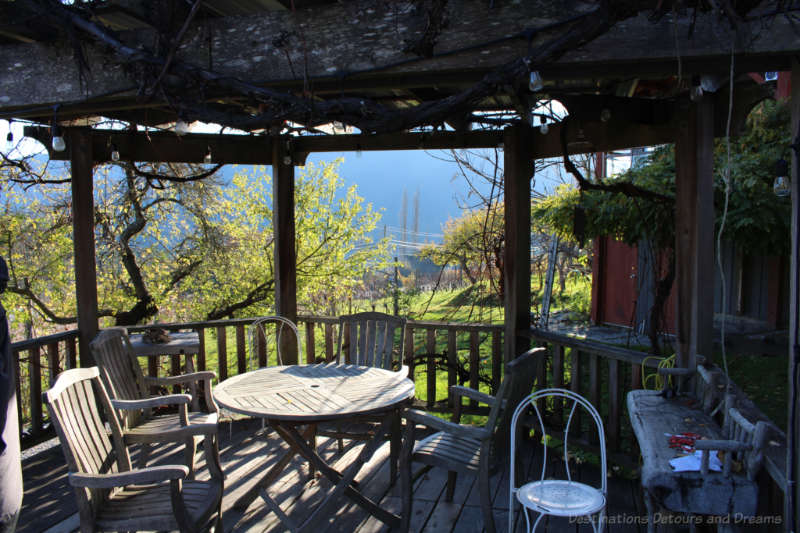 There is another winery on the island, Garry Oaks Estate Winery. I will have to visit that winery on a subsequent trip to the island. Its tasting room is not open during winter months.
Salt Spring Island Cheese Company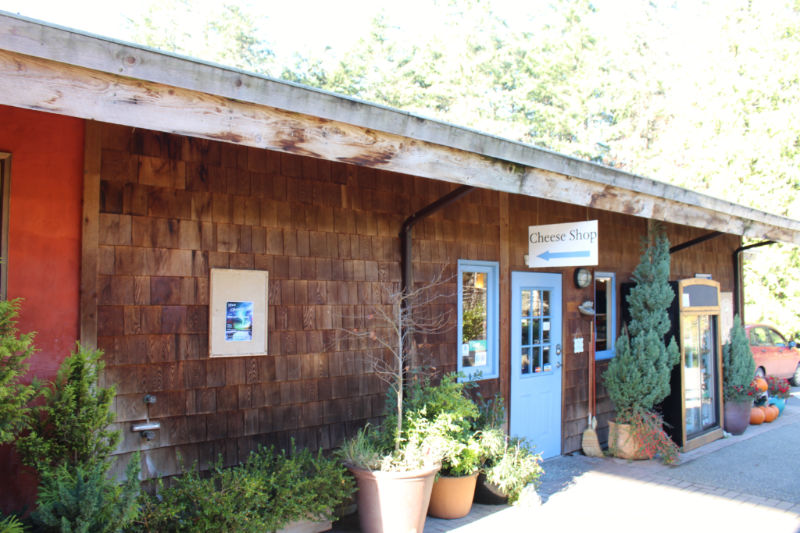 Salt Spring Island Cheese Company sold its first cheese in 1996 after six years of trial and error on the farm and in the kitchen. Their cheeses are all handmade using traditional methods and natural ingredients. They are primarily known for their chèvres, although they also make several other types of goat cheeses.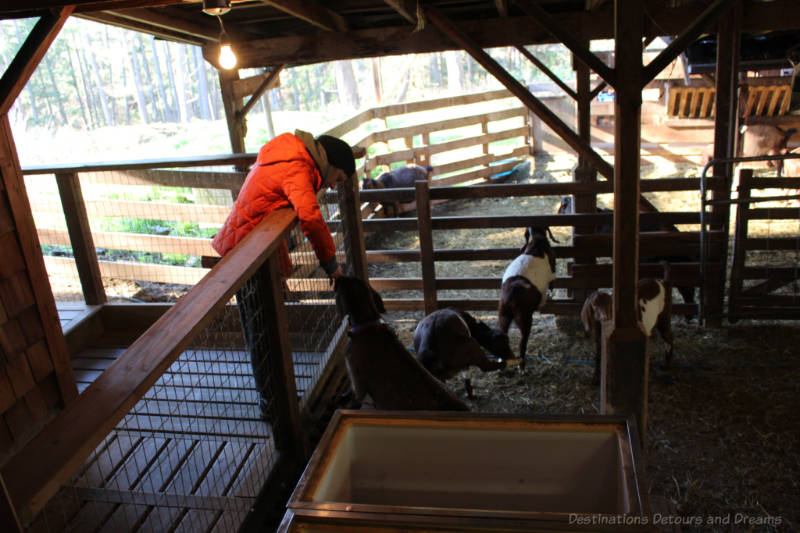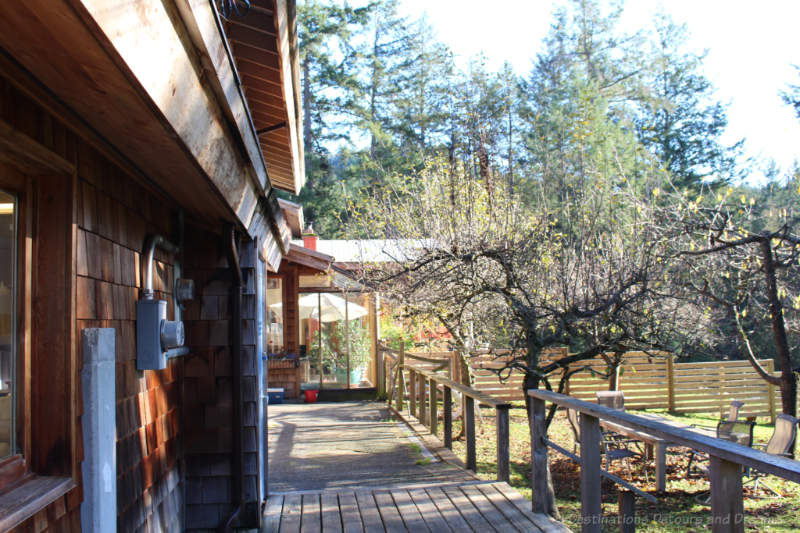 Their farm is an interesting place to visit. Decking runs around the cheese factory. Large windows allow you to look in and watch the process. Placards on the wall explain the process.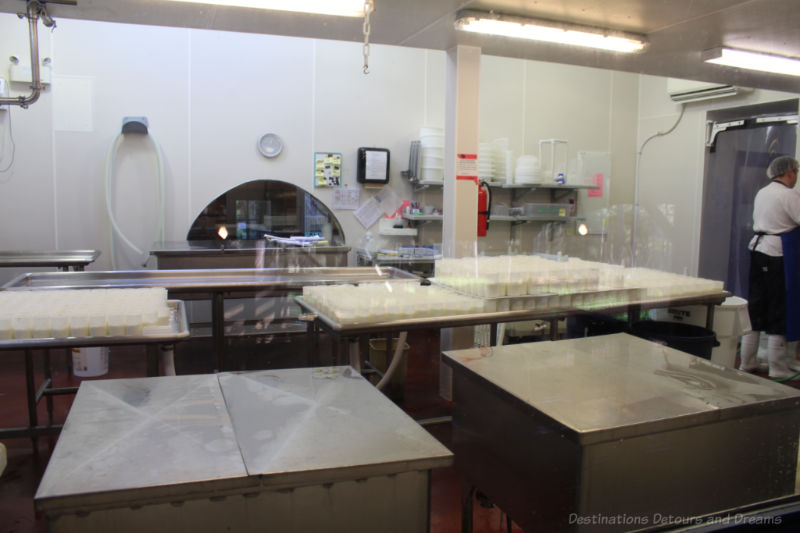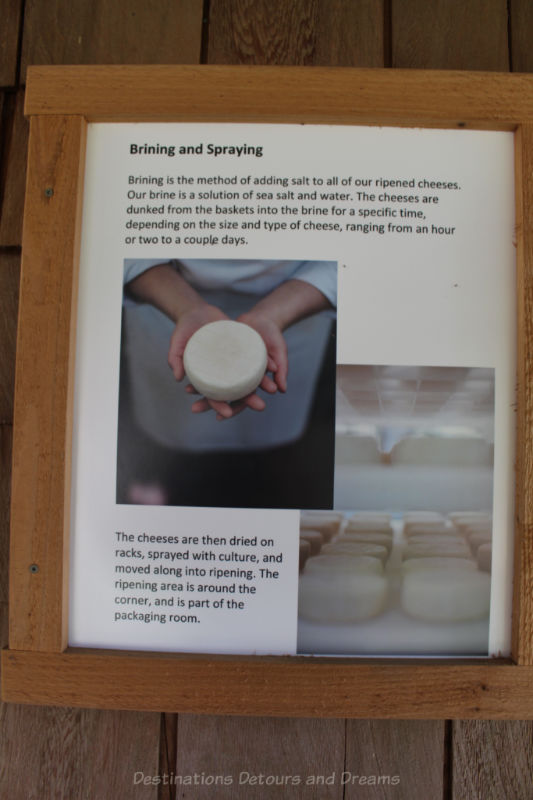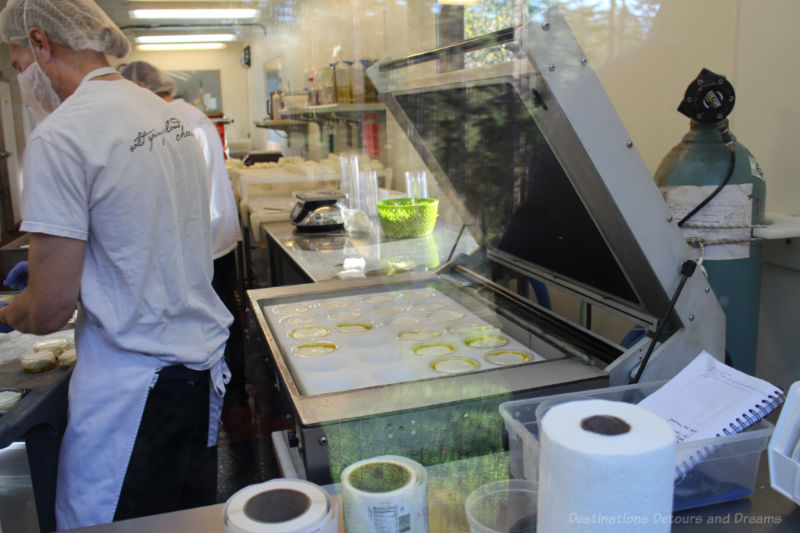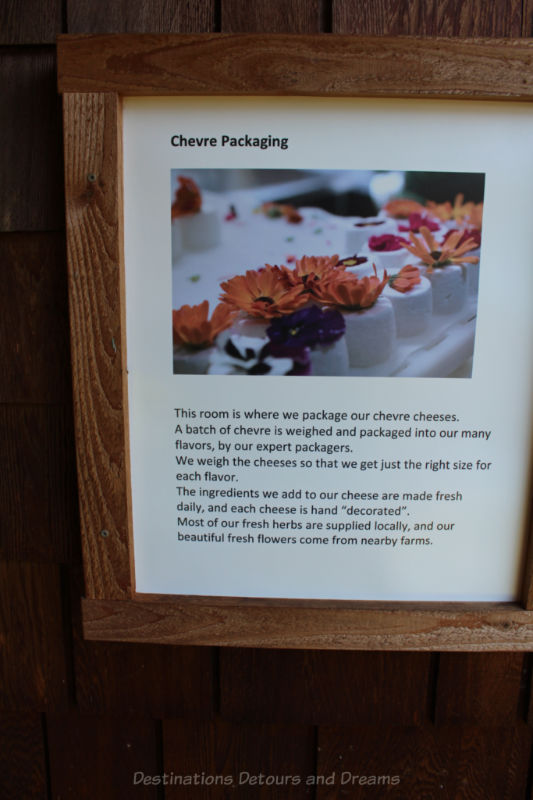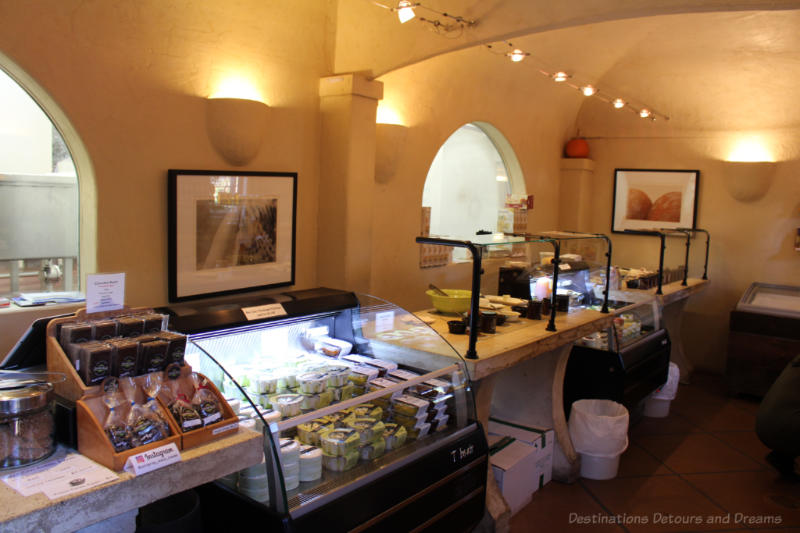 In the farm shop, cheeses are available for tasting and for sale. They make about eight varieties of chèvre. Information about the three-day process for making chevre is listed on one of the placards on the outside wall. Ruckles are soft goat milk cheese logs marinated with herbs and garlic in grapeseed oil.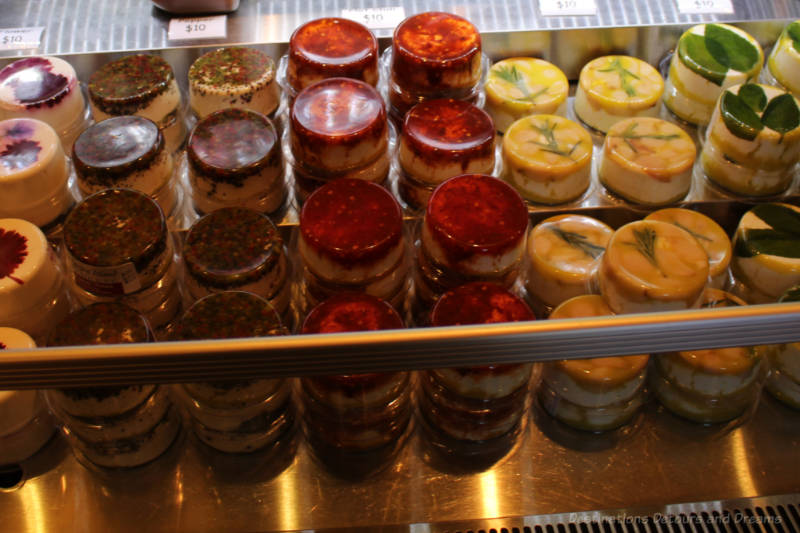 Salt Spring Island Cheese Company also makes ripened cheese, which uses a different process. The White Juliette is a surface-ripened cheese that tastes like goat Camembert. The Blue Juliette is similar to the White, but is made with half blue and half white cultures. It has a mild blue taste. The orange-coloured Romelia is rind washed as it ages and is the most pungent of their cheeses. Montaña is made mostly from sheep milk with a small amount of goat milk. They also make a feta and a spicy feta. The shop offers a few other products, such as local preserves, for sale.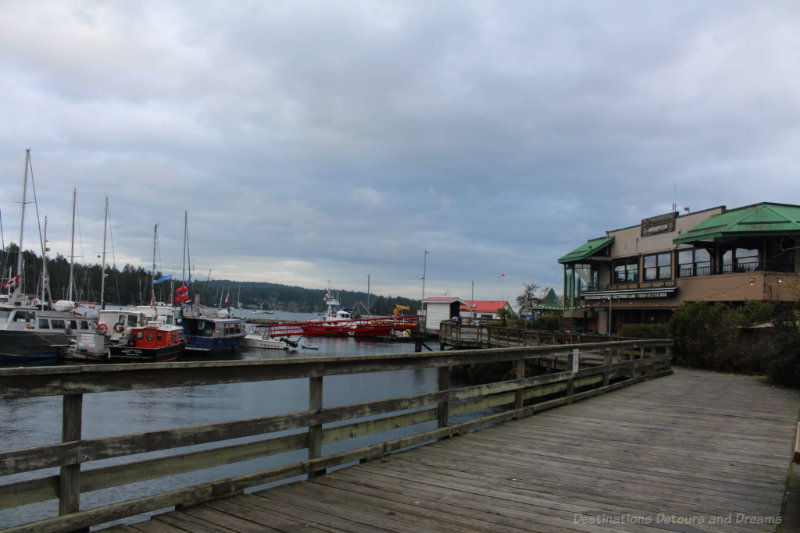 Salt Spring Island is accessible via ferry from Schwartz Bay on Vancouver Island (a 35-minute ferry ride), the Tsawwassen ferry terminal outside Vancouver on the mainland (a 1.25 to 3.5 hour ride depending on how many other island stops are scheduled), and Duncan on Vancouver Island (a 20-minute ferry ride). Sea planes operate between the island and Vancouver.
Never miss a story. Sign up for Destinations Detours and Dreams free monthly e-newsletter and receive behind-the-scenes information and sneak peaks ahead.
PIN IT