Hearst Castle: Hilltop Opulence and Art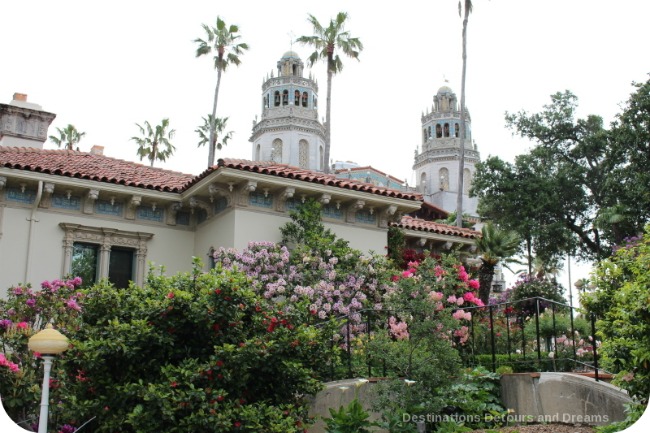 A tour of William Randolph Hearst's estate, now a state historical monument, in San Simeon, California
Updated May 2022: After a two-year closure due to the pandemic and rainstorms that severely damaged the access road in early 2021, Hearst Castle re-opened to the public on May 11, 2022.
(Disclosure: My visit was hosted by San Luis Obispo County as part of a post-trip after the North American Travel Journalists Association (NATJA) 2016 conference in Oxnard, California. Observations and opinions are my own.)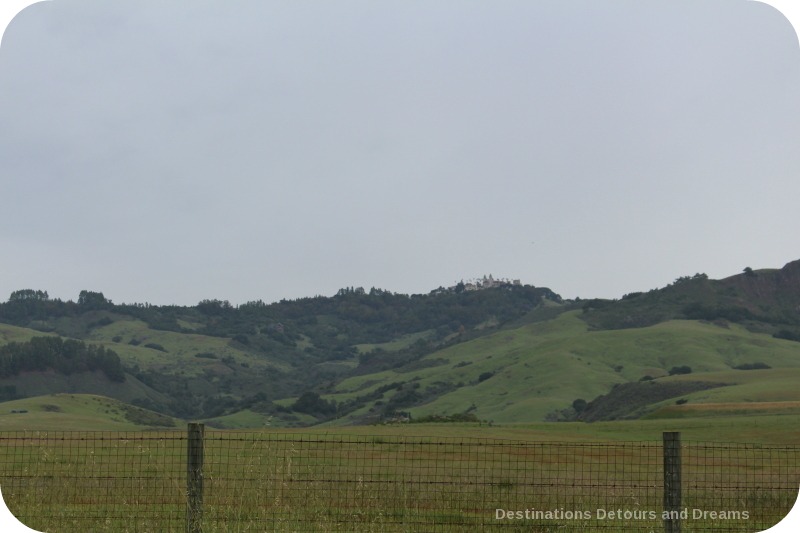 Looking up the hill from the observation deck of the Hearst Castle Visitor's Center, the former estate of William Randolph Hearst looked like a fairy tale castle. I had the sense of being about to see something magnificent but it was difficult to fully imagine what splendor awaited in that speck in the distance.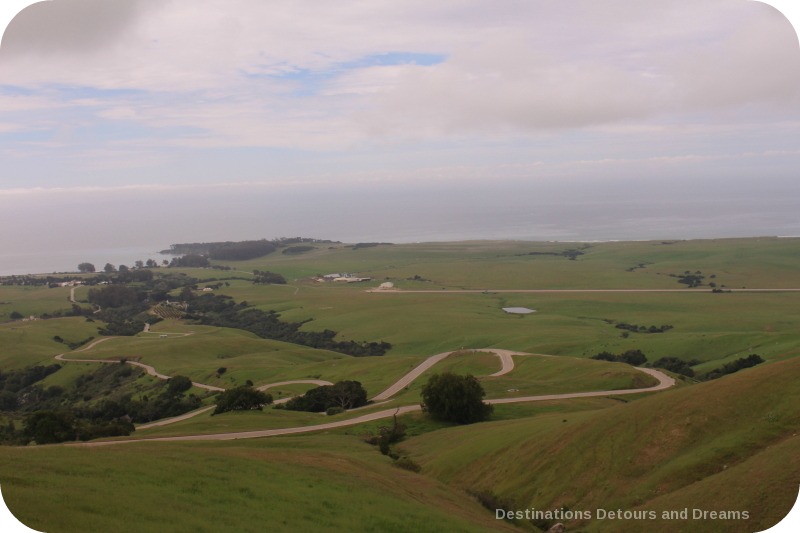 It was a fifteen minute bus ride on a winding road up the hill from the Visitor's Center to the entrance of Hearst Castle. The recorded voice of Alex Trebek provided background and pointed out highlights along the way, such as the mile-long pergola built to ride horses through or simply stroll through. The view was incredible as we climbed the hill. During the time Hearst lived at the home he called La Cuesta Encantada (Spanish for "Enchanted Hill"), he entertained many famous guests. What a great entrance for their "enchanted" visits!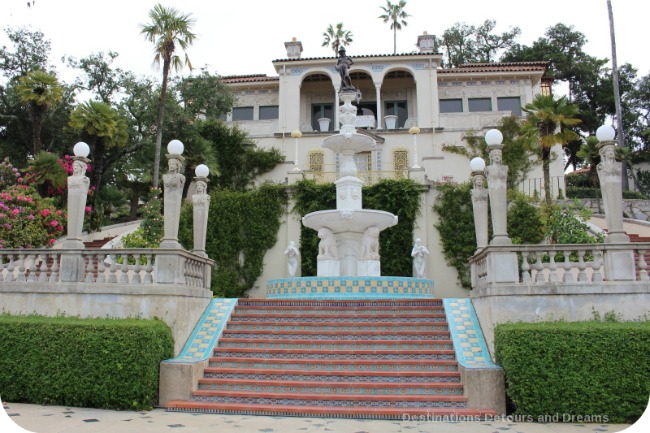 The history of the Castle began when William Randolph Hearst's father, George Hearst, purchased 40,000 acres of ranch land in 1865. By the time William inherited the land in 1919, the estate was 250,000 acres. The wilderness on the hill had been used as a campsite for family and friends. Hearst approached San Francisco architect Julia Morgan.
"Miss Morgan, we are tired of camping out in the open at the ranch in San Simeon and I would like to build a little something."
William Randolph Hearst was a media tycoon who owned several newspapers (more than two dozen at his peak) and magazines. He branched into radio broadcasting and produced movie newsreels. His media career began as a young man when he convinced his father to turn the San Francisco Examiner over to him. His father had acquired the newspaper as payment for a gambling debt. In 1902 and 1904 William Randolph Hearst was elected to the House of Representatives.
Julia Morgan, a San Francisco native, was the first woman to receive a certificate in architecture from Ecole des Beaux-Arts in Paris and the first woman architect licensed in California. She built over 700 buildings in California.
La Cuesta Encantada at San Simeon became Hearst's primary residence. Construction continued during the 28 years he lived and entertained there. By 1947, this "little something" had 165 rooms and 127 acres of gardens, terraces and pools.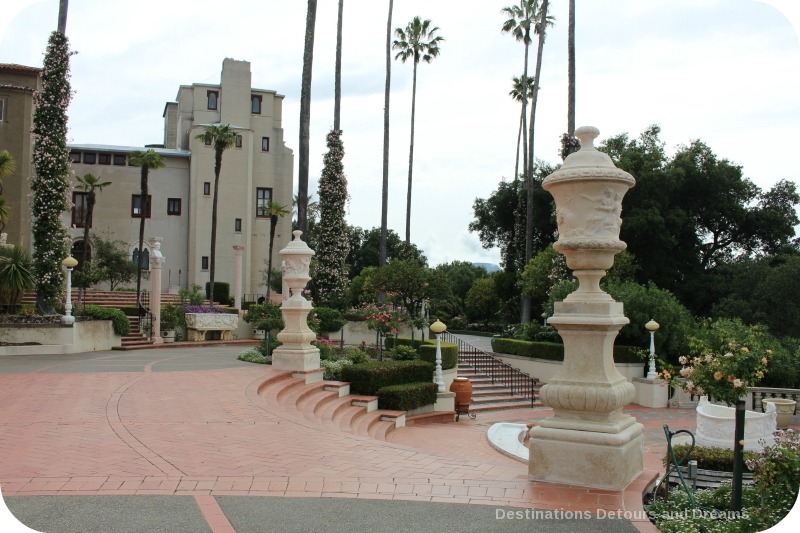 Hearst made a trip to Europe with his mother when he was ten. The castles and art he saw there became the inspiration for La Cuesta Encantada. The hilltop estate was designed to resemble a Mediterranean village with the towered main house as its cathedral and guest cottages as other village buildings.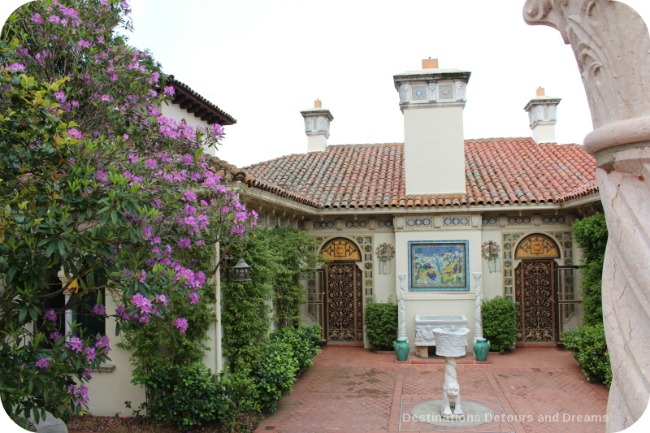 I was on the Grand Rooms Tour. We were encouraged to imagine ourselves as guests at the estate.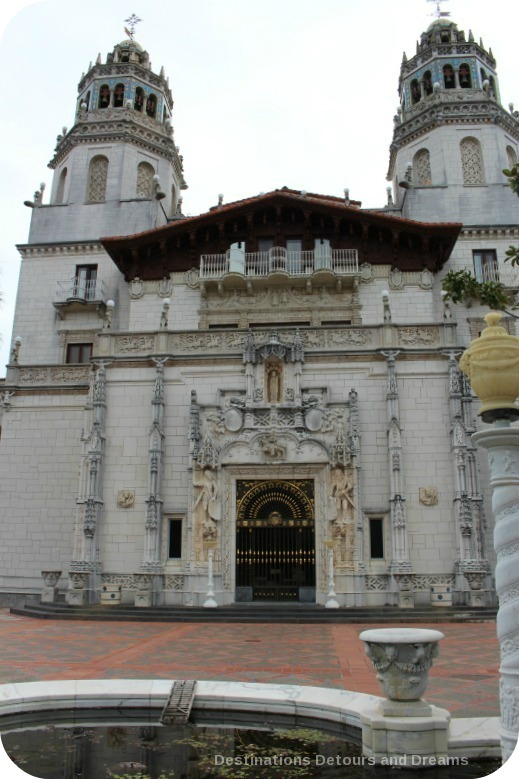 In the evening, guests gathered in the Assembly Room in Casa Grande for cocktails and conversation. Attendance was mandatory. The room is massive, with dark walnut paneling, Renaissance and Baroque tapestries, a third century Roman mosaic tile floor in the entryway, antique furniture, and numerous art pieces throughout the room.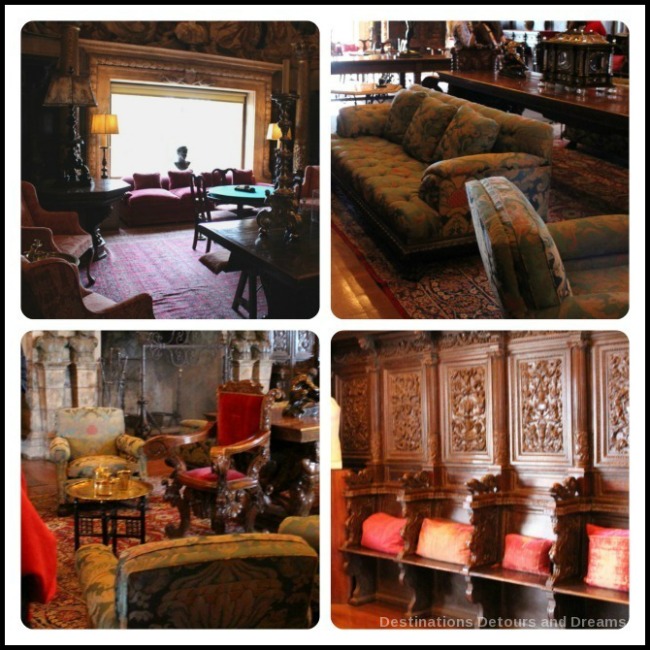 Hearst Castle's collection of art and antiquities rivals many museums. When I visited, there was a blank spot on the wall in the Assembly Rooms because one of the tapestries was on loan to a museum. William Randolph Hearst's art collection included Old Master paintings, tapestries, Oriental rugs, furniture, and Greek, Roman and Egyptian antiquities. Art and antiquities were incorporated into the design of the estate as well as being on display.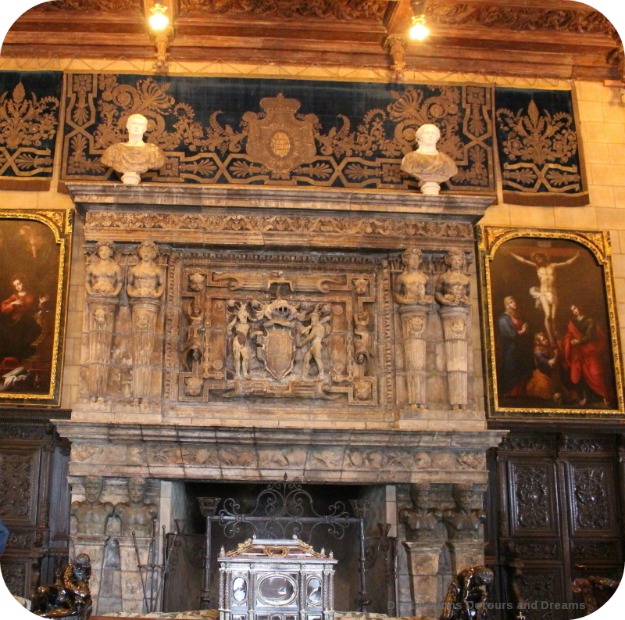 After his guests had gathered, William Randolph Hearst joined them, most likely accompanied by Marion Davies. In 1903, at the age of twenty-one, Hearst married Millicent Wilson. They had five sons. In 1917 Hearst fell in love with twenty-year-old Marion Davies of the Ziegfeld Follies. They maintained a relationship until Hearst's death. William and Millicent never divorced, but they lived separate lives after Hearst's relationship with Marion Davies became public in 1926. Millicent lived in New York.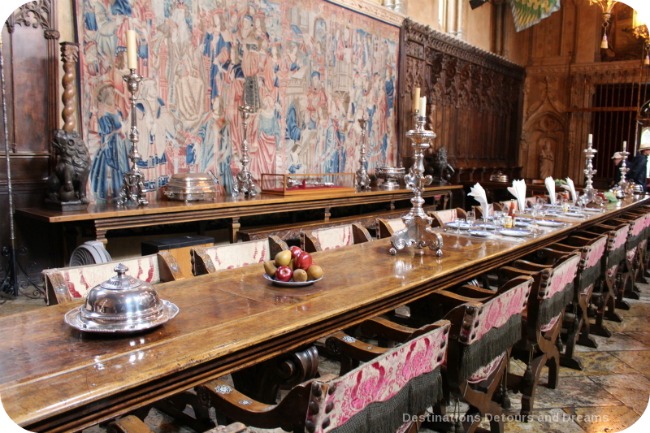 After cocktails in the Assembly Room, guests entered the dining room. Hearst sat in the middle of the table. As your stay wore on, you might find your place at the table moved farther and farther away from Hearst, a hint you'd overstayed your welcome. After dinner, guests joined Hearst and Davies in the Theatre to watch a movie and a newsreel.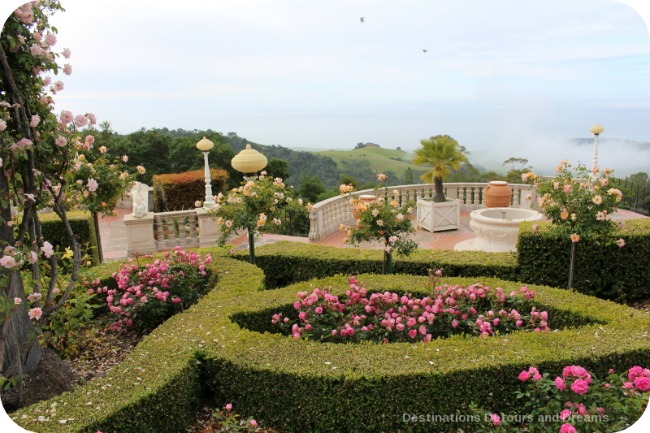 There was plenty to keep guests occupied during the day – tennis, swimming at one of two pools, horseback riding, billiards, walks through the grounds or simply enjoying the gardens and the views.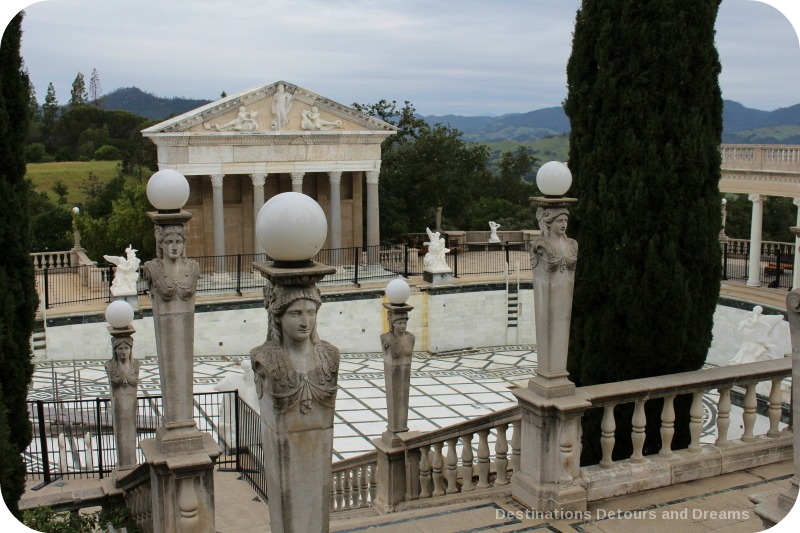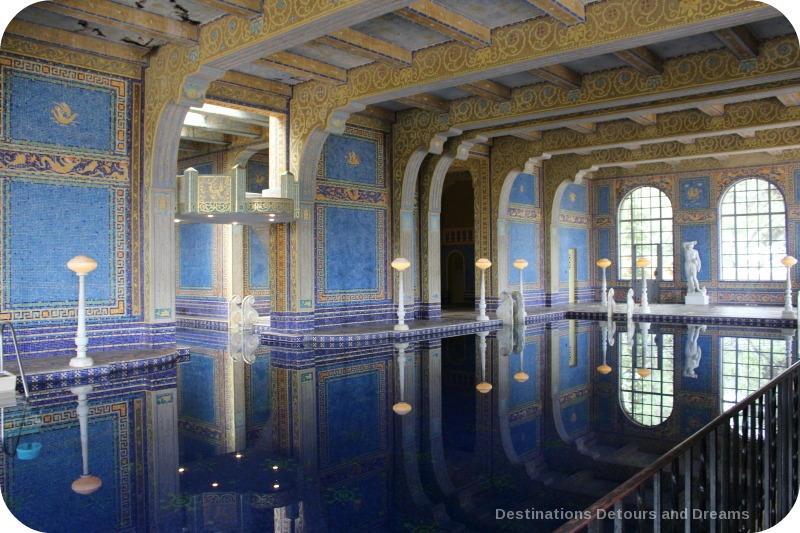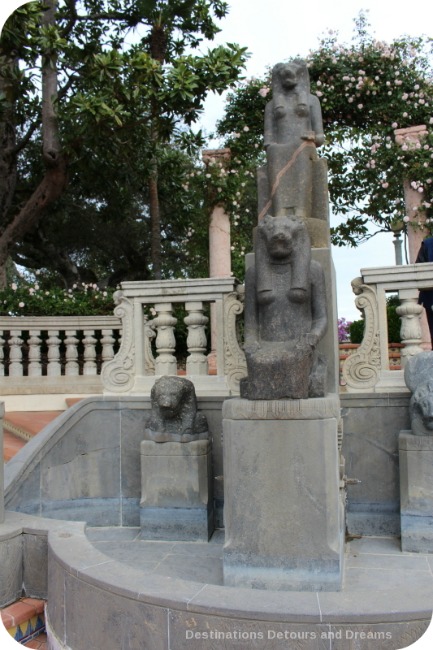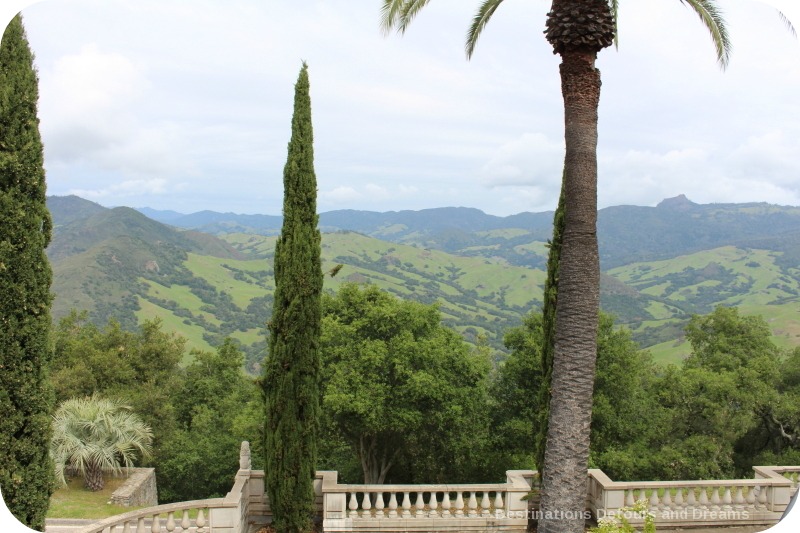 Hearst left La Cuesta Encantada in 1947 to seek medical care. He died in Beverly Hilsl in 1951 at the age of 88. The hilltop was donated to California in December 1957 by Hearst Corporation. Hearst San Simeon State Historical Monument was dedicated June 2, 1958.
Today, nearly a million visitors tour Hearst Castle each year. California State Parks strives to keep the estate and its artifacts in good shape while preserving the look of a private residence.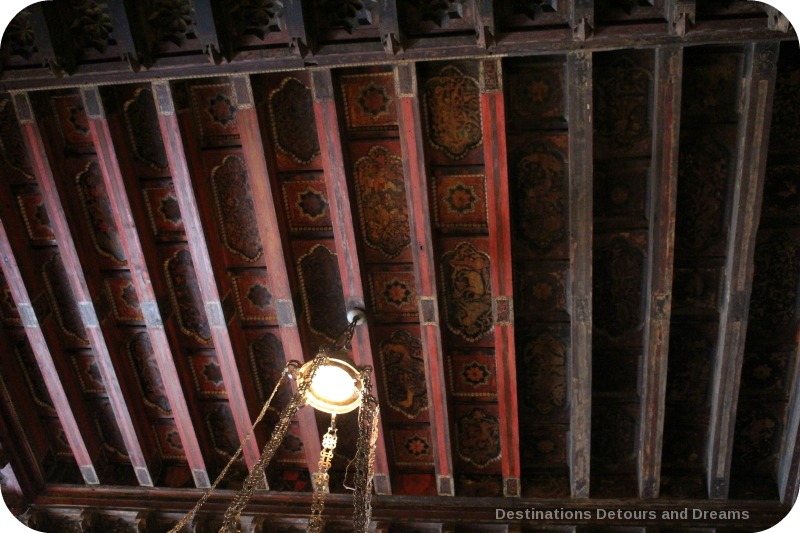 Hearst Castle is located off the Pacific Coast Highway above the village of San Simeon, California, half way between Los Angeles and San Francisco. It is open daily. A variety of tours are available, including a couple which are wheelchair accessible. Tickets can be reserved in advance. The Grand Rooms Tour is the one recommended for first-time visitors.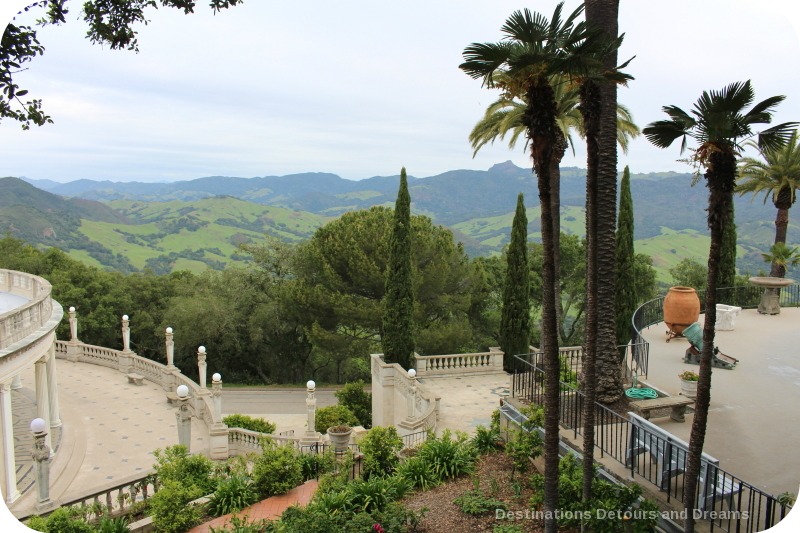 Destinations Detours and Dreams monthly e-newsletter contains behind the scenes information, sneak peeks ahead, travel story recaps and more.  SIGN UP HERE
PIN IT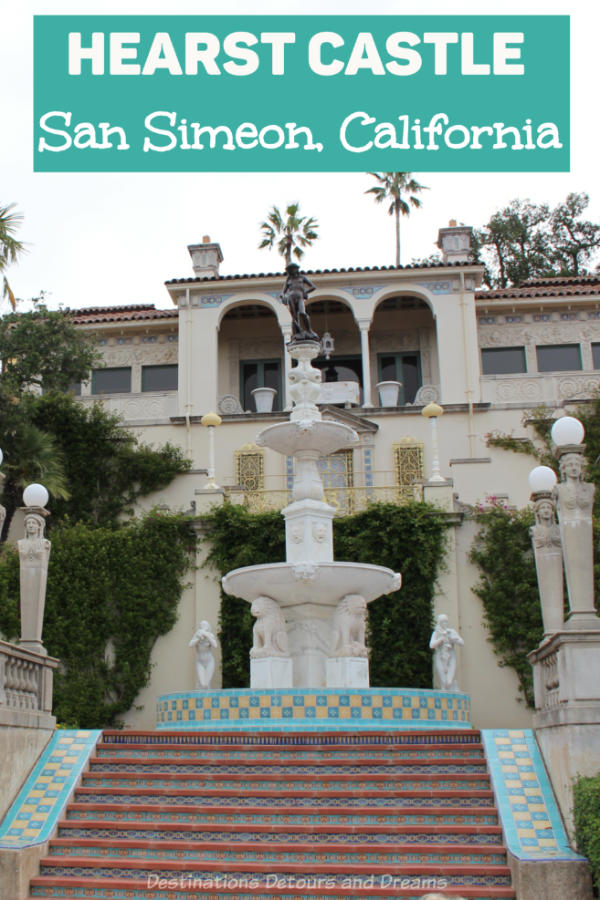 (Note: Photos are published with the permission of Hearst Castle.)