Oxnard: A Relaxed Seaside City with a Rich Farm History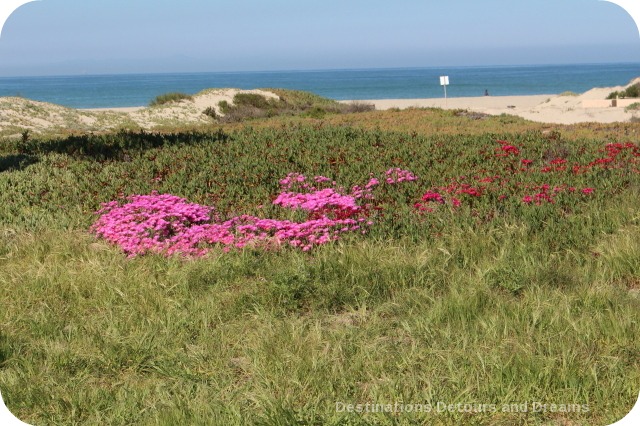 Oxnard in California's Ventura County has beaches,
water excursions, museums, wineries and a small-town vibe
Oxnard in Ventura County is only sixty miles from the freeway busyness of Los Angeles, but it seems worlds away. This southern California coastal city promotes itself as having big city amenities with a small town vibe. I felt it. With a population of over 200,000, the relaxed, friendly, down-to-earth atmosphere reminded me of small-town life. Yet there are plenty of attractions for the visitor – unspoilt sandy beaches, water excursions, museums, history, wineries, and fresh farm food.
I had not heard of Oxnard before signing up for the 2016 North American Travel Journalists Association (NATJA) conference. Oxnard turned out to be a great location for the conference and for a visit.
Agriculture
Perhaps one of the biggest contributing factors to the small-town feel is the prominence of agriculture. Agriculture is part of Oxnard's history and remains a key industry, although defense industries, manufacturing and tourism are also important.
The earliest inhabitants were Chumash Indians, who lived in the area 6,000 years ago. They were hunters, gatherers and fishermen. In 1782, after several Spanish explorations, Mission San Buenaventura was established. The mid-nineteenth century brought immigrants from the east and from Europe. Agriculture was the main industry, with barley and lima beans key crops. Later crops included walnuts and lemons. Cattle and sheep were also raised.
In the 1890s, ranchers Albert Maulhardt and Johannes Borchard believed sugar beets could be a profitable crop. They convinced other farmers to grow sugar beets and invited Henry Oxnard to construct a local factory to process the crops. Oxnard and his brothers operated the American Sugar Beet Company in Chino, California. In 1897 the Oxnards built a sugar beet factory in what is now the City of Oxnard. The Southern Pacific Railroad constructed a spur line to the factory. A town grew up around the factory. The City of Oxnard was incorporated in 1903. Oxnard became one of the biggest sugar producers in the United States. The plant closed in 1959.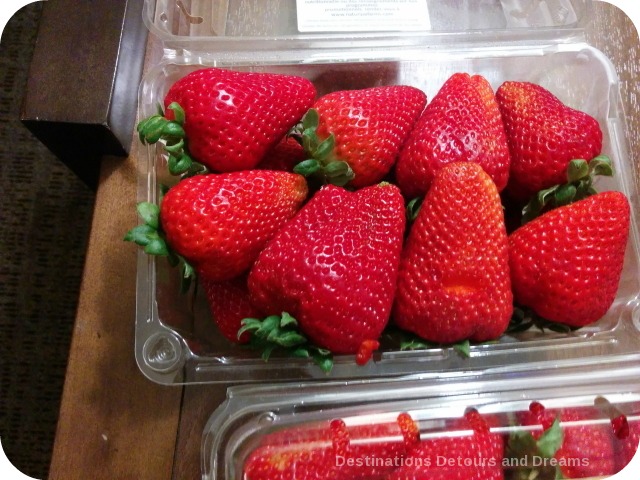 Today Oxnard is best known for its strawberries. Staggered plantings produce berries throughout the year. An annual Strawberry Festival is held in late May. As we drove around the area the Beatles song Strawberry Fields Forever frequently popped into mind. Conference attendees were given a container of strawberries when they registered. They were the sweetest, tastiest strawberries I've ever had. If I hadn't know better I would have sworn some had been sprinkled with sugar.
Other crops in the area include avocados, oranges, lemons and tomatoes. The agricultural history of Oxnard can be explored at the Oxnard Historic Farm Park and Museum, where exhibits include an 1870s farm house, an 1870s brick winery and antique tractors and farm implements.
History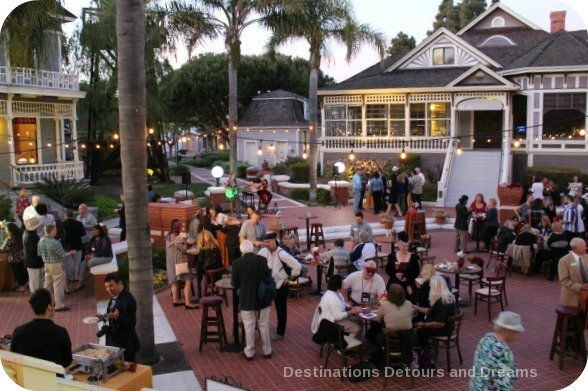 In order to preserve the history and architecture of turn-of-the-century Oxnard, eleven homes, a church, a water tower, a pumphouse and storehouse were moved to a single block in the city and restored to their original condition. Heritage Square opened in 1991. Brochures are available to help with self-guided tours. Docent-led tours occur on the weekends. Special events and concerts are held in the Square.

Wineries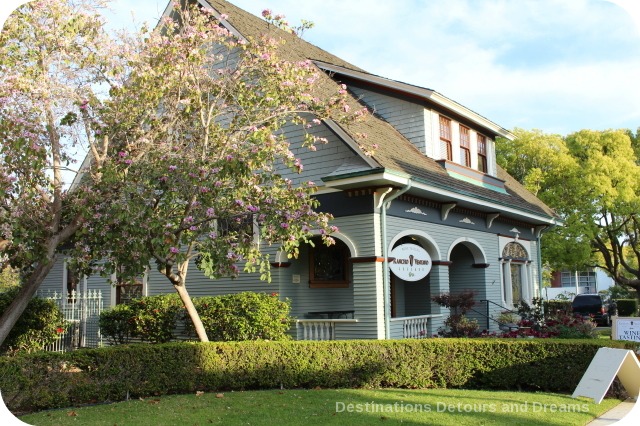 Oxnard is home to four wineries. Rancho Ventavo Cellars is located in the Scarlett House in Heritage Square. The winery specializes in small lot artisan wines. Scarlett House dates to 1902. The woman at the tasting desk told me the antique dealer who had once lived in it did a lot of restoration, added features and brought in heritage furniture and objects.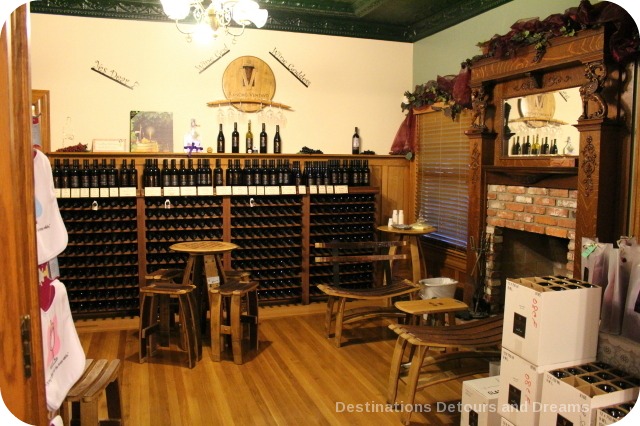 Other wineries are Magnavino Cellars, Strey Cellars and Herzog Wine Cellars. Herzog Wine Cellars makes kosher wines. The Herzog family has a long tradition of wine-making. Philip Herzog made wine in Slovakia for the Austro-Hungarian court more than a century ago. After the Holocaust, Eugene Herzog brought his family to New York. They opened a winery they called Royal Wines in 1958. In 1985 the family expanded into California. After twenty years of renting space in various wineries they opened their own facility in Oxnard.
Joseph Herzog explained what makes a wine kosher. He said the grapes and wine start off kosher. It is the winery's job to keep them that way. Four things are required to do so. The workers observe the Sabbath. Kosher yeast is used. The type of sugar used is important as is the fining agent. He said Herzog wines can be called "vegan." I am not familiar with kosher wines and cannot rate how Herzog wines compare to other kosher wines, but I can say they compare quite favourably to other wines I've tasted.
Beach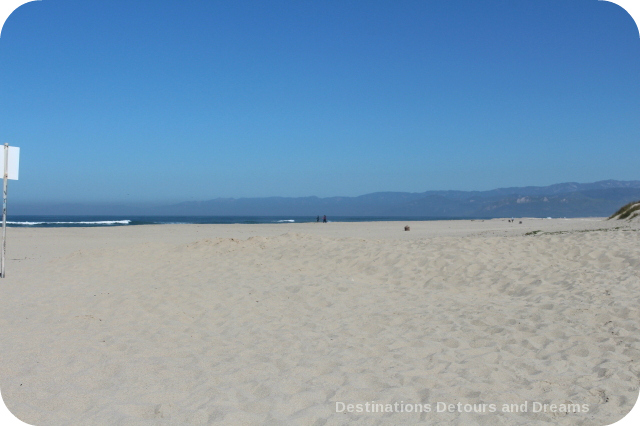 Oxnard has a seven mile stretch of sandy beach. You can walk through dunes, picnic, swim, surf or bird-watch. I was pleased to come across a path providing wheelchair access to the beach at Oxnard Beach Park.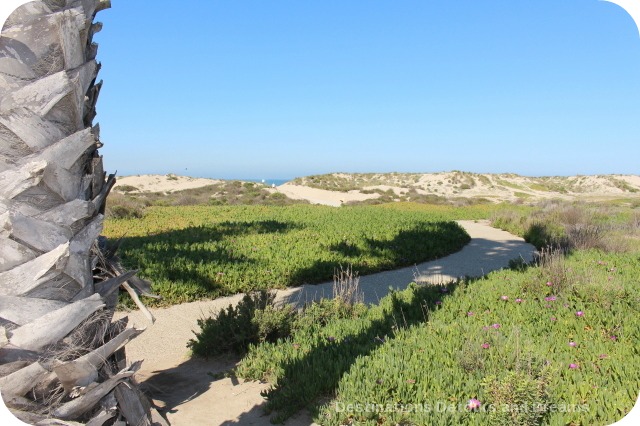 Hollywood Beach is named after the rich and famous who lived there. Clark Gable had a home here. Charlie Chaplin and John Wayne vacationed in Oxnard. Rudolph Valentino lived here during the filming of The Sheik.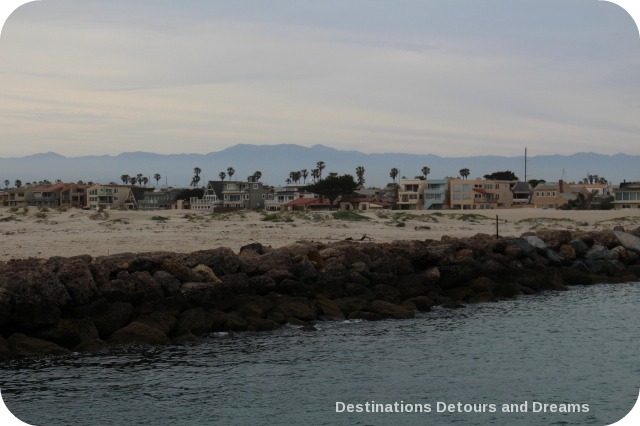 Channel Harbor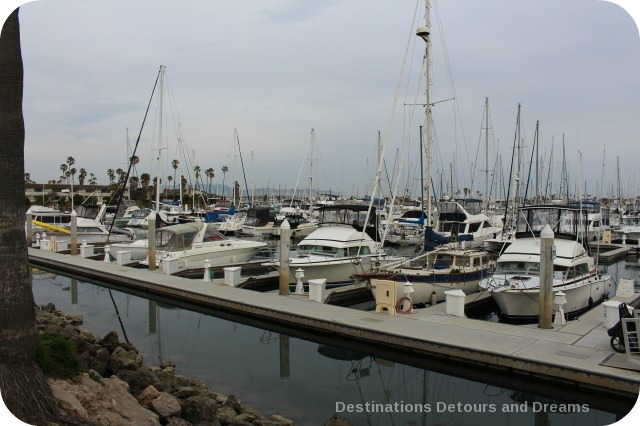 The harbour area offers boating, kayaking and sailing. John Wayne liked to fish when he vacationed in Oxnard. The Harbor also provides access to Channel Islands National Park & Channel Islands National Marine Sanctuary. The five-island park is about an hour boat ride away and is a biodiverse home to more than 2,000 plants and animals. It is known as "America's Galápagos".
And More
With just a few days jam-packed with conference activities, I did not have the opportunity to see everything. I did not get to the Farm Park and Museum or the Channel Islands. Other items on my radar for any future visit to Oxnard include two car musuems, the Woolworth Museum (Woolworth artifacts from the 1950s and 1960s located in the lobby of a restored Woolworth building), the Maritime Museum and the Carnegie Art Museum, located in a former Carnegie Library building dating to 1906-1907.
Embassy Suites Mandalay Beach Resort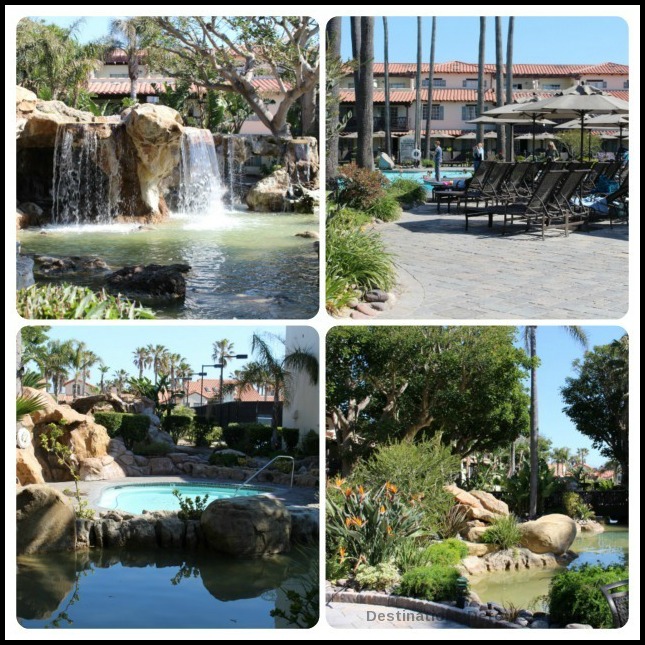 The conference was hosted at Embassy Suites Mandalay Beach Resort. Built on eight and a half acres of beachfront property, the hotel has views of the ocean. Landscaping includes exotic gardens and streaming lagoons. There is a heated outdoor pool, two whirlpools, an exercise room and a spa. The Coastal Grill offers casual dining. I had a great time learning to cook fish tacos with Chef Nikki. My suite at the room was spacious and comfortable.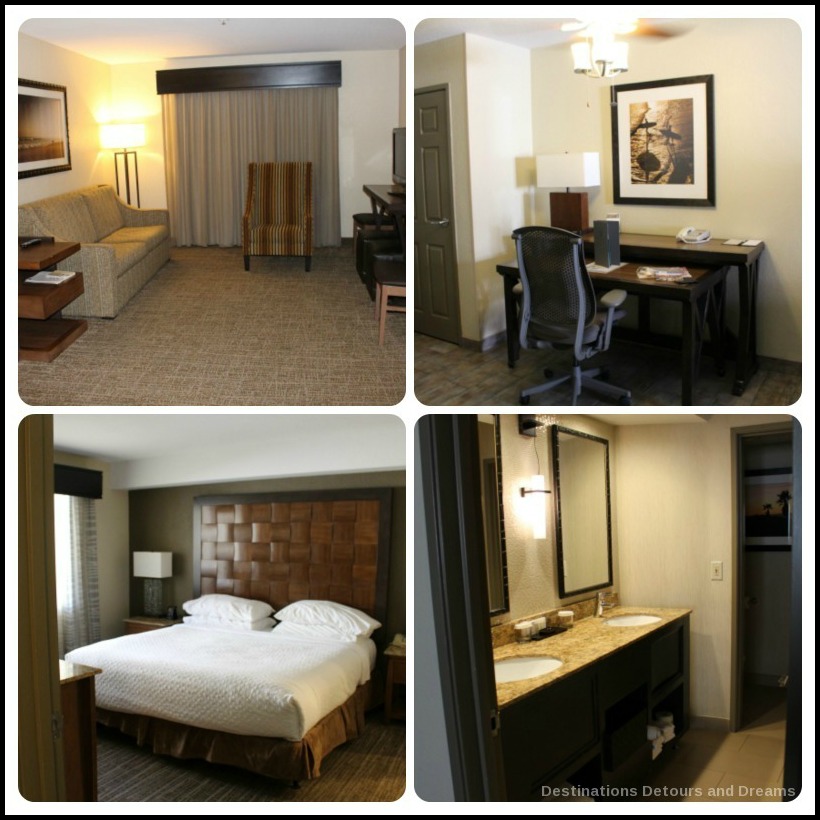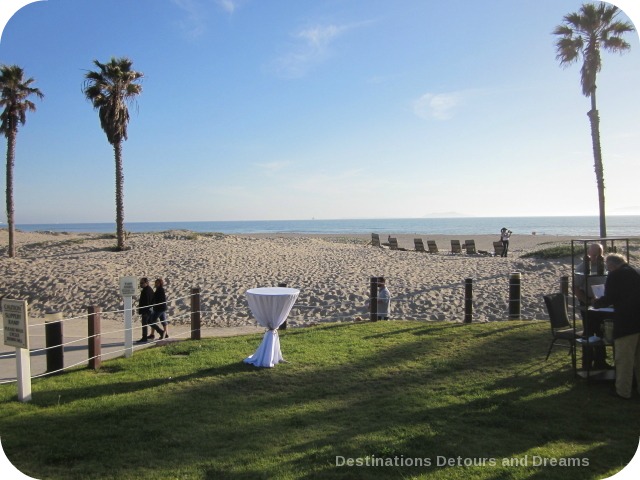 Thanks to Discover Oxnard, a conference sponsor, for their hospitality.
Never miss a story. Sign up for Destinations Detours and Dreams free monthly e-newsletter and receive behind-the-scenes information and sneak peaks ahead.
PIN IT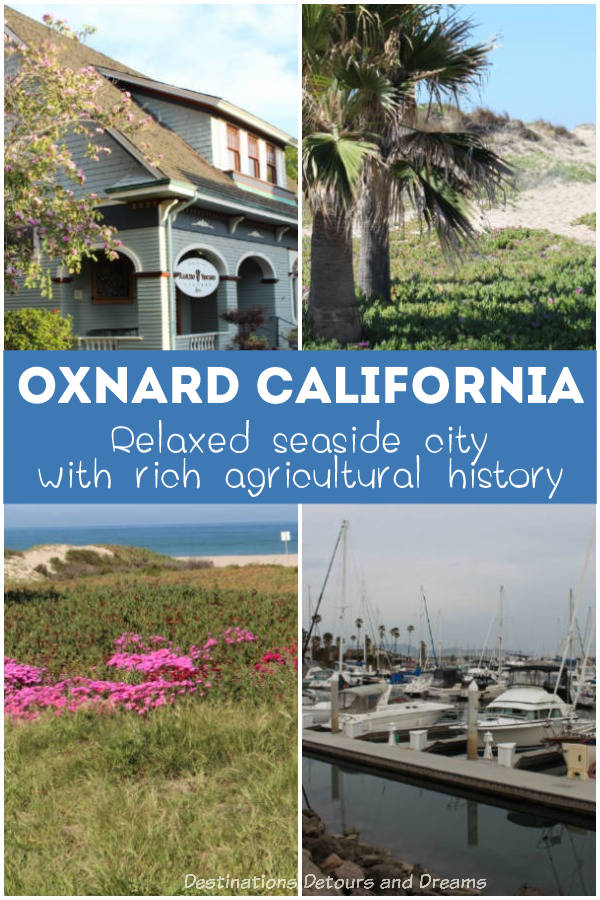 This post is linked with: