Serene Luxury at Brewery Gulch Inn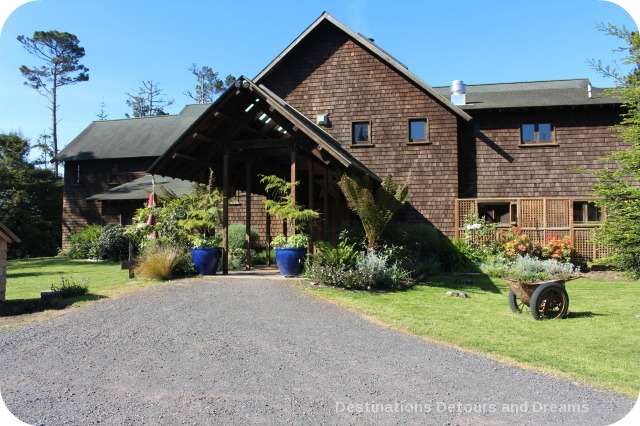 Feeling pampered and well-looked after in a beautiful natural setting in Mendocino, California
(Disclosure: I received the media rate for my stay at Brewery Gulch Inn. Observations and opinions are my own.)
Mendocino is a small town 135 miles north of San Francisco along California's scenic Pacific Coast Highway. The town is designated as a Historic Landmark and is a delight to wander through, with its Victorian architecture, dramatic coastal views, and shops and cafés. Two miles south of town, on a bluff overlooking the coast, is Brewery Gulch Inn.
The ten room inn, designed by architect Caroline La Pere, was built in 2001. Surrounded by incredible views, it is simple and luxurious with a relaxed and welcoming vibe. The Inn prides itself on its attention to detail in making guests feel comfortable and at home. This care was evident during my one-night stay.
The feeling of being well taken care of began when I made the reservation. I was asked about food allergies. My husband and I have none. I was asked whether we were celebrating any special occasion. We were in the middle of a Pacific Coast road trip and our stay at Brewery Gulch Inn just happened to coincide with our anniversary.
The feeling of being well looked after continued when I received a reminder email a few days prior to our stay. The email included information on how to find the Inn, suggestions for places to eat along possible routes we might be taking to get there, and notification of areas where cell service was limited, with advice to call them if we hadn't left Highway 101 by a certain time so they could save us food and wine from the dinner buffet.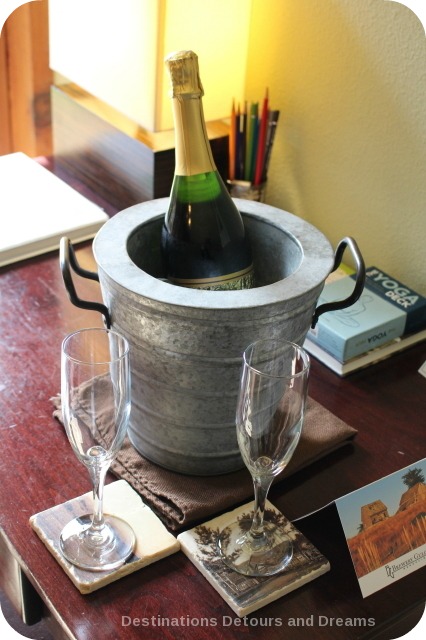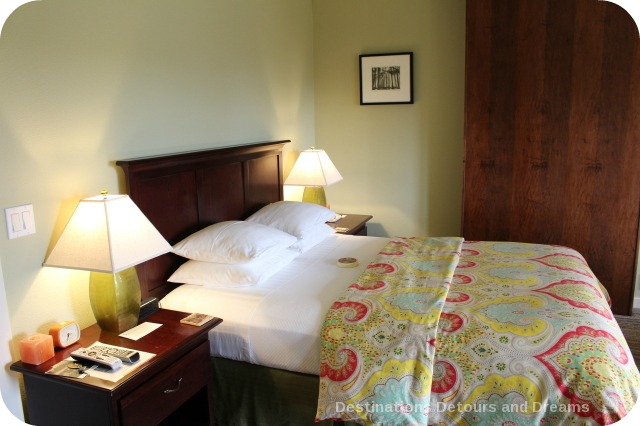 Our room was welcoming in so many ways (even without the Champagne) – gas fireplace and leather club chairs, jetted two-person tub, plush robes hanging in the closet, fresh flowers, fine linens, and a box of Dutch Hill caramels on the comfortable bed. On the desk we found a collection of items designed for relaxation – a card deck of yoga poses and meditation, a book of poems on sleep and dreaming, and an adult nature-themed colouring book and pencil crayons.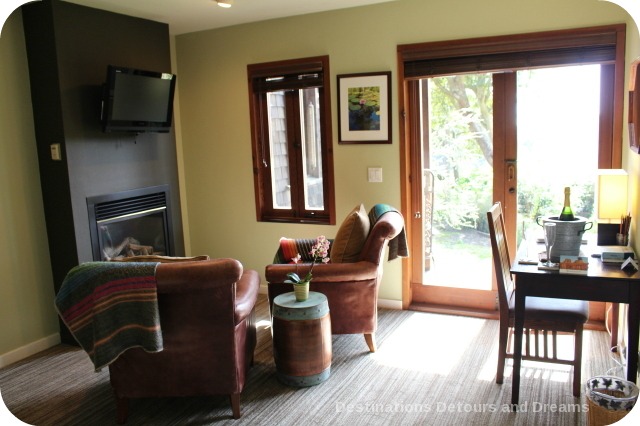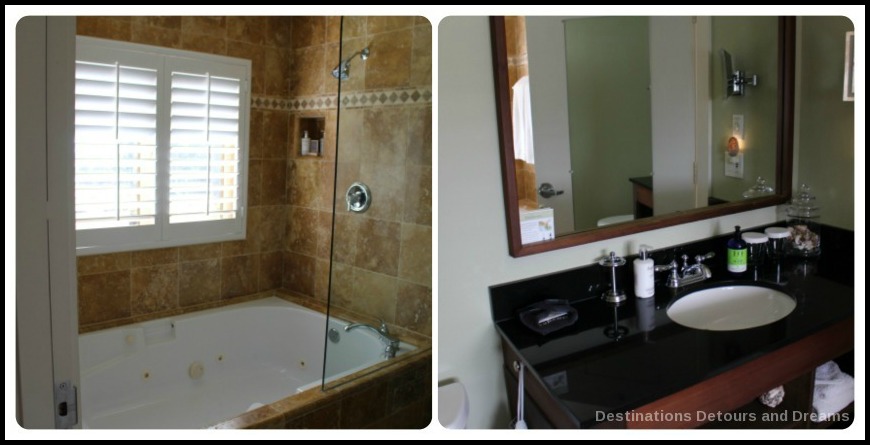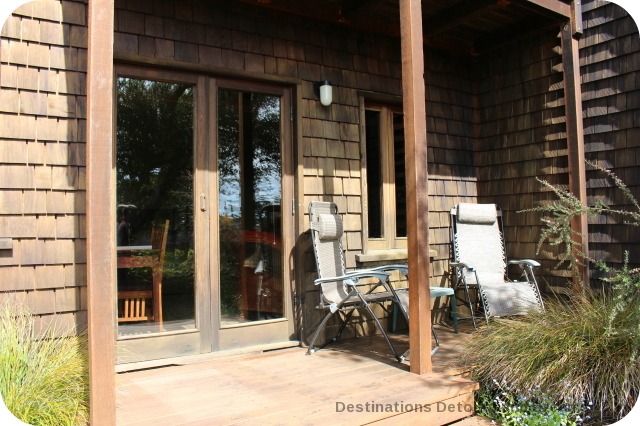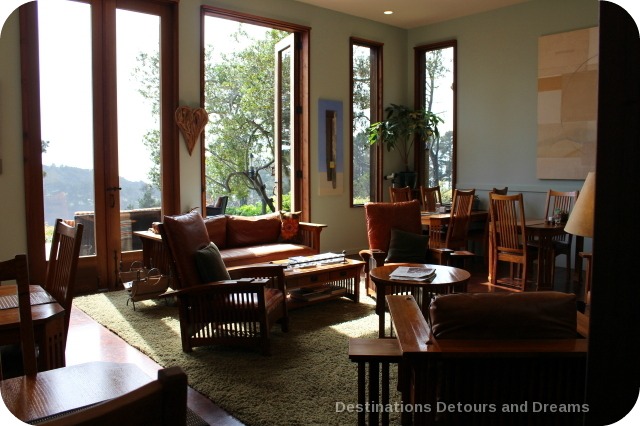 The Great Room was an inviting place to sit and relax, visit with other guests or play a board game. Here we found a massive collection of movie DVDs (over 500), which could be taken to the room and watched on our flat screen television. We watched a movie that evening but it took quite a while to go through the printed index of available selections before making a selection.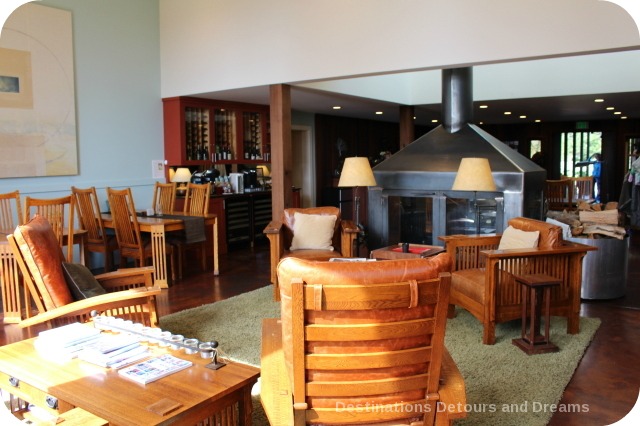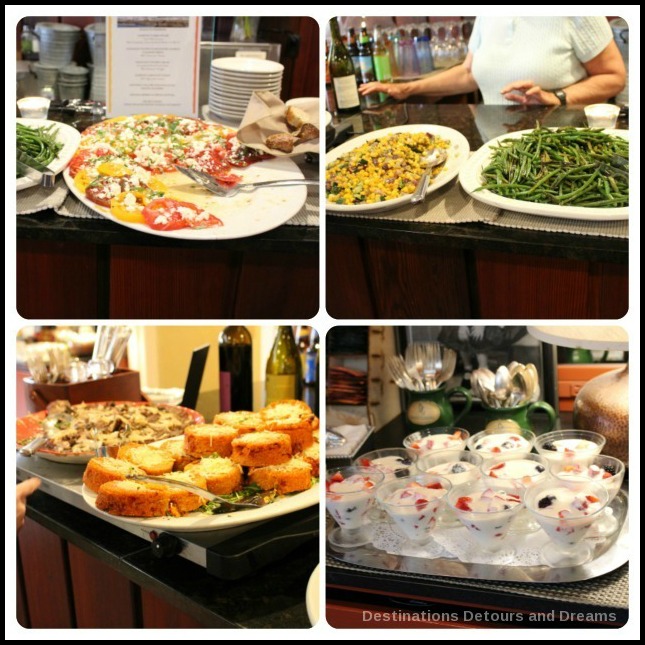 A "light dinner" buffet, including complimentary wine and beer, and breakfast are included in room rates. Focus is on nature and organic food from local farmers. Breakfast includes pastries, freshly-squeezed juice, and a choice of made-to-order menu option. The dinner buffet and breakfast were both delicious.
The menu on the evening of our stay:
Roasted Flank Steak over wild greens with Portabello-Onion Relish & White Truffle Oil
Sundried Tomato and Artichoke Hearts Polenta Cakes with Parmesan Cheese
Heirloom Tomato Salad with Scrambled Feta & Fresh Basil, Balsamic Vinegar
Roasted Haricorts Verts with Agrumato Lemon
Sauteed Yellow Corn and Zucchini, Onions, Oregano
Seeded Batard and Sweet Butter
Mixed Berries Créme Fraiche Romanoff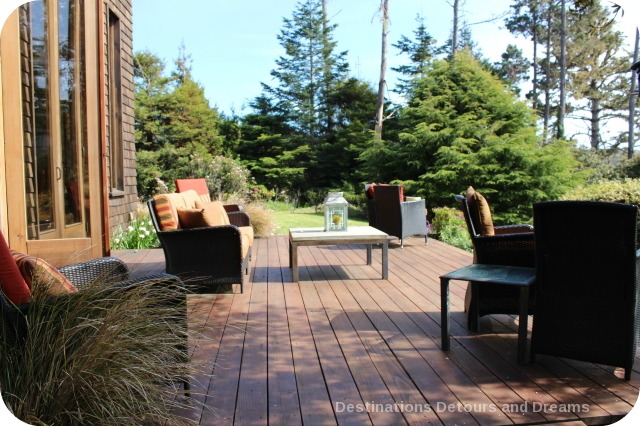 The setting of the Inn was as an important part of the experience as the accommodations and amenities. The views from the deck and individual patios or balconies were spectacular, different with each turn of the head. The grounds were nicely landscaped. The air smelled fresh and clean. Bird feeders at the corner of the deck attracted a variety of birds.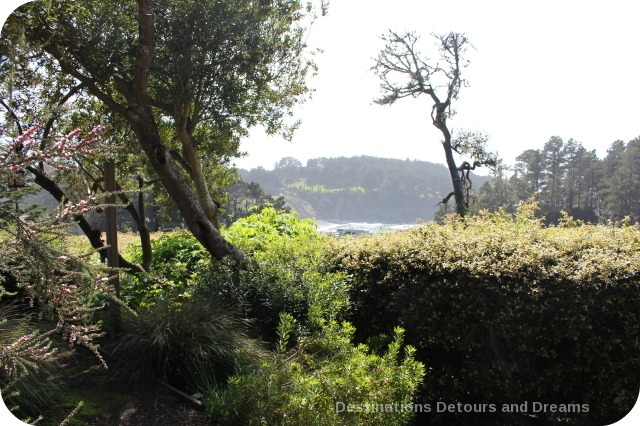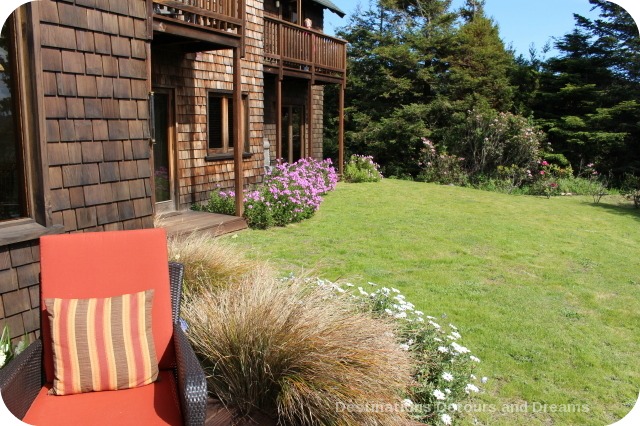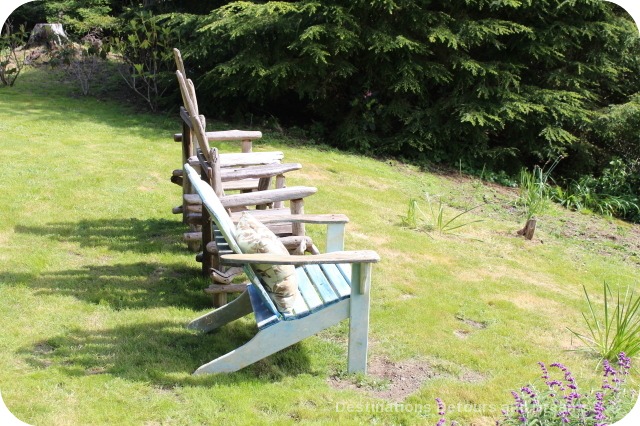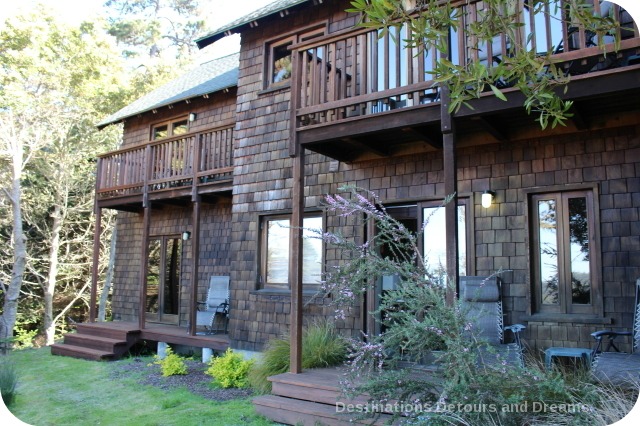 Brewery Gulch Inn is constructed from eco-salvaged redwood. Lumber mills along the Pacific Coast supplied wood for the rebuilding of San Francisco after the 1906 earthquake. Some of those lumber mills were located along Big River, north of the Inn. Logging occurred in summer months when river currents weren't strong enough to float logs to the mill. As they stacked up in the water, the weight pushed the lower logs (called "sinker logs") into the river silt. When winter rains came, the dams of logs were dynamited and logs floated to the mill, leaving the "sinkers" behind. Perfectly preserved logs, up to sixteen feet in diameter, were discovered in the late twentieth century during an earthquake retrofitting project on Big River Bridge. Some of the logs were used in the construction of Brewery Gulch Inn.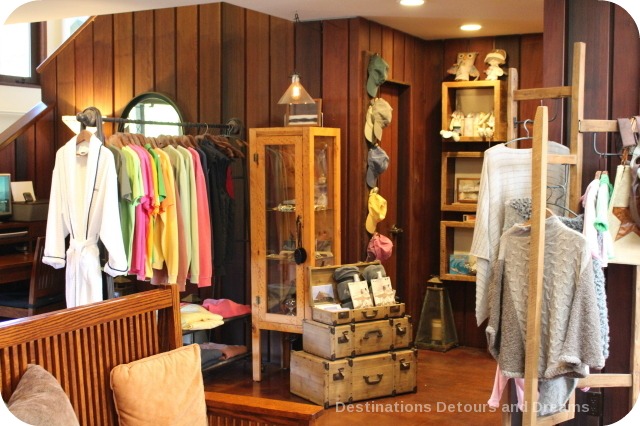 There is wifi at the Inn, but that seemed irrelevant once I settled in. I used it briefly to confirm the next day's route, but that was it. My laptop stayed in its case. The only thing we kept on the desk was the champagne bucket. The Inn was all about relaxing. I didn't want to tune in to the Internet. I wanted to slow down, disconnect from the stresses of the world, and be soothed by nature and the amenities at the Inn. It was a lovely way to treat myself.

Destinations Detours and Dreams monthly e-newsletter contains behind the scenes information, sneak peeks ahead, travel story recaps and more.  SIGN UP HERE
PIN IT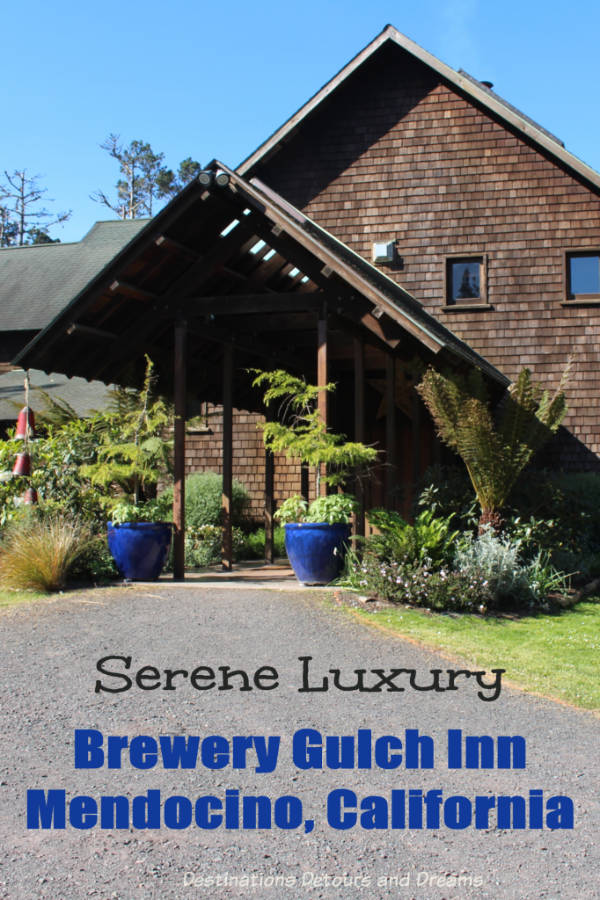 This post is linked to: