Enchanting Cambria: History, Art and the Outdoors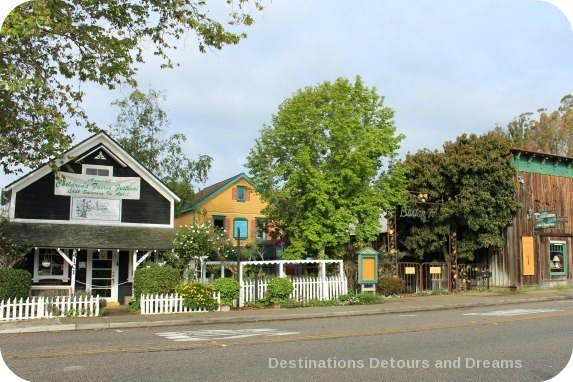 Cambria, a quaint village along the Pacific Coast Highway in central California,
has all the ingredients for restful retreat and vacation getaway
(Disclosure: My visit was hosted by San Luis Obispo County as part of a post-trip after the North American Travel Journalists Association (NATJA) 2016 conference in Oxnard, California. Observations and opinions are my own.)
Every so often you come across a town which totally enchants you. That was my reaction to Cambria, a small town along the Pacific Coast Highway in central California within San Luis Obispo County. In town on a tour to explore its history and heritage homes, I discovered many other facets to the town, including a thriving arts community, scenic walkways, coastal views and outdoor activities.
One of the first things I learned about Cambria was its pronunciation. It is cam-bria as in Camelot, not came-bria. Locals care about the pronunciation. The next thing I learned was that in addition to its heritage section, Art and Outdoor are two keywords used in Cambria tourism marketing.
History
Cambria was established in 1866. Industries over time included agriculture, dairy farming, cattle ranching, lumbering, whaling and mining. Mercury sulfide, known as cinnabar, was first mined in the Cambria area in 1860s. Mercury was extracted from the cinnabar by crushing the ore to one or two inches and then heating. The resulting vapour was condensed to liquid mercury. Although the boom time for the mining industry was in the 1860s through the 1880s, mining continued until about 1960. Because of what we now know about the toxicity of mercury, its use has been eliminated or greatly reduced. Mercury mining in the United States ceased in 1990.
In 1920, William Randolph Hearst began building a new residence, which he called La Cuesta Encantada, on a hill overlooking San Simeon Bay. Its construction brought many workers and new residents to Cambria. In the late 1920s, the Jones Brothers of Hollywood subdivided a ranch they'd purchased into small lots for seasonal cabins and built a new town west of Cambria, which they called "Cambria Pines". Today, tourism is a major industry In Cambria.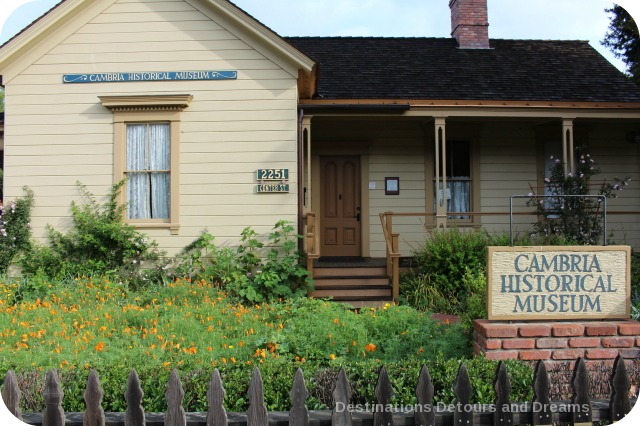 The early homes in Cambria were built mostly of rough pine lumber. One of Cambria's oldest homes is the Guthrie-Bianchini House, built in 1870 by Thomas Clendinen. It was a small "salt box" house, a building with a long pitched roof which slopes to the back. The original house was sold in 1882 to Benjamin Franklin, a prominent businessman (not THE Benjamin Franklin, but rumoured to be a relative). The house is now the home of the Cambria Historical Museum.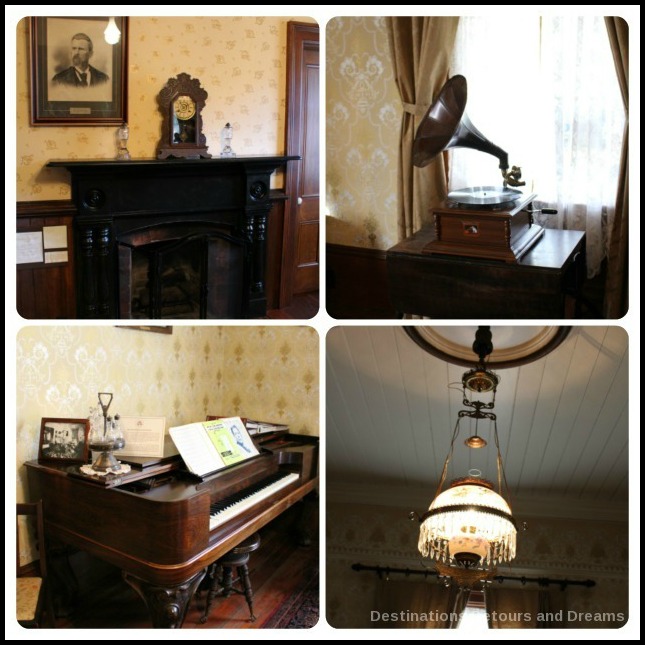 In the 1880s, a two block area of downtown contained two livery stables, five saloons and three dry goods stores. In 1889 a fire destroyed most of the downtown business area and six or seven houses. The town rebuilt. East Village is the heritage section of town, where the original town was built and rebuilt. Varying styles of architecture reflecting the era in which the buildings were constructed can be seen on a self-guided (maps available at the Museum) or docent-led walking tour.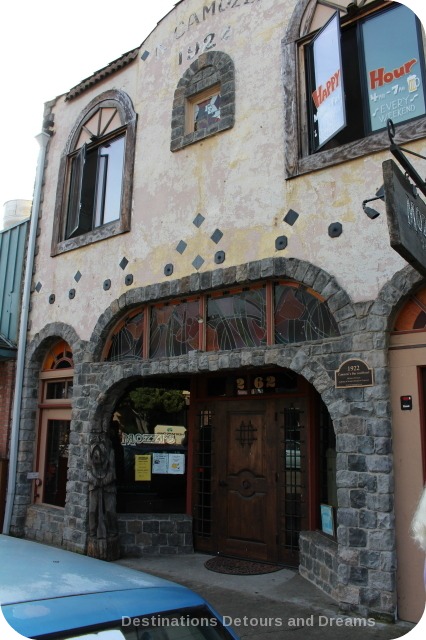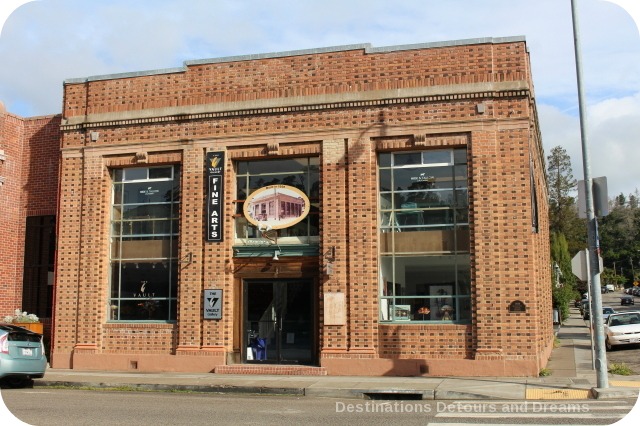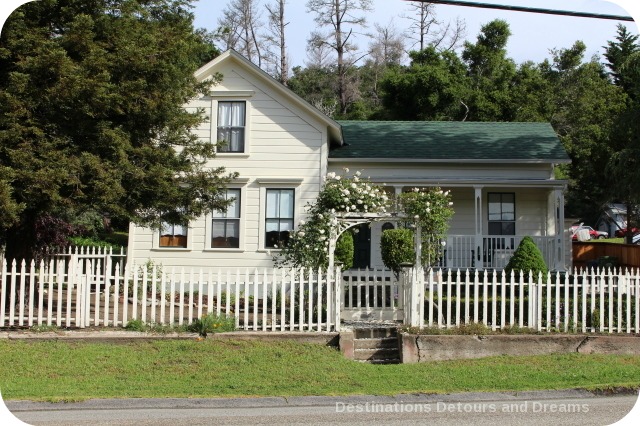 Arts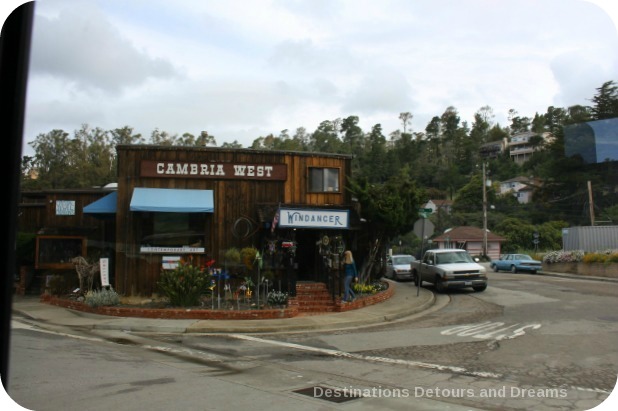 Cambria is known as an artist community. The West Village contains galleries, studios and boutiques, with an eclectic collection of art and artisan crafts. There is also live theatre and music.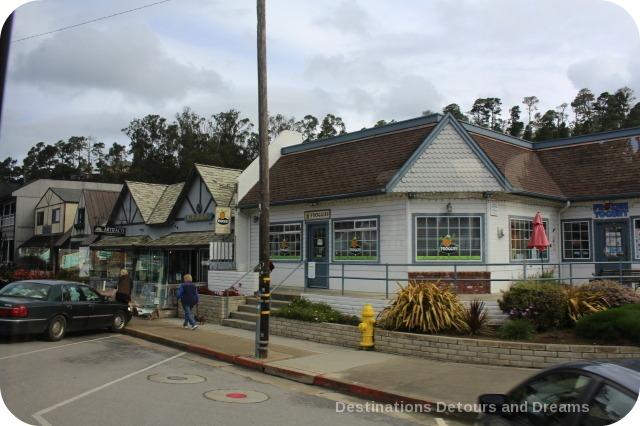 Outdoors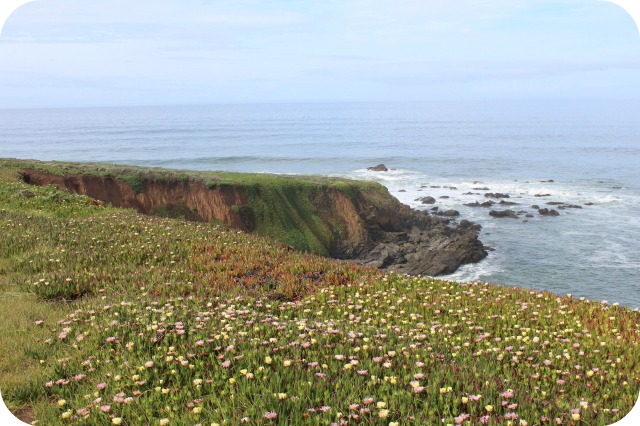 Rolling hills and rugged coastline provide stunning scenery, a great backdrop for the many hiking trails and renowned cycling routes.
Moonstone Beach was named for the white translucent stones found along the shore. Cambria moonstones are not the same mineral as the moonstone gem found mainly in India and Sri Lanka, a stone associated with mystery, self-discovery and intuition in the metaphysical world of crystal and gemstone healing. The beach moonstones at Cambria are composed of a mineral called chalcedony. They are formed by the dripping of water and minerals over time and are swept out of caves into streams and down to the ocean during storms.
The Moonstone Beach Parklands area offers sandy beach, a hiking trail, picnic tables and benches on which to sit and relax and perhaps watch sea otters at play. Fiscalini Ranch Preserve is 440 acres of hiking and biking trails and wildlife viewing opportunities. It includes coastal and forest areas. The land was once slated to be developed with houses and a golf course but a group of Cambrian citizens purchased the land so it could be maintained as a natural preserve for all to enjoy.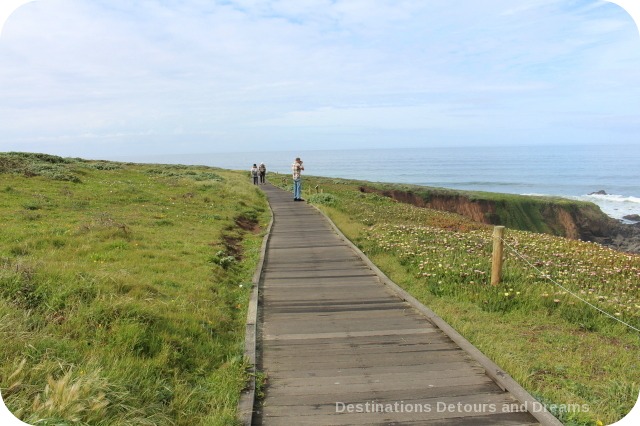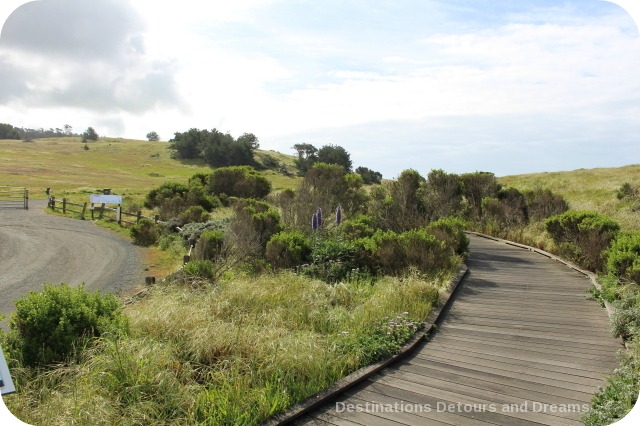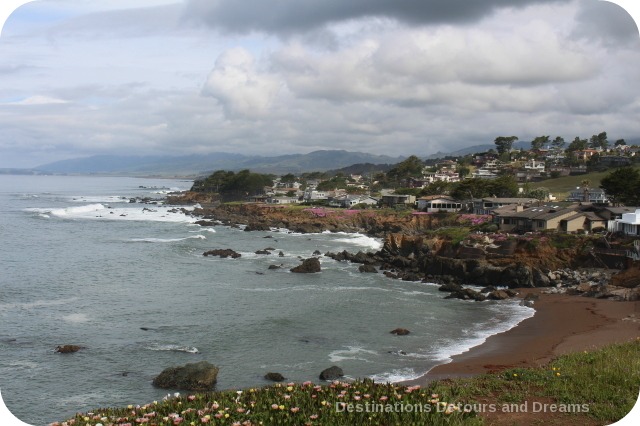 Cambria in Total
About halfway between Los Angeles and San Francisco, Cambria was at one time difficult to get to and remained somewhat isolated. In 1867, poor roads meant a stage coach ride from Cambria to San Luis Obispo, thirty miles away, took eight hours. The coast road from Cambria to Monterey was built between 1921 and 1937. (This is now a scenic drive with twisting roads, ocean cliff views, and mountain scenery. Our tour bus driver said the stretch of road is used frequently in car commercials.) The construction of Highway 46 West and the dedication of William Randolph Hearst's La Cuesta Encantada as a state park in the 1960s changed things.
Cambria is now easy to reach, but it still has an "away from it all" feel, with its village look, relaxed laid-back vibe and quiet natural spaces. There are no fast-food and hotel chains. But there are bed-and-breakfasts, inns, restaurants specializing in locally-sourced meals, and places to sample local wines and beers. All this adds up to make Cambria a great weekend escape or vacation getaway. At one point driving into a section of Cambria, a few people on the bus noted they'd lost cell service. Our tour guide said "Welcome to Cambria". The building of two new cell towers will soon change that form of isolation.
Hearst Castle and the Piedras Blancas elephant seal rookery are only a few miles away. Several festivals and events occur in Cambria throughout the year, including art and wine festivals, garden tours and heritage days. One of the more unusual events is the Cambria Scarecrow Festival, which takes place throughout the month of October. Hundreds of artistic scarecrows are showcased throughout the towns of Cambria and San Simeon. If you are interested in more information, watch this two minute video.
Destinations Detours and Dreams monthly e-newsletter contains behind the scenes information, sneak peeks ahead, travel story recaps and more.  SIGN UP HERE
PIN IT