Trip Planning De-Stress Tips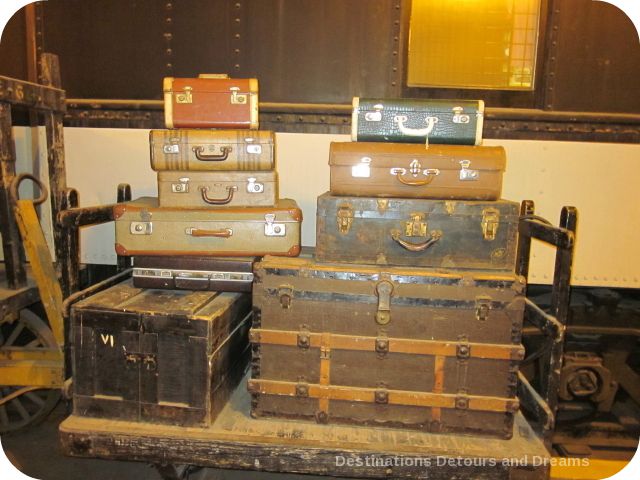 Ways to relieve the pressure of preparing for travel
Many people, even ones eagerly anticipating an upcoming trip, do not relish the planning and preparation. And there are times when others, who like me generally enjoy the prep work, would really rather not be bothered. Times when life is already too overloaded. I have discovered a few tips to help ease the stress of travel planning.
Delegate / Share the Load
Have your travel companions take on tasks, be it finding accommodations, booking flights, investigating things to see and do, or running errands. Not only does that take some of the load off your shoulders, it may lead to happier travel companions, who now feel it is their trip too, not just one of yours they are tagging along on. I usually do the research and booking of accommodations when my husband and I travel. Last summer I found myself without time or motivation. He took over investigating bed and breakfast options for our fall trip to the United Kingdom. I was relieved to have someone else take care of this. He also did most of the research into hot destinations for our January escape from winter. And so Panama was added to our itinerary.
Rely on friends who live in areas you are visiting for ideas and recommendations. The day trips our English friends planned for us were delightful beyond anything we would have arranged ourselves and took us to local treasures we might not otherwise have discovered. (Polesden Lacey and Its Society Hostess, London from the Thames, Bankers and Brokers Tour of London's City History)
Accept recommendations from friends and colleagues who have been there. We had a loose itinerary planned for our five day foray into Wales. Before heading to Wales, we stayed with friends in Hampshire. They had visited Wales many times and had family there. They said a couple of items on our list were well worth visiting, but we altered the rest of the route based on their advice. We are so glad we did. Our time in the Brecon Beacons was wonderful.
Outsource / Use Professionals
We usually do our own bookings online. In this age of Internet self-service it is easy to forget travel agents still exist. There may not be as many of them as there once was, but they are still here. Use them when you don't have time to search for flights or hotels, when you are finding it difficult to navigate choices on your own, when you do not trust your own ability to make appropriate choices in a strange land, or simply when you want to let someone else take care of arrangements for you. The more my husband and I looked in options for car rental in the U.K., the more confused we became. We headed to our local Canadian Automobile Association (CAA) location and made arrangements through one of their agents.
One of the least exciting, but essential, pre-travel tasks is obtaining travel medical coverage. Many people have a standard company they automatically use, but a small change in one's personal situation can make that standard choice unavailable or unattractive. There are numerous other options out there, but finding and researching them to select plans most appropriate to you is time-consuming. We rely on an independent insurance broker to help with that.
If you belong to an automobile association (like CAA or AAA), use them to map out driving routes and supply free maps. When we still had our dogs, I spent hours on the Internet selecting good dog-friendly hotels to stay in on our way to and from Arizona when we headed south for the winter. Then I found out CAA had a special book for dog-owners, with lists of dog-friendly hotels. That narrowed down my choices and saved me a lot of time.
Leverage Past Experience
If you are going some place you've been before, either as a destination or a stop-over, learn from your past. Avoid what didn't work, but if you found a hotel you really liked use it again. Of course, in order to leverage from the past you need to remember the details. We wintered in Arizona for three consecutive winters. Each time, we drove a slightly different route there and back, but there was enough overlap to return to some of the same overnight stops. I thought I would remember where we stayed on our first trip. When I began planning for our second year's drive, I realized I didn't remember. Hotels seemed to blend together in memory. I subsequently created a spreadsheet to track where we had stayed with basic details about the place and what we liked and didn't like. It need not be a spreadsheet, but I recommend some mechanism to record this information for future reference.
Packing and determining what to pack can be another stress point. I am a list maker. Adding items to my lists as I think of them stops the swirling in my mind. I've now started a spreadsheet (what can I say? I like spreadsheets.) listing all the items to consider in a packing list. There will be some variation by destination and season, but the intent is to refer to this for each trip. Customization for each trip will occur as I identify which specific articles of clothing fill the generic requirements.
Sometimes it is not the tasks themselves which create stress, but trying to think of everything that needs to be done and worrying about forgetting something. If you haven't done so already, make a list when you get ready for your next trip of all the little things needing to be done before you go away. Things like stopping the paper, turning down the heat or air conditioner, turning off the water, stopping or forwarding mail, getting someone to shovel your driveway or mow your lawn. In each trip thereafter you need only pull out the list and action it.
Plan Less
Not everything needs to be planned in advance. Figure out what you'll see and do when you get there. Visit the local tourism office. Ask the hotel clerk or concierge. We once discovered a nearby restaurant featured on the television show Diners and Dives by asking the hotel clerk for a recommendation. In Gallup, New Mexico, the hotel clerk directed us to a restaurant located in a historic Route 66 hotel once known as Home of the Movie Stars.
Talk to fellow tourists. We learned about Playita, a calm, shady beach, only through conversation with another tourist and it became one of our favourite beaches in Panama's Azuero Peninsula.
Choose a Style of Travel Already Pre-planned
If you do not have the time or inclination to map out an itinerary or are too stressed to do so, consider travel options where all the planning is done for you. Guided tours have schedules and sites already lined up. Hotel accommodations are handled for you. This option can also be a good choice when traveling to a place difficult to navigate on one's own. However, if there are sites you're absolutely set on seeing, make sure you select a tour that includes them or bypass the guided tour option. Cruises and all-inclusive resorts are other options. Accommodations and dining are included. No special arrangements to be made. The options for tours at cruise ports of call are laid out for you. You may have to make a few decisions, but needn't do a lot of research on your own. At an all-inclusive resort you can choose to do nothing more than relax around the pool or beach.
I am a planner, a worrier, and someone who likes to have things well under control. I am still learning how to take the stress out of my own preparations. But I am learning. Do you have other trip planning de-stress tips?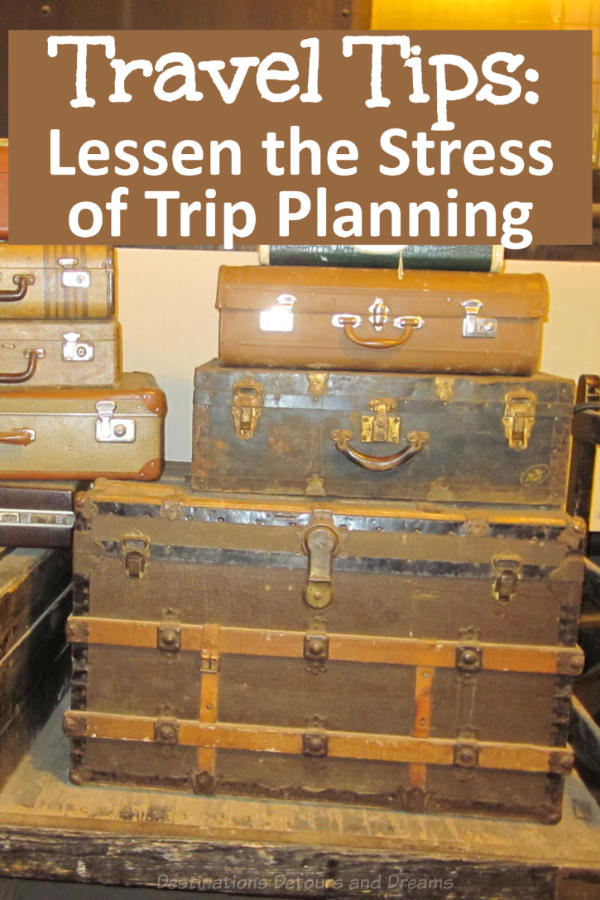 Never miss a story. Sign up for Destinations Detours and Dreams free monthly e-newsletter and receive behind-the-scenes information and sneak peeks ahead.