Wedding Dress View Into The Past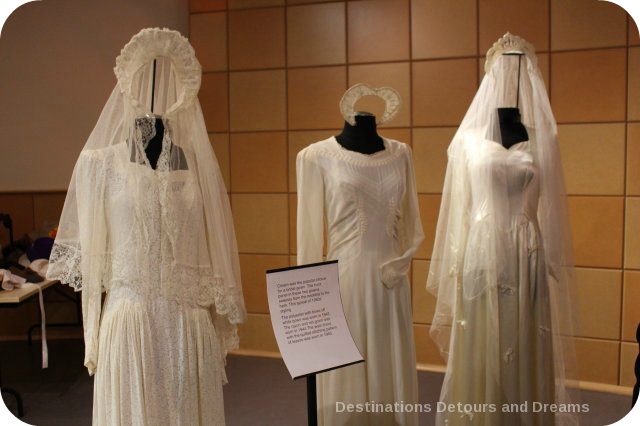 Glimpses into the past via costume exhibits of wedding dresses through the decades
Viewing dress styles from bygone eras entertains and provides information about the society and customs of the time. I recently attended two wedding dress Costume Museum of Canada exhibits in Winnipeg, Manitoba which did just that. A special one-night exhibition as part of Culture Days Nuit Blanche focused on wedding dresses from the 1940s. A two-week exhibition entitled Weddings: An Invitation to the Past showcased wedding dresses from 1900 to 1910, the 1930s, the 1950s and the 1970s.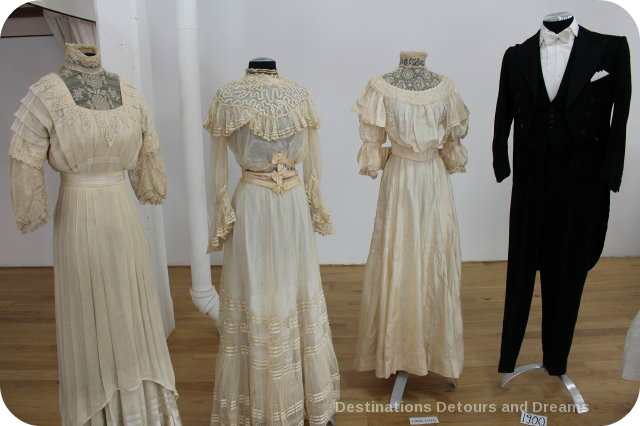 The Victorian era ended with the death of Queen Victoria in January 1901. King Edward VII reigned from 1901 to 1910. Wedding dresses during the Edwardian era were long, elegant and straighter than in the Victorian era. Bustles were abandoned, but corsets were necessary for the narrow waist styles. Gloves were frequently worn. They were a significant courtship present from the groom. Queen Victoria set the trend for white wedding dresses. Many affluent brides made that choice, but a variety of pale colours were also popular. Less affluent brides often just wore their best dress.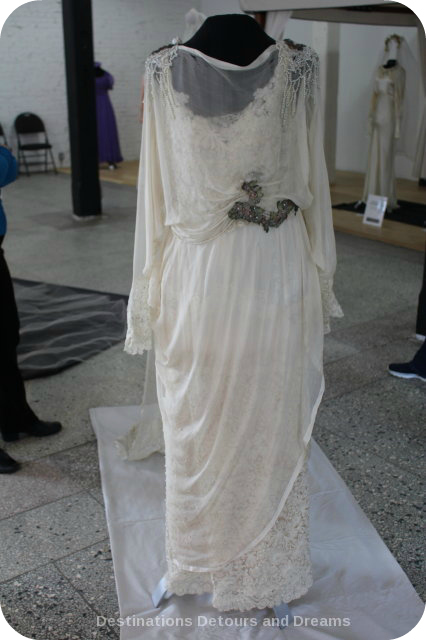 A few special dresses were displayed in the centre of the Weddings: An Invitation to the Past exhibition room, most of which belonged to well-known brides. One such dress was the 1919 wedding dress of Muriel Sprague Richardson. The dress consisted of several lace layers and was decorated with pearls and metallic flowers. Muriel Richardson was a noteworthy Manitoban. Winnipeg's International airport is named after her husband, James Armstong Richardson. Muriel was active in war and volunteer community work and Honorary Chair of many local and national charities. She received the Manitoba Golden Boy Award in 1961, an award which recognizes Manitobans who had rendered meritorious service to their communities. It was based on nominations from the general public. The awards were renamed the Good Citizenship Awards around 1970.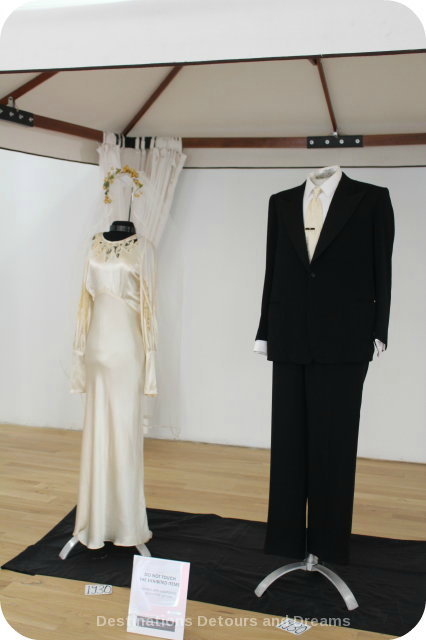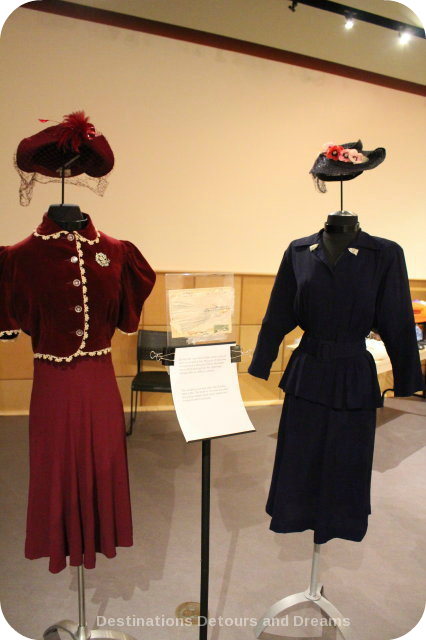 Brides during World War II often opted to wear a suit of solid colour and a hat. The dress could be worn again for special occasions. Brides also wore more traditional wedding dresses. The dresses pictured at the top of this post are from 1943 and 1944. Cream was the most common colour. The amount of fabric which could be used was limited by law. Skirts were short and narrow. Styles were simple with few ruffles or pleats.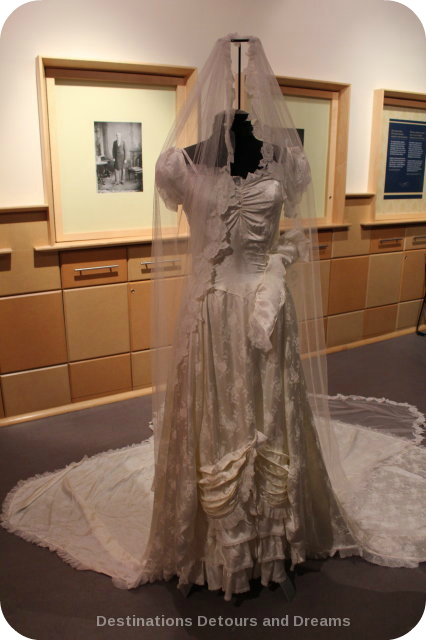 After World War II, the economy changed from a war economy to one of domestic consumption. There was a sense of optimism about the future. Fashions changed. Synthetic fabrics were used. Skirts were longer and fuller. Dress had tiny waists and prominent busts.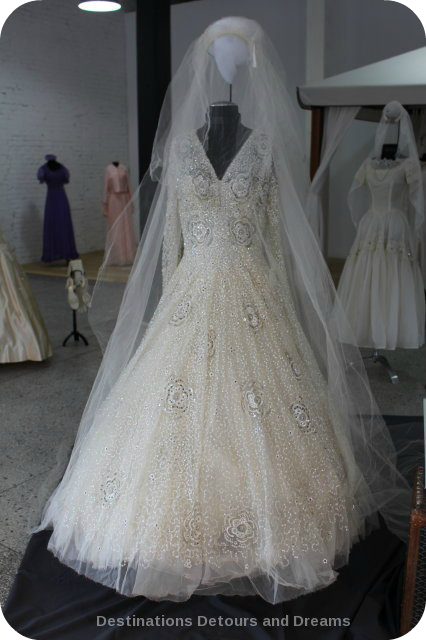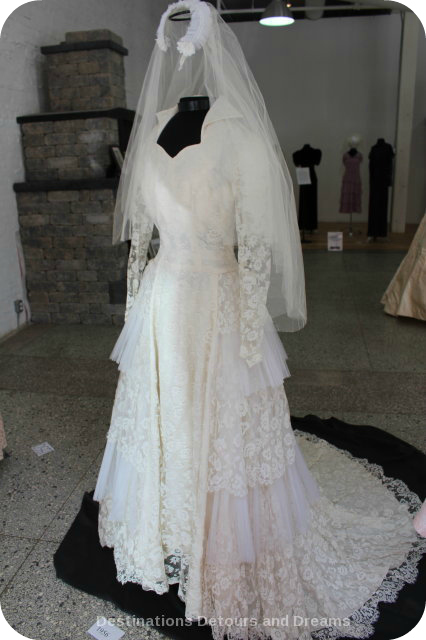 The 1950s were a time of transition. Styles varied. A return to civilian life and relative prosperity included a return to more elaborate and formal church weddings. For the less wealthy, opportunities to rent wedding apparel existed. Glamour and fancy styles were back. Waistlines varied from tightly cinched and gathered to slim and snug.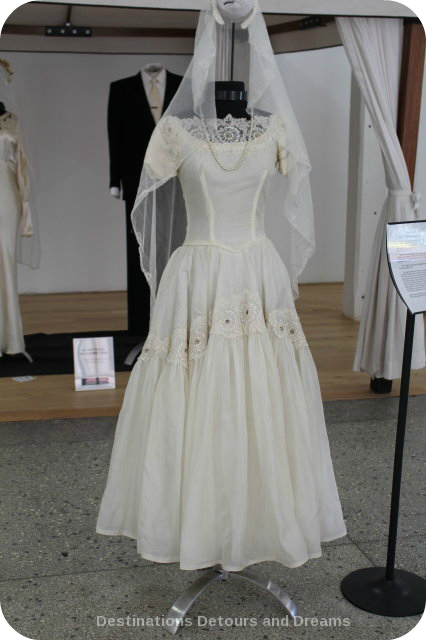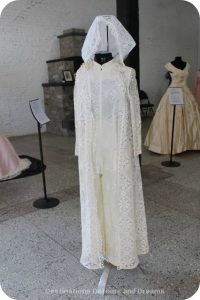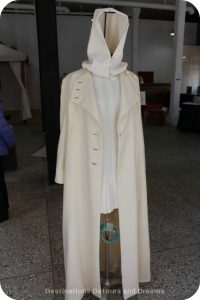 Fashion styles of the 1970s were flamboyant. It was the era of pantsuits and mini-skirts. Those trends made their way into wedding dress styles.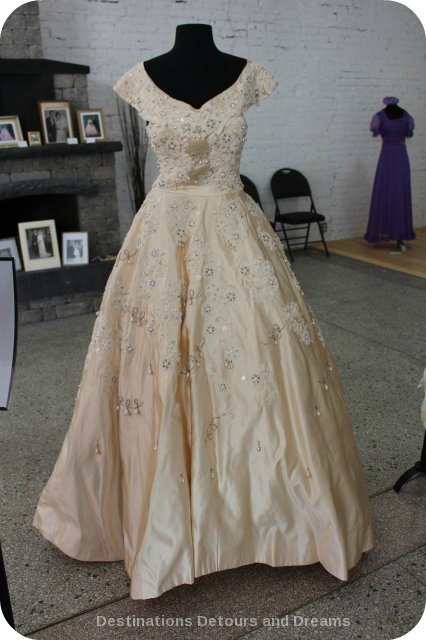 Many of the dresses on display had lovely flowing designs, beautiful lace and intricate bead work. In all decades, it was the wealthy who could afford the most elaborate of dresses.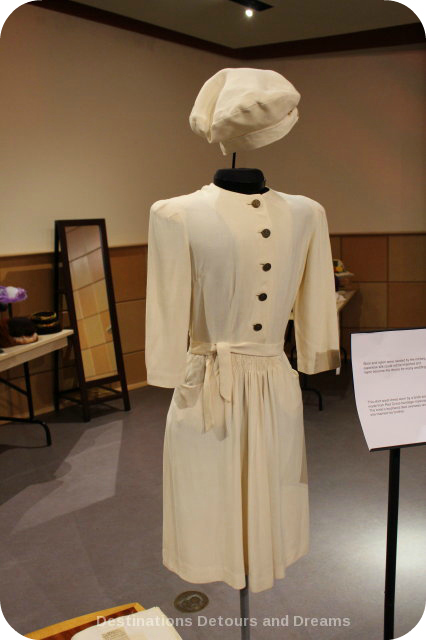 The less wealthy often found creative ways to create their own wedding dresses. A World War II bride, who married the brother of her boyfriend killed in the war, fashioned her shirt waist dress out of Red Cross bandage material. I don't know if that was a frugal and clever creative act of necessity, a statement about her broken life or a tribute to dead boyfriend.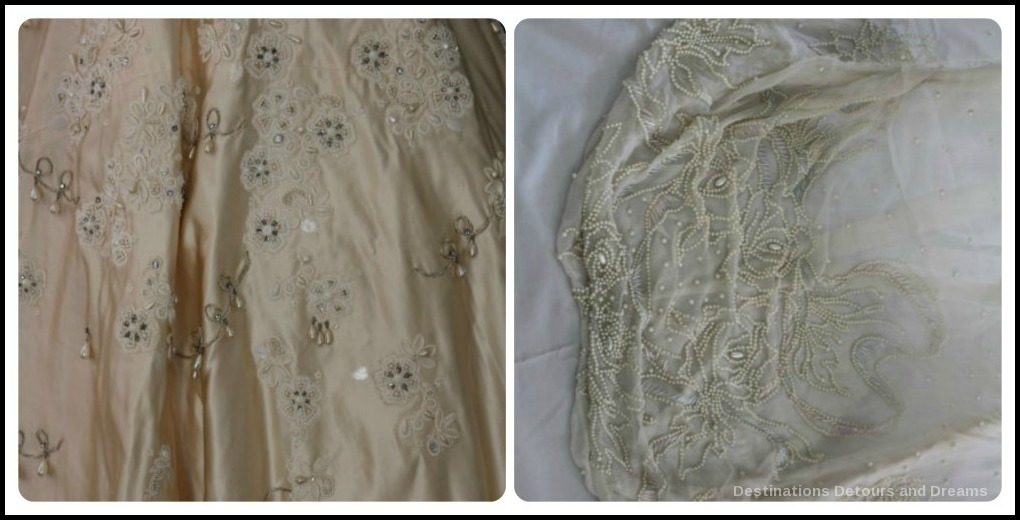 The Costume Museum of Canada is an accredited museum run by volunteers, headquartered in Winnipeg, Manitoba. It has a vast collection in storage but no permanent exhibition space. The museum preserves costumes worn by the people of Canada over the decades and exhibits those costumes through special exhibitions.
Weddings: An Invitation to the Past ran in October 2016. Check the Costume Museum of Canada site for information on future pop-up exhibits.
PIN IT