The Snowbird Life Trade-Offs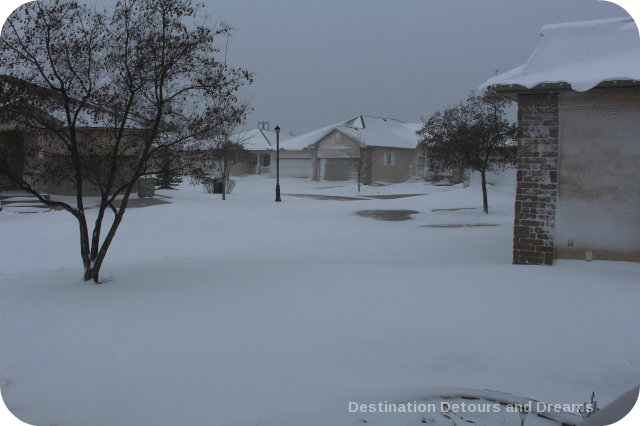 A winter at home provides insights into what snowbirds give up and leave behind
If this winter had been another snowbird winter for my husband and me, now is the time we would be returning home after several months spent in a warmer location. But this was not another snowbird winter. Except for almost three weeks at the end of March/beginning of April in Victoria, British Columbia, we spent the entire winter at home in Manitoba. And by staying home, I gained further insights into the snowbird life.
Snowbird definition: someone from a northern climate who moves to a more southern, warmer location for the winter.
After four winters away, I had new eyes and a new perspective on my Winnipeg winter. I now have a deeper appreciation for the trade-offs snowbirds make. (These trade-offs for the most part also apply to any kind of long-term travel.)
At Home Or Away From Home
Even after the most wonderful of trips, coming home can bring a feeling of relief and relaxation. There is comfort and solace being in your own home. Snowbirds who own their winter home may have this feeling in both locations. Many snowbirds, like my husband and me, are renters. Many return to the same rental year after year and it becomes a home away from home. Although we returned only once to the same house, all the places we stayed felt like a home away from home. But there were still not quite home. They were decorated to someone else's taste and supplied and organized as someone else saw fit. Snowbirds who own their winter homes can create a space which more truly feels like home. With that, however, comes the responsibility and work of maintaining a second home.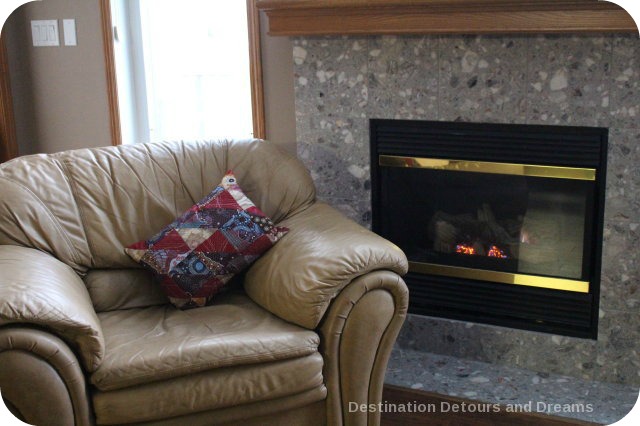 Being away for the winter means home maintenance and clean-up activities get squeezed into summer months or neglected. This winter, I organized the storage area in our basement and re-organized a few other cupboards, tasks which might have lingered into next year if I had been away for the winter.
Considerations for potential snowbirds:
Think about how long you will be comfortable living in a space other than your own home when deciding the length of your snowbird winter. Do you need to own your own space (even if it is a small recreational vehicle)? What demands does your permanent home make on your time in terms of maintenance? If maintenance work is too much to squeeze into the summer months, can you afford to hire someone to do the work? Be open to the ways things may be organized in a winter rental home. If you are there for several months and something isn't working well, is it something you can rearrange? It is easy to switch dishes from one cupboard to another. On the other hand, you may discover something in the arrangement which makes a lot of sense and you may want to do some re-organizing of your permanent home when you return.
Routine
It is exciting to do new and different things, but it can also become exhausting after a while. Routine is grounding and stabilizing. Most snowbirds develop a routine of sorts during the winter. It might include more "adventures" or leisure activities than their routine at home, but a large part of their lives follows routine. My life, even at home, is less of a routine than when I was reporting to an office for work every day. Still, my time at home this winter has felt more than "real, regular life" than my snowbird winters. (And yes, there is both good and bad in that.)
This winter I wrote. I developed a semi-regular schedule for yoga and tai chi classes. I was around to serve on an ad-hoc committee for my church. I started a couple of projects I've been meaning to get to for a couple of years. I haven't finished them, but at least I've started. I took Spanish classes offered through the school division's continuing education program. Continuing education classes are offered in fall, winter, and spring. I've been unable to even consider a class in the previous four years. Our departure dates fell in the middle of the fall session. We were away for the winter session. Spring session started before we returned. All in all, there has been a normal, regular rhythm to my life this winter.
Considerations for potential snowbirds:
Think about how much routine and "ordinary living" you want to build into your winter. If you are away for less than two months, you may seek a series of adventures and unstructured time. Longer periods away may require more routine. If you participate in regular activities which are important to you (e.g. a particular sport, volunteering, church involvement, hobbies), find places to participate in these activities in your snowbird location. Or try a new activity in your snowbird location. Maybe a community organization or your snowbird community offers a course on something you've always wanted to learn. Accept that you will forego the winter activities you typically participate in at home.
Community Connection
Each spring when we returned to Manitoba, along with a sense of the familiar there was a bit of strangeness. Things felt different. After staying home for a winter I've begun to appreciate how the time away weakened the feeling of connection with my city. I kept up with the major news and happenings through the Internet and through contact with friends. But I didn't feel the day-to-day pulse of the city.
This winter I've read the newspaper daily (even if some days I skimmed lightly) and listened to local radio. I've read about the "smaller" things happening in the city – the things not newsworthy enough to ripple across the miles, but which are important in shaping the fabric of a city. I've heard people's reactions to what is and isn't happening.
Winnipeg has a thriving arts community. The season for most theatre, symphony and dance programs is through fall and winter. This winter, I attended a few plays, something I haven't done in Winnipeg for several years. I ran into people I knew in the lobby. I took in some other art and special events. I was once again a part of the city.
Considerations for future snowbirds:
Be prepared to look at your home town with different eyes when you return and to perhaps feel a small disconnect from it. If it is important to you to stay connected, arrange to access local news online through reading newspaper articles or streaming television or radio. Take opportunities to learn more about the community you are wintering in and develop a connection with that place.
Connection With Family and Friends
I think that for most people the biggest concern about being away from home for a length of time, be it a snowbird winter or some other travel, is being away from family and friends. With the Internet, social media and phone service, staying connected has never been easier. During my snowbird winters, I knew what was happening with many of my friends and family members through social media statuses and conversations. I chatted with some on the phone. We had Skype and FaceTime conversations and exchanged emails. I e-chatted late at night with a sleepless aunt.
And yet, it is not quite the same as being in close physical proximity. A friend dropping by for coffee Making impromptu decisions to go somewhere together. Running into friends at the store. Attending family get-togethers. Regular contact which includes the daily minutiae of life. I don't have grandchildren, but those who do and see them regularly are privy to the changes which happen so quickly in young children as they grow. Sometimes, quantity of time is as important as quality of time.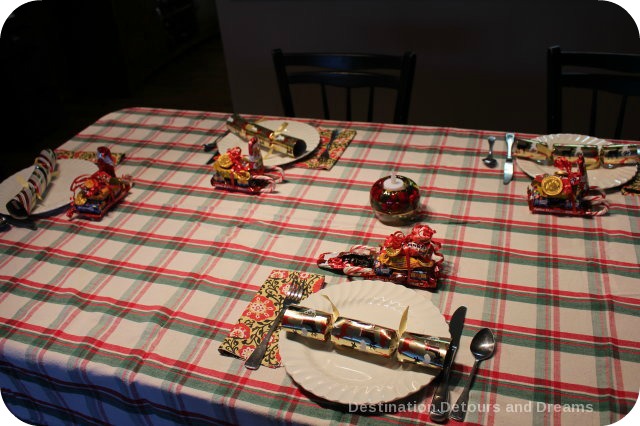 When we returned from snowbird winters and I rejoined groups (e.g. book club, reading group), I sometimes felt unintentionally excluded from conversations which continued on a thread started in a previous meeting I'd missed. This winter I attended writing group and book club more regularly. I'd joined the book club shortly before our first snowbird winter. A friend had been a member for years. I'd met another member a couple of times, but knew no one else in the group. As the group doesn't meet in summer months and I was away for most of the winter, I missed more meetings than I attended. Attending more regularly this winter has allowed me to get to know these wonderful ladies better.
When you are away for the winter, you are largely unable to help family and friends with the big and small crises in their lives. You are not able to spend time with ailing loved ones. I am glad that fate landed me in Winnipeg this winter because I was able to spend time with my brother before he passed away. It was difficult at times to see how cognitive issues had taken away the brother I knew, but I am still glad to have had the time together.
Considerations for potential snowbirds:
Establish mechanisms for staying in touch with family and friends in ways which work for you. Use FaceTime of Skype to talk with and see your grandchildren. Consider flying home to attend important family events. Understand that some winters the right choice may be to shorten the time away or forego it altogether to be with family members or friends in crisis. And don't forget to make new friends in your winter location.
Weather
Cold weather is the primary reason snowbirds migrate south. In the bitterest cold of this winter, I wished I was somewhere hot. But I also realized how beautiful winter can be. Snow-covered fir trees, lacy ice designs on windows, fluffy snowflakes. I attended Winnipeg's annual winter festival, Festival du Voyageur, for the first time in years.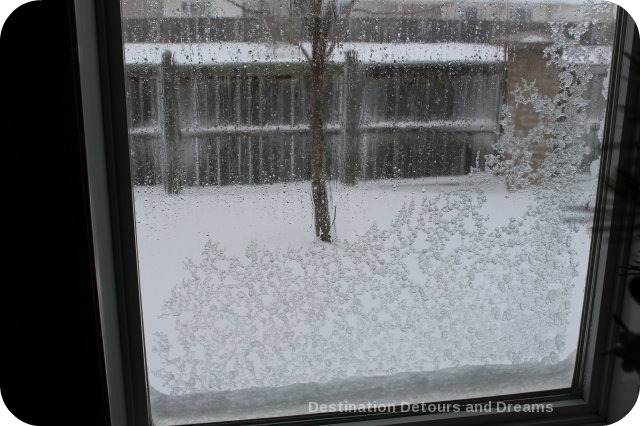 The winter turned out easier to deal with than I expected. We had lots of snow early on, but in the housing complex where we live the snow shovelling is done for us. There were the pluses of the joys of "regular life", being at home, and reconnecting with my city, friends, and family. February was one of the mildest on record. Even still, come mid-March I was sooo tired of bundling up every time I went out.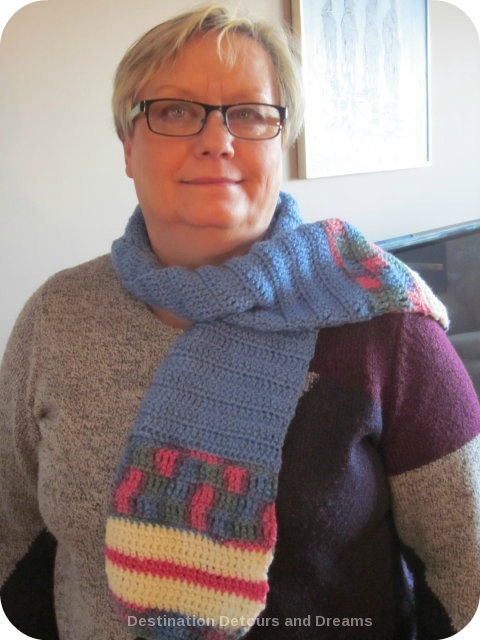 Summary
Staying home for the winter has reminded me of the joys of being there. Does it mean I will no longer go away for the winter? Definitely not. We are already discussing what we might do next winter. In addition to leaving the cold behind, I look forward to exploring other parts of the world. But I am also aware of what I leave behind. And reminded, once again, that there is much to appreciate where ever you are.
If you enjoyed this post, sign up for Destinations Detours and Dreams monthly e-newsletter. Get behind the scenes information and sneak peeks ahead in addition to a recap of the month's posts.
PIN IT