The Great Prairie Heritage Train Robbery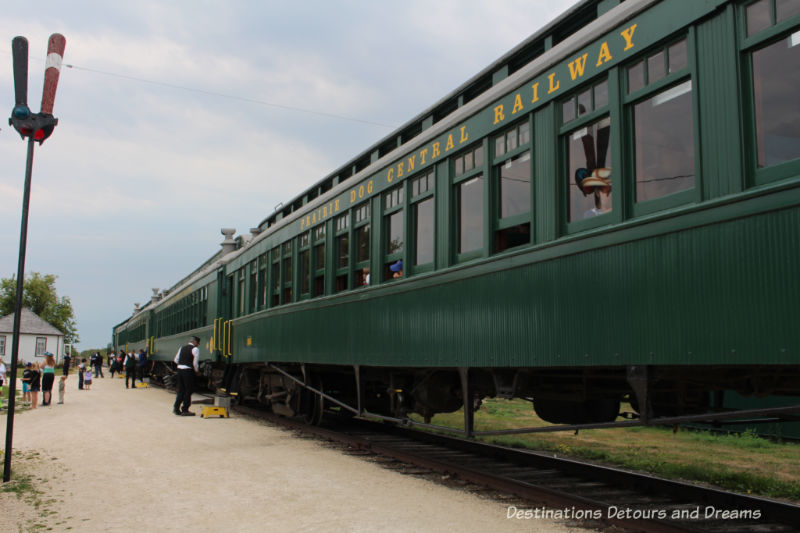 A fun excursion on Manitoba's Prairie Dog Central Railway vintage train
The Prairie Dog Central Railway is a short-line heritage railway just outside Winnipeg, Manitoba. Owned and operated by the Vintage Locomotive Society, it is one of the oldest regularly scheduled vintage operating trains in Canada. Regular trips are offered on weekends from May through October. They run from Inkster Station, located in the northwest area of Winnipeg, to Grosse Isle, where there is a stop-over, and then back to Inkster Station. The excursions are just under four hours and have varying themes and entertainment. I took the Great Train Robbery trip.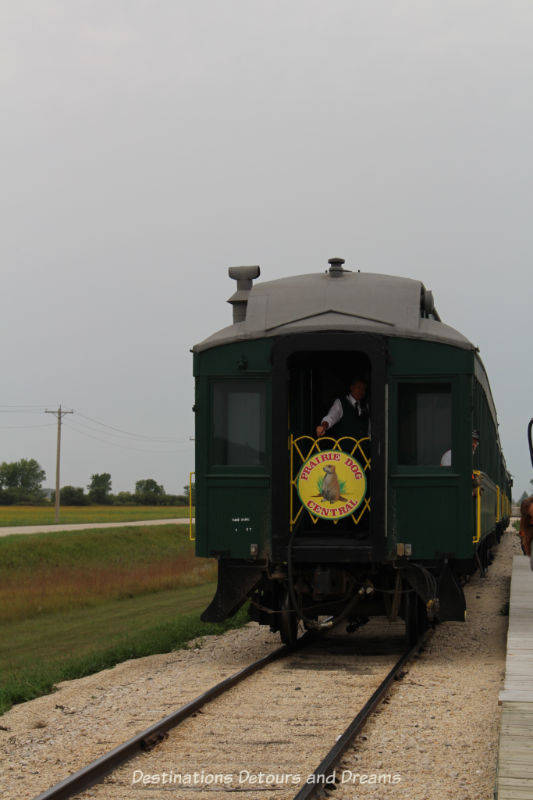 The Prairie Dog Central Railway began operations in 1970, operating first in Charleswood, a southwest Winnipeg neighbourhood. From 1975 to 1996, it operated out of the St. James Station on the Oak Point Subdivision to Grosse Isle and back. The Oak Point Subdivision was built between 1905 and 1910 by the Canadian Northern Railway which later became the Canadian National (CN). The Prairie Dog Central Railway ceased operations for two years after being notified that the Oak Point Subdivision was to be abandoned and the CN shops could no longer support the Prairie Dog Central Railway's operations. The Vintage Locomotive Society embarked on a major fundraising campaign. They purchased seventeen miles of the Oak Point Subdivision, created facilities at Inkster Station, and resumed operations in 1999.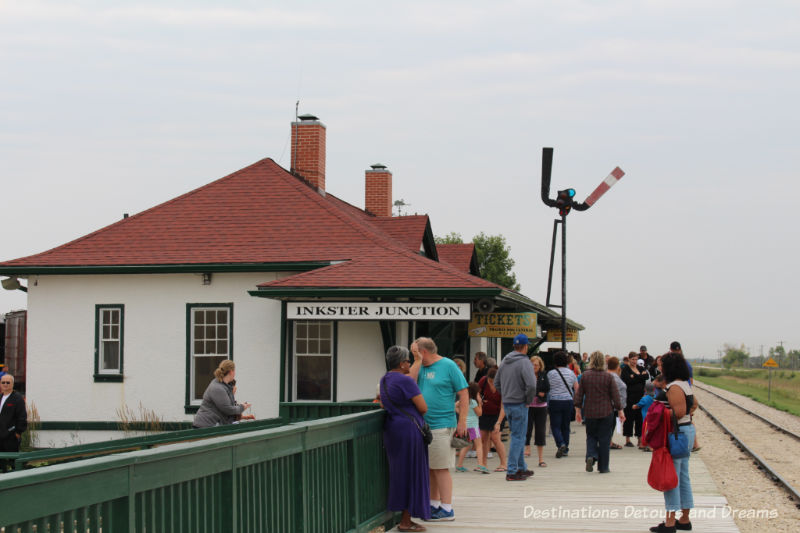 The Inkster Station is the former St. James Station, which was moved under special approval to its current location. It was constructed in 1920 by Canadian Northern Railway and is designated a Heritage Building by Parks Canada.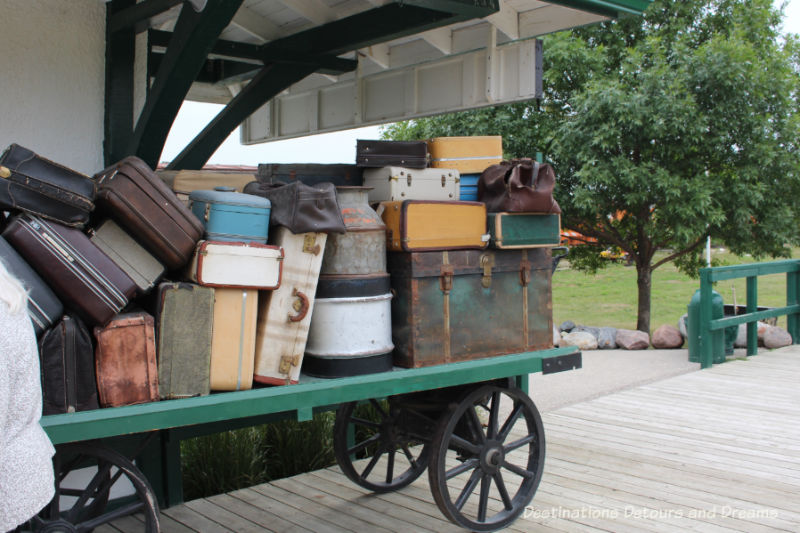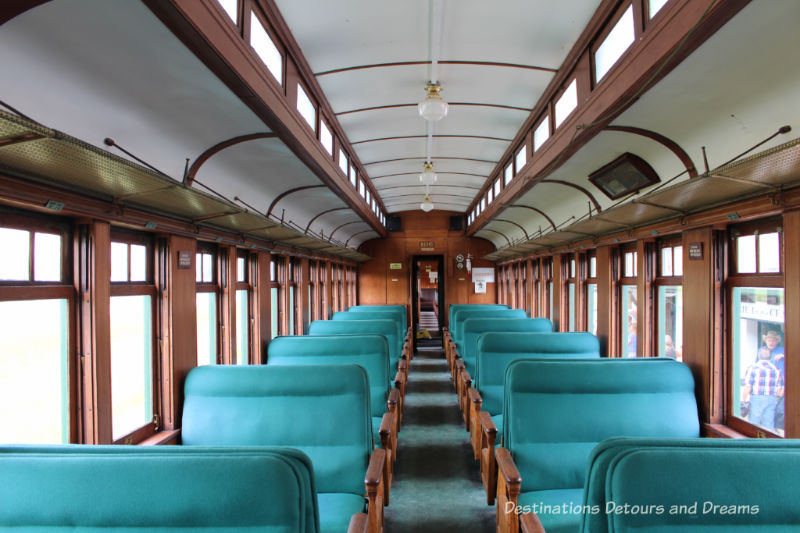 The Prairie Dog Central Railway has five coaches. All date from the early 1900s and have been refurbished. Capacity ranges from 36 to 72 passengers. We were in Coach 106. It was built by the Canadian Pacific Railway at Angus Shops in Montreal in 1913. It contains mahogany paneling with oak accessories and tinted glass in the vent windows.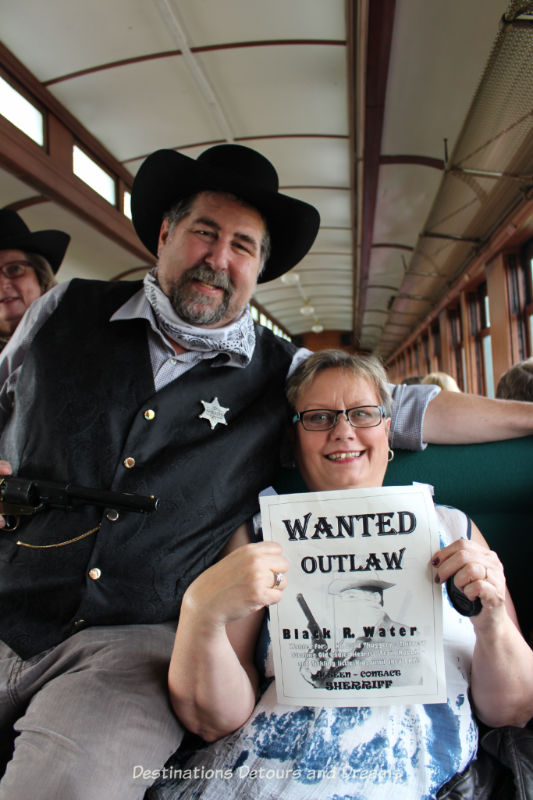 Not long after we left the station, an announcement was made about reports of suspicious activity further up the line. We were told not to worry. There were sheriffs on board and we should be safe. The sheriffs walked through the cars, chatting with passengers and happily posing for photographs.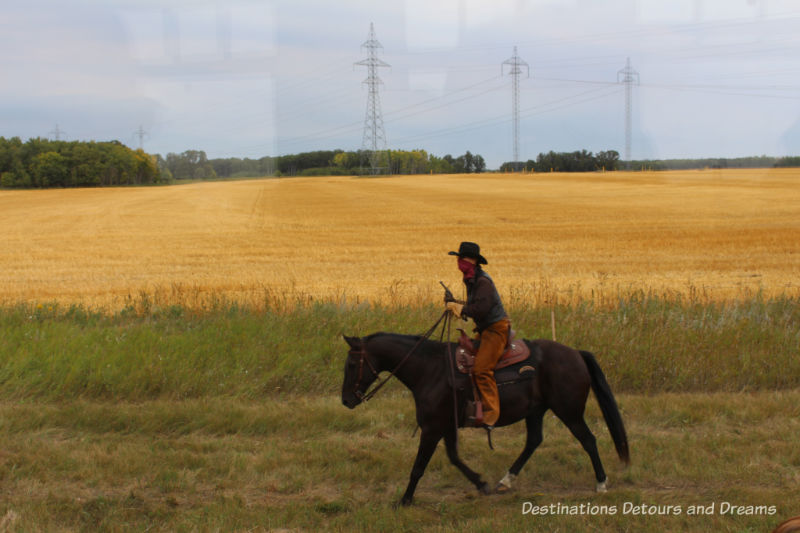 Thirty-five to forty minutes into the ride, we slowed down because of that suspicious activity, eventually coming to a full stop. Outlaws on horseback rode along either side of the train.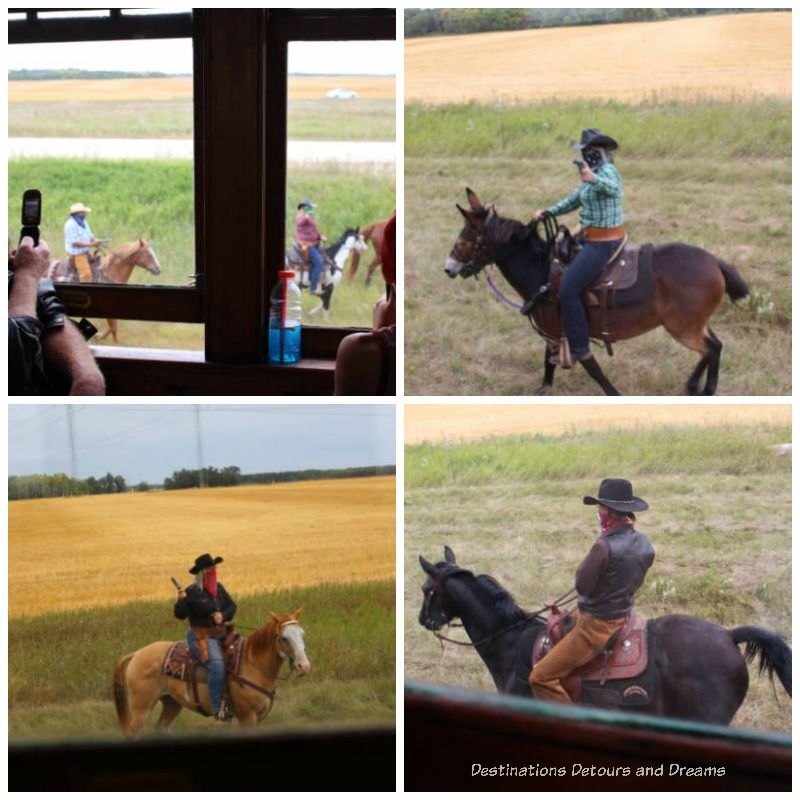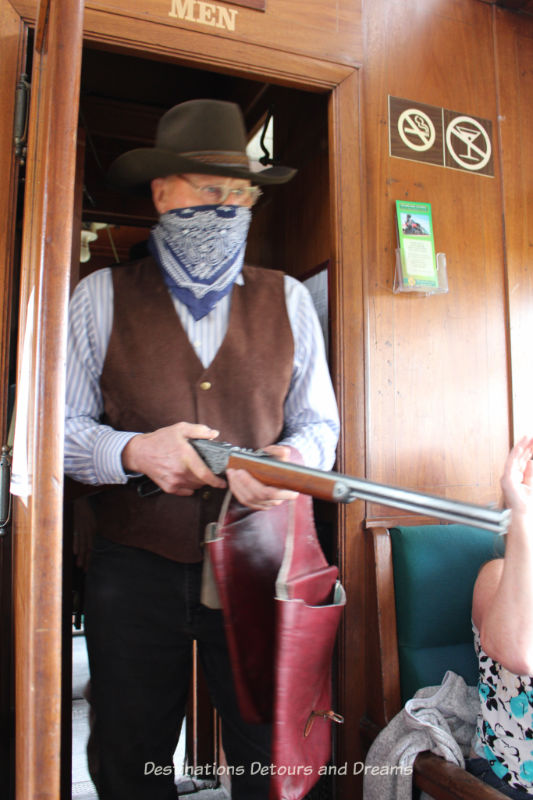 "Armed" outlaws entered the car, collecting whatever change and money we could spare. Like the sheriffs, the outlaws happily stopped to pose with passengers. Money collected during the robbery is donated to a charity. That afternoon, the recipient was Helping Hands for Manitobans with Breast Cancer. We were told later in the trip that over $670 had been collected that afternoon.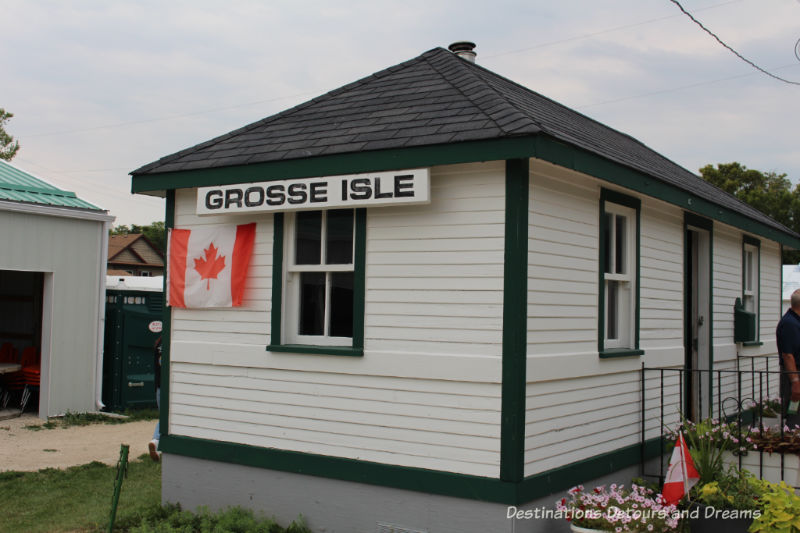 We got underway again after the robbery and reached Grosse Isle within ten minutes. Grosse Isle is a community of about 500 people, located approximately thirty-five kilometers north of Winnipeg. The train ride from Inkster Station takes about 50 minutes (if you are not stopped and robbed). The train travels at a leisurely pace. It is certainly not a modern bullet train!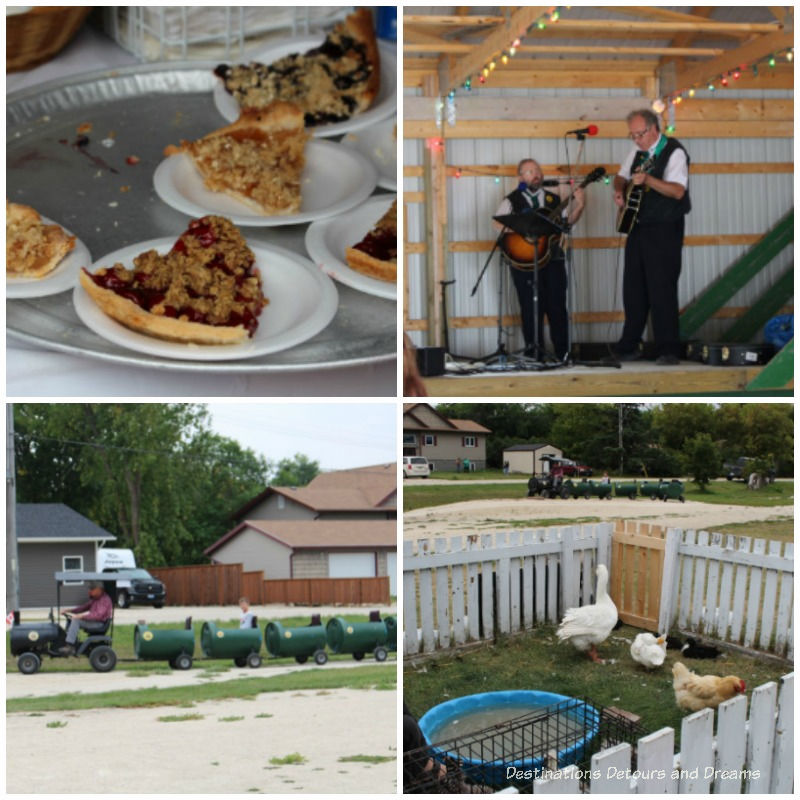 We spent about 75 minutes in Grosse Isle. Vendors sold hot dogs, smokies, home-baked pastries, ice creams, beverages, snacks, and handicrafts. Some passengers had brought their own picnic supplies. A shelter held picnic tables.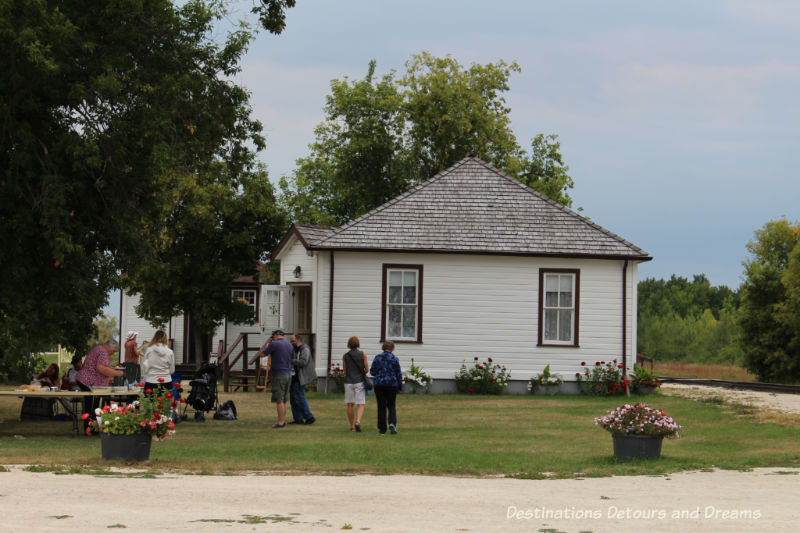 Several heritage buildings, part of a community museum at Grosse Isle, were open for touring. Historic buildings have been moved on-site and restored. Ridgeway House was completed by an unidentified Swiss builder in 1886. It has some interesting angles and seems more spacious inside than the outside suggests, perhaps because it has no hall. Rooms are directly off the front room. It was originally located one mile away and was lived in until fifteen years ago. It was in reasonably good shape because it had been lived in. Refurbishing involved de-modernizing. East Rosser School was built in 1889 and used as a school until 1962, after which it was used as a community centre and later a carpentry shop. There is also a quaint country church.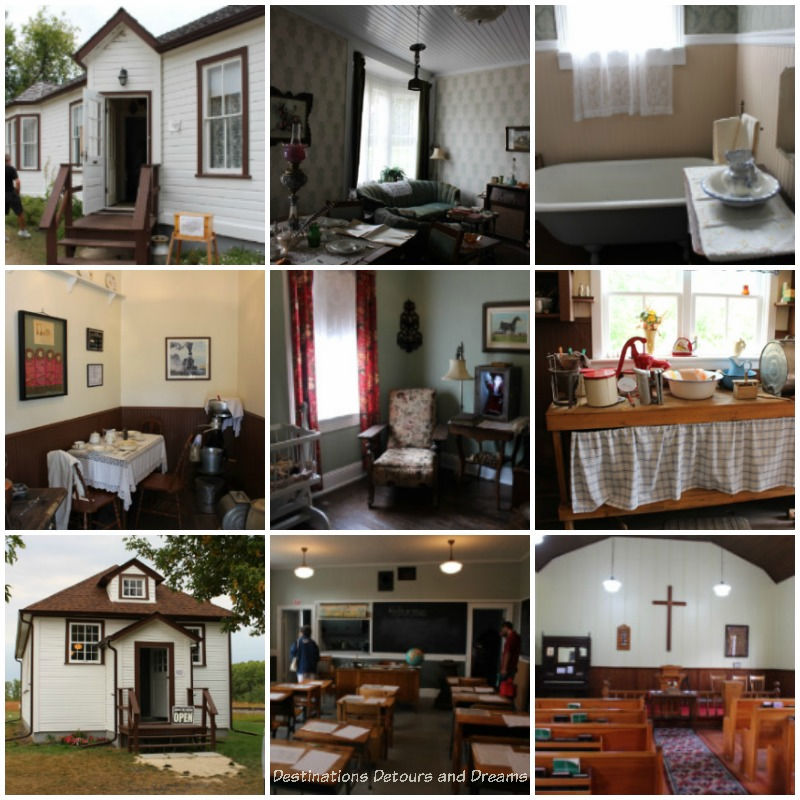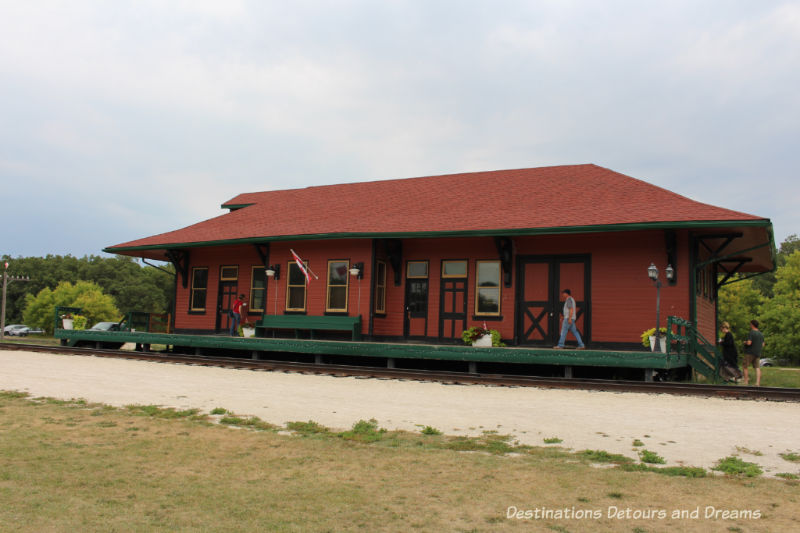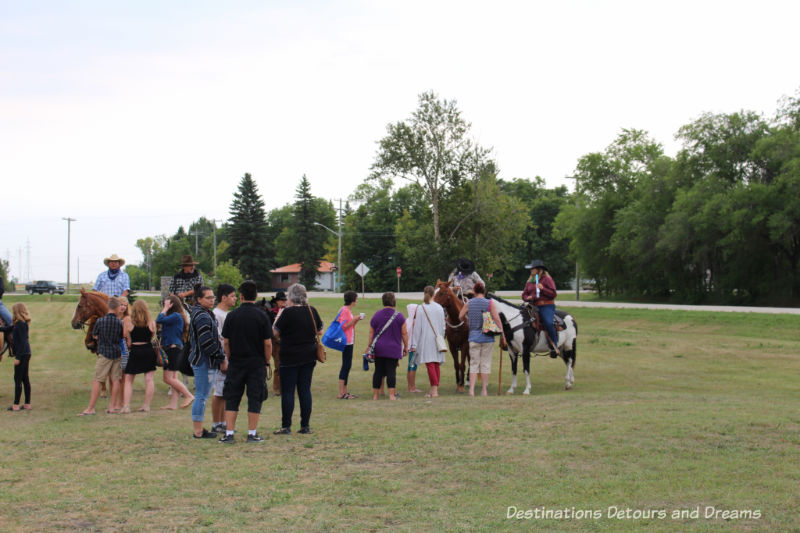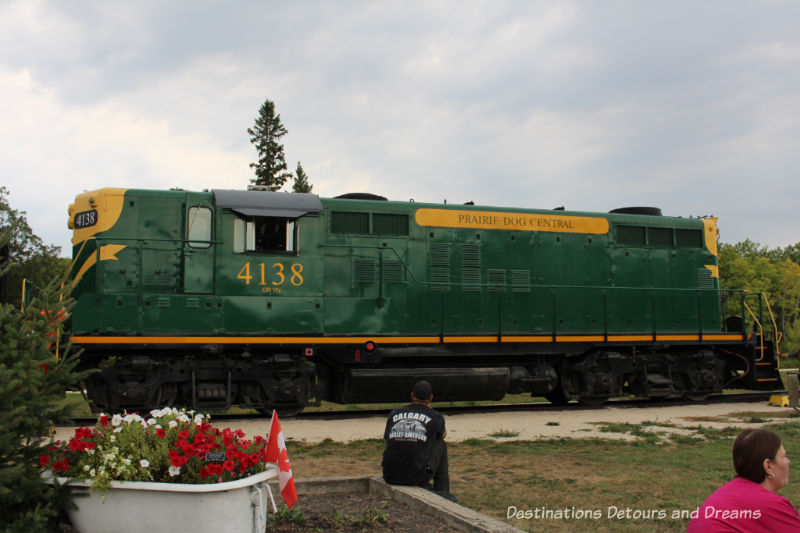 Steam engine number 3 was originally scheduled to pull our train. That engine was built in 1882 by Dubbs & Co of Glasgow, Scotland and used throughout western Canada by Canadian Pacific Railway. The steam engine has been completely rebuilt by Society volunteer members. Because of some problem with the steam engine, Prairie Dog Central Railway's other engine was substituted. Classic diesel locomotive 4138 was built by the Electro-Motive Division of General Motors in La Grange, Illinois in 1958 for the Grand Trunk Western Railway. Prairie Dog Central acquired it from CN in 2002 and refurbished it.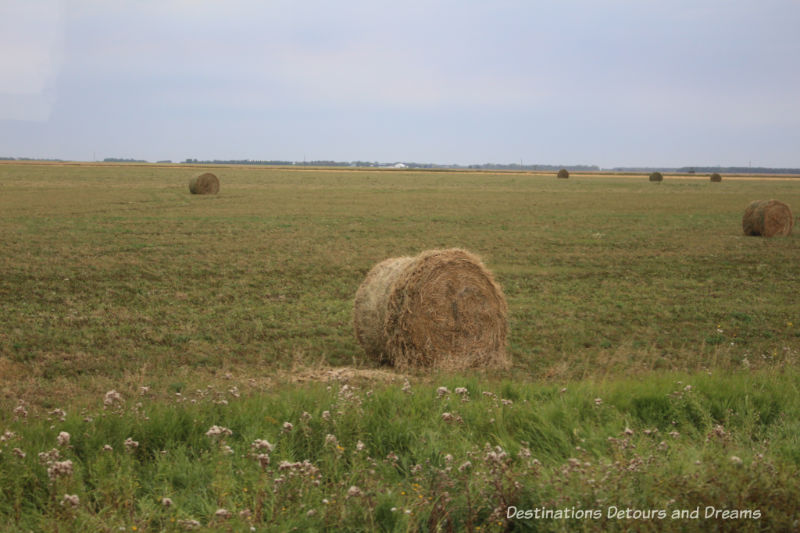 The ride back to Inkster Station was uneventful, with time to watch the scenery, visit with fellow passengers, and listen to passing entertainment.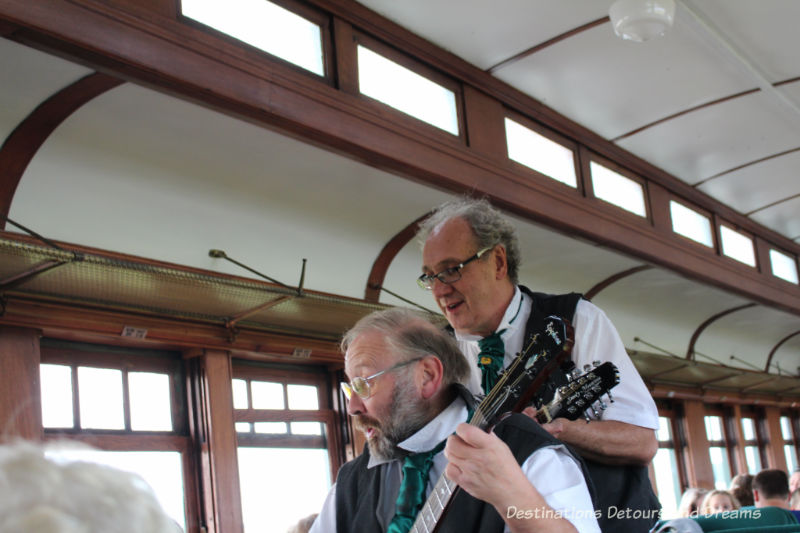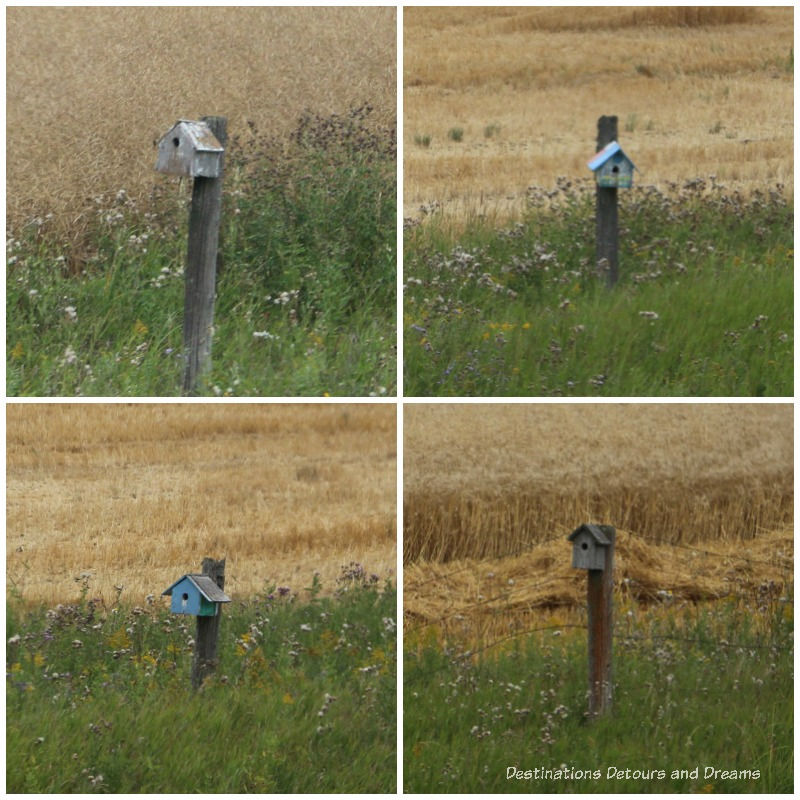 Themes of other excursions on the Prairie Dog Central Railway include magic, fall suppers, family fun, bluegrass, and other entertainment.  It makes for a fun afternoon. We left Inkster Station at 11:00 am and were back there just before 3 pm.
Never miss a story. Sign up for Destinations Detours and Dreams monthly e-newsletter and receive behind-the-scenes information and sneak peaks ahead.
PIN IT