The Wonderful Watts Gallery and Artists Village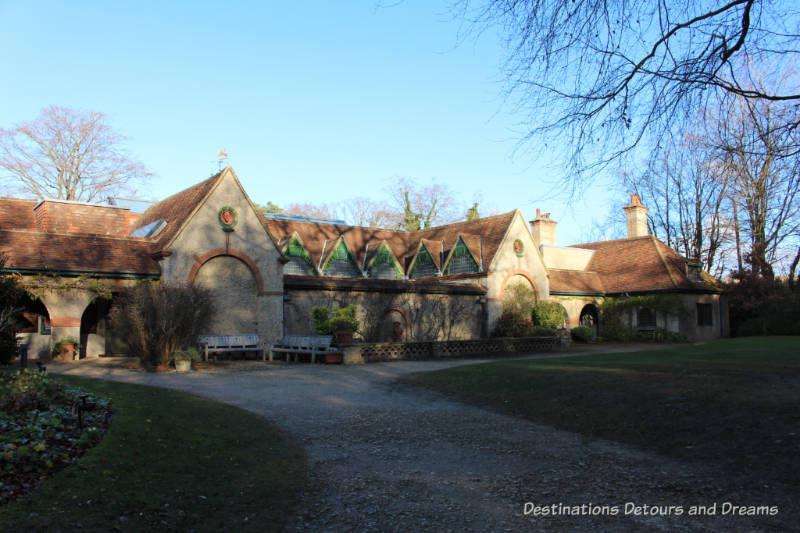 Watts Gallery – Artists' Village in Compton, Surrey, England: Victorian art and history at the former home of G F Watts and Mary Watts
Watts Gallery – Artists' Village is an art gallery, a museum, and a historic house. Situated in beautiful Surrey woodlands on the former home of artists George Frederic Watts and his wife Mary Watts, it displays their works as well as that of other artists while providing a glimpse into their lives and history.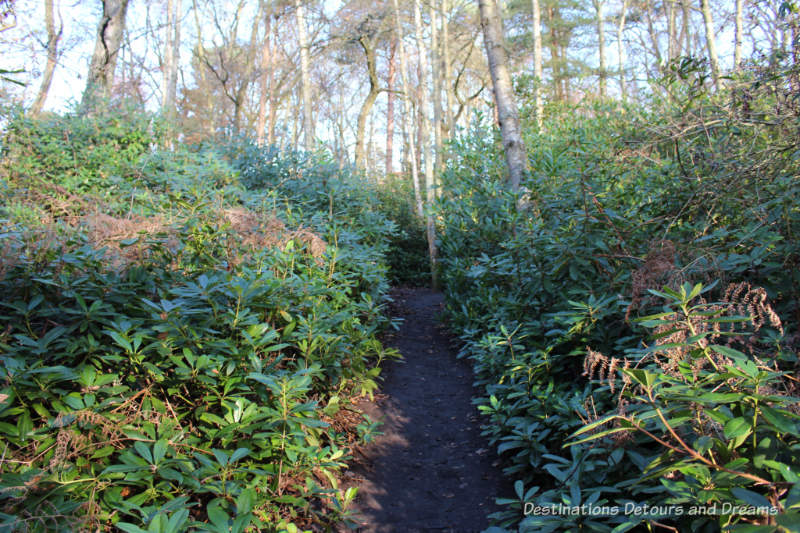 Dubbed England's Michelangelo, George Frederic Watts was a popular Victorian portraitist, sculptor, landscape painter, and symbolist. He became famous in his lifetime for his allegorical works, "poems on canvas." Mary Seton Watts was an accomplished ceramicist and creator of a prosperous potters' guild.
G F Watts, born in London in 1817, was the eldest son of a pianoforte maker and tuner. His father encouraged his artistic talent. He used 1843 prize money from a competition to decorate the Houses of Parliament to travel and study in Europe, returning to England in 1847. In 1864, middle-aged Watts married teenage actress Ellen Terry. Their ill-fated marriage lasted less than a year. In 1886, at the age of 69, he married 37-year-old Scottish painter and designer Mary Seton Fraser-Tyler. A few years later, they leased land at Compton near Guildford and commissioned Arts & Crafts architect Sir Ernest George to build their home "Limnerslease."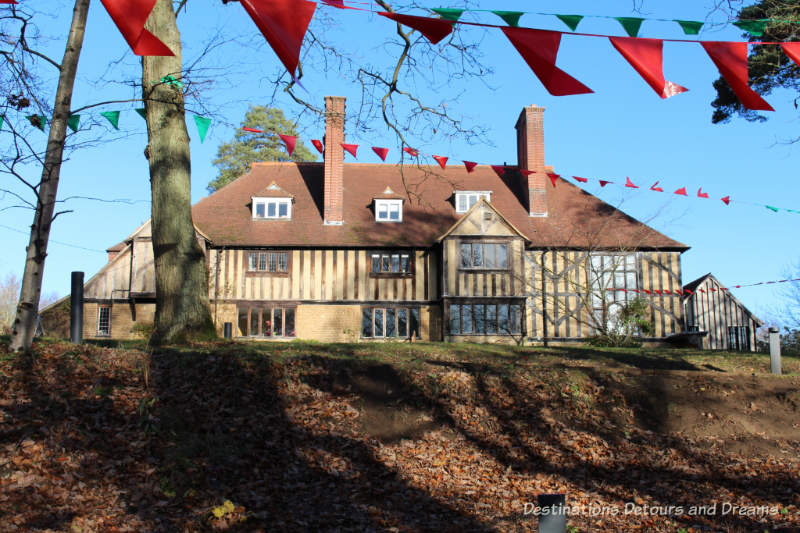 Watts Studios in the restored east wing of Limnerslease opened in 2016. Here you find a gallery devoted to Mary Watts and the recreation of G F Watts' studio.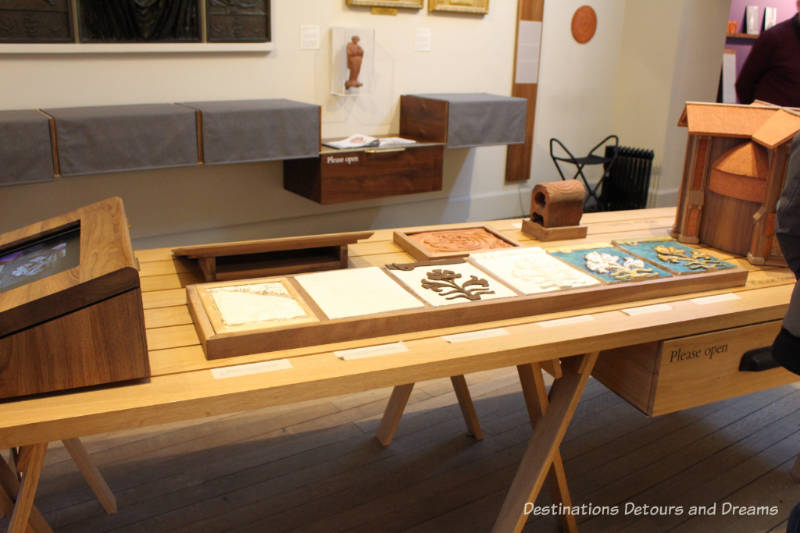 Once they moved from London to Compton, Mary left painting and fine art behind to concentrate on architecture and design. She held evening classes in terracotta pottery in their drawing room, now the Mary Watts Gallery. They were attended by as many as 70 local villagers. She developed her own process of creating the tiles to make it easier for others to learn. She established the Compton Potters' Art Guild, a local pottery cooperative that provided employment in the village until 1956.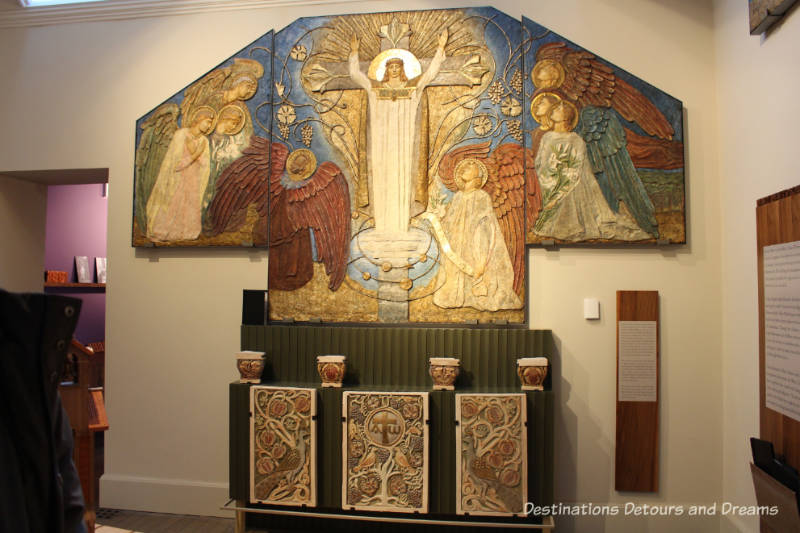 Panels designed by Mary during the First World War to decorate the chapel of Cambridge Military Hospital at Aldershot cover one wall of the gallery. The panels were conserved for the opeinng of Watts Studios. Layers of later overpainting were removed. The docent in the room cited an old Army saying, "If it moves, salute it. It is doesn't move, pick it up. If you can't pick it up, paint it."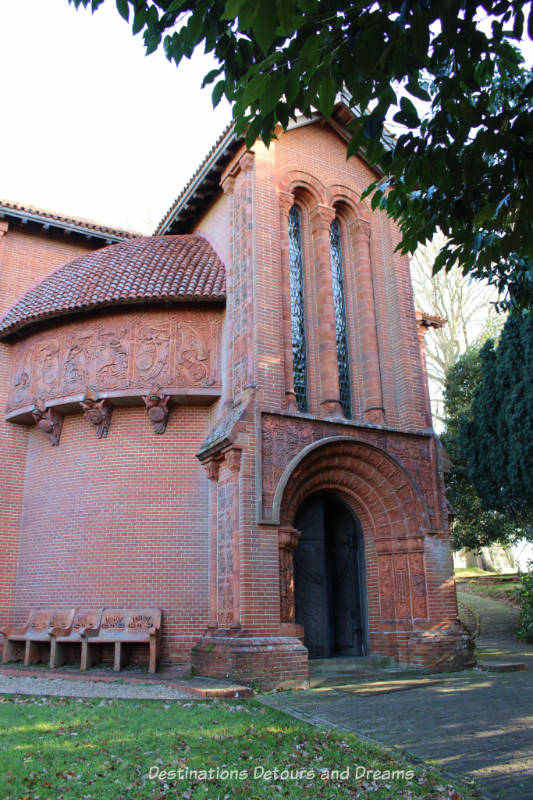 Mary's most significant achievement may be nearby Watts Chapel, covered in terracotta tiles. Mary designed the building and her students made the tiles. Coloured tiles laden with symbolism line the inside walls of the circular building. For more about my visit to Watts Chapel, read the Mystical and Extraordinary Watts Chapel.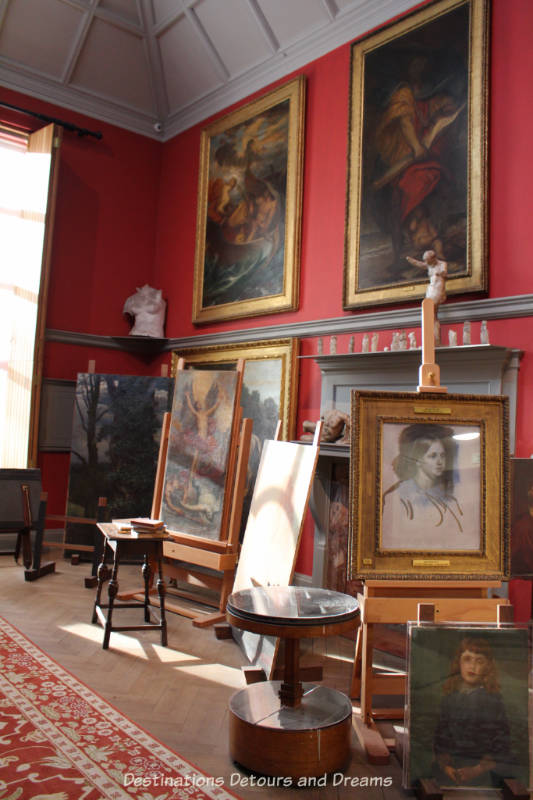 The room next to Mary Watts Gallery is the recreated studio of G F Watts, set up to look as it would have when he worked there. The room with high ceilings and large windows is full of light. it is painted red as it was during Watts' life.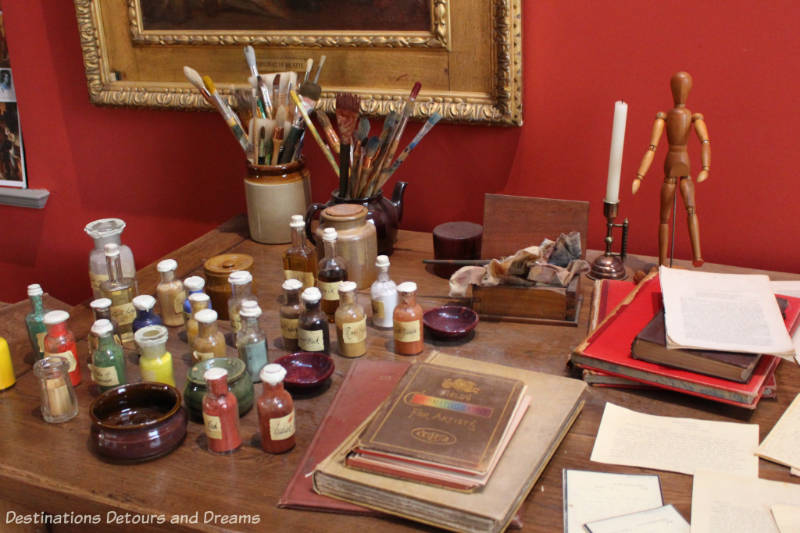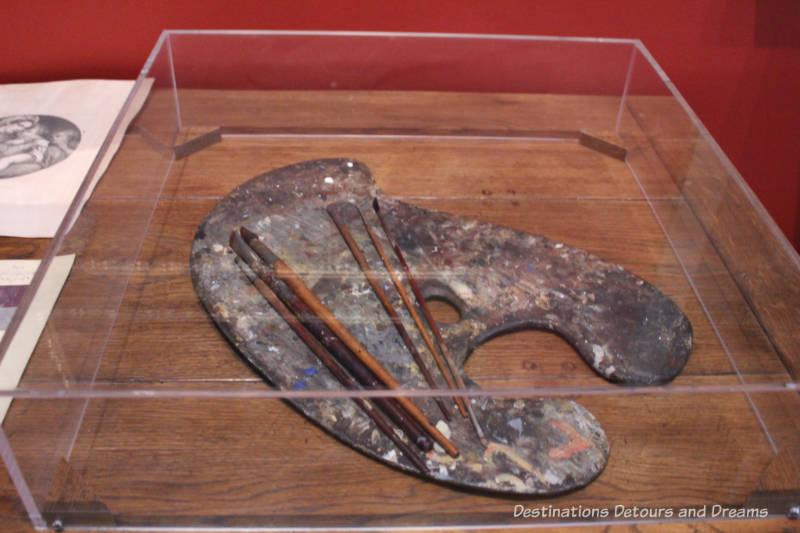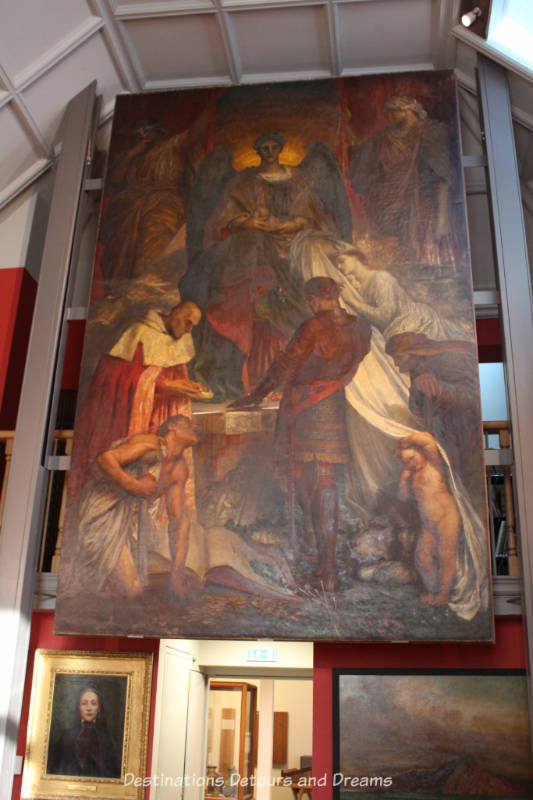 The Court of Death painting (c 1870 – 1902) on display in Watts Studio is on long-term loan from the Tate Gallery. The painting is a good example of the symbolism and allegorical figures in Watts' work. Death is shown as an enthroned angel holding a baby. "Even the germ of life is in the lap of Death." Figures of silence and misery guard sunrise and hope beyond the veil. Worldly status, depicted by a warrior and a duke, offers no protection, but death also provides a refuge. Watts said, "I paint ideas, not things."
The painting is on a pulley system whose tracks extend into the room below. Watts could lower paintings to work on top parts without the use of a ladder.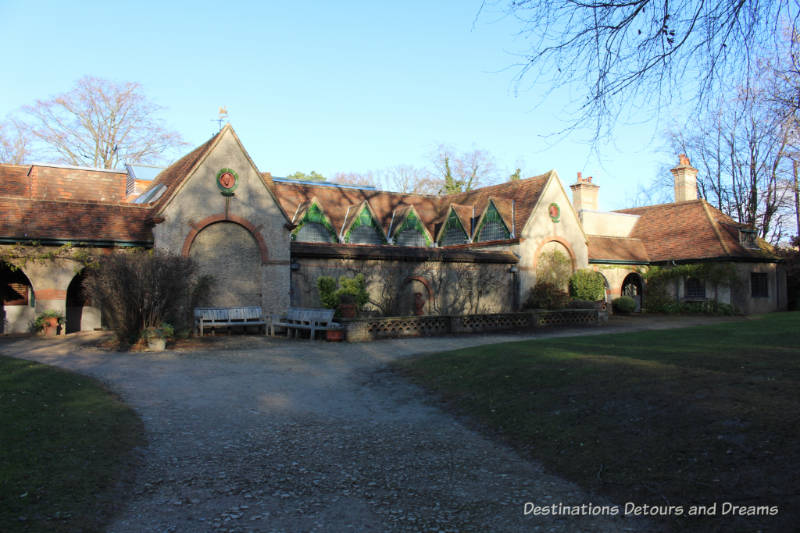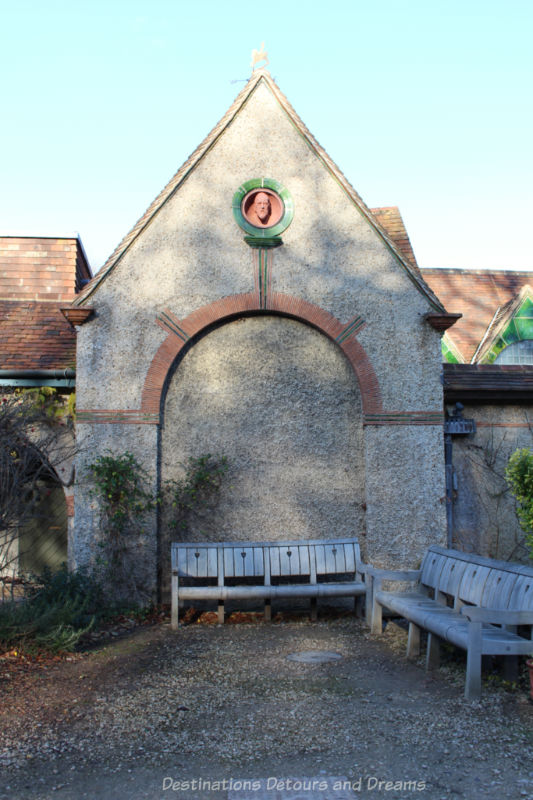 G F Watts gifted paintings to galleries across Britain. In 1904, three months before he died, he opened Watts Gallery, a gallery built to display his works. He had commissioned architect Christopher Hatton Turnor to build the gallery. Watts laid its foundation stone on his eighty-sixth birthday.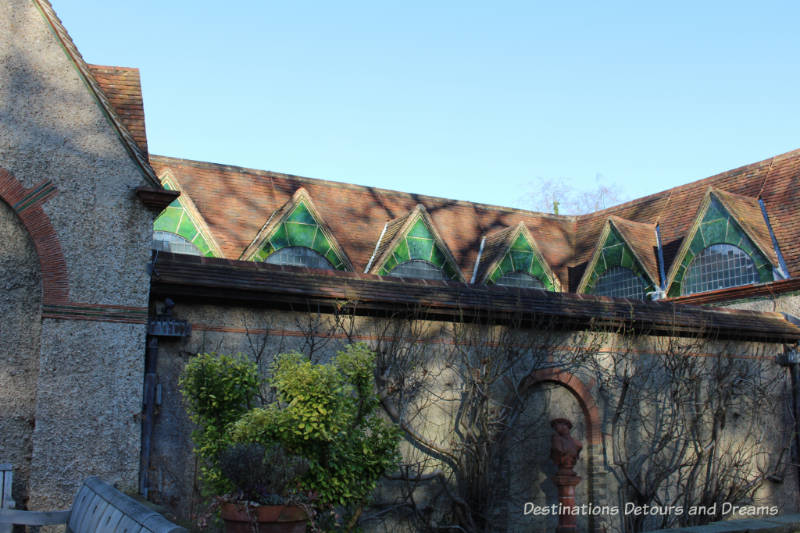 After G F Watts' death, Mary Watts became the keeper of his legacy and presided over the gallery. She died in 1938.
Today, over 100 G F Watts paintings are on permanent display in the gallery. Every period of his painting life is represented: landscapes, portraits and grand allegorical themes. When Watts returned to England in 1847, increasing poverty in London and Ireland disturbed him. Finding a way to express his social concerns marked a turning point in his career as he used symbolism rather than realism.
The gallery also hosts temporary exhibitions showcasing works relating to Watts. Note that photographs are not allowed in most areas of the gallery.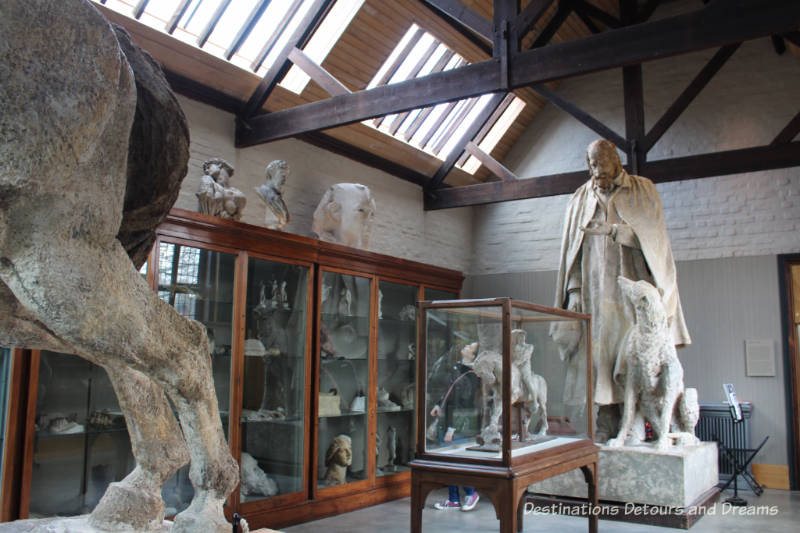 During the last ten years of G F Watts' life, he turned to sculpture, completing his most famous work Physical Energy in 1902. It represented the "the restless physical impulse to see the still unachieved." He worked on the model in sections and used gesso gross, a mixture of plaster, glue, and chopped hemp. From the model, three casts were made in bronze. One is in Kensington Gardens in London. Another is in the National Archives of Zimbabwe in Harare. The third is at the Rhodes Memorial overlooking Cape Town in South Africa.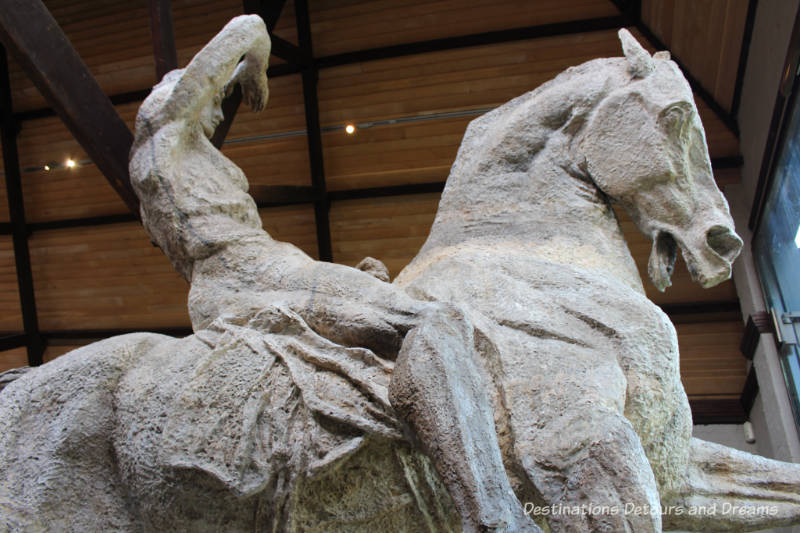 There is a gift store and a tea shop (I can recommend the Welsh rarebit) at Watts Gallery – Artists' Village. A contemporary gallery above the gift shop showcases works by emerging and established artists. The facility conducts lectures, educational programs, and workshops.
Check the Watts Gallery – Artists Village site for hours of operation. Admission includes access to the studios. Access to the rest of Limnerslease house is via scheduled tours at an additional charge. Booking can be done in advance. I did not have opportunity to tour the house, but would like to do that in a future visit. With or without the house tour, Watts Gallery – Artists Village is a wonderful place to visit. Be sure to also visit Watts Chapel, a short walk from the gallery. It is open daily at no charge.
Never miss a story. Sign up for Destinations Detours and Dreams monthly e-newsletter and receive behind-the-scenes information and sneak peaks ahead.
PIN IT