Ten Things To Do In Mesa, Arizona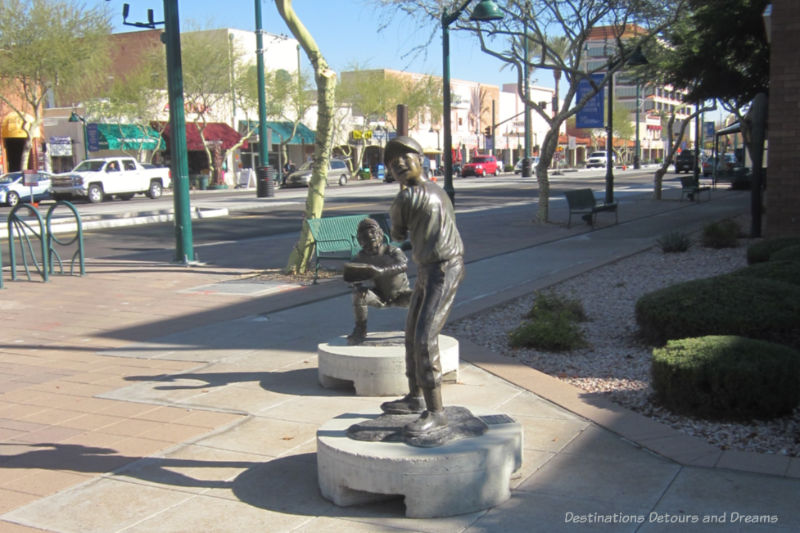 Mesa Attractions: Best things to see and do in Mesa, Arizona
Mesa is one the cities that form part of the sprawling Phoenix metropolitan area in central Arizona. Located just east of Phoenix, the third-largest city in Arizona is known for stunning views of the Superstition Mountains and a beautiful desert climate. It is known as a family-friendly city.
Mesa was founded in 1878 by Daniel Webster, a Mormon pioneer who left Utah to establish an LDS settlement in Arizona. They renewed what was left of irrigation canals created by the Hohokam over a thousand years earlier and dug additional canals to develop their own irrigation system.
Over the years, Mesa grew from the one-square-mile of the original townsite to the over 133 square miles it occupies today. The east-west distance covers over 18 miles. The size is apparent when you drive through Mesa on Interstate 60 with 15 exits into Mesa. Locations in Mesa are often referred to as east or west Mesa with Mesa Drive being the dividing line.
Mesa is now very popular with snowbirds spending winters away from their homes in colder northern states or in Canada. You'll find sections, particularly in East Mesa, filled with retirement communities and RV parks.
The Greater Phoenix area is home to Cactus League baseball association with 15 teams conducting spring training in the area. Mesa played a key role in bringing the league to the valley. Dwight Patterson, a young rancher in Mesa, was determined to bring pro-baseball to Mesa. Because of his efforts he is now known as the father of the Cactus League. The Chicago Cubs have made Mesa their spring training home for decades. They sponsored the creation of a sculpture, called Big League Dreams, featuring three baseball players that is on display in downtown Mesa. Two of those figures are featured in the photo at the top of this post.
December through April are prime visiting season for snowbirds and other visitors. The weather is the most pleasant during these months. Although temperatures can dip to near freezing at night during December and January, daytime highs are in the high teens Celsius (mid-sixties Fahrenheit). Temperatures increase as the months go on with April highs reaching near 30 Celsius (low eighties Fahrenheit). Summers can be unbearably hot.
Mesa covers a large area. A car is the best way to get around both Mesa and the Greater Phoenix area. An extensive freeway system provides an efficient means for getting around.
Here are my recommendations for the top things to see and do in Mesa. Note that there are numerous other things to see and do within the entire metropolitan region. This post focuses on attractions within the boundaries of the city of Mesa. See my posts on things to do in Phoenix and things to do in Scottsdale. For things to do in other communities within the Greater Phoenix East Valley, see Greater Phoenix East Valley Guide.
1. Historic Downtown Mesa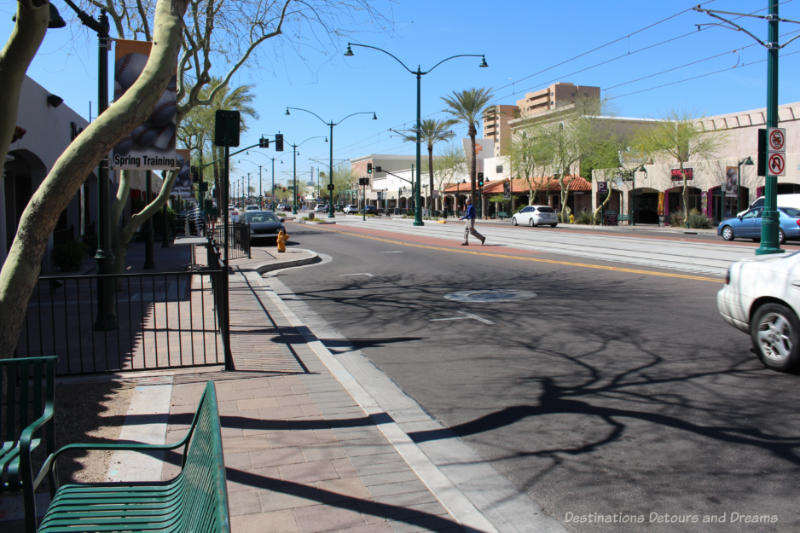 Located in the square mile of the original townsite, Mesa's downtown is compact and walkable. Comprised mainly of low-rise buildings, the area retains a small-town feel. You'll find shops, art and cultural institutions, and a variety of restaurants. Many are housed in historic buildings. Use this historic walking tour map to discover the heritage buildings on a walk through time. One of those heritage buildings, the old Lehi School built in 1914 and expanded in the 1920s, now houses the Mesa Historical Museum.
For something a little different, consider taking a guided ghost, taco, or wild west tour on electric carts made to look like giant stuffed animals. I haven't taken one of these tours myself, but they look like a lot of fun. See the Rydables website for more information. They even offer a special tour for children.
2. Public Art
As you wander through Mesa's downtown, you'll see sculptures and murals. There are almost forty pieces in Mesa's growing collection of sculptures. For a self-guided tour, pick up a Downtown Guide and Art Walk brochure at Visit Mesa or use this digital art walk guide. You can read more about the sculptures in my post Downtown Mesa Sculpture Tour.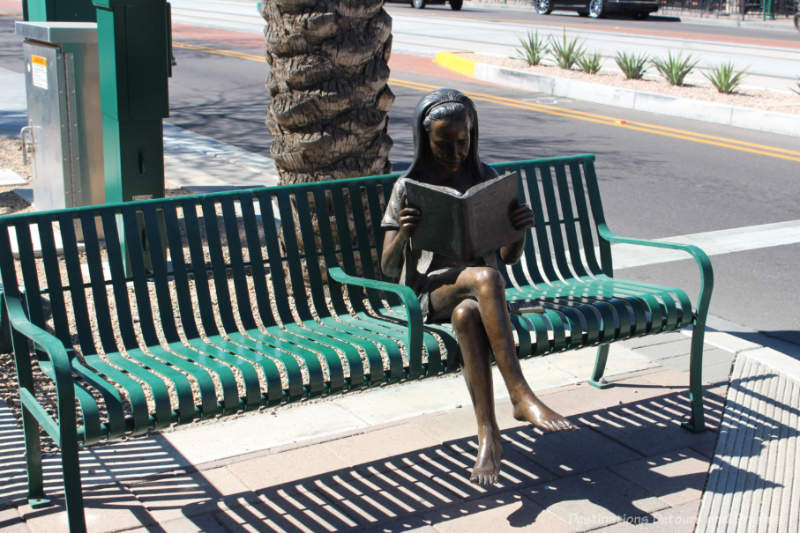 Downtown Mesa is also home to Mesa Contemporary Arts Museum and the Mesa Arts Center, a performing and visual arts complex.
3. Organ Stop Pizza
Organ Stop Pizza is one of the most unique eateries in the Greater Phoenix area. It features the largest Wurlitzer Theatre Pipe Organ in the world. The dining area has a bar room atmosphere with long rows of tables and additional seating in the upstairs balcony area. The organ rises from below the stage as master musicians begin their sets playing everything from Bach to rock.
The organ has over 6,000 pipes. You can see pipes in operation behind glass at the front of the room. You have to keep your eyes peeled to see all the other moving pieces throughout the room at different points in the music: drums, cymbals, an accordion, puppets, a duck, flashing lights, and so much more. It is difficult to fully describe. It has to be experienced.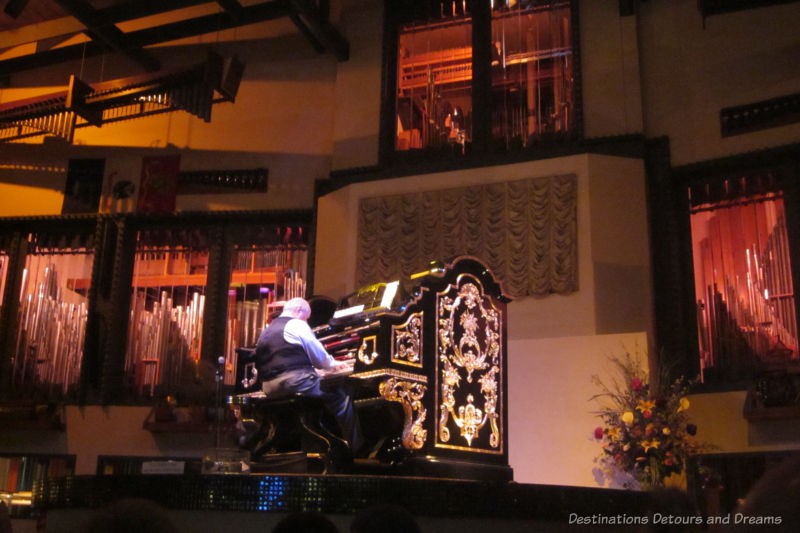 In addition to pizza, Organ Stop's menus includes appetizers, pastas, sandwiches, and soup. I have to admit that despite visiting many times I have never tried anything other than the pizza. It is very good. Beer, wine, and soft drinks are also available.
4. Usery Mountain Regional Park
The 3,648 acres of Usery Mountain Regional Park at the eastern edge of Mesa and the western edge of the Goldfield Mountains provide a great opportunity to experience Sonoran desert plant and wild life as well as many recreational activities.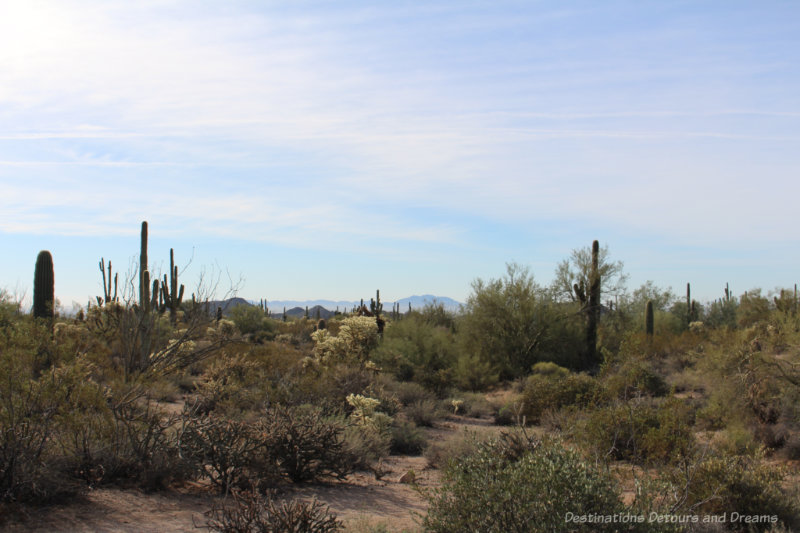 There are twenty trails of varying length and difficulty for hiking, mountain biking, and horseback riding. There are also camping facilities, day picnic areas, a couple of covered playgrounds, and an archery range.
The park hosts a variety of events including guided hikes, bird walks, moon hikes, and programs to learn about specific plant and animal life such as the saguaro or snakes. See the park's website for upcoming events. Read about the guided walk I took along the Desert Hawk Trail in my post Desert Plant Walk at Usery Mountain Park.
5. Mesa Community College Rose Garden
With over 9000 rose bushes, the Rose Garden at Mesa Community College is the Desert Southwest's largest rose garden. The public garden, which began in 1974, is the result of a partnership between the Mesa-East Valley Rose Society and the Mesa Community College. Admission is free. The garden is open 24/7.
Signs posted throughout the garden contain a phone number you can call to get a recorded message explaining what is in each rose bed. Additional signage describes each type of rose. Guided tours can be arranged upon request.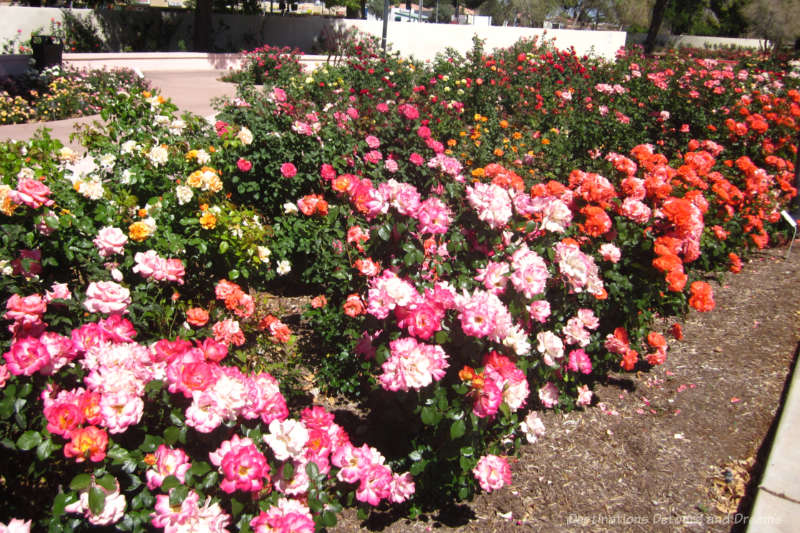 The best time to visit the garden is in late March, April, May, June, November, and December. Heavy pruning during January, February, September, and October means no blooms at that time.
Read about my visit to the Rose Garden in the post Roses in the Desert.
6. Mesa Market Place Swap Meet
With miles of shopping lanes under covered breezeways, the Mesa Market Place Swap Meet is a great place for recreational shopping and people watching. In high season, 900 merchants stock 1600 shops with an eclectic mix of goods ranging from big bargain items to high-end unique products. You'll find clothing, accessories, home furnishings, memorabilia, jewelry, toys, cosmetics, Southwest décor, food, Mexican pottery, ironworks, art, trinkets, novelty items, and more. A deli and food court with live music are located in the centre. The market is definitely a unique experience.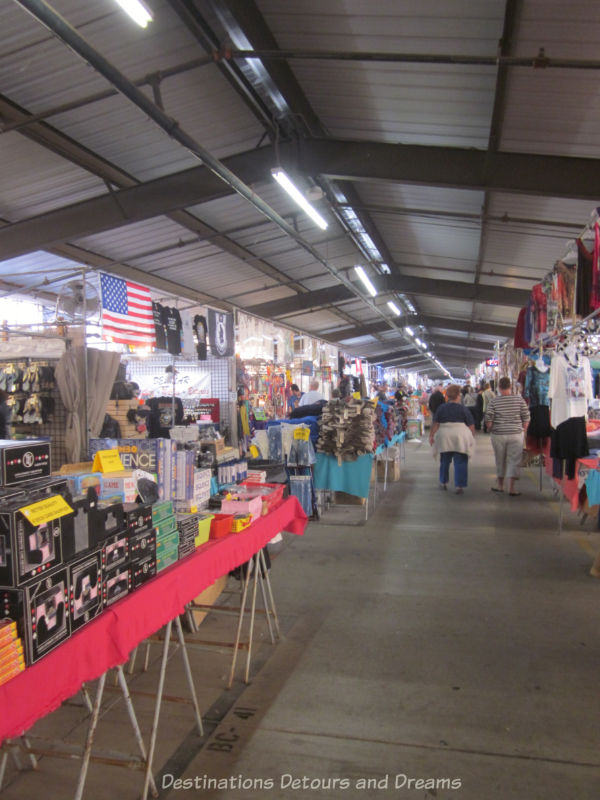 The market, which is open Fridays, Saturdays, and Sundays, runs year-round, but winter is high season with the largest number of vendors. There are fewer stalls open at other times of the year. Note that although the market is covered, it is not fully enclosed. On cooler winter days, you may wish to visit in the afternoon. In the heat of the summer, early morning may be best. Wear good walking shoes. There is a lot of concrete shopping aisles to cover. The market is massive. If you plan to return to a stall for a second look at something, pay close attention to its location or you may have difficulty finding it again.
7. Desert Belle Cruise On Saguaro Lake
Located along North Bush Highway about 15 miles northeast of Mesa city limits, Saguaro Lake is one of the man-made lakes formed by the creation of dams and reservoirs along the Salt River. The lake is about 110 feet deep at its deepest point, has over 22 miles of shoreline, and is home to several ecosystems.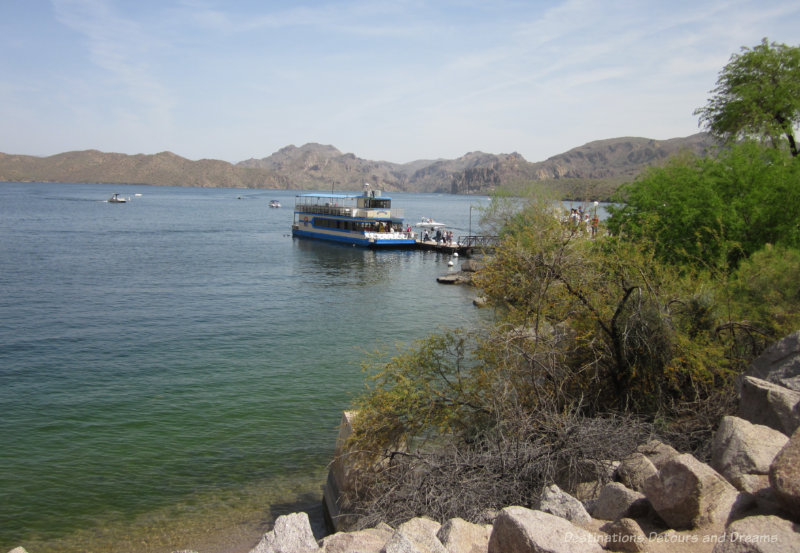 On a narrated 90-minute cruise on the Desert Belle you'll see magnificent scenery of rocky crags, desert vistas, and marshland, spot wildlife along the shore, and learn about the natural history of Arizona.
The two levels of the boat offer open deck and enclosed seating. The cruise is relaxing and informative. Read more in my post Sailing Saguaro Lake on the Desert Belle.
8. Hohokam History
The Hohokam, ancestors of Pima-speaking Indians, occupied the Greater Phoenix area from about 300 BC into the first half of the fifteenth century AD. They settled in communities, built sophisticated irrigation systems and were skillful farmers and creative artisans. The reason for the disappearance of the Hohokam people from the valley has never been established.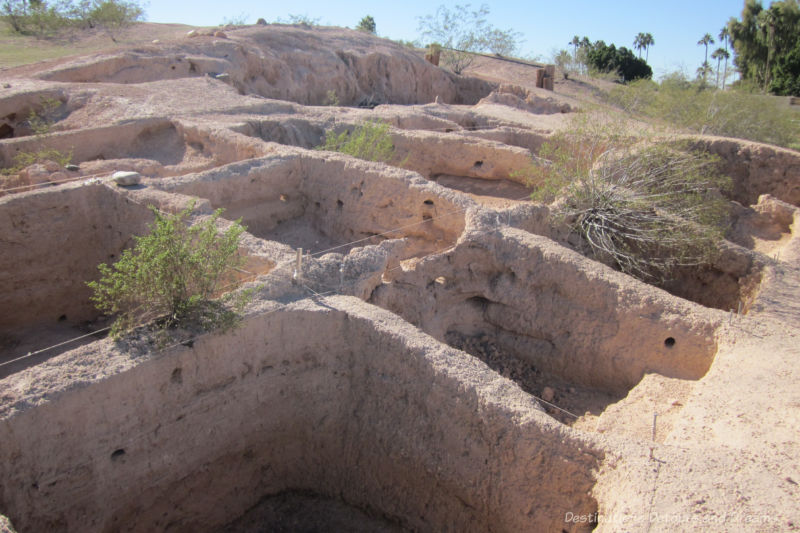 At Mesa Grande Cultural Park, you'll find the ruins of a Hohokam temple mound built between 1100 and 1400 AD. Two thousand people lived in the village around the mound. A trail through the park takes you past the ruins of various community structures. Sign boxes provide information about what you are seeing and the history of the Hohokam people. There is a small entry fee.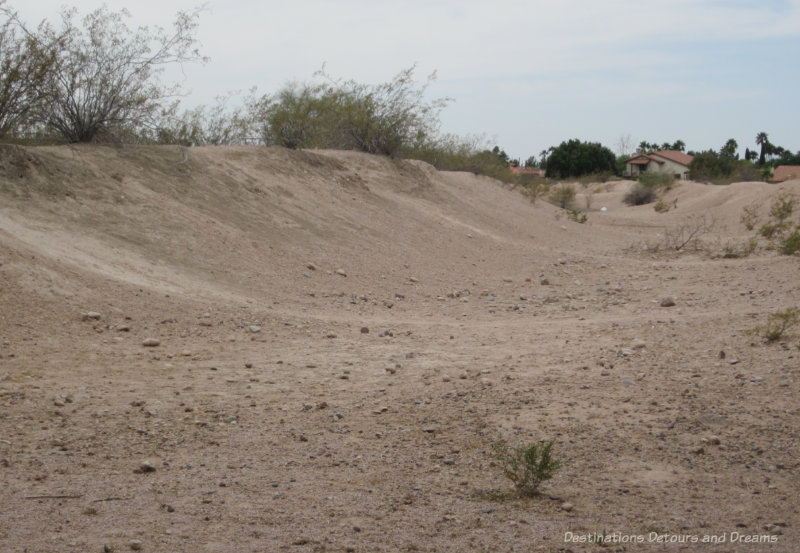 The Hohokam relied on massive canal systems to irrigate their crops. The Park of the Canals displays over 1,400 feet of Hohokam canals in three different sections. At first glance, it looked like nothing more than a sandy ditch, but when I looked more closely and learned about the history, I became impressed at the ingenuity and sophistication of the Hohokam. Entrance to Park of the Canals is free. The park also contains a small botanical garden, a playground, and picnic ramadas.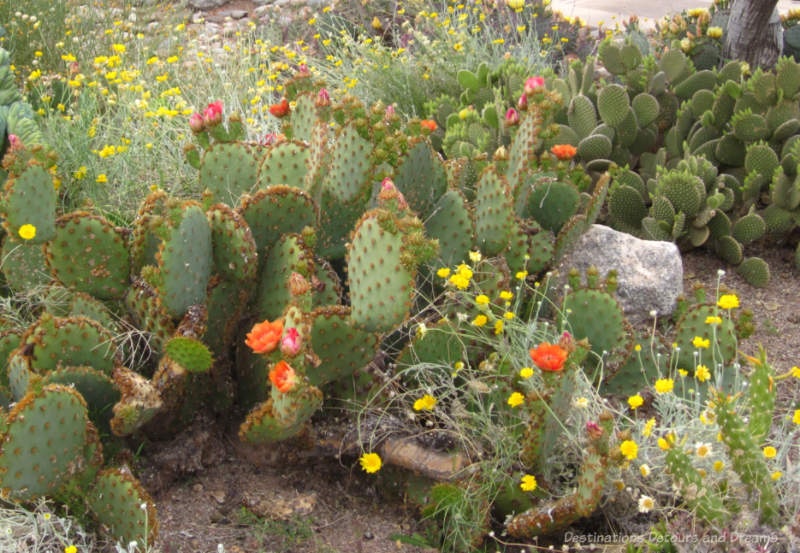 Read about my visits to both parks in the post Mounds and Canals: Hohokam History in Mesa, Arizona.
9. Arizona Museum of Natural History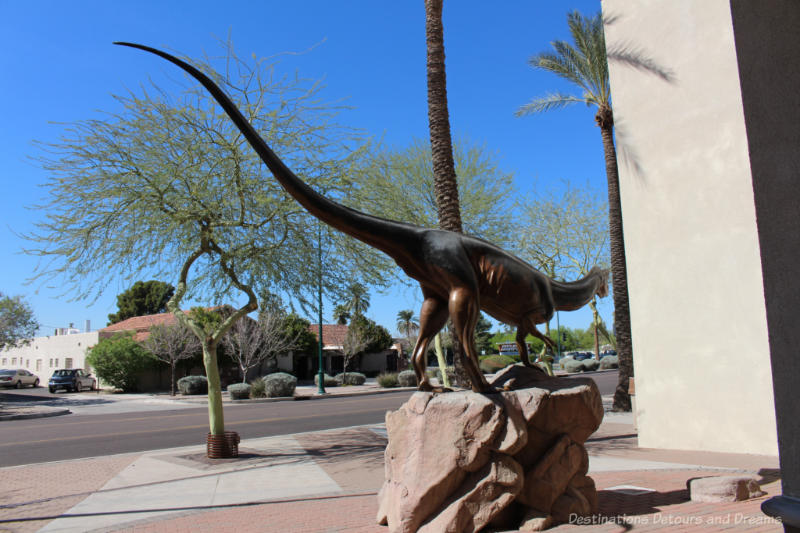 Exhibitions in the Arizona Museum of Natural History explore the origins of the universe, formations of rocks and minerals, magnificent creatures throughout history, cultures of the ancient Americas, and native cultures of Western North America. You'll see dinosaurs, a mock village of ancestral Sonoran Desert people, and much more. One of the exhibits gives you a behind-the-scenes look at anthropology and paleontology.
10. Commemorative Air Force Airbase Arizona Museum
The Commemorative Air Force Arizona Museum is a combat aviation museum where you can learn how aircraft evolved from World War II to present. Watch aircraft mechanics work as you walk through the working hangar. Climb aboard bombers and cargo planes. You can also book a Living History Flight in one of the museum's authentically restored WWII aircraft.
The museum is run by volunteers and open only a few days a week. Check the website for hours.
For a food and refreshment stop after your museum visit, consider The Monastery Bar & Grill. Surrounded by trees, grass, and sand, this casual neighborhood pub features sand volleyball courts, ping pong tables, horseshoe pits, and live music.
Bonus Things To Do In Mesa, Arizona
Fresh Foodie Trail
The farms in and around Mesa provide a bounty of seasonal goods from citrus in January to peaches in May to olives in October. When I wintered in Arizona, I loved getting a whiff of orange scent when I drove past an orange orchard.
Visit Mesa's Fresh Foodie Trail contains a list of agritourism stops within Mesa and neighboring communities. They have also created a Fresh Foodie GeoTour.
Mesa Temple Christmas Lights Display
If you visit in December, the Christmas lights display at the Mesa Temple in downtown Mesa is worth visiting. The annual celebration features hundreds of thousands of colorful lights, illuminated palm trees and flower gardens, a nativity scene, and recorded messages in English and Spanish. The event is free.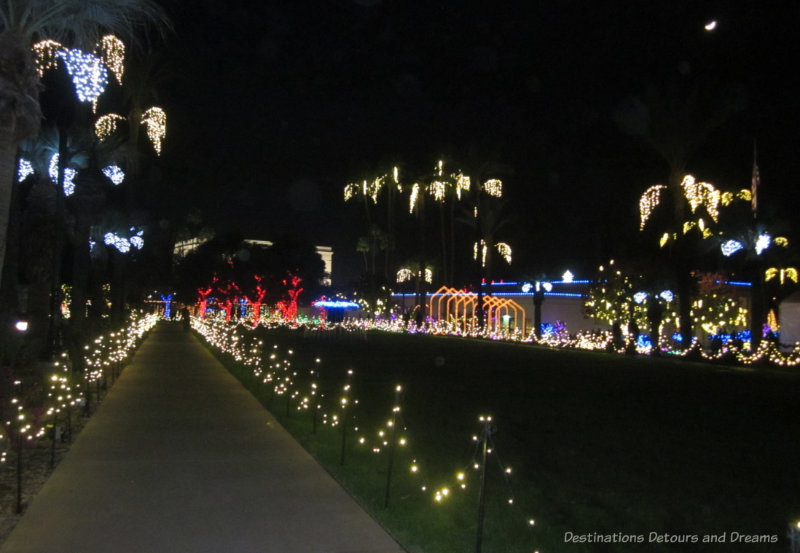 i.d.e.a Museum
Located in the downtown Mesa, the i.d.e.a Museum is a hands-on art museum for children and families. It features art and art-inspired activities while adding science, engineering, and design-thinking to give families opportunities to create together.
Never miss a story. Sign up for Destinations Detours and Dreams free monthly e-newsletter and receive behind-the-scenes information and sneak peeks ahead.
PIN IT